There are several reasons to take a road trip instead of flying, but for me it mostly comes down to three things: budget, timeline, and preference (I'm of course talking about those trips where driving is a possibility in the first place!). If you're on a tight budget, a road trip is going to win almost every single time. However, if you're on a strict timeline and not as strict of a budget, flying is probably a better option! There are some flights that are cheaper than driving solo (say, Phoenix to Las Vegas), but those flights would add up when you multiply them by your 4 or 6 person family. Write out a budget for flights vs driving and see which one wins if budget is a concern. At the end of the day, it all comes down to preference as well. Do you loathe flying? Do you enjoy driving? Maybe it's the opposite way for you. No matter what you prefer, you can make it work with a little planning.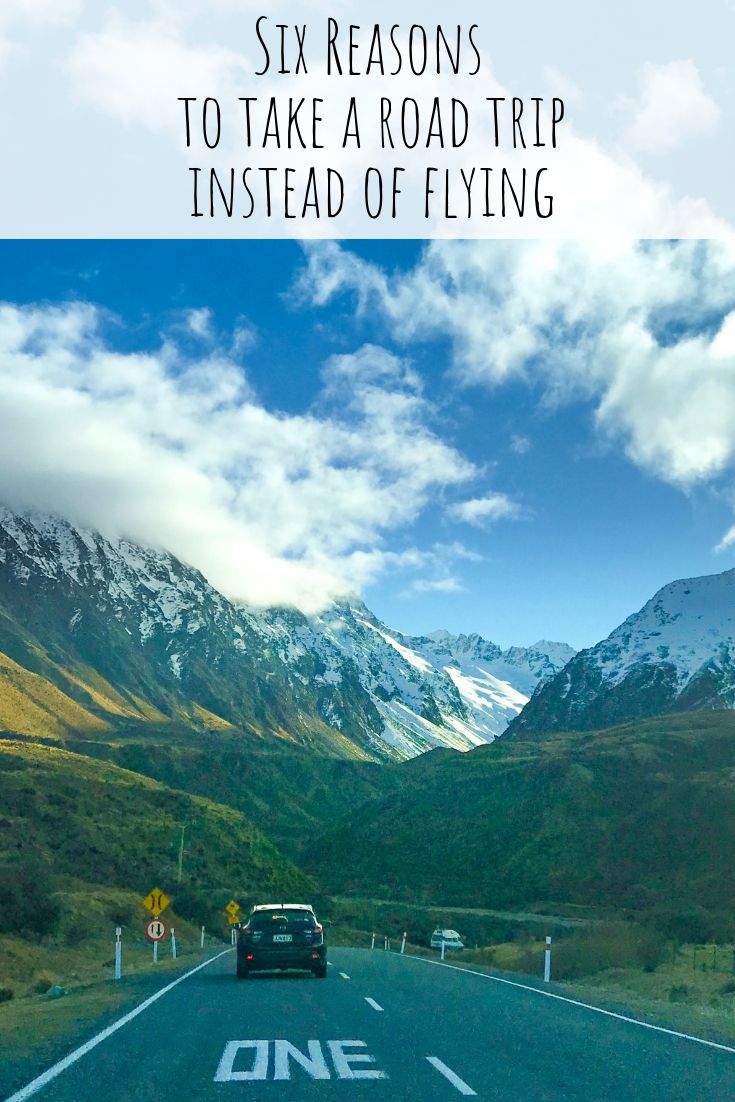 6 Reasons to Take a Road Trip Instead of Flying
I grew up taking road trips–I didn't start flying until I was at university! We would regularly road trip from Pittsburgh to Asheville and my grandparents drove us all over the southern states. I have such fond memories of getting settled in the van, having the cooler of sandwiches waiting for the perfect rest stop, and collecting travel brochures everywhere I could. I love that I can pass on the road trip tradition to my own kids. Our road trips now look a little more like driving from Tauranga to Wellington, but the idea is exactly the same.
Road Trips are Cheaper Than Flying
While it isn't always the case, road trips can! be cheaper than flying – especially if you're flying with a large family. Even with higher fuel prices, traveling with 4 or 6 people will generally be cheaper on the road instead of in the air. For most trips, the cost of airfare will far outweigh the cost of fuel and stops for the same trip. If you are traveling with friends who split the cost of gas, this will be leaps and bounds less expensive than each one of you buying a plane ticket.
Music Choices on Road Trips
I love music! And while you can listen to music on a plane with your headphones, it's just not the same as listening to it on a road trip. Every road trip has a soundtrack. Each trip has different vibe or feel and the music sets the mood. If you get tired of listening to music, you can always download an audiobook or even listen to a podcast. At the end of your trip, you will have loved the music and maybe even discovered some new music. If you listen to a podcast or two, you may have even learned something. Audiobooks are the way to go for the longer trips they help to keep the mind engaged and following the story. No matter how long it takes to get there, what you listen to along the way will set the tone for the "in between" time from the start of your trip to your destination.
Roadside Attractions
Those little unique truck stops or tourist traps we all love to stop at, roadside attractions, are the highlight of many road trips from our childhoods. The Cadillac Ranch in Amarillo, Texas or the Pink Elephant Antique Mall in Illinois… Route 66 as a whole… they're all great! There are tons of places to see and things to do along your trip. You will not see these attractions on a flight, because you'll be flying over them. Sorry, as of yet, no glass bottom airplanes and they don't fly that low.
Save Money on Baggage and Souvenirs
When you fly, you have to travel light or pay the airline to check your extra bags. Most people tend to travel lighter to avoid the added costs of having another bag or a heavier bag. When you drive, you can bring as much as will fit in your vehicle! You can buy presents for everyone on your list without having to think about how much the extra bag will cost or if your current bag is going to be over the weight limit. This always comes into play for us at Disneyland in particular–we've always needed to fly there, but that has greatly limited souvenirs.
Road Trips Offer Flexibility
What time you leave, what time you arrive and what route you take are all up to you when you drive. You can take detours and see interesting sites along the way. You get to explore the country you live in–you can not do this on a flight. Sudden stops or detours from the original flight plan are not recommended when flying. You don't get to leave a little earlier or later because of unforeseen circumstances–you have to be t the airport early and wait to get through security. Ugh.
Skip the Security at the Airport
You don't have to wait in those long lines with a bunch of grumpy, stressed out people who don't want to have to take their belts and shoes off. You can enjoy taking whatever you like on your trip with you including the pocket knife that you grandpa gave you that you always have on you. If you happen to forget to take it out of your most comfy jeans before your flight you will have it confiscated by TSA.
Which is really better?
Sometimes it just comes down to preference and the vision you have for your family vacation. Road trips are, by nature, filled with memories. While you can make memories on a plane trip, it's just not the same. Planes are good to get you where you need to go, and fast. They're not so great for being economical on your finances or spaces where families can spend time together and bond over playlists they create together like you can on a road trip.
You'll have to weigh the pros and cons of flying and driving. If your destination is far away and the goal is to get there and enjoy said destination, flying may be a better option – especially if budget isn't an issue. If you're more interested in enjoying the trip as a whole and seeing as many sights as you can along the way, a road trip is the way to go. This is especially true if you want to save money.
Either way you go, spend time with your family (and/or friends) and create memories to last a lifetime!