I'm honored to have Louis of Outdoor Explorer guest posting today. He's giving us all the details on the nine best hidden and unusual day trips from Brisbane, Australia. I've been to Australia many times but only once to Brisbane and it was a super rushed visit, so I'm loving all of these recommendations. Check out his blog for everything you need to know about enjoying the outdoors in Australia. Thanks, Louis!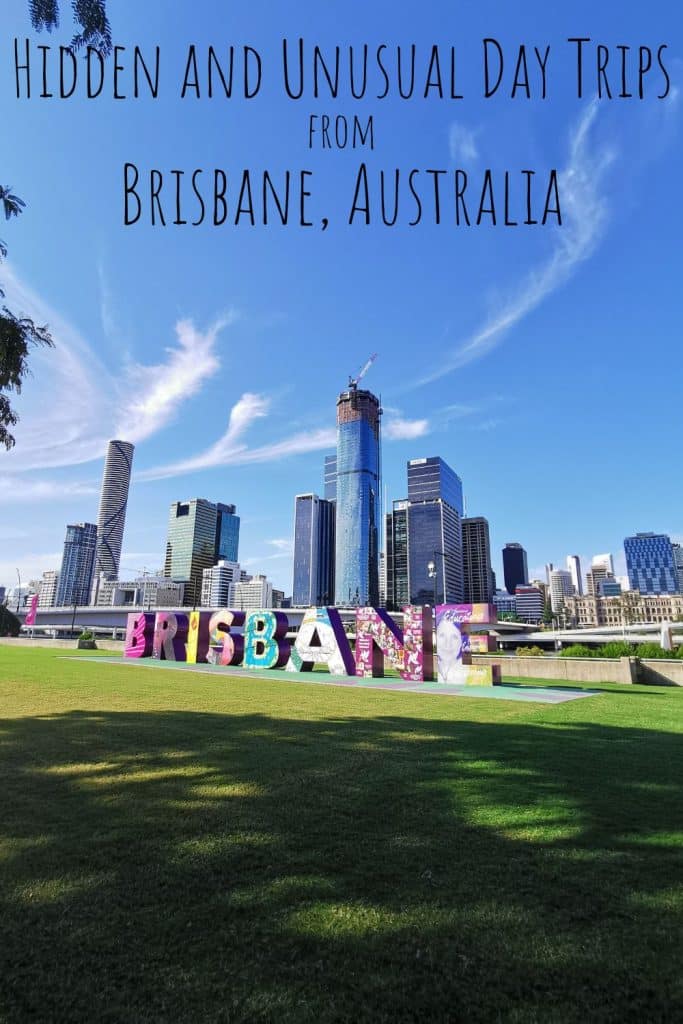 If you've already watched the sunrise at Mt Coot-tha, toured the botanical gardens, and done the Story Bridge Adventure Climb, you might be looking for something a little different. In this article, we'll be taking a look at the best hidden and unusual day trips from Brisbane to spice up your next day off.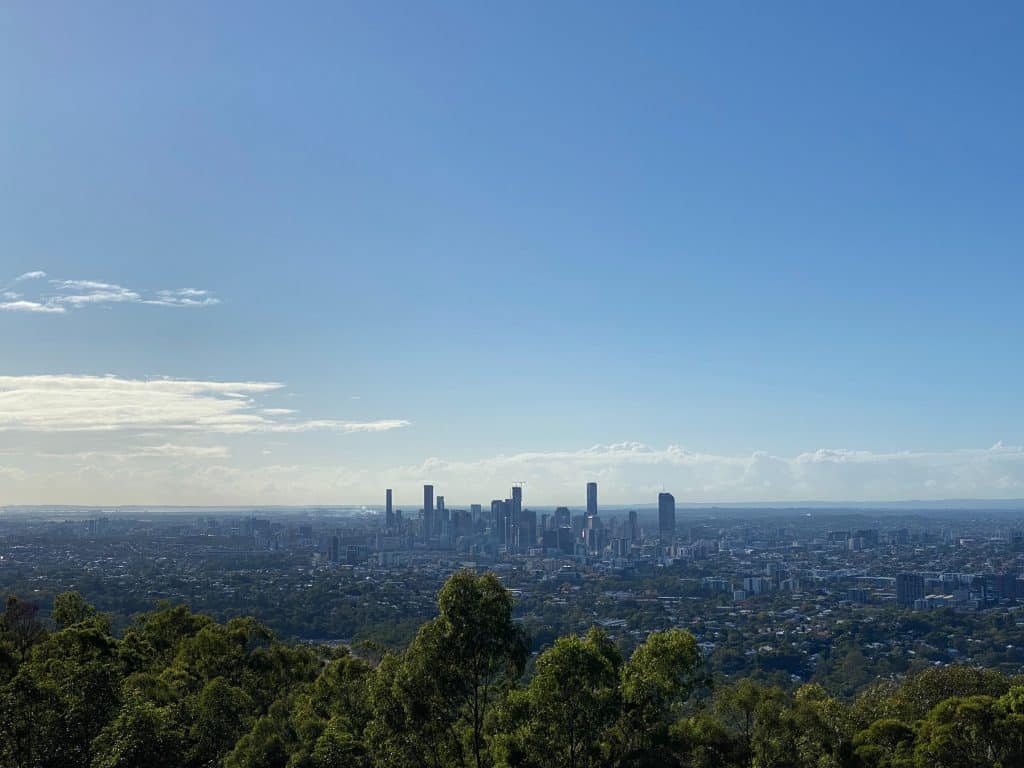 Photo by Noel Pranoto on Unsplash
Brisbane is one of the most popular cities to visit in Australia and there is a good reason why! The Brisbane area is filled with incredible natural sites, with more than 20 national parks and numerous state parks to explore on a day out in nature.  At the same time, Brisbane is a vibrant city with plenty of activities to keep you entertained for days even if you are not an outdoors person. If you're ready to find out about some fun day trips from Brisbane, let's get started!
Camp On Moreton Island And Join Night Kayaking
Moreton island is a small island off the coast of Brisbane. This sand island is known for its incredible beaches and unusual, steep dunes.  The adventure never stops on Moreton island if you're looking for fun activities to try out!  Steep dunes are perfect for sandboarding, or if you're less coordinated, simply sliding down on a board. The only problem is hiking back up the dune! You can snorkel around the shipwrecks, kayak around the island or climb Mount Tempest. While Moreton island is certainly fun during the day, consider spending a night tent camping on the island so you can join the night kayaking. You'll get to explore the bay around the island in a clear bottom kayak.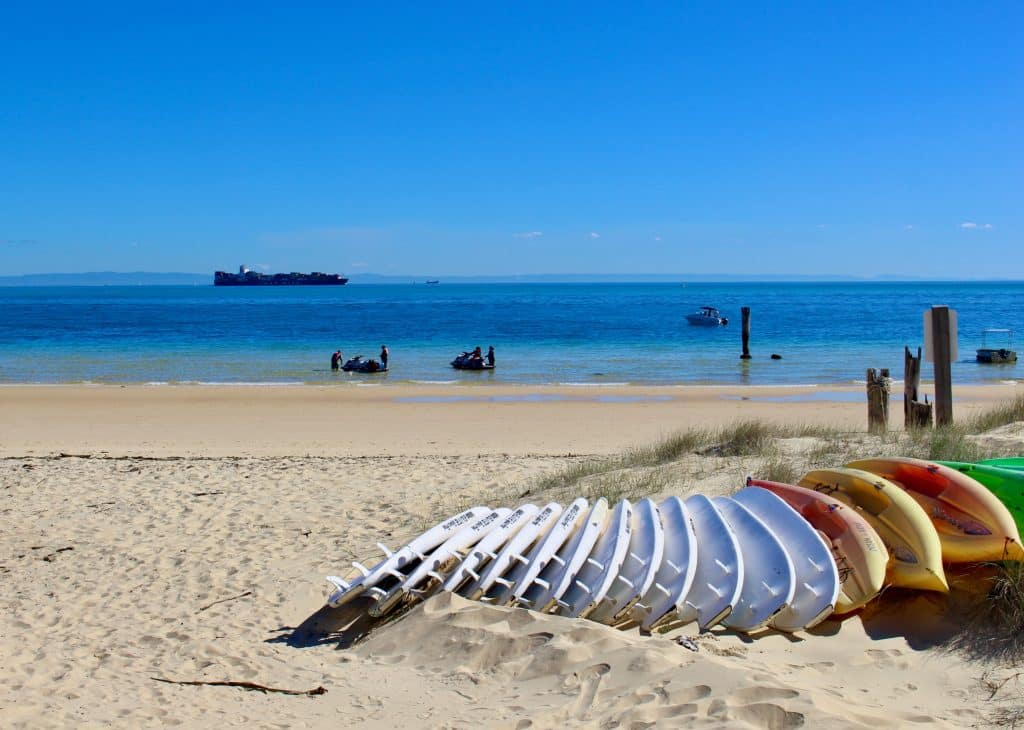 Photo by Tania Richardson on Unsplash
Take A Hot Air Balloon Ride Over Brisbane
Taking a hot air balloon ride is truly a bucket list experience, so why not try it out in Brisbane? There is nothing quite like watching a sunrise from a hot air balloon as you fly over the city, admiring the scenery of this stunning region. Don't worry about getting hungry – after your flight, you'll get a delicious breakfast! These are sunrise flights, so you must wake up quite early. But that just means that you have time to do something else in the afternoon! You can choose between a couple of tour companies offering this activity, so you can pick the area you want to fly over, whether that's the Gold Coast Hinterland or the greater Brisbane area.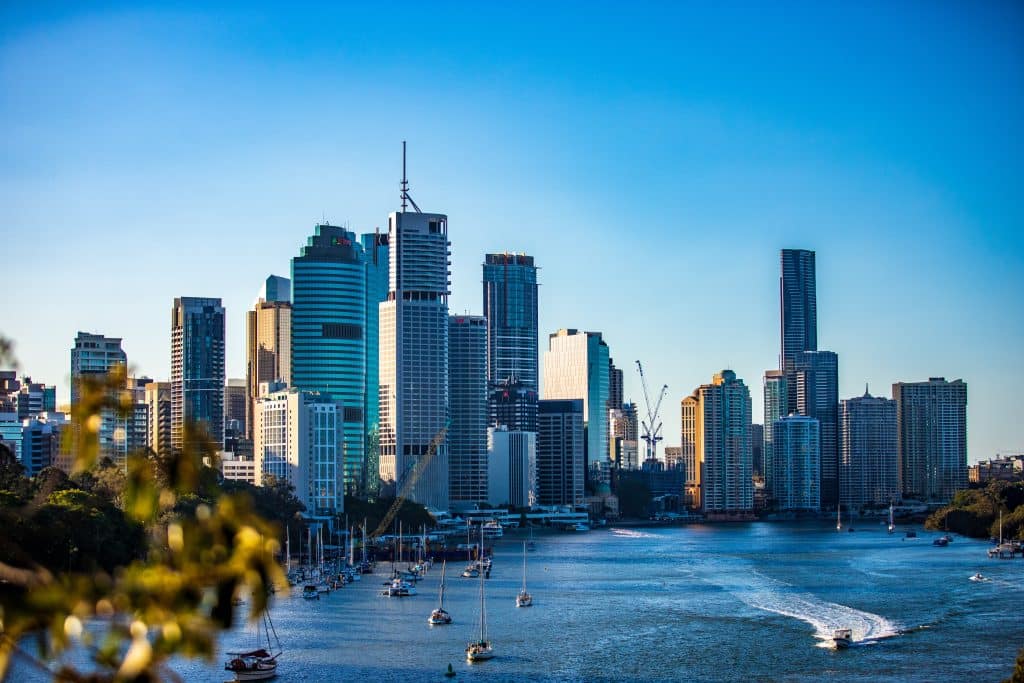 Photo by Brisbane Local Marketing on Unsplash
4WD On Bribie Island
Staying within the theme of adventure activities, but this time on land. Bribie Island is known for many things, one of them being great beach driving opportunities. It is quite a niche activity, but if you ever wondered what it is like to drive a car on a long sandy beach, this is your opportunity! The path is 23km one way and takes you along the east coast of Bribie island from south to north. You'll have to get a vehicle access permit beforehand and either own or rent a 4WD – other types of vehicles can't drive on the sand.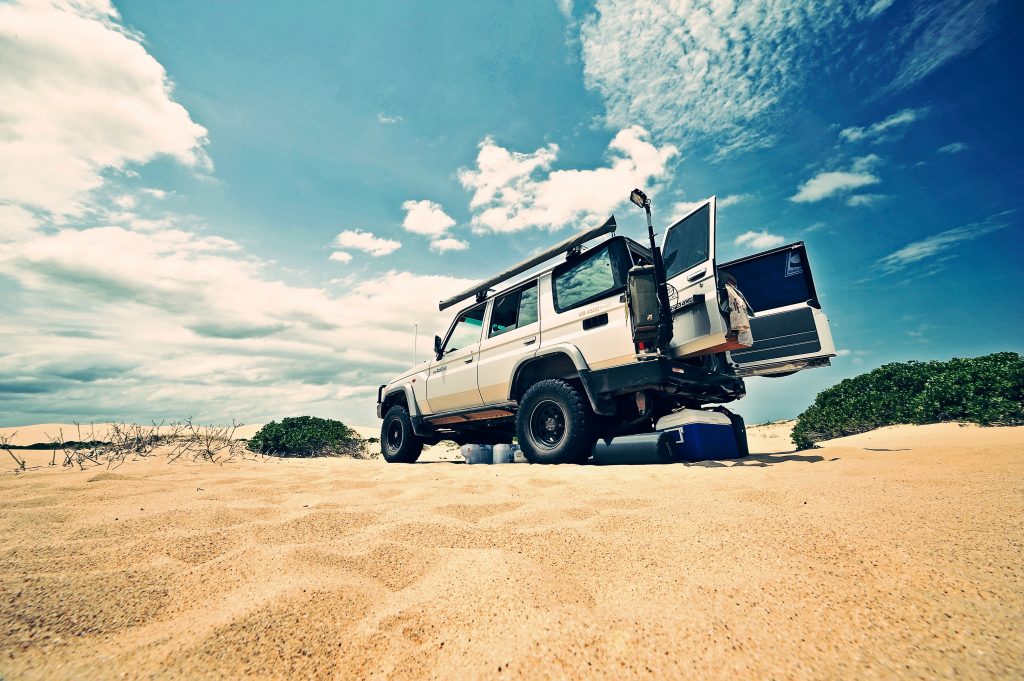 Photo by John O'Nolan on Unsplash
Go On A Romantic Gondola Cruise On Bribie Island
Bribie Island is also a great romantic destination if you're looking for unique date ideas. Grab your partner or a friend group, and cruise around the canals of Bribie Island. The gondola comfortably seats 4 adults, but you could squeeze in 2 more kids. In case you get peckish, you have two options for meals. You can bring your own drinks and snacks or order a meal to enjoy on your cruise. Taking this gondola ride is a unique way to see Bribie Island while enjoying a classic old boat charm.
See the Waterfalls on the Warrie Circuit in Springbrook National Park 
The mountainous regions around Brisbane are home to over 100 waterfalls. From charming little waterfalls with swimming pools at the bottom to over 100m tall dramatic falls, there is something for everyone. Naturally, these waterfalls are sprinkled throughout the region, and it is hard to see many on a single day trip. To see the most waterfalls on one hike, consider a trail like the Warrie Circuit in Springbrook National Park. This 14km long hiking trail covers an area with more than 10 waterfalls during the rainy season. You can even make it about 4km longer if you take a detour to Twin Falls, one of the most impressive waterfalls in the area.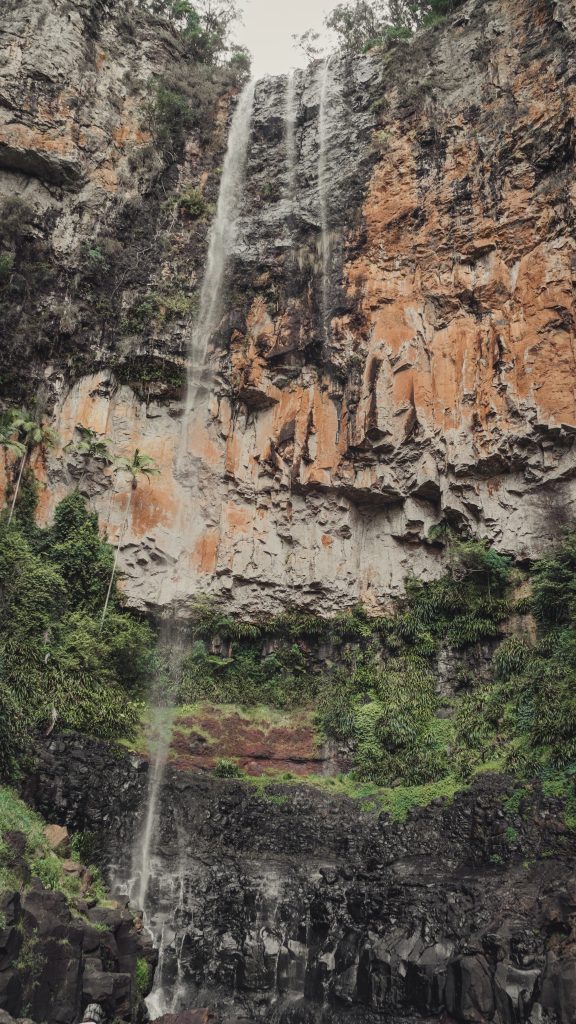 Photo by Lochlainn Riordan on Unsplash
Cuddle a Koala in Lone Pine Koala Sanctuary
Koalas are one of the symbols of Australia and probably the cutest animals you can find in the country. Queensland is actually one of the only two states where it is legal to hold a koala. If cuddling a koala is on your Australia bucket list, look no further than a day trip to Lone Pine Koala Sanctuary. This Koala Sanctuary is a place to learn about these fascinating animals, and see them interact with each other, and the best part is you get to hold one!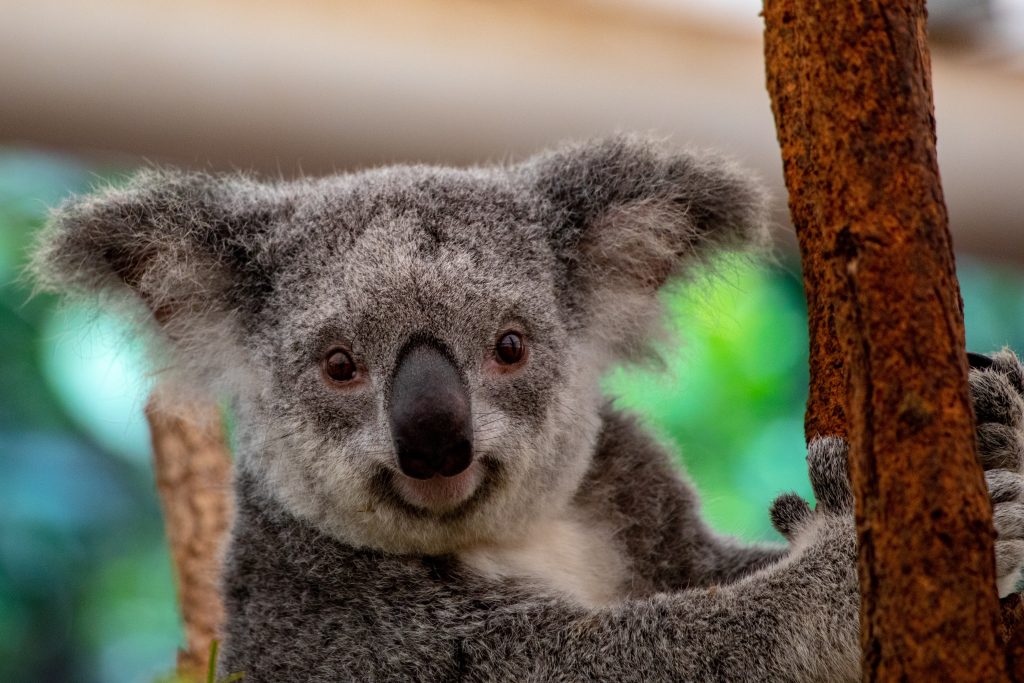 Photo by Bob Walker on Unsplash
Tamborine Rainforest Skywalk
Brisbane is home to many rainforests you can stroll around, but how about walking among the ancient treetops of the rainforest? Tamborine Rainforest Skywalk is a treetop walk on metal bridges set 30m above the ground. As you walk above the rainforest, you get to see the stream flowing beneath you and the palm trees around you. It is a truly unique way to experience the rainforest and a fun thing to do in Brisbane with kids.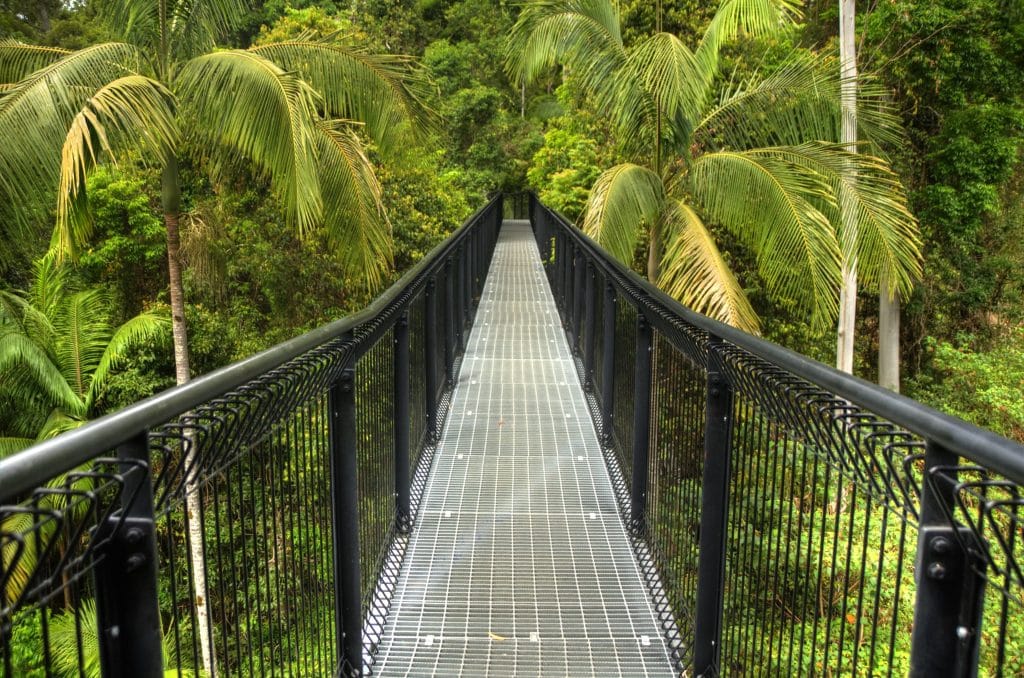 See the Glow Worms Cave in Tamborine Mountain 
A visit to the Glow Worms Cave is another unusual activity in Tamborine Mountain you can combine with the Rainforest Skywalk. These unique animals are best observed at night, as these insects in their larvae stage have tails that glow in the dark. Glow Worms Cave is a man-made cave, complete with very realistic formations to mimic their natural habitats. Alternatively, Australia's biggest population of glow worms in their natural habitat can be found in Natural Bridge. Since lots of tourists can disrupt their natural behaviour, and you have to wait until nightfall to see them, it might be a better option to take a guided tour at the Glow Worms Cave.
Horseback Wine Tasting
In case you didn't know, the area around Brisbane is the only wine region in Queensland and home to some delicious wine varieties. While a wine-tasting tour is fun in itself, how about exploring the vineyards on a horse? In Brisbane, you can take a Winery Horse Ride Tour! You'll mount your horse and explore the valleys and creeks of the vineyards before reaching the winery for a refreshing glass of wine and delicious lunch.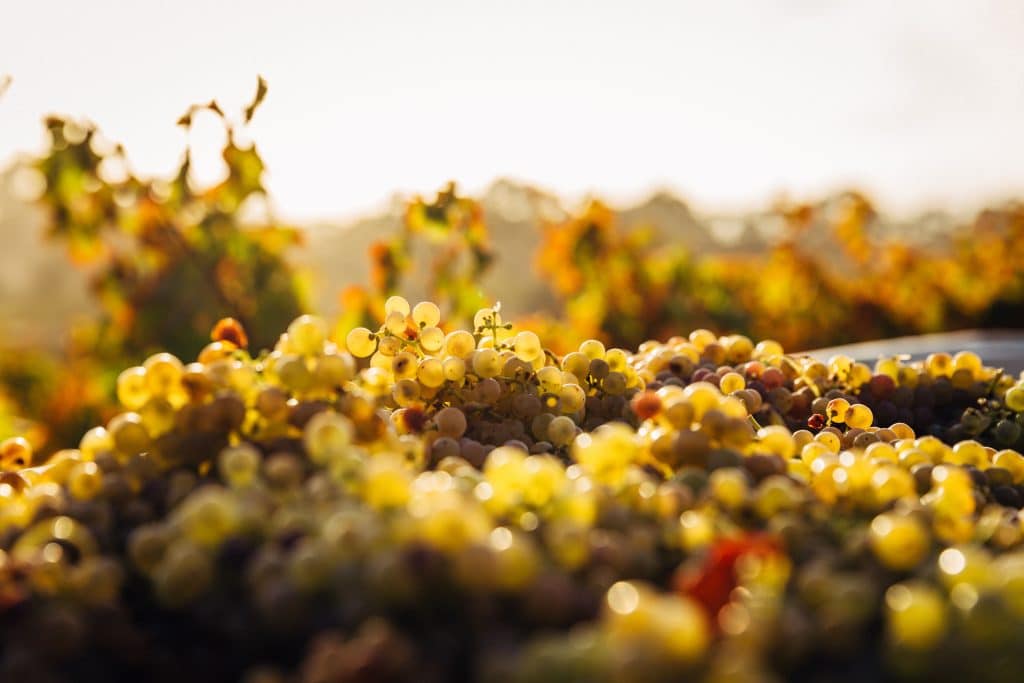 Photo by Thomas Schaefer on Unsplash
Summary: Best Hidden & Unusual Day Trips From Brisbane, Australia
The activities in the Brisbane area will keep you entertained for weeks! The region is filled with incredible nature and fun tours you can join to explore it fully.
Nature lovers can admire unique glowworm caves and picturesque waterfalls on one of many hiking trails in the region or walk among the treetops on the Rainforest Skywalk. If you're looking for a romantic activity, consider a hot air balloon ride over Brisbane or a Gondola cruise on Bribie Island. 
From wine-tasting tours of vineyards on a horse to 4X4 beach drifting on Bribie Island, there is an unusual day trip from Brisbane for every type of traveller.
If you want to go (much) further afield, head to Sydney for a day at Luna Park!