Today I have Kelena from Written by Kel guest posting. She's giving us the rundown on the 30 best things to do in Oahu with family–it will give you great ideas for your next trip to Hawaii!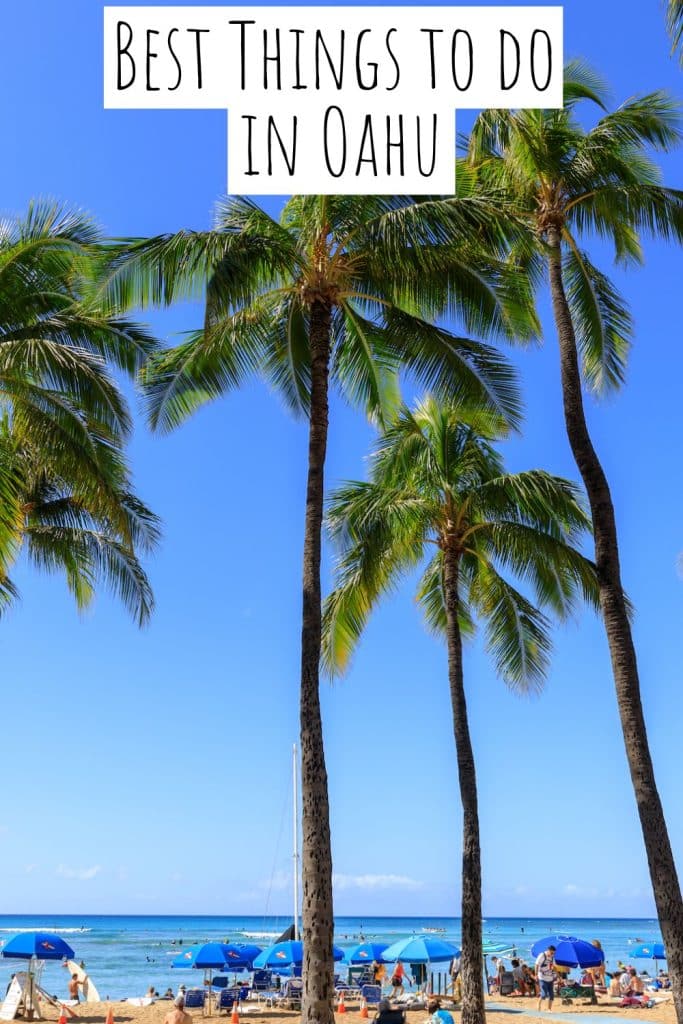 Oahu (O'ahu) is one of the most popular Hawaiian Islands in the Hawaiian archipelagos. It is a beautiful island with many things to do and see, from the ocean to lush mountains. If you happen to be travelling to Oahu with your family for the first time or wondering if "is Oahu worth visiting?" I have compiled a list of things to do in Oahu with family that caters to everyone of all ages.
Things To Do In Oahu With Family
This list contains many things to around the island of Oahu. A tip that my family and I did while we were in Oahu was to get to the most popular locations as early as possible before they were open for the day to secure a parking spot and avoid long wait times. There are also locations on this list requiring you to book a reservation in advance to help maintain crowd control.
Things to do in Honolulu
These are some tourist locations in or around Honolulu that you and your family could do together.
Hanauma Bay
The best snorkelling spot on the island, Hanauma Bay, is one of the best spots for families with children of all ages. The bay's calm water is home to beautiful coral reefs and marine life. The nature reserve does require you to book two days in advance, and spots will go quickly as this is one of the most popular spots on the island. 
Diamond Head
Another top thing to do in Oahu is take the hike up a crater known as Diamond Head. The trail is dirt and has large rocks that do stick up from the ground, but they are flat and smooth. It is a gradual incline-up that will take about 45 minutes to complete without stopping. There are stairs once you reach closer to the top. At the top, you will have views of the ocean and Waikiki. If it is raining or misting, the metal stairs at the top are incredibly slippery. You must also book in advance for an entrance fee and parking.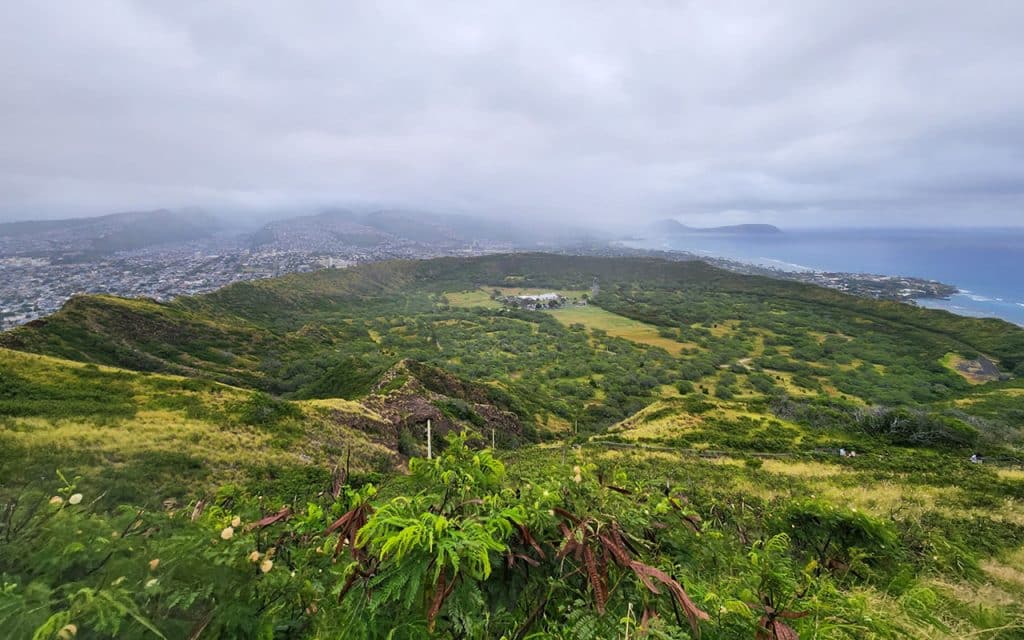 Honolulu Zoo
A popular family spot in Oahu is the Honolulu Zoo. If you are staying around the Honolulu area, it is an easy walk to get to as it is at the end of the main strip of Waikiki (Kalākaua Avenue). The 42.5-acre zoo is home to 900 animal species, such as Komodo Dragons, primates, elephants, birds, reptiles, and more. It also serves as a botanical garden home to floral and fauna.
Surfing Lessons
The highlight of my trip was taking surfing lessons on Waikiki Beach with some of my family members. Waikiki Beach has calmer waves and shallow areas that your instructor will take you to if you are a beginner like me. There are many surf shops and schools along the main strip. Many schools will teach beginner lessons for children and adults of all ages. I recommend booking the earliest time slots to avoid the beach crowd later in the day.
Koko Head Crater Trail
Koko Head Crater Trail is a challenging no-shade hike to the summit. It involves climbing a set of 1,000+ railway tracks that ascends the volcanic cone's steep slopes. Take this trail slowly if you are a beginner hiker or out of shape. And do not be scared to get on your hands and feet when ascending or descending the steep slope! If you want to avoid hiking, there is a Koko Crater Botanical Garden on the other side of the crater.
Manoa Falls
Hiking to the 150-foot waterfall is something you can do with your family. The well-maintained trail has beautiful jungle-like surroundings. Manoa Valley is known to receive the most rain on the island of Oahu, so do not forget to bring a rain jacket. Some locations along the trail are muddy and have occasional tree roots sticking out. However, most of the trail has gravel paths but remember to wear the proper shoes when hiking to Manoa Falls.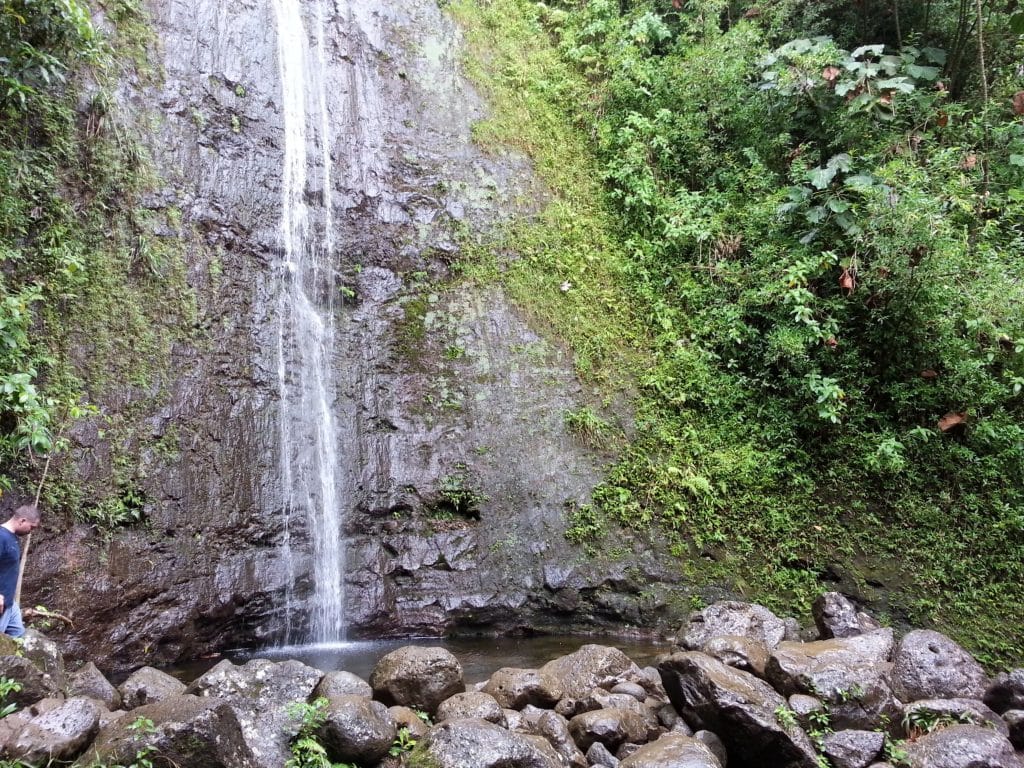 Royal Hawaiian Center
A shopping mall along the main strip of Waikiki (Kalākaua Avenue), the upscale retail mall has something if your family is looking for high-end brands, somewhere to walk around or watch the entertainment at night.
Waikiki Aquarium
Visiting the Waikiki Aquarium is an excellent thing to do in Oahu with family if you have younger children. Explore and learn about marine biology, exotic plants, and mammals like the Hawaiian Monk Seals. The Waikiki Aquarium is also within walking distance from hotels along Kalākaua Avenue.
Dolphin Quest
A family experience that is unique to Hawaii and Bermuda is Dolphin Quest. A dedicated scientific, education and marine conservationist location that specializes in dolphins. You can learn more about dolphins with your family by experiencing private swimming or non-swimming required programs/encounters.
Bishop Museum
Charles Reed Bishop founded the museum in honour of his late wife, Princess Bernice Pauahi Bishop (the last royal descendant of the Kamehameha dynasty). The Bishop Museum is an excellent place to learn about natural history. It is home to an extensive collection of Hawaiian and Pacific cultural artifacts.
Children's Discovery Center
A fantastic location for younger children is the Children's Discovery Center. They will be in an environment that encourages children to use their senses by playing with sensory-type toys and various activities to teach them about the world around them.
Submarine Ride
Something else that would be fun for children is taking a submarine ride. Dive 100 feet below the surface and watch marine animals up close, such as green sea turtles, eels, sharks and more.
Ala Moana Center
If you and your family are looking for something to do on a rainy day in Oahu, Ala Moana Center is a great place to walk around and do all of your shopping for other family members.
Don Quijote (Honolulu)
No relation to the book, Don Quijote is a small supermarket with a variety of snacks from Japan, nicknacks for gifting to someone back home, and a variety of hot and ready food you can eat for any meal. The best part, they are open 24 hours, so if you and your family get hungry at midnight, you know where to go!
Waikiki Trolley
Taking an open-air Waikiki Trolley is something touristy that you and your family can do if you choose to avoid walking around or wanting to drive to different locations. Different trolley routes will take you to various spots in and around Honolulu.
Things to do on the North Shore
These are tourist locations in or around the North Shore of Oahu.
Dole Plantation
The Dole Plantation is something that many families should experience at least once on Oahu. Dole is one of the world's leading companies that sells pineapple.  At the plantation, you will learn how Dole became one of the first successful pineapple farms, how to pick them, and other historical facts. Pineapple theme nicknacks, candy, apparel, and other small vendors sell other goods inside the main building. You can also find their cafe food and the famous Dole Whip. Outside you can enjoy the large pineapple-shaped maze and their most popular attraction, the Pineapple Express Train.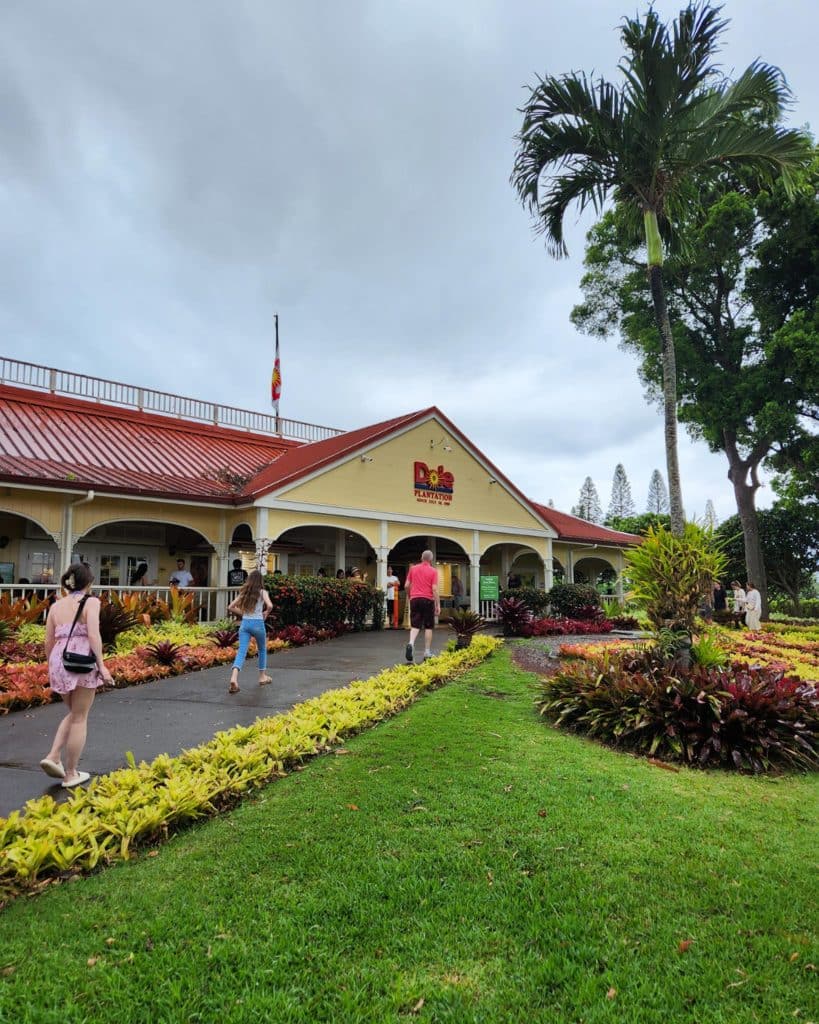 Ka'ena Point
The Ka'ena Point hike is an easy and beautiful hike to do when you are on the North Shore. The end is a protected nature reserve home to many seabirds and monk seals.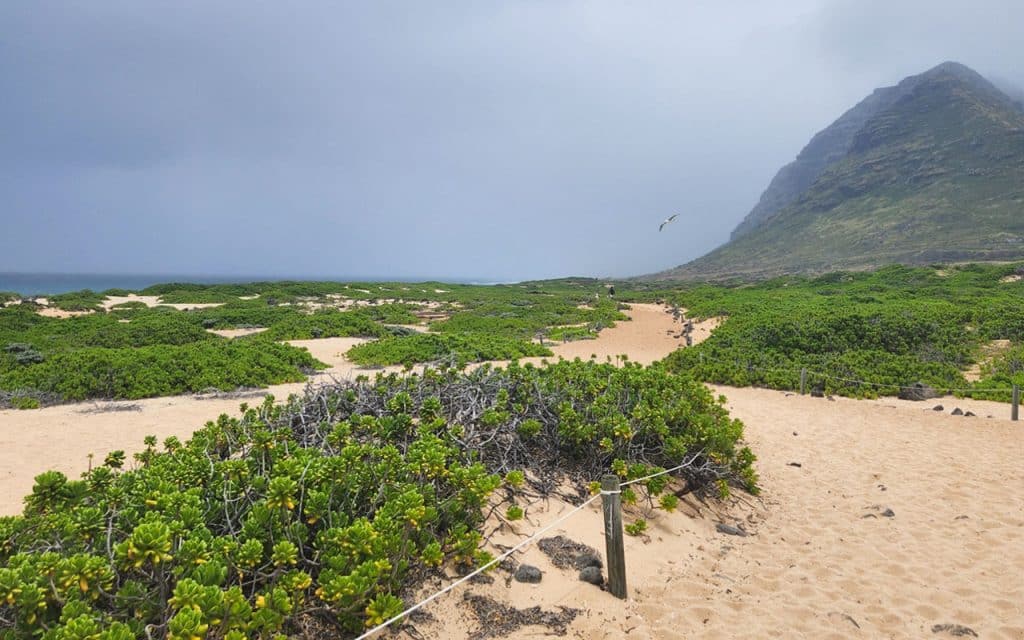 Waimea Valley
Waimea Valley is a parkland that shares information on Native Hawaiian culture and history. There are artisans, cultural sites, snacks and bar options, and a botanical garden. The valley is also where you can hike to the Waimea Waterfall. It will take approximately 30 minutes to complete and pave the entire way. Swimming at Waimea Waterfall will depend on the conditions that day, and lifeguards will make a call for the day at 9:00 AM.
Sunset Beach
Sunset Beach is on the North Shore and is a popular location where many experienced surfers like to surf for fun. Surf competitions happen at Sunset Beach during certain times of the year. If you catch one, it is a fantastic experience for the whole family. Even if you do not surf, Sunset Beach is an excellent spot to hang out for the day and watch the sunset, as it is one of the best locations to watch sunsets or sunrises on Oahu.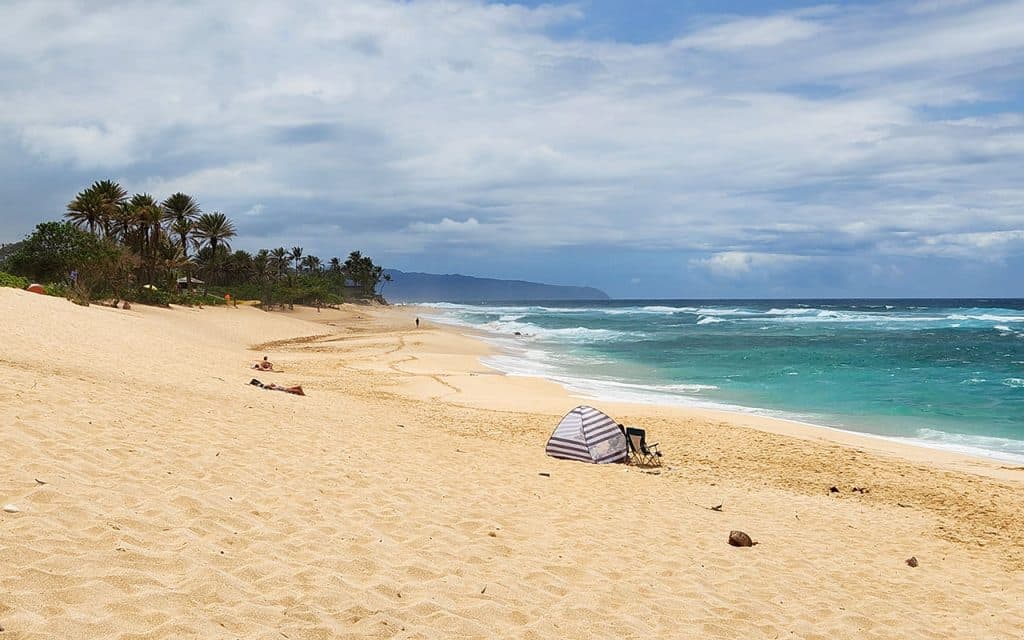 Polynesian Cultural Center
One of Hawaii's unique family activities is visiting the Polynesian Cultural Center. On the North Shore of Oahu, the 42-acre center has six island villages representing Hawaii, Fiji, Aotearoa (New Zealand), Tahiti, Samoa, and Tonga. The center also has other things to do inside, such as daily canoe tours, Hukilua Market Place, Ha: Breath of Life show and something else that brings me to my next suggestion.
Attend A Luau
A Luau (Lūʻau) is a traditional Hawaiian party or feast followed by entertainment. Attending a Luau in Hawaii is something that all families should experience. Oahu has many Luau options all over the island.
Locations outside of Honolulu and the North Shore
These are the locations outside of the North Shore and Honolulu. However, they are still popular locations many people like visiting with their families.
Kualoa Ranch
Kualoa Ranch is one of the island's most popular and highly-rated tourist locations. There are many daily tours, such as UTV, horseback riding, movie site tours, and more. If you or any family members are into Jurassic Park, this is the place to go, as the movies were filmed on Kauloa Ranch.
Kaneohe Sandbar
The Kaneohe Sandbar is a ridge that is exposed during low tide. It is a gem on the island of Oahu. Many locals and tourists love going to Kaneohe Sandbar to relax, swim, or snorkel. There are boat tours that go out to the sandbar, or if you are looking for a cheaper option taking a kayak is as fun as taking a boat.
Lanikai
Lanikai Beach is another top thing to do in Oahu with family. The community of Lanikai, located in Kailua, is home to one of the best beaches in Oahu, Lanikai Beach, with calm waters and beautiful sunsets at night. Parking can be hard to come by, be aware of the street signs. The Lanikai Pillbox hike is something that you can also do while you are there. It is a short hike to two World War II bunkers, "pillboxes" with stunning views over the neighbourhood, Mokulua "Twin" Islands and the surrounding area. It is also one of the island's best locations for sunrise hikes on Oahu.
Pearl Harbor
Pearl Harbor was an active Navy Base during World War II. Ford Island in Pearl Harbor was surprise attacked on December 7th, 1941, killing civilians and thousands of Navy soldiers also damaging eight battleships and over 300 airplanes. Today it serves as a museum and memorial site for those who died on that devastating day. Suppose you want to do something other than the full Pearl Harbor (Ford Island Tour, which I recommend doing). In that case, the Pearl Harbor National Museum is free of entry but has a parking fee.
Note: No backpacks, bags, or purses are allowed inside the Pearl Harbor National Museum.
Ziplining
Ziplining is a fun-filled adventure for the entire family. CLIMB Works, Kaena Farm is a spectacular location and highly rated company that provides a three-hour guided zipline tour exploring and learning about Hawaii's rich culture and history.
Whale Watching
The whale-watching season occurs from December to March (sometimes, you can spot some as early as November). You can spot North Pacific Humpback Whales during the migration period travelling from Alaska. The humpback whales breed, give birth and raise their young around the Hawaiian Islands. While whale-watching tours can be pricey, it is well worth it if you are visiting during peak season.
Hawaiian Railway Society
If you have children who are into trains, the Hawaiian Railway Society is the place for them. The educational non-profit organization is dedicated to restoring, saving, and protecting Hawaii's railroad history. You can even ride a train!
Byodo-In Temple
The Byodo-In Temple is a smaller-scale replica of the over 950-year-old Byodo-In Temple in Uji, Japan. In 1968 it was established to commemorate the 100th anniversary of the first Japanese immigrants to Hawaii. The peaceful temple grounds are a lush paradise home to hundreds of koi fish and wild peacocks. There have been television episodes from Hawaii Five-0, Magnum P.I., and Lost, where the temple has been incorporated into the show's plot. It is a non-practicing Buddhist temple which welcomes people of all worship and faith or those looking for a tranquil spot.
Ho'omaluhia Botanical Garden
Last but not least is the Ho'omaluhia Botanical Garden. You may have seen photos of this location circling Instagram as it is one of the most "Instagramable spots" on Oahu. While you are there, you can explore 400 acres of garden. It is considered a peaceful refuge for wildlife and visitors. Eight distinct tropical gardens showcase different tropical regions around the world. Many native bird species love to spend time around their favourite gardens. Admissions to the gardens are free whether you are driving or walking. Walking will give you the whole experience and more to see.
Conclusion
As you can see, there are many things to do in Oahu with family. Whether you are looking for a vacation full of fun-fill adventures or taking it easy by the beach, you and your family are bound to have a wonderful time in Oahu.