Hawaii has always been a popular destination for mainland Americans. Who can say no to a tropical getaway?! Hawaii is often thought of as a romantic holiday, but it is also a fantastic place to take kids. Marcie Cheung of Hawaii Travel with Kids is here to tell us the top ten things to do in Hawaii with kids.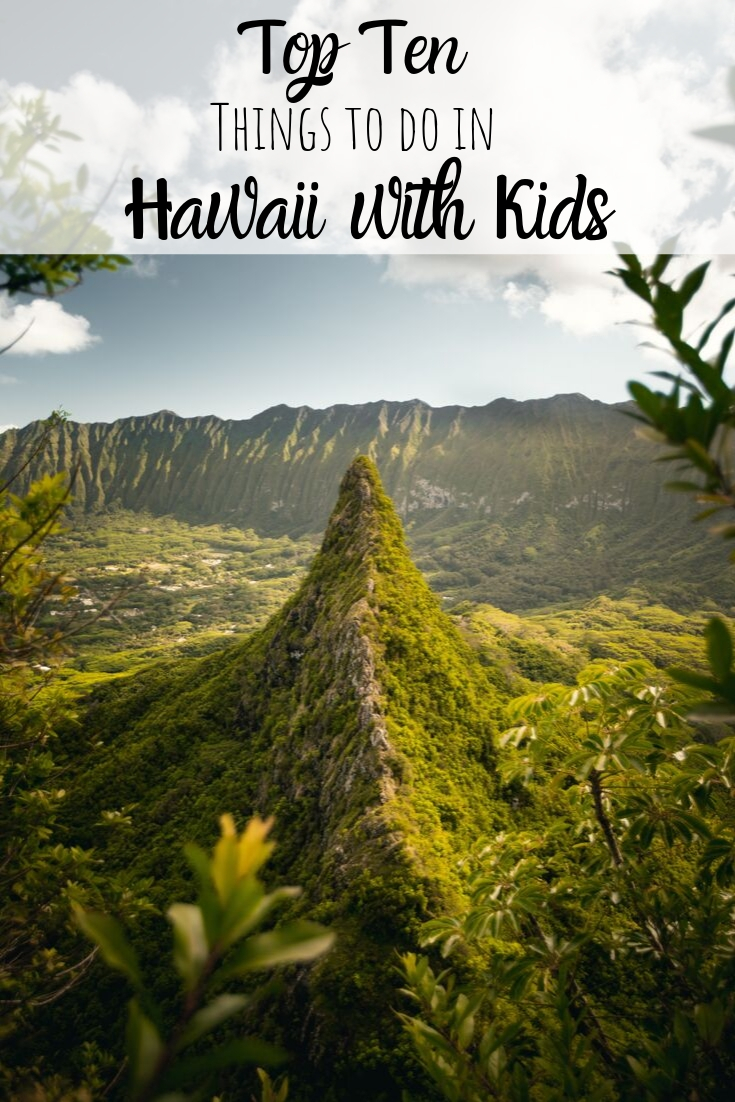 If you are looking for a tropical getaway for your next family vacation, look no further than Hawaii. This island paradise is just a 5 hour flight from the West Coast and there's really something for everyone.
What to do with your Kids in Hawaii
Eat Shave Ice
Because it's one of my favorite tropical treats, I'm listing eating shave ice at the top of my list.
Yes, it's called shave ice (not "shaved" ice) and you'll probably want to steer clear of any place that adds the "d!"
On Oahu, I recommend the popular Matsumoto's in Haleiwa. Or, head to President Obama's favorite shave ice spot: Waiola Shave Ice in Honolulu.
On Kauai, head to Wishing Well in Hanalei, the Fresh Shave in Lawai, or Waikomo Shave Ice in Poipu.
And the best shave ice on Maui is Ululani Shave Ice, no doubt!
Find out how to spend 3 days on Maui with kids.
Learn How to String a Lei
My family is all about doing cultural activities when we travel. Stringing a lei is such an iconic part of Hawaiian culture.
Check with your hotel/resort to see if they offer a lei making activity.
Otherwise, you can learn how to make a haku lei (a flower crown) on AirBnB Experiences, at the Polynesian Cultural Center, or before many luaus.
Relax on the Beach
As soon as you land in Hawaii, your kids will probably start begging to go to the beach. That's great!
Hawaii has some of the best beaches in the world!
I'd suggest stopping off at Long's Drug or an ABC Store to pick up some inexpensive sand toys and inflatables.
Visit a Real Palace
Did you know Hawaii is the only state with a royal palace? Iolani Palace on Oahu is full of fascinating history and culture.
I recommend taking a guided tour so that your family can ask questions along the way.
Check the schedule because the Royal Hawaiian Band does frequent concerts on the grounds of the palace.
See a Volcano
When people think of Hawaii, a lot of times they want to know where to see lava in Hawaii!
The truth is that seeing lava doesn't happen all the time. But, you can still head to Hawaii Volanoes National Park on the Big Island of Hawaii.
Here, you'll be able to see 2 of Hawaii's most famous volcanoes: Kīlauea and Mauna Loa.
Families can participate in the ranger program, experience a cultural demonstration, or choose to hike.
Watch a Hula Show
You'll definitely want to see hula dancing in Hawaii! My favorite way to do that is by attending a luau. There are usually great hands-on activities for the kids, an array of Hawaiian/Pan-Asian food, and lots of dancing.
But, luaus can get pricey.
There are also tons of free hula shows in Hawaii. One of my favorites is at Ala Moana Shopping Center on Oahu. Actually, you can find hula shows at most malls in Hawaii.
Or check to see which restaurants have live entertainment.
Find out 13 kid-friendly luaus on Oahu.
Try Malasadas
Another popular Hawaiian treat are malasadas. They are Portuguese donuts that kind of look like giant donut holes.
Typically, they are rolled in sugar or a mixture of sugar and cinnamon. However, you can also find them filled with passion fruit, coconut, mango, chocolate, and all kinds of fruity purees.
The most notorious malasada spot on Oahu is Leonard's Bakery. People line up before dawn to get piping hot malasadas fresh from the pot! And they even have their own food trucks!
But, you'll be able to find them all over the Hawaiian islands!
Take a Surfing Lesson
When you visit Hawaii with kids, your children might beg to take surfing lessons. Do it!
We like using Hawaiian Fire on Oahu because they are real Hawaiian firefighters who teach surfing on the side.
But, you can surf on any island. Just keep in mind that younger kids should get their own instructor, for safety.
Go Shopping
There are so many cool places to shop in Hawaii. On Kauai, I love heading to Warehouse 3540 to check out all the boutiques and food trucks.
My favorite place on Maui is the Maui Swap Meet for handmade items, baked goods, and cool souvenirs.
On Oahu, we always head to Ala Moana Shopping Center. They have tons of big name stores, local shops, and lots of good food options!
Take a Boat Ride
There are tons of different boat rides in Hawaii. From sunset cruises, to snorkel trips, to whale watching excursions, there something for all family members.
You will find boat rides on every Hawaii island. You'll also find Atlantis submarine rides on Oahu and Maui.
And on Kauai, there's even a calm boat ride on the Wailua River.
Hope you've found a few new things to do with kids in Hawaii for your next family vacation! It's such a popular family vacation destination because there's really something for everyone!
www.instagram.com/marcieinmommyland
www.facebook.com/marcieinmommyland
www.pinterest.com/marciemommyland