We are coming upon one of the best times to visit Central Florida (everything is better in the fall!). Despite the predictable tropical storms that give summer and fall the unfortunate term "Hurricane Season" in the southeast, it's usually not marked with such powerful winds and rain. However, it's a time of year sometimes upset by intermittent bursts of rainfall and occasional thunderstorms. You will also need to account for the diffused light of overcast conditions. On the plus side, there are also fewer crowds and lower prices. Universal has seen a surge in first-time visits in recent years. This is mainly due to a rise in innovation and a decline in competition. Whether you are new to visiting Orlando theme parks or just changing up your resort destination, this comprehensive first-timers guide to Universal Studios Orlando will have you covered.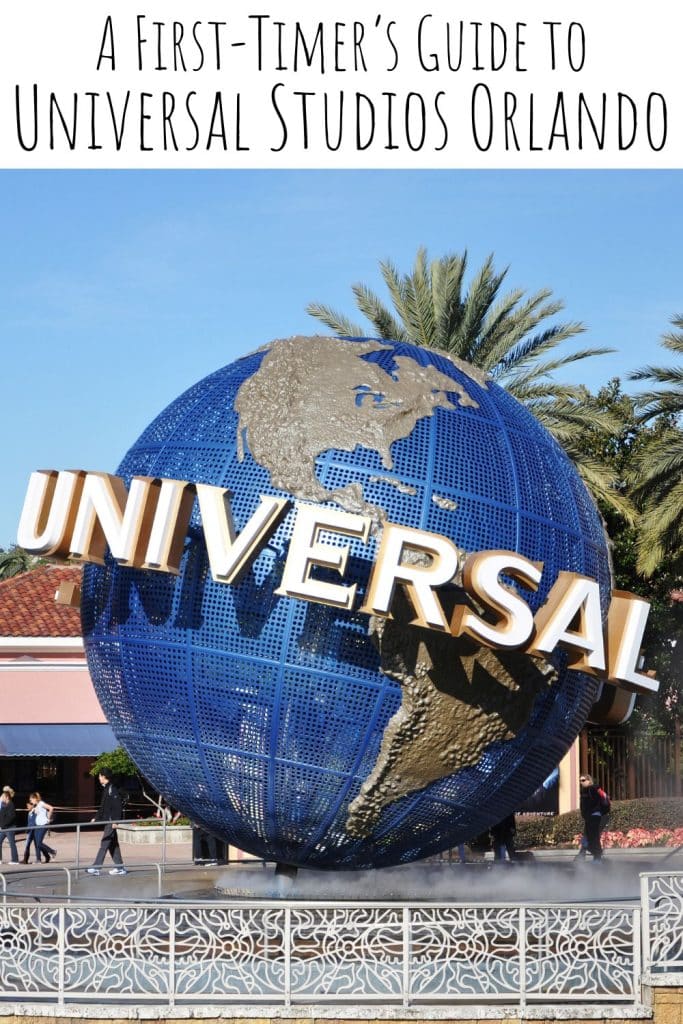 First, let's address the mouse in the room. You may be very familiar with how to plan a Walt Disney World trip–at least you may have been there once or twice. Although there are plenty of comparisons to be made on the surface, as a first-timer to Universal, you will quickly discover that there are quite a few operational differences.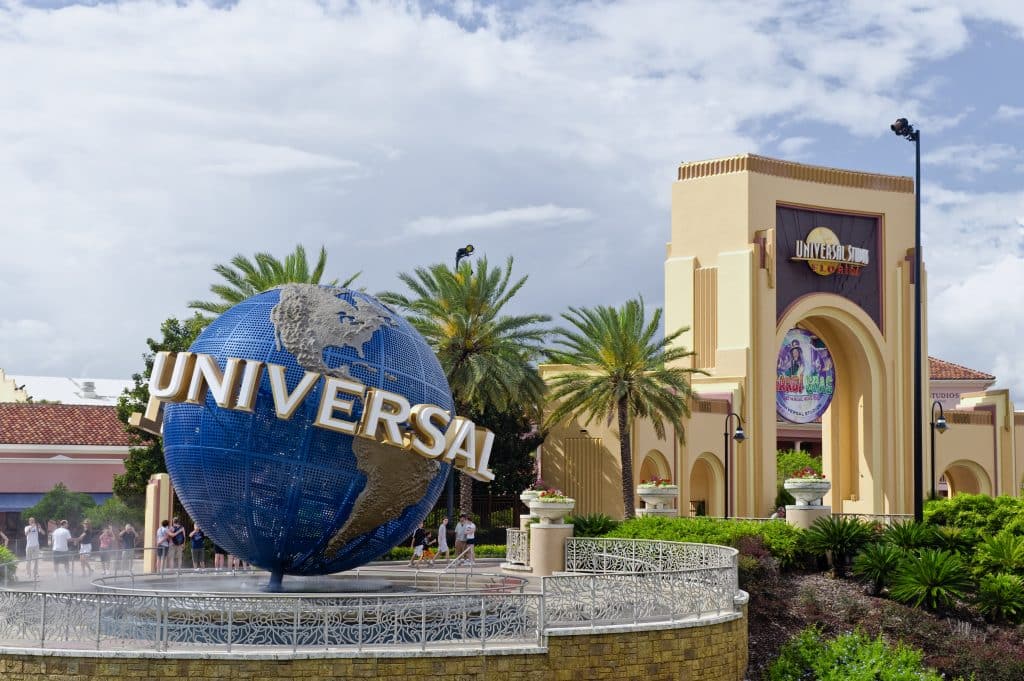 Paying More to Skip the Line 
One funny thing to note is that Universal has a pass you can pay extra for in order to skip the line. Disney does this, too. However, where Disney used to offer this service for free, Universal has always charged for it. So, there is no love lost in that arena, whereas Disney has only added to the erosion of goodwill amongst their fans. Extra charges aside, Universal is comparatively much less expensive in virtually every way. So, if you're traveling on a budget or with a large family, Universal provides the better value by far. To plan a trip to Universal, start with the basics like when and where, then build out your trip using the Universal app.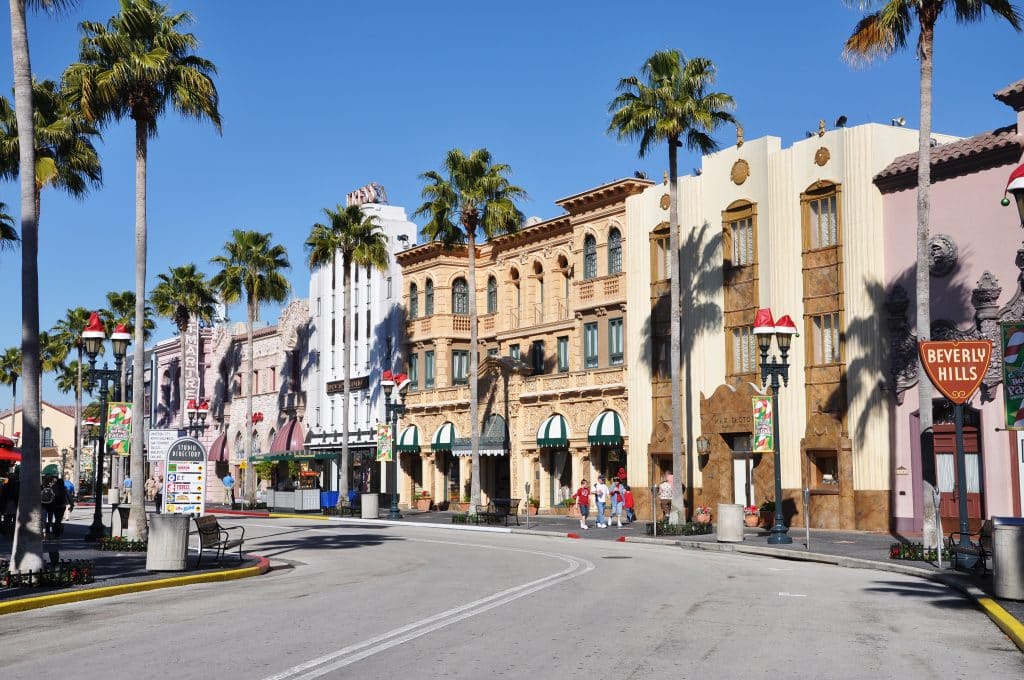 Universal Studio's Terminology
Child Swap 
A service available at certain rides that may be too intense for young children or have a height requirement prohibiting them from the experience. In this case, two or more eligible riders may take turns experiencing the ride and watching the child without having to wait in line more than once. There may be a waiting room, a designated area, or a separate line dedicated to Child Swap. 
Single-Rider 
This ride queue option allows guests to board an attraction earlier by riding alone when the ride operators are looking for people to fill empty seats. Single-Rider queue entrances are clearly marked at the front of the attraction. 
Express Pass 
This is Universal's equivalent to Fastpass or Lightning Lane at Walt Disney World. You can purchase an express pass in advance or when you arrive at the park. The separate queue is only for visitors who have this pass and usually is a much shorter line. Unlike Disney's version, you do not need to schedule your arrival. One pass is good for any eligible ride one time only on each date of the pass.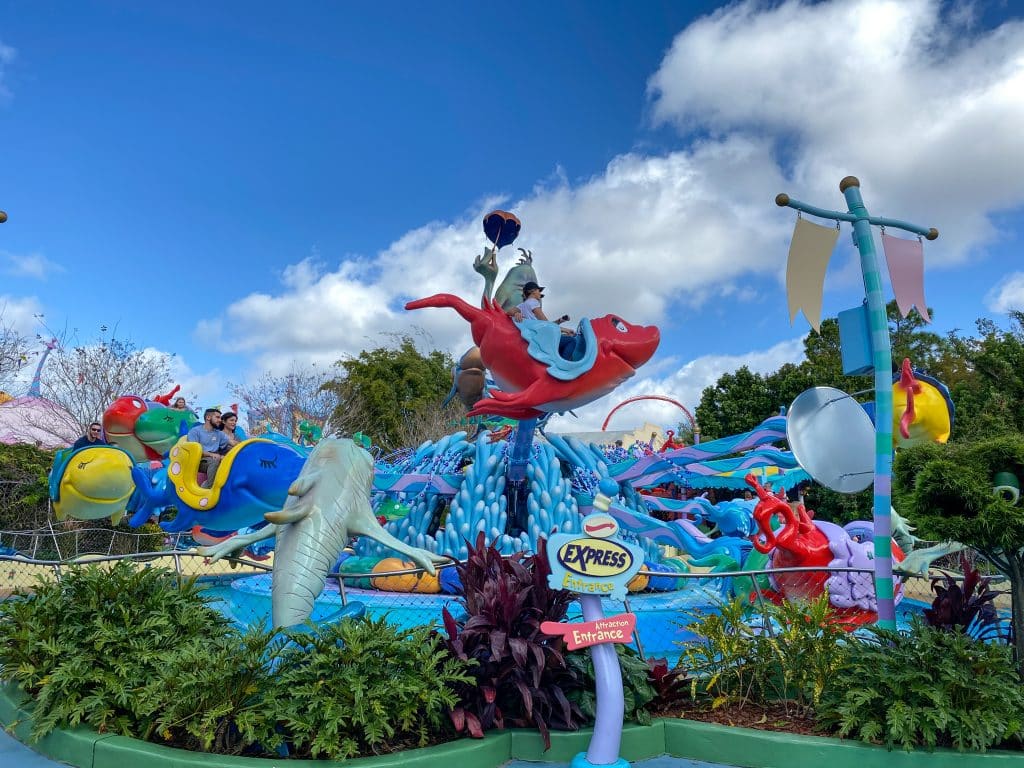 Express Unlimited 
This is an enhanced pass that allows you to use the Express Line for any eligible attraction as many times as you want. It's more expensive, but it usually comes free when you book your stay at one of Universal's Premier class hotels. 
Virtual line 
This in-app feature allows you to schedule a "virtual line pass" to return to an eligible popular attraction at a scheduled time. You select the ride you want, enter the number of riders, and select your return time. Then you scan your pass when you arrive at your scheduled time. 
Universal Pay 
This is an in-app wallet that allows you to make contactless transactions anywhere in Universal Orlando.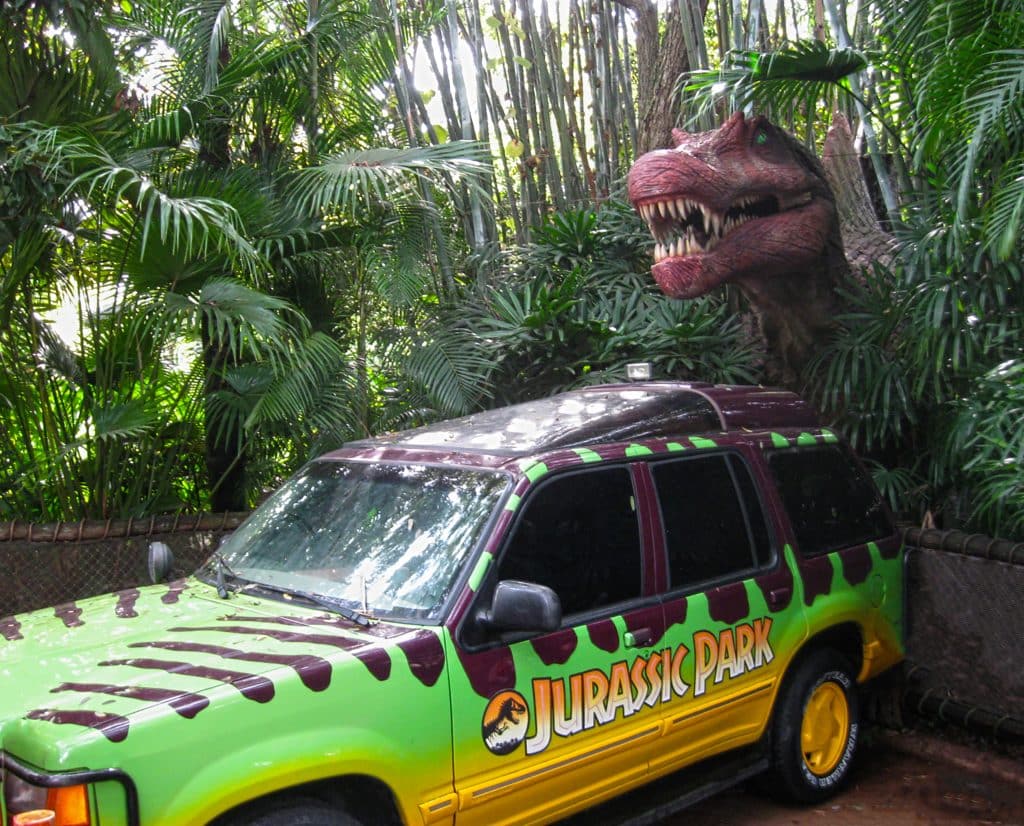 Uber Zone 
This is a designated sheltered waiting area for Uber riders. This default pick-up spot at Universal is located in the Jurassic Park Garage. 
Mobile Food and Drink 
This in-app feature allows you to place an order with quick-service dining locations in advance for pick-up when you arrive. 
Full Service 
A dining location with a wait staff that offers table service. 
Park2Park 
This is a ticket that allows you to visit two parks in one day. It's essential if you want to ride the Hogwarts Express (going between Universal Studios and Islands of Adventure).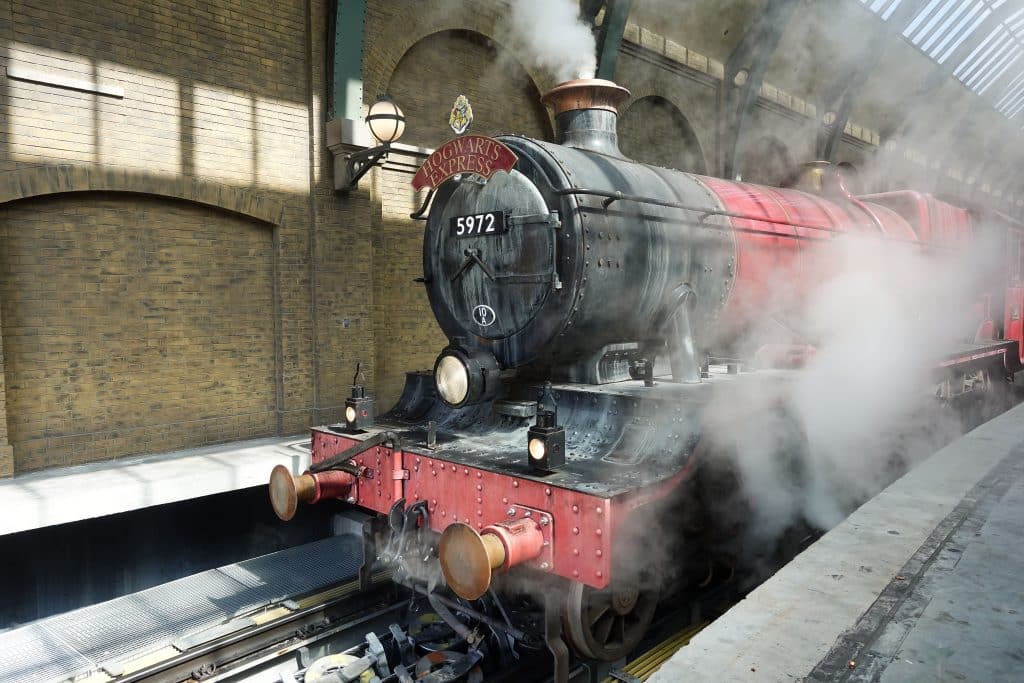 When and Where to Go
As I mentioned above, late summer and fall are great times to visit to avoid crowds. The weather becomes less predictable and school is in session. All in all, it's not the popular choice for a week-long vacation. Still, weekends do get pretty crowded, and holiday weeks see their fair share of attendance up-ticks. 
If you have the availability during this time and you like the idea of saving some money on your travel, August, September, and October could be right for you–particularly on weekdays. May, June, and July are busy and have lots of that humid summer heat, which will significantly sway the way you spend your time at the resort. Either way– rain or shine– you are likely going to want to plan a good mix of indoor and outdoor activities. You should also take the time of year into account if you are considering Volcano Bay as a major park of interest.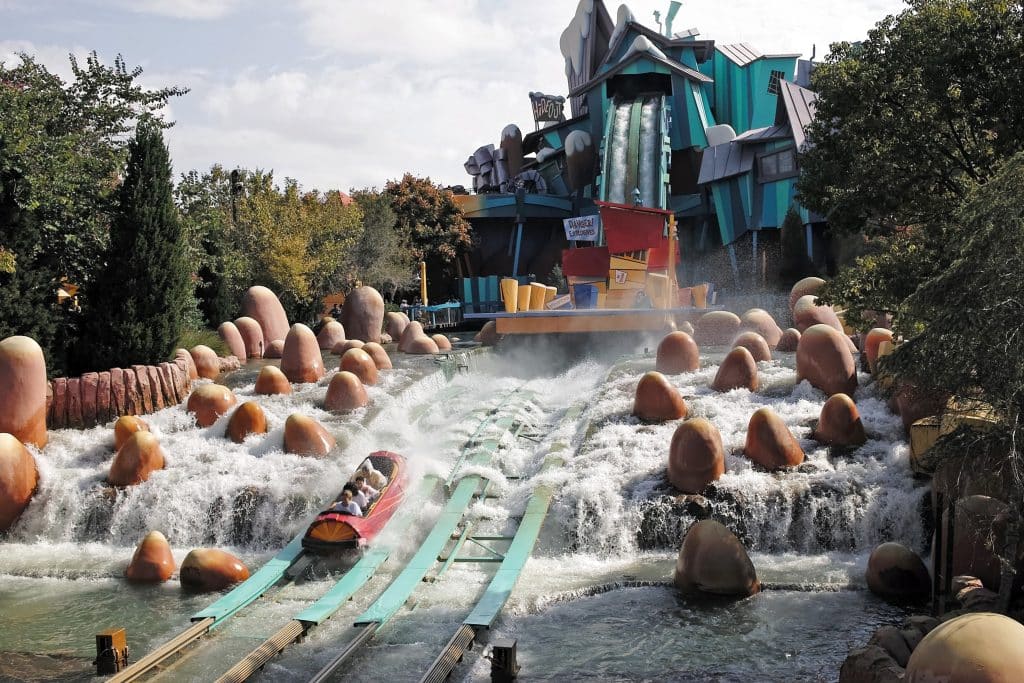 Other Times of Year 
If you like cooler, milder weather, late winter or early spring may be right for you, but you may wish to avoid Spring Break. Since Orlando is a big draw from all over the world (let alone the country), this can be complicated to balance. You also can't completely escape the chance of rain and the nights cool down quickly. The only real downside to booking the earlier part of the year is that there may be fewer offerings and shorter schedules. Pay attention to park hours and attraction availability as you determine your dates. You should also consider holiday events such as Halloween Horror Nights whether that is something you look forward to or not. 
Universal Orlando Parks (First-Timers Guide to Universal)
The "where" of a first-timers guide to Universal pertains to which parks to visit and choosing your hotel. 
Universal has a robust offering of theme parks which will soon include the highly anticipated Epic Universe park. The fourth theme park at Universal Orlando opens in 2025. It will immerse guests in the worlds of Nintendo, Classic Monsters, How to Train Your Dragon, Fantastic Beasts, and more. Meanwhile, you can visit Illumination's new Minionland at Universal Studios and check out the Dreamworks Land which debuts sometime in 2024. The Wizarding World of Harry Potter practically makes a park unto itself, though its two sections– Diagon Alley and Hogsmeade are actually in two separate parks. A Park2Park ticket will allow you to travel between the two lands via Hogwarts Express so you never have to leave Harry's enchanted world.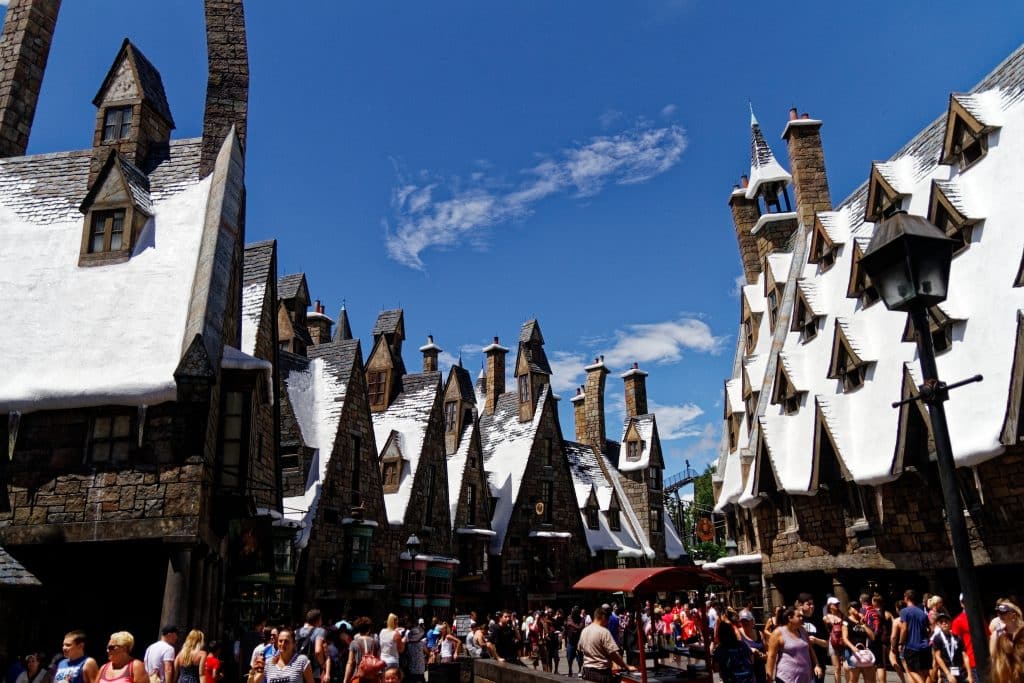 If you want to visit two parks in one day the traditional way, you can very easily walk from one main gate to the other. The two parks are very closely built and connect to one another via Universal City Walk. Volcano Bay is further away but still within walking distance.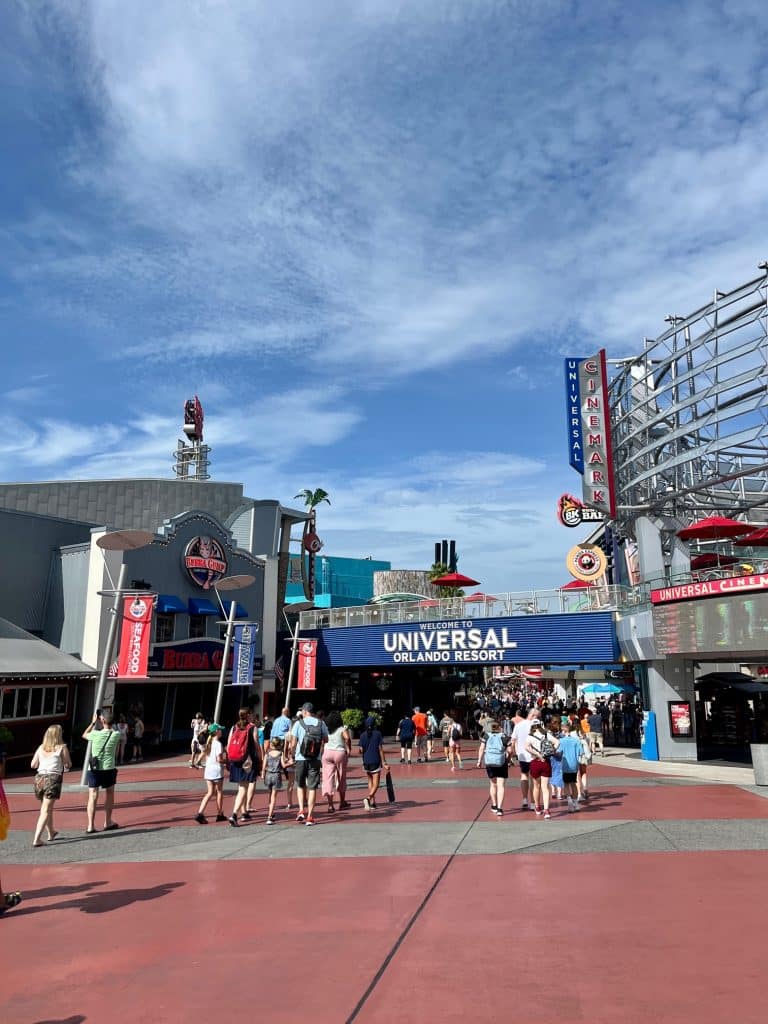 Universal Studios Florida 
Universal Studios Park is the original. Set around a long lagoon, Universal Studios maintains a studio backlot theme throughout much of the park. This includes facades that serve as backdrops of cities like San Fransisco, New York, and Hollywood/Production Central. These areas also house restaurants, shops, and popular attractions such as Fast & Furious: Supercharged, Revenge of the Mummy, The Bourne Spectacular, and Hollywood Rip Ride Rockit. These Areas also contain Transformers The Ride 3D and Race Through New York Starring Jimmy Fallon. Additional Lands around the lagoon include Diagon Alley, World Expo (Men in Black: Alien Attack), Springfield USA, and the soon-to-be-unveiled Dreamworks Land. The new Minion Land occupies part of the production center near the park's main entrance.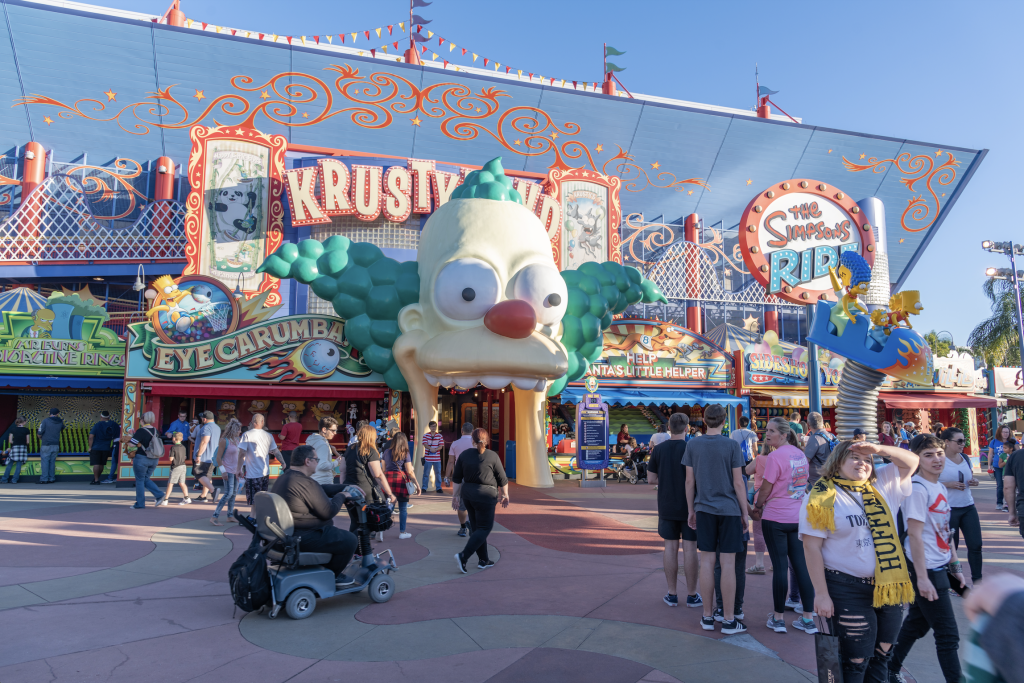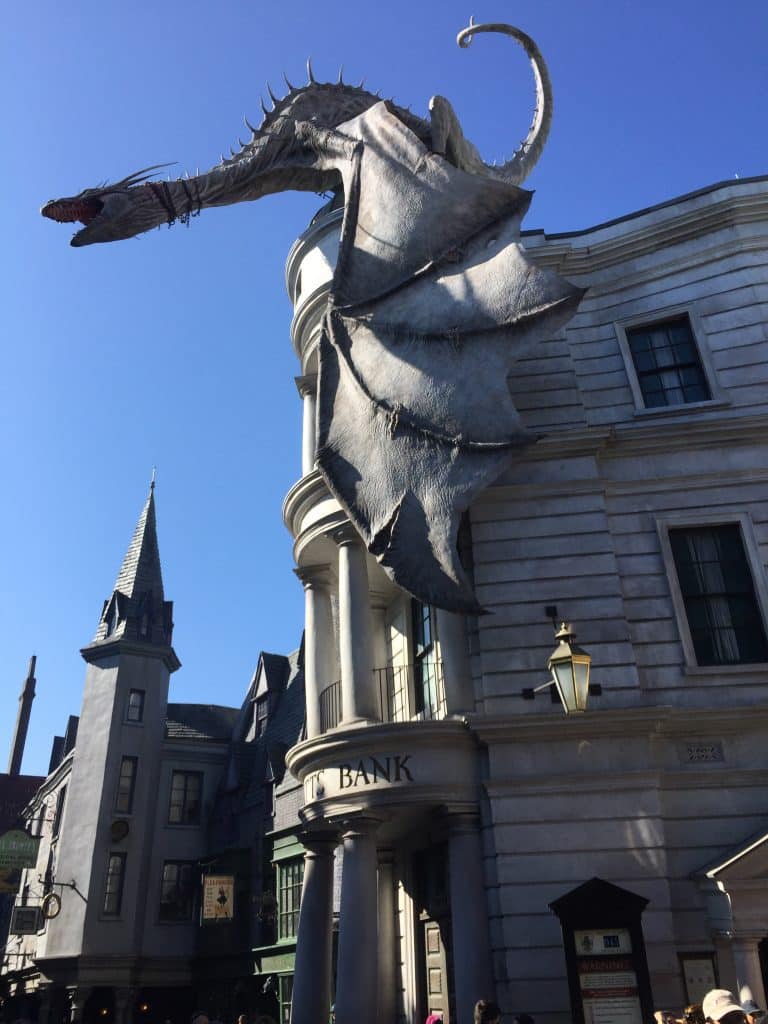 Islands of Adventure 
Meanwhile, at Islands of Adventure, you'll encounter the immersive worlds of Dr. Seuss, a pre-MCU (and more comic bookish) Marvel, Popeye, Dudley Do-Right, Harry Potter (Hogsmeade), Jurassic World, and a sort of random "Lost Continent". Here is where you can enjoy a full-service meal at Mythos, one of Universal's best theme park restaurants. Tucked in a pocket near Jurassic World you will find Skull Island. In Reign of Kong, you ride through a prehistoric wilderness and witness an intense battle as King Kong fights away vicious predators on the attack.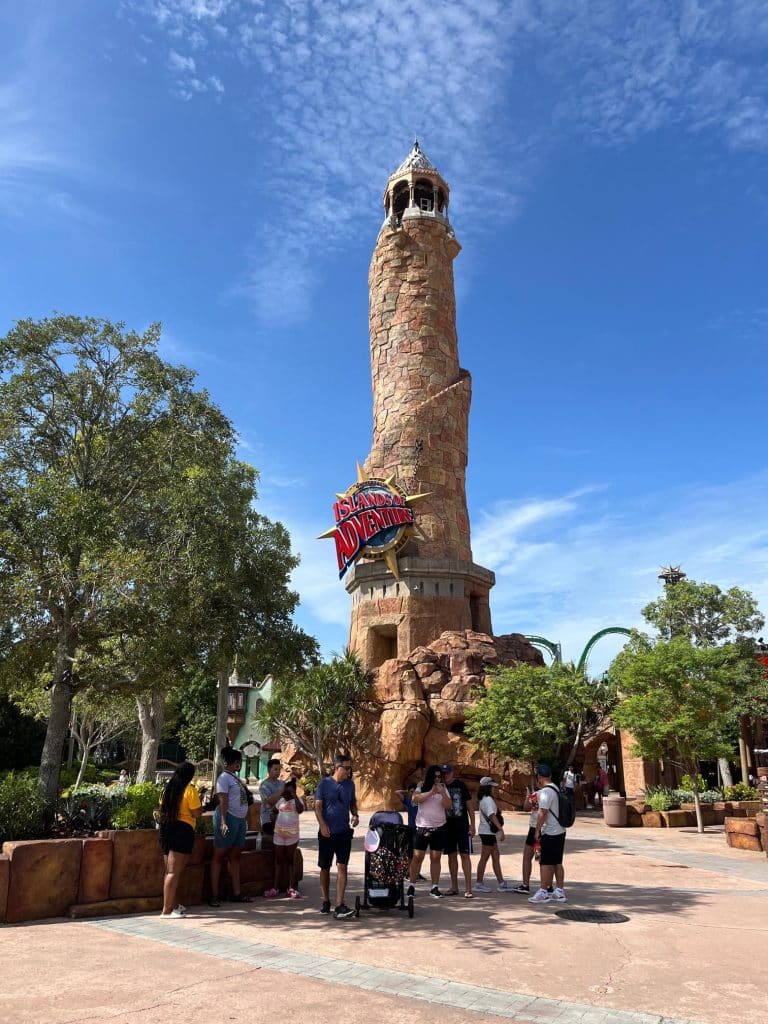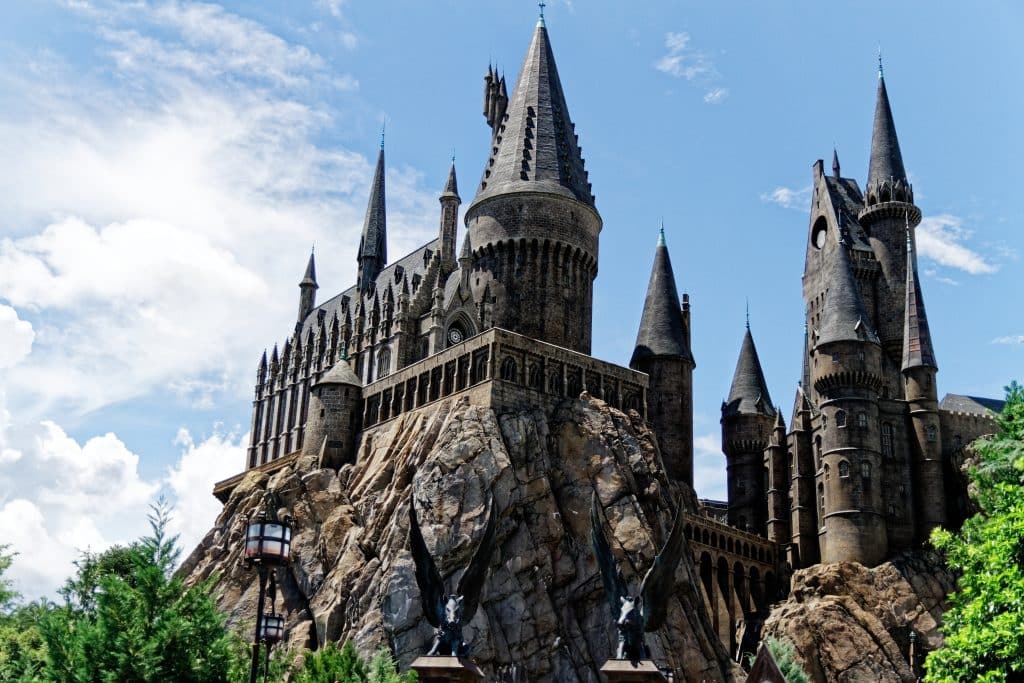 Seuss Landing, Toon Lagoon, and Hogsmeade are the most noteworthy "islands" for kids, but Jurassic World and Marvel Island have attractions for all ages as well as more thrilling ones like The Velocicoaster, The Incredible Hulk Coaster and Doctor Doom's Fearfall. Reign of Kong has no height requirement, but if you worry it will be too scary, the attraction offers Child Swap. Although these distinctly themed areas are called islands, they are actually built around a central lagoon in a way that is similar to EPCOT's World Showcase. Using the basic principle of Disney's Caribbean Beach resort the view suggests a variety of islands around the circumference.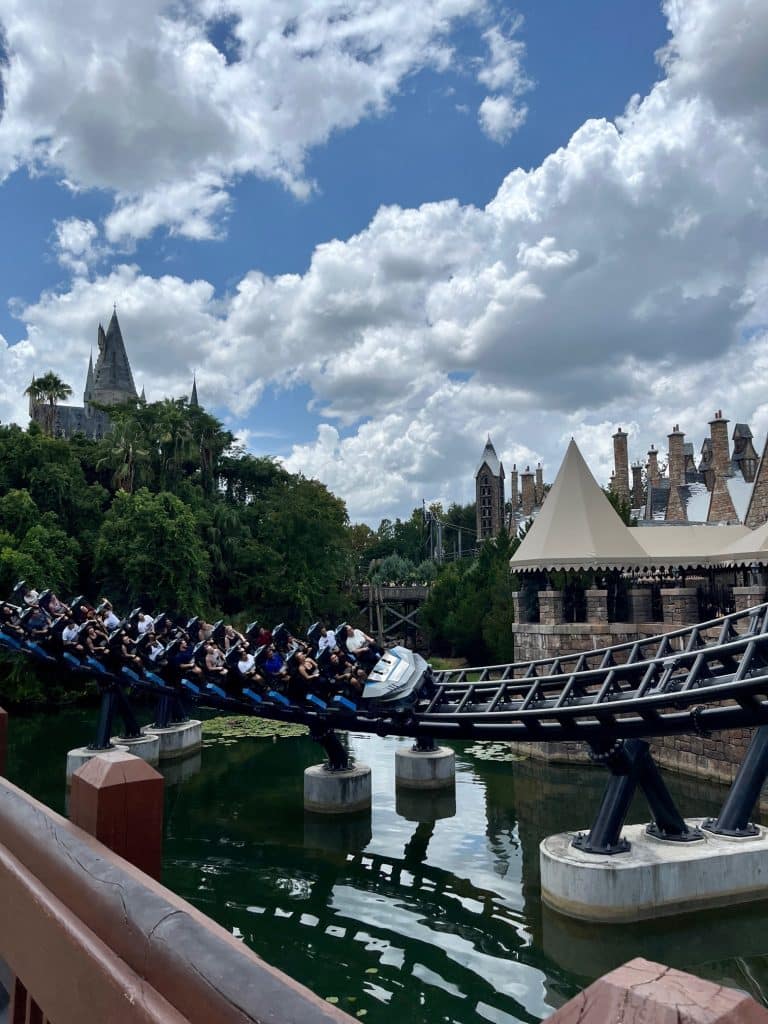 Volcano Bay 
Although it's billed as Universal Orlando's third theme park, Volcano Bay is actually a water park. A distinctly Polynesian theme pervades the park. The use of theme trickles down to entertaining names such as Wateri Beach, and twin waterslides named Ohno and Ohyah. A waterproof wearable TapuTapu band lets you schedule virtual line reservations for certain attractions. Universal Express and Universal Express Plus pass exclusive to the park are also available for purchase. 
Volcano Bay is the ultimate pool day retreat. There are big and small thrills as well as a winding river, relaxing beaches, kid areas– like the Tot Tiki and Runamukka reefs– and even private cabanas that you can rent by calling 1-877-801-9720. There are upper and lower-level cabanas for single use (allows up to 6 people) or family suites (up to 16 people). These cabanas offer concierge and food services from an exclusive menu. all the relaxing areas along the circumference encompass a large volcano centerpiece, which harbors several waterslides of varying intensity.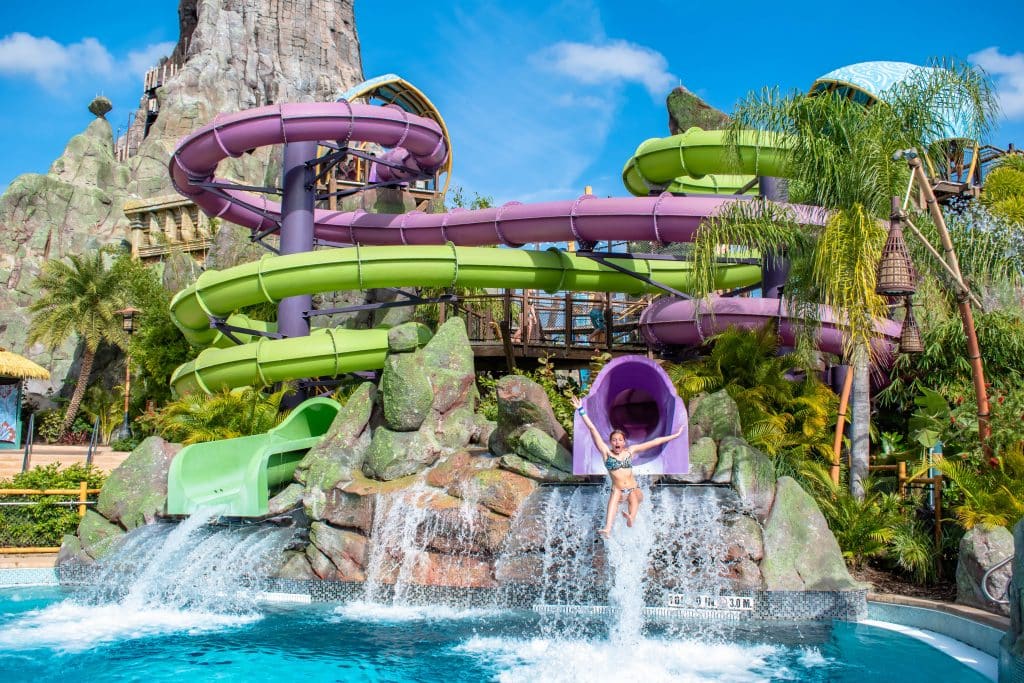 A First-Timers Guide to Universal Hotels
The Universal Orlando resort is fairly compact. Most of your travel within the resort can be done on foot or by waterway for the guests at higher-tiered hotels. Shuttle service is also available everywhere. If you rent a car or plan to use Uber, there are two large parking structures that empty into Universal CityWalk. The outdoor shopping mall is free for all visitors and includes plenty of dining, entertainment, shopping, and nightclubs. Universal's Great Movie Escape is a separately ticketed experience at Universal CityWalk. There are currently two escape room options: Jurassic World: Escape, and Back to the Future: OUTATIME. Universal CityWalk is the central hub that connects most of the Universal Orlando resort. 
Universal Citywalk also has a miniature golf "double feature." The sci-fi and horror-themed courses pay homage to retro B movie genre films. You'll also find a Cinemark movie theater complex, a Hard Rock Cafe, and Toothsome Chocolate Emporium.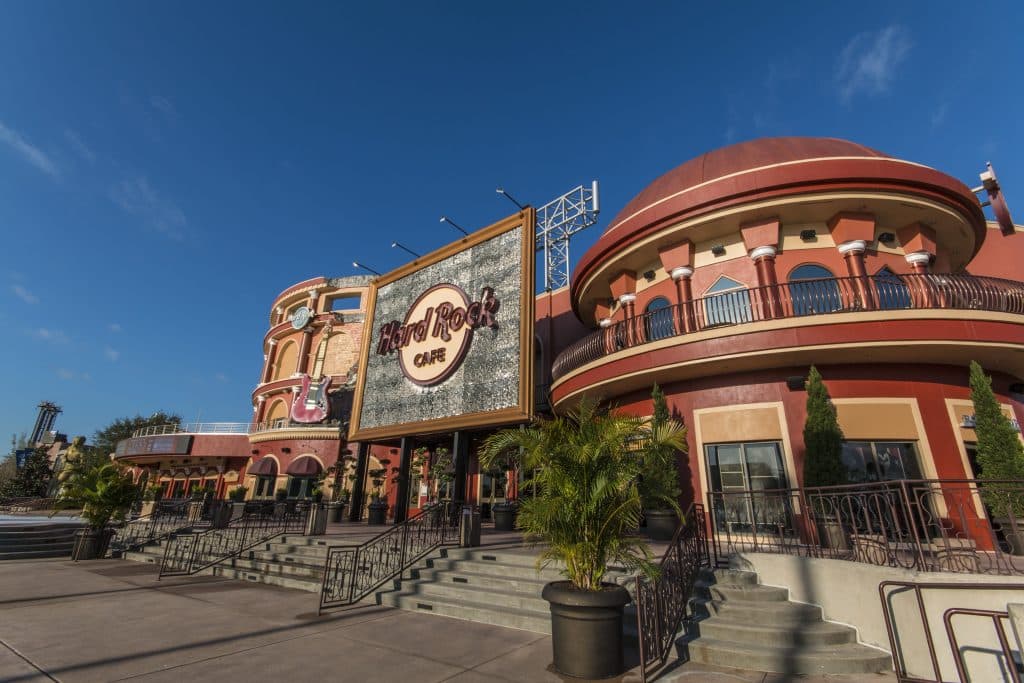 Along the Citywalk is also a waterway that connects a variety of Premier and Preferred class hotels. Universal Orlando offers four distinct classes of hotels. The other two are Prime Value hotels and value hotels. 
Value Hotels 
The value hotels are more remote from the rest of the Universal Orlando property. They are a twin set of an Endless Summer-themed Inn and Suites. The two subthemes at this budget-conscious family hotel are dockside and surfside. Guests at these hotels get perks such as early park admission for the Wizarding World. However, you do need a park ticket. You also get complimentary shuttle transportation, resort-wide charging privileges with a room key, and complimentary merchandise delivery to your hotel. 
Prime Value Hotels 
These hotels get all the same perks as the value hotels. They do not have waterway access, but they are located adjacent to Volcano Bay. Aventura Hotel is a sleek stylish and modern hotel that features views of each of Universal's three theme parks. Cabana Bay Beach Resort is a fun retro experience that pays homage to the Florida beach resorts of the 50s and 60s. It features two pools, a winding river, a bowling alley, and an impressive food court.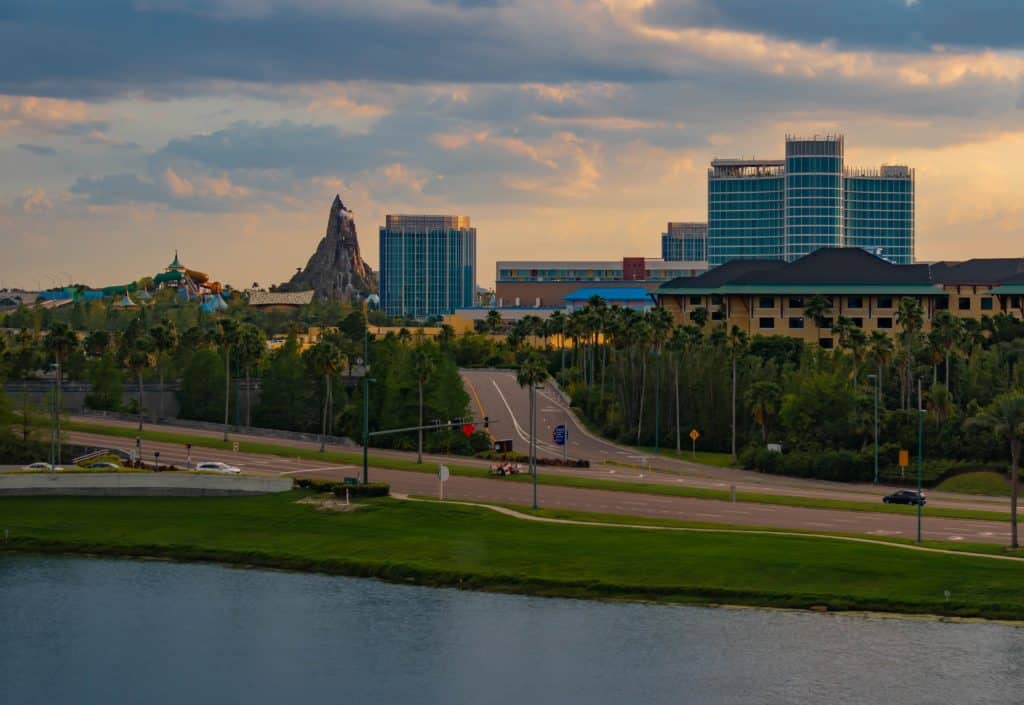 Preferred Hotels 
There is just one Preferred Hotel, Saphire Falls. This reclusive tropical oasis is nearer the two primary theme parks and Universal City Walk. In addition to the perks extended to guests of the two value hotel classes, Saphire Falls offers water taxi transportation as well as more convenient walkway access to the resort's central attractions. 
Premier Hotels 
Three Premier Hotels dominate the Universal Orlando experience. In addition to water taxi service from your hotel to the theme parks, there are also bonus perks. These include free Universal Express Unlimited passes and priority seating at resort restaurants. Premier Hotels have the best restaurants and are also the most elaborately themed. Your choices include the Hard Rock Hotel, Loews Portofino Bay Hotel, and Loews Royal Pacific Resort. 
Hard Rock Hotel is dedicated to an immersive music experience, including your own curated musical soundtrack, guitar and record rentals, and a luxury sound system in your room. 
Portofino Bay includes a harbor dotted with outdoor cafes and shops. Royal Pacific offers exotic cuisine and a white sand beach. Of the two, Portofino Bay is more welcoming toward families. It also has the best fine dining.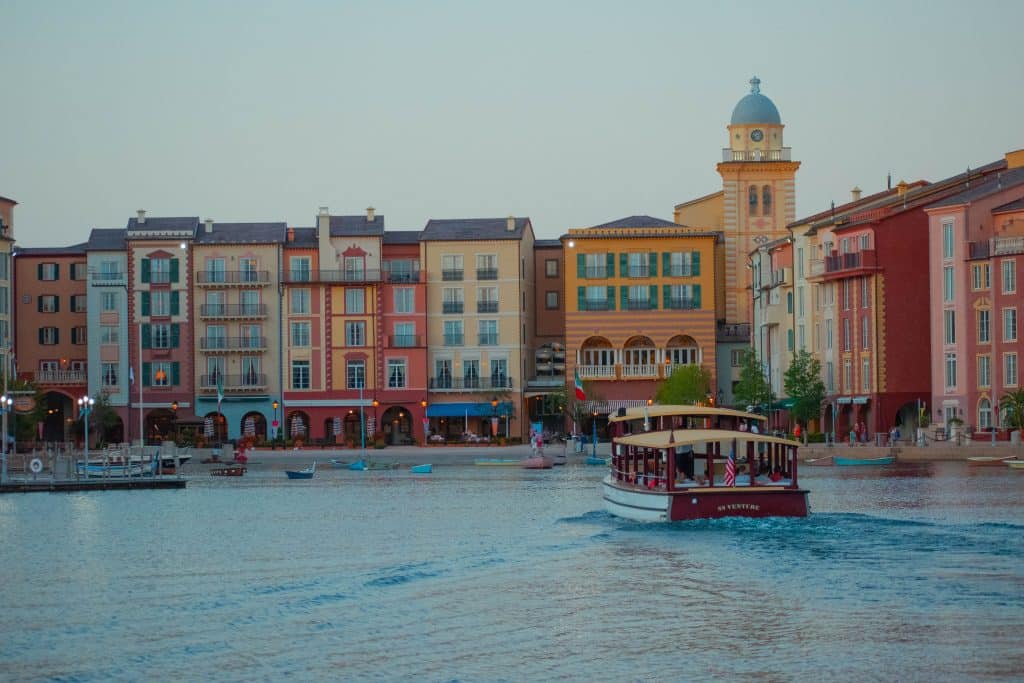 Guide to Universal Dining
Most of the really great dining options at Universal will either be at Universal CityWalk or at the Premier Hotels. The Palm at Hard Rock Hotel, Bice Ristorante at Portofino Bay, and Bigfire in Universal City Walk are just a few of the many dining options. There are also unique quick service options like Bend the Bao and Breadbox. 
Inside the parks, full-service restaurants take up valuable time, so you should plan according to your schedule and also keep in mind where you plan to be within each park during mealtimes. The Universal App shows all food locations and you can usually order ahead with the app as well. 
Among the dining choices some of the most noteworthy experiences are the Wizarding World venues in both parks, the taco truck and Flaming Moe's in Springfield at Universal Studios Florida, and Hard Rock Cafe and Toothsome Chocolate Emporium in Universal City Walk. Dining with a Superhero is a hit at Marvel Superhero Island in Islands of Adventure. Mythos, Islands of Adventure's only full-service option offers stunning park views from the water and a robust menu of Mediterranean-inspired appetizers, entrees salads, and sandwiches.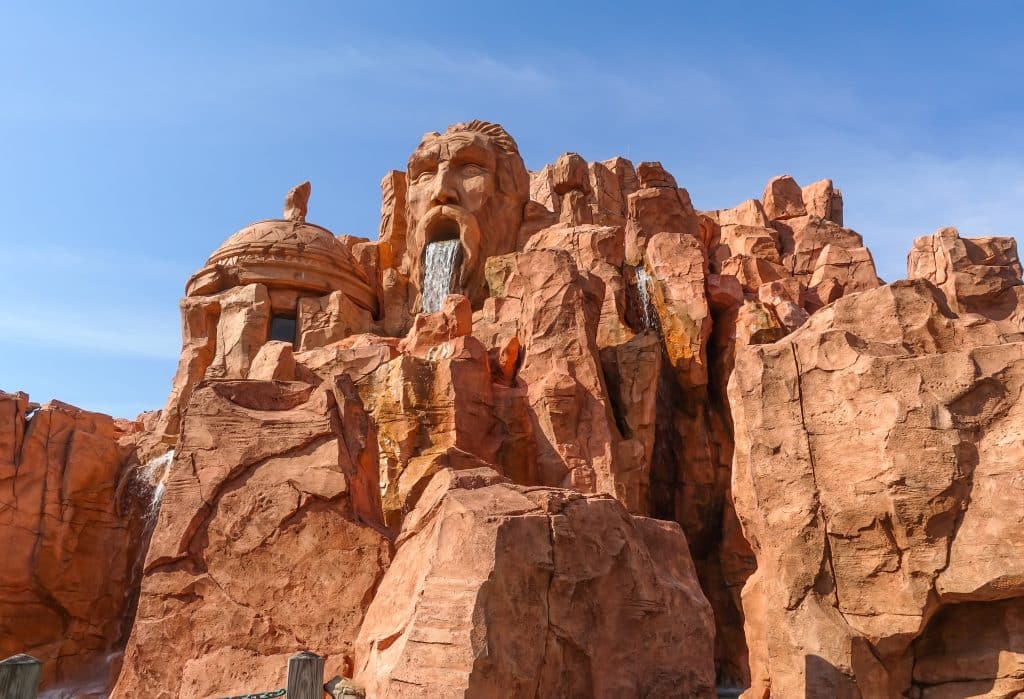 For more Universal Studios fun, check out this guide to Universal Studios Singapore.