We couldn't visit Hong Kong without spending some time at Hong Kong Disneyland. The last time Scott and I were there was in 2006, just a few months after the park opened. The park was pretty empty back then–both from people and attractions. I can remember feeling like we walked through twenty minutes of nothing to get from one ride to the next. I was looking forward to visiting both because I spent a year being disappointed by Disneyland Paris and I wanted to see how the Hong Park had grown. Here is everything you need to know about Hong Kong Disneyland!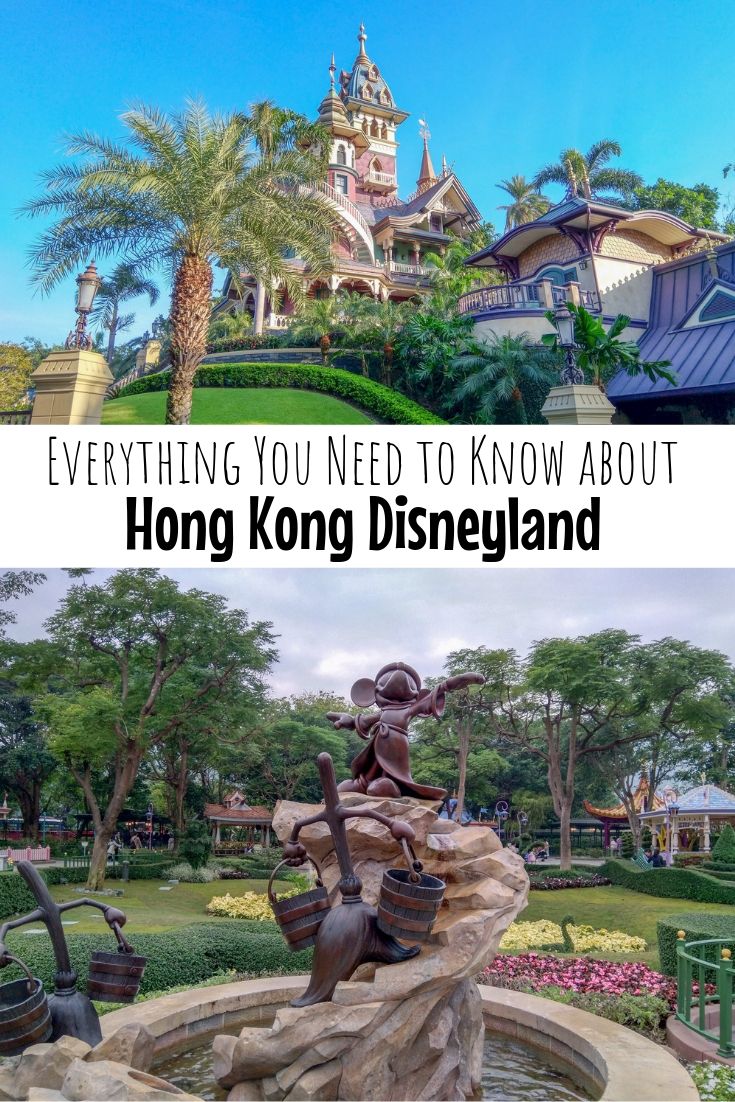 Getting There and Tickets
Since we were staying in Mong Kok, we took the MTR to Sunny Bay Station where you board the Disneyland Resort Line. It's a short ride to the Disneyland station and the trains are a lot of fun with their Mickey windows and Disney decor.
You have the option of a one or two day ticket. We chose the two day ticket (c'mon, it's Disney!). That ticket lets you enter Disneyland twice in a seven day period. Hong Kong Disneyland is one of the smaller parks, so you won't feel like you've missed out even if you choose to only go one day–in fact, the one day ticket will be enough for almost anyone unless you're a massive Disney fan like we are.
If you're a big fan of the American Disney parks, you'll probably feel much as I did–there's such a sense of familiarity, but there's something just a bit "off" that can be hard to account for. This isn't a bad thing, but I often found myself comparing and contrasting not only the American parks, but Paris as well.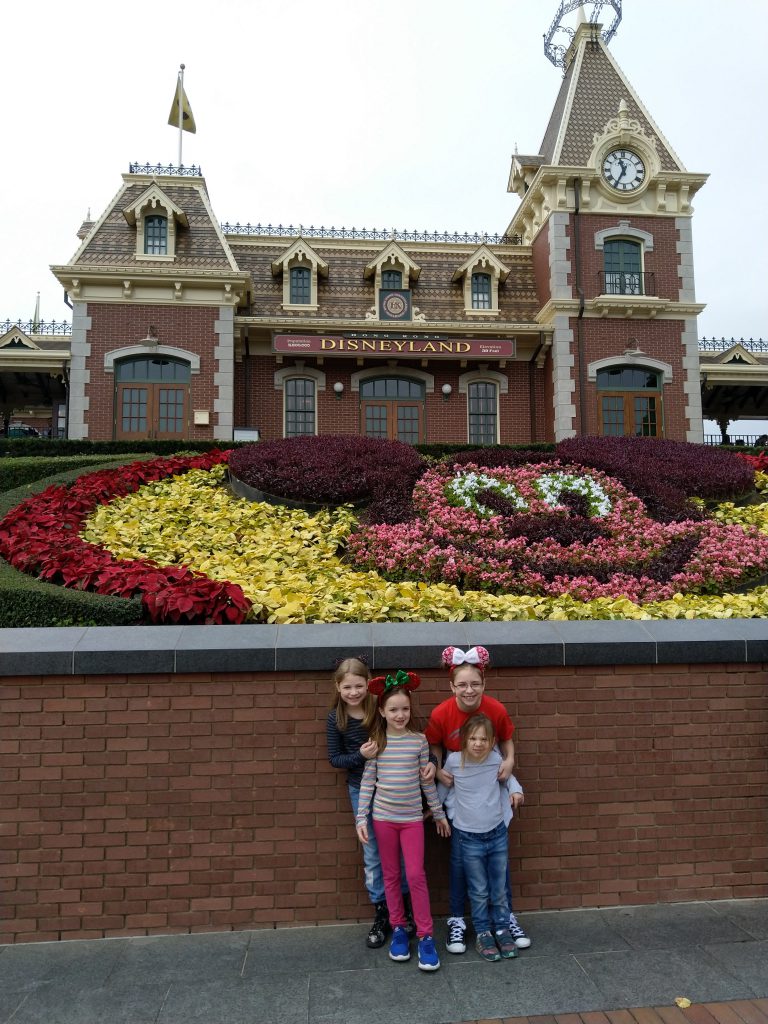 You won't find photographers roaming around the park, but you will find plenty of character encounters. We saw classic Disney characters all over the place, but Hong Kong is also a big fan of Duffy and friends, so those characters were common to see (along with a ton of merchandise!).
The biggest jolt you'll get that you're in Hong Kong is your first glimpse of the castle. It's tiny. There's just no escaping that. It's made to look even smaller because of the mountains behind it. It was still undergoing some updating (we were there in January 2019), but the height wasn't going to change. It remains a strange decision to me. Main Street itself, though has the usual assortment of shops and food (if you're into Tsum Tsums like we are, head into the last shop on your left for a wall full of them!).
Hong Kong Disneyland has Toy Story Land, Mystic Point, Grizzly Gulch, Adventureland, Tomorrowland, and Fantasyland. There are numerous fantastic food options in all of them.
Toy Story Land
Toy Story Land has fantastic theming. The transition is perfect–the tall grass makes you feel tiny and the popsicle stick benches are perfect. The land includes Slinky Dog Spin (Matilda's favourite!), Toy Soldier Parachute Drop, RC Racer, and character encounters.
Mystic Point
Mystic Point is perhaps my favourite spot in the park. Mystic Manor towers over the park and is Hong Kong's version of The Haunted Mansion. It's the story of an adventurer and collector with a pet monkey who opens a magic box that makes everything come to life. I can't tell you how many times we rode this. The theming around the ride is just as fantastic with the Garden of Wonders and Freight Depot that are both full of optical illusions and photo opportunities.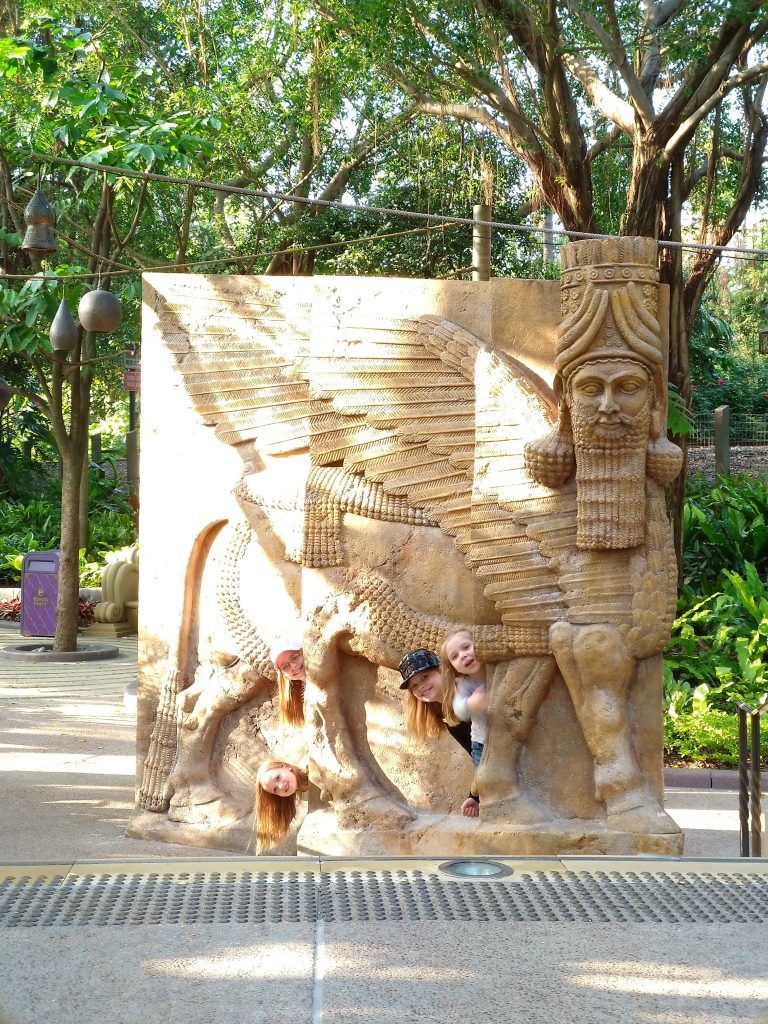 Grizzly Gulch
Grizzly Gulch is another area that is just the one ride, but it's another great one. The Big Grizzly Mountain Runaway Mine Cars are Hong Kong's answer to Big Thunder and it's a doozy. There's a surprise during the ride that I wish I hadn't known about, so I'm not going to say it here (although it's super easy to find if you really want to know). Grizzly Gulch also has Geyser Gulch where you can cool off and Wild West photo opps. Hong Kong Disneyland is a fan of having ride vehicles outside the rides themselves and I think our girls had just as much fun posing in them as they did on the rides themselves.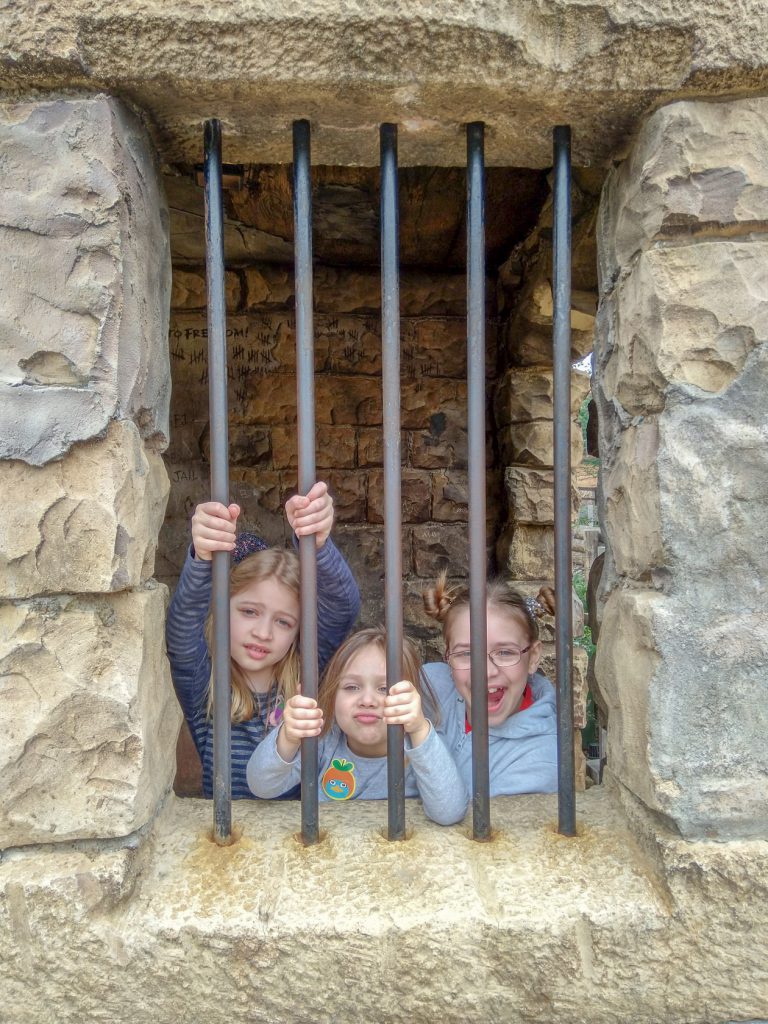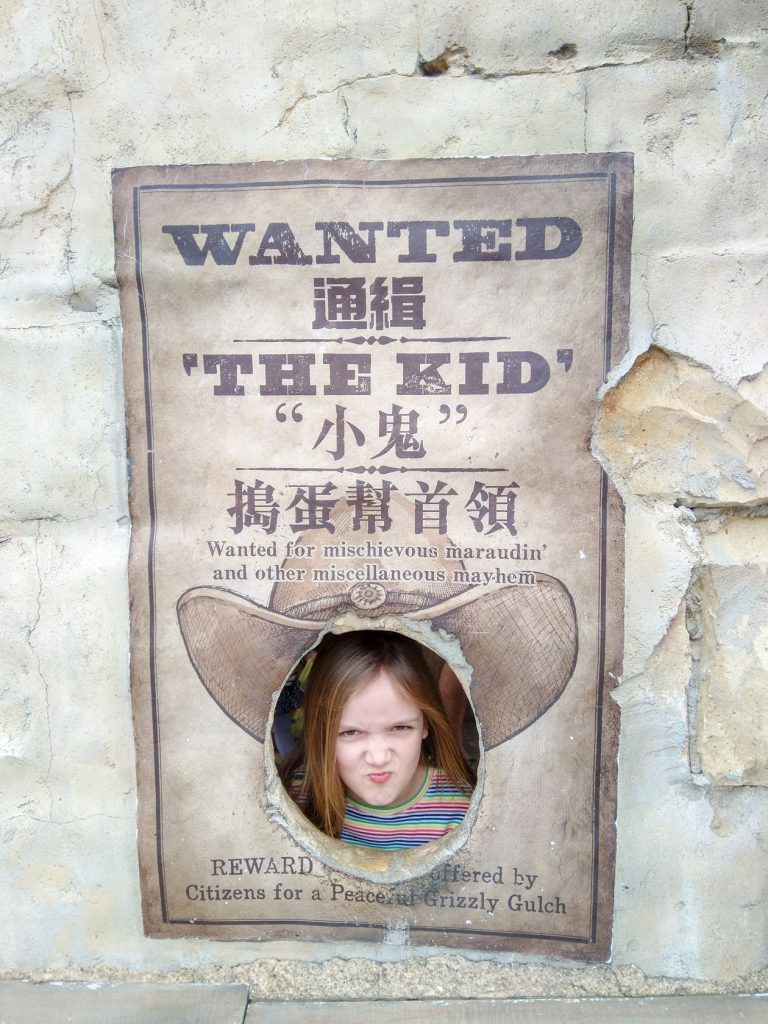 Tomorrowland
Tomorrowland never disappoints. The biggest noticeable difference here to the American parks is that instead of Star Tours, Hong Kong has Iron Man Experience. It's the same concept and a lot of fun with a ride through Hong Kong itself. (Hyper)Space Mountain and Orbitron are both standing proud, as always. Ant-Man and The Wasp wasn't open yet when we were there, but we'll just have to go back now that it is! There are character meet and greets and a cooling off area that Matilda took full advantage of.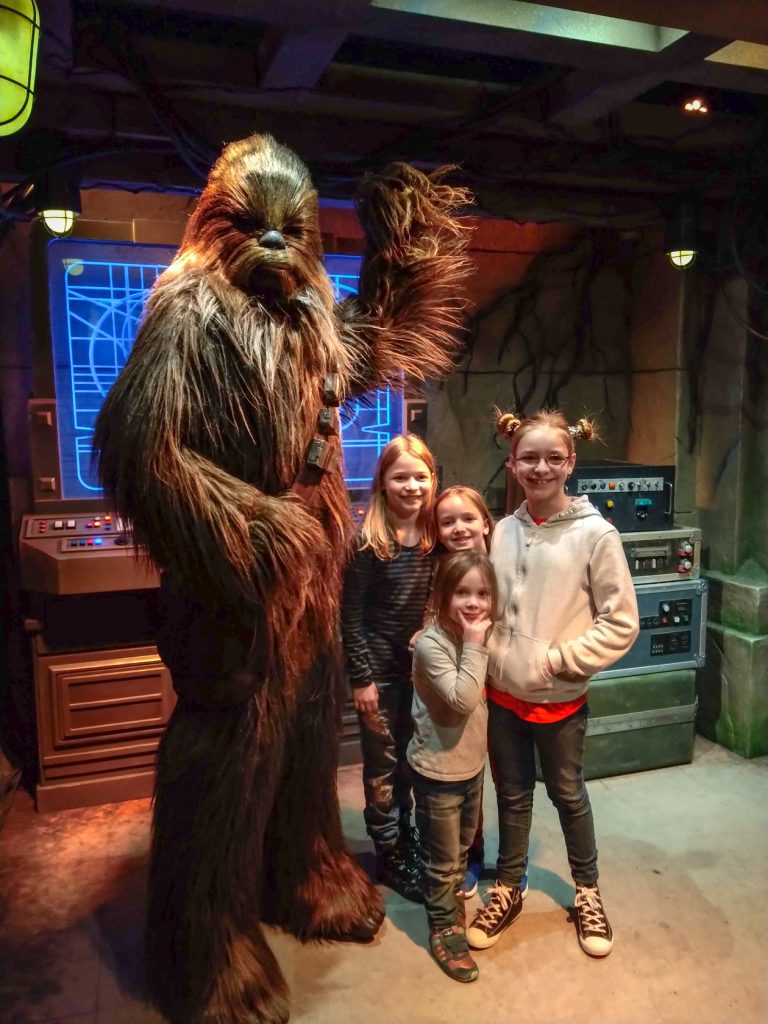 Jedi Training is also located in Tomorrowland. To book a slot, go to the exit shop for Space Mountain. It's just to the left of the training grounds and is super easy. Pippi and Alice went for it and had a lot of fun. Directions are given in both Cantonese and English and the team members are very conscientious about putting kids with an adult they can understand. Bonus that there's a churro stand right behind the seating so that you can munch while your kid battles evil!
Fantasyland
Fantasyland is the largest land attraction-wise. It has the Cinderella Carousel, Dumbo the Flying Elephant, Fairy Tale Forest (which is the only place we fought with crowds and that was only because there were so many great photo opps), It's a Small World, Winnie the Pooh, and Mad Hatter Teacups (whew!).
You'll also notice that the girls have stickers on in a lot of the photos–many cast members have stickers to hand out–just ask nicely for one! We had quite the collection by the time we left.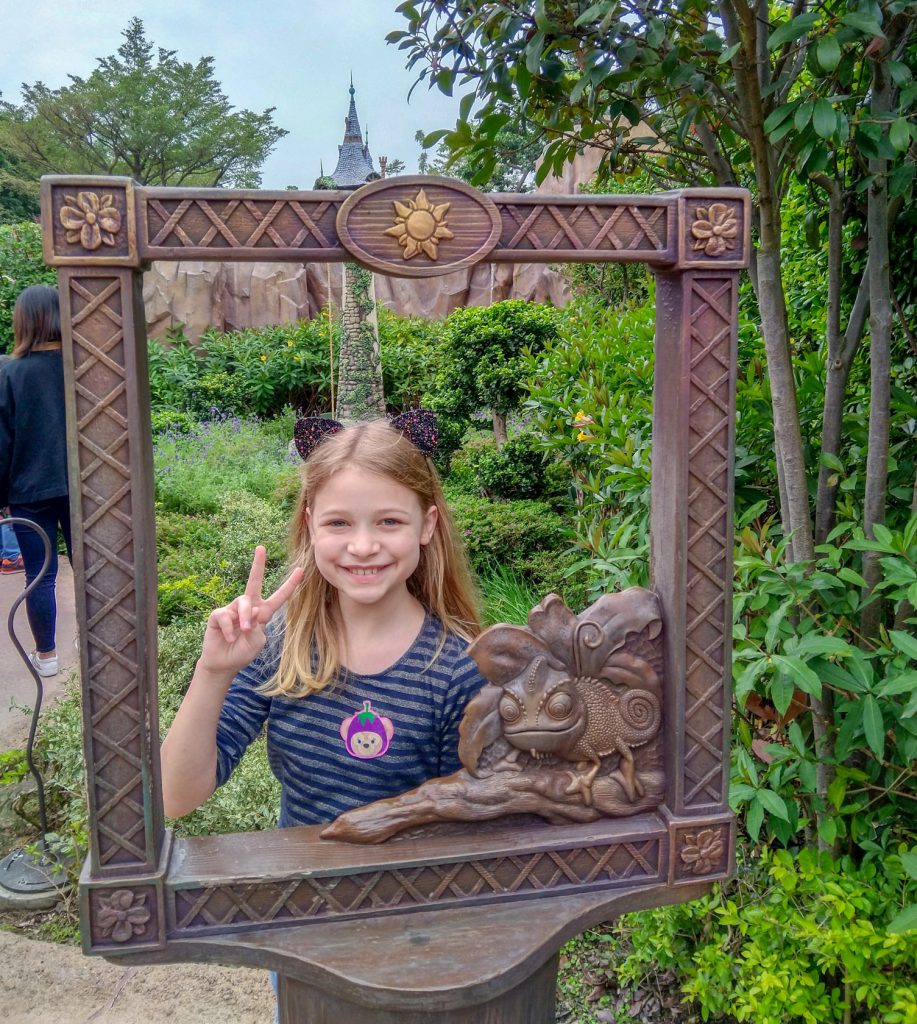 Food
I'll be honest–we didn't really spend time in Adventureland. It has the Jungle Cruise and Tarzan's Treehouse, but the girls just weren't interested. They were, however, interested in the plethora of Disney treats. We ate well, from corn on the cob to churros, Indian food to dim sum, and just about every new treat we came across. There was so much fun food to try that we were sad when we were too full to try anything else.
Hong Kong Disneyland may be small, but it's full of Disney magic. We found the crowds to be completely manageable and the food was excellent and there was plenty of it. You can't beat the location, either–it's so easy to get to from any part of the city. Visiting Hong Kong Disneyland is a must for us during any visit to Hong Kong.