If there is a city in the world where you can stay busy for 24 hours straight, Hong Kong is it. And when you're visiting for a short length of time, you want to do it justice. It's nice when you already have a familiarity with the city (Scott grew up there and we visited in our pre-kid days), but visiting Hong Kong with kids is another deal altogether. While we had a list of what we wanted to accomplish before we got there, it was another beast to get through it while the kids were fighting jetlag and new culture overload. A Hong Kong Harbour Tour is the perfect way to escape the bustle of the city for a bit while still enjoying the views.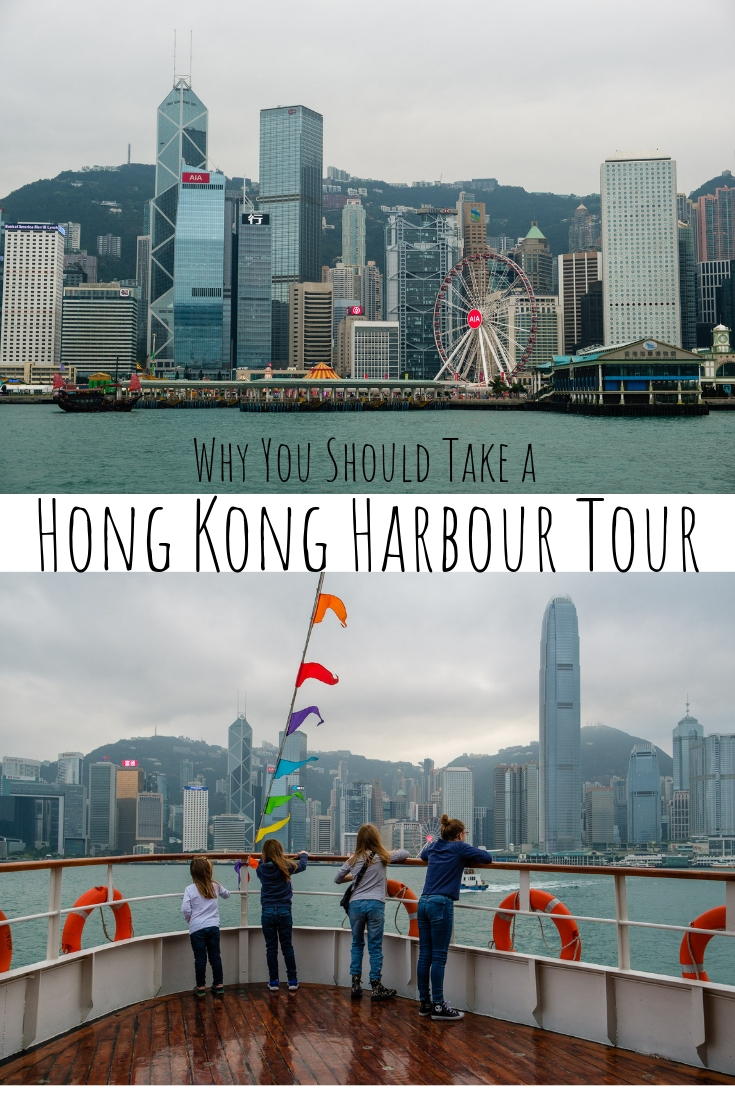 This post contains affiliate links.
The day previous to our harbour tour was rough–to put it mildly. We had taken the girls to Ocean Park, but it was tourist overload in the most unpleasant way possible. We cut our day short and decided to take the tram up to The Peak. What we hadn't realized was that it had gone from the actual mode of transportation for locals that Scott knew from his youth to another full on tourist sardine can. It had been a long and disappointing day along with bursts of actual anger at the behaviour of others. We wanted to make sure this day was better. Scott and I looked around for ideas on what to do and came across the Hong Kong Harbour Tour.
Tickets for the tour can be bought at the Tsim Sha Tsui Star Ferry Pier (in cash) or online. We took the Hong Kong East tour.
The boat is a decommissioned Star Ferry. The top deck has been updated but the lower deck is the classic Star Ferry look. There is indoor and outdoor seating and plenty of it. We were bracing ourselves for another tourist rush but had figured that at least we could sit and relax. We were very pleasantly surprised to see one other family on board. Our tickets entitled each of us to a snack and drink and the kids got Disney paper crafts to make.
The entire tour was an hour and thirty minutes and was, to put it simply, utterly relaxing. You can't escape the haze in Hong Kong these days but we were still able to enjoy what is one of the most amazing city skylines in the world.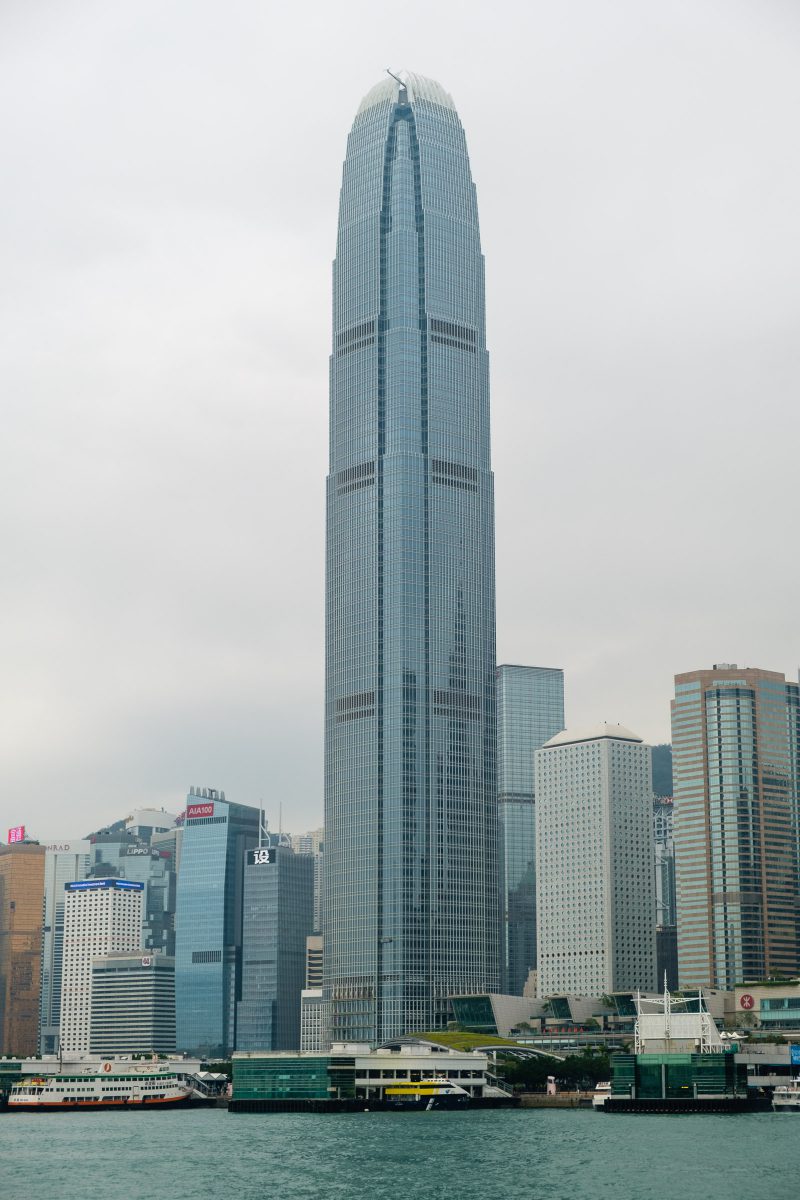 This was our first trip as a family to show the girls where Scott grew up. The Star Ferry Water Tour gave him the chance to point out favourite places, where the water line used to be, and what had changed and been built up.
There was a recorded guide that came on at different points in the tour to point out areas of interest. The voice was easy to tune out if you weren't interested, but I felt that it was worthwhile to listen. Each bit of information was offered in English, Cantonese, and Mandarin.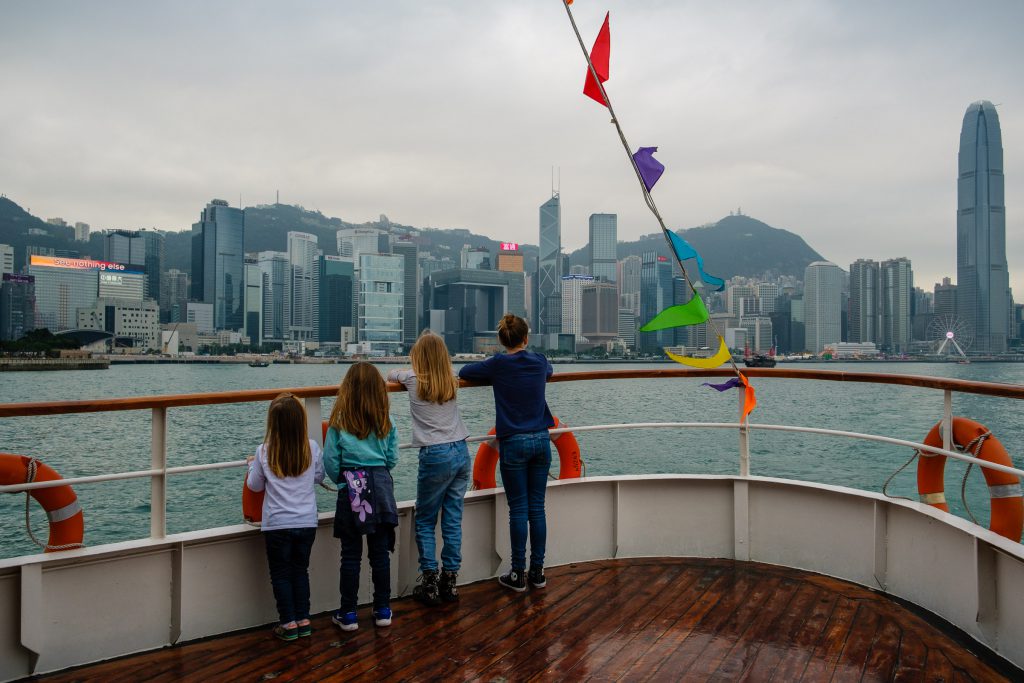 The girls were able to wander as they pleased. They would go from munching on their snacks around the table to the railings for a gaze at the view and back for a gossip session.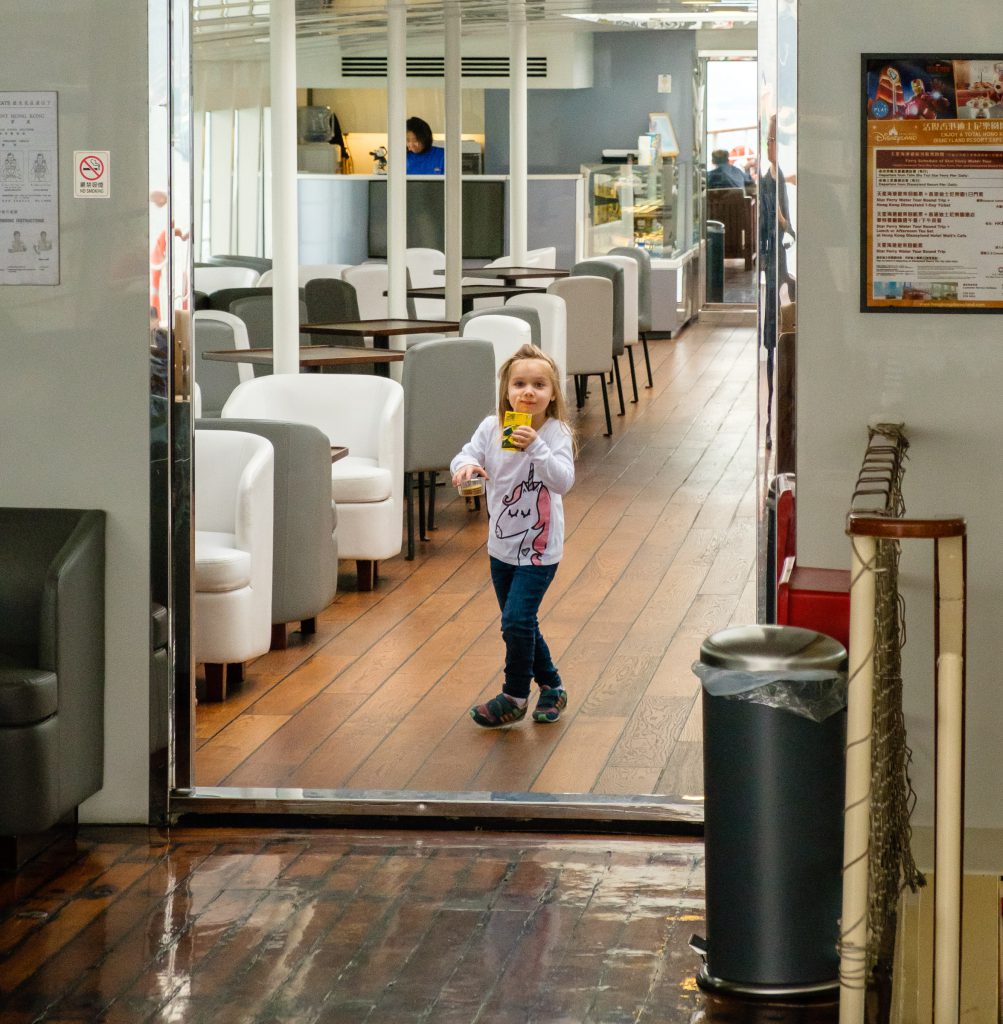 We even managed to see a patch of blue sky!
The tour gives you the chance to see the history of Hong Kong in action. There are monuments to the past all along the water's edge, towering skyscrapers being built everywhere you look, and sleepy fishing villages that haven't been touched.
Scott saw the old Kai Tak runway in its new form for the first time while on the tour. It was hard for me to imagine the planes of his youth landing there.
As I've said before, you'll never be hurting for something to do in Hong Kong and the urge to just keep going so you can do it all will always be there, but it's really worth it to slow down for a bit, sit on a boat, and just soak in the city.
I would most definitely take the Hong Kong Harbour Tour again–with or without kids. It was the perfect way to escape the bustle of the city without actually leaving it. The tour got us all refreshed and ready for another round of exploring Hong Kong.