I had a list of what I absolutely needed to do before we left Scotland and right at the top of the list was seeing Highland Cows up close. I had seen them from a distance–you just drive around the Highlands and you'll see them grazing at the side of the road–but we were getting strapped for time and couldn't really leave Edinburgh to chase the close encounter I was after. I found that I was feeling constantly panicked because my must-do list was shrinking by the day simply due to time constraints, but seeing a Highland Cow stayed right at the top. After a bit of searching, I found where to see Highland Cows in Edinburgh.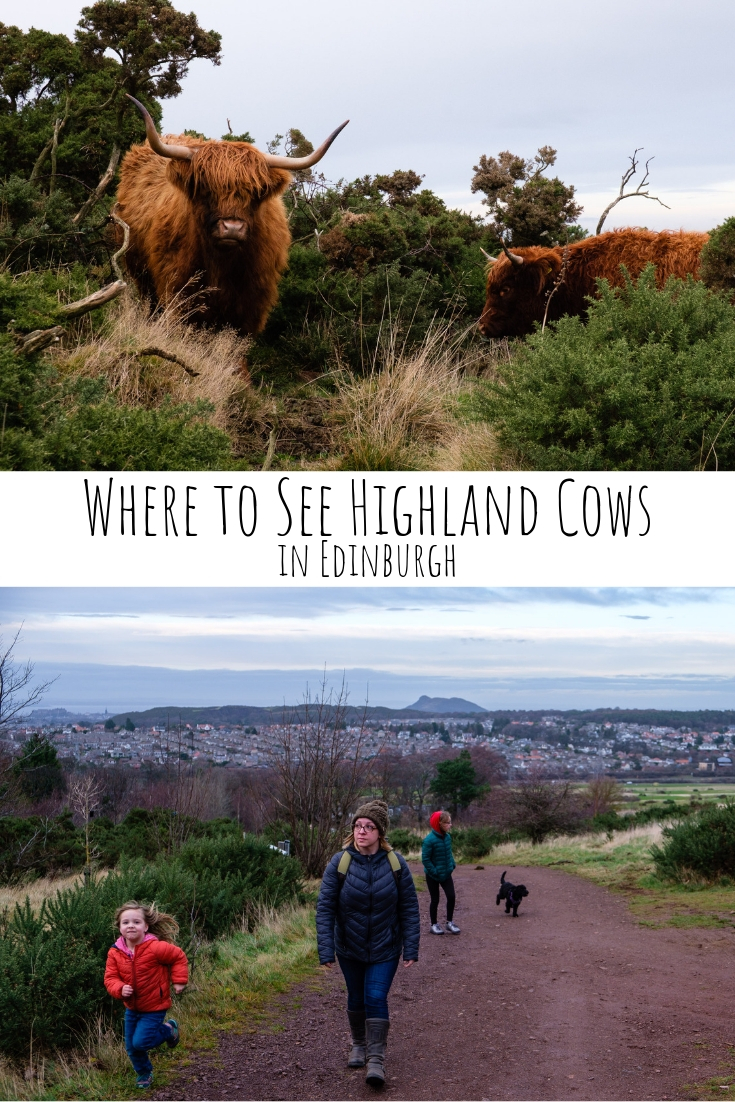 This post contains affiliate links.
Swanston Farm is located just five miles from the city centre. There are a number of buses that will get you close–we took the 4 bus from Princes Street. It was about a half hour ride followed by a 15 minute walk to the base of Caerketton Hill where the Brasserie and the start of the trails are located.
We decided to eat before we climbed the hills because we had starving kids, but a drink and a bite would be a lovely way to finish off a day on the farm as well.
There are multiple walking routes and trails up the hill. You don't need to book ahead and the trails are free to access. It is a working farm and you aren't guaranteed to see any Highland Cows (or "hairy coos"–your choice!), so keep that in mind when you're planning your day. The coos graze 300 acres of land and can be anywhere. You'll have to walk a good way up the hill to have a chance at seeing coos.
The lower trail will take you past the free range hens–who all have names and are very much loved.
The concrete road becomes dirt paths as you go further up the hill. Decisions have to be made over which trail to take. If it has been raining (as it clearly was when we went), the trails will be muddy and appropriate footwear is recommended.
Even on a grey and overcast day, it was lovely to be able to look down on the city.
I feel like I'm perpetuating the myth that Scotland is always dreary, but that really isn't the case. We hit a grey patch of weather on the one day that we were able to make this trek but the entire week prior had been bright and sunny. In fact, we averaged more sunny days during our time in Edinburgh than we did in Chicago.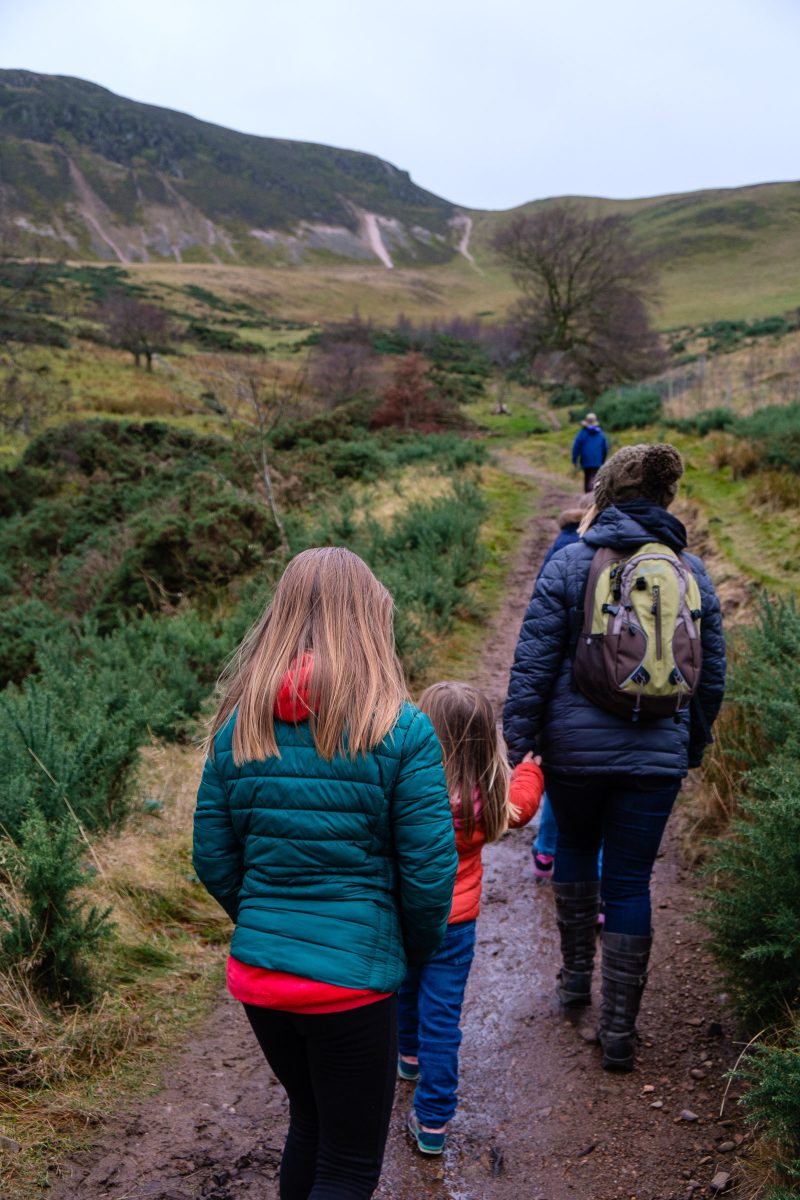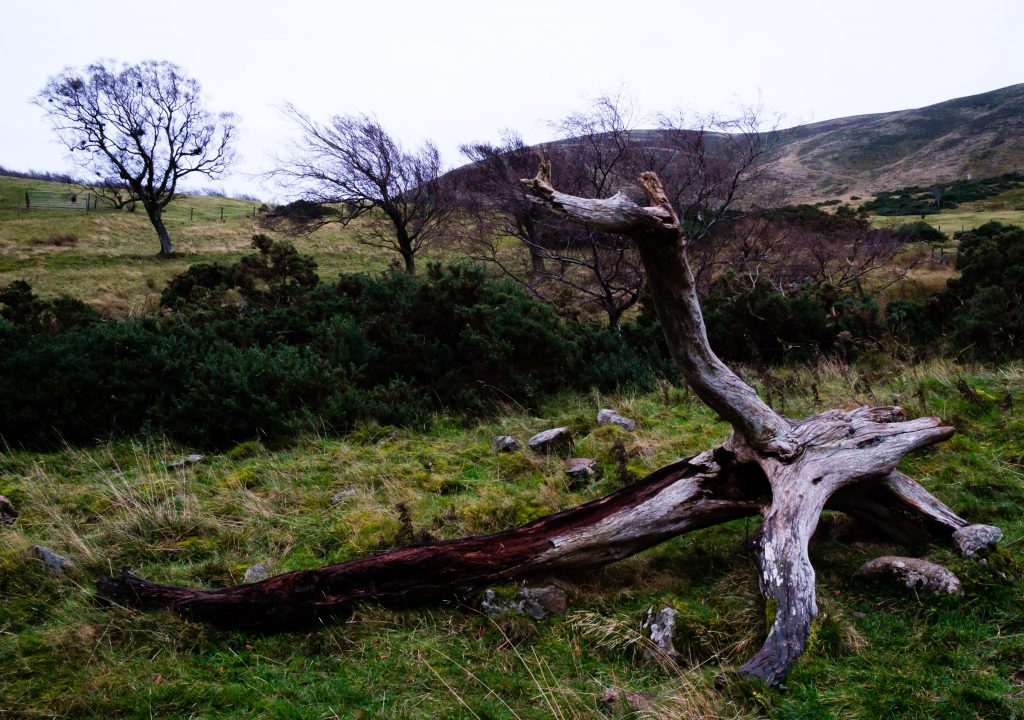 I had started to think that we simply weren't going to see any coos and I had missed my chance. The weather was getting worse by the minute and we had kids who were increasingly over the climb. Scott and I had a quick discussion over whether to turn back or keep going–not knowing how long the trail we were on went for. We decided to push on.
Not a few minutes after we had decided to keep going, we saw our first coo hanging out in the gorse. It was pretty epic to see a Highland Cow perched on a hill overlooking Edinburgh and I may have gotten a bit teary (or it may have been the rain–who's to say??).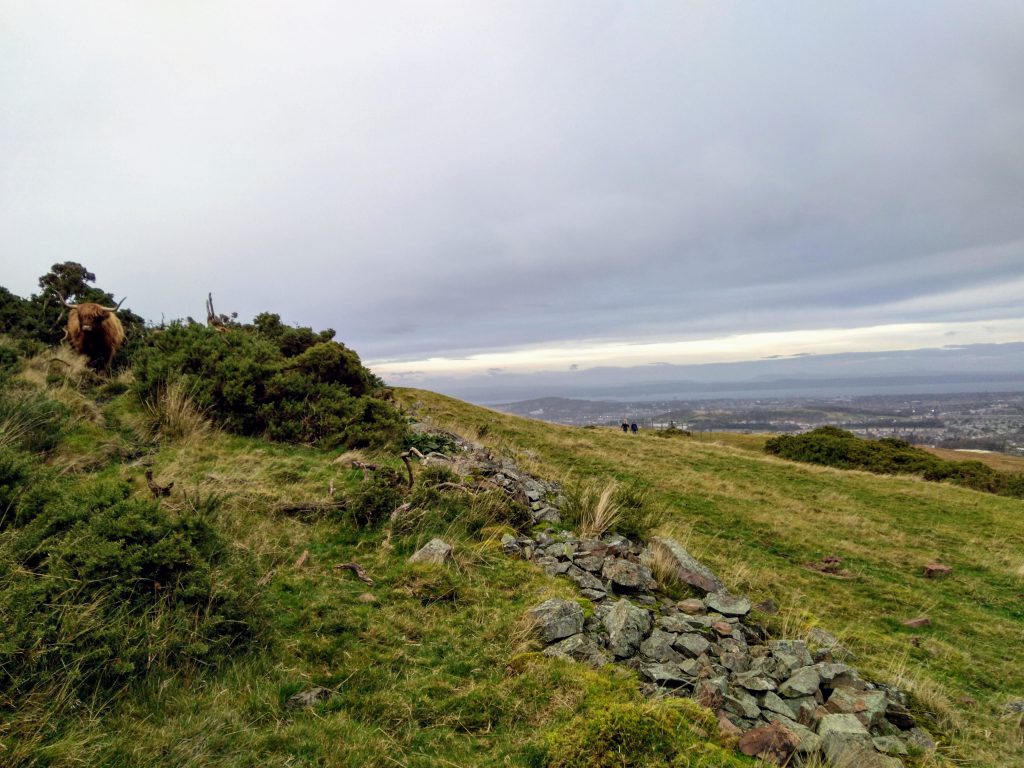 There were two Highland Cows not far from the trail and we could see many more further up the hill. You are able to get as close as you are comfortable but it is recommended that you don't touch them or try to stroke them, cuddly as they may seem. On a better day we probably would have ventured off the track to see the coos further up the hill as well. However, these two were quite content to quietly pose for us.
There are a lot of tourists who only visit Edinburgh but still want to have the Highland Cow experience while in Scotland. If you're up to a bit of a hike (and it really is an easy one if you stick to the trails), Swanston Farm is where to see Highland Cows in Edinburgh.
Want more easy Edinburgh trips? Try Craigmillar Castle or Inchcolm Island!