One of the big reasons we moved to Scotland over other options available to us was access to European travel. We can take a short flight or train ride and be in a different country (which costs far less than a lot of travel within the States). Scott and I knew that we had a couple of opportunities for a weekend trip away, but were stuck on just what we should do. We've been waiting for and working toward this kind of opportunity for a long time, but found ourselves overwhelmed with the possibilities once we had it.
I finally just left it up to Scott and told him to surprise me. I'll admit that that wasn't totally fair to him because he was having as much trouble deciding as I was, but I didn't feel guilty enough to re-offer to help. He finally made us a booking and I decided to stick with not knowing. We made it a game to see how far into the airport on the day of our flights we could make it before I found out. I didn't find out we were spending two days in Oslo until we were at the gate (yup, we made it through security and everything!). On a side note, we only had our carry-on backpacks with us. Scott got his bag searched because of his tube of toothpaste and as part of the questioning, he was asked where he was headed. I was already through and it's a good thing it didn't happen to me because I'm not sure how it would have gone down if I had answered "I don't know!".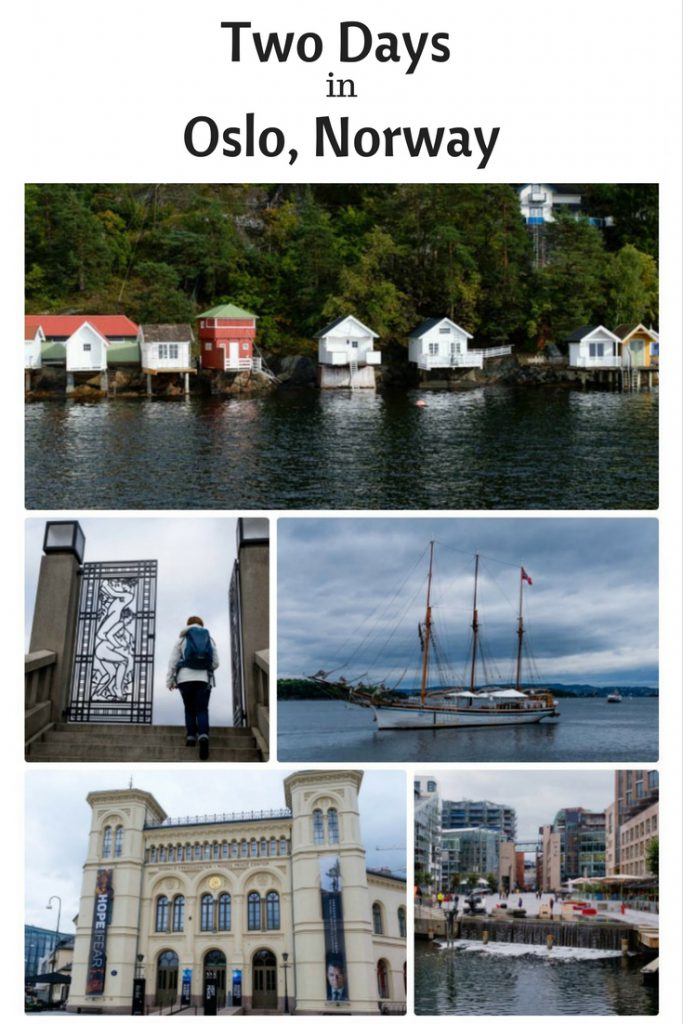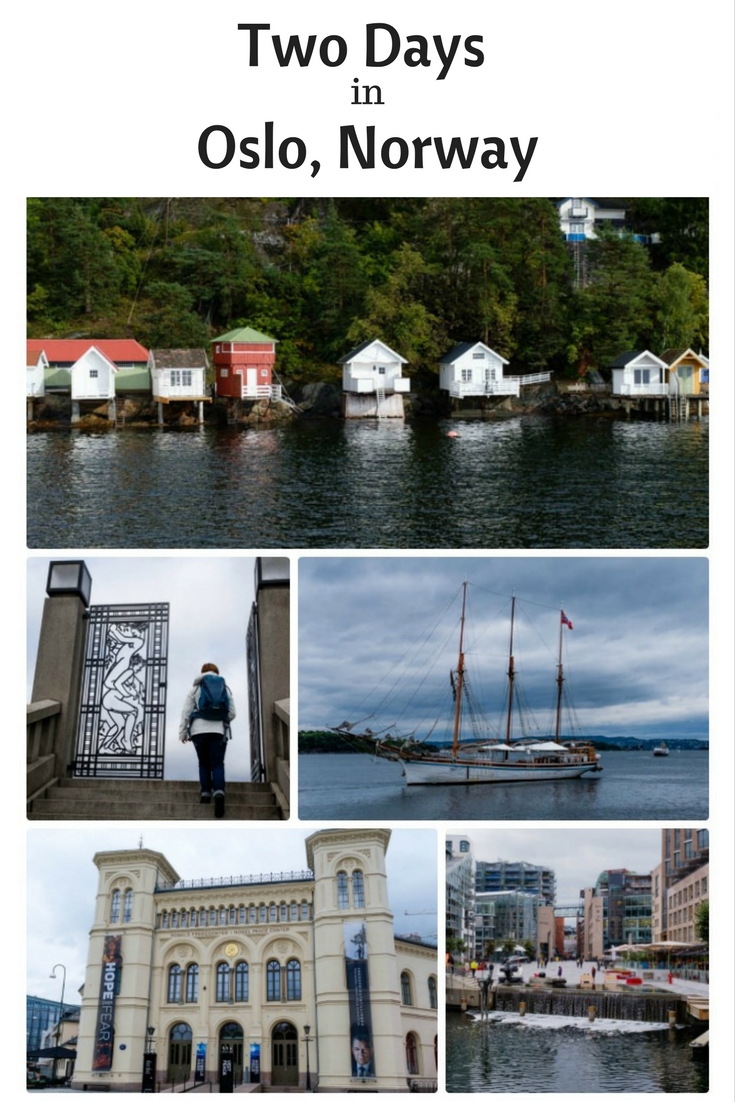 Weather-wise, it was an awful weekend. Heavy rain, dark grey skies, and chillier temperatures than we had in Edinburgh. We wanted to make the most of our time, though, so we hunkered into our rain jackets and headed out after checking into our hotel on Friday afternoon. It was raining hard enough at times that we were staring at the ground as we tried to make our way to the waterfront. It worked out perfectly to see little gnome gardens like this one that were tucked away next to walls at the side of the road. They were such fun pops of color and whimsy in very grey surroundings, but we might not have noticed if not for the heavy rain.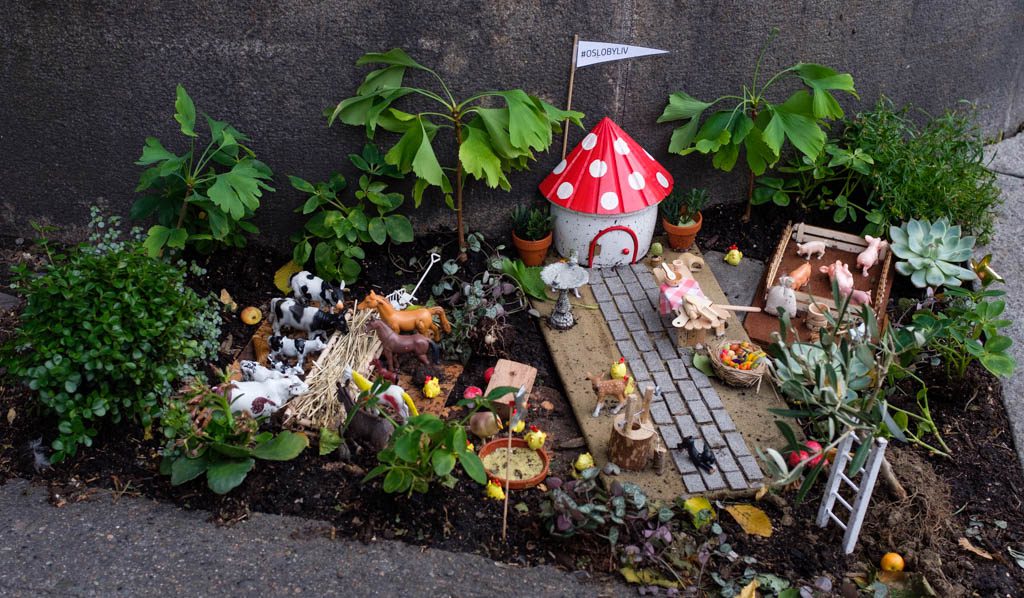 The rain slowed down as we reached the water. It was still grey, but at least we could hold our heads up.

Oslo started to show more life as we hit the waterfront. There was this great little cluster of food trucks right next to the Nobel Peace center. We had dinner reservations that Scott was really excited about (another surprise) or I would have happily indulged.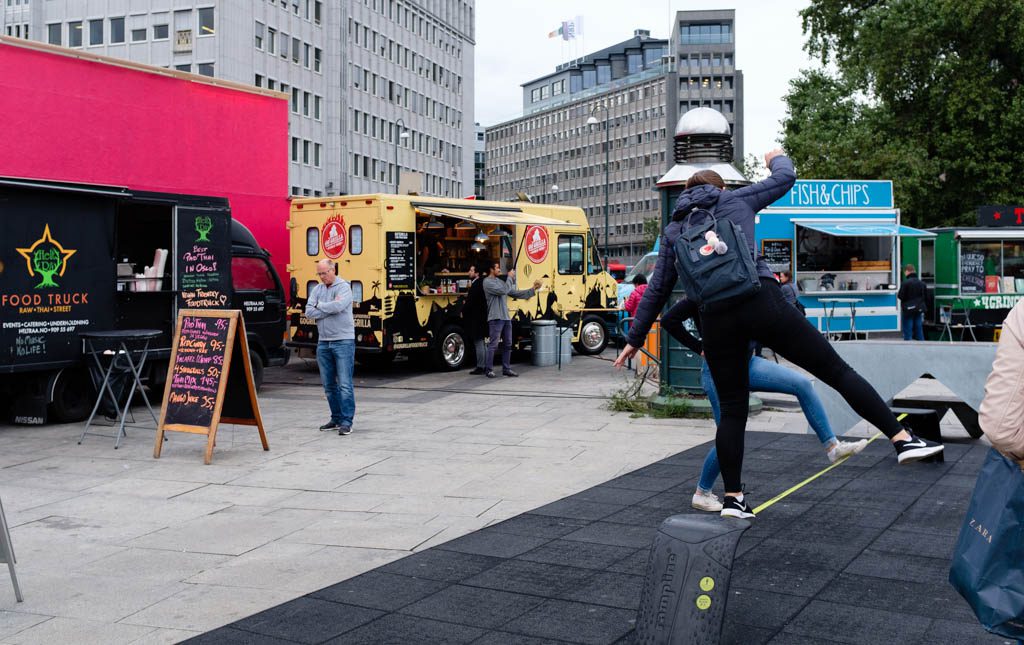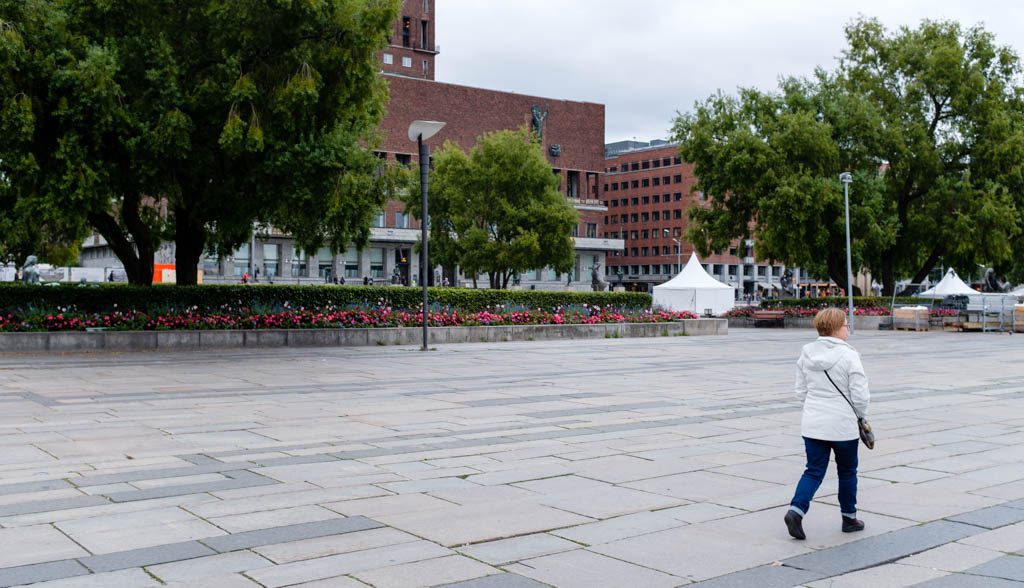 When I found out we were going to Oslo, The Nobel Peace Center was quickly at the top of my list. It's located right on the water and is easy to get to. Unfortunately, while the museum was open, they were changing the exhibits over from last year's recipient to this year's and there wasn't much to see in the museum itself. I did spend some time wandering the gift shop which had a fantastic section of books that I immediately put on my to-read list.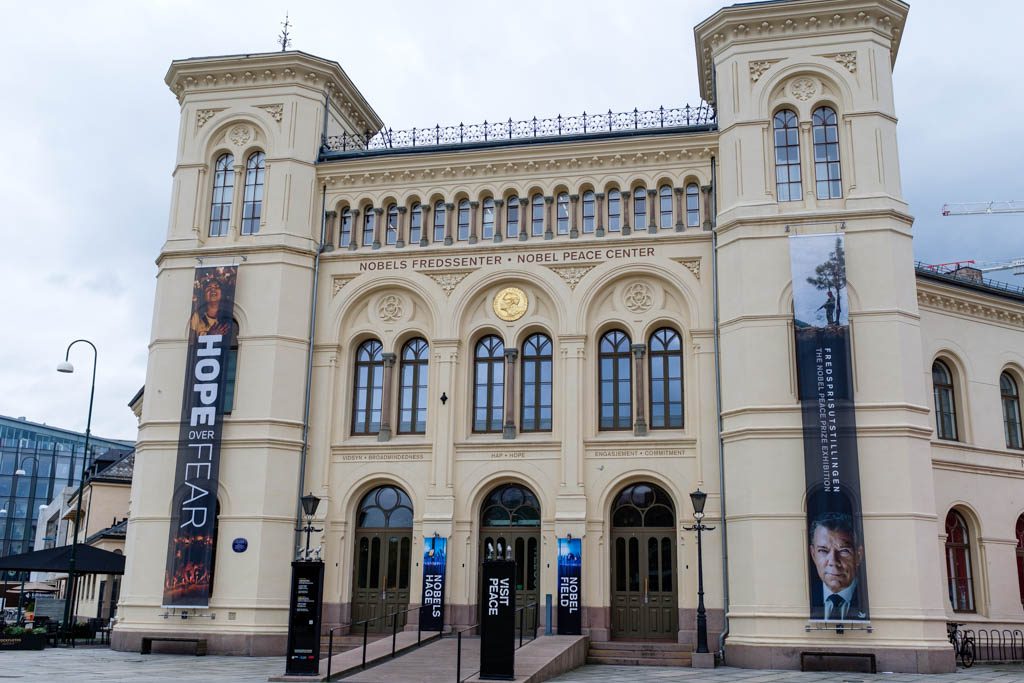 The docks next to the Nobel Peace Center were a mix of tourist boats and proper fishing boats.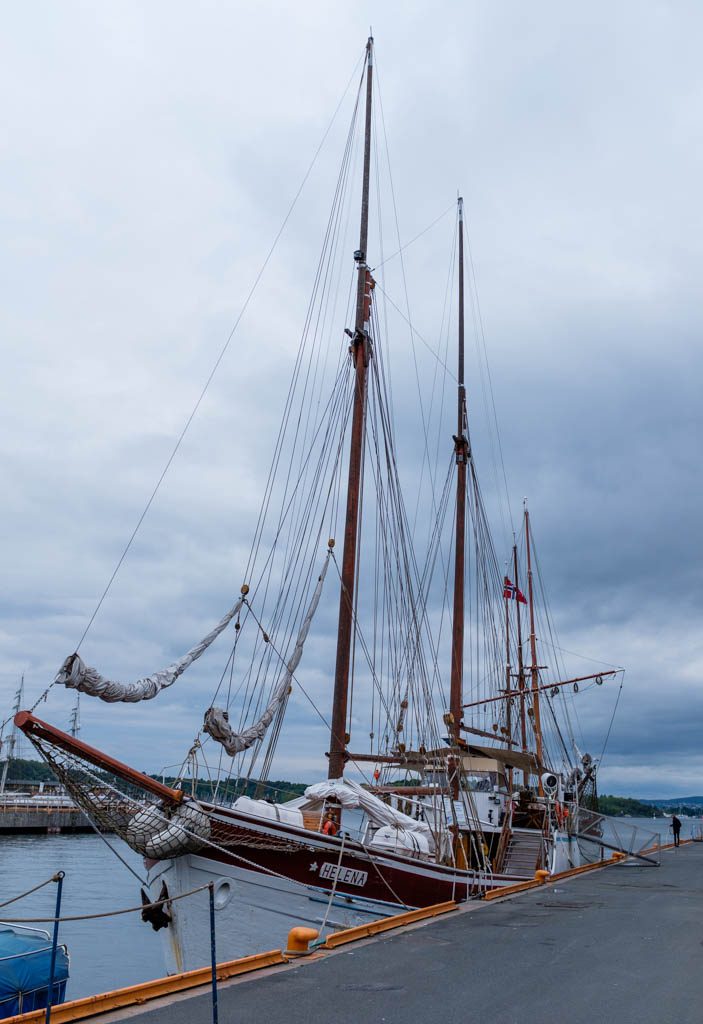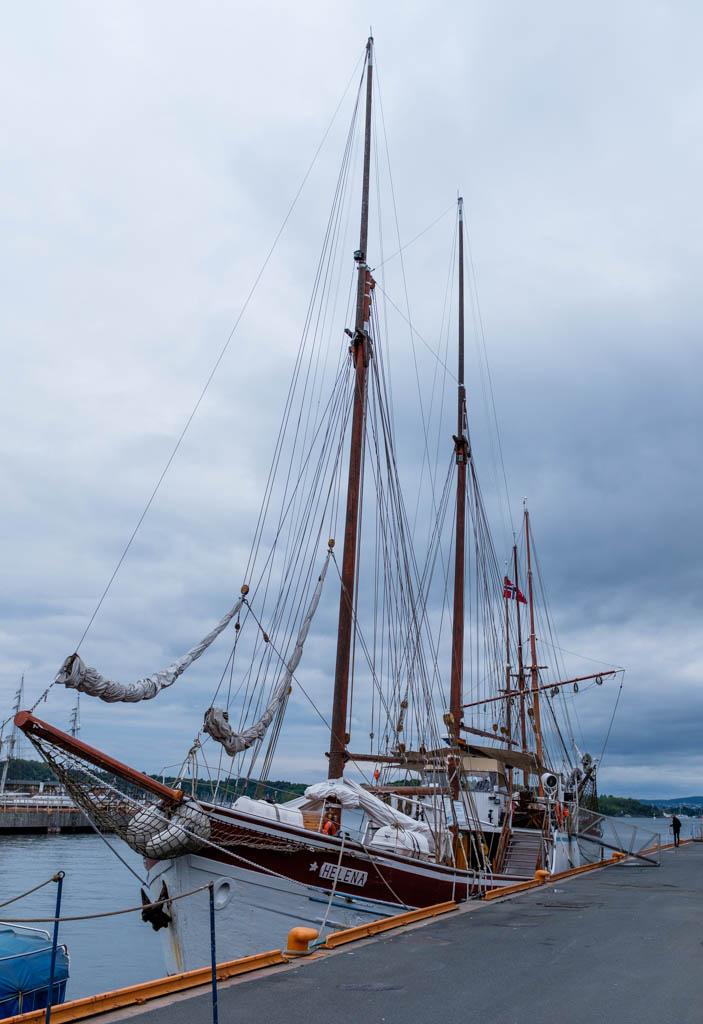 You can see how close to the water the Center is. This was taken from one of the docks.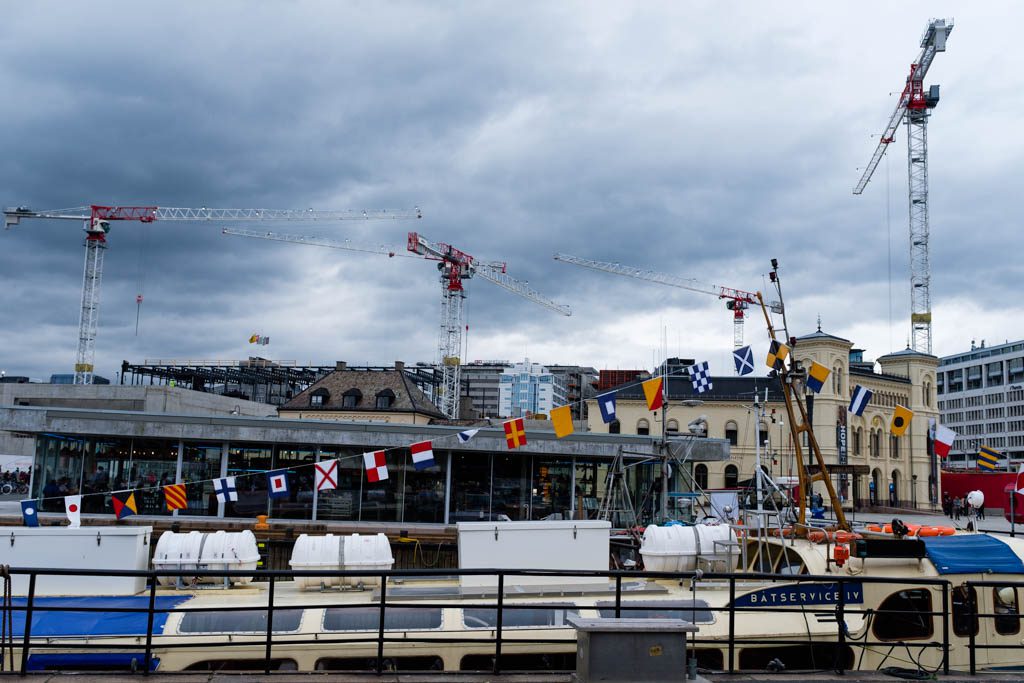 Oslo has the feel of a city that isn't finished being built. The waterfront area is pretty new and full of restaurants and new apartment buildings. Almost every look around the city anywhere has a crane in it. There's so much new construction going on that one wonders what it will be like in a year's time.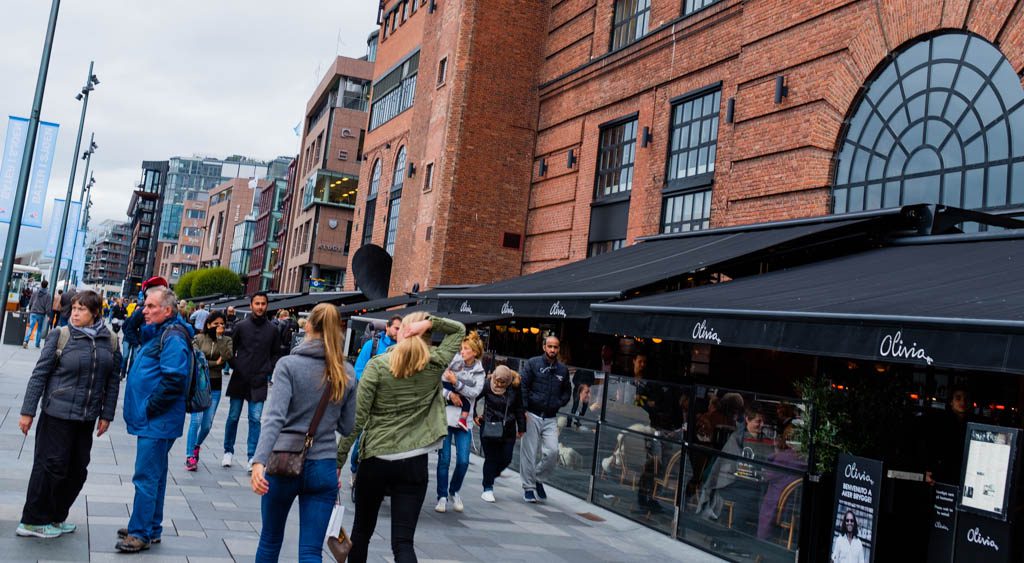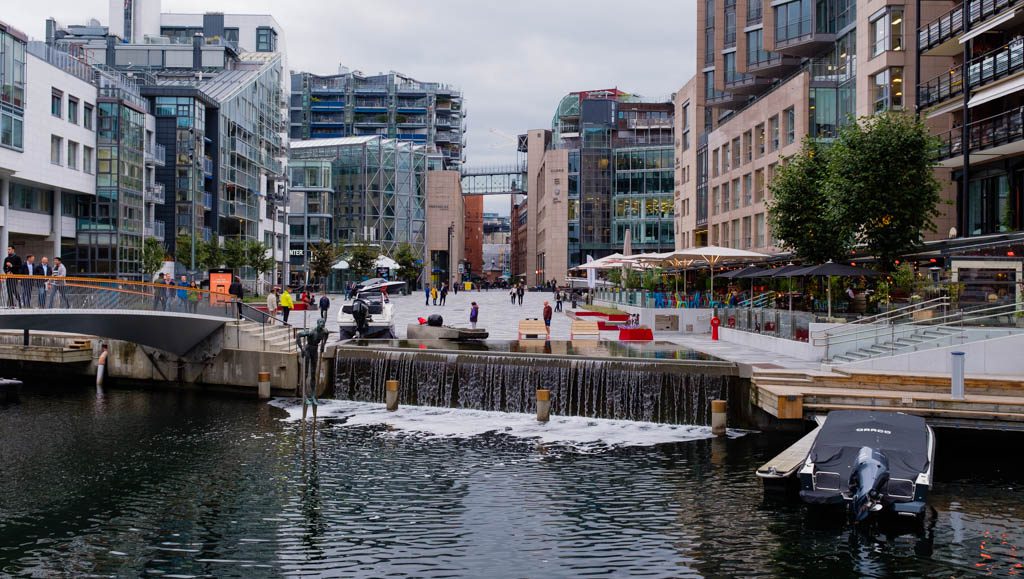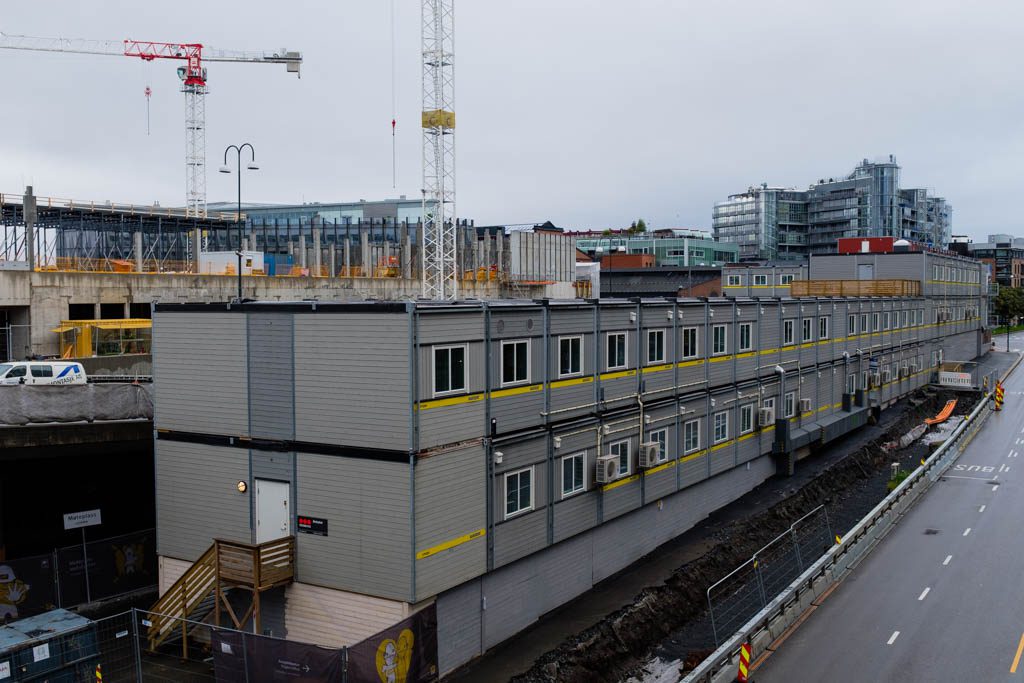 We left the waterfront to head to dinner. Without a doubt, this meal was the best part of our time in Oslo. I love sushi and the meal we had at Alex Sushi was the best I've ever had. It's an intimate restaurant and you definitely need a booking. Scott had reserved us seats at the bar so we could be up close to the chefs. The service was friendly and comfortable, but the food itself was divine. We had course after course and finished every last bite. If you are a sushi fan and in Oslo, this is the place you need to go (and I'll go with you!). It may have come in as the most expensive meal we've ever eaten, but I have zero regrets and would go back tonight if I could.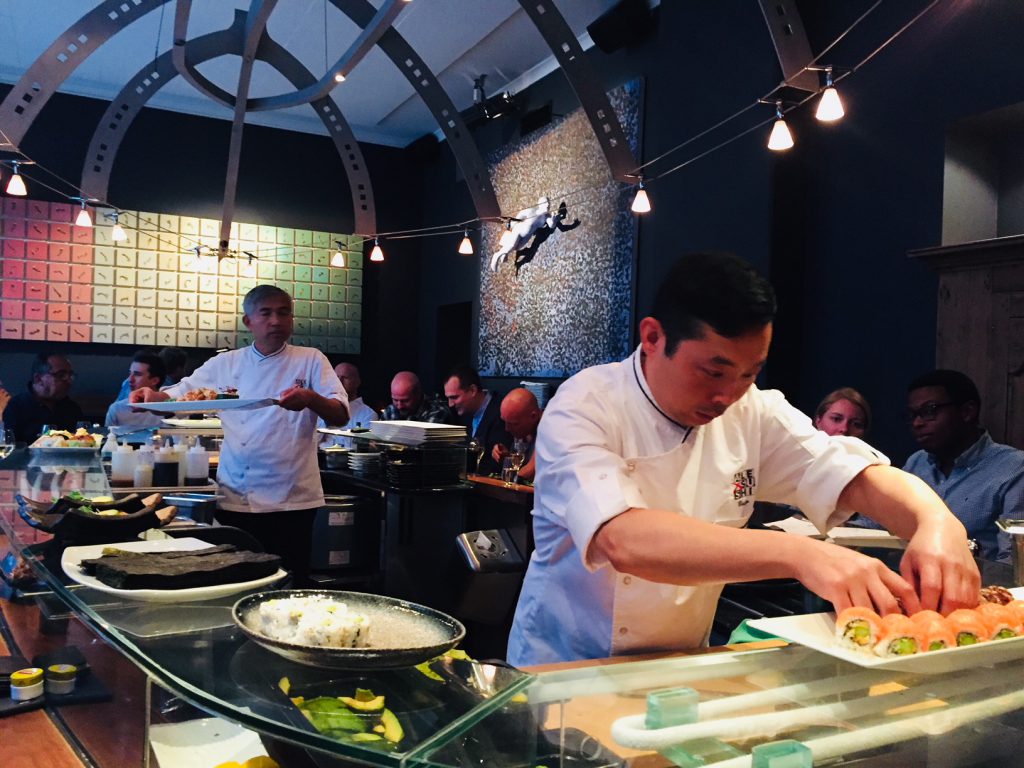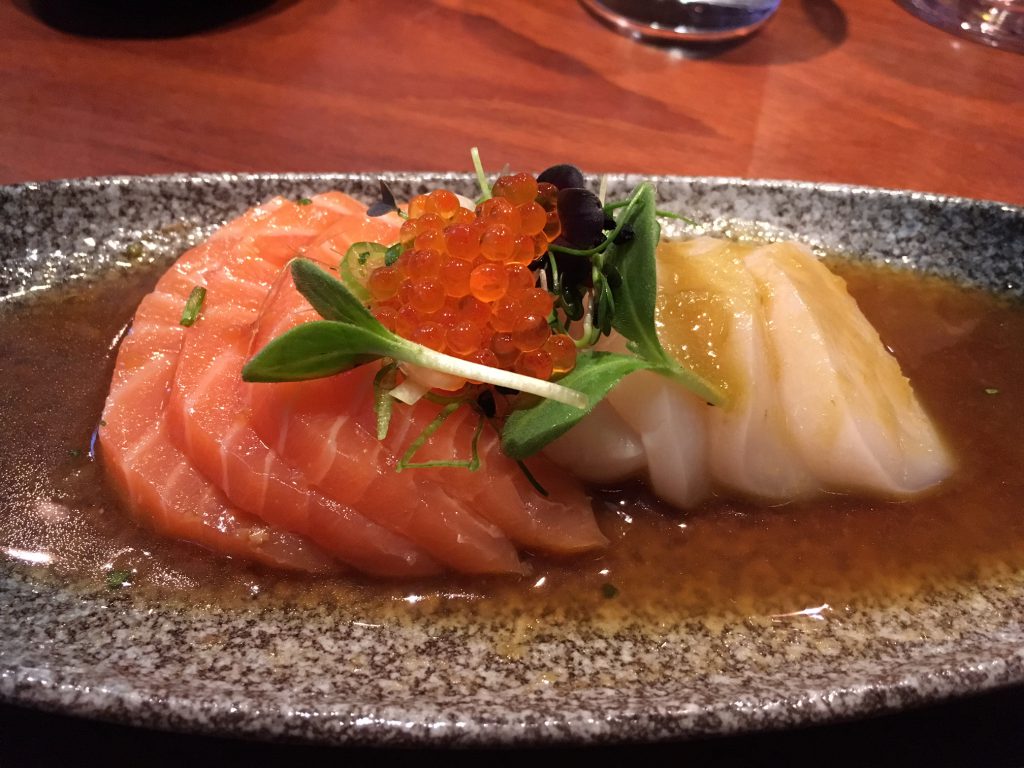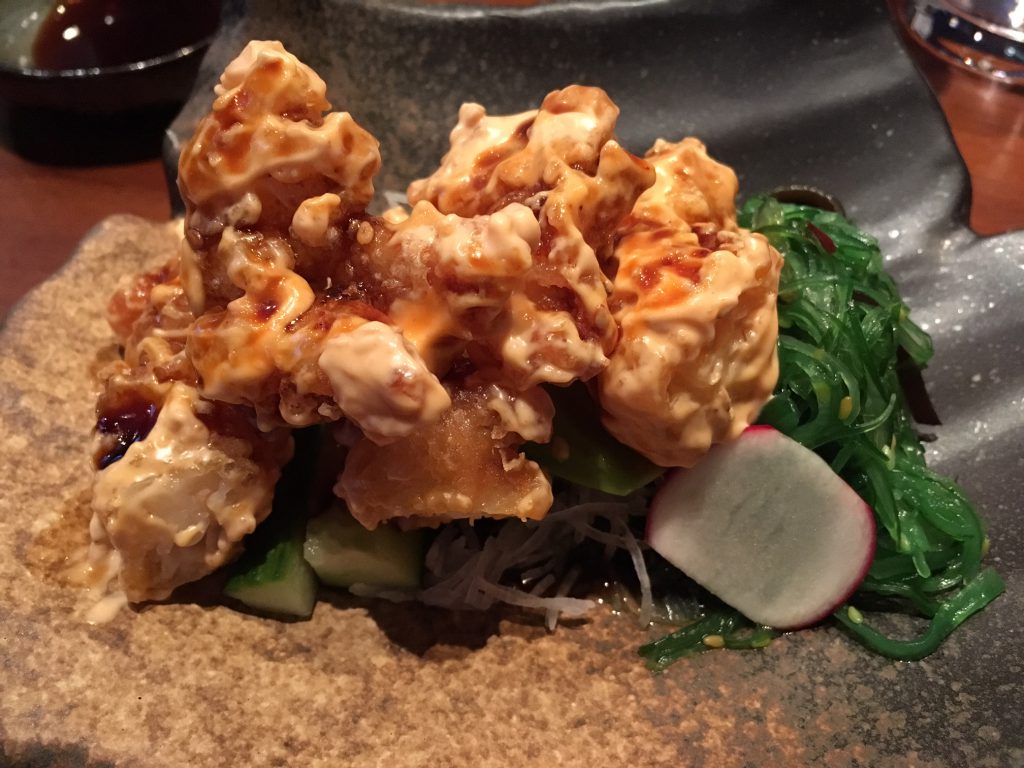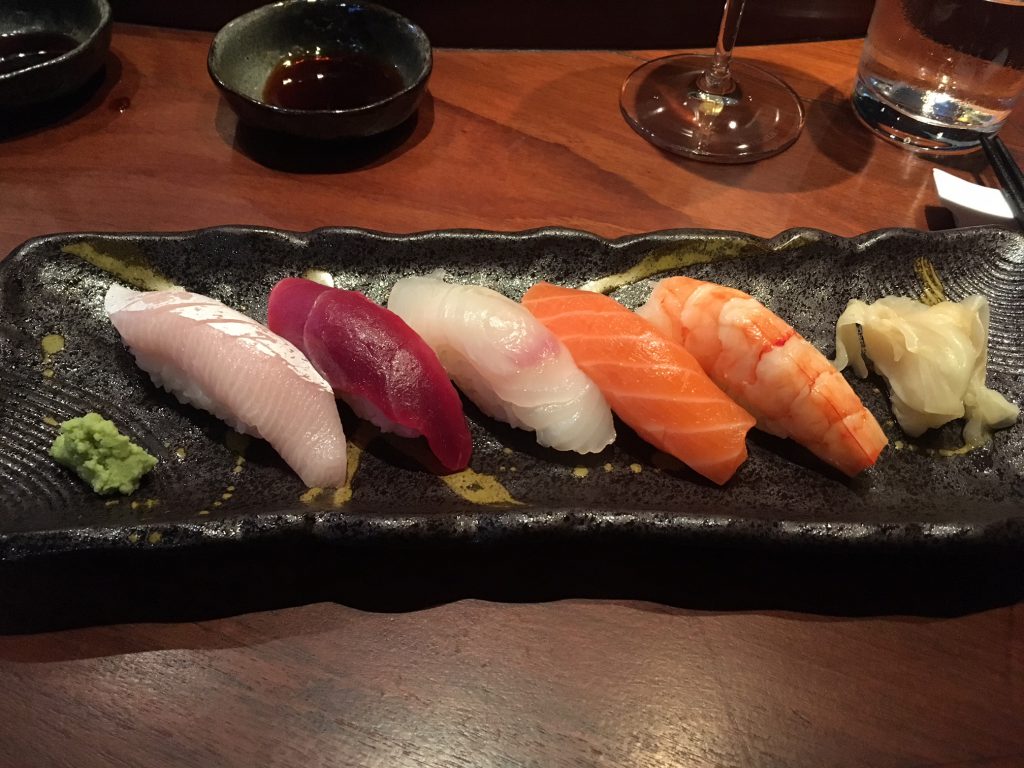 We stayed at the Scandic Hotel Solli. It was walking distance to a lot of attractions and was clean. They offered a large buffet style breakfast and we went down for it on Saturday morning, but the crowd was insane. We decided to head out for a coffee and a pastry.  (Every time we passed this plaza, Pikachu was dancing to Cotton Eyed Joe.)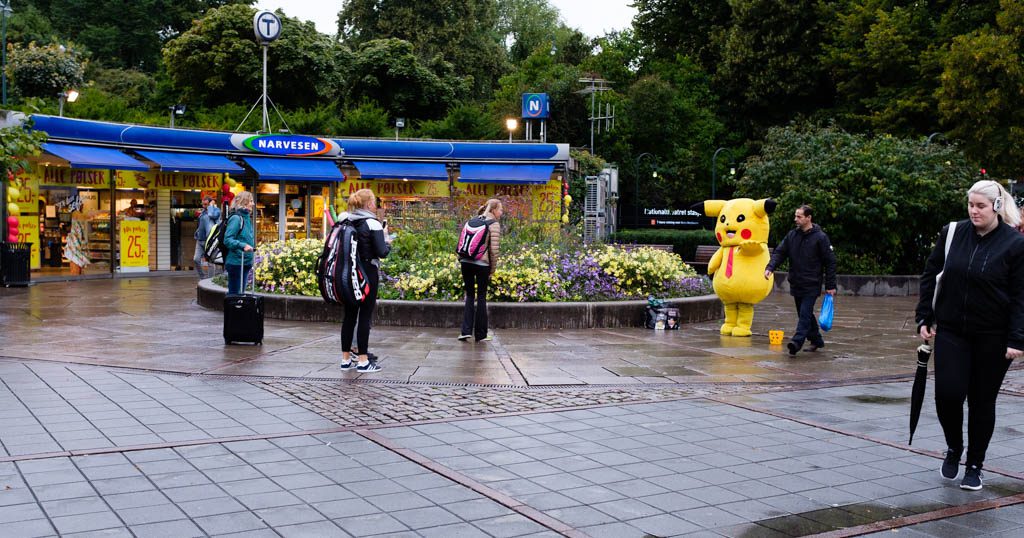 We took a boat tour in the afternoon. The rain had let up with only an occasional drizzle, but I would have gone out anyway. I wanted to see more of the fjords.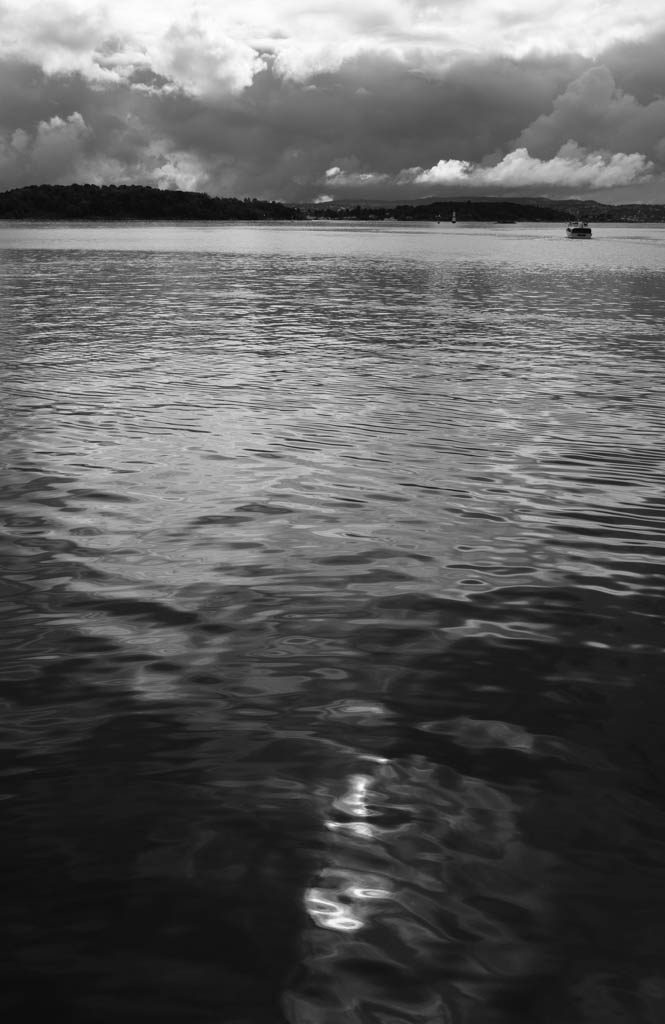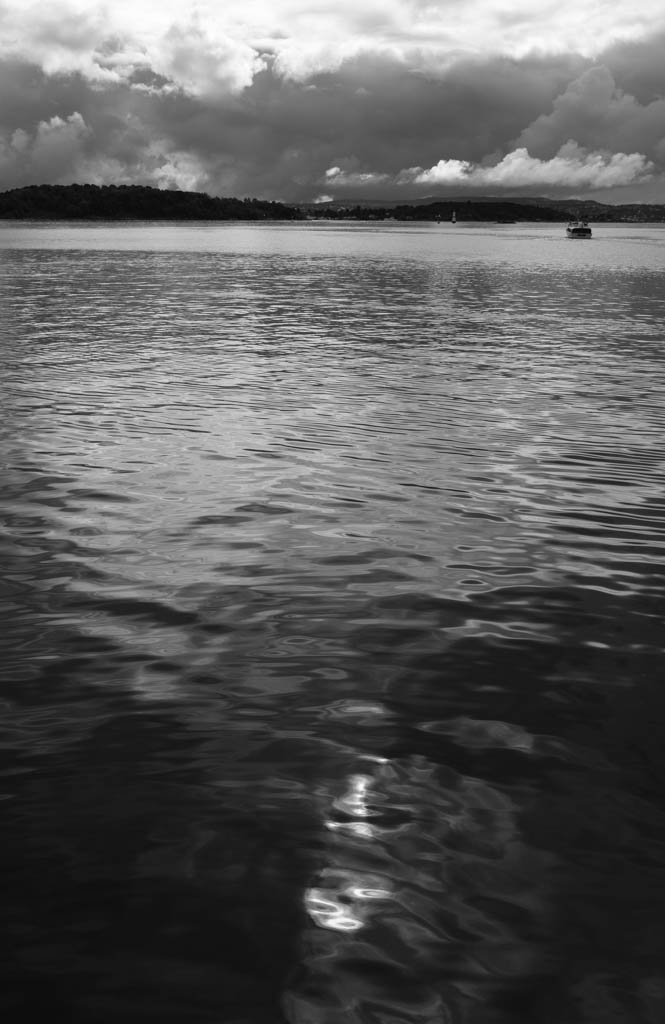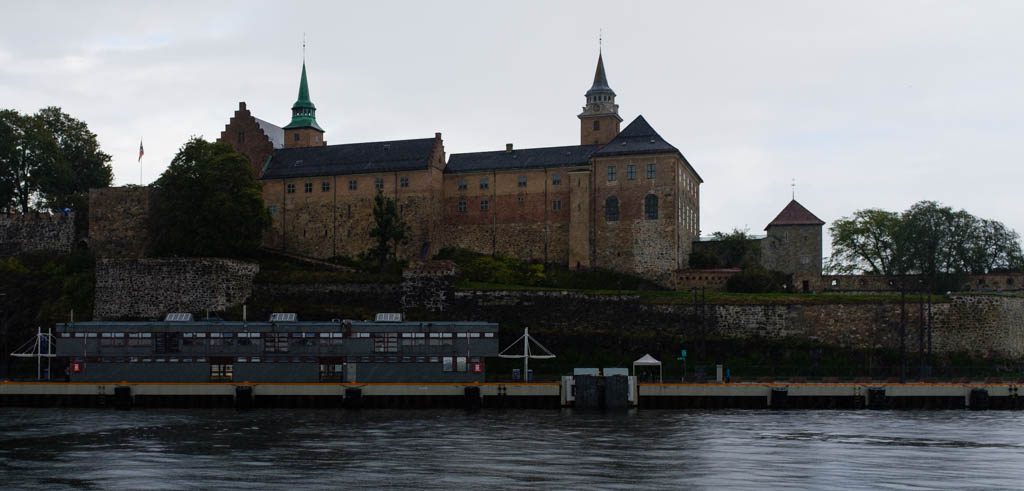 The boat we were on was the most crowded tour boat I've been on. We were lucky to get a seat at the side, even if we were squished in. The tour guides were good, though, with the right balance of information and just enjoying the scenery.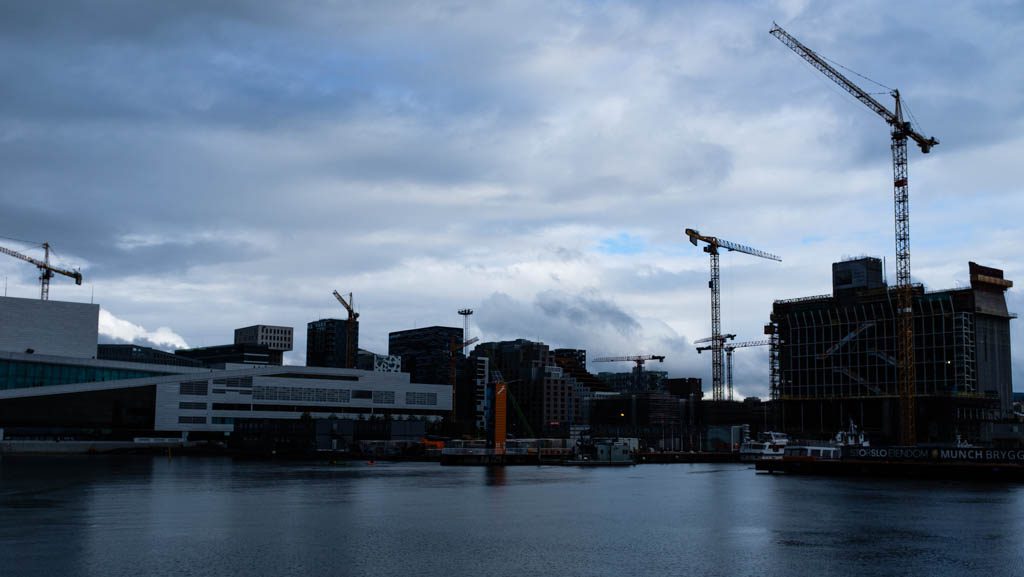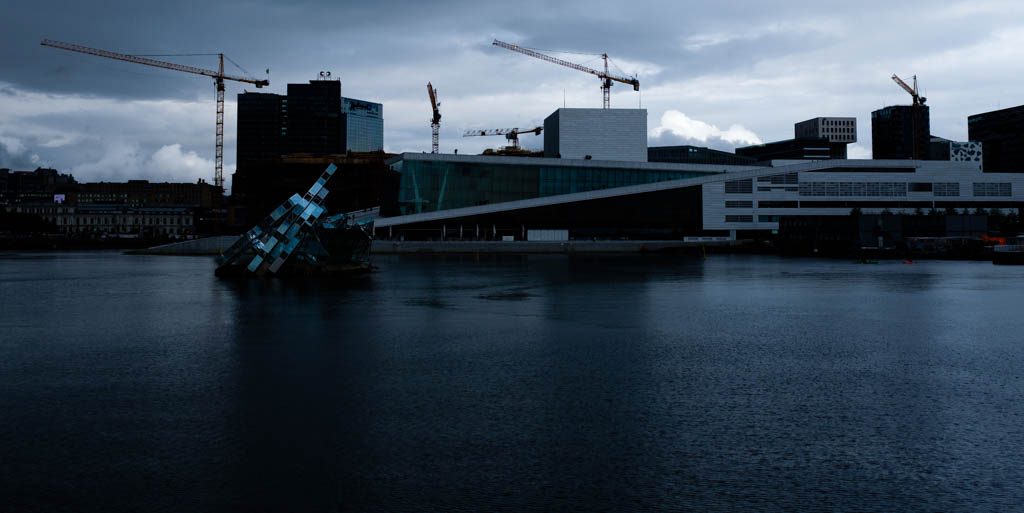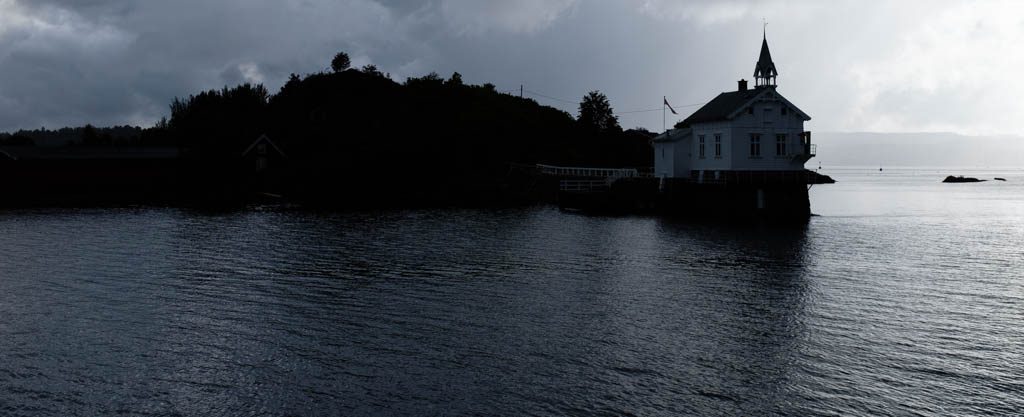 We got our first hint of blue sky and the hint of a rainbow as we got further out from the city.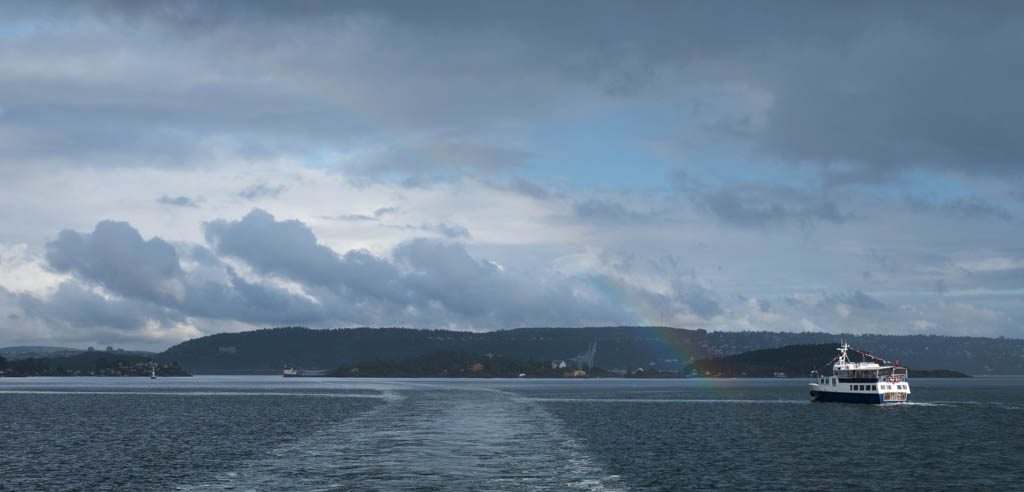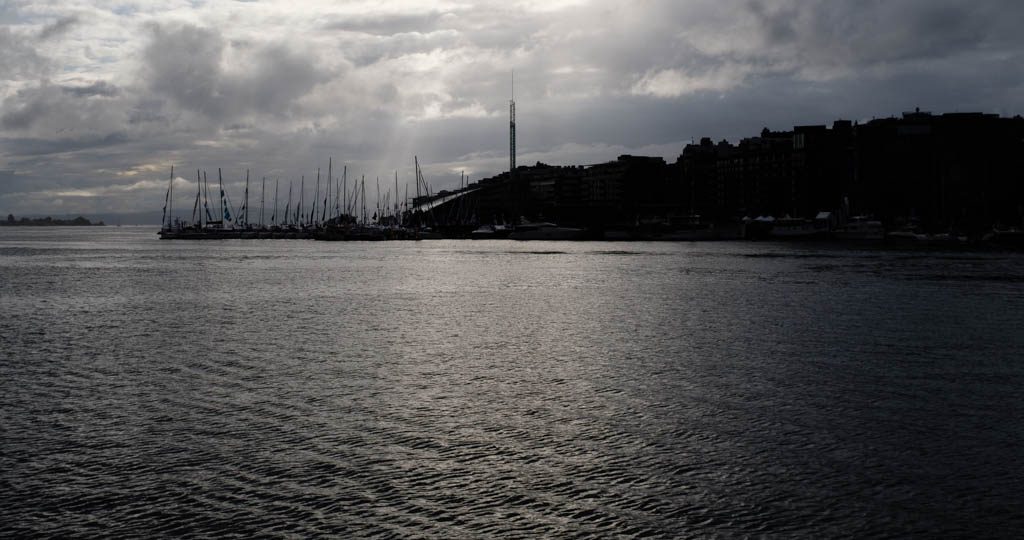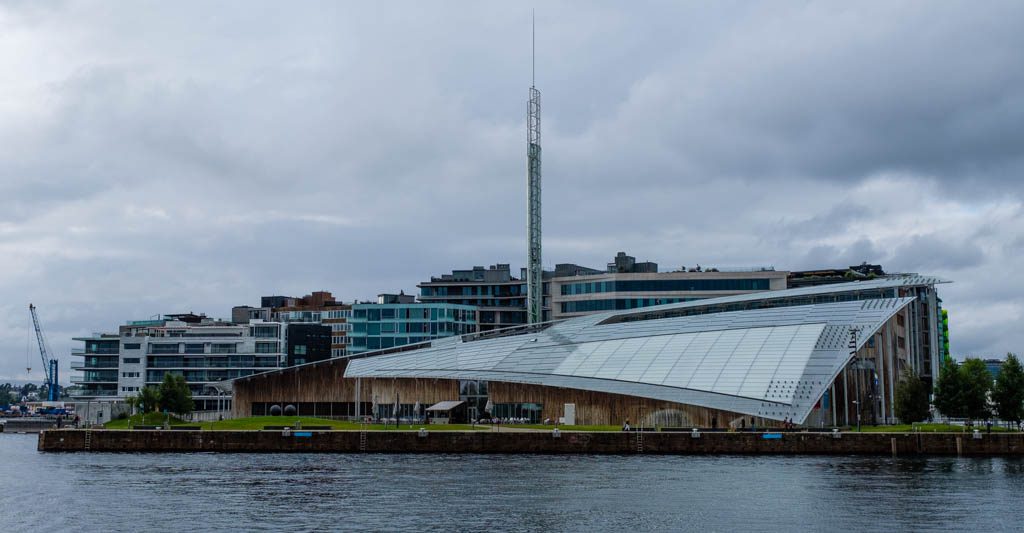 The rain started up again as we pulled back into the dock, so we headed straight for a bite to eat. A lot of restaurants in Oslo have an outdoor seating area that is open in all weather. A plastic covering, heat lamps, and blankets on the chairs make it incredibly cozy and warm.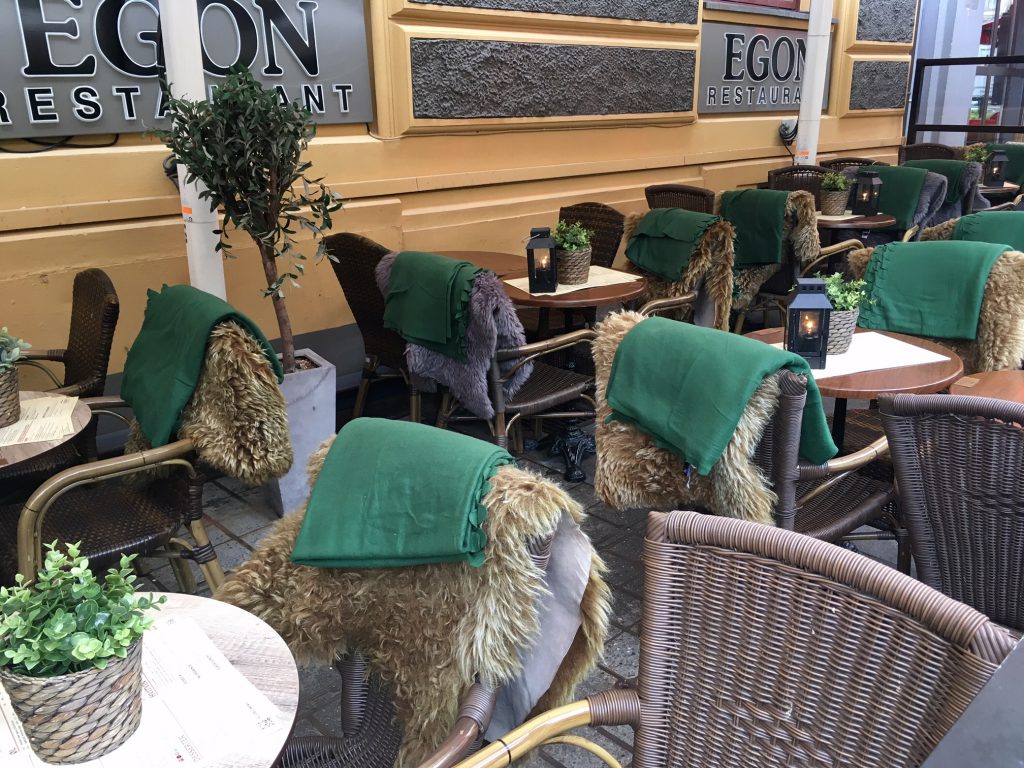 Our flight back to Edinburgh was leaving in early afternoon on Sunday, which gave us the morning for one last round of exploring. The rain had finally cleared up and the sky was showing signs of sun, so we checked out of the hotel, grabbed our backpacks, and headed to Vigeland Sculpture Park. It's the world's largest sculpture park created by a single artist. We had passed the front gates more than once in our wanderings and it was nice to see what was behind them.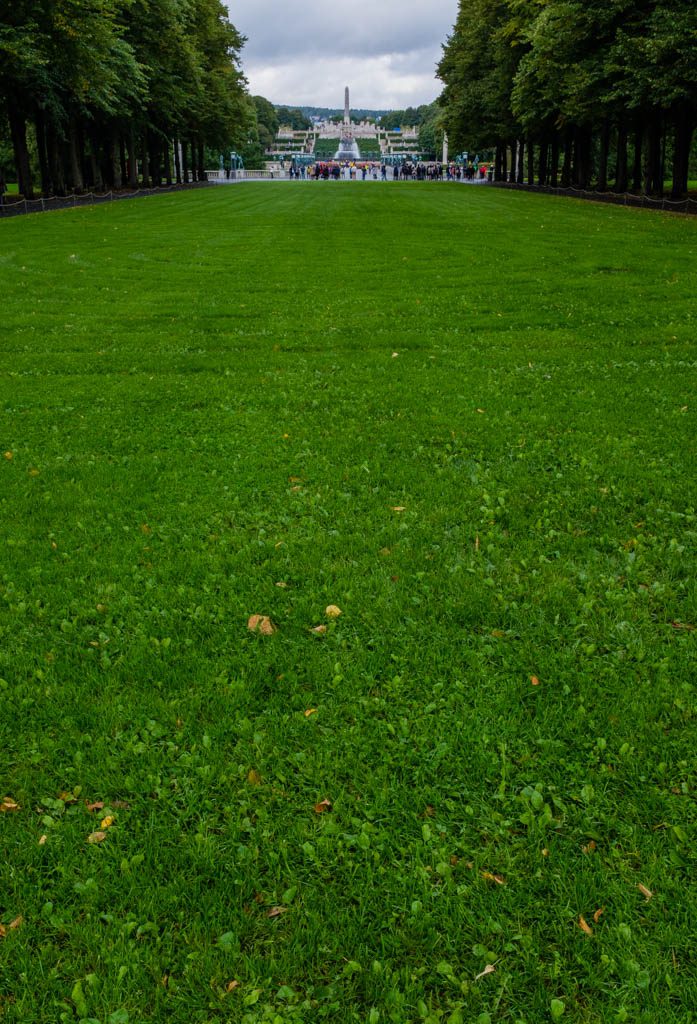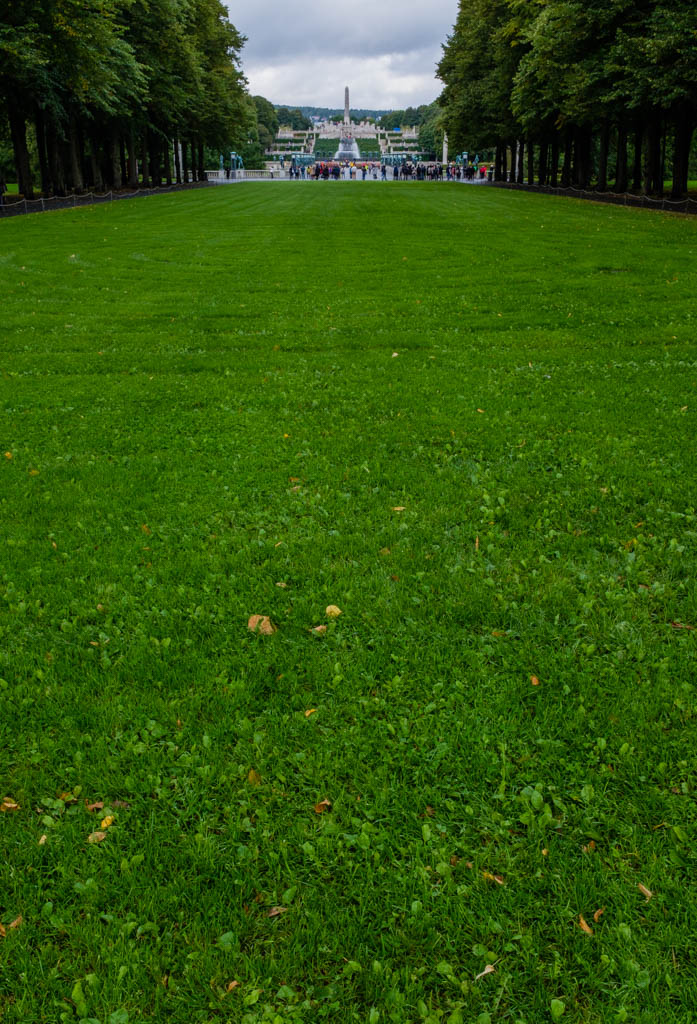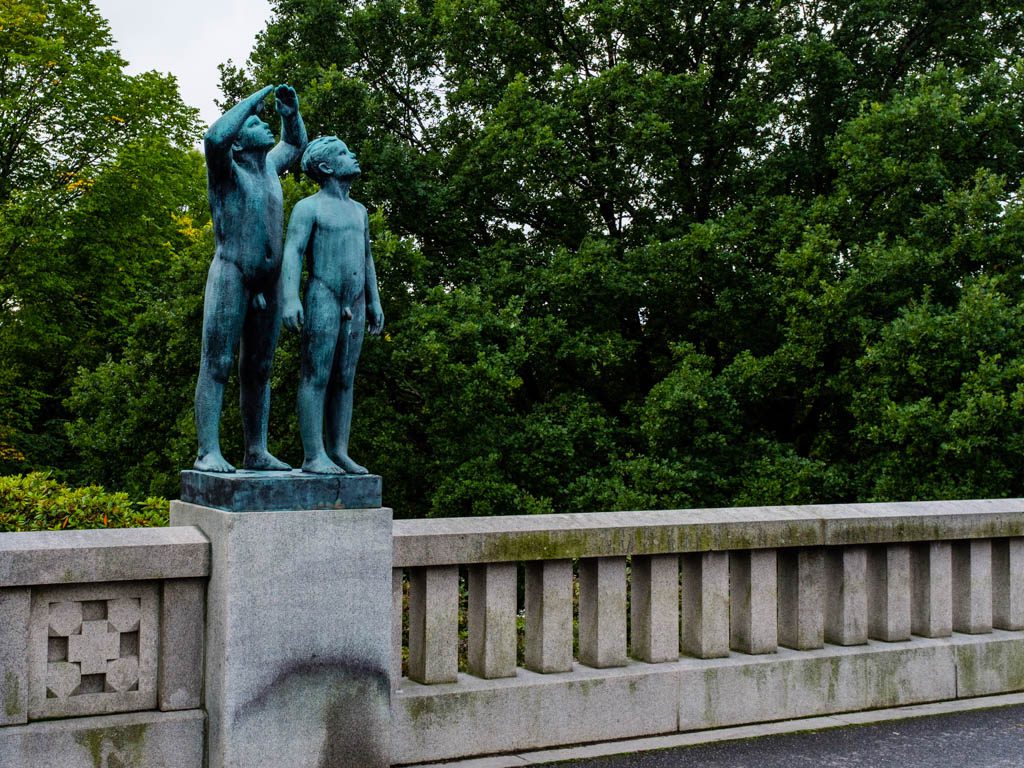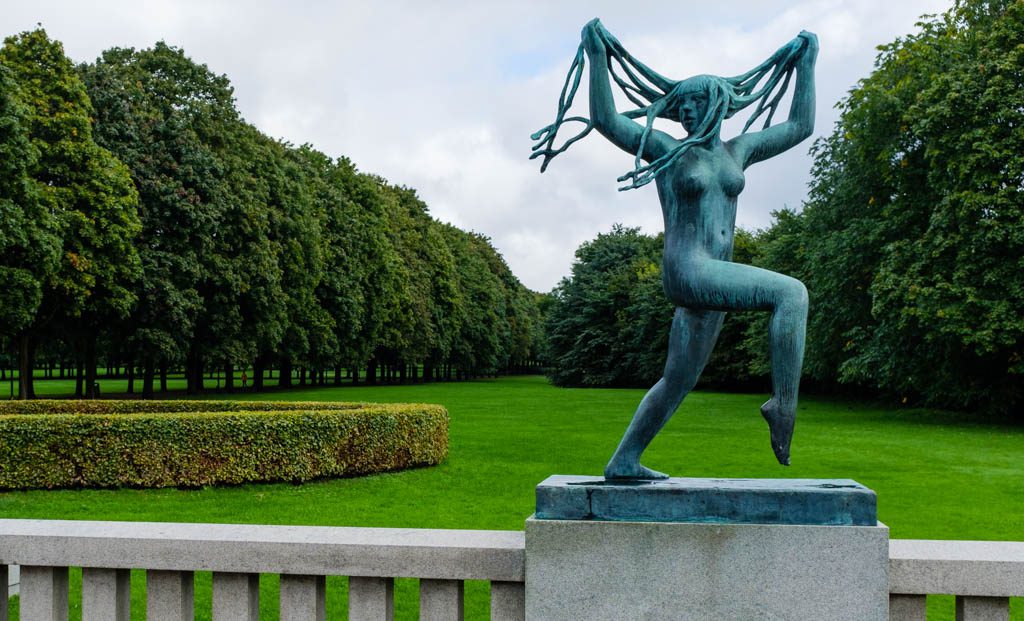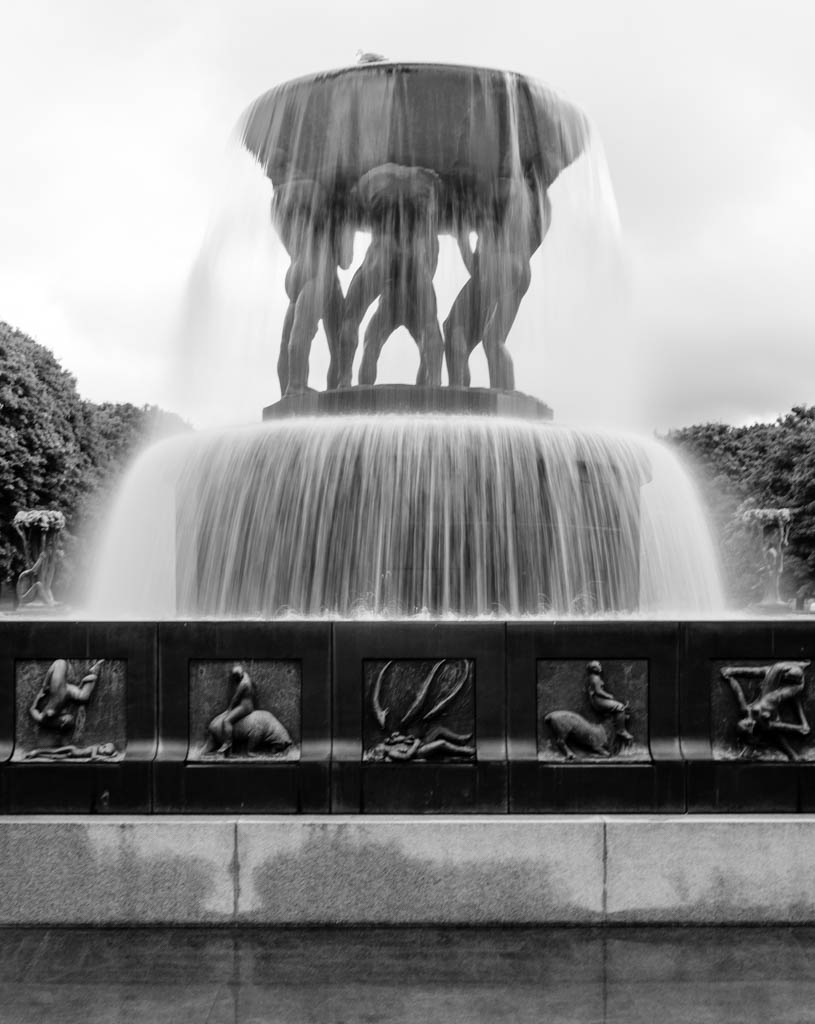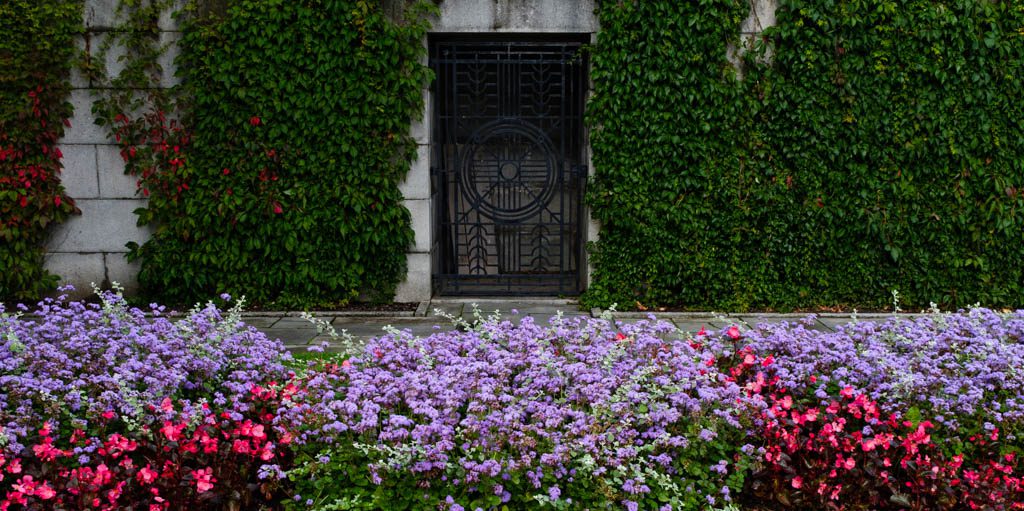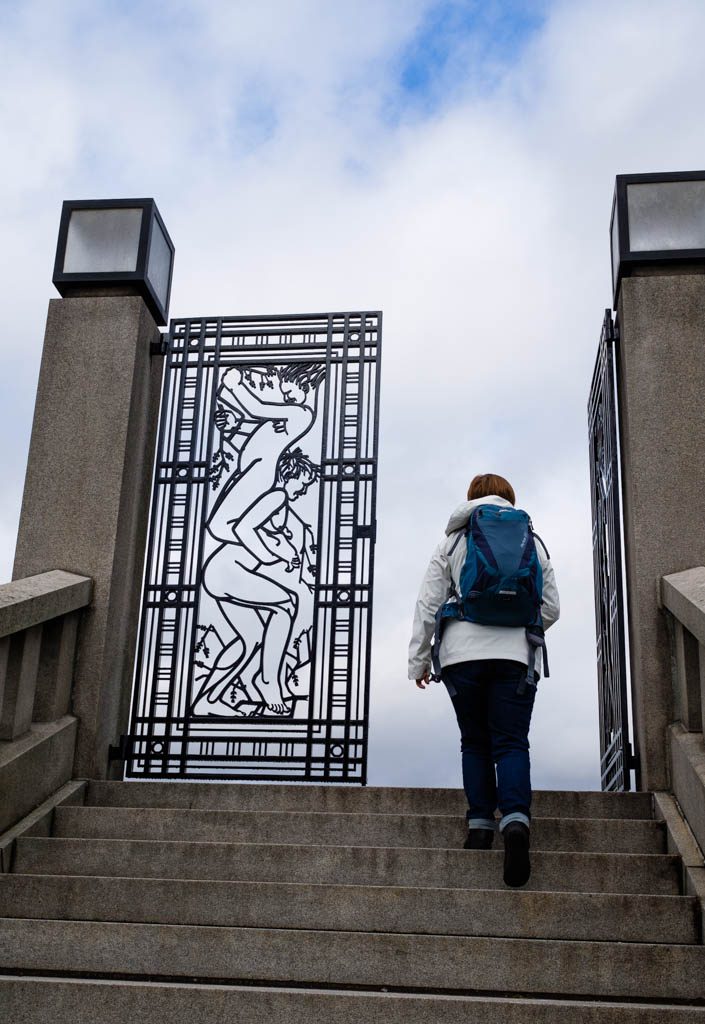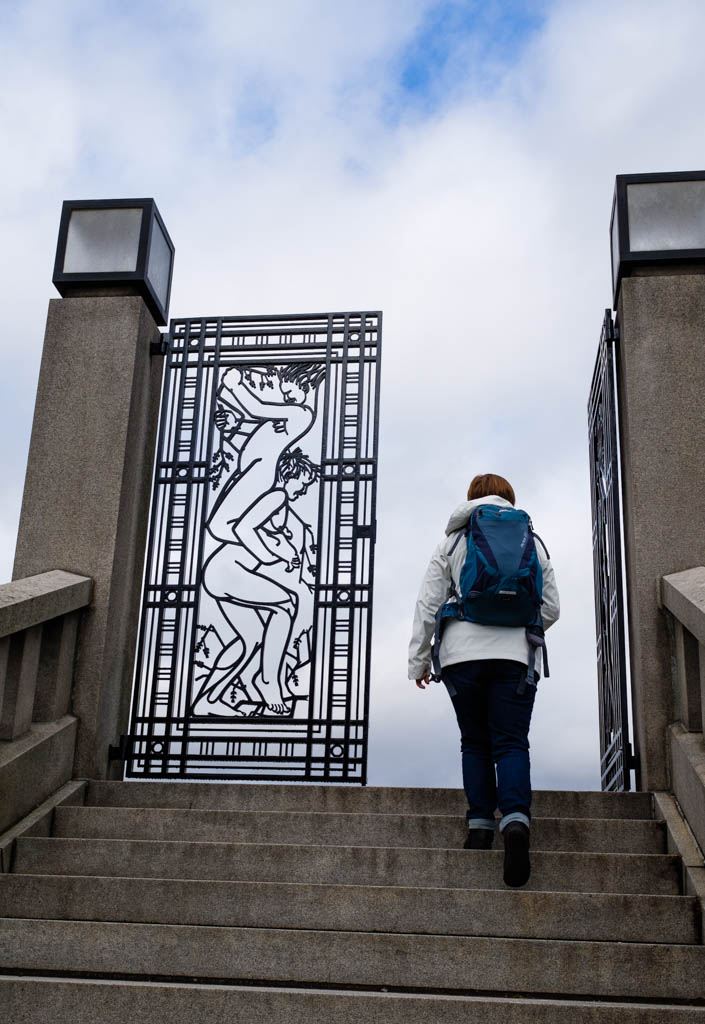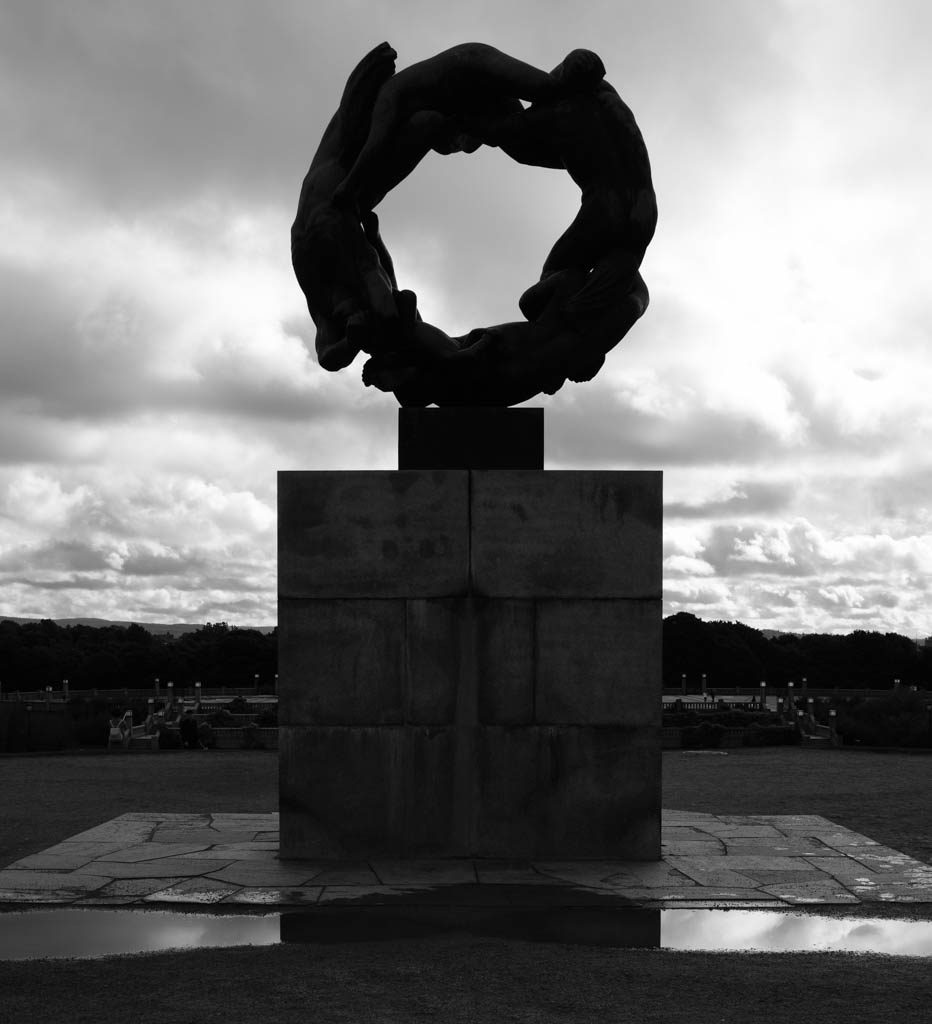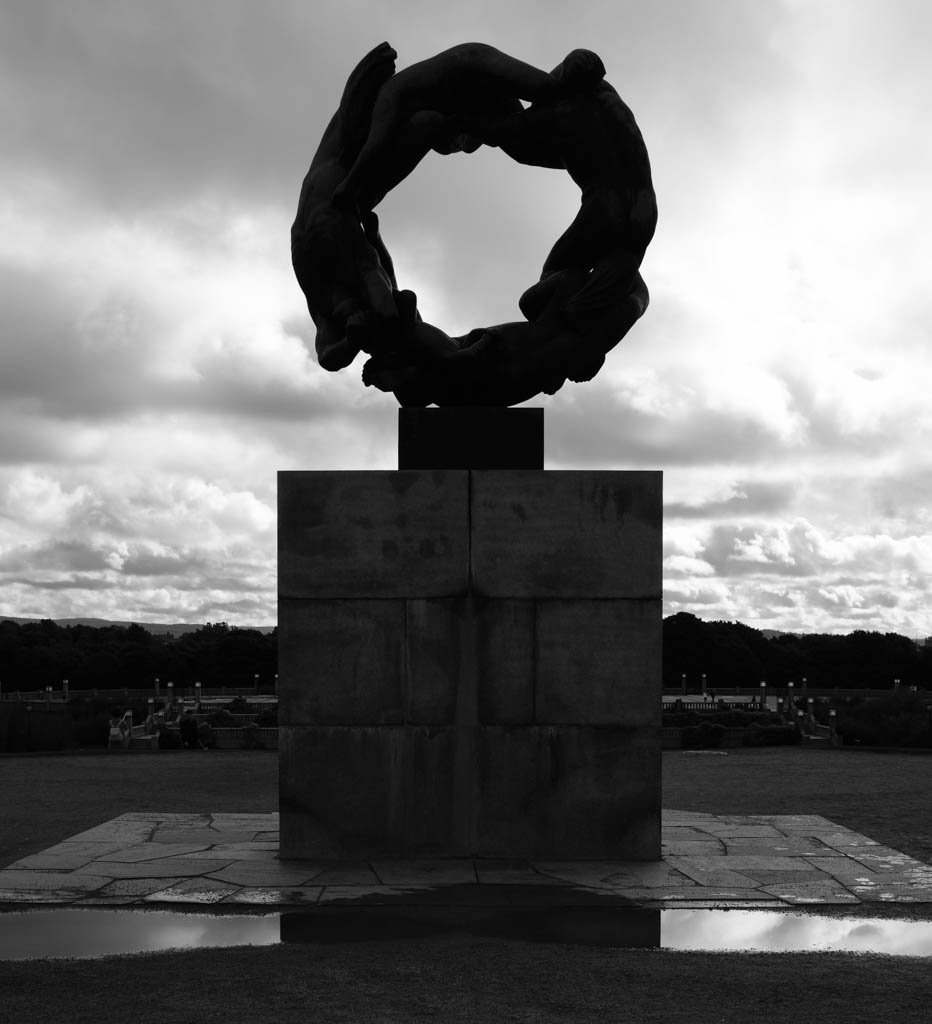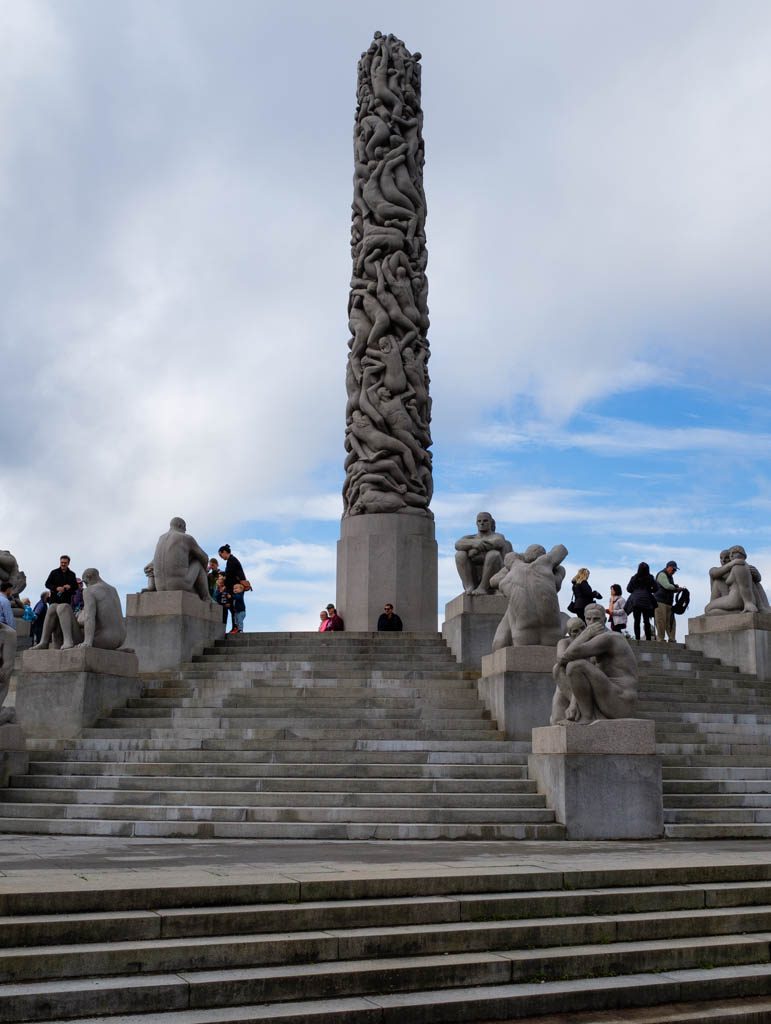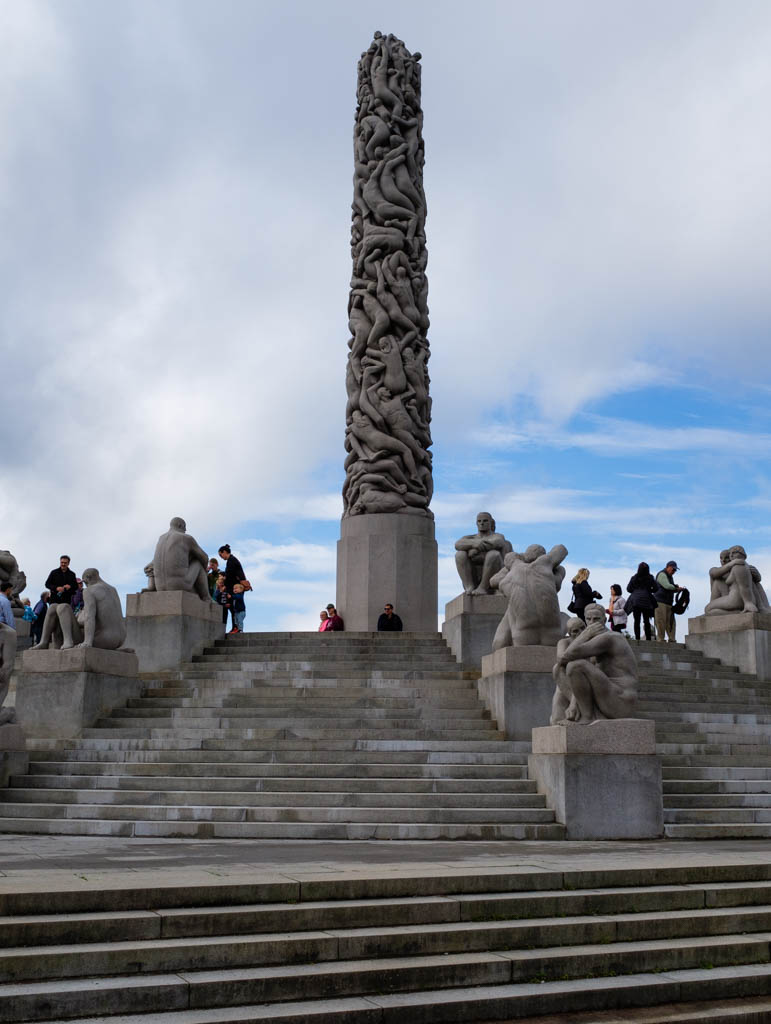 I'll be honest with you–I didn't fall in love with Oslo. I will freely acknowledge that this could be partly due to the weather. It was hard to see past the sheer wall of rain and grey that was over us most of the time. The boat tour made me really anxious to go further north and explore more of rural Norway. I was disappointed that The Nobel Peace Center was between exhibits. I hoped to leave Oslo wanting to immediately start planning a return visit, but I haven't had that desire. Maybe that will happen. If you love Oslo and there's something I should absolutely do, please let me know! I would love to have that sushi again, so I'm open to recommendations on how to spend another Two Days in Oslo.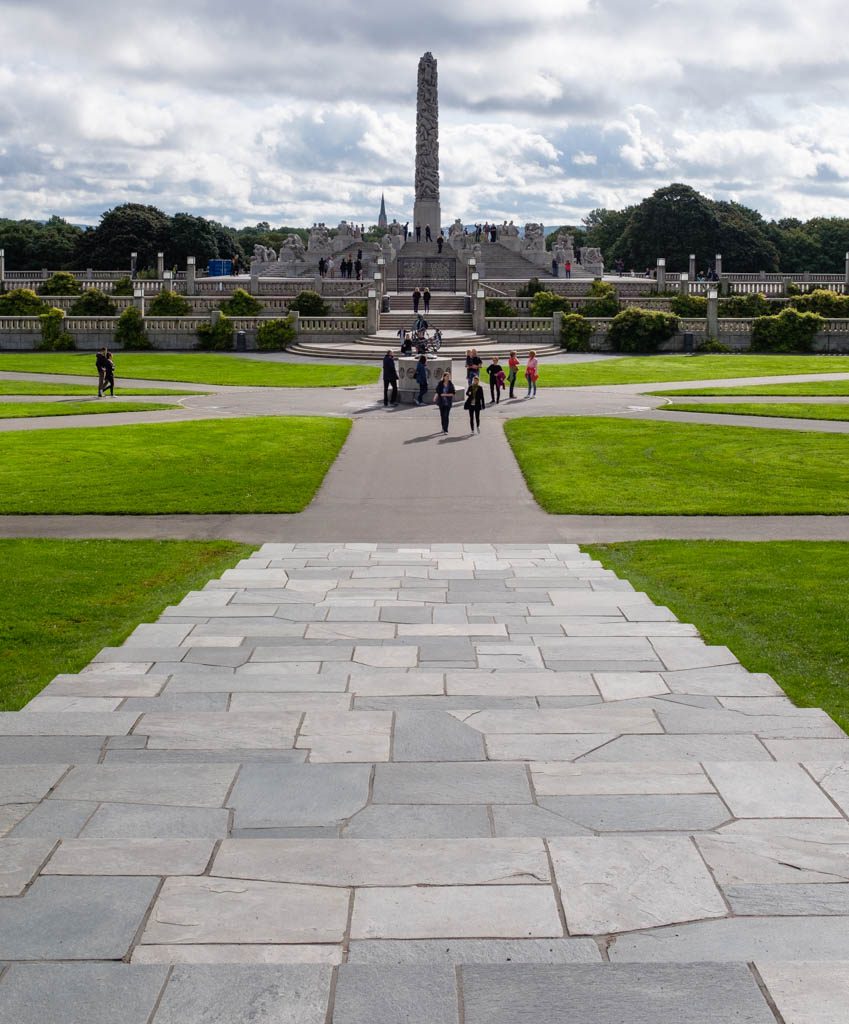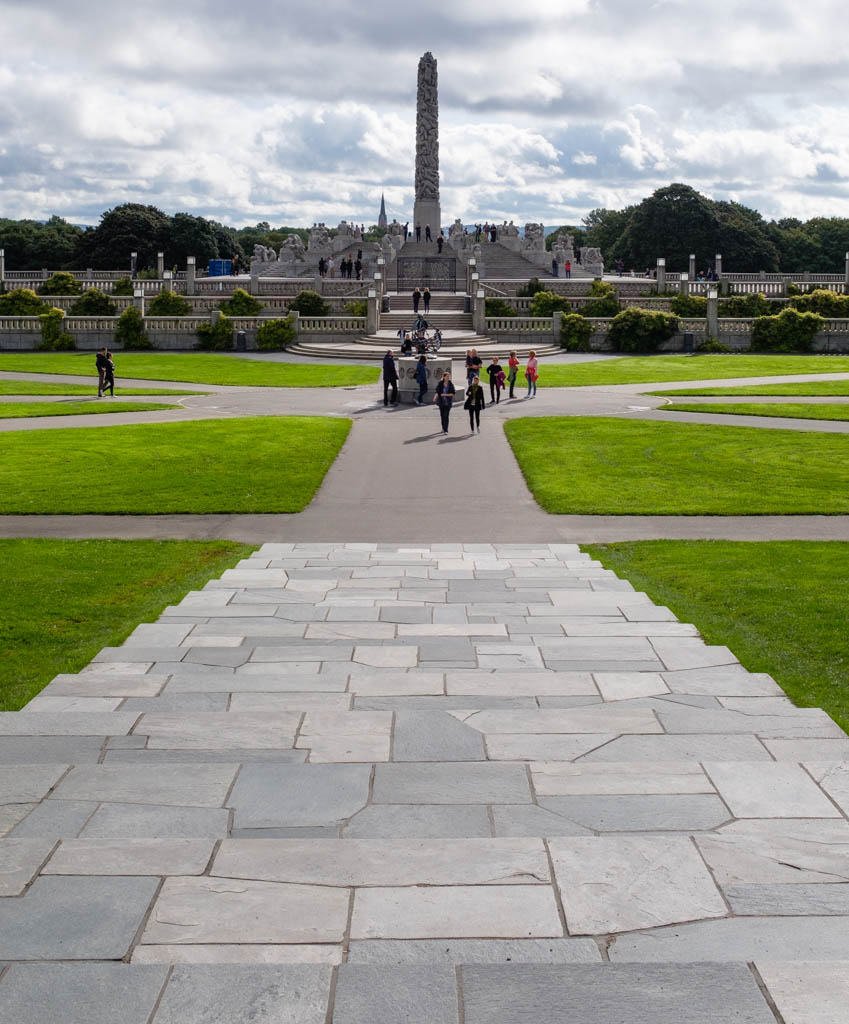 SaveSave
SaveSave
SaveSave
SaveSave