My friend Kristin of Sippin Gypsy is guest posting today and is telling us what we should do if we have two days in New Orleans. It's a place I've never been but have always wanted to go and I want to even more after reading this! Thanks so much, Kristin!
We all have that spot that we go to any chance we get.  That place that resonates with us and gives us what we crave the minute we leave it.  Maybe it's the people you know there, maybe it's the food you enjoy when you're there, maybe it's the activities and events that are offered that always fall into sync with your travel style.  But we can all agree we have that spot, and for my husband and I…New Orleans is our quick getaway every chance we get.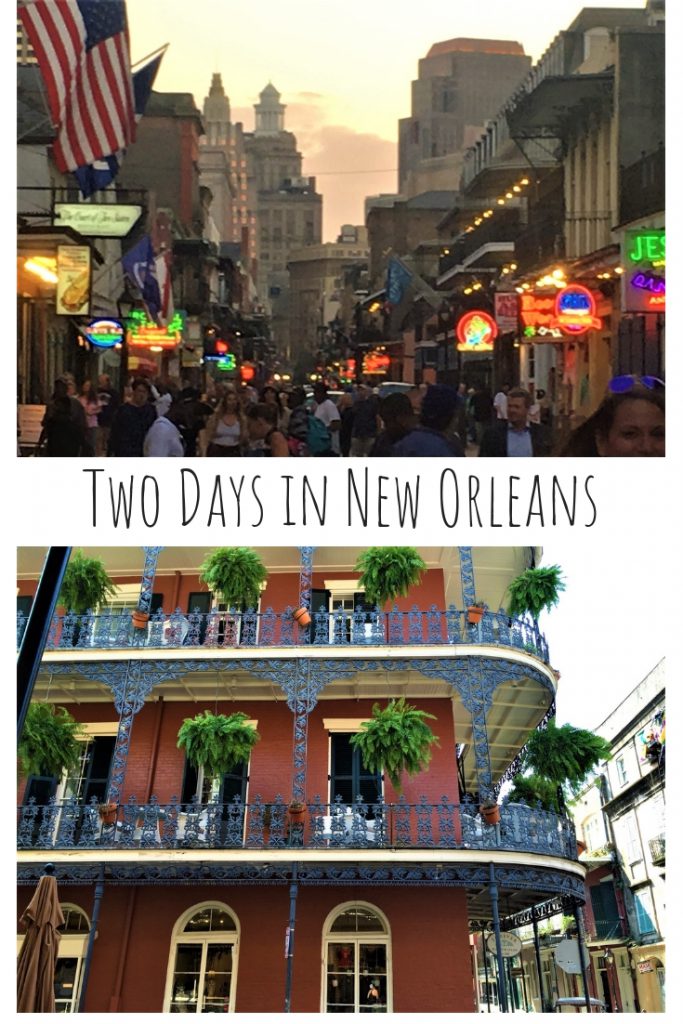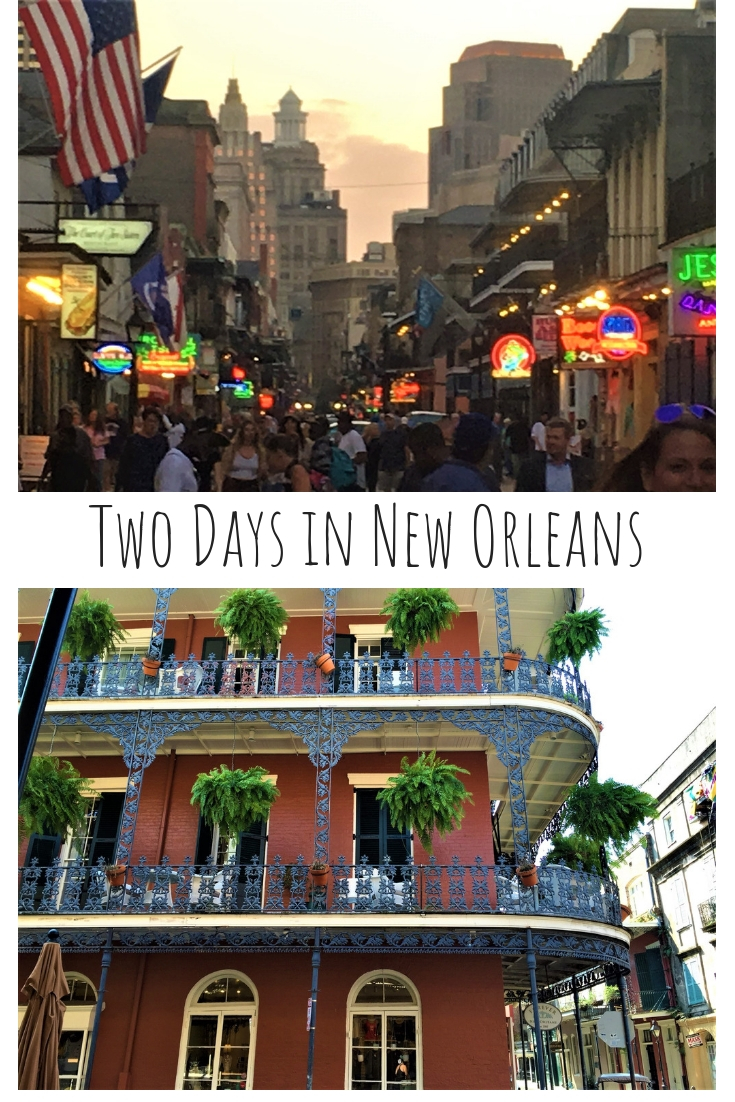 I love history, architecture and good old fashion ghost story.  He loves jazz and live music and we both love incredible cuisine and creative cocktails so it's no wonder that New Orleans feeds our soul when we visit.  The city is so easy to navigate and there is always something to do.  I appreciate that the atmosphere is welcoming.  Very few places can you find a man in a business suit in the same bar as a barefoot local toasting to the enjoyment of life.  Since we live in Orlando, the flight is easy.  We have even done simple overnight getaways to New Orleans just to grab dinner and music for date night.  But as our love for NOLA has spread, we find friends asking to plan getaways with us to The Crescent City.  This post is prepared with those of you in mind who want a quick getaway to this charming city.  'Quick Tips' if you will for where to stay, what to do and places for the most memorable cocktails and cuisine when you only have 48 hours in one of my favorite spots.  I've written this for the perspective of your first time enjoying New Orleans, but some of these you may not repeat your second or third visit, as you will not be able to exhaust everything NOLA offers in one getaway.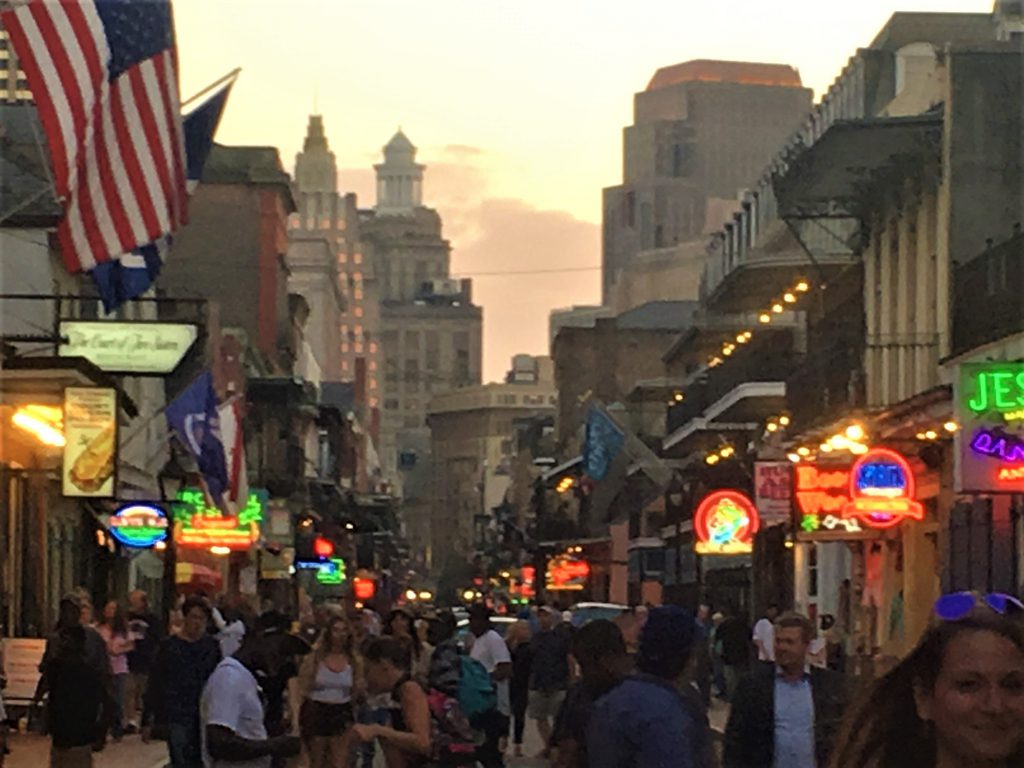 Where to Stay
New Orleans is packed full of luxury hotels, charming bed and breakfasts and everything in between.  You can really shape the mood of your stay starting with your choice lodgings.  What I loved about New Orleans was that there is no pretention here.  Just because you book a room at The Ritz Carlton doesn't mean you need to walk around dressed to impress.  I learned to travel light and comfortable to New Orleans. While you will find endless options across downtown New Orleans, the most convenient lodgings I find are the ones that nestle in and against the Vieux Carre, or French Quarter.  The Business District and Warehouse District are blossoming and have plenty of hotel options at reasonable prices, I like staying within footsteps of the live music and many of the spots I enjoy stepping in an out of during my visit.  
The Saint
One of my favorite hotel experiences.  The rooms offer either the heavenly influence with clean white and rich blue details, or devilish indulgences with sinful red hues and dark details.  One of my favorite surprises…the shower head that changed color throughout the experience!  The lobby offers a comfortable gathering area including a pool table adjacent to a majestically dark bar.  From time to time you can catch a true Burlesque Show.
This is a historic staple in The French Quarter and home to the iconic Carousel Bar.  The hotel exudes luxury without judgment.  Guests come for romantic wedding getaways and others come with flip flops and t-shirts for weekend of partying.  The hotel has been in the Monteleone name since 1886.  While the original structure had been leveled and the structure rebuilt, the hotel has stayed in the family name and under family ownership and management and has un-waivered in its offering of elegance and Southern charm.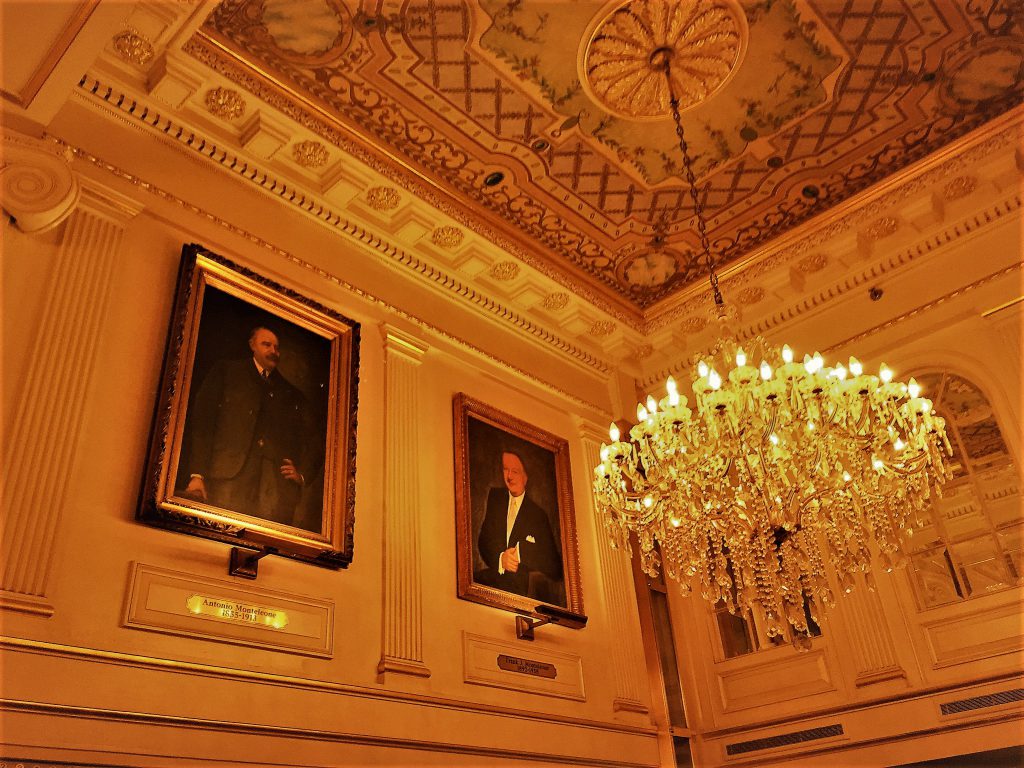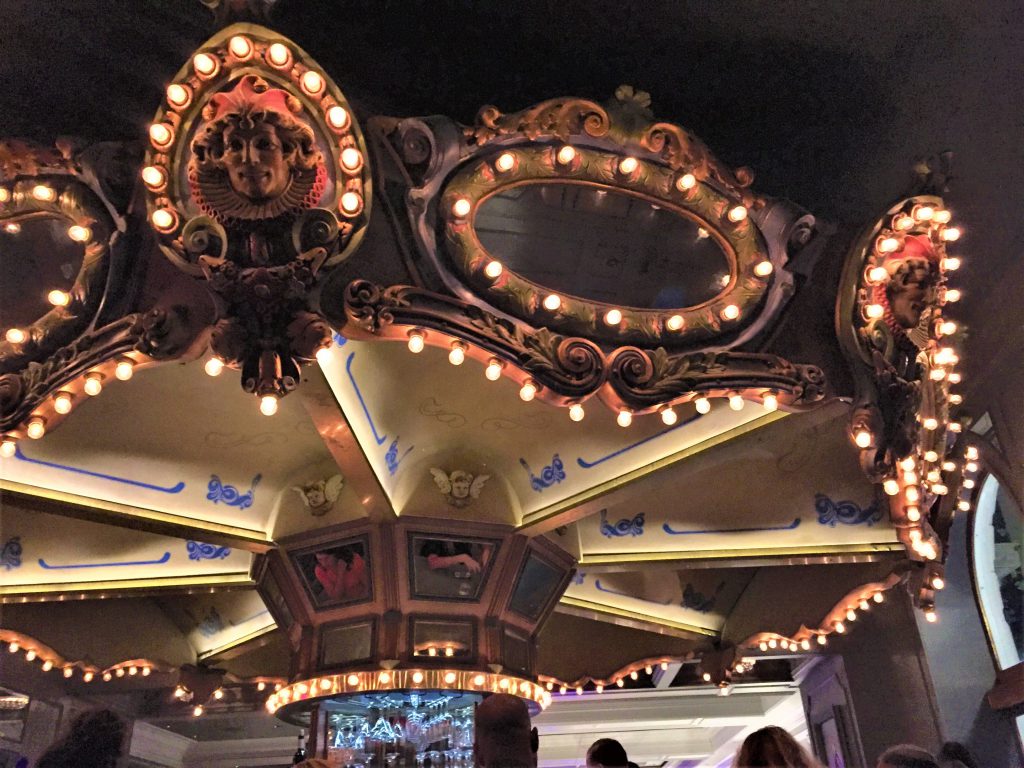 What to do
So you only have 48 hours.  There really is a cornucopia of options depending on your travel style.  If you have easy access to your own transportation, a swamp tour or planation tour would be very enjoyable, and unique to your Louisiana experience.  But I am setting an agenda assuming you have flown into town and will just use your own feet to experience what you can.
Cemetery/History Tour
My favorite group in New Orleans for walking tours has been the French Quarter Phantoms.  I have enjoyed several tours by them including a Cemetery Tour of the famous St Louis Cemetery #1 and a Ghost and Vampire Tour.  White I did not get to meet any ghosts or vampires…the tours are informative, fun and set at a good pace for gathering first time information or hearing it again…and again…and again…  Please note, the St. Louis Cemetery requires a purchased tour to be able to enter while the Lafayette Cemetery #1 in the Garden District is free to enter during business hours.  The St. Louis Cemetery is home to the tomb of famed Voodoo Queen Marie Laveau while the Lafayette Cemetery has been the set for many popular movies.  French Quarter Phantoms also offer tours of Treme and The Garden District.  There is a lot of history packed into these neighborhoods.  Picking at least one tour is well worth your time and a good activity to plan as one of the first things you do in New Orleans.
Stroll up Royal Street to Jackson Square.
Here you will find many of the picturesque details that make the French Quarter so charming.  Wrought Iron details on impressive buildings, quaint shops with goods and services that transport you back in time, and Jackson Square, lined with local artisans performing and offering their hand made goods.  This is one of the best spots to find a beautiful and sentimental local souvenir.  A one of a kind hand painted picture or just the memory (and Instagram post) of local performers.  Across Decatur from Jackson Square is the iconic Café DuMonde.  Grab a coffee and beignets to go and continue your stroll.  Ready for an afternoon cocktail?  Every bar and restaurant along your path will gladly make you a cocktail to go.  New Orleans is an open container city, which means you can explore their world sip by sip, and see more!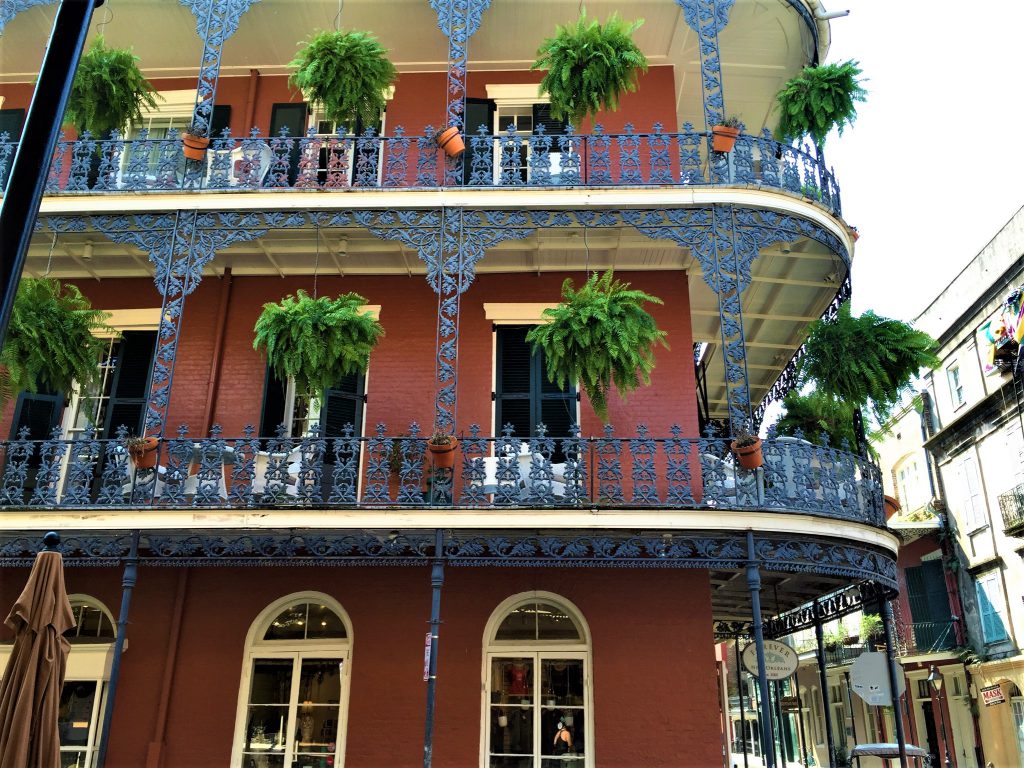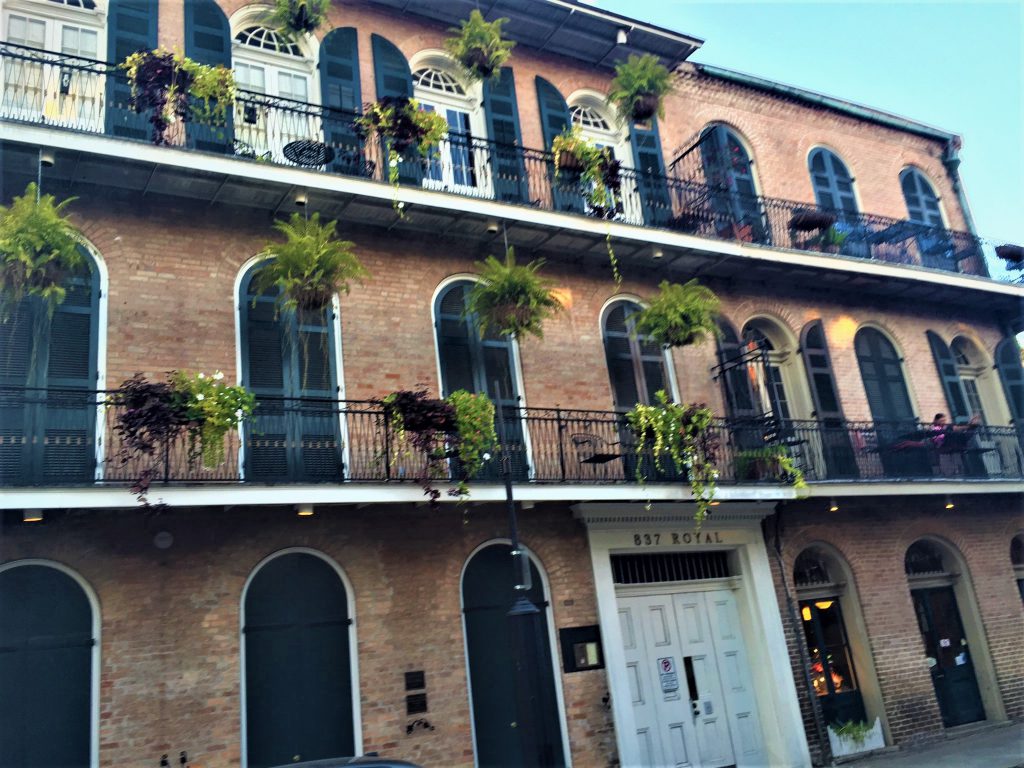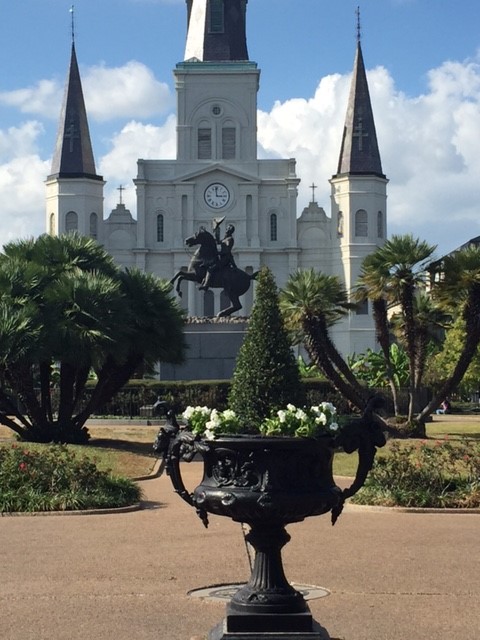 Catch live jazz music
Most bars will offer live music throughout the evening.  Talented cover bands will fill up a club with the top dance favorites with no cover charge.  Likewise, many bars and clubs will cling to the passionate jazz and blues that shaped the city in decades past.  My husband and I enjoy starting our evening with jazz at one of the many iconic locations throughout The French Quarter and Frenchman Street in Marigny Faubourg neighborhood, then enjoy more trendy dance music later in the evening as the live jazz performers wrap up.  Our normal stops include Preservation Hall, Fritzel's European Jazz Pub, Maison Bourbon Jazz Club, Spotted Cat and Bourbon O Bar.  Please note, many of the performers make their money from tips.  We always travel with smaller bills to be ready to tip as we enjoy the music throughout the evening.
Visit a museum
New Orleans is home to many museums.  Everything from a Voodoo and Death Museum to the WWll museum and the much more light hearted Mardi Gras Museum.  The options abound for a way to duck indoors for a few hours and learn more about the history of New Orleans.  The  WWll museum could easily take a whole day and is laden with a lot of history, not just New Orleans' involvement in the construction of water craft.  The Mardi Gras Museum is much more lighthearted and truly interesting in seeing the massive floats that have set the stage for decades of entertainment and what New Orleans is often known for.
Visit the Surrounding Neighborhoods
The Garden District….Treme… New Orleans is known for so much more than just Bourbon Street and The French Quarter.  Treme has a tumultuous past that deserves understanding and reverence.  Pass through the impressive arches of Louis Armstrong Park and walk the streets of many of music's greats to see where legends like John Boutte and Kermit Ruffins have found their inspiration. The Garden District is home to the impressive Victorian homes that built up after the United States acquired Louisiana.  While their initial presence was more of segregation then investment, what has evolved is a beautiful neighborhood, with a blossoming Magazine Street rich with great culinary adventures and charming boutiques.  One could easily spend a whole afternoon strolling through the shaded streets enjoying the lavish architecture of homes that have touched current pop culture including the Buckner Mansion also known as the American Horror Story Coven house and famed and beloved New Orleans author, Anne Rice home.  Lafayette Cemetery #1 is cradled deep within the heart of the Garden District and one of the free cemeteries to visit in New Orleans.  Beware though, while I have not met a ghost or vampire yet…too many of the graves were slightly to completely pried open…letting what may have once been secured …escape!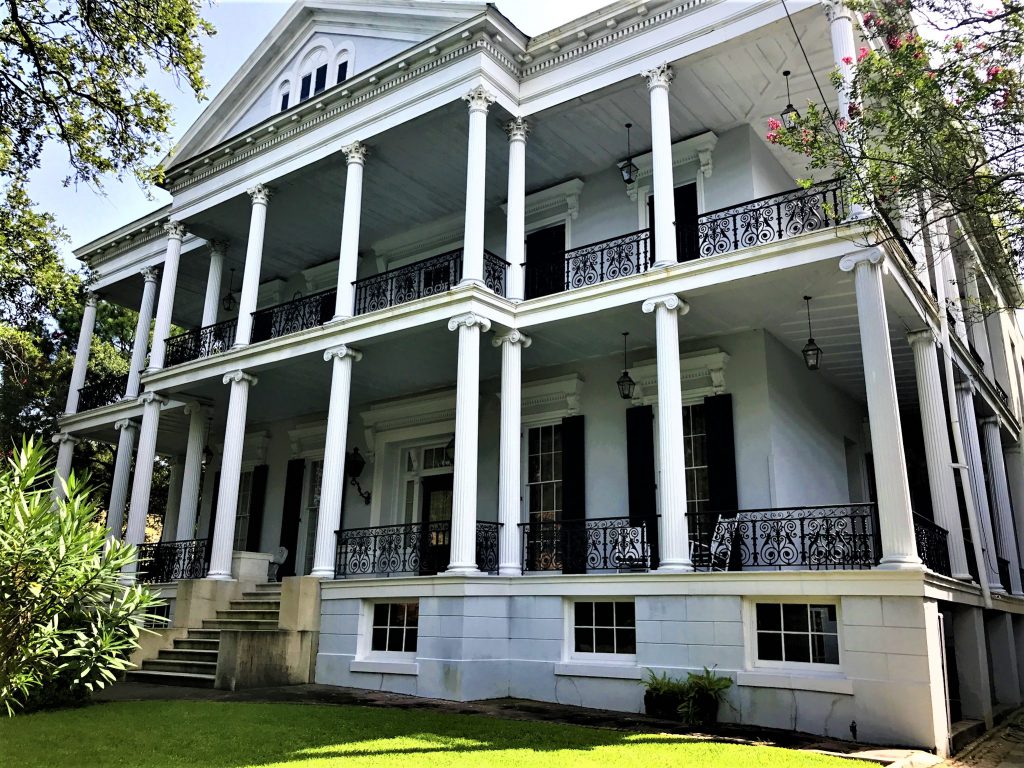 Try classic New Orleans Cocktails in Classic New Orleans Bars
The cocktail, The Sazerac was invented in New Orleans.  Also notably, the Ramos Gin Fizz found a creative way to impress as well.  Absinthe is a local favorite and drips it's way into many cocktails…  New Orleans is a place to expand your pallet and try something different.
A Vieux Carre from The Carousel Bar (the bar is beautiful and actually rotates throughout your experience)
A Ramos Gin Fizz from Bourbon O Bar (this will take at least 6 minutes to make…be patient…it is absolutely worth it)
A Sazerac from Muriel's then take it upstairs and sip on it in the lounge to see if the ghost of Mr Jourdan will join you.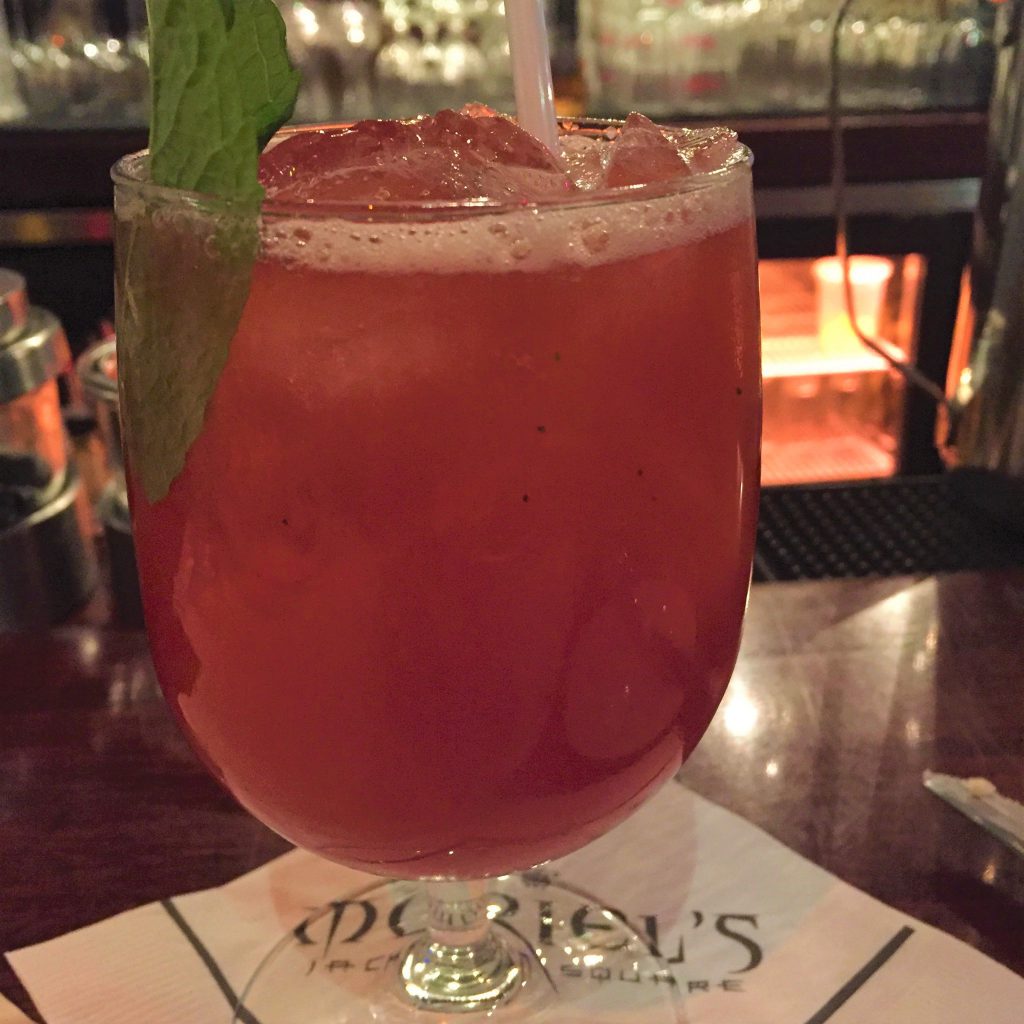 Where to find great cocktails and cuisine
Comically located across the street from the iconic Acme and its long lines of people waiting hours for a table, is my favorite spot in New Orleans, Felix's.  The atmosphere is comfortable, and the food is great.  Oysters every way you could want and other great New Orleans staples.  The Bloody Marys here are strong and effective and a great pairing to the medley of oyster options you will try.
This is well worth the cab ride.  Set in an unassuming house across the river, the backyard transforms from casual picnic tables and mix matched chairs to a food and wine and music masterpiece.  The cuisine is incredible, the wine selection is impressive and the live music tops off the ambiance perfectly.  There are herbs growing in a ceramic bathtub, and upstairs is a charming bar with a balcony overlooking this whole adventure.
Jazz Brunch every day!  How wonderful!!  The courtyard is well shaded and so beautiful and complimented perfectly by a live jazz trio every morning.  The food is served buffet style and offers some of the best variety of true Southern, Creole and Cajun foods.  Court of Two Sisters is a great way to try a lot of what New Orleans is know for.  There is a rustic bar inside with an impressive assortment of spirits to conjure up what ever you find as your best cure.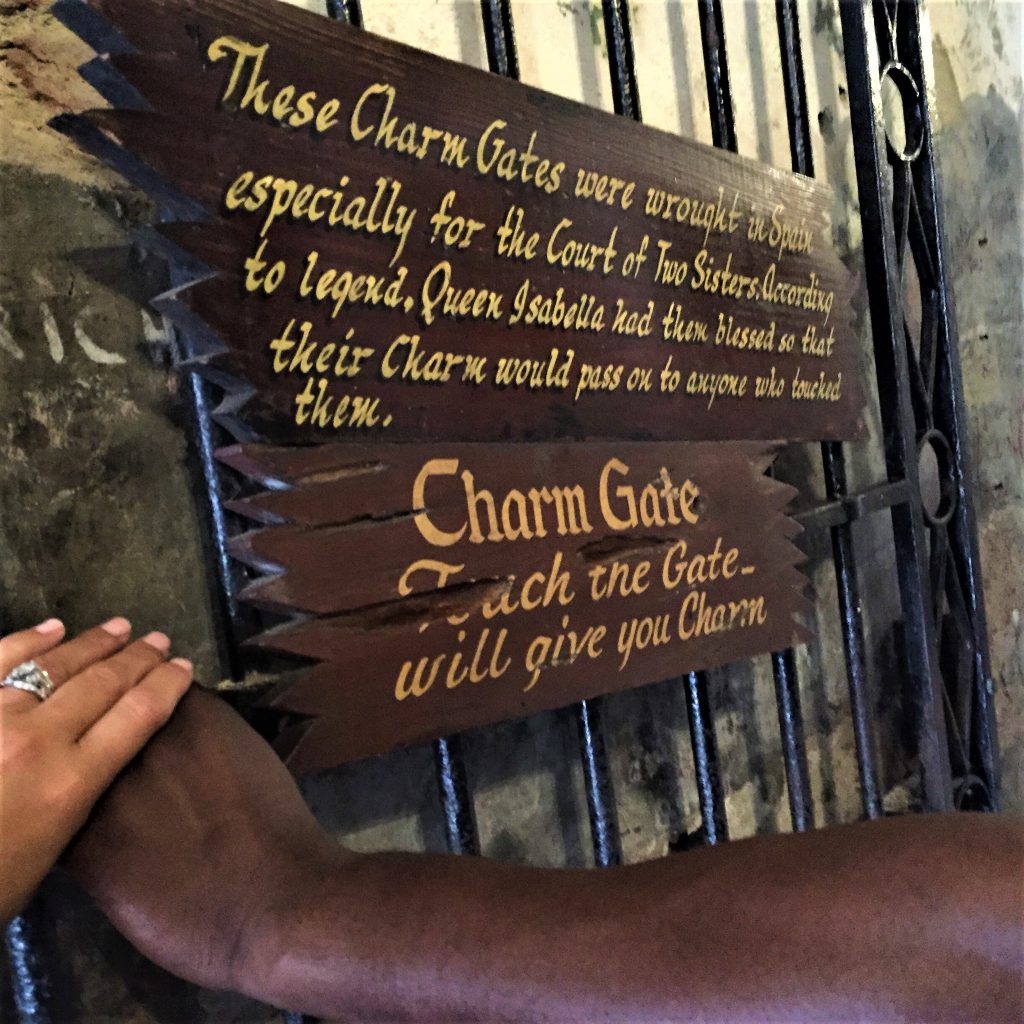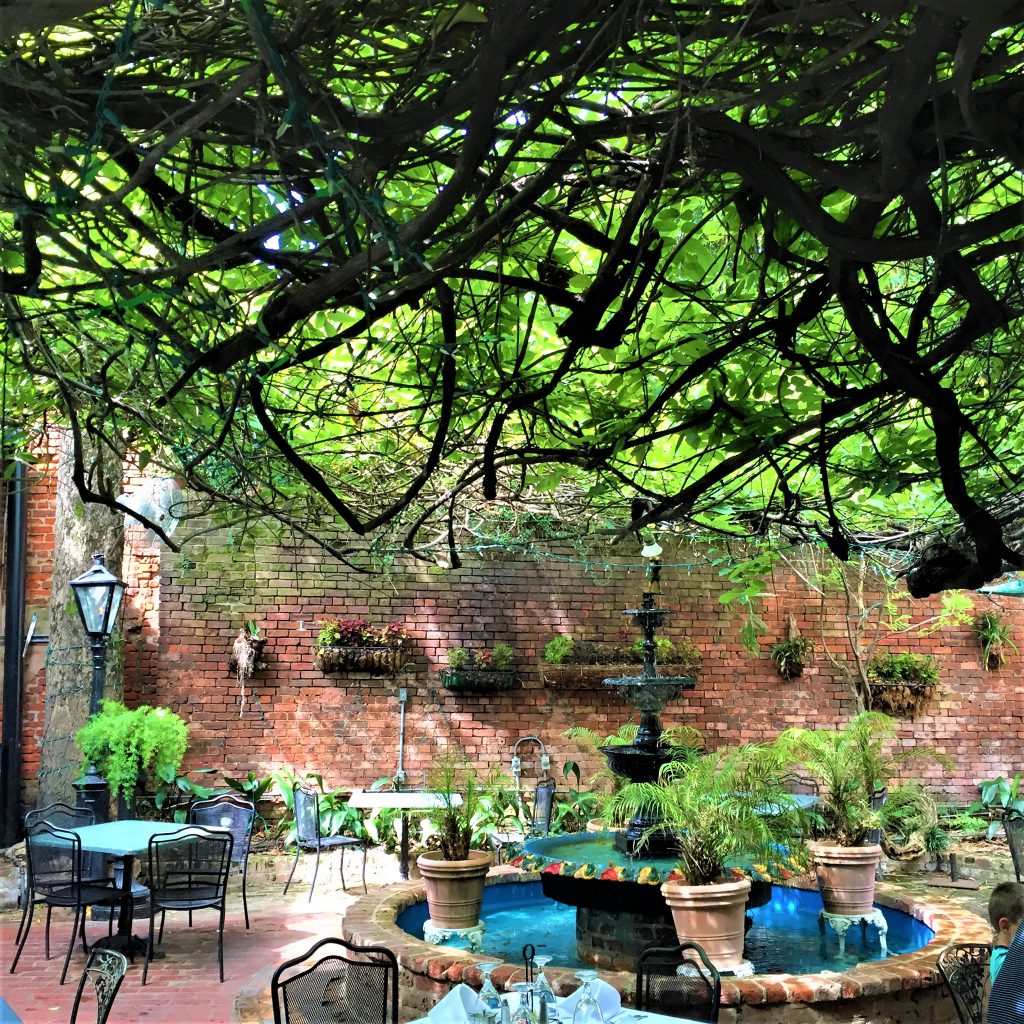 This was an absolute surprise to 'stumble' upon.  Set upstairs above the Palace Café, we were delighted to find this rum focused bar with truly amazingly crafted cocktails.  Live music joined us later in our evening, but was supposed to be a 'grab a cocktail and keep going' turned into great conversation with the bartenders and memorable and well thought out libations and several hours of entertainment.  This could be a location to enjoy dressing up a little to celebrate, but what I love about New Orleans, you come as you are… My husband and I wandered in after a hot afternoon in the Garden District and in no way shape or form were dressed any kind of fancy…
Café Maison Soule
This was another 'stumble upon' surprise.  This is why I love that New Orleans is an open container city.  I can order a drink to go and keep exploring.  Maison Café Soule was not only beautiful and inviting with a history and perhaps haunted, but bar was beautiful and ready to supply with another 'to go round but then I reviewed the menu…then we stayed…everything we ordered was delicious and so well prepared.  As a Southern girl at heart, I am very picky about how anything with seafood is prepared.  Don't over cook it, don't over salt it…let the fresh natural flavors speak for themselves, and Café Maison Soule delivered.  This would be a beautiful place for a special occasion, but if I haven't made it clear, go casual and wander… you'll love what you discover.
I adore New Orleans.  This post is just a drop in the bucket of things to do and places to experience.  Sit down and talk with the local bartender while you enjoy a cocktail.  They will provide tips for what to do and where to do.  Enjoy the shops up and down Royal Street and Decatur Street. You will find unique gifts and souveniers.  Go hungry and don't order things you can get back home.  Cajun and Creole food is amazing and just because you had gumbo at one place, doesn't mean you should be done trying gumbo, each location will have their own way of preparing and layering flavors.  Above all, have fun.  New Orleans is a town to let loose and let go.
Helpful Links:
Sippin Gypsy Quick Tips New Orleans
About the Author:
Kristin started Sippin Gypsy as a catalog of her travels as she seeks out that blend of culture, history, cocktails and cuisine.  She is passionate about uncovering unique places within each city that celebrate the local talents of its people.   Sippin Gypsy is growing into a collective group of travelers who all have a passion for Exploring the World Sip by Sip.  You can find more Sippin Gypsy adventures and cocktail recipes inspired by travels at www.sippingypsy.com and on Facebook at @SippinGypsy as well as on Instagram @thesippingypsy