My favourite vegetable is brussels sprouts. I've managed to pass that onto my kids, which makes side dishes a lot of fun. We definitely have favourite brussels sprouts dishes and we tend to rotate between them. Sometimes, though, we need to add a new variation into the mix. This brussels sprouts with apples, pecans, and dried cranberries is a super tasty side dish and is perfect for your holiday meals or a nice roast dinner.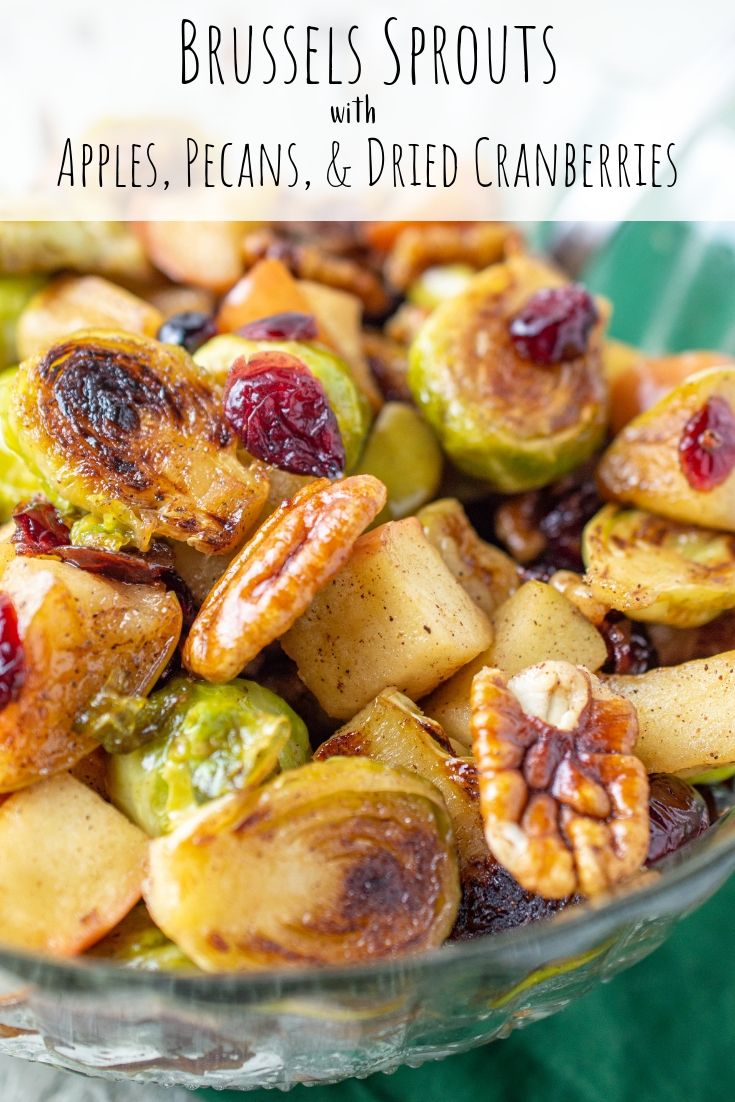 Ingredients:
3 cups peeled and halved brussels sprouts

1 tablespoon Extra Virgin Olive Oil

2 cups chopped apples of your choice*

¼ cup pecan halves

⅓ cup dried cranberries

1 tablespoons salted butter

½ teaspoon salt

½ teaspoon ground black pepper

1 teaspoon cinnamon

2 tablespoons honey
Serving size: ½ cup
Servings: about 6
*I used 1 large Granny Smith and one small Gala apple.
Directions:
Pull outer leaves from brussels sprouts, wash and dry.
Trim bottoms and cut in half.
Wash and dry apples and roughly chop. (No need to peel!)
In a large pan heat oil over medium heat.
Add brussels sprouts cut side down. Cook about 5 minutes, until they begin to caramelize. Flip over and cook 3 minutes.
Push sprouts over to one side of the pan and add apples.
Add salt, pepper and cinnamon.
Cover and cook for 3-4 minutes, stirring occasionally.
Make room in the center of the pan and add butter. Once melted, stir everything together.
Cook for a minute then add pecans, cranberries and honey.
Stir to combine and cover.
Cook for another 5 minutes, stirring occasionally.
The flavour combinations of the brussels sprouts with apples pecans and dried cranberries is something you'll be craving after you have that first bite. This has quickly become our most asked for side dish and I'm happy to comply!
Looking for a sweet treat to end your meal? Try these Scottish Shortbread Cookie Wedges!