A hearty dish that combines tender, juicy roast beef with savory, comforting sweet potatoes–this is comfort food at its finest. This slow cooker pumpkin sweet potato roast beef makes the perfect hearty dinner for busy nights. Slow-cooked and seasoned to perfection this roast beef dinner makes weeknights easy. Short on time but looking for a filling dinner with leftovers to spare? This slow cooker pumpkin sweet potato roast beef is what you need. Whipped up with only 25 minutes of prep time, it's a slow cooker recipe that makes for a delicious Sunday night dinner. With a delicious blend of pumpkins, garlic, and sweet potatoes layered with thick roast beef, this slow cooker recipe is a tasty addition to your meal plan!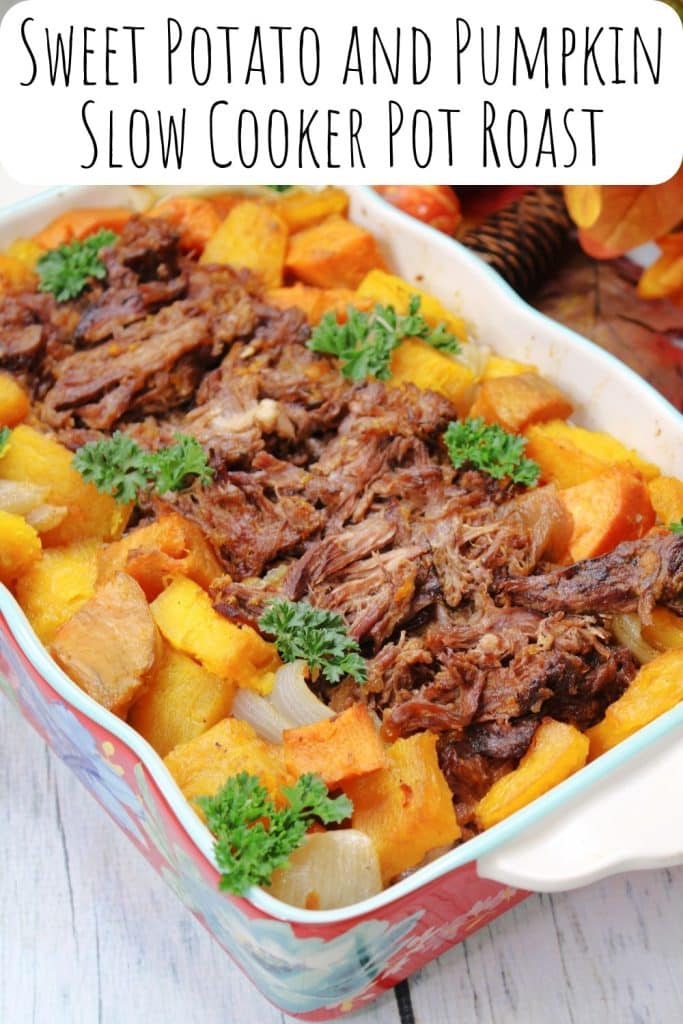 Ingredients You Need:
Chuck roast: other cuts will work for this slow cooker recipe, but chuck roast yields the juiciest bites.
Olive oil: any neutral oil should work though olive oil gives a classic savory flavor.
Yellow onions: these onions bring their own flavor to the dish. Make sure to quarter them so that their juices release.
Celery: cut into bite sized pieces.
Pumpkin: you'll want the pumpkin cleaned and cut into chunks so that it cooks easily enough.
Sweet potatoes: remove the skin and cut them into large chunks as they will fall apart slightly after cooking.
Minced garlic: you can mince your own or use a store-bought version, both work and bring delicious flavor.
Worcestershire sauce: you only need a tiny bit of this sauce to pack a flavor punch so measure appropriately.
Package of pot roast seasonings: this is where all the comfort comes from in the dish. Know that you can adjust the seasoning as needed.
Bay leaves: try to keep the leaves intact so that you can remove them from the bowls as serving.
Beef broth: store-bought or homemade beef broth will work.
How To Make the Pumpkin Sweet Potato Roast Beef:
1.       Add the olive oil to a Dutch oven and heat over medium to high heat.
2.       Add your roast beef and season with salt and pepper on all sides.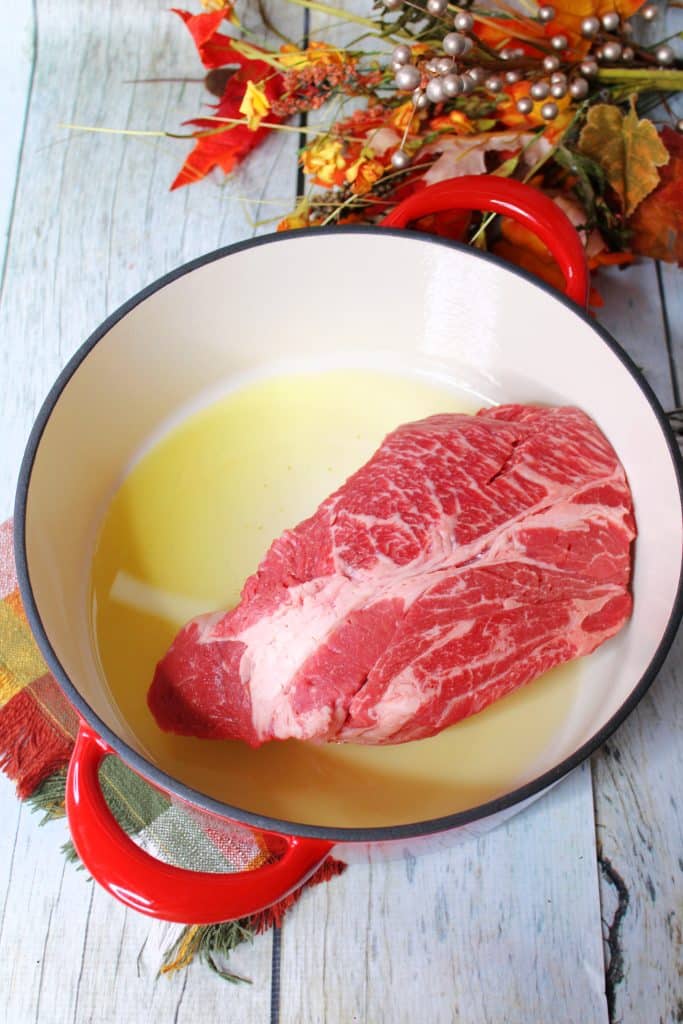 3.       Sear your beef roast on all sides.
4.       Cook for 5-7 minutes.
5.       Prepare your onions, sweet potatoes, and pumpkin.
6.       Remove your beef roast and set it to the side.
7.       Add your onions, sweet potatoes, pumpkin, celery, and minced garlic to the dutch oven. Toss to combine.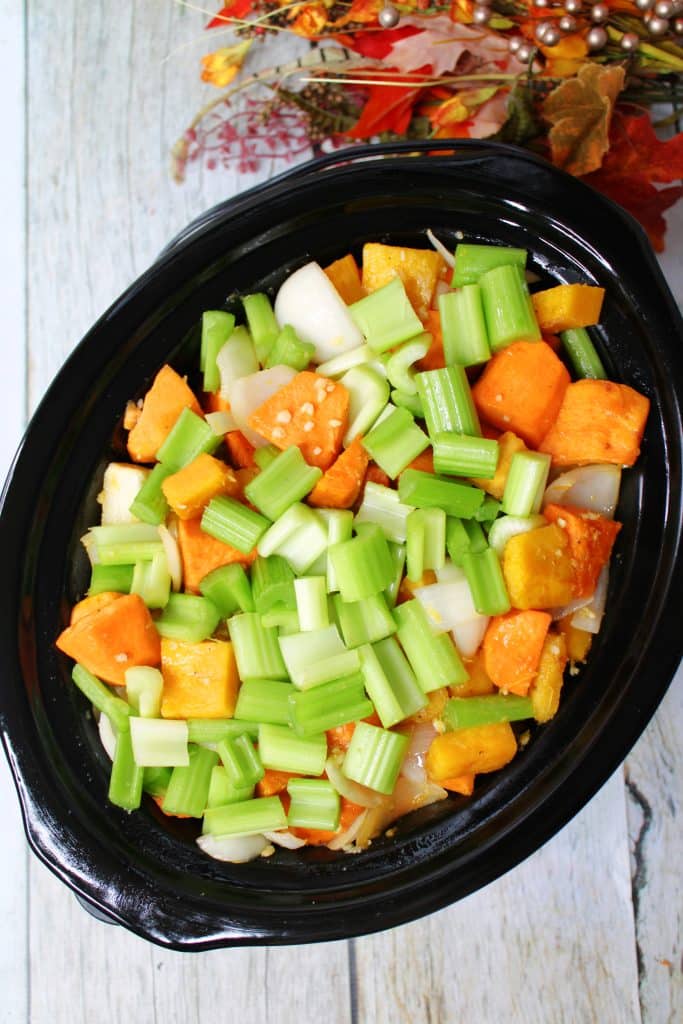 8.       Cook on high for 8-10 minutes.
9.      Add 1 cup of your beef broth into your slow cooker.
10.   Turn your slow cooker on high.
11.   Add 1/2 of your prepared vegetables and place the beef roast on top of the vegetables.
12.   Season the meat with your roast spices, Worcester sauce, and bay leaves.
13.   Add remaining onions, sweet potatoes, and pumpkin chunks.
14.   Top with remaining beef broth.
15.   Cook on high for 3-4 hours or low for 7-8 hours then discard bay leaves.
16.   Remove the beef roast from the slow cooker and add to a large bowl to shred.
17.   Layer the vegetables in the serving dish and place the shredded beef on top. Serve and enjoy!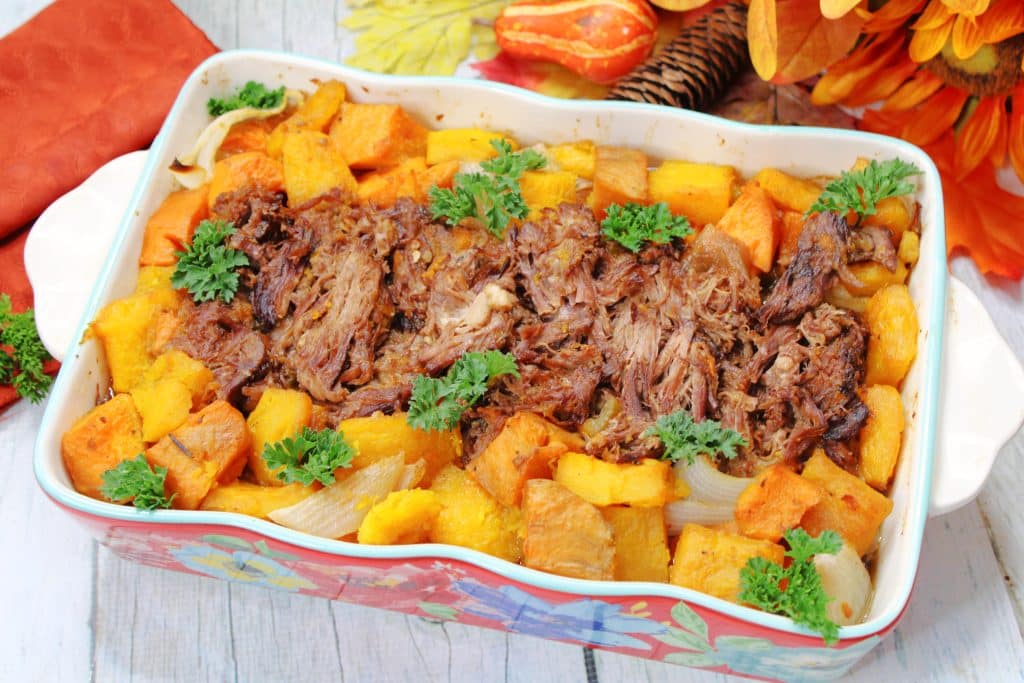 Important Teaching Tips:
Make sure to clean the pumpkin properly before popping it into the dish. Wash it, remove the seeds, and have it cut into roughly 3-inch chunks.
The same goes for the sweet potatoes. Also know that because they become so tender, they will fall apart slightly when cooking.
Because there's no flour in this pot roast, the juices do come out thinner. You can enjoy it as is or thicken the juices to make a gravy for the dish.
Don't skip browning the roast beef and make sure to hit all sides. This helps sear in its juicy flavor when it's in the slow cooker so that you get a tender mouthful with every bite.
Leftovers can be stored in an airtight container in the fridge for 4-5 days. To reheat them you can pop them in the microwave or on the stovetop on low.
The roast beef stays juicy after cooking and makes delicious roast beef sandwiches the next day as well!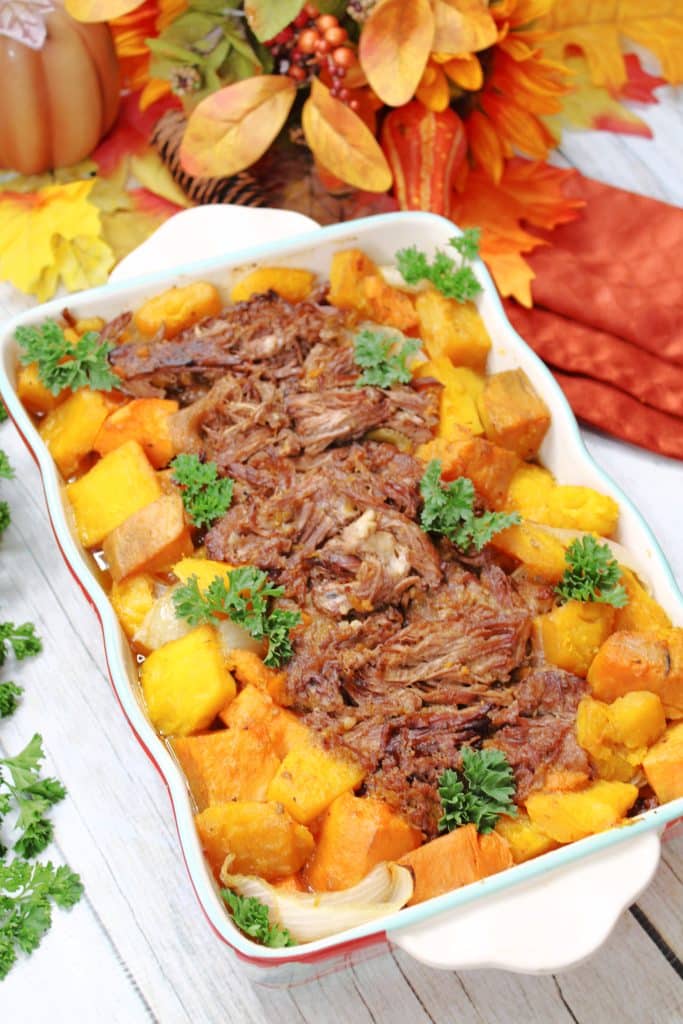 How To Serve The Pumpkin Sweet Potato Roast Beef:
You'll want to serve this pot roast shredded and surrounded by pumpkin and sweet potatoes.
You can garnish the dish with chopped parsley for presentation. Some tasty side dishes that pair well are:
        

Leafy salads

       

Roasted carrots and cauliflower

        

Steamed broccoli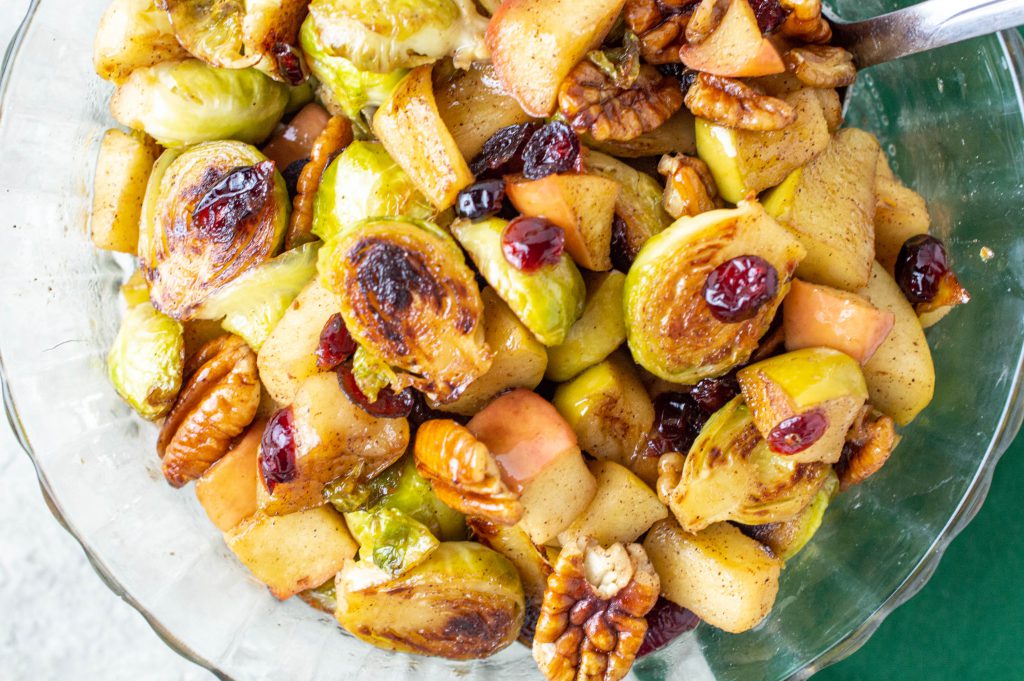 Frequently Asked Questions About Pumpkin Pot Roast:
Is it better to slow cook a roast on high or slow?
Ideally, slow-cook your roast on the lower setting. This ensures it retains all of its juicy flavors and makes it so it's a fall-apart roast. If you need to cook it on high, know that leaner cuts of meats do better.
Do you have to brown the beef before putting it in the slow cooker?
While not necessary, browning your beef before slow cooking allows it to keep its flavor intact. This makes each slice juicy.
Can you overcook a roast in a slow cooker?
You can overcook a roast in the slow cooker. If you have the time, cooking on low is better and will help prevent the roast from overcooking. You also want to make sure that there's enough liquid in the slow cooker to keep it juicy.
Which cut of beef is best for slow cooker roast beef?
Any cut of beef will work in the slow cooker. However, prime rib roast, chuck roast, and eye of round roast tend to be the juiciest. They also make the best roast beef sandwiches.