Savor the flavor of fall with this pumpkin spice rolled cake! This pumpkin roll cake has all the classic comfort of pumpkin pie rolled in with a sweet, cream cheese filling and dusted with powdered sugar. This dessert is the perfect way to indulge your love of pumpkin spice! A hit with any pumpkin lover this pumpkin spice roll cake is the perfect blend of flavors. Soft, light cake rolled loaded with pumpkin flavor, with a sugary cream cheese filling, and all with a sprinkle of pumpkin spice. Though roll cake can seem intimidating, this version is really quite simple which makes it the perfect fall dessert. So, skip the pie this season and whip up this pumpkin spice cake instead!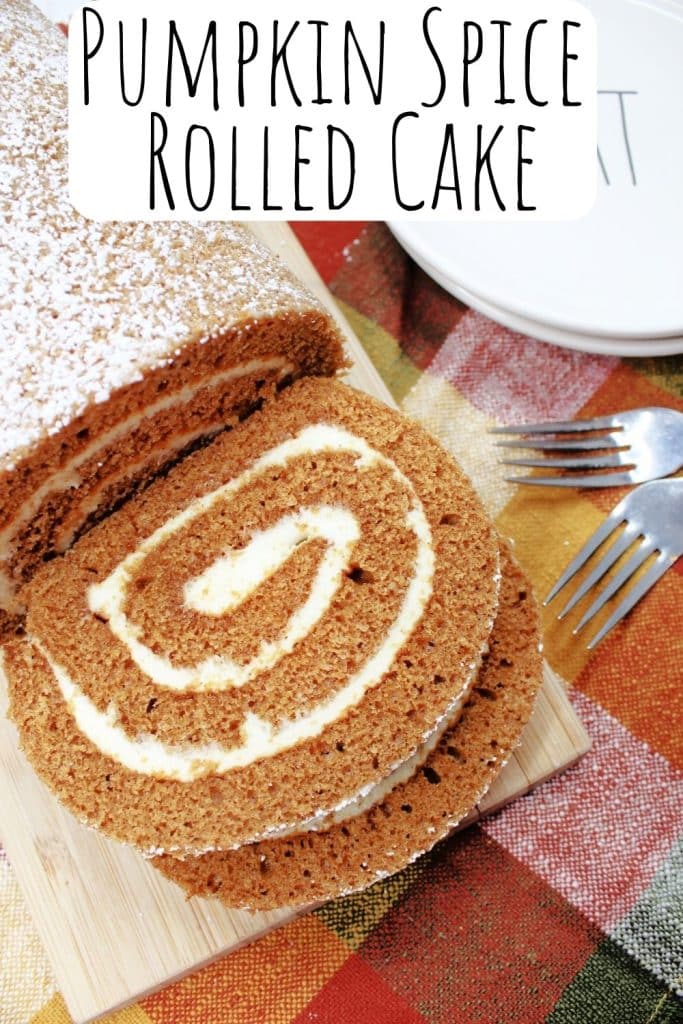 This was a "welcome to fall" treat when I was growing up in western Pennsylvania. Everyone had their own small twist and bakeries and supermarkets would have these cakes out as a seasonal favorite. They were common at Thanksgiving, too. It's definitely a sentimental favorite of mine.
Ingredients You Need:
Flour: make sure there are no large clumps in the flour as you mix in the rest of the ingredients.
Pumpkin pie spice: the staple ingredient in all things fall, you can use a store-bought pumpkin spice or make your own.
Sugar: finely granulated sugar works best as it blends in better.
Pumpkin puree: opt for pumpkin puree and not pumpkin pie filling which would make this roll cake just a bit too sweet.
Eggs: you'll want larger eggs for this recipe and ideally let them sit at room temperature before whipping them into the cake batter.
Cream cheese: let the cream cheese sit at room temperature to make it easier to whip.
The basics: of course, you'll also need ingredients like baking powder, baking soda, salt, cinnamon, and vanilla extract as well.
Unsalted sweet butter cream: to mix this into the cream cheese filling, make sure it is softened at room temperature first.
Powdered sugar: sift the sugar if possible and know you'll need extra for dusting as well.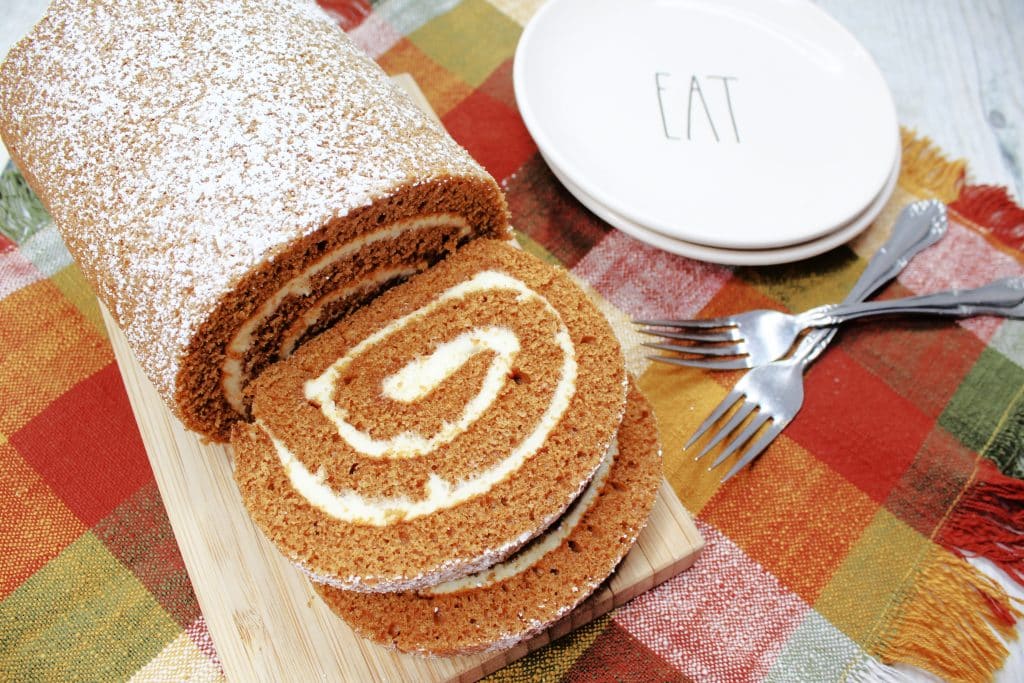 How To Make It:
Though roll cakes can seem overwhelming, broken into steps they're actually quite easy. Know that you can make the cake ahead of time as well to make a family gathering a little less hectic.
For the roll cake:
1.       Preheat oven to 350 degrees and line a 15×10 cookie sheet with parchment paper.
2.       Using a large mixing bowl, whisk together the flour, baking powder, baking soda, pumpkin pie spice, ground cinnamon, and salt.
3.       Using another large bowl, whisk together the eggs and sugar until combined.
4.       Whisk in the vanilla and pumpkin puree until smooth.
5.       Using a rubber spatula, fold in the dry ingredients and mix well.
6.       Spread an even layer of batter onto the cookie sheet.
7.       Bake in the oven for 13-16 minutes.
8.       As soon as the cake is pulled from the oven, do not hesitate in removing it from the pan and onto the counter.
9.       Using your hands, carefully roll the cake into a log.
10.   Place onto a wire rack to cool completely.
Cream Cheese Filling:
1.       Using a large mixing bowl, beat together the cream cheese, butter, vanilla, salt, and powdered sugar until combined and smooth.
Assembly:
1.       Once the cake is cooled, place it back on the counter.
2.       Carefully unroll the cake into a flat cake again.
3.       Spread the cream cheese filling into the center of the cake.
4.       Re-roll the cake again while peeling away the parchment paper.
5.       Wrap the roll in plastic wrap and place it into the fridge overnight.
6.       Unwrap the cake roll, dust it with powdered sugar, and slice.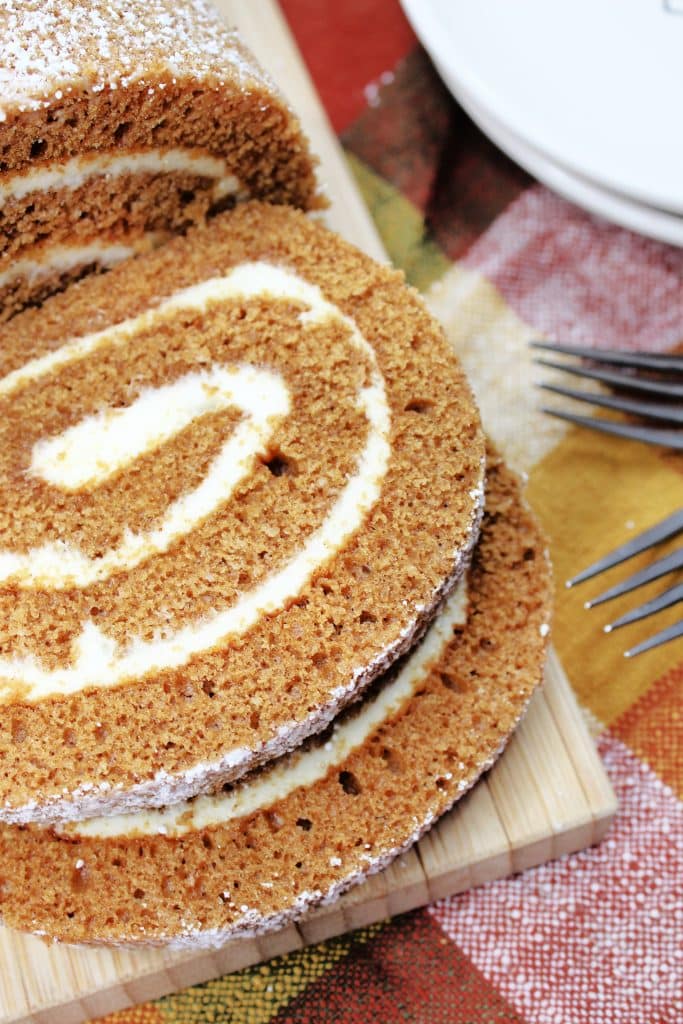 Important Teaching Tips:
When making the cake, take care not to overbake it. You want the top of the cake to spring back when touched.
The cake will still be warm when you roll it into the towel so be careful! Though you want to roll it as tightly as possible, it is delicate.
You need to let the cake cool fully before spreading on the cream cheese filling. Otherwise, it'll melt, and the roll won't hold together.
You can make this pumpkin spice rolled cake the day before you plan on serving it. Just leave it in the fridge wrapped in plastic wrap until ready to serve.
If you plan to make it the day before, make sure not to pre-slice the cake. Leave it fully rolled and then slice it just before serving.
When you need it, let it sit on the counter for 15 minutes, remove the plastic wrap, dust it with powdered sugar, slice and enjoy!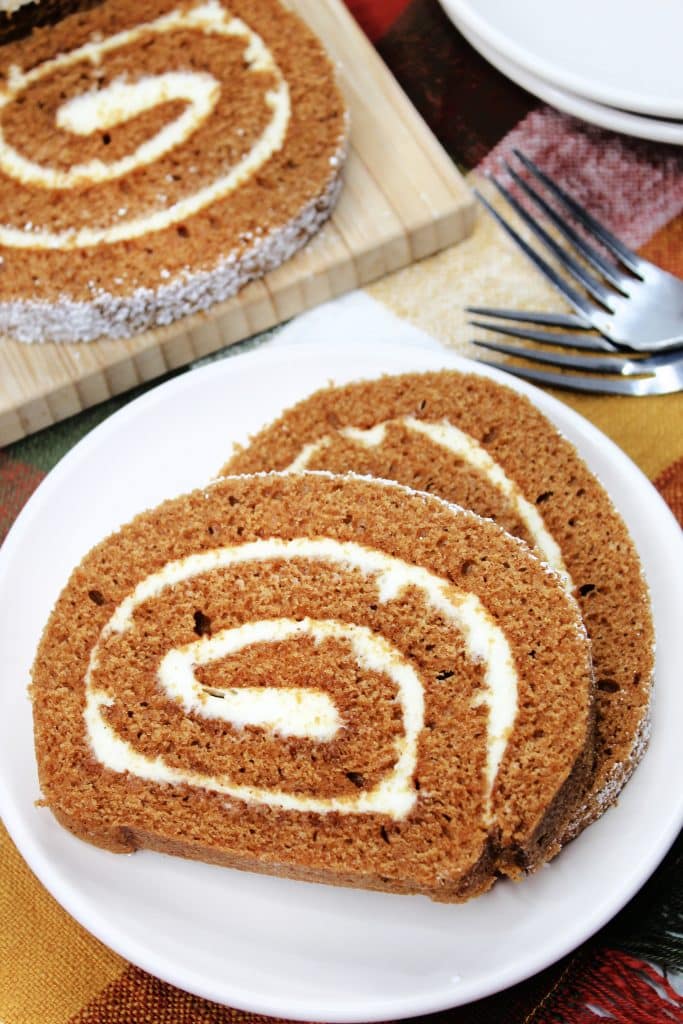 What To Serve With This Pumpkin Spice Rolled Cake:
This cake can be served as is and will be delicious, but it's even better when paired with a:
Pumpkin spice latte

Espresso

Herbal coffee
Frequently Asked Questions About Pumpkin Spice Roll Cake:
What's the difference between pumpkin puree and pumpkin pie filling?
Pumpkin pie filling is sweetened as it's meant to be poured right into the pie crust. Pumpkin puree on the other hand is as it sounds: just the puree. When making cakes and rolls that you plan on adding sugar to, opt for pumpkin puree and sweeten the dessert yourself.
Does pumpkin spice roll cake need to be refrigerated?
Yes. If you have leftovers, or before you're serving the roll cake, make sure to place it in the fridge. This way the cream cheese filling stays thick and the rolled cake holds its shape. If you're prepping the cake in advance, make sure not to slice it until ready to serve. It'll stay fresher this way.
How long is pumpkin cake good for in the fridge?
Not frosted, the pumpkin spice cake will last 5-7 days in the fridge but taste at its freshest until 3-4 days. Once frosted with cream cheese filling, it is best eaten as soon as possible or within 2-3 days.