Tasty comfort food without the effort! You'll want to curl up with a bowl of this crockpot easy chicken pot pie for Sunday night dinner each and every week. Take the stress out of dinnertime! Who can say no to tender pieces of chicken mixed together with juicy veggies in a perfectly seasoned, creamy sauce?! Chicken pot pie is a classic recipe that no one can refuse. Make the process simpler by cooking it in the crock pot. With only fifteen minutes of prep time, this easy crockpot chicken pot pie recipe will become a staple in your rotation. You'll end up with a cozy, warm meal at the end of the day topped with flakey, oven-baked biscuits for maximum comfort.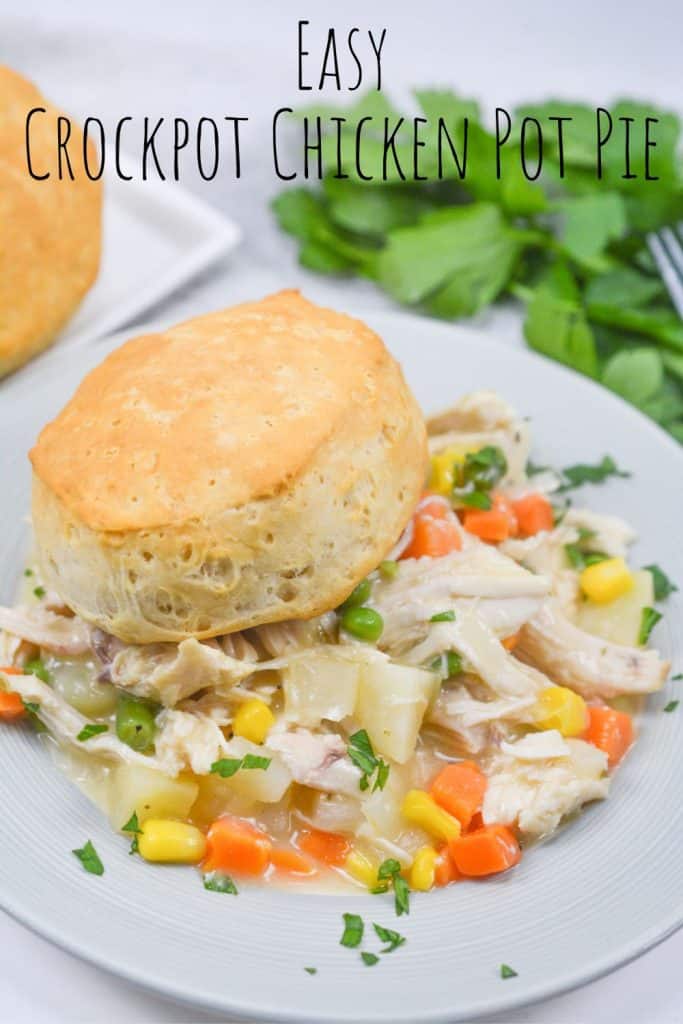 Ingredients You Need:
Thankfully, this crockpot chicken pot pie is made with easy staples you already have on hand.
Boneless skinless chicken breasts: no prep work is needed on the chicken breasts. Make sure to use breasts not thighs though so that the sauce comes out thick and not runny.
Cream of celery soup: this will help develop the thick sauce you know and love in pot pie recipes.
Cream of chicken soup: ideally you need both the celery and the chicken soups but if you only have one in the cupboard it's okay to double up!
Onion: you'll want to finely dice the onion so that it blends into the sauce well. Use whichever onion you enjoy flavor-wise. We use sweet onion the most.
Potatoes: dice the potatoes into small cubes so that they're easy to mix and bite-sized to fit on every spoonful.
Chicken broth: homemade or store-bought chicken broth will work for the pot pie recipe.
Frozen mixed vegetables: we use the carrot, pea, and green bean mixture the most but use what you have on hand.
Seasoned salt: the minimal seasoning in this pot pie recipe is what makes it so comforting. A sprinkle of salt goes a long way.
Refrigerated biscuits: no chicken pot pie is complete without biscuits for dipping.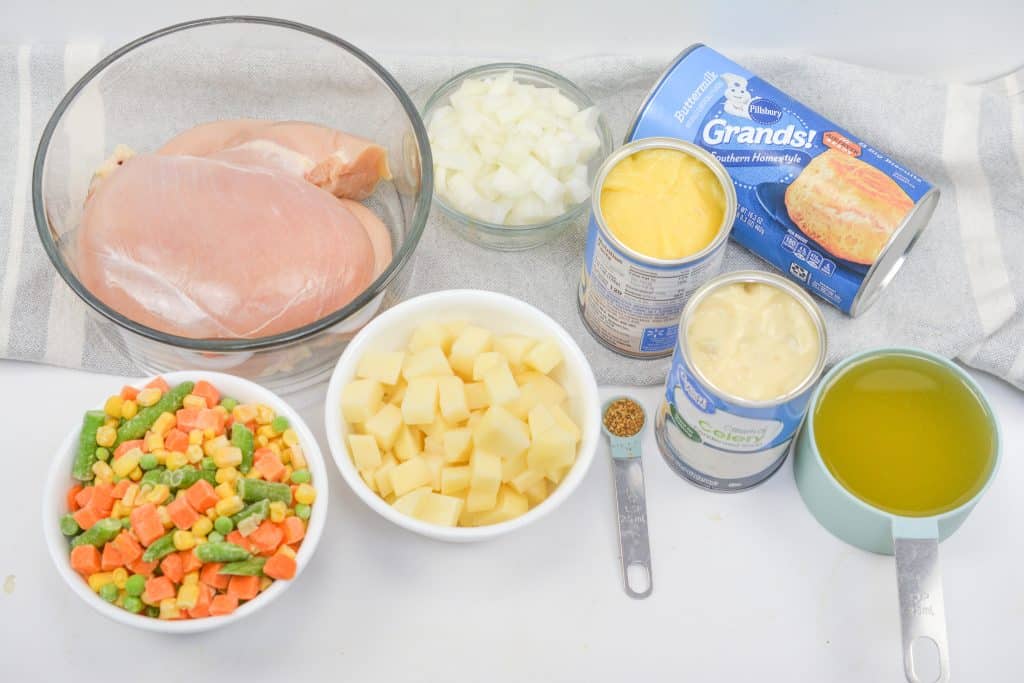 How To Make It:
1. Place the chicken into the bottom of the crockpot.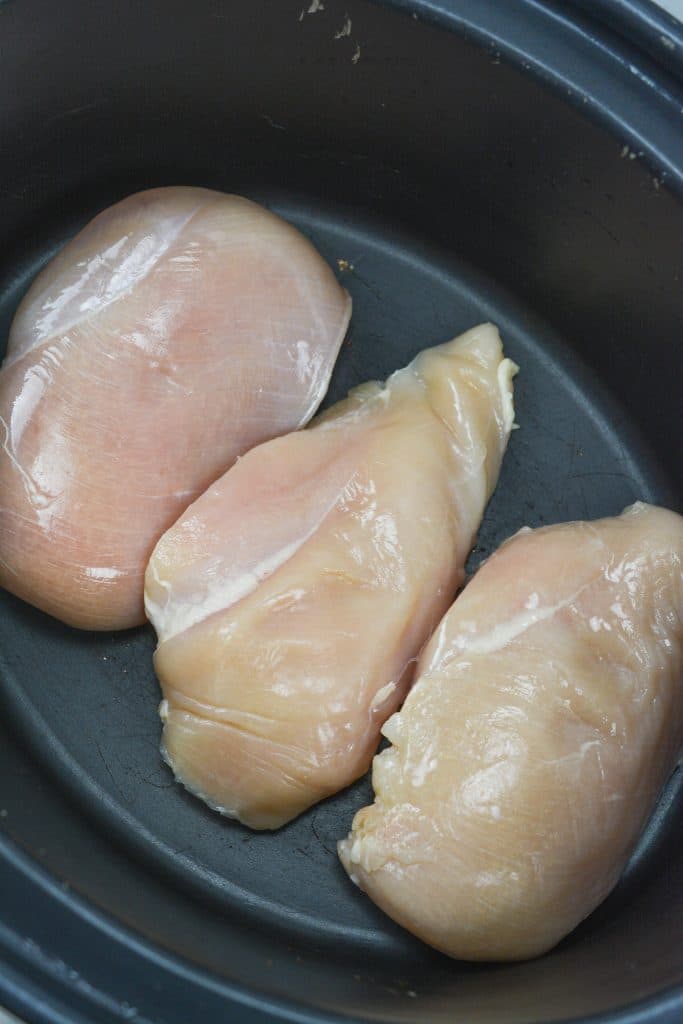 2. Add the potatoes and onions to the crockpot.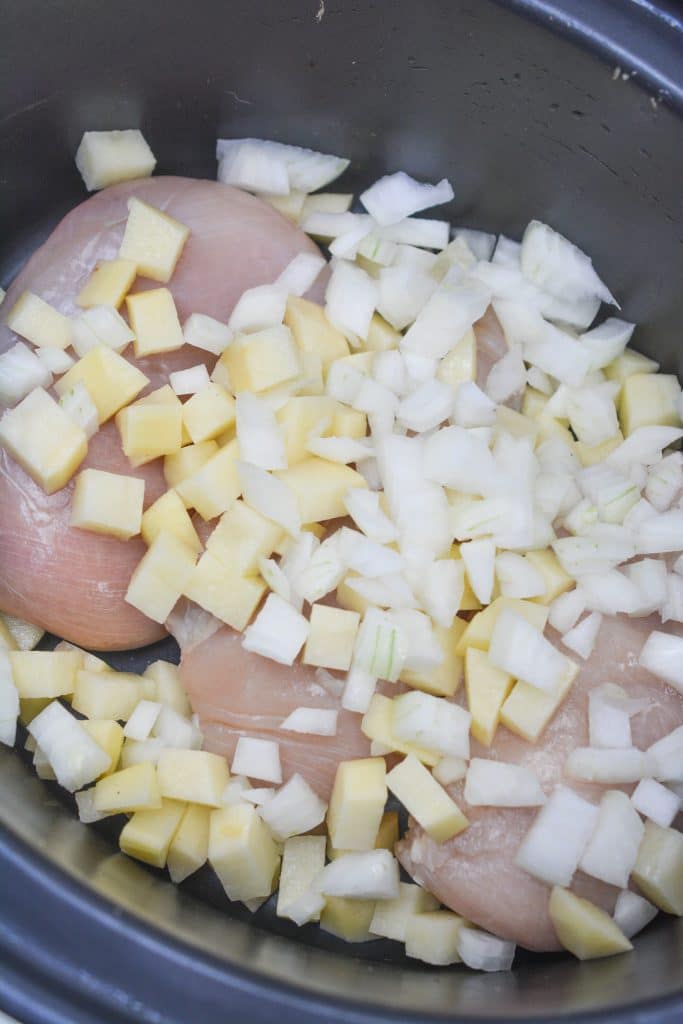 3. In a bowl, whisk together the soups, chicken broth, and seasoned salt. You can also
add additional salt and pepper to taste at this time if you desire.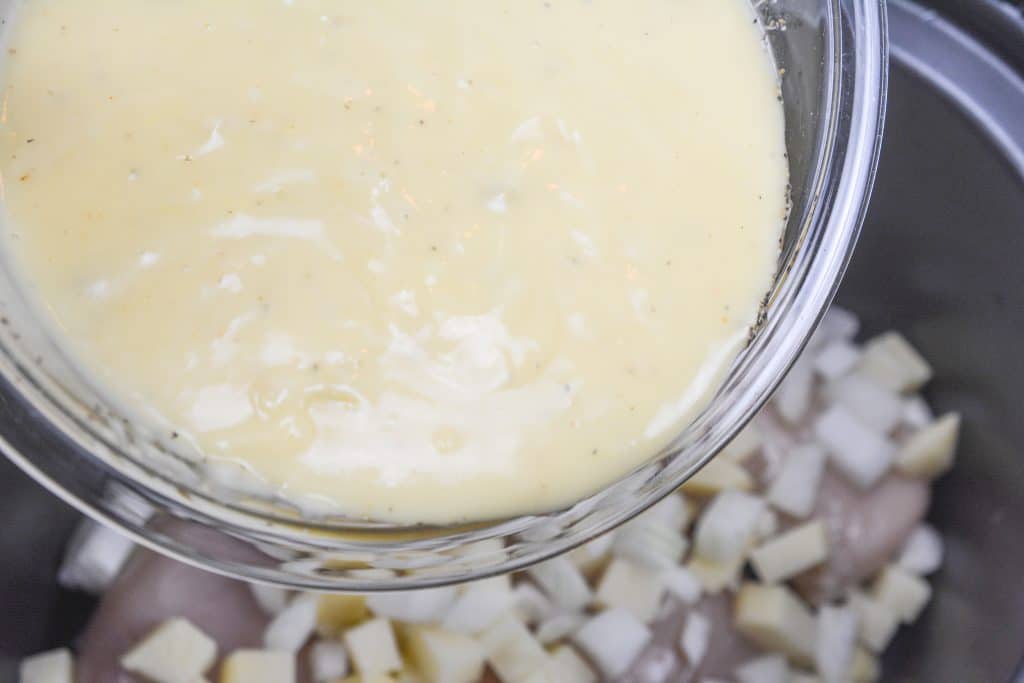 4. Pour the soup mixture over the chicken. Close the lid and cook on high for 3 hours.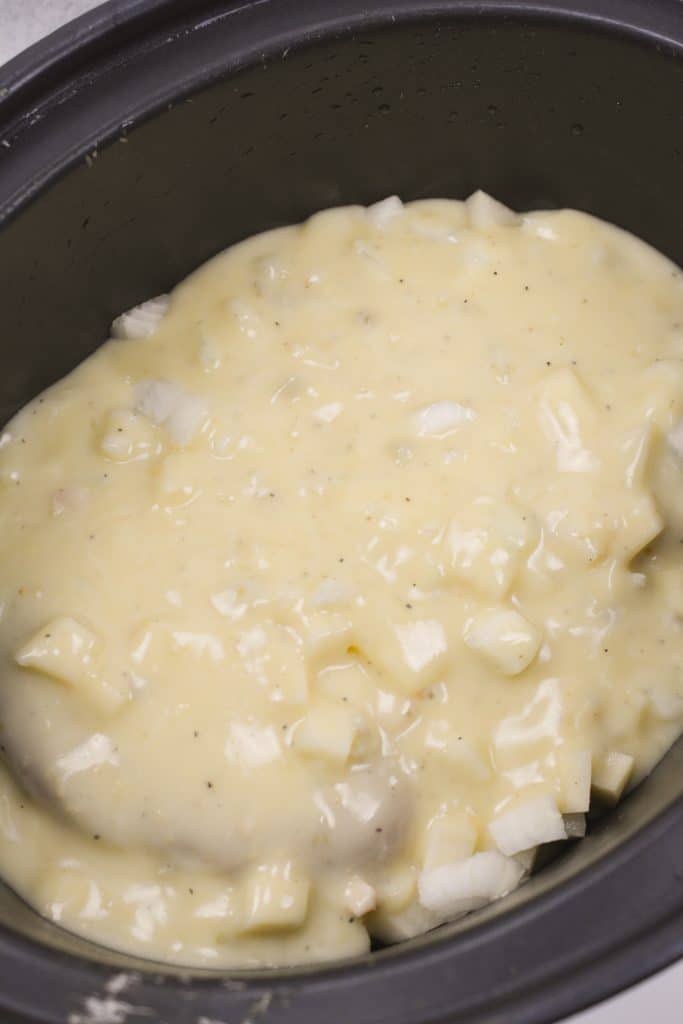 5. Remove the lid, shred the chicken breasts with the tines of two forks, and return them
to the crockpot.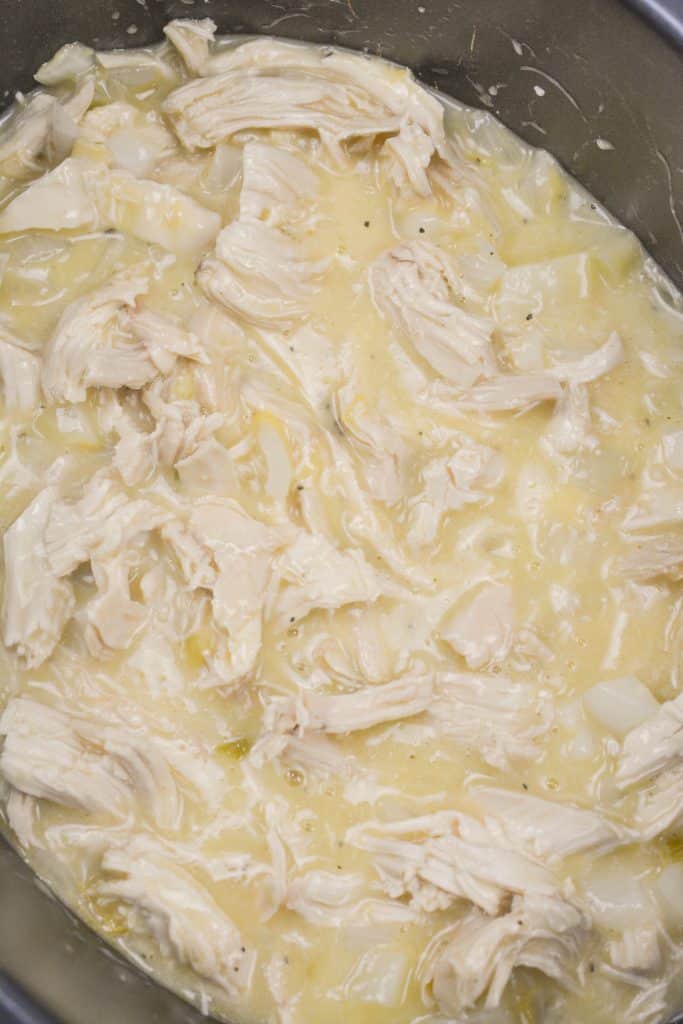 6. Stir in the frozen mixed vegetables. Close the lid and cook for an additional 1 hour on
high.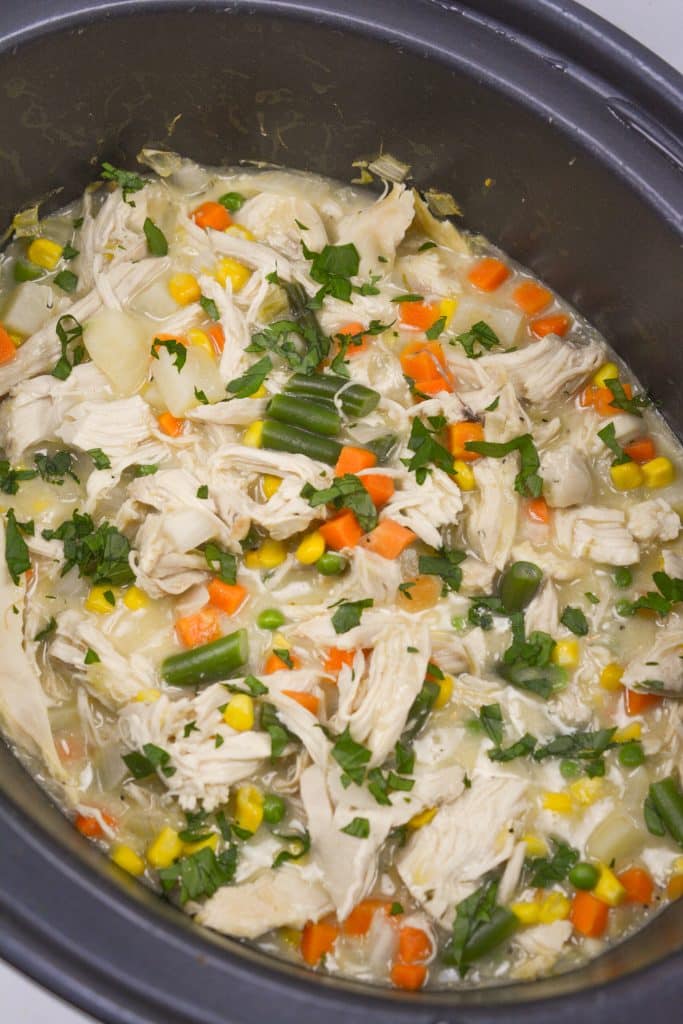 7. Bake the biscuits according to the instructions on the package.
8. Serve the chicken pot pie with a biscuit on top of each serving.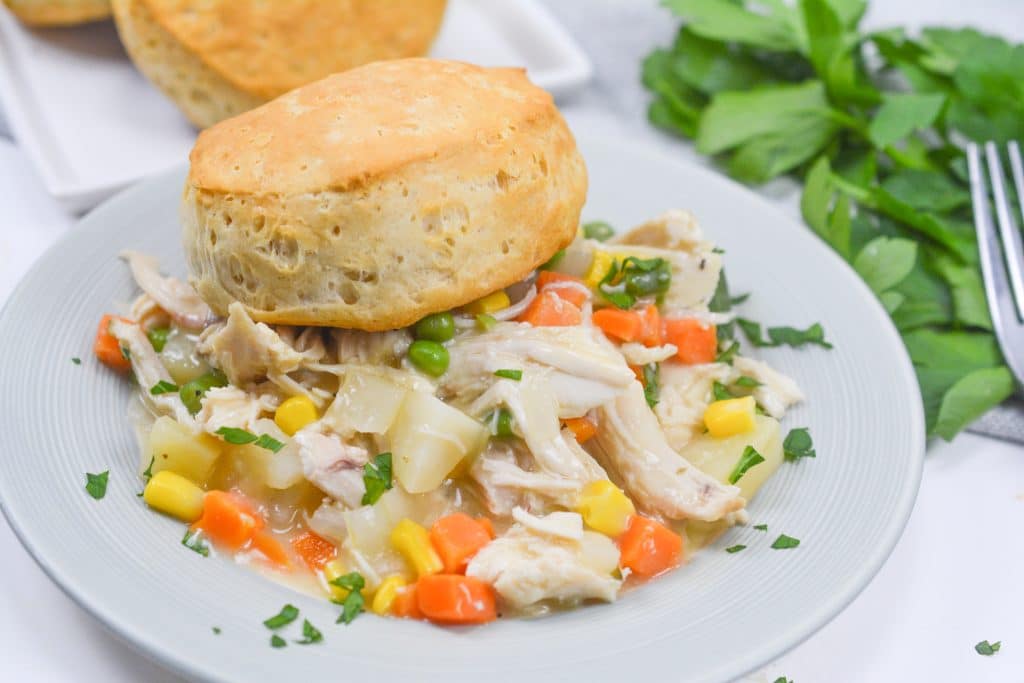 Important Teaching Tips:
Though the crockpot easy chicken pot pie calls for minimal seasoning, additional spices can be used. To switch it up we vary between adding garlic powder, paprika, poultry powder or even a sprinkle of cayenne pepper to the mix.
Chicken breasts work best for this pot pie (in place of chicken thighs) as they help keep the sauce creamy.
This crockpot recipe works just as well for a Sunday night dinner as it does to serve at a larger gathering. Cooking times may vary though if you double up the batch.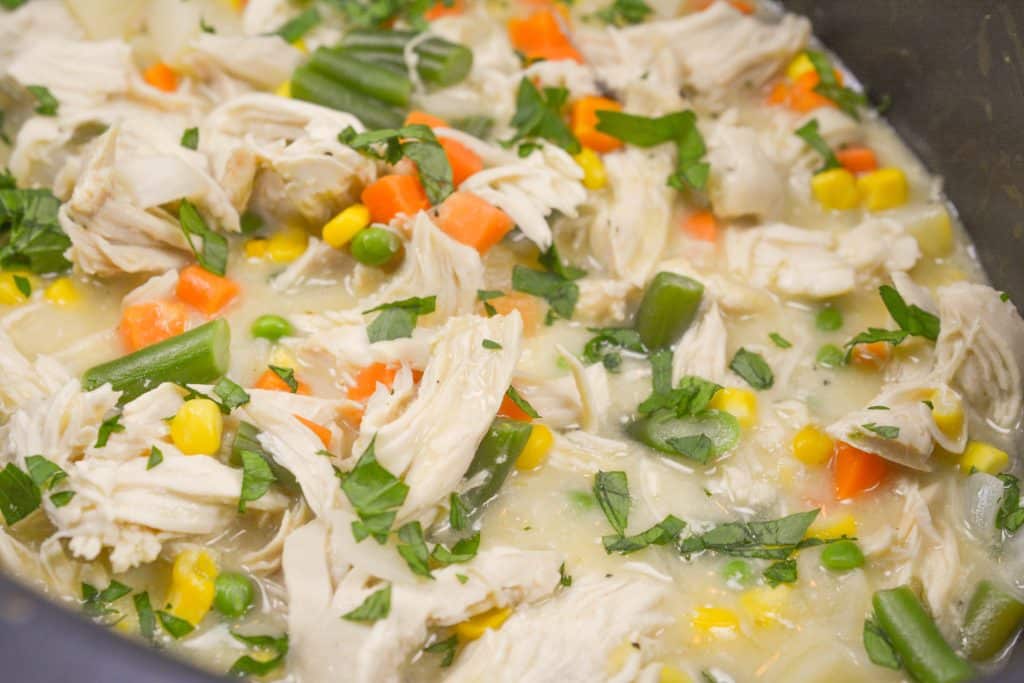 If you don't have enough condensed soup on hand, you can sub in a little heavy cream in its place.
Any mixed veggies will work in this recipe. Use the blend that you have and feel free to switch it up!
For leftovers, store them in an airtight container in the fridge. You can either reheat them in the microwave or the oven on low. You may need to add a dash of water when reheating to thin out the sauce though. As it does thicken up in the fridge.
Leftovers will keep for roughly 3-4 days in the fridge.
How To Serve The Crockpot Chicken Pot Pie:
Though chicken pot pie with biscuits is comfort food all on its own, you can dress it up or down.
Switch up the classic biscuits for something like crusted garlic bread or cheesy biscuits to change the flavor.
Or stretch the recipe further by serving it with a side salad too.
Frequently Asked Questions About Crockpot Chicken Pot Pie:
How do you reheat chicken pot pie?
Chicken pot pie can be reheated in a variety of ways. Scoop it out of the crockpot and microwave it quickly for the fastest turnaround. Or scoop it out and reheat it with the biscuits in the oven on low. Lastly, you can even reheat the pot pie in the slow cooker on low. You may need to add a dash of water though to thin the sauce. Make sure to stir it frequently as well so that it reheats evenly.
Do you cook chicken on high or low in a crockpot?
You can cook chicken in a crockpot. If cooking raw chicken on low, it will need 6-7 hours to cook fully. If cooking the chicken on high, plan to cook it for 3-4 hours.
Are chicken thighs or breasts better for crockpot chicken pot pie?
Typically, chicken breasts work better for pot pie recipes. You'll want to cook the chicken breasts whole and shred them with a fork closer to the end of the cooking time. Though boneless, skinless, chicken thighs can work, they produce much more liquid. This makes it so that the sauce isn't as thick as it typically is with chicken breasts.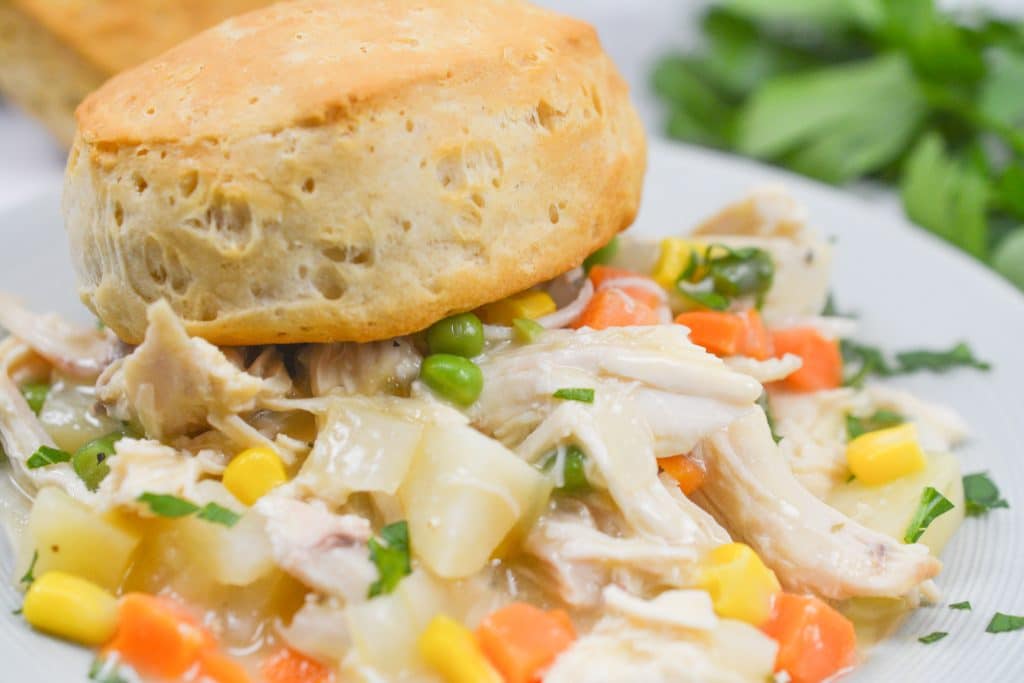 For a comfort food dessert, try this spiced pear berry crumble!