Ever since I was a child, I've had a love for all things Egyptian. On our trip to Egypt several years ago, I explored everything from the desert and pyramids to museums and, of course, all of the Egyptian cuisine we could get our hands on. One of my favorite Egyptian dishes is koshari (also spelled koshri, kushari, or koshary), which also happens to be the national dish of Egypt. This easy Egyptian koshari recipe uses American pantry staples and you'll find yourself always wanting more.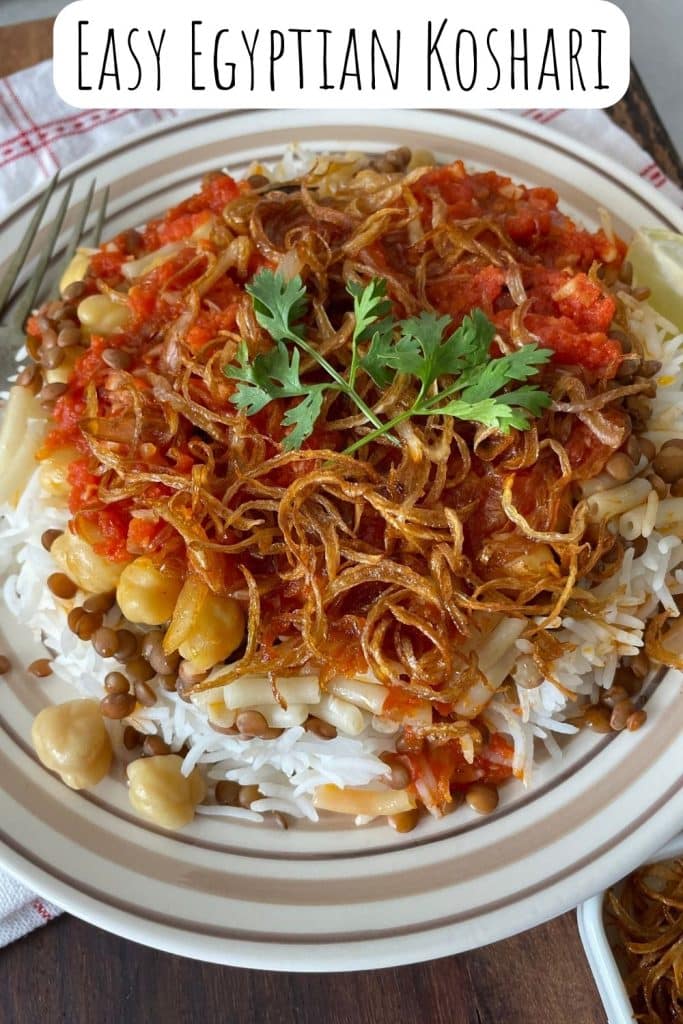 Koshari is a simple blend of grains, pasta, and chickpeas with a lightly spiced tomato sauce that's balanced perfectly with the addition of vinegar. Crispy fried onions add just the right texture on top. It's Egyptian comfort at its finest and is a popular street food.
This easy Egyptian koshari recipe is easy, yet hearty and you can customize it, too! Want a little more spiciness? Increase the chili flakes or add some cayenne pepper. Or change up the flavor profile by adding tahini or a lemon-cumin sauce.
And while we love serving this family-style for dinner, it can easily be reheated for lunch or dinner, or even wrapped into a pita or tortilla for a handheld version to take on the go!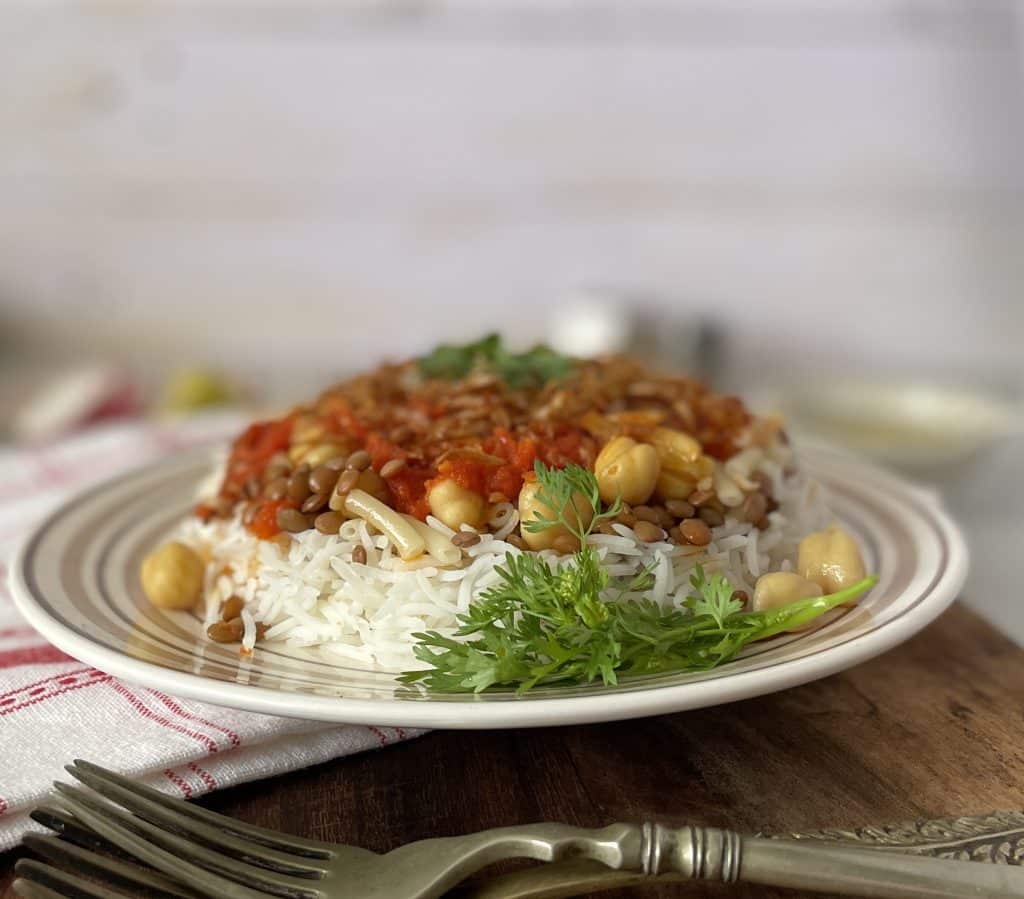 Ingredients:
2 cups basmati rice

1 cup brown lentils

½ cup elbow macaroni

2 cups tomato sauce

1 tsp salt and pepper each

2 tbsp vegetable oil

4 garlic cloves minced

1 cup cooked chickpeas rinsed

3 tbsp fresh parsley minced

2 tsp chili flakes

1 tsp cumin

1-2 tbsp distilled white vinegar
For crispy onion topping:
1 large onion, sliced into thin rings

½ cup cooking oil
You can take a shortcut and use a can of crispy fried onions–we're making this easy!
Servings: 4-6 servings
Total time: 1 hour

Instructions:
For the crispy onion topping:
Pour the cooking oil into a medium saucepan and heat.
Carefully add the onion rings to the oil and fry until brown and crispy, stirring often.
Use a slotted spoon to remove the onions from the oil and place them on a paper towel-lined plate.
For the lentils:
Add 4 cups of water seasoned, a teaspoon of kosher salt, and the oil that was used to fry the onions to a saucepan.
Bring the oil and water to a boil before adding the lentils.
Cook the lentils for 20 minutes before draining in a colander.
Set aside.
For the pasta:
Cook the elbow macaroni to al dente according to package directions.
Drain and set aside.
For the basmati rice:
Cook the rice according to package directions and set aside when finished cooking.
For the tomato sauce:
Drizzle 2 tablespoons of cooking oil into a saucepan and heat on medium-high.
Add the onion and cumin and saute for several minutes until the onion is soft and translucent.
Sprinkle in the red pepper flakes and garlic and continue to saute briefly.
Once the garlic is fragrant, pour in the tomato sauce and add a small amount of salt.
Allow the sauce to simmer and thicken.
Once the sauce has reached the desired consistency, add the white vinegar.
Reduce the heat to low, and cover until ready to assemble the koshari.
To assemble:
Place half of the onions in the bottom of a large bowl.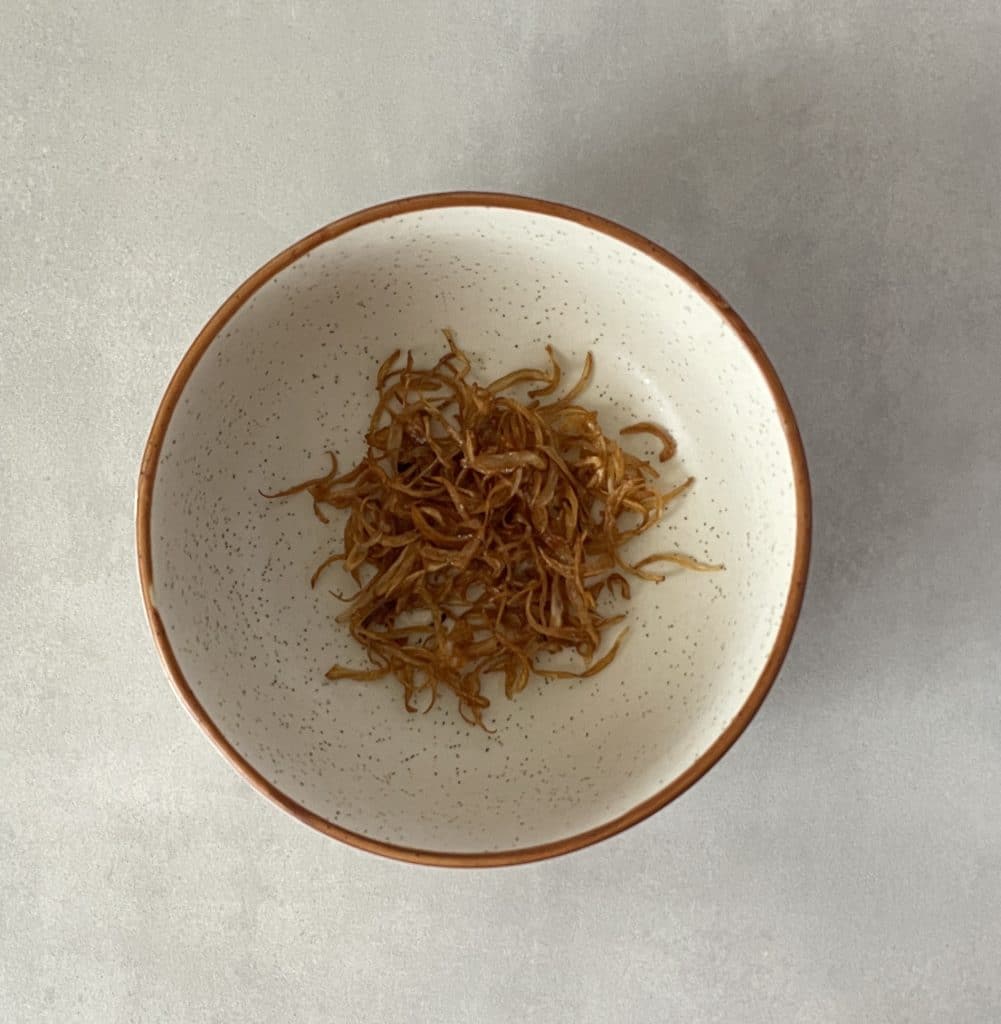 Then, begin layering the other ingredients, starting with the chickpeas.
Add the tomato sauce over top, then the elbow macaroni.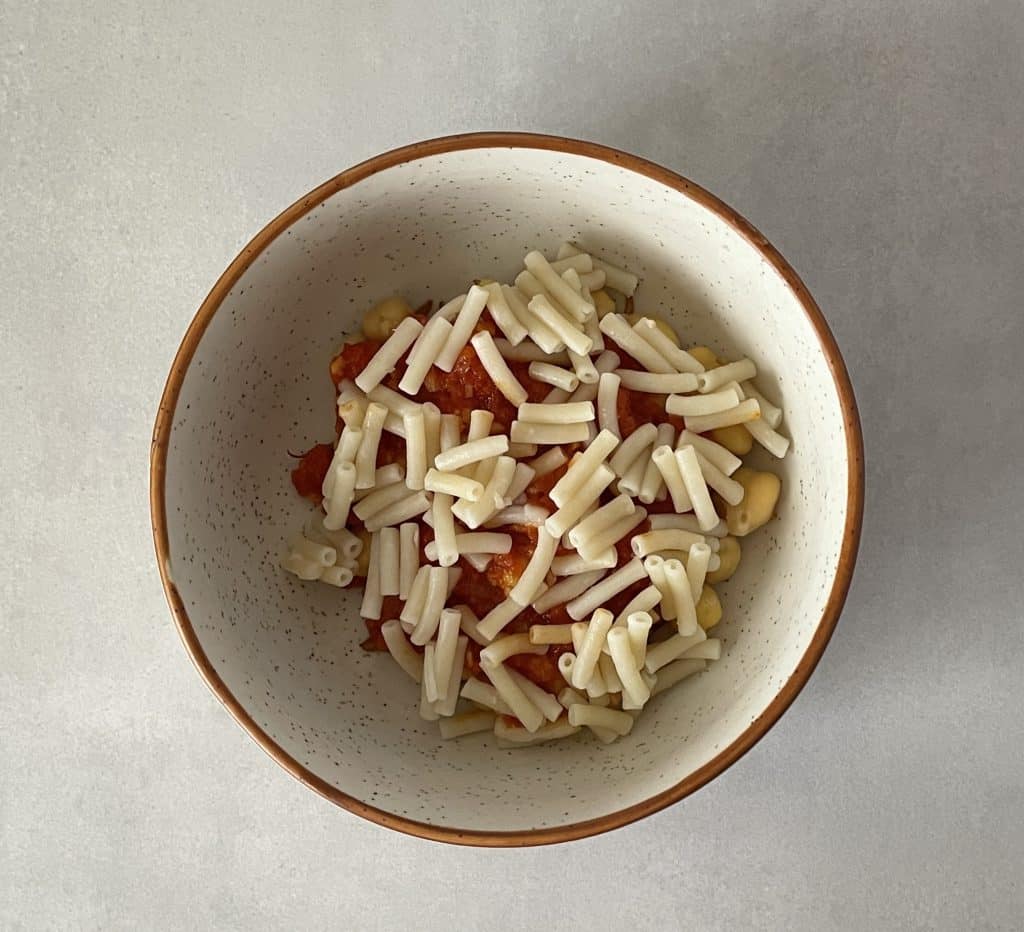 Next, spoon the cooked lentils over top and finish with the basmati rice.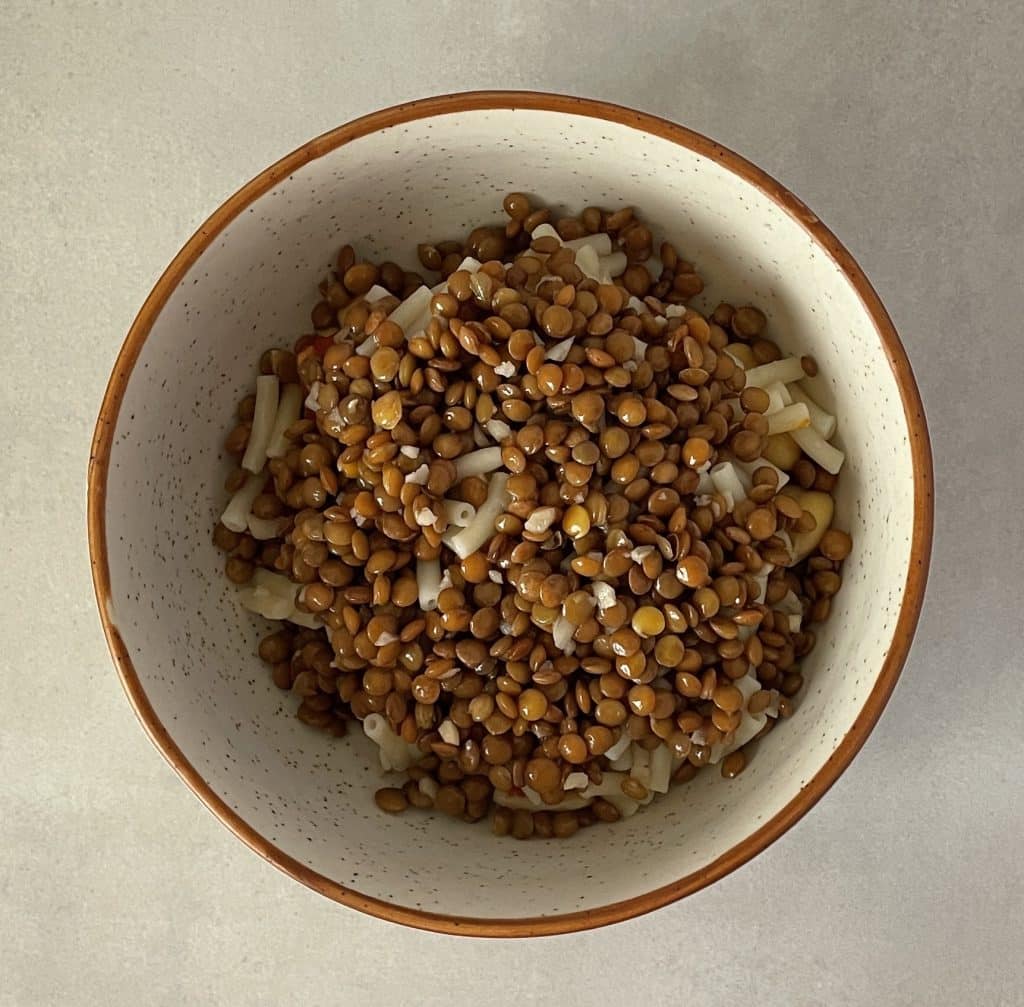 Using a spatula, press down on the top of the koshari so that the layers are firm.
Use a serving plate to cover the entire top of the bowl.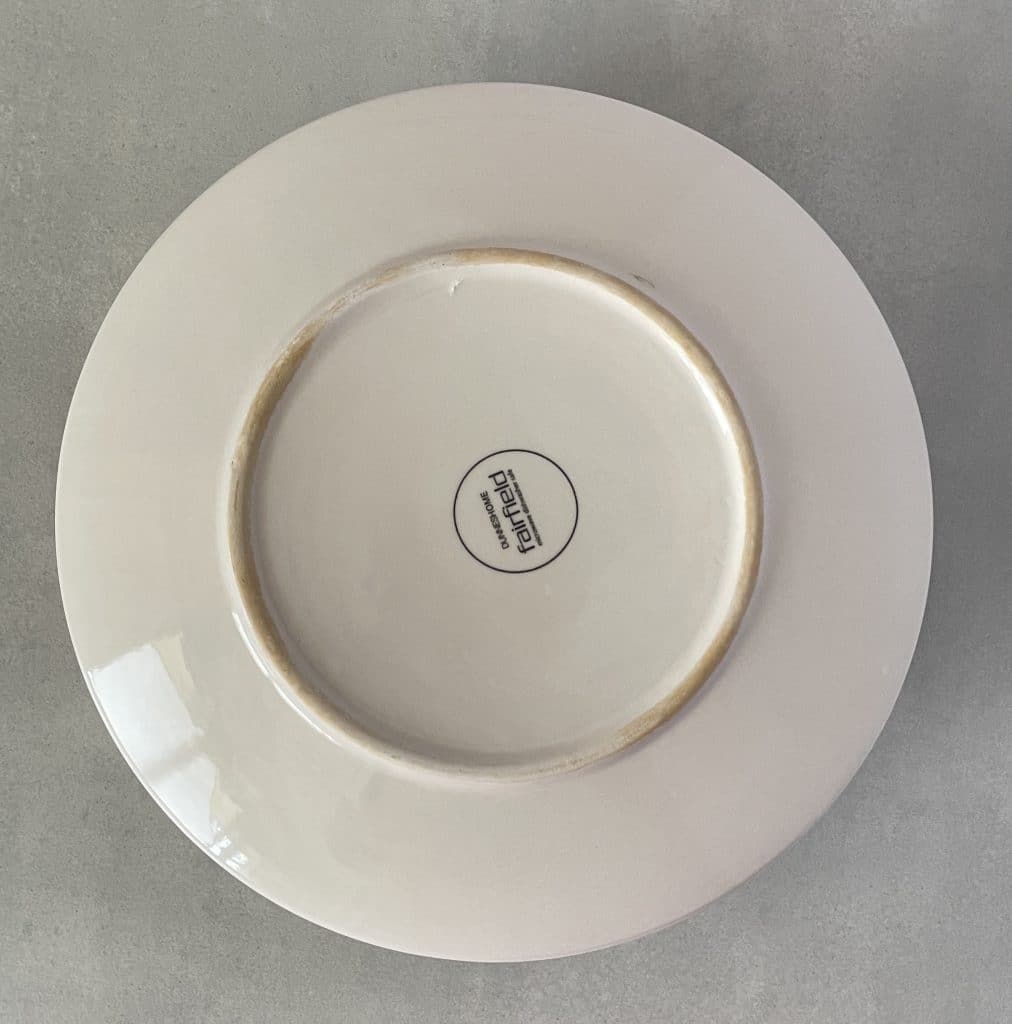 Invert the contents of the bowl onto the plate by flipping it while holding tightly to both sides.
Serve immediately, garnished with the remainder of the crispy onions and chopped parsley.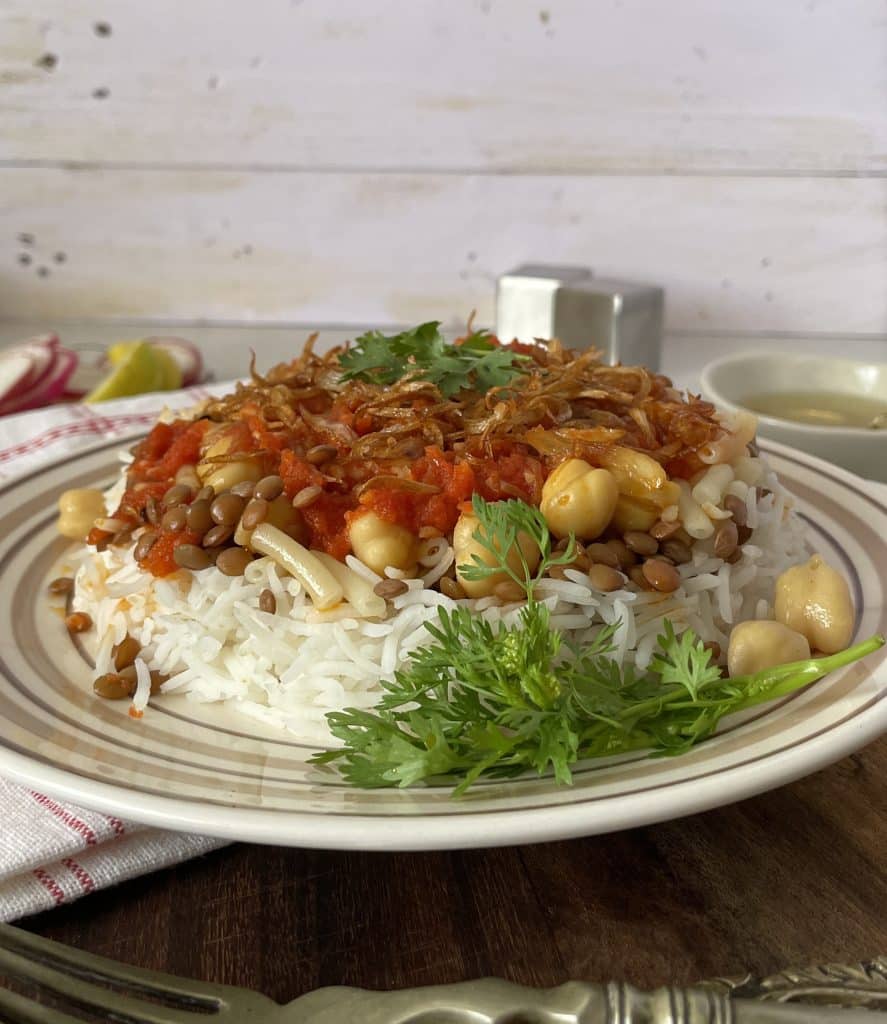 Tips for the Best Koshari:
All of the elements of this delicious dish are fairly easy to make, but the number one tip is to have all of your ingredients measured and ready. This will make for a much smoother cooking process.
Also, be sure to use a saucepan for cooking the onions rather than a shallow pan. It's more challenging to get the onions crispy (unless you add flour) in a shallow pan. You can also choose to air fry them if you like.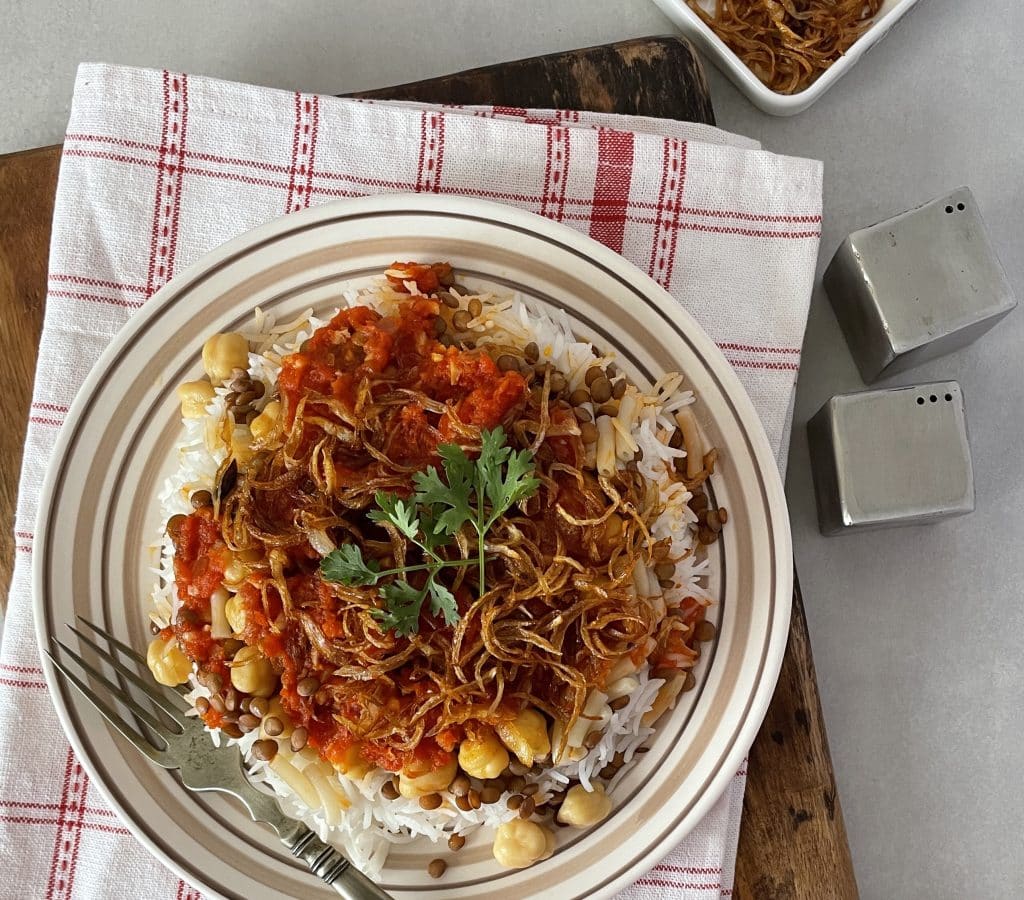 What to Serve with Koshari:
Since this is such a hearty meal, you can serve it all on its own. Or, serve it alongside pickled vegetables, tangy sauteed cabbage, or pita bread.
You can also make any kind of side salad to go with it — we absolutely love Egyptian barley salad!
However you decide to eat it, you'll love this easy Egyptian koshari recipe!