Are you tired of the same old potato salad recipe? Look no further! In this article, we will take you on a culinary journey around the world with a collection of unique and delicious potato salad recipes. From a variety of countries to authentic cultures, we will explore the diverse flavors and ingredients that make each recipe truly special.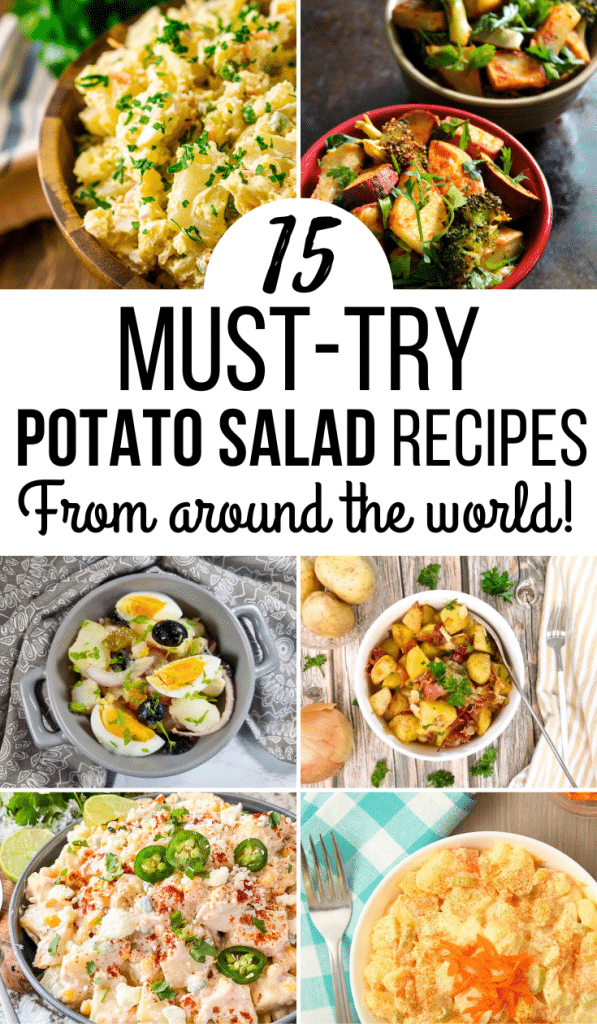 There's a potato salad here for every taste and theme–you're sure to find something you'll love!
Hawaiian Potato Salad – Burrata and Bubbles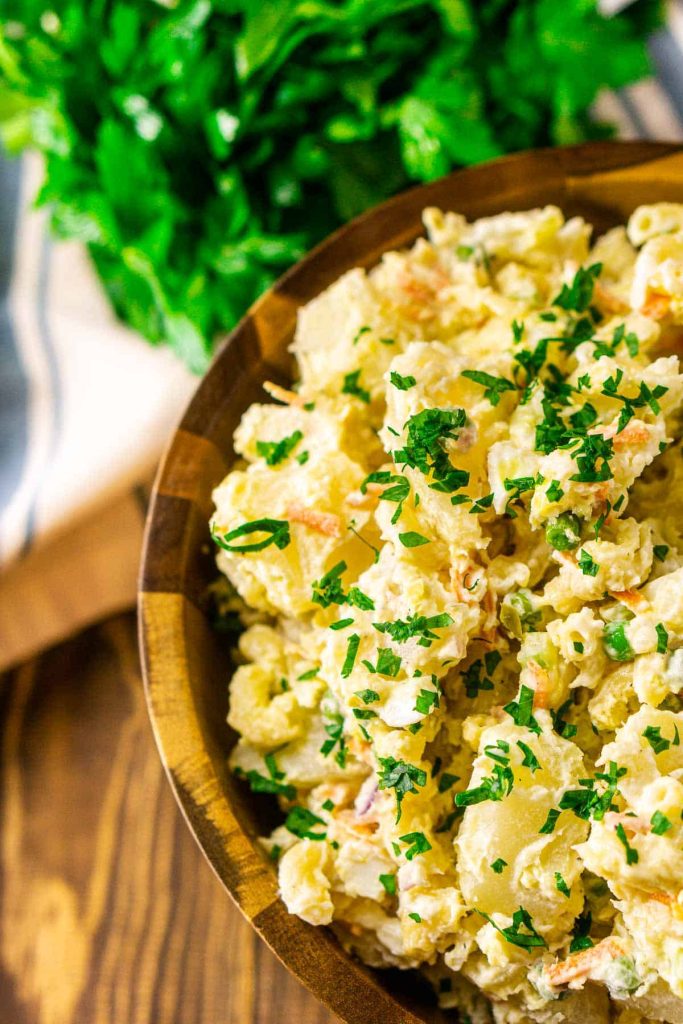 Photo Cred: burraraandbubbles.com
An essential component of any outdoor gathering is the inclusion of this Hawaiian potato salad! Filled with soft potato chunks and an abundance of macaroni, this exceptionally smooth potato salad is a traditional side dish from the islands that pairs perfectly with any summertime meal.
Russian Potato Salad (Olivier Salad) – Sweet and Savory By Shinee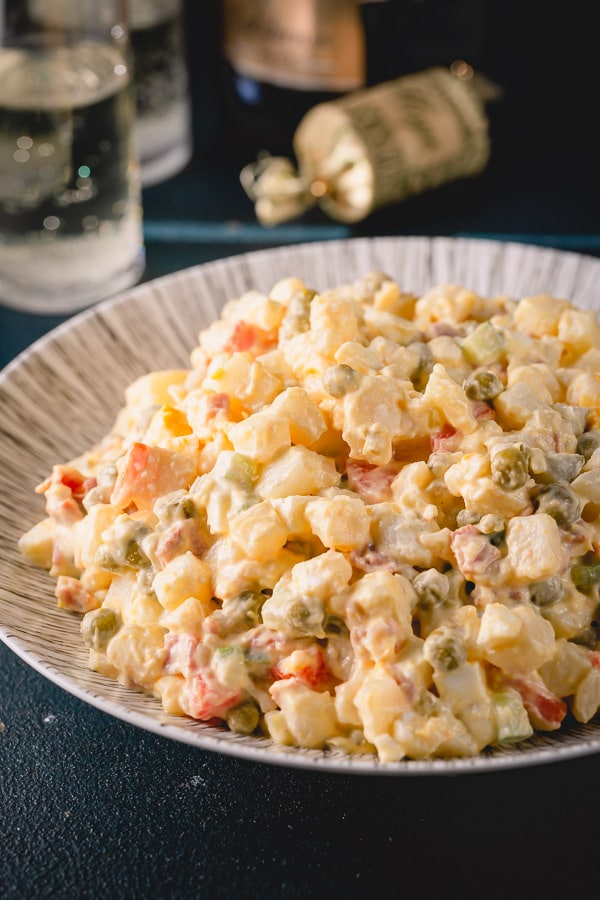 Photo Cred: sweetandsavorybyshinee
Russian potato salad, also known as Olivier Salad, is a complete dish in itself. Packed with numerous vegetables, meats, and eggs and topped off with creamy mayonnaise, this satisfying salad from Russia is incredibly filling!
Amish Potato Salad – Busy Cooks
Photo Cred: busycooks.net
A delightful addition to any potluck or meal prep menu, the Amish potato salad is adorned in a delectable dressing that strikes the perfect balance between sweetness and tanginess. This crowd-pleasing dish is sure to satisfy your taste buds and leave you wanting more throughout the week.
Romanian Potato Salad – The Romanian Cookbook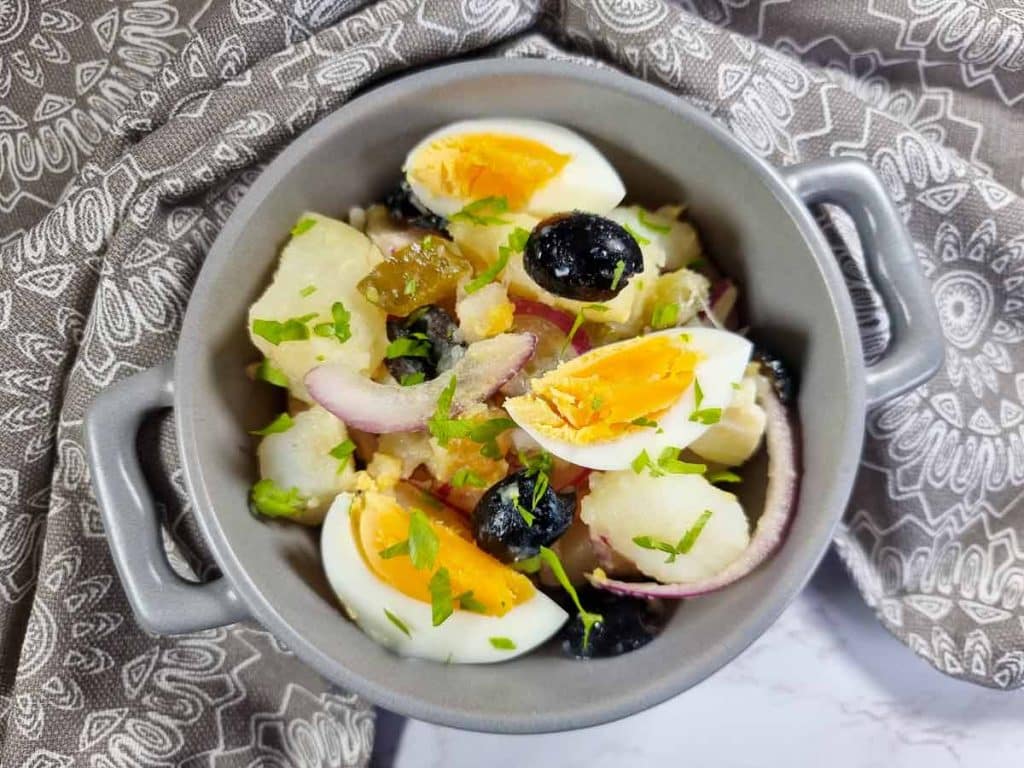 Photo Cred: theromaniancookbook.com
This recipe for Romanian Potato Salad is perfect for a midday meal or as a complement to grilled meat at a barbecue.
Harissa Potato Salad – Strength and Sunshine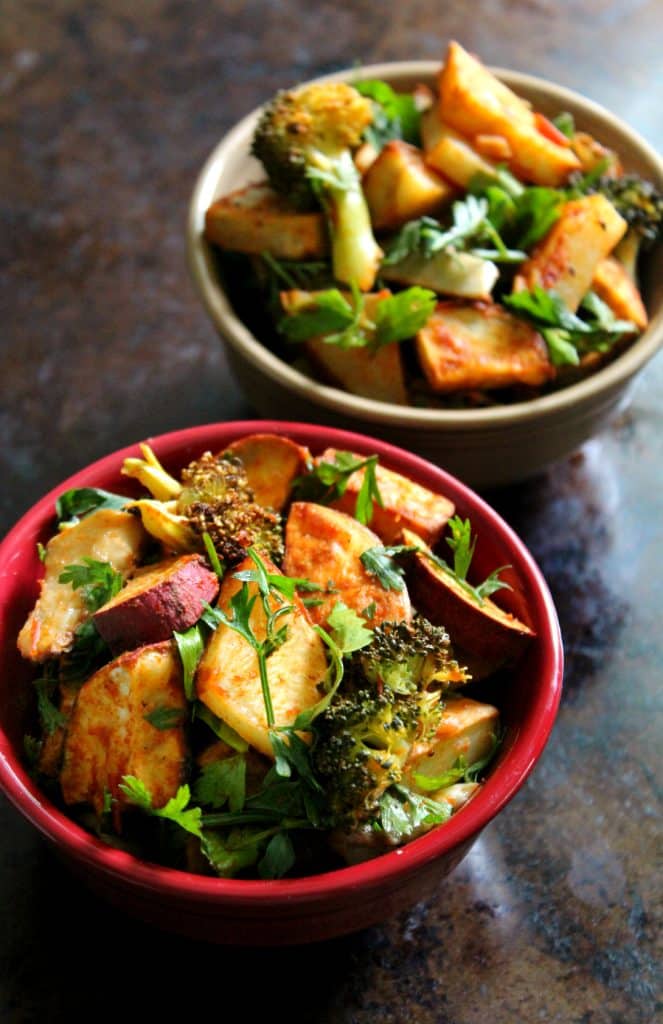 Photo Cred: strengthandsunshine.com
Roasting two varieties of potatoes, along with broccoli and eggplant, creates a delectable combination. Enhancing the dish is a flavorful harissa sauce that adds both smokiness and spiciness. This gluten-free, vegan, and paleo harissa potato salad will transform any plain dinner side into an exciting culinary experience.
Mexican Street Corn Potato Salad – Three Olives Branch
Photo Cred: threeolivesbranch.com
Mexican Street Corn Potato Salad is a great side dish recipe for a summer BBQ!.Gluten free, vegetarian, and a healthy potato salad made with plain Greek yogurt. Mexican Potato Salad inspired by elote perfect for grilling.
Korean Potato Salad – Christina's Cucina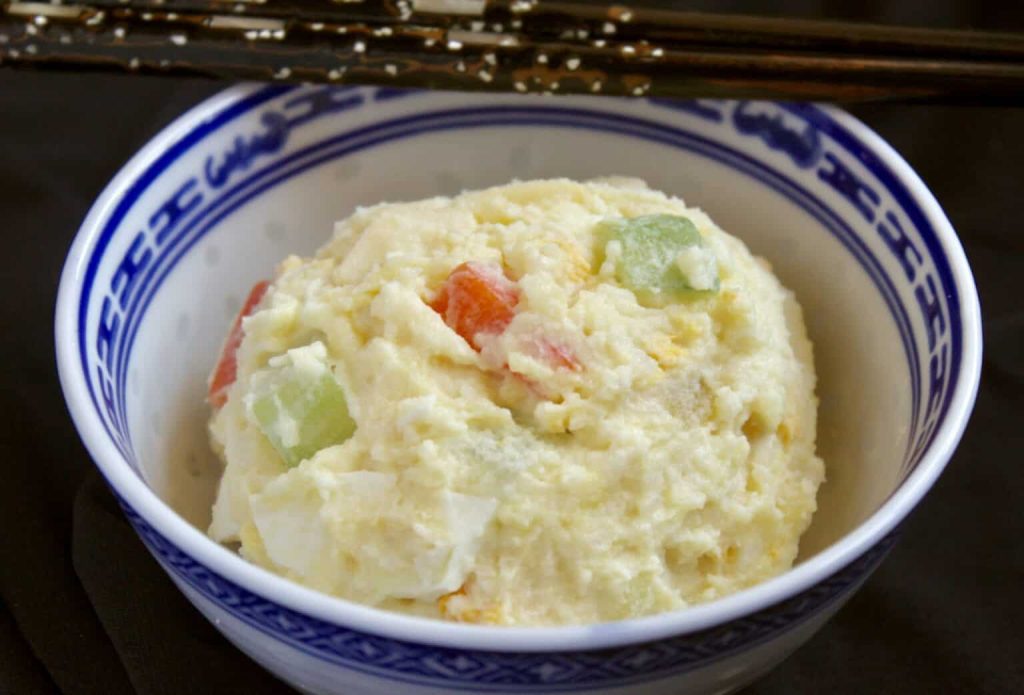 Photo Cred: christinascucina.com
Korean potato salad, known as gamja salad, bears resemblance to American potato salad. However, it boasts an extra layer of creaminess and a delightful crunch. This delectable dish is simply amazing!
Cajun Potato Salad – A Grill For All Seasons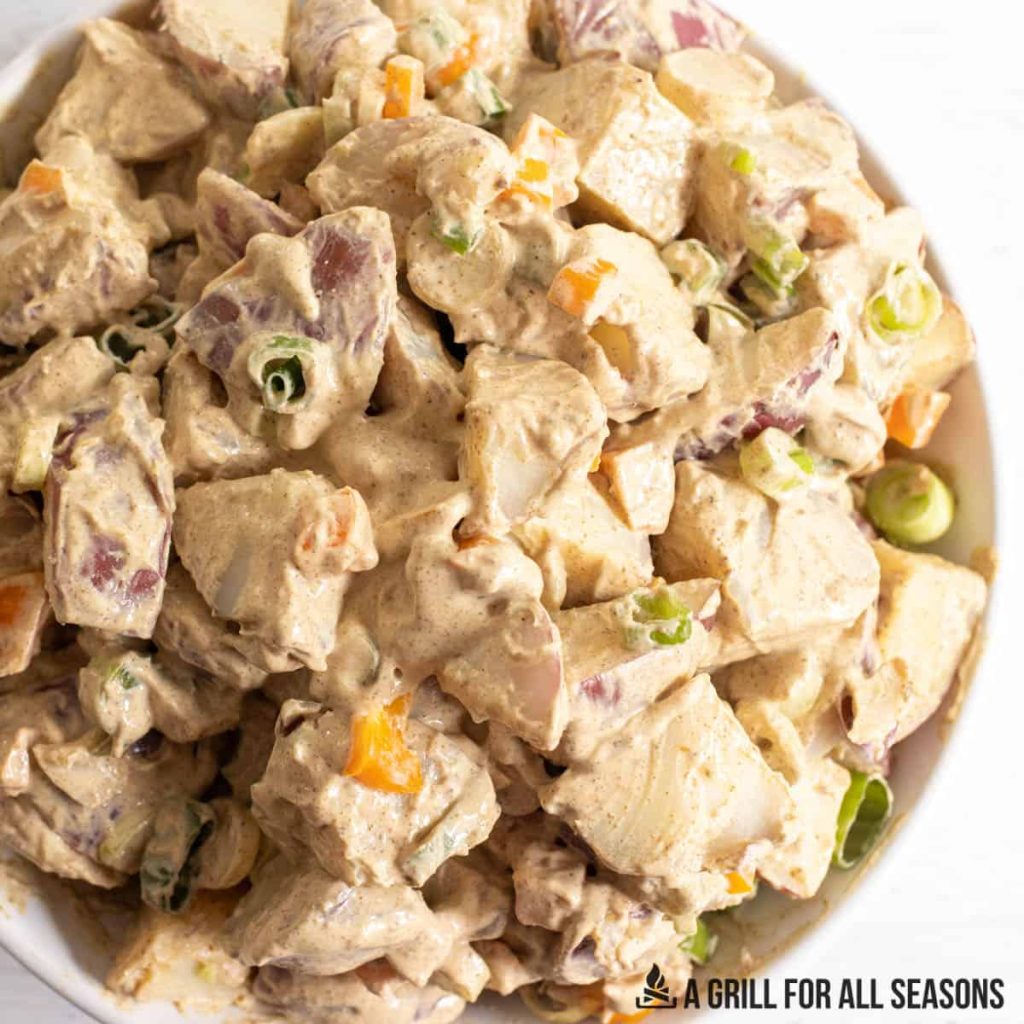 Photo Cred: agrillforallseasons.com
This incredible Cajun Potato Salad is the ultimate side dish for summer. Crafted with basic ingredients bursting with taste, this will quickly become your favorite option for barbecues, gatherings, communal meals, and other events. In just 25 minutes, you can effortlessly create this delightful gluten-free dish.
Air Fryer German Potato Salad – Dinners Done Quick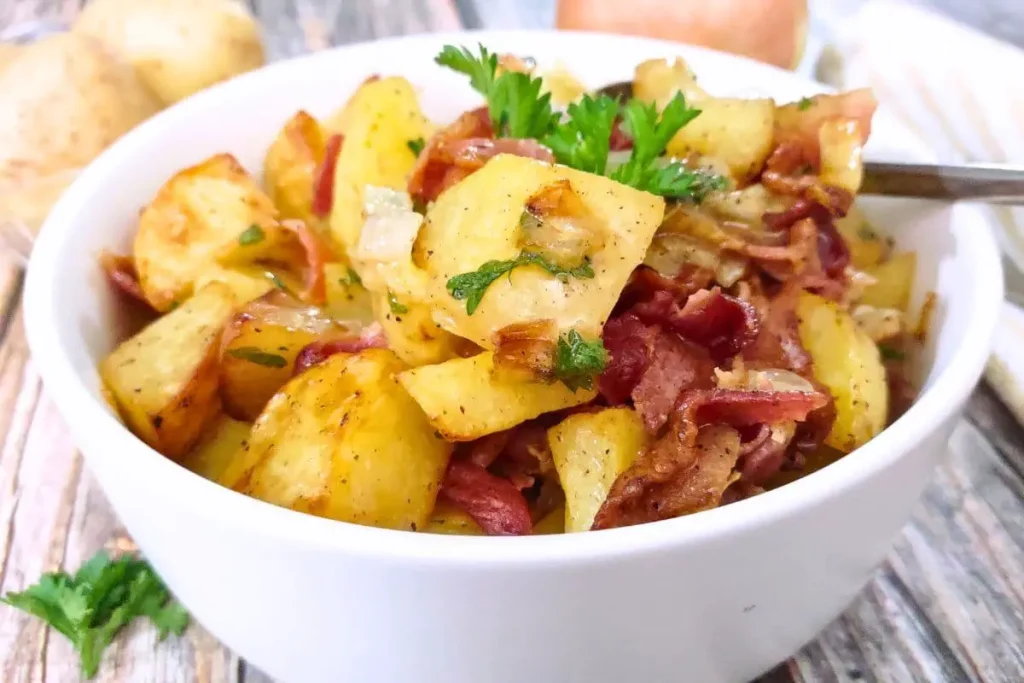 Photo Cred: dinnersdonequick.com
Hot or warm German potato salad, also known as hot potato salad, features a vinegar-based dressing and bacon. Unlike the classic cold potato salad, this version excludes mayonnaise and typically doesn't include eggs either. With its tangy flavor, it serves as a delicious alternative that complements heartier dishes.
Tangy Amish Potato Salad – Chocolate Moosey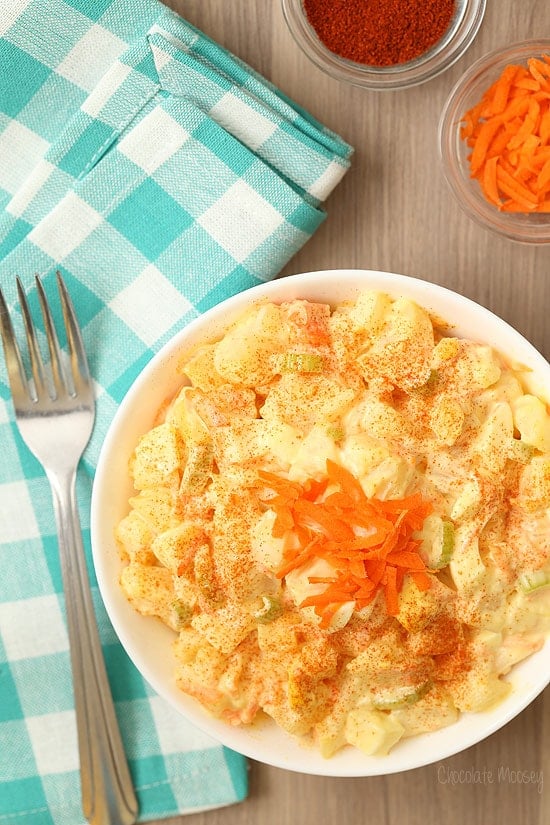 Photo Cred: chocolatemoosey.com
Liven up your picnic side dishes with sweet and creamy Amish Potato Salad! This recipe is better than Walmart's Amish Potato Salad with a tangy dressing made of mayonnaise, mustard, vinegar, sugar, and smoked paprika.
French Potato Salad – The Short Order Cook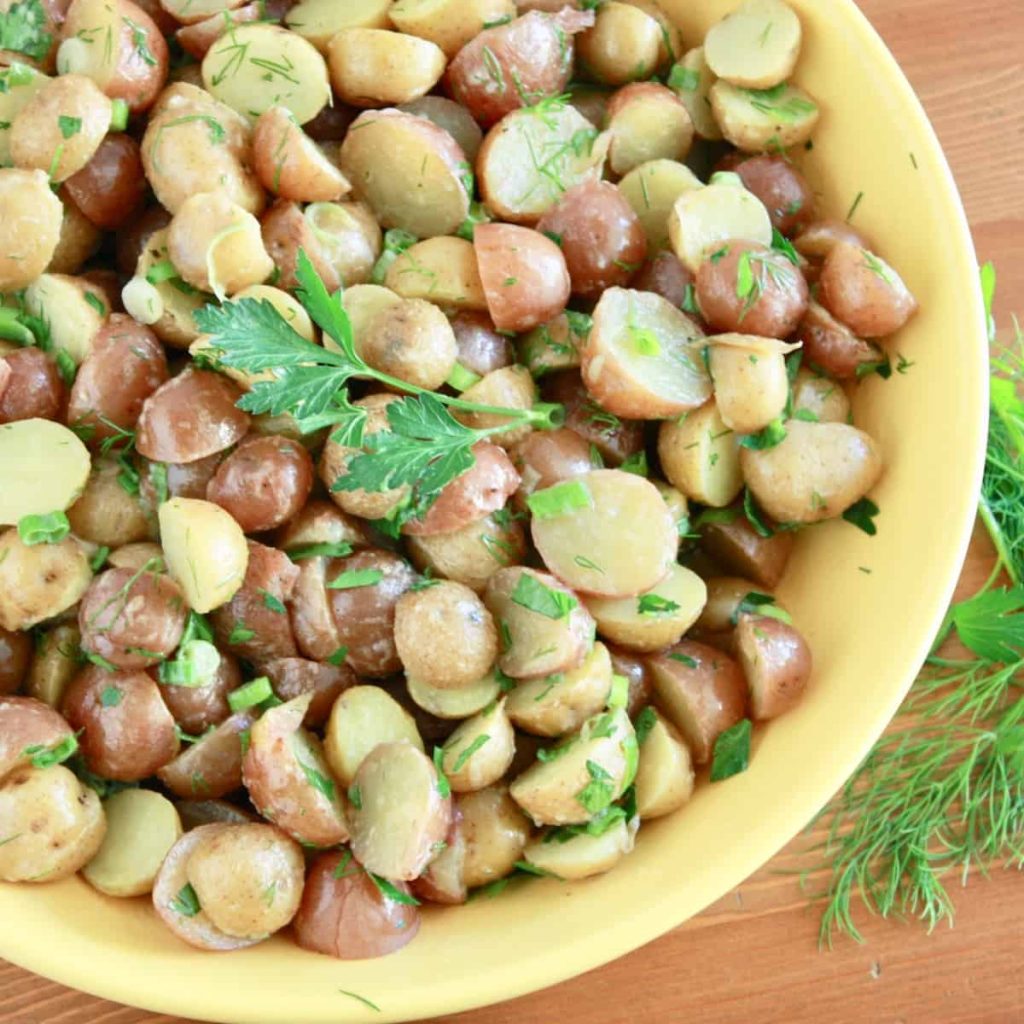 Photo Cred: theshortordercook.com
French potato salad is a zesty, vibrant, and refreshing accompaniment. It improves over time as the Champagne dijon dressing blends with the soft boiled potatoes and aromatic herbs. This dish is effortless yet absolutely delightful. Share it at potlucks or elevate your home-cooked dinners with this French potato salad for well-deserved compliments.
Authentic German Potato Salad – Masala Herb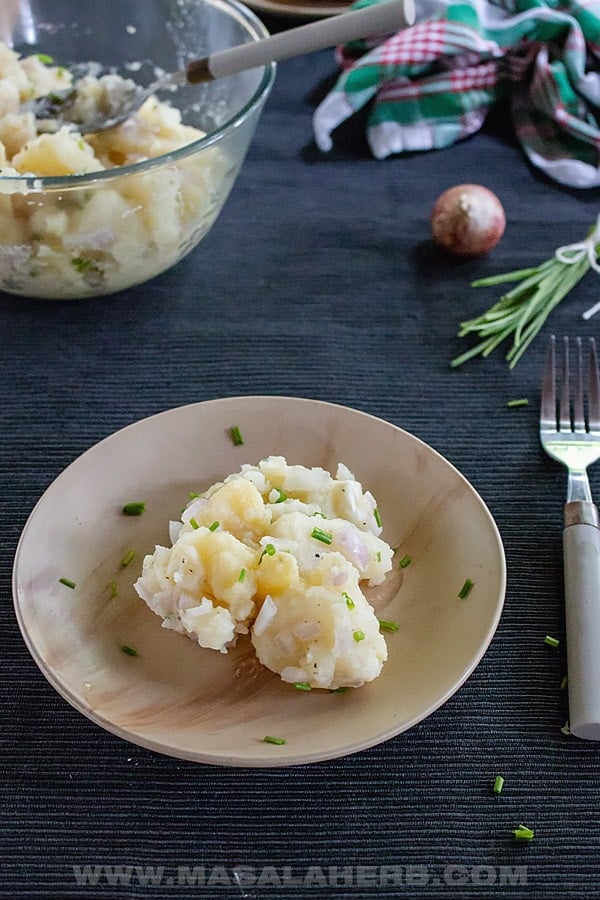 Photo Cred: masalaherb.com
This genuine German potato salad has a unique twist compared to traditional potato salads. Instead of using a typical dressing, the cooked potatoes are drenched in hot vegetable or meat broth. This flavorful broth adds its own seasoning to the potatoes, creating a delicious and distinct taste.
Vegan Italian Potato Salad – Chocolate Moosey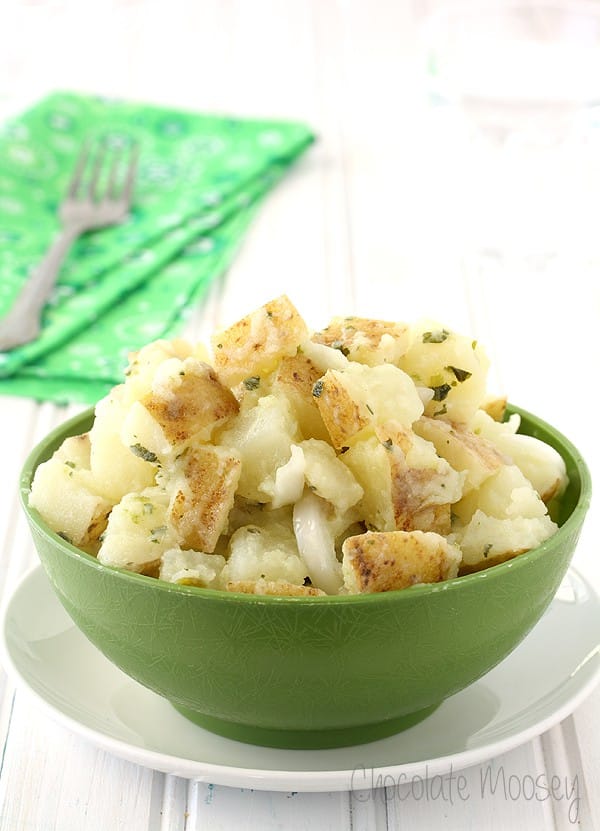 Photo Cred: chocolatemoosey.com
Looking for a vegan side dish for your summer picnic or BBQ? Try this mayo-free Italian Potato Salad made with oil and vinegar instead. It's an eggless option that's perfect for those who prefer plant-based meals.
Instant Pot German Potato Salad – Bless This Meal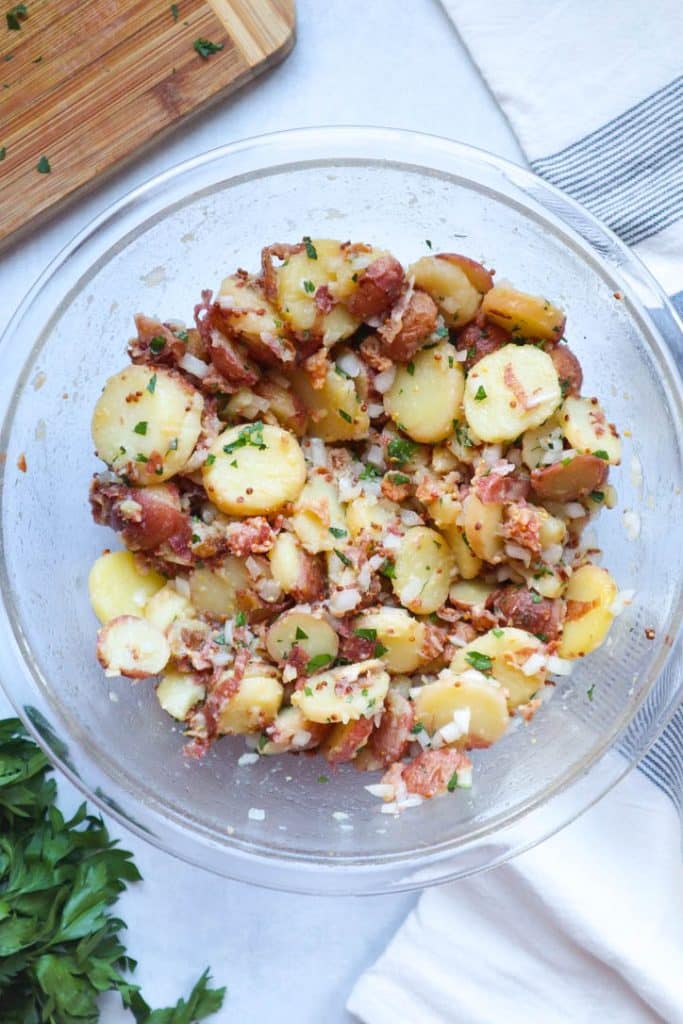 Photo Cred: blessthismeal.com
The ultimate side dish, the most amazing instant pot German potato salad is served hot and topped with crispy bacon and a tangy dressing. With minimal preparation required, it can be quickly made in the instant pot. Whether you're enjoying it during the summer or for Oktoberfest, this dish is sure to impress.
BBQ Potato Salad (An American Classic Twist) – Delicious Table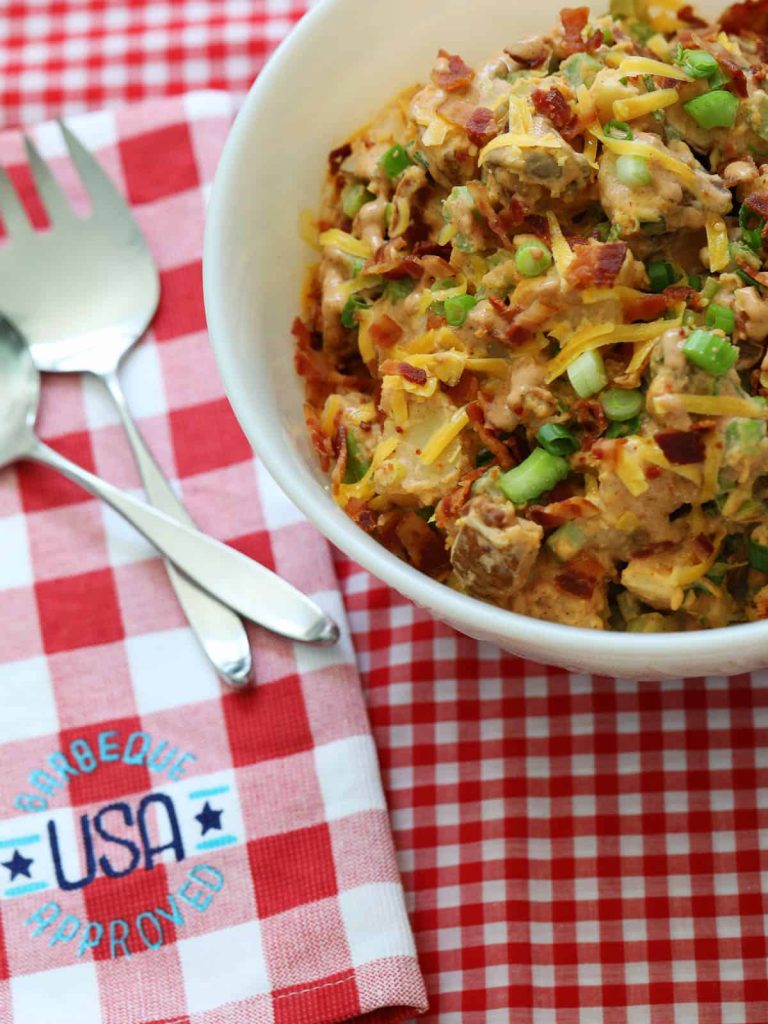 Photo Cred: delicioustable.com
Here's a delicious BBQ Potato Salad recipe that combines the tasty flavors of your beloved bbq sauce, crispy bacon bits, creamy buttermilk ranch dressing, crunchy celery, and savory cheddar cheese. Instead of using mayo, this incredibly smooth potato salad is made with special ingredients. It takes inspiration from one of America's all-time favorite dishes – loaded baked potatoes!