A fruit and nut cookie with a soft, chewy texture that's perfect for your dessert table! These fruitcake drop cookies take all the classic flavor of Christmas fruit cake and blend it into a cookie form. Rich with warm spices and delicious pecan flavor, these drop cookies are perfect for your next get-together. Do you love classic Christmas desserts like fruit cake? Then these cookies are for you! Fruitcake can be a divisive treat but I've always been a fan. I love relaxing with a piece and a cuppa in the winter–it's absolute coziness to me.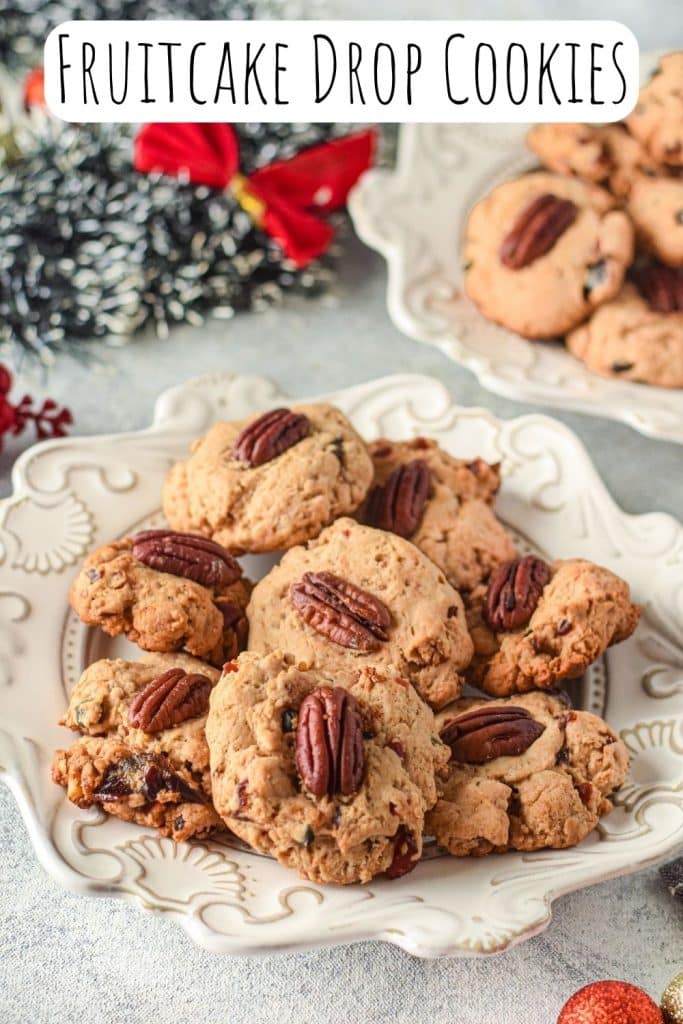 Drop cookies are ones in which you drop the cookie dough onto the baking sheet. There's no slicing, rolling, or shaping required, so they're super easy. These drop cookies have all the classic flavors of dried dates, cherries, and buttery pecans paired with warm spices like cinnamon and nutmeg. These fruitcake drop cookies come out of the oven soft, chewy, and delicious! Plus, they maintain their delicious flavor for four to five days when stored in the fridge which means you can easily make them ahead of time for your next gathering.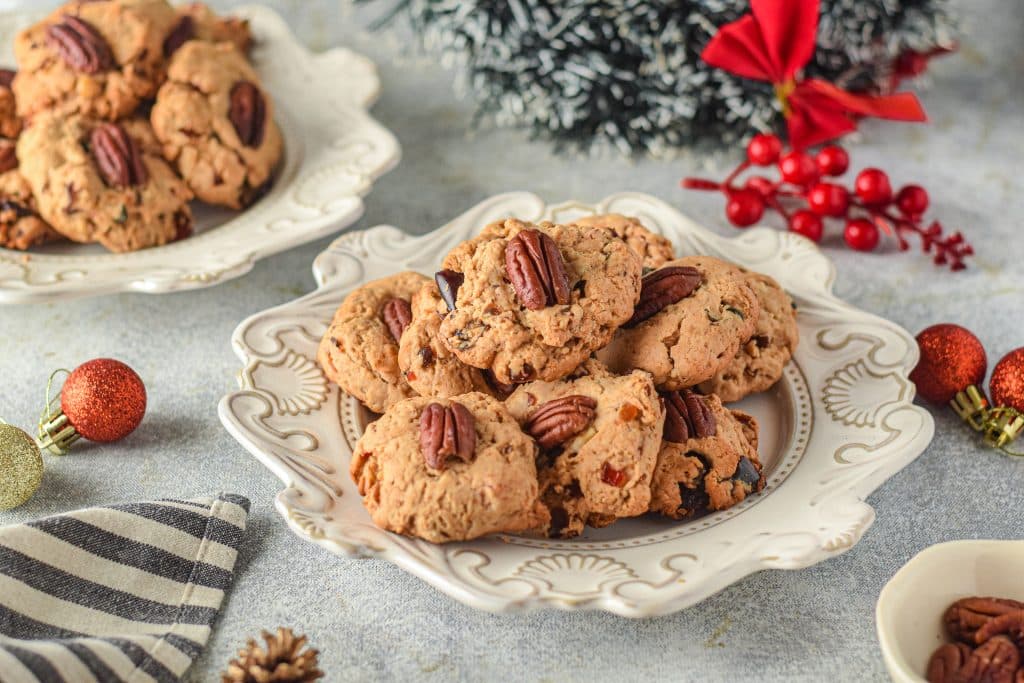 Ingredients You Need
These drop cookies use up a lot of pantry staples which makes them a great dessert recipe to whip up in a pinch for unexpected guests.
1 cup unsalted butter, room temp

2 large eggs

1 ½ cup brown sugar

½ cup buttermilk

1 teaspoon vanilla extract

3 ½ cups all-purpose flour

1 teaspoon salt

1 teaspoon baking soda

½ teaspoon ground cinnamon

¼ teaspoon ground cloves

¼ teaspoon ground nutmeg

1 cup chopped candied cherries

1 cup chopped dates

1 ½ cups chopped pecans

Pecan halves for the top
Ingredient Tips
Butter: Opt for unsalted temperature and make sure it's at room temperature so that it mixes well.
Brown sugar: Don't substitute with granulated sugar as you need the molasses in brown sugar to create the perfect texture.
Buttermilk: if you have some on hand, perfect! However, know that you can also make your own easily enough (more on that below).
All-purpose flour: Sift your flour first so that no clumps come out of the batter.
The basics: You'll need eggs, vanilla extract, salt, and baking soda for the fruitcake cookies.
Dried fruit:  Most fruitcake recipes use chopped dates and candied cherries for their sweet and chewy flavor. Dates especially help sweeten the recipe. However, other dried fruits like blueberries or apricots can work in place of the cherries. Choose your favorites–just remember the cookies will taste best if the fruit is candied.
Spices: You need cozy spices like cinnamon, cloves, and nutmeg to bring out the warm flavors of the cookies.
Pecans: Used for an added crunch, make sure to save some pecan halves for the top of the cookies too. These are totally optional–I add them or not depending on my mood.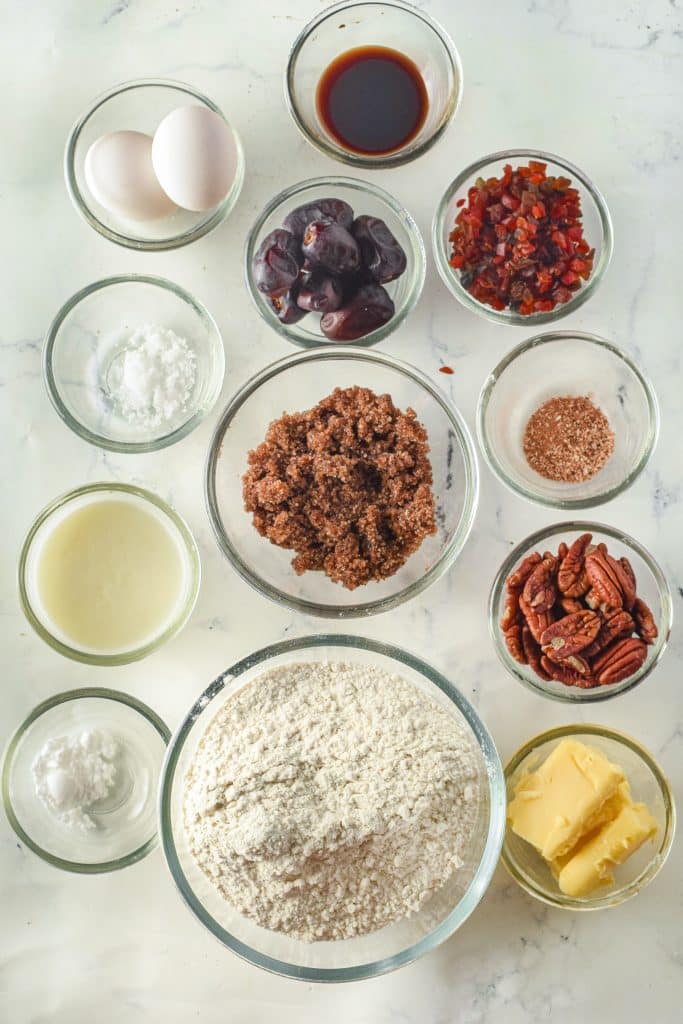 How To Make Them
Preheat the oven to 400-degree F and line your baking tray with parchment paper and set aside.
In a bowl, cream together butter and brown sugar using a hand-held mixer on medium-high speed for about 2 minutes. Add eggs one at a time and mix for another 1 minute.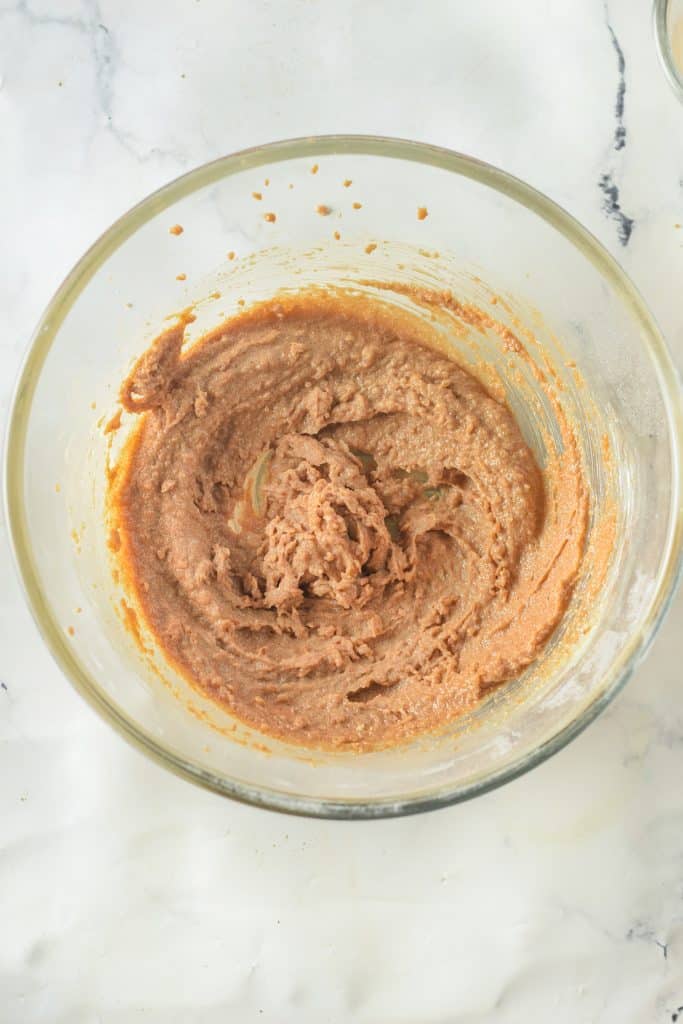 Add buttermilk and vanilla extract and mix for another 1-2 minutes.
Next, sift the all-purpose flour, salt, baking soda, cinnamon, clove, and nutmeg directly into the butter mixture and mix until just combined and the dough is formed.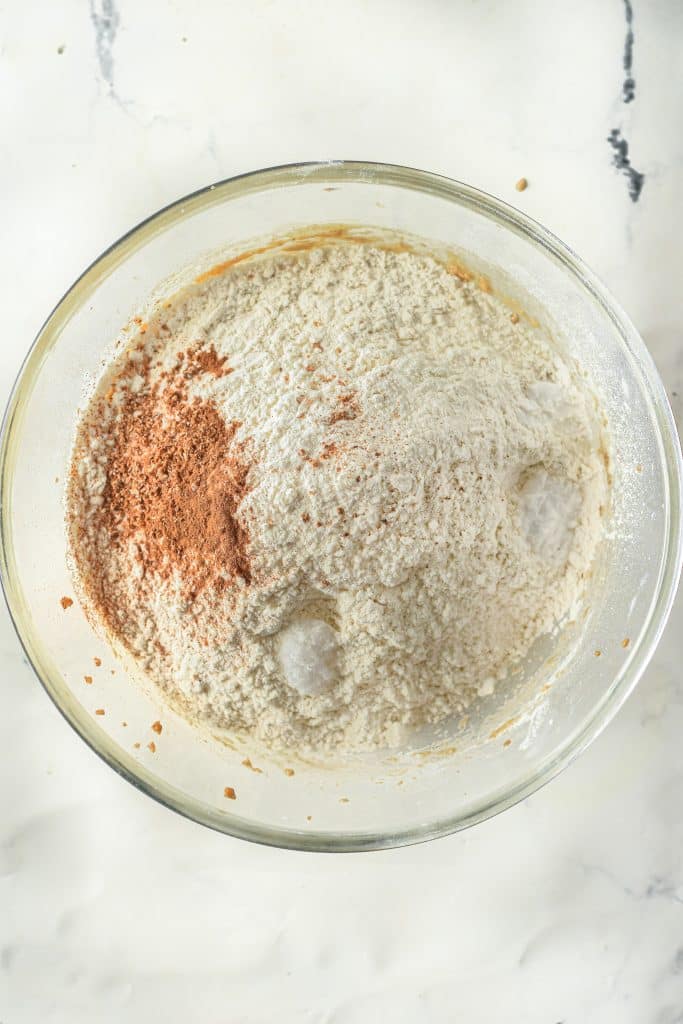 Stir in chopped pecan, candied cherries, and chopped dates and give a final mix to the dough.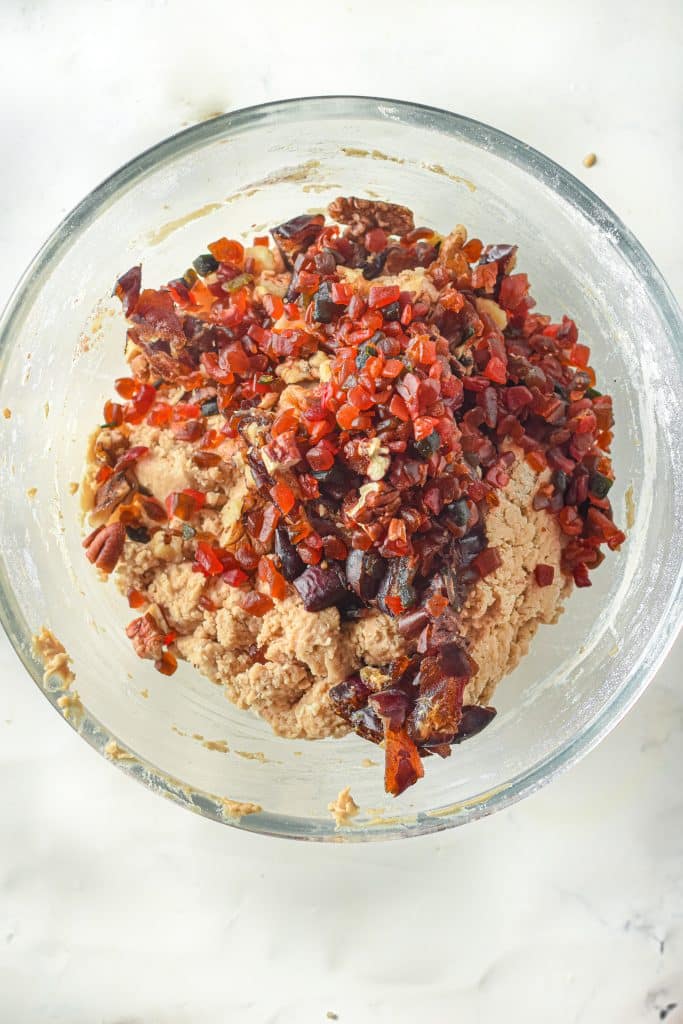 Drop the dough onto the prepared baking tray, about a heaping tablespoon's worth.
Place a pecan half on top of each cookie.
Bake for 8-10 minutes or until the edges are lightly brown.
Let the cookies cool completely, serve and enjoy.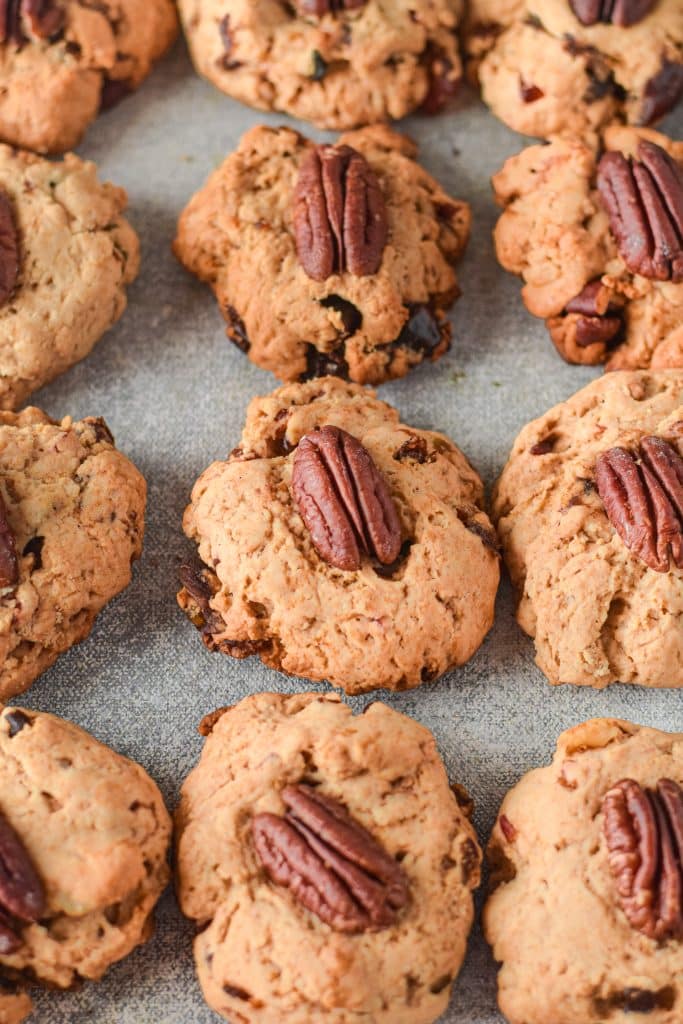 Important Teaching Tips
The cookies can be made ahead of time and stored in an airtight container for 4-5 days on the counter. Or keep them in the freezer for up to three months.
If baking the cookies in batches, put the remaining dough in the fridge while one set is being baked.
Make sure you don't overcook the cookies, they're meant to be a little soft and chewy. You want them to just be lightly browned when you remove them from the oven.
Let them cool completely before taking them off the baking tray. They'll be delicate so removing them too quickly might break the texture.
To make your own buttermilk, mix 2 tsp of vinegar with ½ cup of whole milk. and let it sit for 5 minutes.
Know that you can actually buy green candied cherries which is used most when making these fruitcake drop cookies for the Christmas Holidays. If possible, use red and green cherries to make for the best color pairing!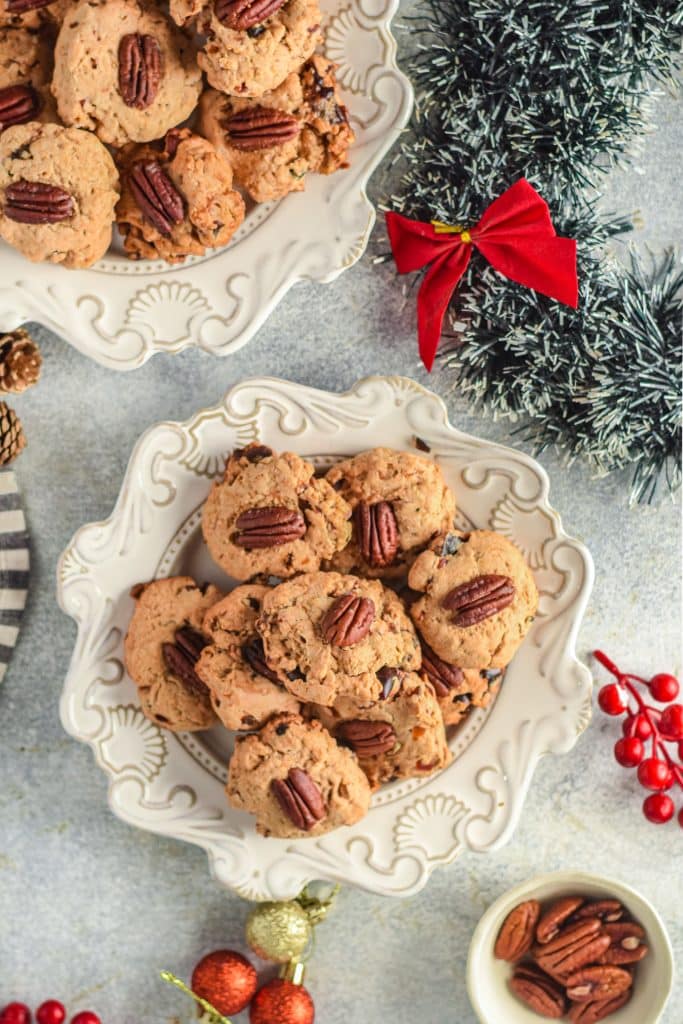 What Do You Serve With Fruitcake Cookies?
These drop cookies look beautiful on any dessert table. However, they pair the best with something like:
Specialty coffee
Christmas tea
Fruity wine to match the cookie flavors
Frequently Asked Questions About Fruitcake Drop Cookies
What dried fruit can I use in fruitcake cookies?
Typically, in addition to dried dates, candied fruit works best. Candied cherries, pineapple, greengages, or peaches are used the most. If making them for the Holidays, red and green candied fruit are used the most.
Can you freeze fruitcake cookies?
Yes! Fruitcake cookies can be frozen in a seated container for up to three months. However, make sure to separate the cookies by layers of wax or parchment paper so that they don't freeze together and then break apart. You can bake them at a lower Fahrenheit from frozen, but they taste best when they thaw in the fridge first and are simply reheated.
Which nuts work best for fruitcake cookies?
Typically, pecans are used for an added crunch in fruitcake drop cookies. However, pistachios add an added bit of richness to the cookies as do hazelnuts. So, use what you have on hand and switch up the flavor as you wish.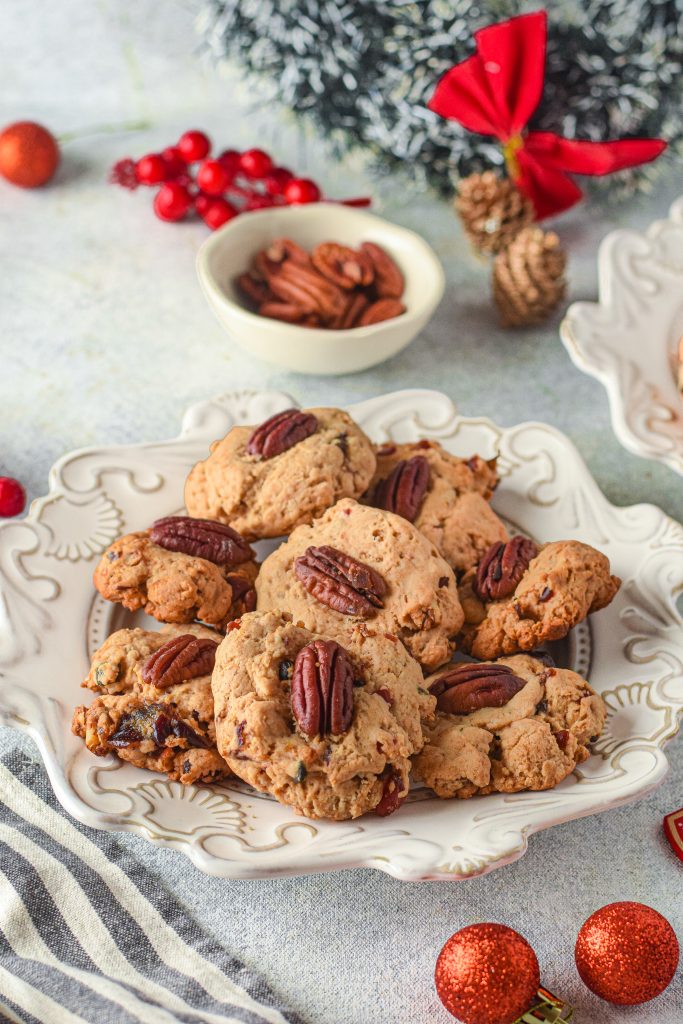 These fruitcake drop cookies are perfect for your next holiday cookie exchange!