If you have ever looked for a cookie recipe for the holidays, chances are you have been bombarded with everything from peanut butter blossoms to red velvet cookies. With so many different recipes out there, you simply won't be able to make them all. If you are looking for a way to spend time with friends and family and enjoy some delicious baked treats, why not host a Christmas cookie exchange! While it might sound complicated, it's a lot easier than you think and you'll end up with an assortment of Christmas treats. Here are some tips on how to host a simple cookie exchange!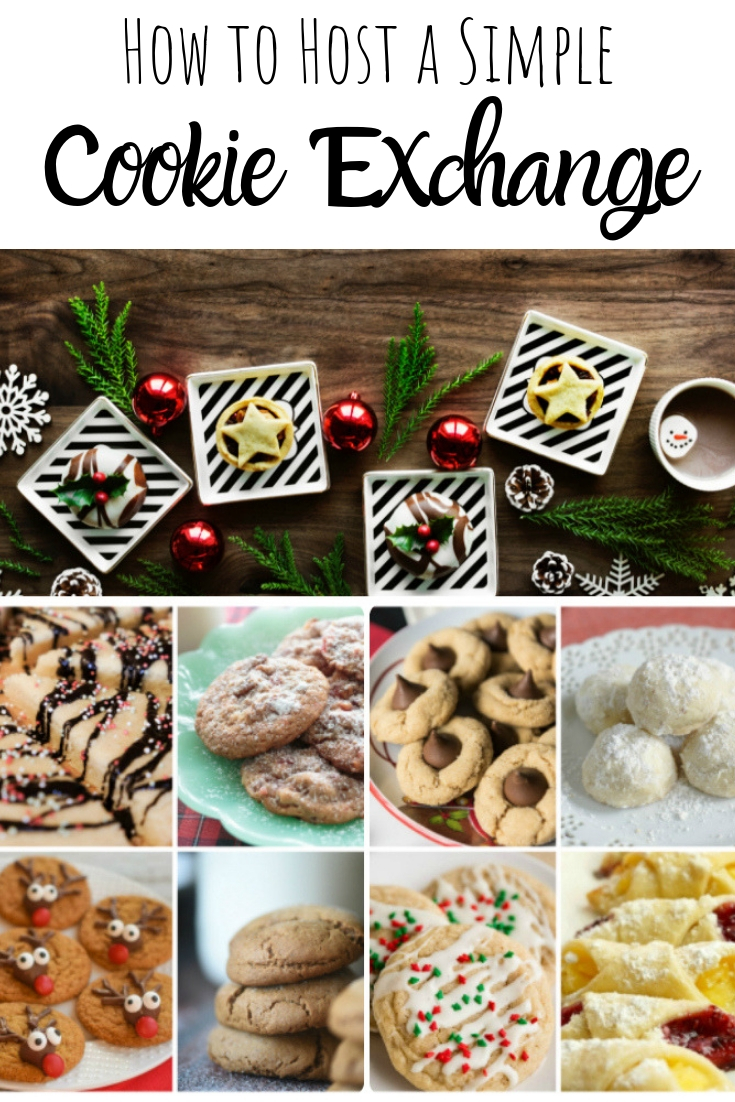 Step 1: The guest list
If you want to keep your party simple, consider keeping your guest list small. If everyone bakes a dozen cookies, then inviting 12 people to your party means that they will still come out with 12 cookies! While the small guest list means that you won't have as much variety in your cookies, limiting your guest list will make it less stressful. Of course, I like more cookies so my suggestion is to keep your guest list small, but plan on half a dozen cookies per person. My favourite set up is to have everyone make as many cookies as there are people (we'll go with 12) so everyone can eat one at the party. Everyone also makes 6 cookies per person (packaged) for them to take home. With a smaller guest list, the amount of baking goes down.
Scottish Shortbread Christmas Cookie Wedges — Albion Gould
Easy Fruitcake Cookies Recipe — Atta Girl Says
Easy Gingerbread Reindeer Cookies — Major Hoff Takes a Wife
Slow as Molasses Cookies — Houseful of Nicholes
Step 2: Set up a set of rules
The worst thing you can do during a cookie exchange is to have all of your guests bring chocolate chip cookies. Instead, setting up simple rules to ensure that there are plenty of cookies to go around and that you have a good variety. Let your guests know how many they should bring on the invitation, how they are to be packaged, and if recipes should be included. Here are some good rules to use:
No burnt cookies

Cookies should be homemade, not storebought

No duplicate cookies (no one can use the same recipe or same type)

package the cookies appropriately
Holiday Oatmeal M&M Cookies — Albion Gould
Lemon Oatmeal Lacies Christmas Cookie Recipe — Atta Girls Says
Flourless Chocolate Peppermint Cookies — Major Hoff Takes a Wife
Gingerbread Biscotti — The Olive Blogger
Step 3: Preparing for your cookie exchange
You've invited your guests and set the rules; now it's time to prepare for your party! You don't have to go nuts with decorations or do anything outside the box for your party. Since people will be providing cookies to eat, you can focus on the other items you'll need for your party such as drinks, paper plates, and napkins. You can find napkins and paper plates that are Christmas themed almost anywhere during the holiday season. For drinks, you can pick up the basic soda selection, choose a few wines, or make seasonal cocktails like a boozy hot chocolate or warm white russian cocktail.
Grinch Fudge — How to Make Easy Fudge
Twist Candy Cane Cookies — If You Give a Blonde a Kitchen
Peppermint Chocolate Thumbprint Cookies — Small Town Woman
Christmas Tree Meringue — Crumbs & Corkscrews
Step 4: Have fun!
The day of your party is finally here! Do some last-minute cleaning to make sure your home is ready for guests! If you planned on baking your cookies the day of, make sure to start them early in the morning so they have plenty of time to cool. Create a table where the cookies can be displayed for your party, lay out the drinks, and arrange seating so there are plenty of places to sit. If you want to add any decorations or unique things to make your party more fun, feel free to do so at this time.
Egg Nog Snickerdoodles — Love from the Oven
Perfect Peanut Butter Blossoms — House of Nash Eats
Russian Tea Cakes — Mildly Meandering
Kolachy Cookies — Old House to New Home
I hope these tips on how to host a simple cookie exchange have gotten you excited for Christmas cookie season! While there are ways to make these parties bigger, this is a great and simple idea for those looking for something more low key this year.
This post contains affiliate links.
Ready to get your party started? Here are some products that may help!