I never really thought about the American South as a Christmas destination. Christmas to me was cold and snow and early dark nights. Even though my grandparents lived in Asheville, it retained enough of my northern winter loves that I didn't think of it as southern (except for one super warm Christmas where I *gasp* didn't need to wear my coat!). While I've become ever more protective of my holidays, I've also become more open. Obviously plenty of people live in the south and celebrate their Christmases there without batting an eye. I mean, I lived in a country where it was literally summer for Christmas! If you're a snowy winter person (as I am), here are some ideas for Christmas destinations in the South if you're looking for a new way to celebrate the season.
Whether you go for a charming, classic holiday or you're looking for the chance to celebrate with an ocean view, I've put together ten incredible Southern Christmas holiday spots. By the time you're done reading, I'm confident you'll be making plans for your family's perfect Christmas vacation, whether it's for the actual day or just sometime over the holiday season.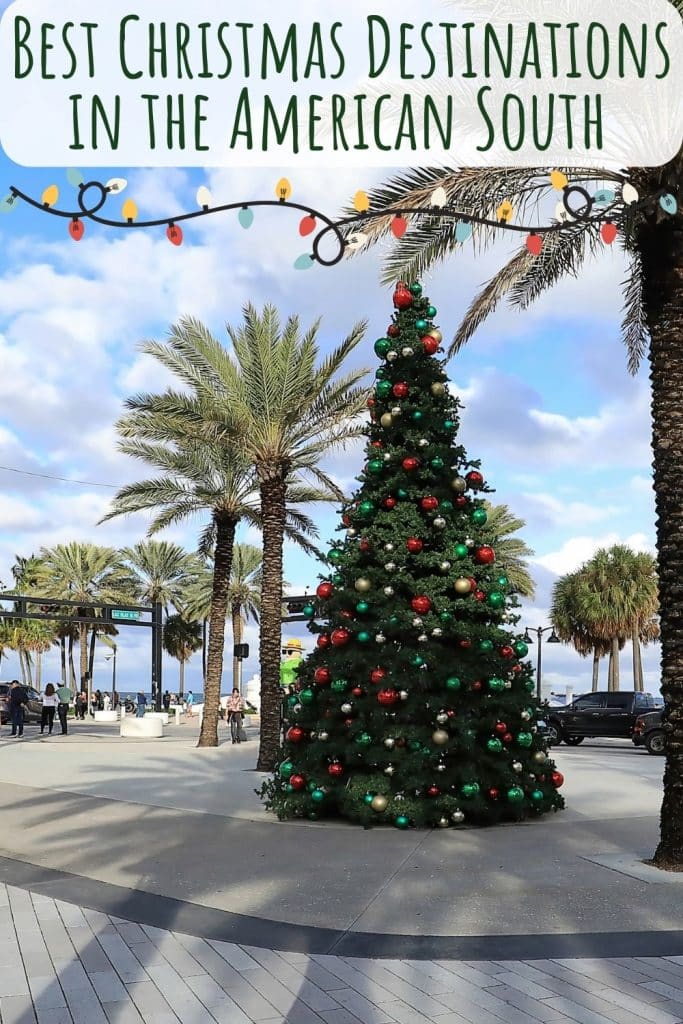 Dahlonega, Georgia
The town of Dahlonega, Georgia provides the epitome of a small-town Christmas! The town is located in the foothills of the Blue Ridge Mountains and some may say that you will not find a more charming Christmas town in all of Georgia.
They deck out the entire town with beautiful holiday decor and there are a number of fun festive activities and events in the area. The main draw of the town is its Old-Fashioned Christmas festival. The festival occurs all month long and there are many events that occur throughout the festival including the annual tree lighting and a fun and festive Christmas parade.
Why we love it: If you're looking for an old fashioned Christmas, Dahlonega is the perfect place to pick. You get the small town feel that will have you feeling like you just stepped into a Hallmark Christmas movie!
Dallas, Texas
Dallas is a beautiful city during the holiday season and one of the best places if you're looking for a great Christmas vacation destination. The shopping in Dallas is incredible at any time of the year but during the holidays, it is unmatched!
The whole city of Dallas is decked out in beautiful holiday decor and light displays that make simply walking through the town an amazing Christmas experience. One of the most popular attractions in the Dallas area includes Prairie Lights Holiday Park where visitors can enjoy a holiday village setup, a walk-thru-forest, carnival rides, and more! Other popular attractions include Lights at the Dallas Zoo, and Holiday at the Arboretum.
Why we love it: Dallas offers a beautiful Christmas experience during the holiday season. If you're looking for an enchanting holiday atmosphere or simply somewhere to escape the cold, you'll find it in Dallas!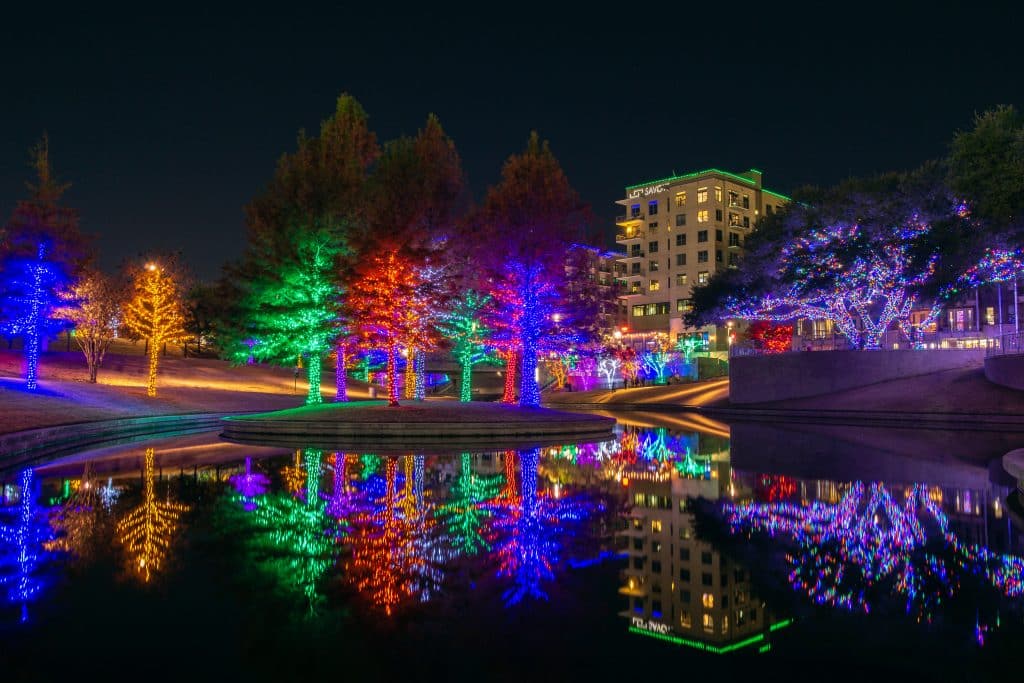 Atlanta, Georgia
While you probably won't have a white Christmas in Atlanta, that doesn't mean that you won't have a magical holiday. Atlanta offers everything from beautiful light displays, holiday festivals, local shopping and Christmas markets, and snow sports such as snow tubing!
Some of the best holiday activities include the Margaritaville's Lakeside Lights Spectacular at Lake Lanier, the Atlanta Christkindl Market, and a Stone Mountain Christmas at Snow Mountain Park. If you have little ones you might consider a visit to Garden Lights, Holiday Nights at the Atlanta Botanical Garden or stop and see Santa Claus at Atlantic Station!
Why we love it: Atlanta is rich in culture and celebrates many traditions. In addition to Christmas, there are also many activities and events to celebrate other cultures including Hanukkah and Kwanzaa.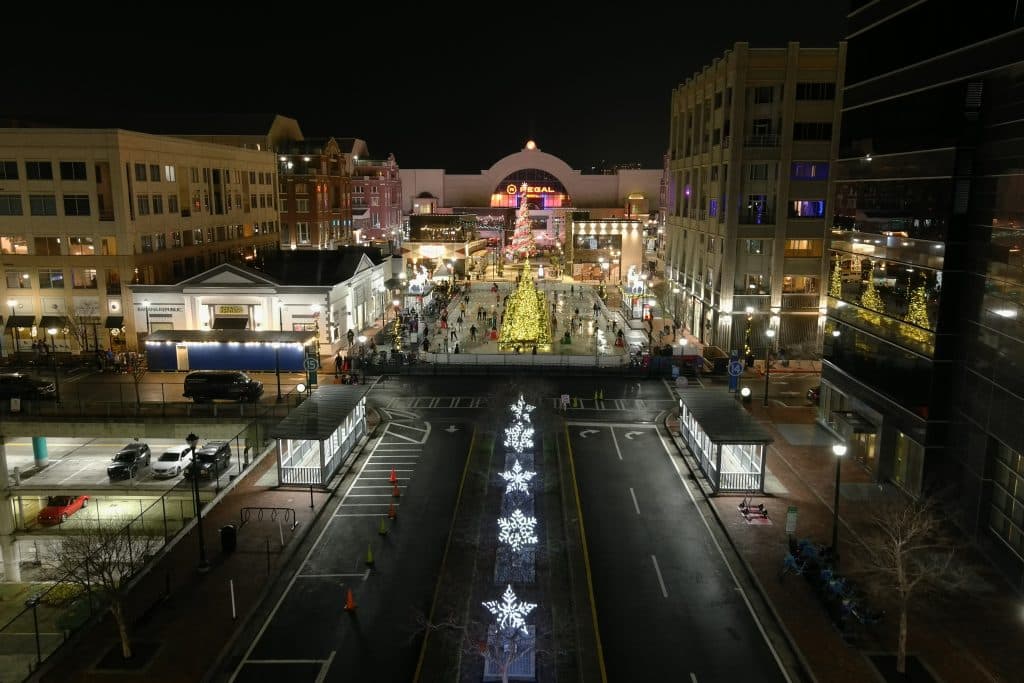 Louisville, Kentucky
Christmas is really big with the locals in Louisville and they truly are the ones that make it special! Between homeowners decorating their houses and the local events in the area, there is always something fun to make your holiday season unforgettable.
Popular activities in the area include Paristown's Fete De Noel (Festival of Christmas) where you can find ice skating, a local holiday market with sweets, treats, and local art and decor, you can even shop for your very own fresh Christmas tree! Other options include Lights Under Louisville at The Mega Caverns, Gardens Aglimmer at the Waterfront Botanical Gardens, or holiday meal at Christmas Morning Cafe,  a local Christmas-themed restaurant in Louisville!
Why we love it: Louisville brings that family friendly feel and a sense of camradarie that you won't get anywhere else! The city offers plenty of holiday spirit and festive fun for all to enjoy.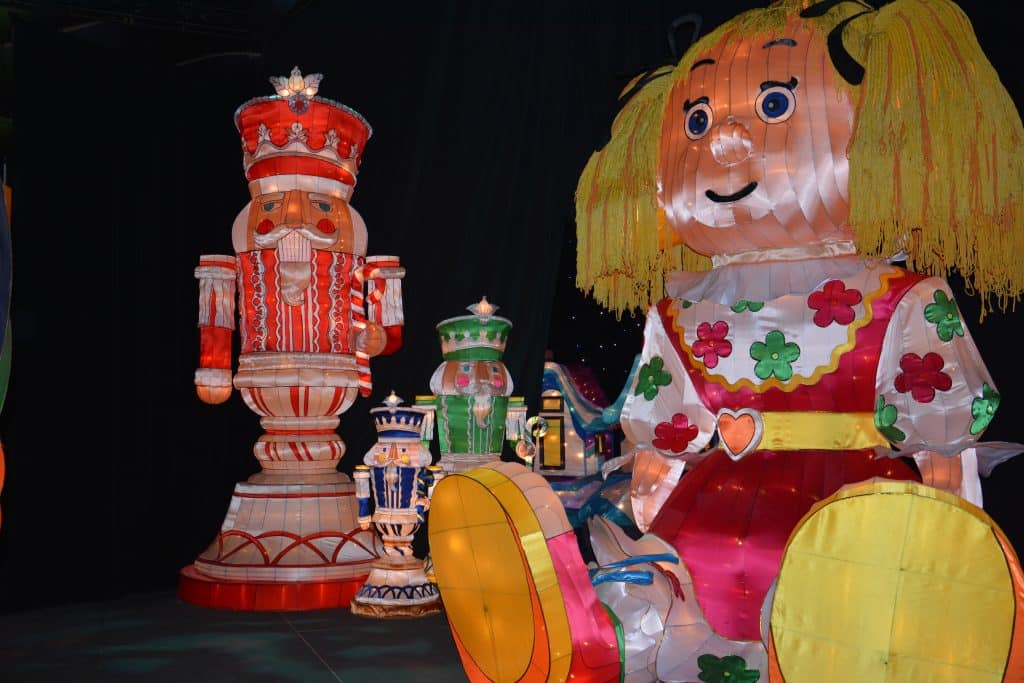 Bardstown, Kentucky
Another great town in Kentucky includes Bardstown! If you're looking for something a bit more quiet and that charming "small town" feel, Bardstown is the place for you. There are tree lightings, train rides, light displays, and candlelight tours so there is sure to be something for everyone in Bardstown.
The biggest draw in the town is the annual "Christmas 'Round Bardstown" festival which runs from mid-November through New Years. Here you will find a number of different activities and events to enjoy with your family and friends including a traditional dinner and a train ride on the Polar Express on the My Old Kentucky Dinner Train and Light Up Bardstown.
Why we love it: Bardstown is the perfect charming small town to spend your holiday season. Being in the south it is hard to find snow but Kentucky is one of the southern states that you just may find yourself with a White Christmas!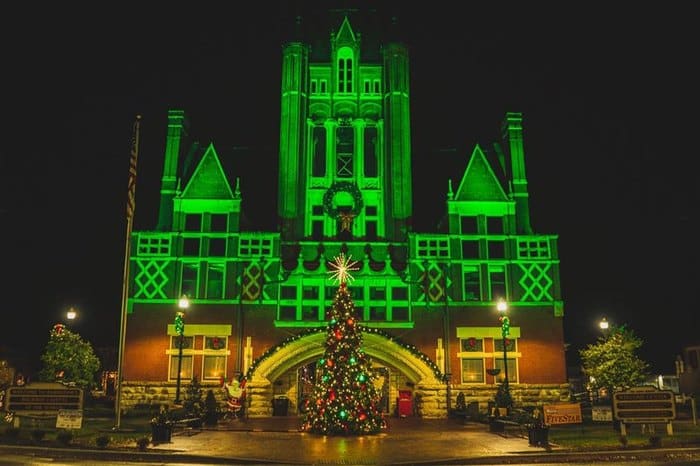 Orlando, Florida
What could be better than spending the most magical time of the year at the Most Magical Place on Earth? That's right folks! We're talking about Christmas at Disney World. One of the biggest draws to Orlando is the amusement parks in the area including Disney World and Universal Studios Orlando. During the holidays the parks offer special holiday events and decor including "Mickey's Very Merry Christmas Party".
Aside from the amusement parks, Orlando also offers a number of other holiday events and activities in the area including Dazzling Nights, Downtown for the Holidays, and Santa's Workshop Experience at ICON Park.
Why we love it: Orlando is so much fun and the perfect family friendly vacation spot. During the holiday season it is amplified to a whole new level and if you can find it in your budget, we highly recommend a visit to Orlando this Christmas!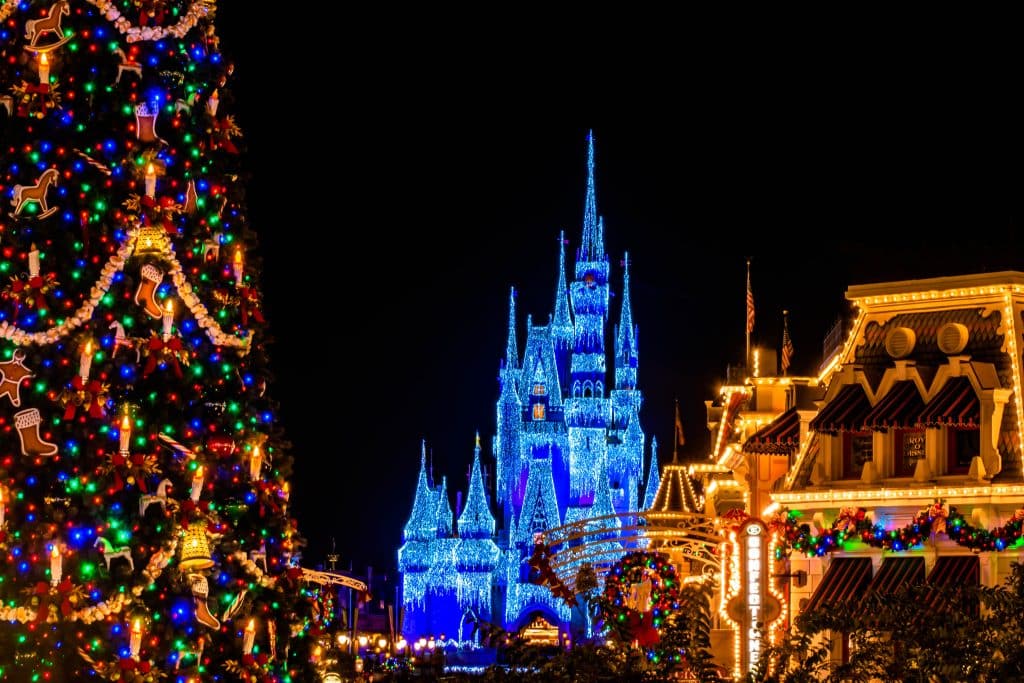 Leesburg, Virginia
Leesburg, Virginia offers so much rich history as you walk through the streets of the town. From beautiful boutiques to breweries and cafes, the town is picture perfect and makes for an excellent holiday destination.
Holidays in Leesburg are something special with the town lit up with festive lights and decor, storefronts and restaurants decking the halls for the season, and fun holiday events. Popular activities in the area include the annual Holiday Tree Lighting at Town Green, the Holiday Fine Arts and Crafts Show, and the Christmas and Holiday Parade!
Why we love it: Leesburg is rich in history and is in close proximity to our nation's capital, Washington D.C. so not only can you get that small town feel but a short drive to D.C. will give you the chance to see some bigger holiday events as well.
Helen, Georgia
I know that we've shared some other small towns on our list thus far but when it comes to small towns… Helen takes the trophy! Just a whopping two square miles in total, Helen, Georgia is a tiny town in Northern Georgia that packs a lot of Holiday spirit.
Don't let its size fool you, Helen holds more Christmas spirit than some of the biggest cities in Georgia! If I had to describe it, I would say that Helen during the holidays looks like the small Christmas towns inside of a snow globe. Popular events include a traditional Christkindlmarkt, the annual downtown holiday parade, and Breakfast with Santa at Unicoi State Park Lodge.
Why we love it: Helen is an absolutely beautiful town and they sure know how to do the holidays! If you're looking for a romantic getaway this holiday season, Helen would be the perfect destination.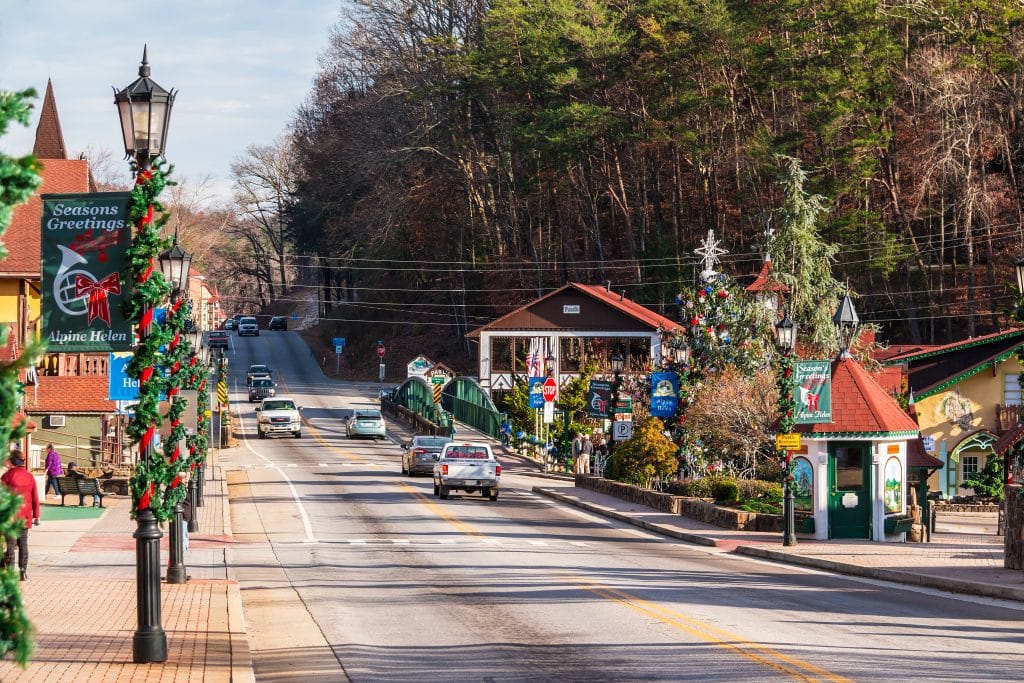 Natchitoches, Louisiana
Natchitoches, Louisiana is a small town in the South but they have earned quite the reputation for putting on an excellent Christmas celebration. Natchitoches knows how to put on a good holiday! From parades, decor, and antique stores… a visit to Natchitoches will leave you with an unforgettable Christmas vacation.
Some of the best activities and events that have allowed Natchitoches to earn its famed reputation include the Festival of Lights which runs from mid November through early January. The light display at the festival features over 300,000 twinkling lights, a boat parade, and a holiday market.
Why we love it: The city of Natchitoches has loved the holiday season and locals have evolved their traditions over time. The famous Christmas festival originally started as a single day event back in 1927 and has now evolved into the six week long extravaganza that it is today. You will not be sorry if you spend your holidays in Natchitoches!
Seaside, Florida
If you're looking for the perfect place to spend the holidays on the coast, Seaside, Florida is an excellent choice. From Thanksgiving Day through New Year's Day, Seaside transforms into a beautiful Winter Wonderland with holiday traditions and fun festivities for all.
Seaside is a great way to celebrate a traditional Christmas while escaping the bitter winter weather! Popular events and activities include the Turn on the Town event featuring the annual tree lighting ceremony and Countdown Seaside: A New Year's Eve Celebration.
Why we love it: Seaside keeps it traditional when it comes to the holidays and we find it to be the perfect coastal getaway for a Christmas vacation. Seaside is beautiful at any time but with the addition of festive decor and holiday magic, you won't want to leave!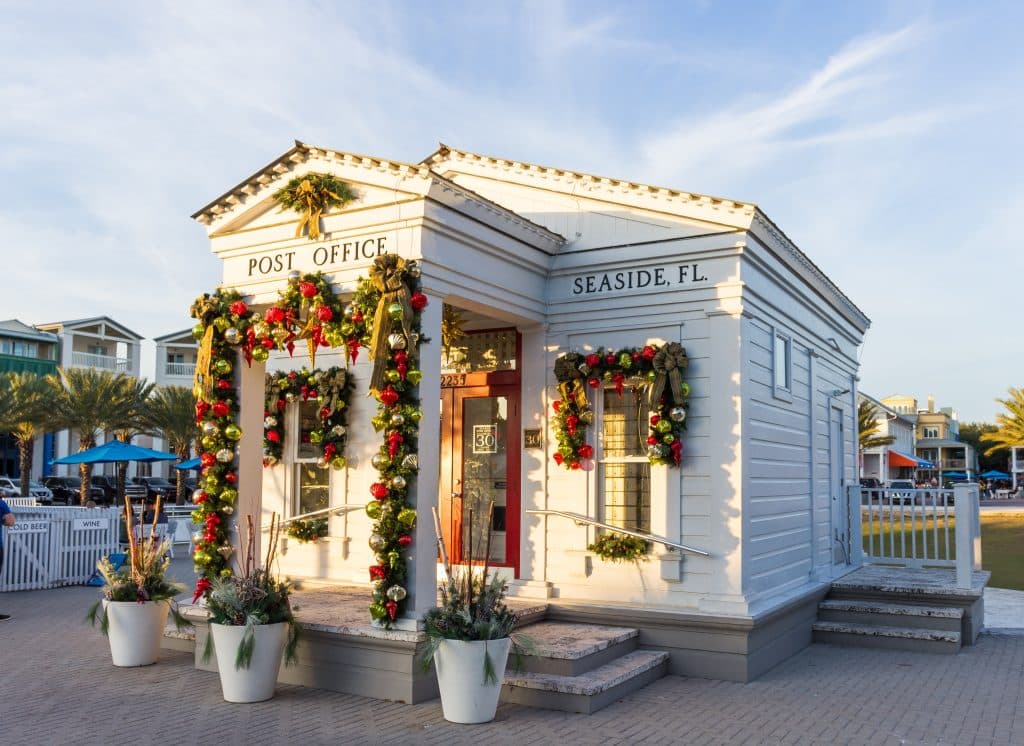 I hope this short list has provided you with some great ideas for a southern holiday vacation! These Christmas destinations in the south are charming and full of the holiday spirit.