Sometimes you just want a Christmas cookie that has it all, ya know? Gooey marshmallow, festive sprinkles and candies, a hint of peppermint, and a perfect chocolate base. These cookies are properly fun to make–they are infused with the Christmas spirit every step of the way. Reindeer smore cookies are perfect for a cookie exchange, gift giving, or just to have as a treat around the house. Get ready to start baking!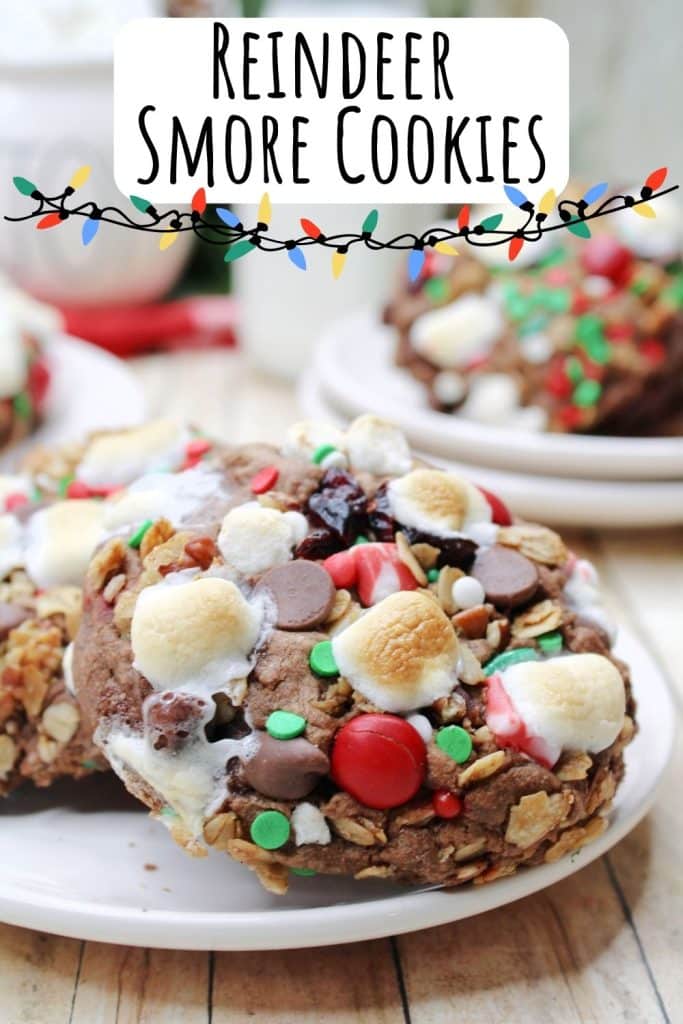 This post contains affiliate links.
Makes: 15 3.5 oz cookies
Prep time: 15 minutes
Bake time: 11 minutes
Decorate time: 15 minutes
Chocolate Cookie Ingredients:
2 cups unsalted sweet cream butter, cold, cut into cubes
2 cups brown sugar
1 cup sugar
4 large eggs
2 tsp chocolate extract
1 cup Hershey cocoa powder
2 cup cake flour
3 cup flour
2 tsp cornstarch
1 1⁄2 tsp baking soda
1 tsp kosher salt
1 cup granola
1 cup Christmas m&m's (you can decide whether you want the full size or minis–I prefer the minis for this)
1 cup Christmas sprinkles (choose what you like the look of–just don't have bits that are too big)
1 8 oz package of Nestle Toll House Peppermint Hot Cocoa Morsels (these are currently out of stock everywhere I can see–hopefully they'll make a return! In the meantime, change it up to Andes–peppermint crunch will give you a crunch instead of soft marshmallow or the creme de menthe will be more chocolate melty. Alternatively, if peppermint just isn't your thing, you can skip it altogether.)
3⁄4 cup dried cranberries
Topping:
3 cups mini marshmallows
2 cups granola
8 oz package of Nestle Toll House peppermint Hot Cocoa Morsels (see above)
1 cup Christmas sprinkles
**If you're curious, it's the granola that the reindeer love. **
Directions:
Preheat oven to 410 degrees and line two cookie sheets with a silicone baking mat.
Using a standing mixer, cream together the butter, brown sugar, and sugar for about 2 minutes or until light and fluffy
Beat in the eggs and the cocoa extract until combined.
Using a medium bowl, whisk together the flour, cake flour, cocoa, cornstarch, salt, and baking soda until combined.
Gradually mix in the dry ingredients into the wet until a soft dough has formed.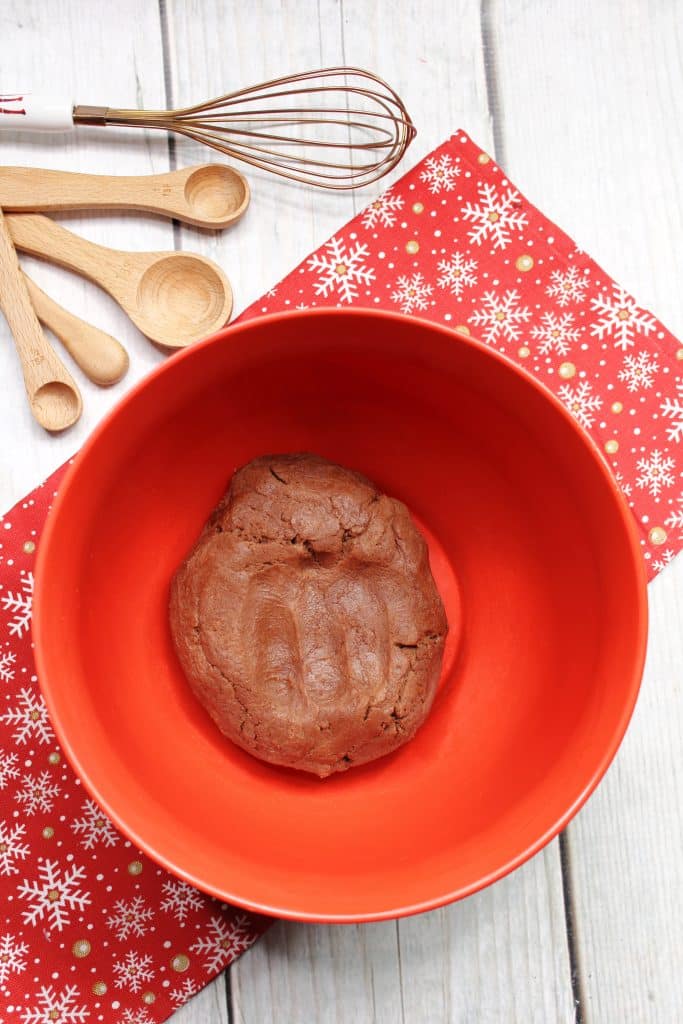 Gently fold in the granola, dried cranberries, m&m's, Christmas sprinkles, and the peppermint hot cocoa morsels.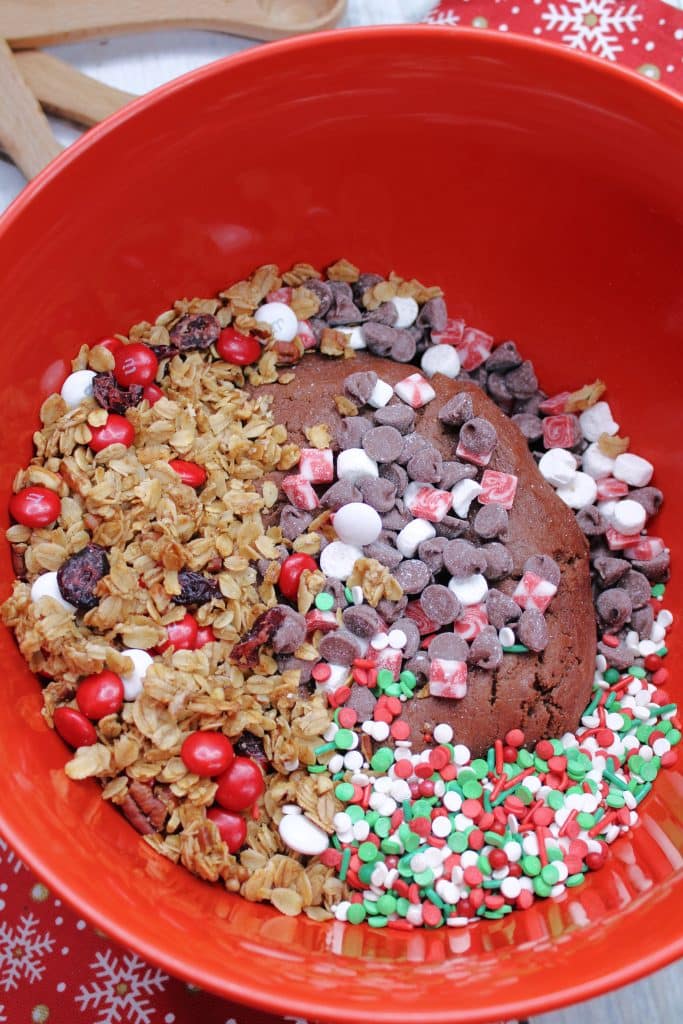 Using a large cookie scoop or spoon, scoop out a mound of dough and place it onto a kitchen scale. Preferably, your cookie dough ball should weigh about 3 – 3.5 oz
In a medium bowl, combine the mini marshmallows, granola, peppermint hot cocoa morsels and sprinkles.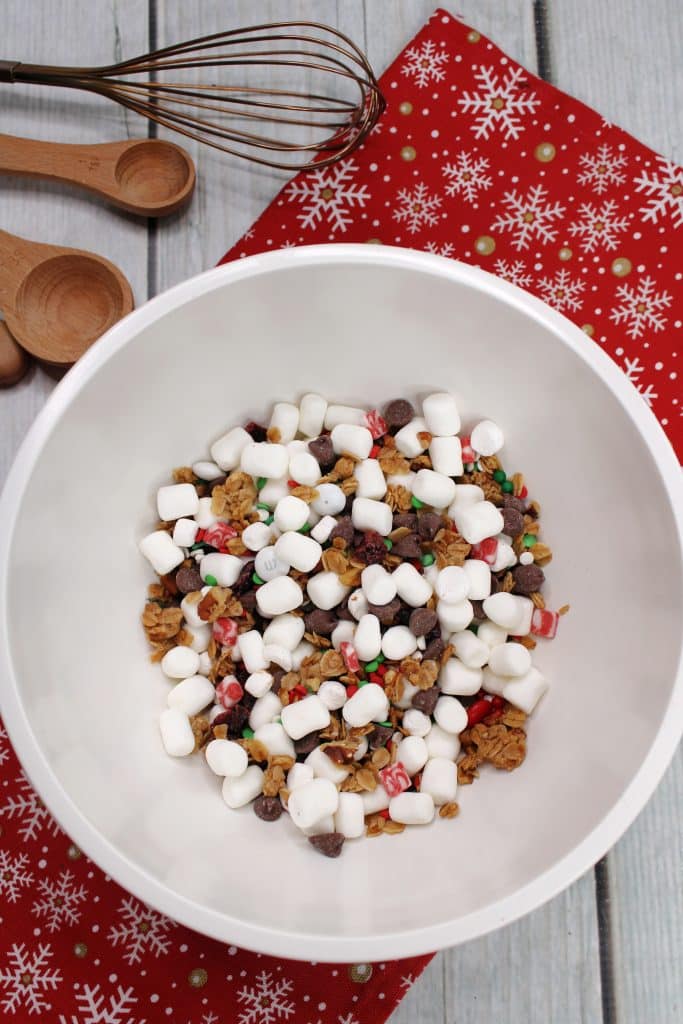 Roll your cookie dough ball into the mixture, making sure to completely coat the dough in the topping ingredients.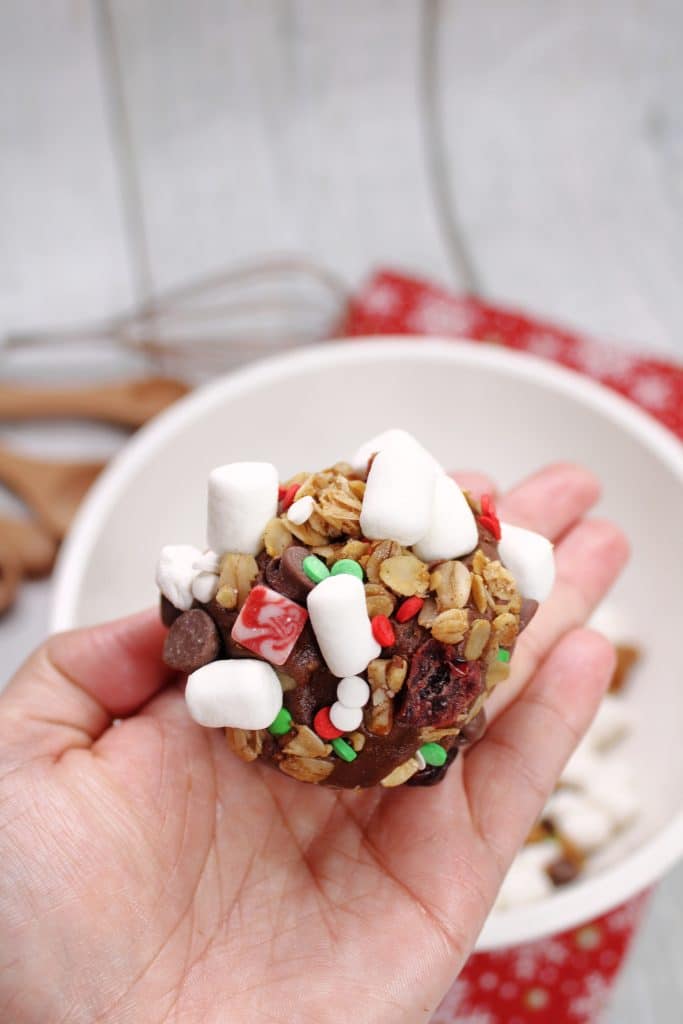 Place onto the cookie sheet and lightly press down but not to much.
Repeat the steps to make 5 more cookies.
Place the other 5 cookies onto the cookie sheet about 3-5 in apart in case of spreading. Bake in the oven for about 9 – 12 minutes or until the edges seem firm.
Remove and allow to cool for about 10 minutes before enjoying !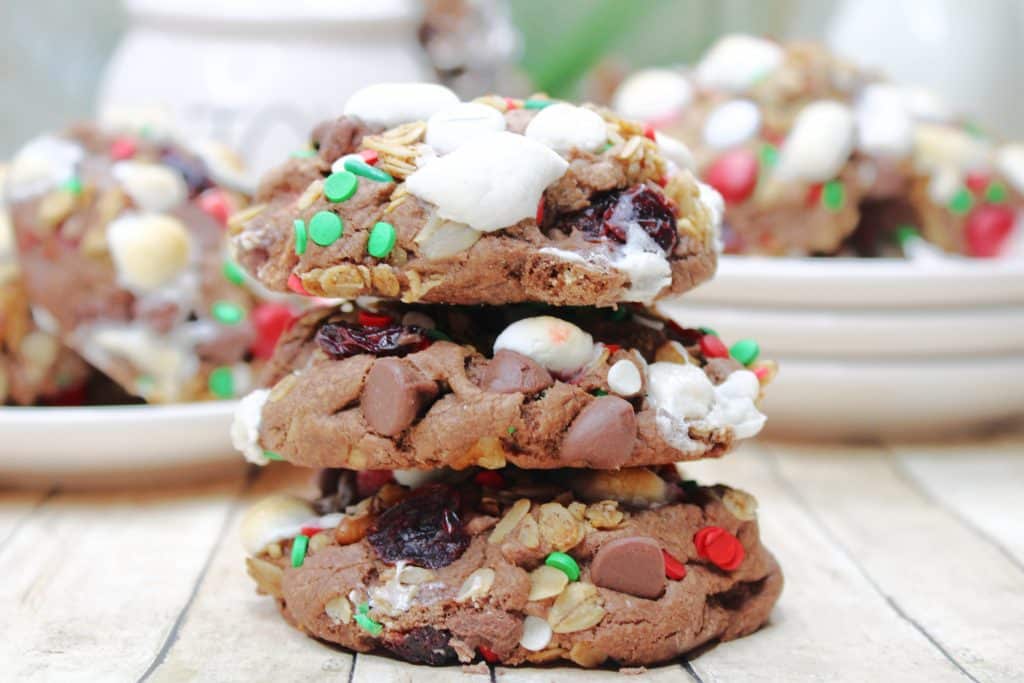 Expert Tips:
Ideally, you want to weigh your cookie dough so that the cookies come out the same shape and size and are cooked evenly.
That said, if you want to eyeball it you can. Just know that cooking times may vary.
If you don't have cake flour on hand, you can substitute it for all-purpose flour. However, know that it will change the texture slightly and your reindeer cookies won't be as light and fluffy.
Make sure not to over-mix your cookie batter. Mix it all until just combined.
Try to place the reindeer cookies onto the cookie sheet about 3-5 in apart. They do spread a bit, and this prevents them from turning into one big blob.
Let the cookies cool for at least ten minutes so that they don't fall apart as you take them off the cooling rack.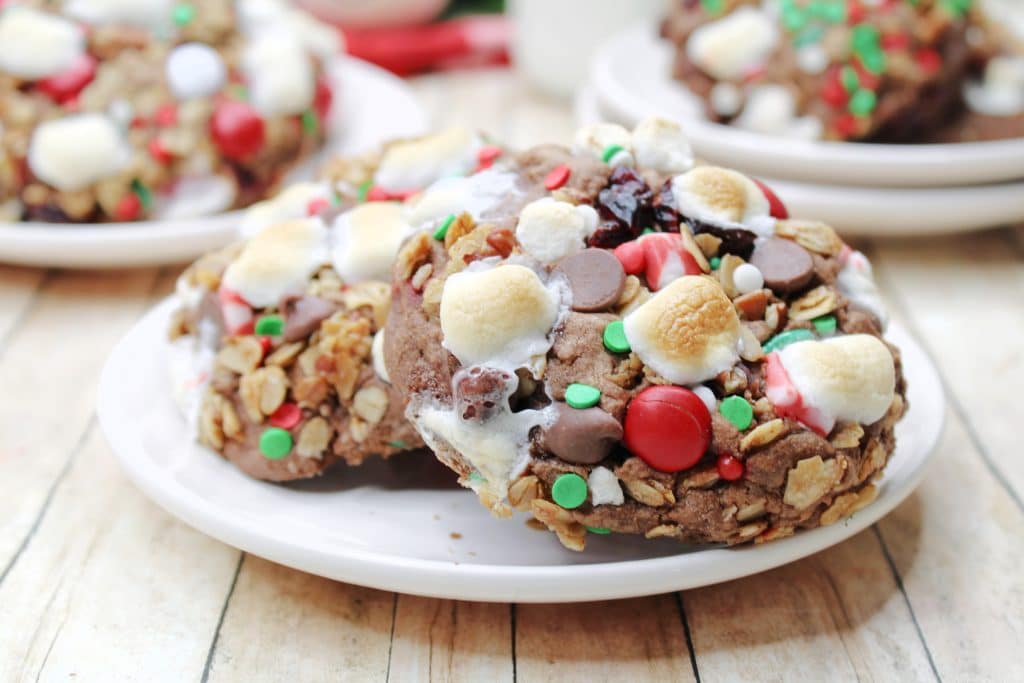 Topping The Cookies:
The best part about these reindeer s'more cookies is that they're rolled in a delicious, crunchy topping!
However, know that you can customize that a bit by adding in your favorites or what you have on hand.
Swap out dried cranberries for another dried fruit. Use mini chocolate chips in place of M&M's if you run out.
You could even drizzle the cooked cookies with a quick chocolate sauce if you want to really wow people!
Frequently Asked Questions About Reindeer Smore Cookies:
How do you store s'more cookies?
If you're planning to eat the cookies quickly, store them in a sealed container and let them sit on the counter. However, if you plan on having them around for a while, store them in the fridge in an airtight container. From the fridge, either let them sit at room temperature before eating them or heat them up every so lightly in the oven on warm for a few minutes.
If you're gifting the cookies, try any of these containers from my Amazon storefront!
Did you know you can see real reindeer in Scotland?? This is where to feed reindeer in Scotland!