Scotland will always hold such a special place in my heart and there's still so much I haven't gotten to do. Luckily, I can read about the places I missed when we lived there so I can start planning a visit back. I barely set foot on the Isle of Skye, so it's fantastic that Georgie Mack of Journey with Georgie is here to tell us everything you need to know about visiting the Isle of Skye.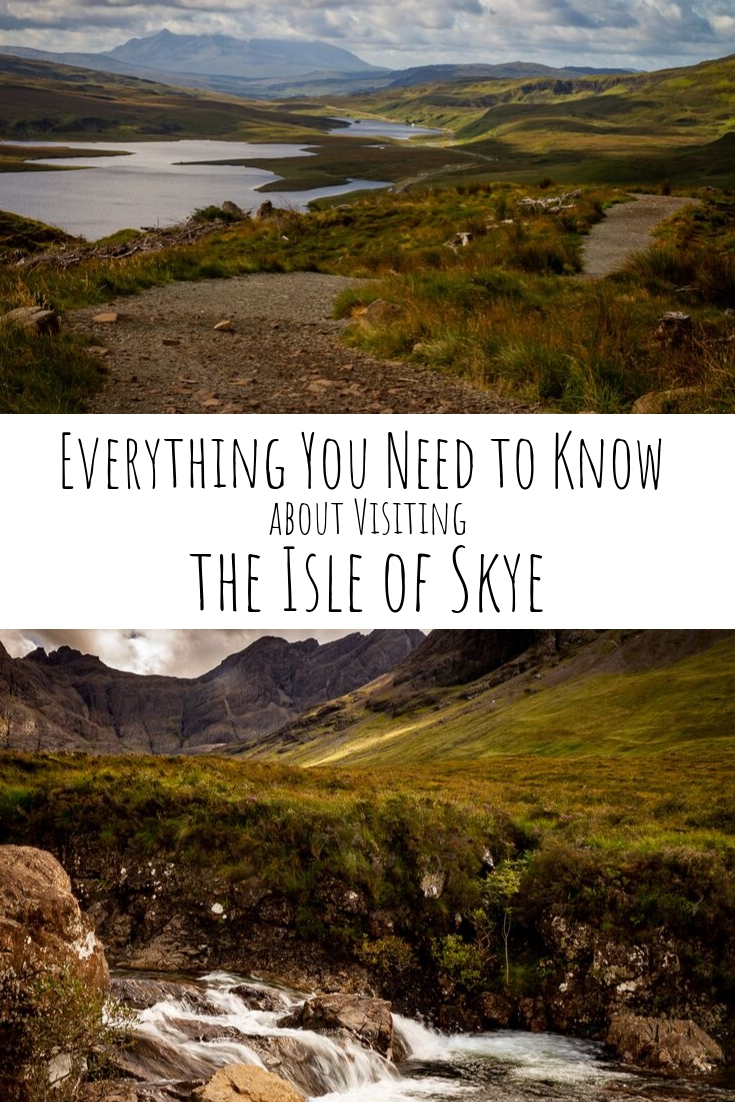 Isle of Skye
The beautiful Isle of Skye in Scotland is a truly magical place. After driving through the winding roads of the Scottish Highlands, cross the bridge and find yourself in a wild and untamed landscape. Lochs carve their way through staggering peaks, while Highlander hospitality is alive and well (especially in the friendly pubs).
Whether your idea of the perfect visit to Skye is sipping a peaty whisky in an old distillery or conquering the island's best hikes – or, as I recommend, both – you're sure to fall as madly in love with Skye as I did.
Basic information about visiting the Isle of Skye
The Isle of Skye is one of the most visited tourist destinations in the United Kingdom. As such, it's well set up for tourism and very easy to travel around. That said, here are a few tips and tricks to help you make the most of your time in this enchanting place.
How to get to the Isle of Skye
Skye is located just off the north west coast of Scotland. The closest city is Inverness, about two hours away – however many visitors instead arrive on the Isle of Skye from Edinburgh (5½ hours) or Glasgow (5 hours).
The easiest way to get to Skye is to self-drive. The Isle of Skye is connected to the mainland by a bridge, and the road conditions are good if a little windy. If you can, exploring the Isle of Skye in a campervan is a good choice, as you are allowed to free camp nearly anywhere on the island.
The other main way to get to Skye is to take an organised tour. This is my preferred option if you don't have access to your own vehicle. There are lots available from Edinburgh, Glasgow or Inverness, and there are a lot available.
Although it is technically possible, I don't recommend visiting the Isle of Skye on public transport. It is inefficient and expensive, and you will find yourself quite stuck once you get to Skye's "capital" of Portree.
When is the best time to visit the Isle of Skye?
I'm usually all for recommending a destination in the off-season, but I have to agree that summer is the best time to visit the Isle of Skye. The island is stunningly green, even in the summer, thanks to its generous annual rainfall.
While the rainfall might be great for the plant life, it's not so great for getting out and about. Since Skye is such a place of natural beauty, it would be a shame to fight against rainstorms, freezing cold, fog and just a few hours of light every day.
Of course, a visit to Skye at any time is better than no visit at all – but if you can swing it, I recommend aiming for May to September.
How long should you spend on the Isle of Skye?
Answer: how long do you have? While it's possible to spend a day on the Isle of Skye, it's really only enough to hit the main highlights. Every extra day will give you more of a chance to explore the island slowly and get off the beaten path. You could spend up to a leisurely week on the Isle of Skye, especially if you're a hiker, although I think 3 days would be perfect.
Other essentials
A few other tips about visiting the Isle of Skye. English is spoken absolutely everywhere, however don't be surprised if you hear some Gaelic. About 30% of Skye's permanent residents speak the traditional language, and most signs are translated into Gaelic.
The Isle of Skye, like Scotland, use the GBP. One thing I wasn't aware of (despite living in England) was that there is actually some difference between Scottish Pounds and English Pounds. It's easy to use English Pounds in Scotland, however you may have some difficulty getting Scottish Pounds accepted in England.
Most unmissable sights on the Isle of Skye
There are many amazing things to do on the Isle of Skye – here are my favourites.
Old Man of Storr
My personal highlight of visiting the Isle of Skye was climbing the Old Man of Storr. It's probably the island's most famous hike, and you get some seriously exceptional views back down over the landscape. That said, I have heard that when it is foggy the views are almost non-existent, unfortunately. So, cross your fingers for sunshine!
The hike is pretty easy, although it's best to wear some sturdy shoes as parts of it are uneven. In total, it takes about 1.5 hours to 2 hours, depending on how much time you spend taking photos!
Kilt Rock
Another great stop on the Isle of Skye is to Kilt Rock and Mealt Falls. As you can probably guess from the name, this landmark is most famous for looking like Scotland's most famous item of clothing – the kilt! It's a very unique and beautiful coastline.
Adding to the beauty is the nearby Mealt Falls. They are a tall vertical drop and very powerful, making it all very impressive. I hear they're especially amazing just after it's rained (which, let's face it, is most of the time on the Isle of Skye!)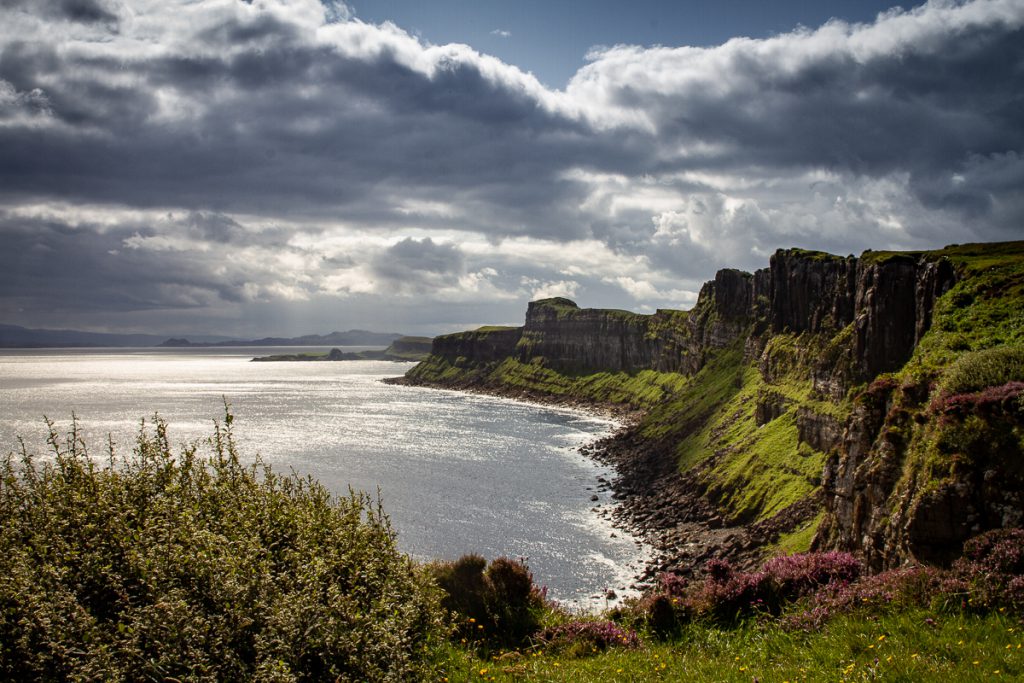 Talisker Whisky
You can't leave Scotland without trying some Scottish Whisky (there's no 'e' here!). The highlands are one of Scotland's most famous whisky regions, and a tour of a distillery on the Isle of Skye is a must.
There are only two distilleries on the island, and the most famous and best established is Talisker. Talisker is famous for its heavily peated whisky (that gives it a smoky and earthy flavour). Even if you're not a big whisky fan, it's still fascinating to see the production process – and a sip of Scotch whisky is the perfect way to warm up!
Explore Portree
The largest town on the Isle of Skye is not really very large at all, clocking in at just under 2,500 people. However, it is a totally charming place to visit and there are also a few great pubs and bars if you're craving a bit of nightlife.
The harbour area is well worth a look, while the little high street is quaint and beautiful. My personal highlight of Portree was McKenzie's Bakery where you can get some indulgent pastries (like pancakes, or a mac 'n' cheese pie) at very affordable prices.
Fairy Pools
Another must-see attraction on the Isle of Skye is the stunning Fairy Pools. This is one of the most famous things to do on Skye, and it's not hard to see why. It's an inter-connected system of pools and falls, which looks downright magical – especially in the nice weather.
The Fairy Pools are easy to access, although you do need to cross some stepping stones over some ponds, so wear enclosed shoes! One tip for any of the photographer's out there: I highly recommend bringing a ND Filter (or at least a CPL) to get some creative long exposure shots!
Eilean Donan Castle
Alright, so this one is technically not on Skye however you're almost guaranteed to go past it when driving from the mainland across to the Isle of Skye. The gorgeous Eilean Donan Castle is one of the United Kingdom's most famous castles, and the most photographed one in all of Scotland.
It originally dates back from the 14th century, but it was blown up during the Jacobite Uprisings. It remained in a near ruined state until the early 1900s, when it was sympathetically restored. It boasts a gorgeous location, and you can also tour the inside to get an idea of castle life.
Bio:
Georgie Mack is an Australian travel blogger currently living in England. She loves travel that's good for your wallet and good for the earth. You can follow her adventures in travelling and wine drinking at Journey with Georgie or on Instagram at @journeywithgeorgie