This post contains affiliate links.
Are you feeling the winter blues? Julep is back with some fresh tutorials for Valentine's Day Nail Art! These looks are perfect for Valentine's Day and will be sure sweeten your week. The nail designs below all use the same three Julep polishes and the Julep Plie Wand Creativity Kit.  Save 20% off at Julep.com and score this nail art kit and any of these polishes with code LETSGET20. Remember to extend the life of your lovely new manicure with a top coat!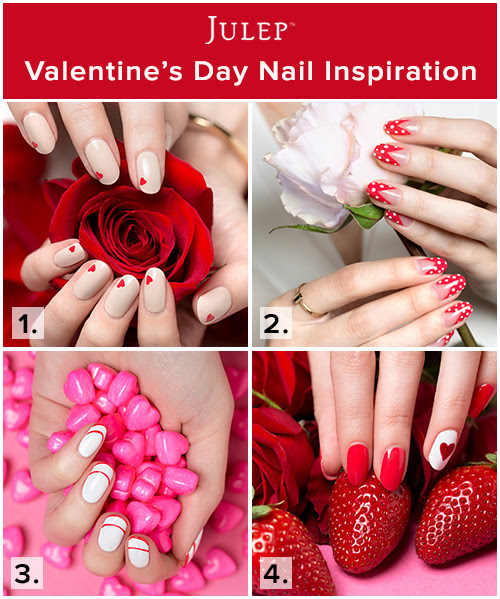 1. Mini hearts: Use two coats of Florence, a classic camel crème polish. Let dry, then use a toothpick or the dotting tool in the Creativity Kit to make the heart with Shawn, a poppy pink polish. First make two dots, then add the bottom triangle of the heart.
2. Dots with Naked Nail: Start with a clear base coat. Create the naked naked look by cutting out a V-shape out of scotch tape and sticking it on your nail. Use Shawn, our poppy polish, to fill in around the nail around the tape. Let dry, then use the Creativity Kit dotting tool or a toothpick to make white dots using Brigitte. 
3. French Stripes: Apply two coats of Brigitte, a white crème polish, to all nails and let dry. Then, using the striping tool in the Creativity Kit or a toothpick to add your stripes. I always use scotch tape to help make guidelines for my lines, or else they often get squiggly!
4. Heart Accent Nail: On four nails, use two coats of Shawn, a poppy crème polish. Apply two coats of Brigitte, a white crème polish, to your accent nail. Let dry. Then, with a tooth pick or Creativity Kit add the heart on white nail, starting with two dots and then filling in the rest of the heart. 
Are you a polish lover? Then you should try the Julep beauty box! You can get a box of gorgeous and good-for-you beauty, skin, or nail products delivered to your door every month.  Get your Valentine's Day beauty box today, featuring the poppy polish used in these nail looks, for 50% off! Join today! Use code XOXOXO to get 50% off your first box.