Agatha Christie (15 September 1890 – 12 January 1976), wrote 80 mystery novels and numerous plays and short stories. Her works and detective novels have sold over two billion copies in 45 languages. In the English language, she is outsold only by Shakespeare and the Bible. Her books have been turned into numerous movies and television series–everyone has a favorite Poirot and Miss Marple! She is also one of my favorite authors and I regularly reread her books. This article will give a brief overview of the life of Agatha Christie and what I personally consider to be the best Agatha Christie books.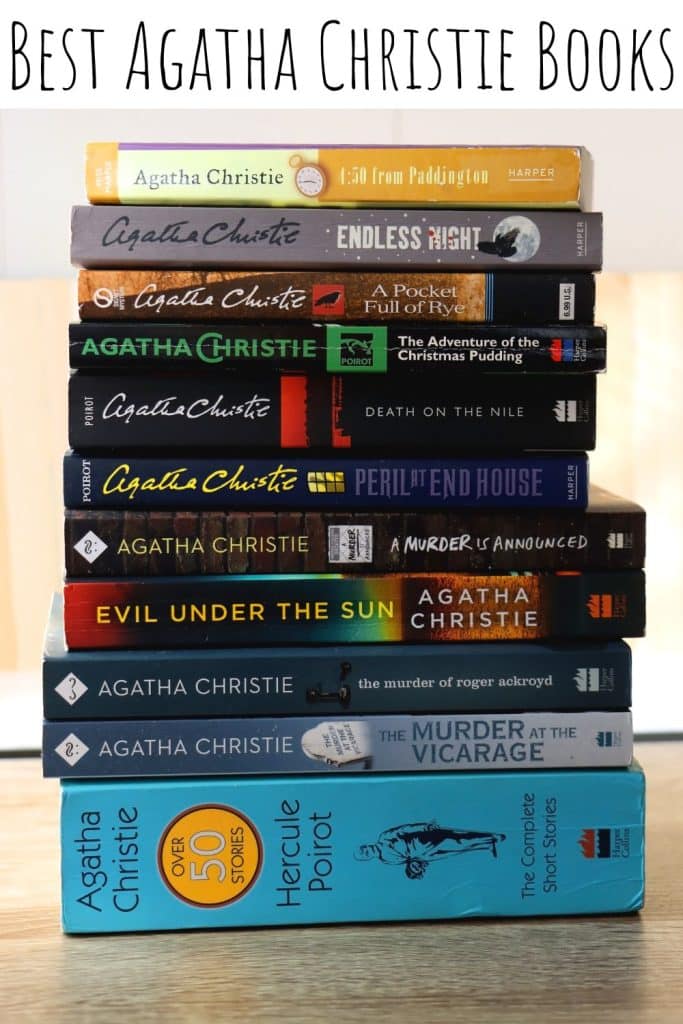 This post contains affiliate links.
Early Years
Agatha Christie, the queen of mystery, was born Agatha May Clarissa Miller in Torquay, Devonshire, England in 1890, the third child of a British mother and American father. Her family was "well-off" and the Miller children were schooled at home. Her mother encouraged Agatha's writing from an early age.
During the War
Agatha married WWI aviator Archibald Christie in 1914 when she was 24 years old. While he was away at war, Agatha worked as a nurse and as a pharmacy assistant. Many of her later mystery novels include deaths by poison, information she most likely gained from her work at the pharmacy.
The Christies had one child, Rosalind Hicks, who was born in 1919.
Divorce and Remarriage
Agatha Christie was briefly the star of her own mystery when, in 1926, she disappeared for several days, causing a frenzy of press speculations. She was eventually found in a hotel in Harrogate and claimed to have no recollection of her departure. At the time, Christie was suffering from the recent death of her mother as well as her husband's announcement of his infidelity and intention to divorce her. While this mystery was never fully explained, Dr Who has a theory in the episode titled
The Unicorn and the Wasp
and I think it's completely plausible.
Agatha Christie was remarried in 1930 to archeologist Max Mallowan, who was 14 years her junior. Christie's novels, such as
Death on the Nile
and
Murder in Mesopotamia
, began featuring Egyptian and middle eastern themes around this period.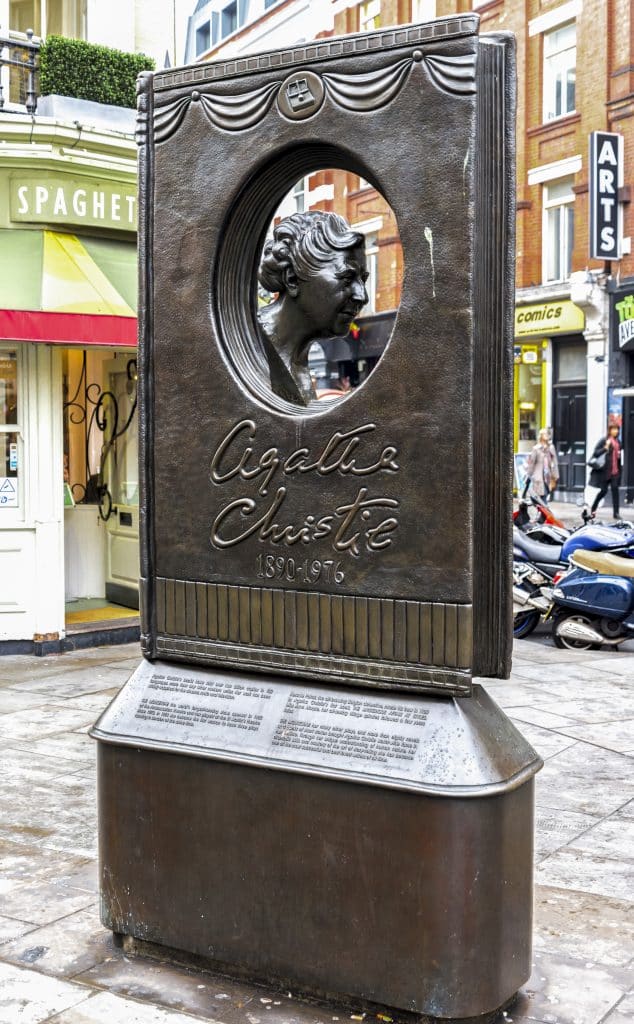 Christie's Writing
Agatha Christie wrote her first mystery novel,
The Mysterious Affair at Styles
, while she was working in the hospital but it was not published until after the war in 1920. She continued to write regularly until her death in 1976.
Christie is best known for her characters. Chief among these is Hercule Poirot, a meticulous Belgian former police inspector, notable for his "egg-shaped head" and "glorious mustaches." Poirot is introduced in Christie's first novel and is featured in 29 others, including
Murder on the Orient Express
, Death on the Nile,
The Murder of Roger Ackroyd
, and his last case,
Curtain
. In some of her later Poirot novels, Christie pokes fun at herself for choosing a Belgian detective with a lot of quirks through the author character Ariadne Oliver, whose main character is Finnish detective Sven Hjerson, a vegetarian. Christie also uses Oliver to call out mistakes in her earlier writing, such as the incorrect length of the blowpipe in
Death in the Clouds
.
My favorite Poirot is David Suchet (of course!) who not only starred in the long-running television series but narrated many of the audiobooks (along with Hugh Fraser, his Captain Hastings). One of the
free things to do in London
that I recommend is seeking out favorite film and tv settings, such as the apartment building that served as Poirot's Whitehaven Mansions.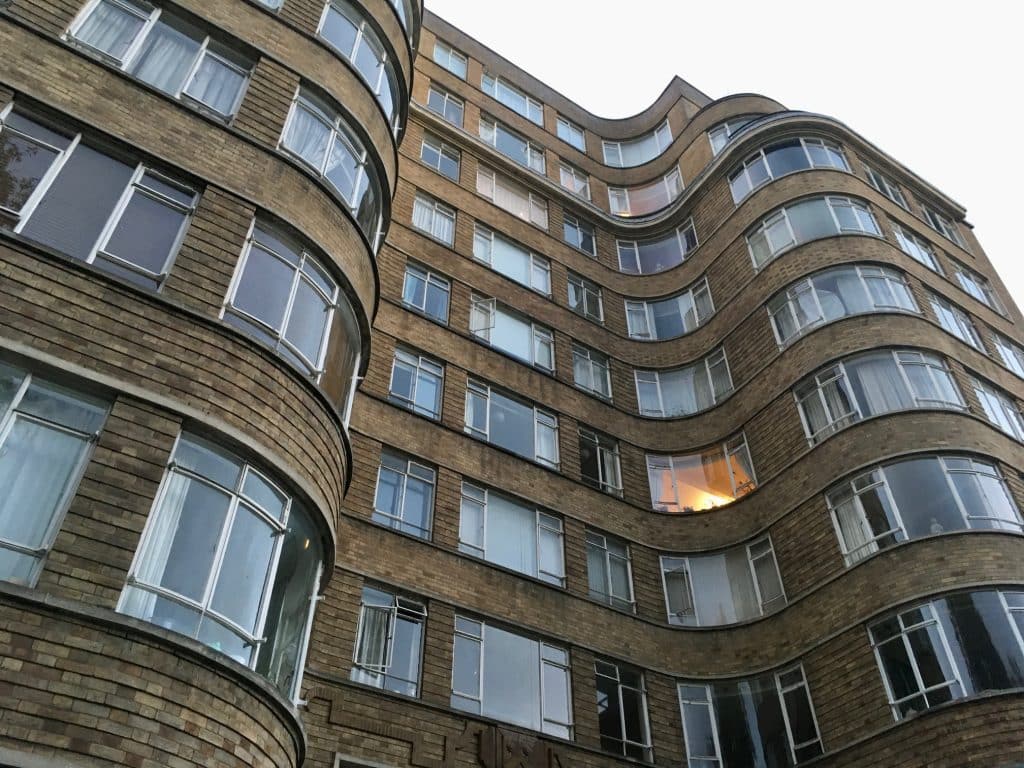 Christie's other main character is Miss Jane Marple, an elderly and unassuming woman — something of an antithesis to Poirot. Unlike Poirot, Miss Marple uses her knowledge of human behavior to solve crimes. Miss Marple is featured in 12 of Christie's novels.
Her Legacy And The Best Agatha Christie Novels
Christie's novels have sold over two billion copies in 45 languages. Unlike many of her popular contemporaries, such as Mary Roberts Rinehart and Ngaio Marsh, Christie's novels are, for the most part, as current today as they were when they were written. Among her plots are some of the most singular of the mystery genre. The Murder of Roger Ackroyd,
And Then There Were None
, and
Witness for the Prosecution
all contain ground-breaking plot twists that have been copied but never duplicated.
For her contribution to British letters, Ms. Christie was named a Dame of the British Empire in 1971 by Queen Elizabeth.
Agatha Christie is a master of the mystery genre, with the culprit always being the least likely suspect and red herrings galore. Many of her stories are set in a typical English cozy mystery setting, a small village or large family estate where everyone has something to hide. But some of her stories are set in the Middle East or Egypt, featuring familiar English characters and behavior juxtaposed against the glamour of an exotic locale. She also liked to utilize closed locations, a place such as an island or train where a murder occurs and one of a small group of people must have done it.
With her over eighty novels and short story collections, she created some of literature's most popular detectives. But some of her best work didn't feature the familiar sleuthing of Hercule Poirot or Miss Marple. Her solo later novels may not have familiar characters, but they do have the familiar Christie tropes of a closed group of suspects, red herrings, and the least likely person being the murderer.
One of Christie's most popular mysteries and one of the best crime novels ever written, this murder mystery has been filmed multiple times in television adaptations. This was the first Agatha Christie book I read and I was hooked from the start. Ten people receive an invitation from an unknown host to visit a small private island. Upon arriving, instead of a host they find a record accusing each one of them of getting away with murder. After this unnerving welcome, the guests begin to be murdered themselves, each in a manner following the children's rhyme Ten Little Indians (the original name for the novel). The murderer must be one of them, but the list of suspects gets shorter and shorter as the murders pile up.
Several of Dame Agatha Christie's mystery books takes place in the Middle East, but this is the only one that actually takes place in ancient Egypt. It was no doubt inspired by Christie's love for archeology and ancient cultures. The wealthy farmer-priest Imhotep takes a new concubine, Nofret, and his children immediately dislike her. Nofret realizes this, but after getting Imhotep to disinherit his children she is found murdered. This plot utilizes a Christie favorite, a murder in a big family and everyone is a suspect, but by setting it in ancient Egypt she was able to give it a vastly different ambiance from the usual Christie mystery.
Christie herself has said that this was one of her favorite mystery books. When a wealthy patriarch is murdered, his entire family, who all live with him in his "little crooked house", are suspected. But Aristide Leonides was loved by his family and generous to them, and no one had a real motive for murder. Everyone is hoping that it was his young second wife, not because they really believe she did it but because then the crime could be blamed on an outsider. But she as well as everyone else has an alibi for his poisoning. There are a few more disturbing occurrences before the family discovers the motive and the murderer.
Another Christie favorite, this book also features a family in which everyone is suspected of killing a parent. When Mrs. Argyll was murdered, everyone suspected her disturbed son Jacko, who was quickly tried and executed. Two years later, however, a scientist just returning from Antarctica explains that he was the alibi Jacko claimed he had and that this son couldn't possibly have murdered his mother. But the family quickly realizes that this means that the killer is still amongst them. There's one more murder before the family discovers who really killed Mrs. Argyll.
This is perhaps Agatha Christie's best known work. Featuring Hercule Poirot, Murder on the Orient Express follows the unraveling of a murder done in the compartment of the luxurious train. It was first published on January 1, 1934, by the Collins Crime Club in the United Kingdom and in the United States later that year by Dodd, Mead and Company under the title Murder in the Calais Coach.
Returning from an important case in Palestine, Poirot is able to secure a berth on
the Orient Express
in Constantinople through his friend, M. Bouc (a director of the Compagnie Internationale des Wagons-Lits), as the train is unusually crowded. When a passenger, Mr. Harris, fails to show up, Poirot gets the seat and on the second night, he gets the whole compartment to himself.
While traveling, he learns that the train has stopped due to a snowstorm and that Mrs. Hubbard claims that someone was in her room. Later into the night, he sees someone wearing a scarlet kimono retreating in the distance. The next morning, Poirot comes to find out that Ratchett, a rude passenger, is dead and has been stabbed 12 times during his sleep. By the suggestion of M. Bouc, Poirot investigates the case. What ensues is the genius masterful deduction of who had killed Ratchett. The mysteriousness of the suspicious death and the circumstances of the crime scene lead Poirot in different directions and in the end he arrives at two different possible scenarios, which he presents to the passengers.
The Continuing Appeal of the Agatha Christie Mystery Books
Many of Agatha Christie's best books, such as Crooked House and Ordeal by Innocence, are "cozy mysteries," murder mysteries and detective fiction set in small, cozy village settings where a handful of people are suspects. But she also wrote many other types of mysteries, such as espionage thrillers and murders in retrospect. A great factor in Agatha Christie's widespread and longstanding appeal is her talent for writing different kinds of mystery and detective stories to satisfy a wide audience. I think that she is the best mystery writers of all time and it's probably clear that while I do have favorites, I love all of her books. I've watched nearly every big and small screen version of her works and regularly listen to the audiobooks while I'm working.
There has been a push in recent years to both rename and edit some of her books due to modern day sensitivities. I am completely against this practice–it is another form of censorship. Keeping in mind when and where the books were written, the characters themselves, and that learning is such a massive part of why we read, just leave them alone. Absolutely discuss them–and I often have in various literature courses I've taken, but never change an author's work.