Best American Road Trips for Families
Like many Americans, I grew up with road trips as my main source of travel. I learned at a young age how to watch the scenery go by as we drove for twelve hours straight. We haven't gone on nearly as many road trips as I would like in recent years–it's just seemed easier in all ways to fly. I think the idea of the great American road trip is coming back, though, as we try to slow down and explore places more in depth. One of the best American road trips for families is the iconic Route 66 and if you want a taste of classic American travel all you need to do is pack up the kids, get behind the wheel, and take drive.

Route 66
This beautiful stretch of highway has been dubbed the Mother Road, or the Main street of America. Route 66 stretches 2,448 miles from Chicago, Illinois to Santa Monica in Los Angeles, California. This is the most iconic road and one of the first in the US highway system. It traverses Illinois, Missouri, Kansas, Oklahoma Texas, New Mexico, Arizona, and California. There are numerous historic stops along the way that are sure to please everyone in the family and make for some classic photo opportunities.
Illinois and Missouri
In Illinois, stop to see the murals on mainstreet. Illinois is home to the longest operating gas station along the route located in Dwight, Illinois, and Becky's Barn in Auburn, which is on the only part of the route that has a road made of brick. Don't forget to visit the state capital and Lincoln house. Heading west to Missouri, make sure you stop for a great photo opp at the St. Louis Gateway Arch. Nearby the Arch, you can walk the cobblestone streets at Laclede's Landing. Another fantastic stop that is sure to make everyone happy and only about an hour west of St.Louis, is Meramec Caverns. Check out more info on the Meramec Caverns website.
Kansas
Do your kids love the movie Cars? If so, Kansas is where you will want to stop. Only 13 or so miles of Route 66 are in Kansas but within those miles you can find the town that is the inspiration for Radiator Springs. While you're there, you may even get a glimpse the real Tow Mater sitting on the side of Main Street! Kansas is loaded with history and excitement.
Oklahoma
You aren't in Kansas anymore, Dorothy! Heading Southwest into Oklahoma, you will find the Beckham County Courthouse, famous for its appearance in the movie Grapes of Wrath, and that famous Blue Whale in Catoosa. The Blue Whale is known for being a swimming and fishing hole and a nice place to take a break on long trips. Swimming is no longer allowed, but there is still plenty to do for kids of all ages.
Texas
Everything is bigger in Texas, so let's head there next! Route 66 runs through the panhandle of Texas. Traveling through Texas on Route 66, you will go through 19 towns. That's right, 19! There are plenty of unique and interesting attractions in each one.
In Shamrock, stop and see the Conoco Tower Station and the U-Drop Inn Cafe. The Buggy Ranch in Conway and the more famous Cadillac Ranch in Bushand are both worth a visit, too. Texas' stretch of Route 66 has so much to do, you could spend weeks just in this state alone! There is the historic Vega motel in Vega, Tx, Historic 6th street in Amarillo, MidPoint Cafe in Adrian, and more. Whew, there is a ton to do here in this big ole state. Head over to Texas discover its hidden secrets, and get your kicks on Route 66!
New Mexico
Texas was well…Texas. Moving west we find Sky City, a Native American village located on the top of a 350+ foot sandstone mesa. The views from the top are amazing. About 50 or so people still live there so you can observe traditional art work and witness their culture. Next attend a ghost tour at night! In downtown Albuquerque you can attend a history and ghost tour starting around 8:30 p.m. There is an auto museum in Santa Rosa and in Tucumcari you can see the Blue Swan Hotel, the route 66 museum and a Concrete Sombrero.
Arizona
Like Texas and New Mexico, Arizona has a lot of history surrounding the "Mother Road". There are a ton of places to visit and lots to see here. The first stop on your route coming from New Mexico is the Petrified Forest. This is one of the national parks that can be accessed from Route 66. This majestic park is only 50 miles from the New Mexico border and is the only state park that historic Route 66 goes through. While you're there, check out the animated dinosaurs at Stewart's Petrified Wood Shop. Check out the amazing Grand Canyon while you are there, too. While it's not technically on Route 66, it's close enough to merit a mention. People come from all over the world to visit!
Ride the train. You won't regret this little detour one bit. At sunset you can capture some great photo opps along the Rim.
Back on the road, make sure to get a picture with one of the Route 66 shields to commemorate your journey. Take it easy while standing on a corner in Winslow, Arizona. Yes, there's a song about this stop!
26 miles later, you will see another big hole in the ground: the famous Meteor Crater Natural Landmark,
a must see for budding geologists! Was it a meteor or a UFO landing? Conspiracy theorists beware!
As you continue on your epic American road trip, you will see the "Here It Is" sign known to all Route 66 enthusiasts. On your way to Flagstaff, you will see the old town of Two Guns.
From there, head to Flagstaff for some city life – and yes, you are still on the route. A quick detour to Sedona and Jerome are a must, though. The red rocks of Sedona and the vortexes, and the ghost stories in Jerome are legendary. Jerome was once known as the wickedest town in the West. If that doesn't pique your interest, the fact that it is an old mining town with stunning views just might. Other stops of interest include Grand Canyon Caverns, Kingman, and Lake Havasu. Enjoy this portion of the trip, rest up and great ready for California!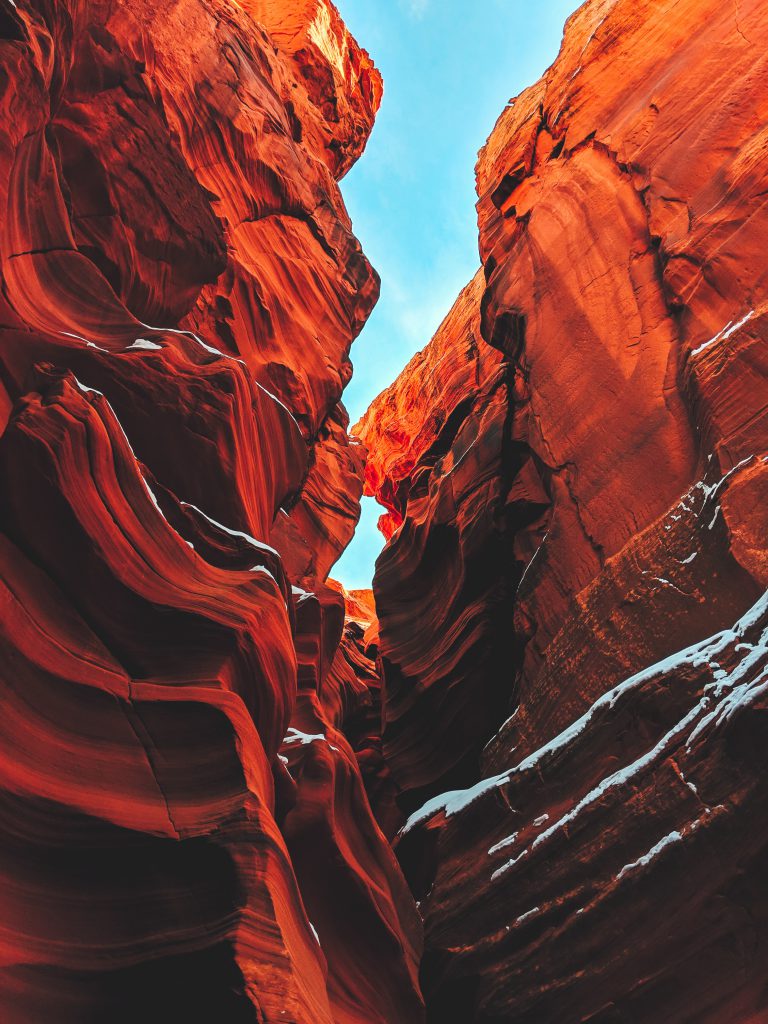 California
We're California dreaming now. As with the other states along Route 66, I am only going to highlight some of the many places can stop and sightsee on this trip. There are so many others that they wouldn't all fit here, so be sure to check TripAdvisor for more ideas if you have a longer period of time for your road trip.
Your first stop on this leg of the trip is the city of Needles where Charles Schultz (the creator of Peanuts) grew up. The next stop is Barstow, the home of the Mother Road Museum. Next, Victorville and the California Route 66 Museum. San Bernardino is home of the first McDonald's and there's a museum for it (of course). A must see for naturist and art lover alike is The Huntington Library and Botanical Gardens. Honestly, there's something for everyone here. A stop in Pasadena is a must for football fans to see the Rose Bowl. There are several Route 66 sites in Pasedena as well. If you are a diehard Route 66 fan, you will love the journey from Pasadena to Los Angeles! The amount of preservation is astonishing. Follow the signs from Sunset Boulevard through West Hollywood and onto the route's end in Santa Monica.
Enjoying Route 66
Each state has a plethora of attractions along this historic route. I have only included a very small amount of the vast sights along the way. Definitely a trip the entire family will enjoy, it could be done over the course of two weeks or you can come back to different parts every time and enjoy learning about an integral part of American history.