Summer in the States means berry season and the abundance of patriotic berry desserts never gets old. I mean, you really can't go wrong with blueberries, strawberries, and raspberries! Summer also means neighborhood parties and family gatherings where everyone brings their best dishes to feed a crowd. This Red, White, and Blue Cheesecake Trifle looks elaborate but is easy to make and you can be sure that there won't be a crumb left by the time the party is over.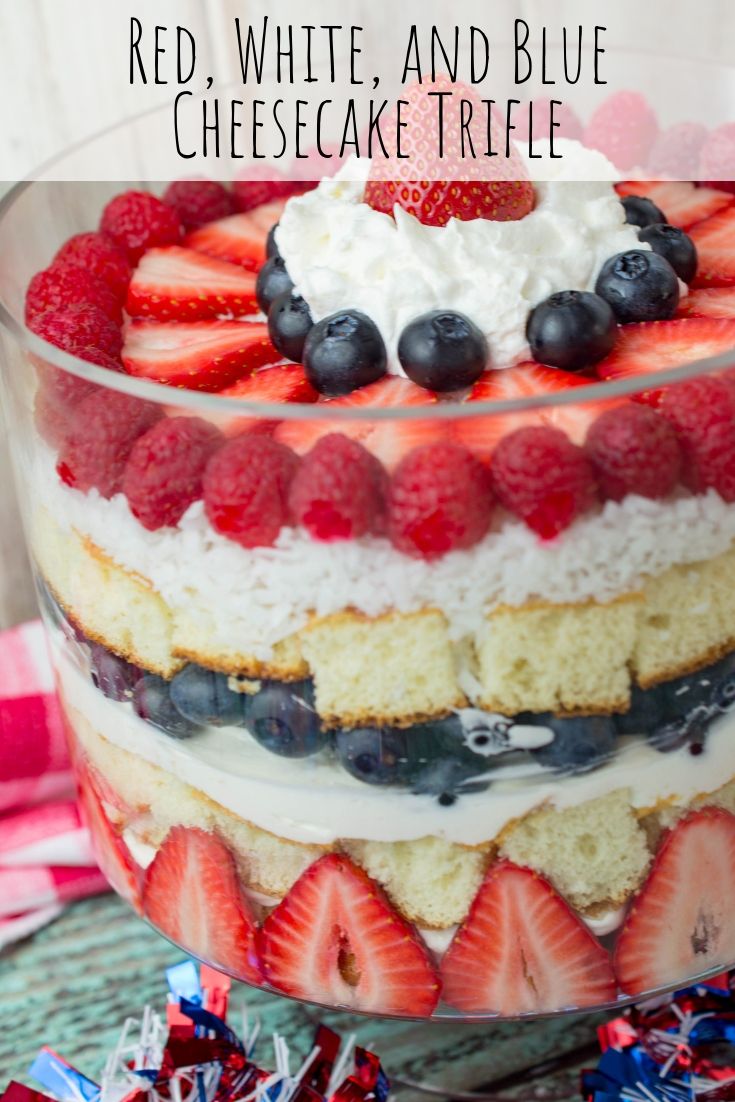 Ingredients:
Vanilla Boxed Cake Mix

-plus ingredients to make: 3 eggs, ⅓ C. Oil, 1 C. Water (or what your box calls for)

7oz Bag Sweetened Coconut Flakes (obviously optional!)

Whipped Topping (I took the easy way and used a container of Cool Whip)

8oz Block Cream Cheese

⅔ C. White Sugar

1 tsp. Vanilla Extract

16oz container Strawberries*

6oz container Raspberries*

1 pt. Blueberries*

8" Diameter Trifle Bowl

Parchment Paper

Non-Stick Cooking Spray

*The amount of berries you use depends on how you put yours together–use as many berries as you want!*
Directions:
Preheat oven to 350℉.
Using a stand mixer or hand mixer, combine cake mix and ingredients indicated on box.
Mix for 2 minutes.
Line a baking/cookie sheet pan (with raised edges) with parchment paper and spray with non-stick cooking spray. Pour batter into a sheet pan and spread out.
Bake for 10-13 minutes, until golden, the edges start to come away from the sides and it bounces back to the touch. Set aside to cool.
Meanwhile, clean your mixing bowl to make no-bake cheesecake filling. Combine cream cheese, vanilla extract and sugar.
Beat on medium for 2 minutes. Fold in whipped topping, saving a few tablespoons to dollop on the top of the trifle. You're looking for a no-bake cheesecake-y consistency. The amount of whipped topping needed can vary and is also a taste preference. Set aside in refrigerator until you're ready to assemble.
Wash and dry fruits. Cut tops off of strawberries and slice.
Once cake is cooled, cut into small cubes.
Assembling your trifle:
Making your trifle can be done in so many different ways. Be artistic and make it your own! The important thing is to have layers. The amount of layers you have may differ depending on the size of your bowl. 
Here's how I made it:
Start off by pressing strawberry slices against the side of the trifle bowl at the bottom. They should stick from the moisture of the berry.
Add cake cubes to the bottom of the bowl. Since this is the bottom layer and you can't see it from the side of the bowl, feel free to use the cake edges that may be a bit more crispy and less uniform than the rest.
Grab your cheesecake mixture and put ½ on top of the cake cubes and spread.
Top that with more cake cubes, starting at the outer edge and work your way in, fitting them in as you go along.
On top of that, add the rest of the cheesecake mixture and spread evenly. You can already see the layers starting to form!
Add blueberries in a single layer.
Add more cake cubes, as you did before.
Top that layer with the coconut, spreading it evenly.
Place raspberries hole-side down around the rim.
Add strawberry slices next to the raspberries point side facing the middle.
Add a dollop of the remaining whipped topping (or more–I love a lot of it). Place blueberries around that and top with a strawberry or a cake cube.
This Red, White, and Blue Cheesecake Trifle will be a dessert you'll be asked to make for potlucks for years to come and it's so easy you won't mind!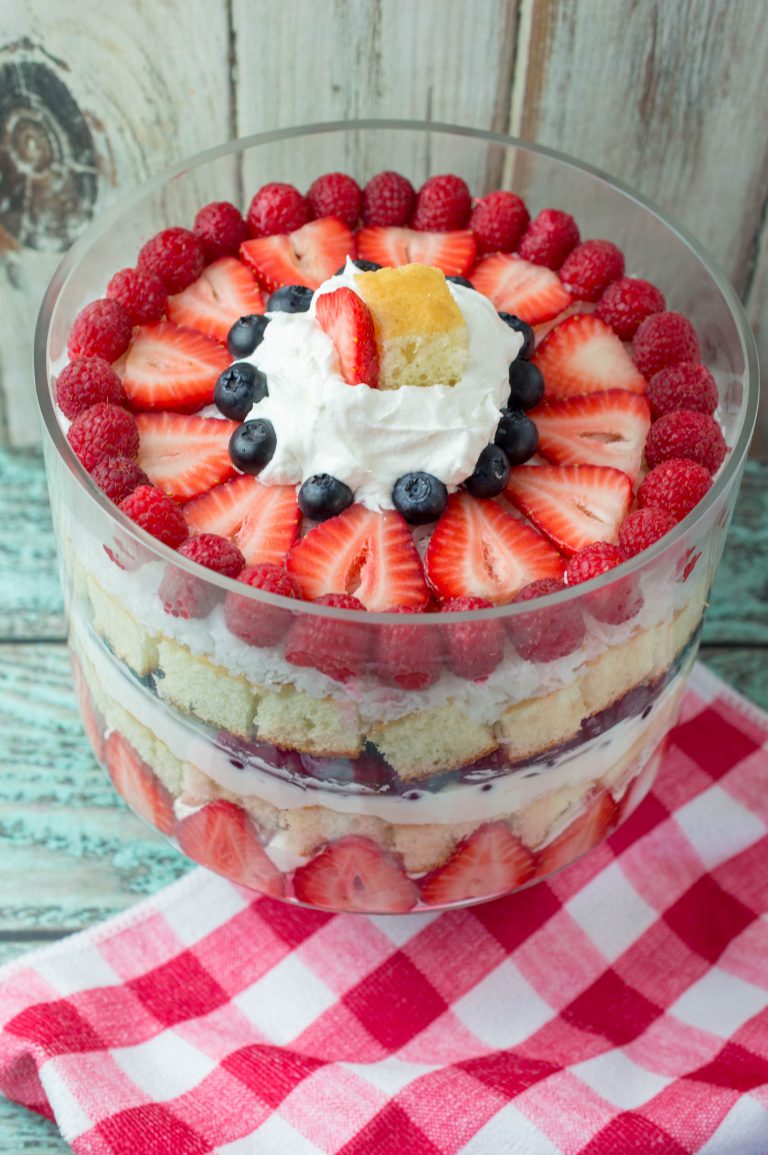 Want some red, white, and blue crafts for your party? Try these out!