New Zealand isn't exactly known for amusement parks–in fact, you'd probably be hard pressed to find someone from outside the country who knew one existed. If you asked a Kiwi, though, they would most likely speak fondly of Rainbow's End. There might be a bit of self-deprecating talk over the park being small or not comparable to the major parks overseas, but the fondness will be there and it's deserved. My family greatly enjoyed our first day at Rainbow's End, so much so that my kids asked for another day again and again.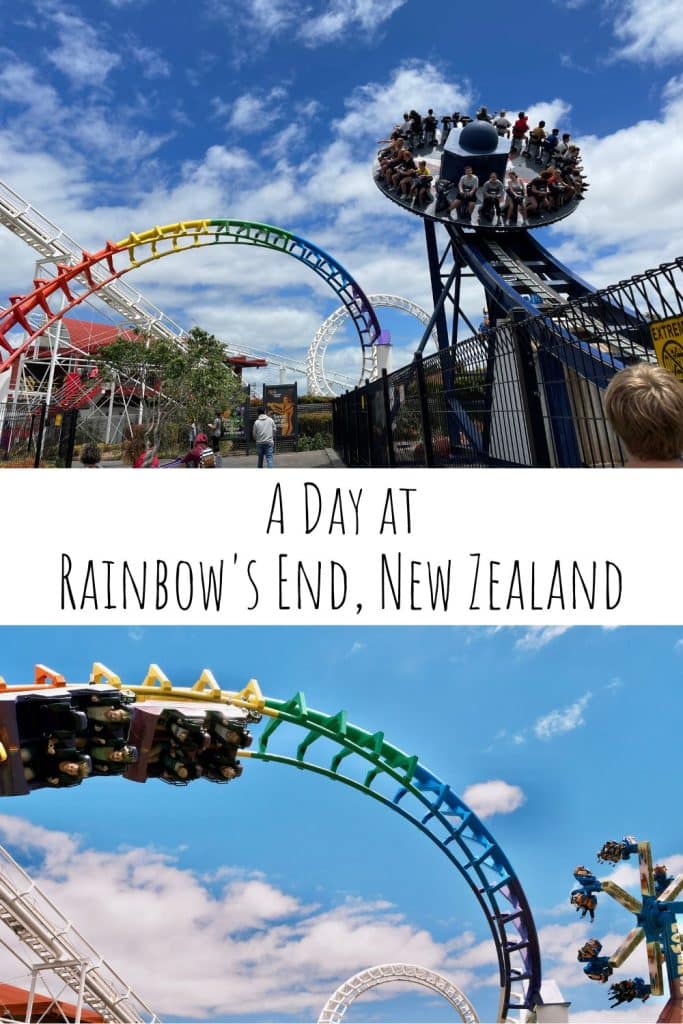 Rainbow's End At a Glance
Rainbow's End was opened in 1982 with just a few activities, like mini-golf, boat rides, and video games. However, more rides and activities have been added over the years and the park is now spread over 23 acres.
This amusement park has something for everyone. If you like action-packed rides, you can try out the thrill rides. If you're looking for something you can do with your family, head over to the Log Flume, Dodgems, or Bumper Boats. And, if you have young kids, the Kidz Kingdom is where you should go. As a side note, Kidz Kingdom was the perfect stepping stone for my youngest who was terrified of bigger rides in other parks. After riding in Kidz Kingdom, she finally jumped on some of the bigger rides and loved them.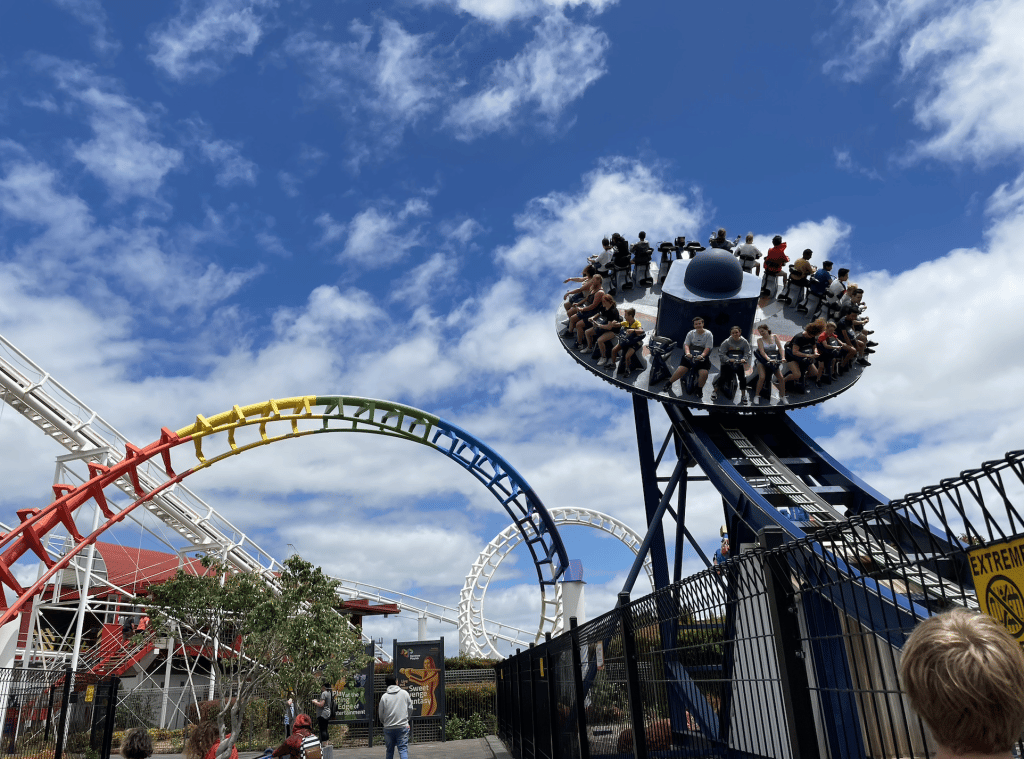 The Big 5 Thrill Rides
Stratosfear
The Stratosfear is known as the scariest ride at the theme park. It swings from side to side while rotating 360 degrees. And if the riders are up for it, it can even do a full circle swing! The ride can take up to 24 people at a time and is restricted to people between 130 to 150 cm tall. And no, none of us rode it on any of our visits because I am becoming quite the wimp in my old age.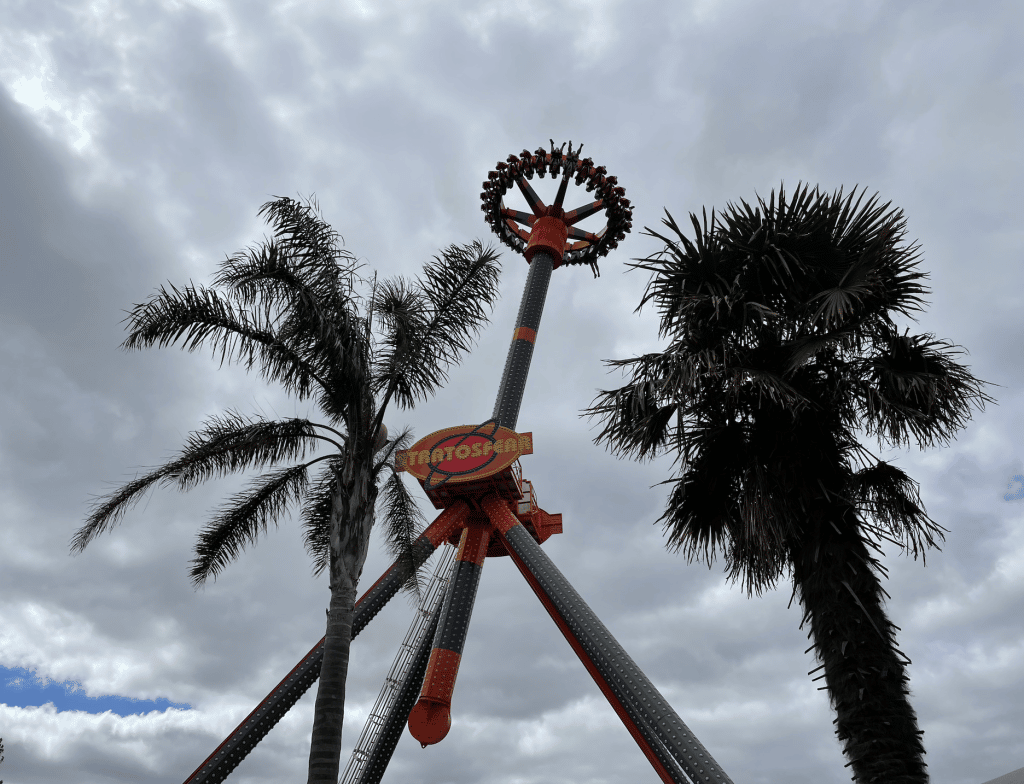 Invader
Invader is a little less intense than the Stratosfear but is still thrilling enough to give you an adrenaline rush. It is a round disc that moves back and forth on an 80-meter track at 70 km/hr while rotating 360 degrees. People over 120 cm tall are allowed on this ride. This one is a family favorite and was ridden many times.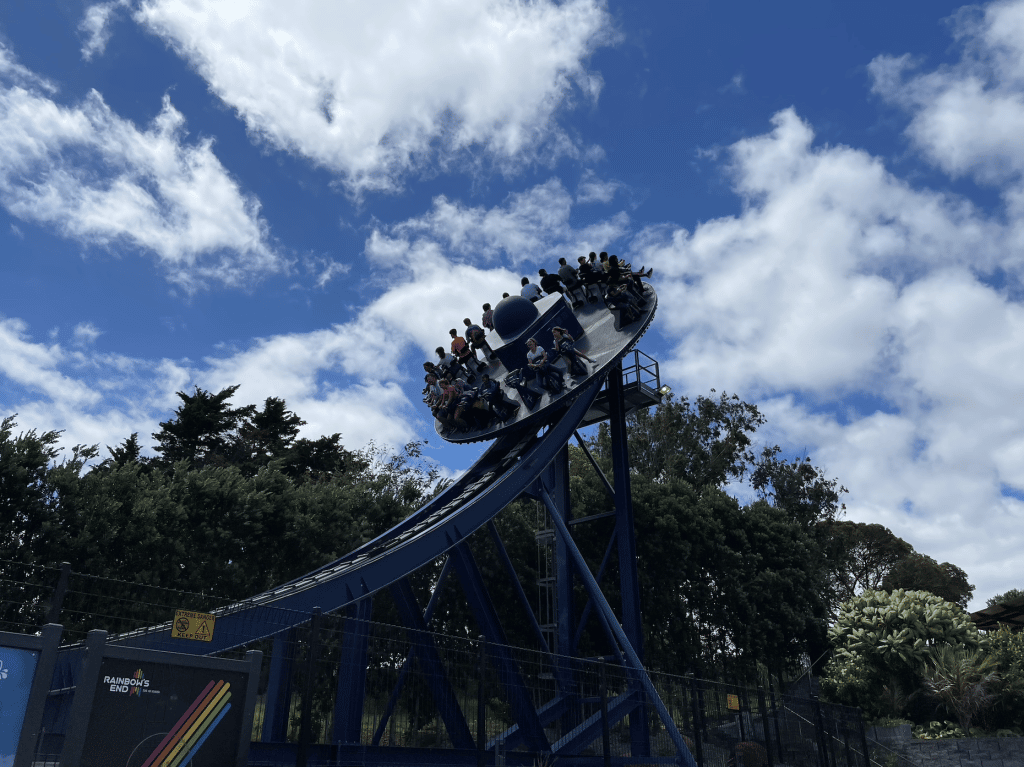 Fearfall
Fearfall is a standard drop ride. It has 2 carriages that can accommodate 4 people each. The carriage goes up to a height of almost 18 stories and then drops down at a speed of 80 km/hr, stopping just a few inches from the ground. If you fear height or falls, I would suggest skipping this ride! It's a common ride in amusement parks around the world but it's always fun to see the view from the top. I love this ride but could only get my kids on it once.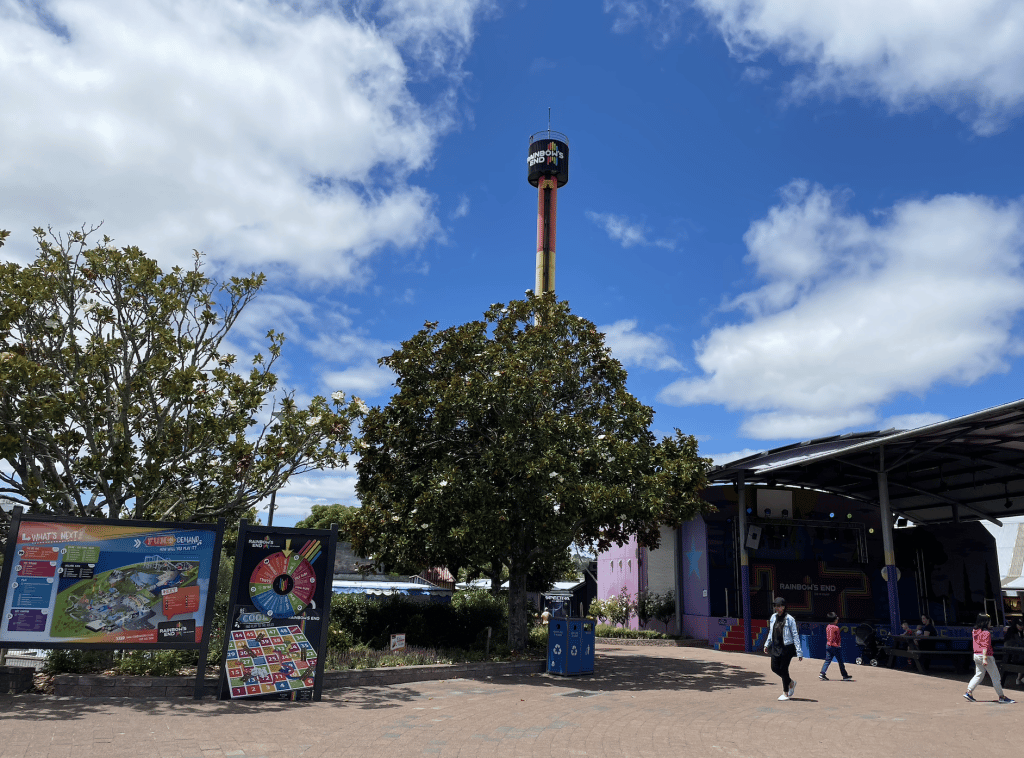 Power Surge
Power Surge is not for the faint-hearted. This ride goes up 18 meters and spins like a pinwheel–you can hear the screams throughout the park. Again, if you fear heights or have motion sickness, it would be better to stay away from this ride.
Corkscrew Coaster
Roller coasters have always been a favorite of mine and this one is a lot of fun. The Corkscrew Coaster is often called the best ride in Rainbow's End. With a 485m long track, several loops and sudden turns, and a coaster that travels at 45 km/hr, you're sure to remember this one. The coaster has a fun bit with a corkscrew right over the walking path. My older kids rode this on repeat.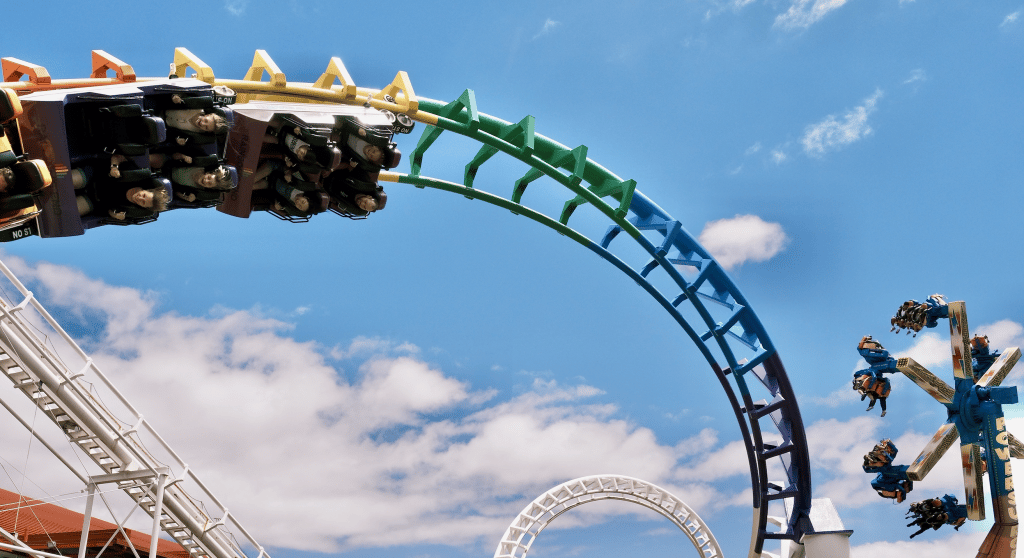 Exciting Rides for All
If you want a fun time but aren't as much of an adrenaline junky, this next batch of rides is for you. This doesn't include everything but will give you an idea of how many options there are.
Log Flume
Take a ride through the enchanted forest on logs, and meet the unicorns, dragons, phoenix, and talking trees as you go along. A fun ride for kids and adults alike, with a plunge in the water at the end! This is a decently long log flume and we all enjoyed it.
Gold Rush
Gold Rush is a smallish roller coaster but is more about the scenery than pure adrenaline. Ride in mine carts through an abandoned gold mine while making many twists and turns and dodging dead-ends and falling beams.
Dodgems
I hadn't ridden bumper cars in ages before these and was more excited than the kids. The Dodgems are on an indoor track and are a super fun bumper car ride. We had a blast on these and felt like we had a good amount of time. As a fun side note, there were tv ads running at the time we were there that used this ride.
Scorpion Karts
Race your friends in the Scorpion Karts on an outdoor track. These are essentially go-carts. We didn't ride them–from memory I think it was due to too many kids not hitting the height requirement. It looked like a great ride for teenagers to race each other (full safety gear is required.
Bumper Boats
This is like Dodgems on water! Get in your Bumper Boats and bump your friends for a fun-filled water splash experience. The kids rode this on repeat. I had as much fun watching them as they did actually riding. It didn't hurt that there's a sitting area overlooking the ride right next to a restaurant, so you can munch on a snack while your kids bump into each other.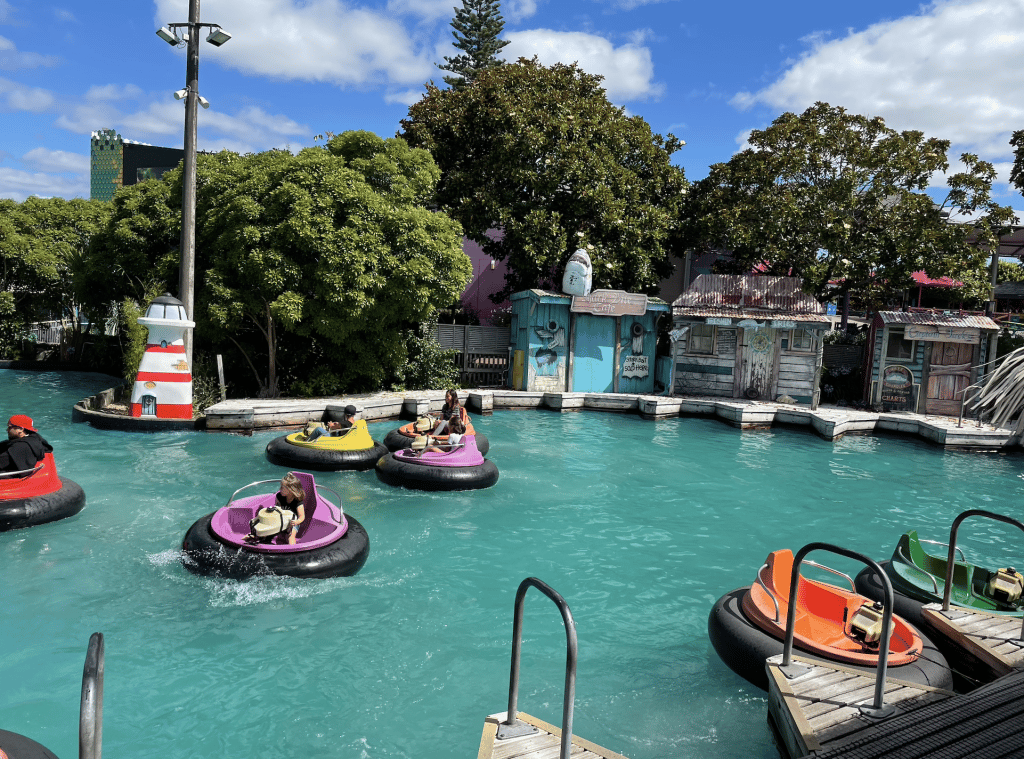 Rainbow Playlab
Tired of all the outdoor games? Head over to the Rainbow Playlab for interactive VR games, escape rooms, and a variety of arcade games. This is an additional cost and can be booked separately.
Spectra
We unexpectedly had a lot of fun with Spectra. It's a 3D ride (glasses required) in a theatre setting. There are different movies, some more kid-friendly than others so make sure you know which one is playing. For each movie, there will be objects/bad guys to shoot at. At the end of the movie, everyone in the theatre will be listed in score order. The seats move and it's a fun immersive experience.
The Kidz Kingdom
If you have kids under 8 years, the thrill rides and other games might not be suitable for them. They can have an amazing time at the Kidz Kingdom with 11 different rides ranging from carousels to space shuttles, mini-roller coasters to mini car rides, all in a covered area. So, whether there's rain or sun, your kiddos can enjoy regardless.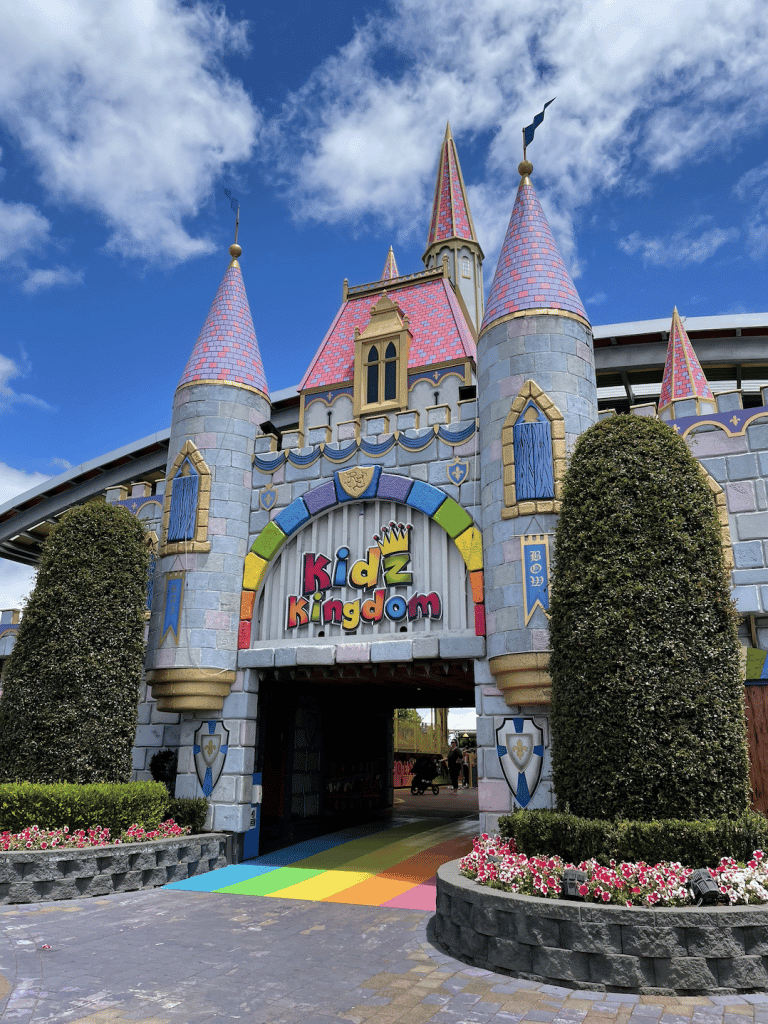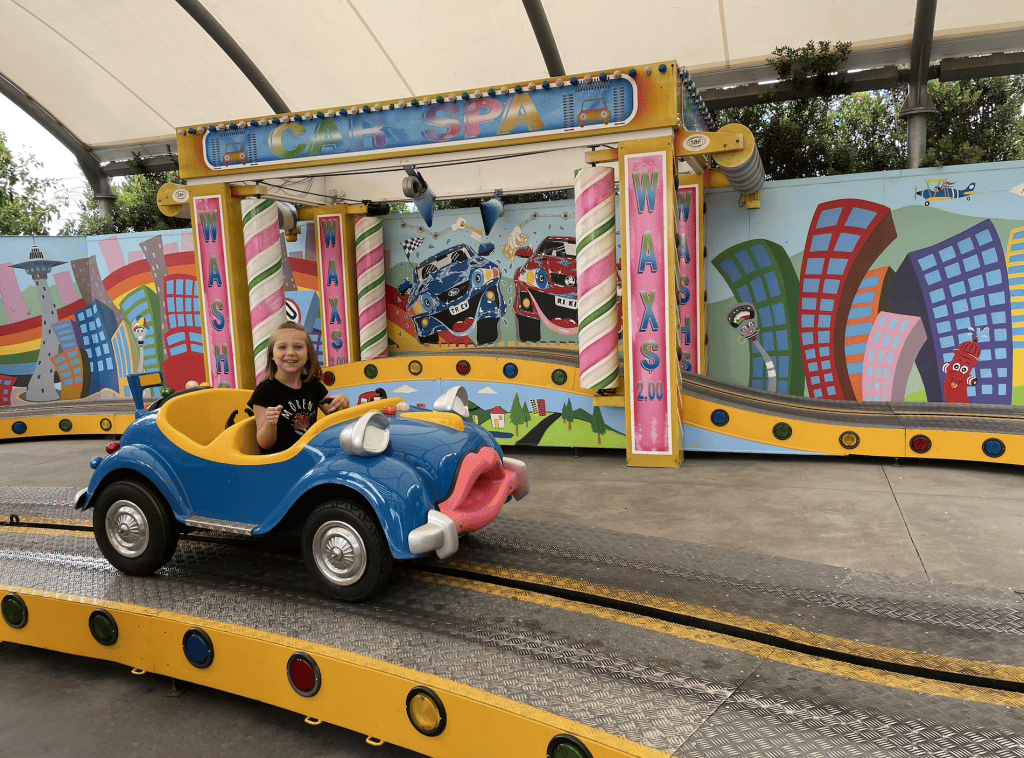 Cafes
We weren't expecting much in the way of food options at the park, but were quite pleasantly surprised with the food on offer. There were food outlets throughout the park with indoor and outdoor seating. There's everything from snacks to full meals and we were satisfied with the options (we aren't always, so that was a big plus from us). Outside food isn't allowed in the park, so you'll need to make other plans if you don't like the park food options.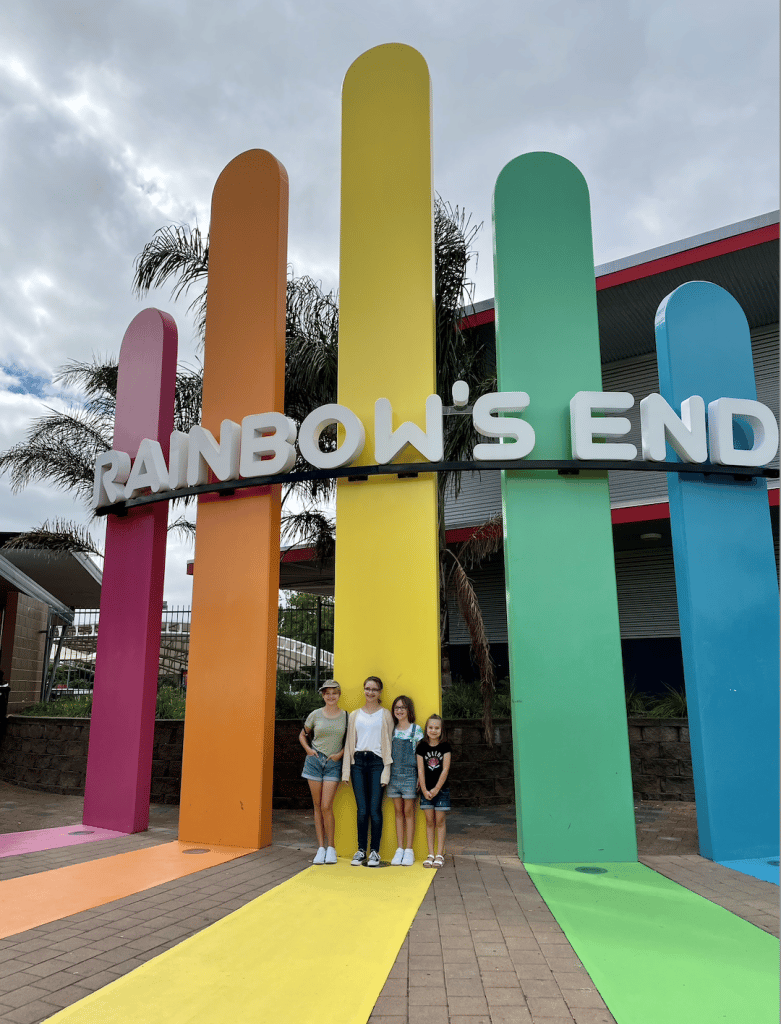 Spending a day at Rainbow's End is a must if you like amusement parks. It's located right in Auckland and is easy to get to. It's not a super big park, but there was enough to do that my kids didn't want to leave and immediately wanted to go back. The rides are fun, the food is good, and you won't get super tired from walking a mile from one ride to the next. Check the Rainbow's End website before you head out, though, to see if there are any weather restrictions in place and what the current opening times are.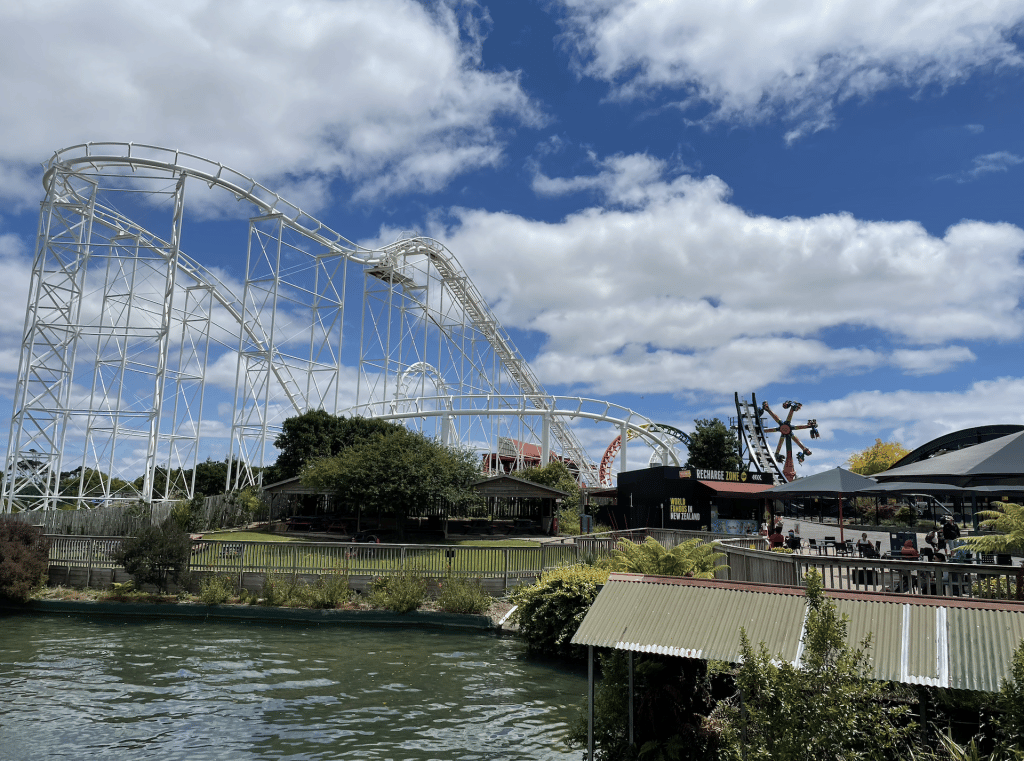 Want more things to do in Auckland? Spend a day at the Auckland Zoo!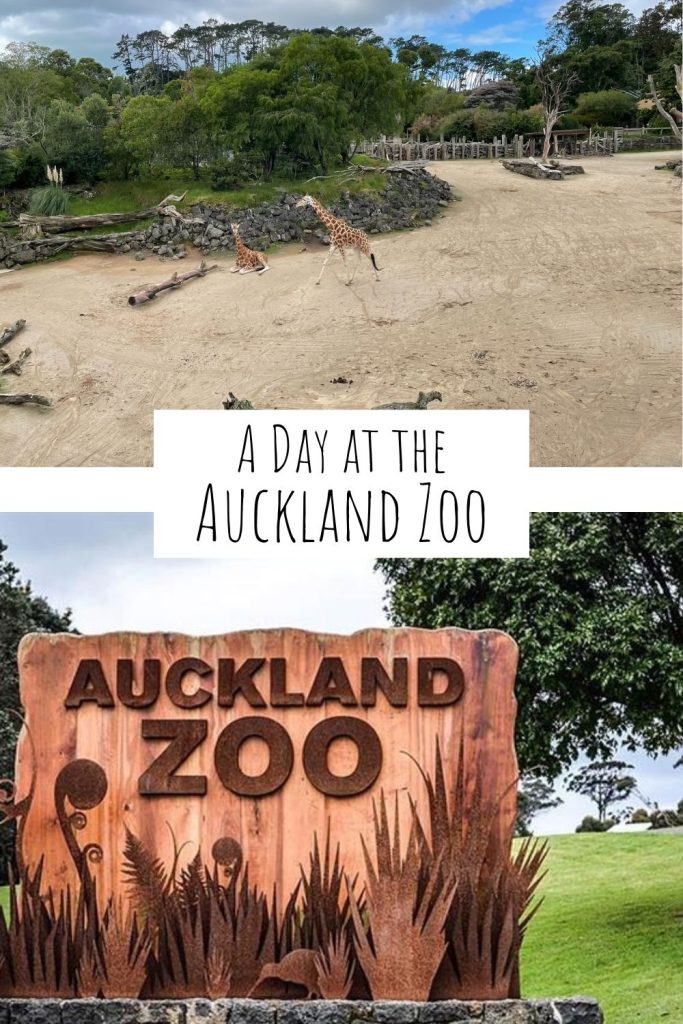 Want another under-rated but super fun amusement park? Jump across the water to Sydney and check out Luna Park!