Bighorn Canyon National Recreation Area, located in southern Montana, sees 200,000 visitors each year. Drawn to the water activities on the Montana Side and land activities on the Wyoming side, it is a popular travel destination for outdoor adventurers. I was able to visit this stunning area as part of a tour when TBEX was in Billings, Montana in September 2019. It was such an enjoyable day and remains a favorite memory of mine.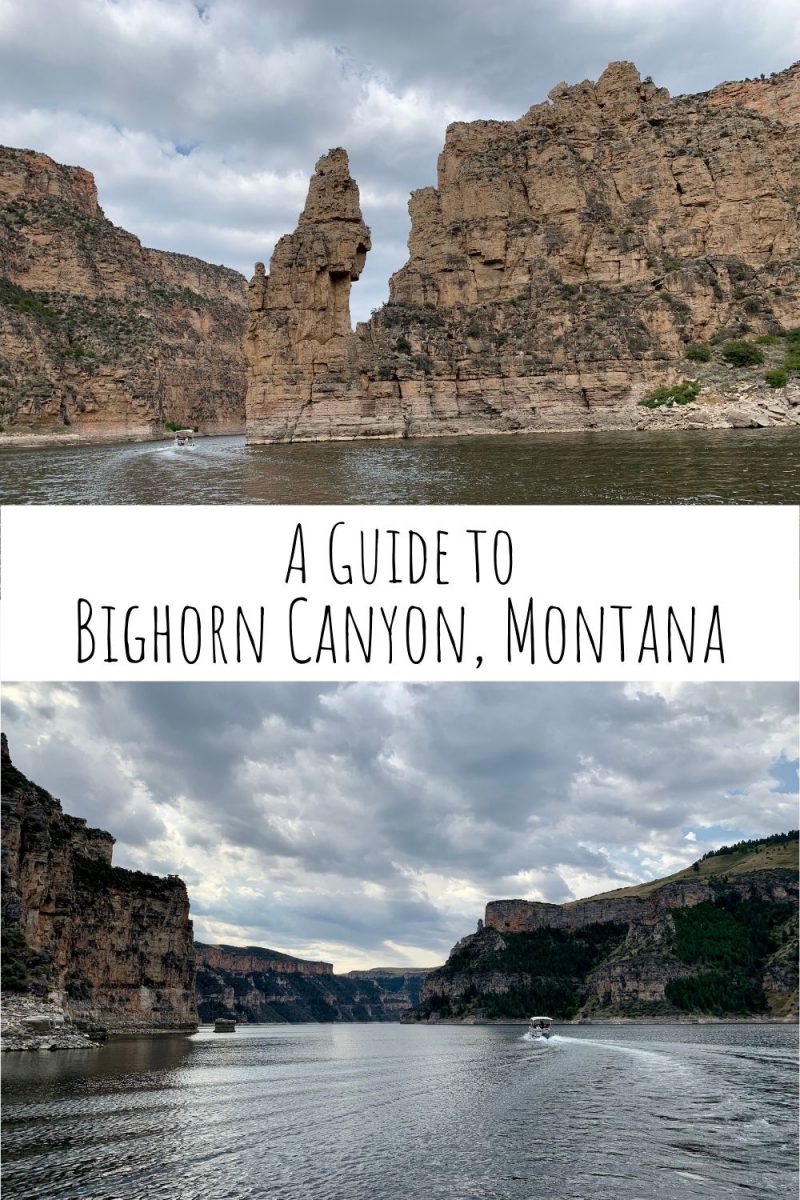 The national park was established in the late 1960s after the construction of the Yellowtail Dam. The dam runs across the Bighorn River and serves as an irrigation system to regulate the flow of water to prevent flooding. It also supplies hydroelectric energy to the region. Named after Robert Yellowtail, the Crow Tribe Supervisor who oversaw much of its implementation and construction, the dam is a stunning concrete arch that spans across the river.
Bighorn Canyon sees a steady stream of visitors each year. Guests are drawn to the sprawling beauty of the canyon and water and land activities it offers. The park supplies spectacular views of natural landscapes including woodlands and forests as well as dry Great Desert Basin. Bighorn Lake within the canyon follows a 71-mile path through the cliffs and valleys of the canyon. The variety of landscapes, rock formation textures, and waterways are an alluring draw for nature enthusiasts the world over.
The North District and South District 
For visitors to Bighorn Canyon looking for water activities like boating and fishing, the North District is the best choice. Located in Fort Smith, Montana, it includes primarily water-based recreational activities. On the Wyoming side, the South District offers more land-based activities. Guests will find hiking trails and be able to participate in self-guided ranch tours. Horse ranches are plentiful in this area of Bighorn Canyon as well.
Bighorn Canyon in Southern Central Montana
Yellowtail Dam Visitor Center
The Yellowtail Dam Visitor Center is located in Fort Smith Montana. It is centrally located adjacent to the Yellowtail Dam and serves as an important start before heading out to explore Bighorn Canyon. Here you'll find information about the area and learn about the history and resources. Younger visitors can get set up to earn a Junior Ranger Badge while exploring this national recreation center. Visitors can watch two short movies about the land and geography of Bighorn Canyon.
Some of the exhibits on display include historical information about the Crow Native American Tribe, a history of both the Bighorn River and Bighorn Lake. It also details the geology of the canyon as well as how the Yellowtail Dam was built and how it functions.
Boating and Fishing at Ok-a-beh Marina
The Ok-a-beh Marina is unlike any other marina. The views from the marina itself are stunning but the marina as it juts out from rock and stone is equally awe-inspiring. Visitors looking to see the canyon from the water have the opportunity to do so at Okabeh Marina. Consider a boat charter or pontoon rental and explore right from the water. The marina also offers supplies and safety equipment for fishing and boating as well as concessions. Consider a trip out to the marina for a day on the water fishing or boating or spend time hiking and camping among the spectacular geography.
Popular Hiking Trails
A relatively easy and family-friendly hike, the Three Mile River path leads visitors to the cottonwood-lined river bank. It is a great spot to enjoy a picnic or spend time fly fishing for brown trout. The 2-mile flat trail works well for novice hikers and kids alike. With parking and restrooms available at the trailhead, the Three Mile River is an ideal day-hike for families.
State Line Trail comes in at just over a half-mile and is an easy loop trail near Fort Smith. Much like Three Mile River, it is a great hike for all skill levels. Leashed dogs are welcome on this path.
Step back in time on a hike through Lockhart Ranch in Fort Smith. While most of the national park is desert, this unique area features a year-round running spring. Along the trail are old log cabins to explore where western ranchers made their living in the late 19th century. The path is 2.6 miles but can be shortened as it is a fairly easy loop trail.
Camping Opportunities
For campers looking to experience an overnight at the canyon, there are two campgrounds on the Montana side. Afterbay Campground located near Fort Smith offers several tent and RV sites on a first-come, first-serve basis.  While there are no hook-ups available for RVs, there is a dump station, potable water and composting toilets on site.
Black Canyon Campground is popular with boaters as it is the only boat-access campground available. It offers twelve campsites equipped with fire rings, picnic tables, and bear boxes. Use of the bear boxes is highly recommended. Camping in Bighorn Canyon is an ideal way to experience the sheer majesty of the towering cliffs and Big Sky overhead.
The Junior Ranger Program
Like all national parks, forests and recreation centers, Bighorn Canyon offers a Junior Ranger Program. The Junior Ranger program is available to young children through the age of 12. By completing various activities throughout the site, visitors can come home with a fun souvenir to commemorate their time at the park. The Bighorn Canyon program chronicles the Yellowtail Dam. It also covers the history of the Bighorn Canyon area and wildlife present within the canyon.
Families can obtain a Junior Ranger Program booklet at three locations in Montana. Booklets are available at The Crooked Creek Contact Station, Afterbay Contact Station or the Yellowtail Dam Visitor Center.
Home to the indigenous Crow tribe who still make this area home, Bighorn Canyon has a lengthy history dating back to the Paleo-Indian era. Through the years, Bighorn Canyon was a natural pathway between the Bighorn Basin and the High Plains to the Missouri Plateau. Archaeologists continue to learn more about the region each year. Visitors to Bighorn Canyon can immerse themselves in the beauty and history of this mysterious yet awe-inspiring natural landmark.
We had a local journalist on our tour who interviewed a few of us. You can check out the articles in the Billings Gazette. They're possibly behind a paywall (I'm a firm believer in paying writers and bloggers, so I'm not going to apologize if they are) but it's hard for me to tell because a lot of sites are weird for me since I'm not in the States. They're fun reads if you're into travel blogs.
I will go back to Bighorn Canyon, Montana one day. The scenery is spectacular (even on grey days!) and I would love to explore more. We were spoiled on our tour and I really appreciate Bighorn Canyon National Recreation Area/NPS, Crow Tribe and Visit Southeast Montana for sponsoring it.
Planning on exploring more of Montana? Why don't you try hiking with llamas?!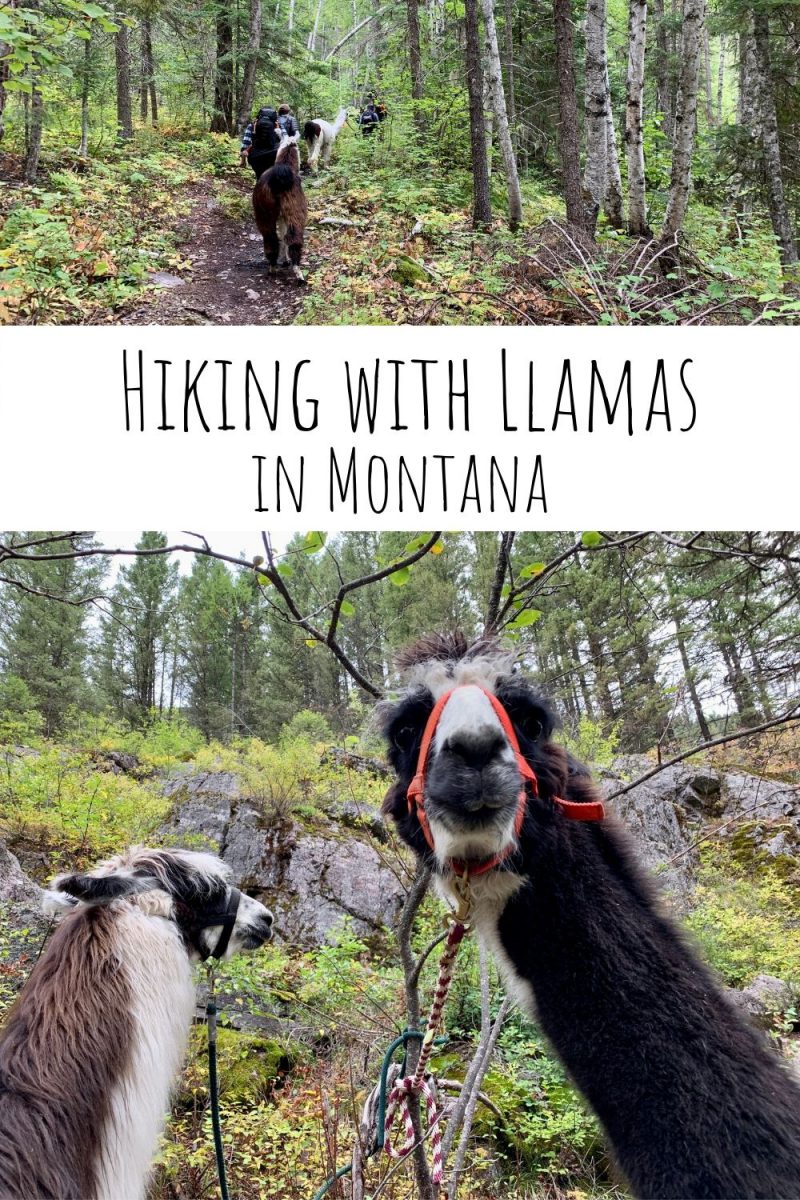 Or take a gorgeous red bus tour?