Discount stores can be a great way to save money on everything from crafting supplies to regular products that you can use around your home However, everything you find at a discount store won't always be a great deal. There are plenty of products that are more expensive or even misleading at discount stores, so you need to be on the lookout for those must-have deals. If you are looking for supplies for your Cricut, then discount stores can be a great place to start! They have everything you need to start making your own creations and they're at a discounted price. Since stores and specific items can vary in different countries, I'm listing some general supplies to look for in discount stores.

Craft Foam and Boards
Many discount stores will carry some crafting foam and boards that you can use to make DIYs with your Cricut. You may be able to find foam sheets, poster boards, and your necessary crafting boards that you can use for DIYs. I've been able to find scrap boards and decorative pallets that I could repurpose into a new DIY using my Cricut. These can be great for wreaths and other crafts, too. Many of these rustic sign projects were made using pieces found in discount stores.

Felt
Finding felt can be easy enough, but finding it for cheap is another challenge. Discount stores will have a variety of felt options but if you can get your hands on felt sheets, that's even better! These are perfect for making banners, garlands, and other easy to make DIYs. Felt doesn't have to be expensive if you'll be using it for , so don't waste your money on the expensive stuff. I'm picky about using good felt for certain projects, but the cheap stuff has its place, too. This felt fascinator was made with discount felt.

Construction Paper
You can make your own greeting cards or even party decorations using your Cricut if you have construction paper handy. You could also use cardstock if you can find it. Construction paper is going to be ample at discount stores, so make sure to grab yourself a few while you're there so you can make your own party essentials. You can even make things such as cupcake toppers and cupcake liners with them! These luggage tag bookmarks are an example of something I've made with bits I found at a discount store in London.

Contact Paper
This idea isn't necessarily for DIYs, but it can be used as transfer tape for your Cricut! If you are making vinyl projects, I highly suggest using some of this instead! Regular transfer paper can be $8+, so this is an excellent deal at discount stores! If you can get your hands on the clear ones, that's even better for this hack!
Office Supplies
Discount stores have several office supplies that are perfect for using with your Cricut. They carry everything from pens and markers to fine-tune the designs you print, all the way to blank mugs and folders for making custom designs for your own office. This is a great way to stock up on cheap back to school supplies, then customize them for your kids (or yourself) to use during the school year. The quality won't always be the best at discount stores, but sometimes you can find great brands there that can help you create some pretty fantastic stuff. Most of my crafting mugs come from discount stores, like this Yes, No, Maybe Mug.

Clothing
You may have to check back at your discount stores during different times of the year to find the clothing items you desire, but you can usually find something. They can even have different shoe options. If you plan on making custom clothes with your Cricut, be sure to check back near the start of each season to snag different sleeve lengths or shoe types. I got the shoes for these candy corn painted shoes at a discount store.

Canvases and Frames
Canvases and picture frames can be expensive. However, you can often find these for dirt cheap at discount stores. They will usually be a few dollars and you can use them for nearly anything you'd like. If you don't mind changing out the photo or painting over a canvas, you'll have a lot more options. These pieces can be super fun to upcycle.
Scissors and Glue
If you craft often, it won't take you long before it's time to replace your scissors and glue. You won't always be able to find the best quality glue and scissors here, but you may still be able to find crafting supplies at your discount store. Try looking for tacky glue and fabric scissors the next time you go shopping and see what you can find!
Anything Else!
The sky is the limit! I've found yarn, embroidery thread, beads, and other random bits and pieces to inspire me. I made this black roses Halloween wreath after finding the little skulls and black roses at a discount store. Have a wander and get inspired.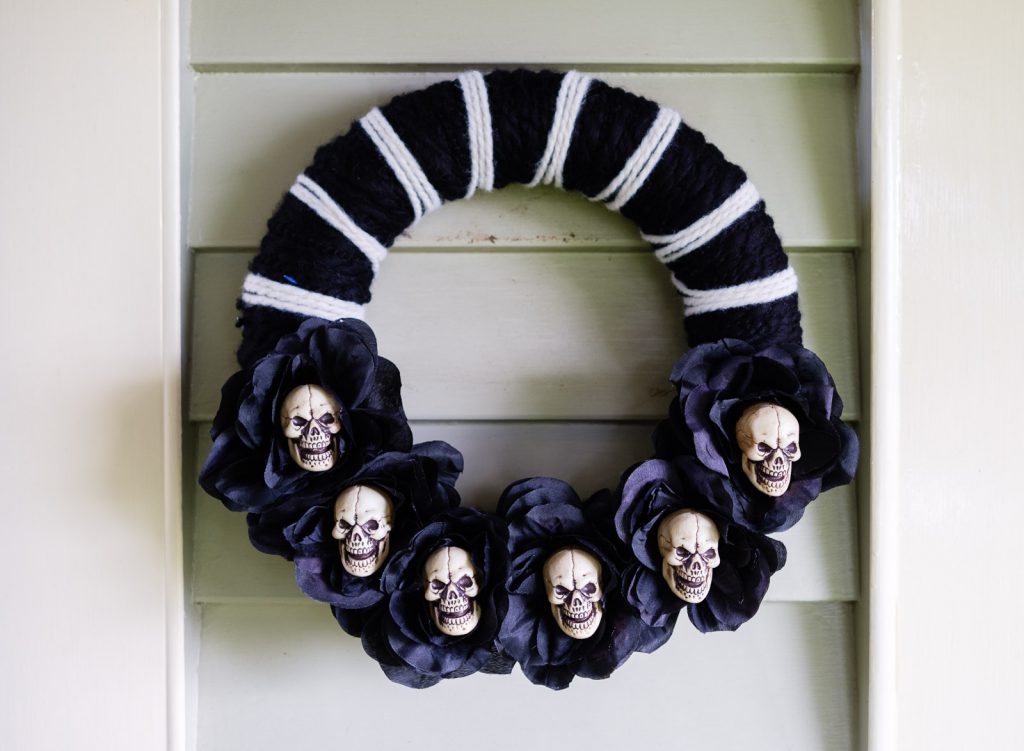 You don't have to spend a lot of money on supplies to make things. If you're on a tight budget, or looking to help reduce the cost of your materials, shopping at a discount store can be a huge help. While sometimes only the best supplies will do, it's good to know that you can still get your craft on when you want to budget with these supplies to look for in discount stores.