I talk about special days on here all the time–there are just some days and experiences that are so awe-inspiring that they stay etched in your memory like a beautiful poem. One of those experiences for me was being given the opportunity to experience a Red Bus Tour on the Going to the Sun Road in Montana. It was the first day of our FAM, the weather was picture-perfect gorgeous, and we had the final red bus tour of the season. It was such an ideal way to explore Glacier National Park. We snuggled into our open topped bus with our blankets and snacks and were driven through the most amazing scenery with the most knowledgeable guide I've ever encountered.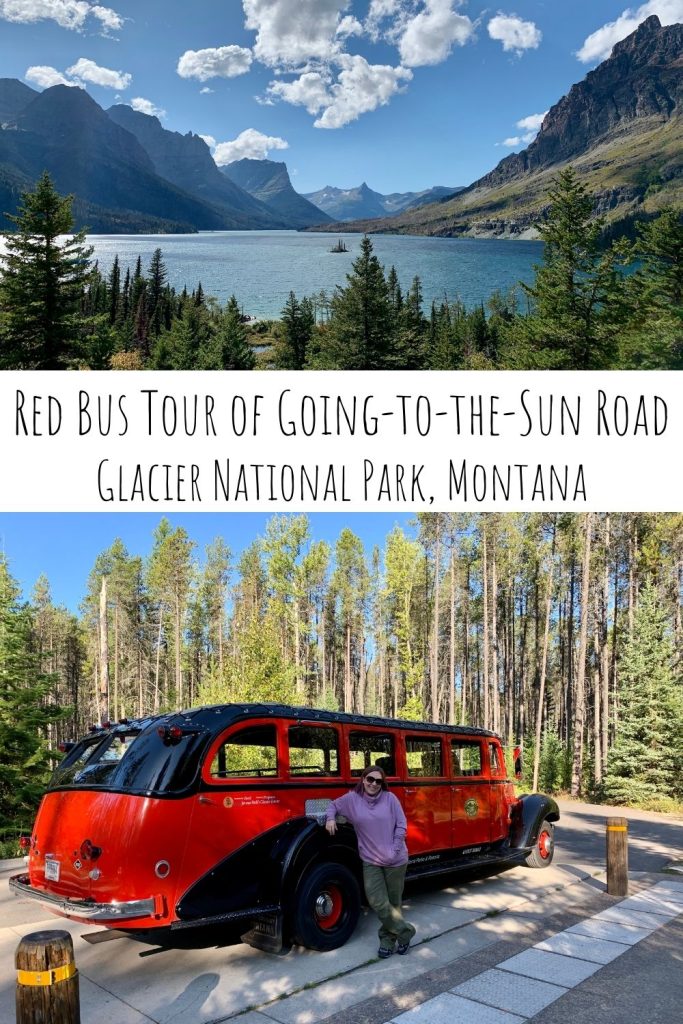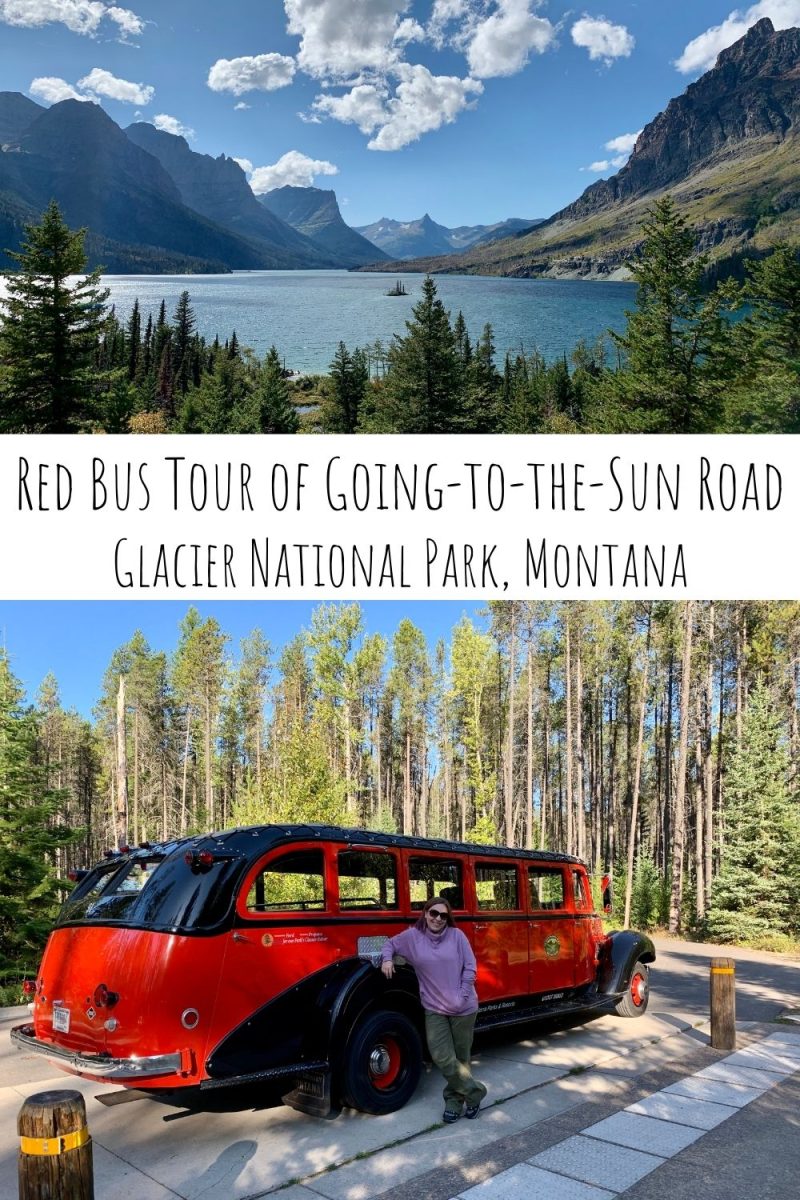 About Glacier National Park 
Located in the Rocky Mountains of Montana, Glacier National Park is a hiker's paradise, encompassing over 700 miles of trails. With countless opportunities for backpacking and camping, five of the 13 campgrounds in Glacier National Park are along Going to the Sun Road. 
Going to the Sun Mountain was the inspiration for the road's name. Native American legend recounts a tale of a spirit coming to the mountain to teach Blackfoot Indians hunting skills.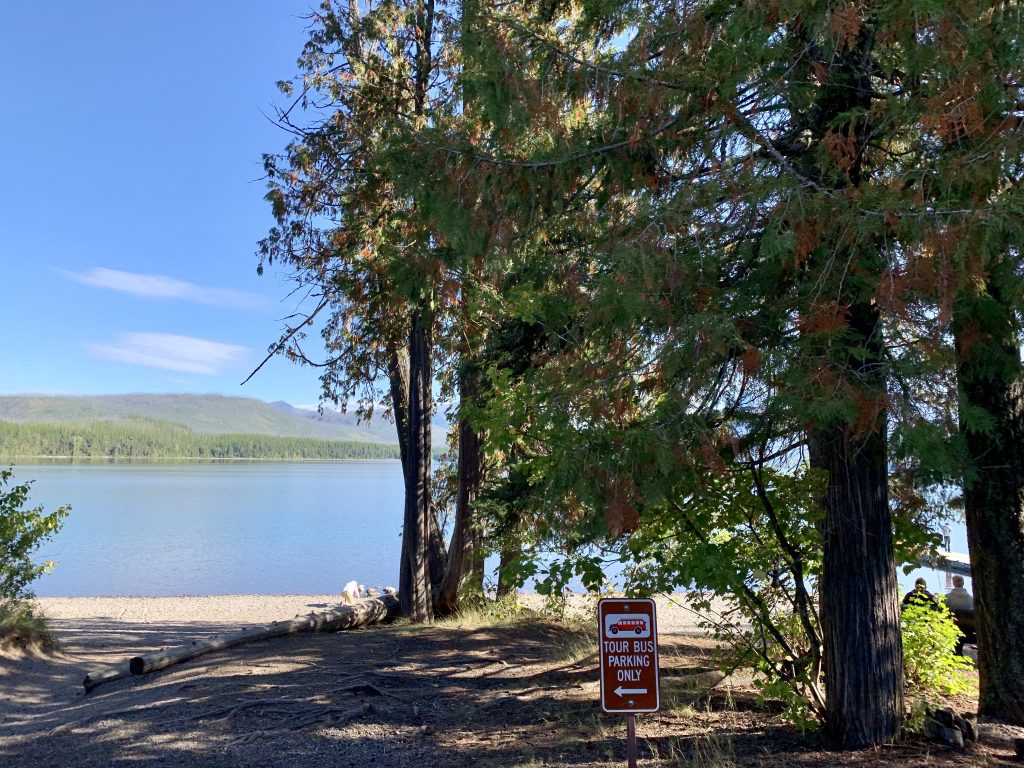 Red Bus Tours Take Visitors Along Going to the Sun Road 
Going to the Sun Road is a popular east to west route and provides an optimal opportunity to experience the Continental Divide and Glacier National Park. Taking a Red Bus Tour at Glacier National Park is a great way to take in its stunning beauty. All of the 33 buses in the fleet are vintage from the 1930s, which is really cool even if you're not a car geek. There's so much history around the Red Buses themselves and is definitely worth learning about.  Driven by knowledgeable park guides, a Red Bus Tour is a great option for visitors looking for a relaxing, informative ascent to Going to the Sun Mountain. It says a lot about a guide's passion for their bus and the tour when they get their bus number tattooed on their hand. And just a quick note–these tours tend to sell out, so if you're planning a visit and want to take the tour (which I know you do!), don't wait to book. It's worth stalking the website.
Visitors can begin their round-trip Red Bus tour from either the East or West sides of Glacier National Park. The tours are offered in various lengths from 2.5 hours to 9.5 hours. If you're short on time and just want a quick overview of the park, opt for the shorter tour.  If you want an in-depth tour that includes stopping points and hikes along the way, a 9.5-hour tour may be in order. We had many stops and never felt rushed. Visitors seeking a more immersive experience will appreciate the Red Bus guided tour. Park guides chronicle the history and geological features of this expansive region. If it's possible for a drive to be both relaxing and exciting, this was it.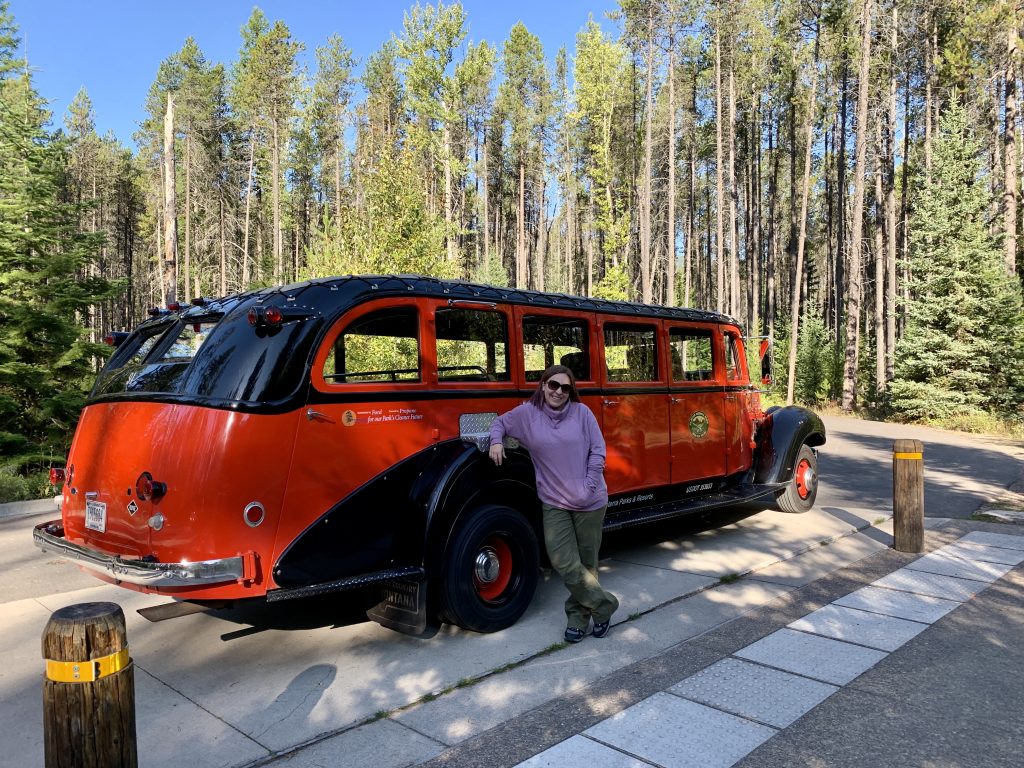 Landforms along Going to the Sun Road
This drive is one of the most scenic in the States.  Our guide pointed every named feature out to us and gave us so much information that I need to go back. From waterfalls to campsites, named rock formations to views, this drive has it all and you get to absorb it all because you're not the one driving. I found myself enjoying our guide's casual chatting style of giving information so much that I got lost in it. And seriously, there was so much information but at no point did it feel like a lecture. There was something gorgeous to see in every direction and everything had a story. You'll learn about landforms, the road itself, local history…it's all packed into a guide with a Red Bus.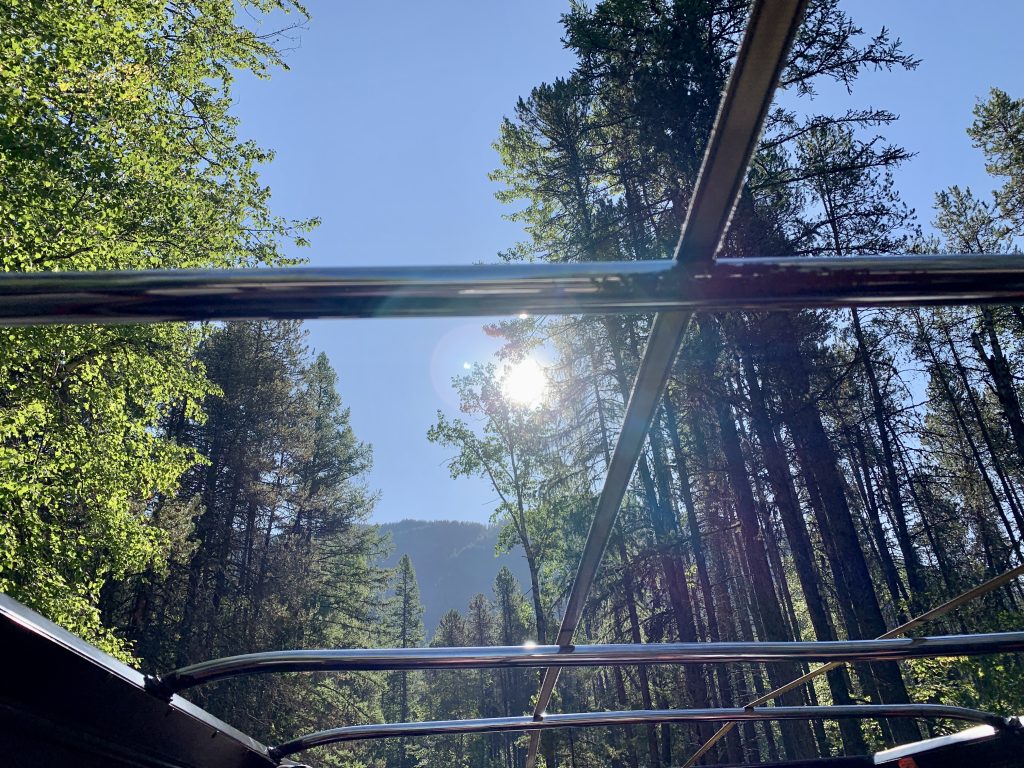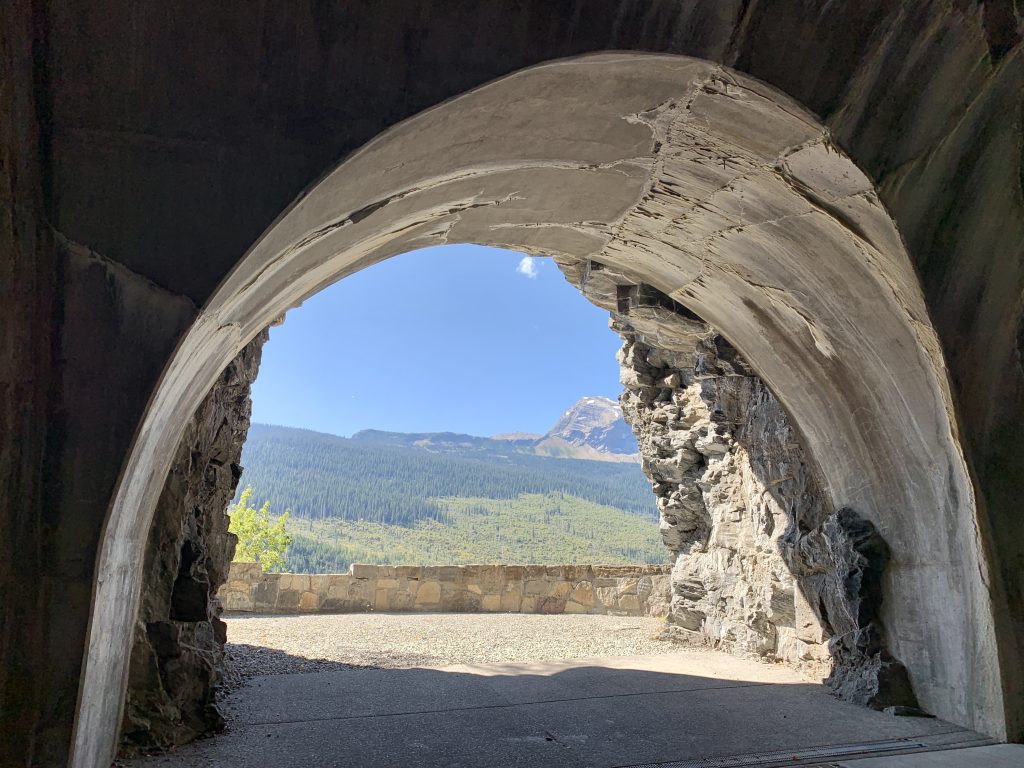 Going to the Sun Road is a Bucket List Travel Destination 
Sandwiched between Two dog Flats and St. Mary's Lake, Going to the Sun Road spans just over 50 miles. With views of glaciers, waterfalls, mountains, and wildlife, its beauty is awe-inspiring. Construction of Going to the Sun Road was completed in the early 1930s (hence the age of some of the busses). It was designed to cater to tourists looking to get out on the open road in their vehicles. The road ambles along the Continental Divide passing landforms, water formations, and countless hiking trails and pull-off points.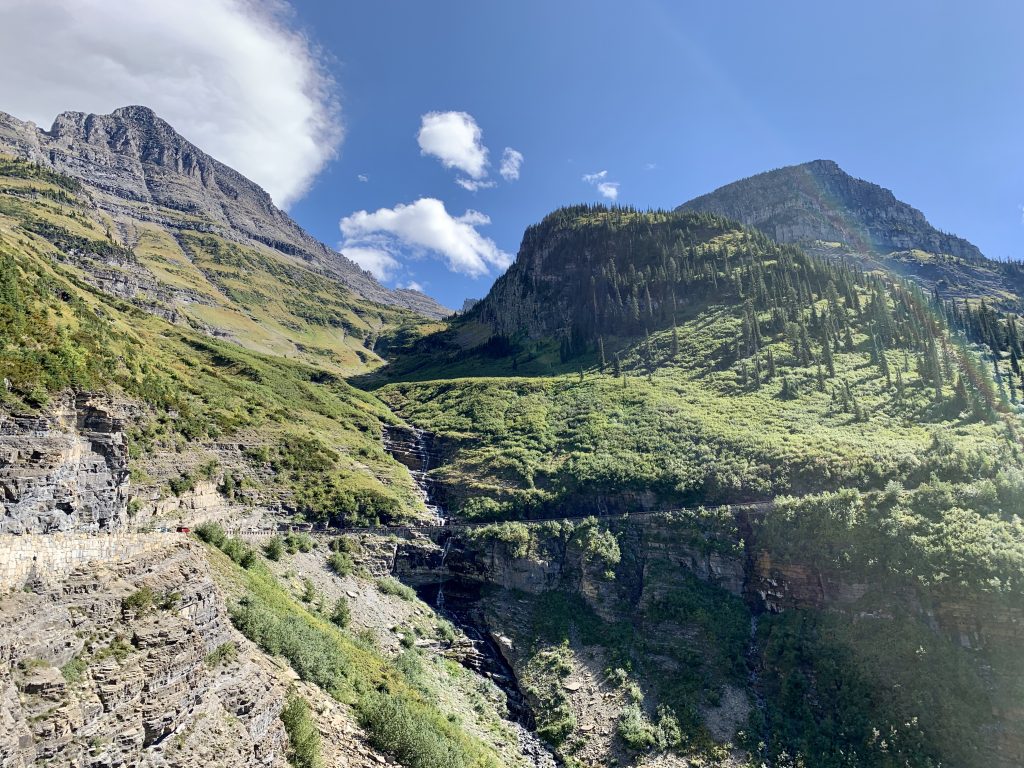 There are stop-off points along Going-to-the-Sun Road for sightseeing and picnics. Picnic areas are at Apgar, Sprague Creek, Avalanche Creek, and Rising Sun. Visitors can find dining and accommodations at Rising Sun, Lake McDonald Lodge and Apgar Village.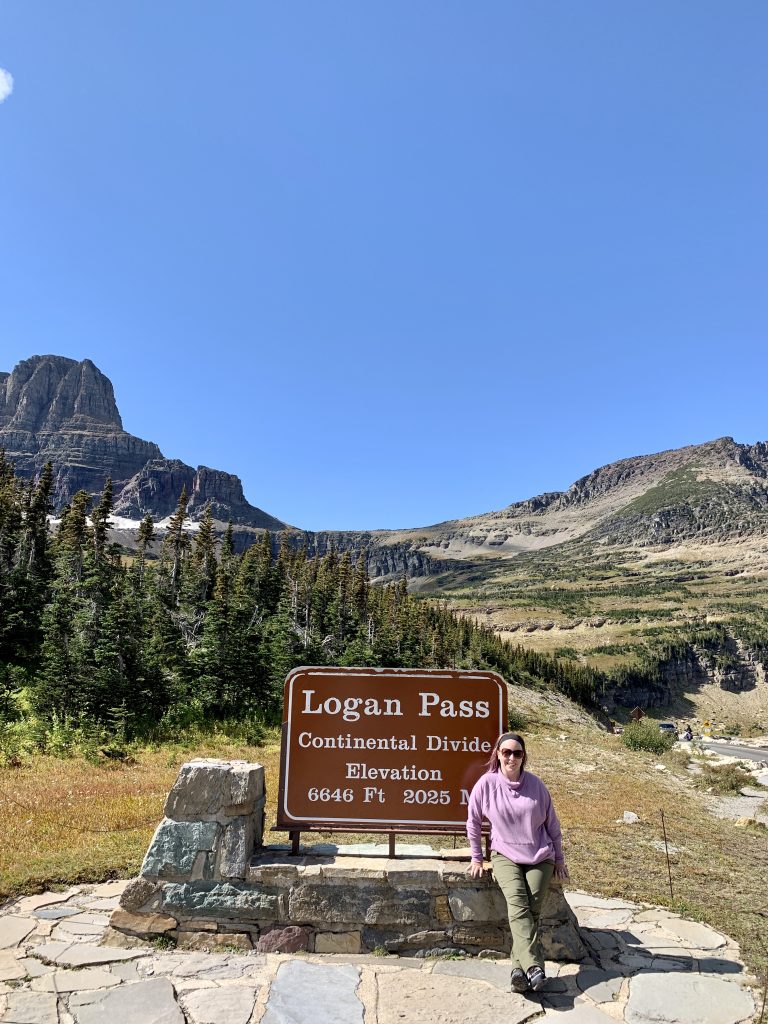 Kids can earn Junior Ranger badges at Glacier National Park. Stop in at one of three visitor centers for a booklet and instructions. Logan Pass Visitor Center, St. Mary Visitor Center and the Apgar Visitor Center offer information, resources, and gift shops to enhance your visit to Glacier National Park.
Riding the Red Bus Tour along Going to the Sun Road offers visitors a one of a kind perspective and ability to look up through the open-top roof to appreciate the expanse and majesty of The Continental Divide. As you take in the breathtaking views of the Rocky Mountains, you'll pass glacial lakes and cedar forests. The abundant mixed-grass alpine meadow is an excellent spot for viewing big horned sheep, deer, and elk.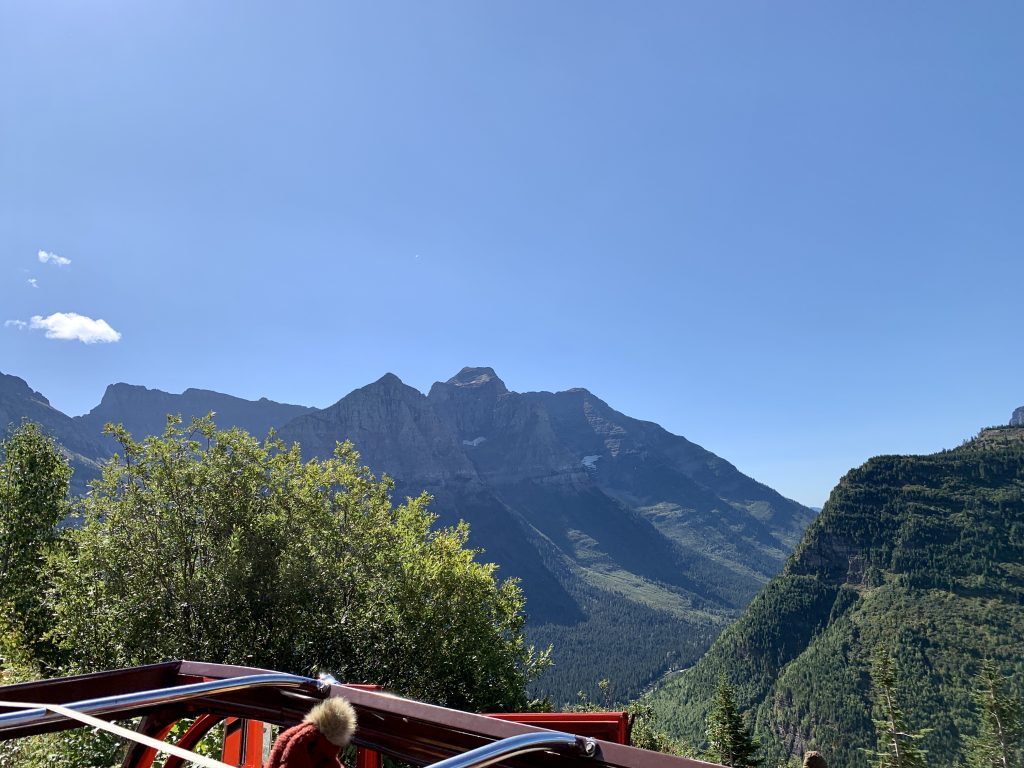 Endangered Glaciers in Peril along Going to the Sun Road 
The alpine meadows can be found at Blackfoot-Jackson Glacier Overlook. The glacier has been retreating over the years. Glacier National Park has seen significant effects of climate change over time the glaciers have become endangered. Only 26 the 150 that were present in the late 1800s remain. Blackfoot-Jackson Glacier will likely disappear by 2080. Visitors on the Red Bus Tour can expect to see an amazing perspective of the Rocky Mountains. This can go a long way toward fostering awareness about the peril that these natural landmarks face. 
Red Bus Tour Provides In-Depth Experience of Going to the Sun Road  
Going to the Sun Road Red Bus Tours offers visitors the chance to stop to take in the sweeping views without the hassle of driving and navigating this winding, engineering marvel. 
Logan Pass is the highest point along Going to the Sun Road and some Red Bus Tour itineraries do include a stop here. The Logan Pass Visitor Center is open seasonally and is a great starting point for hikers and backpackers opting to drive themselves. Campers will find five of the 13 campgrounds within the national park along Going to the Sun Road. St Mary, Rising Sun, Sprague Creek, Apgar, and Avalanche campgrounds offer countless options and amenities for visitors.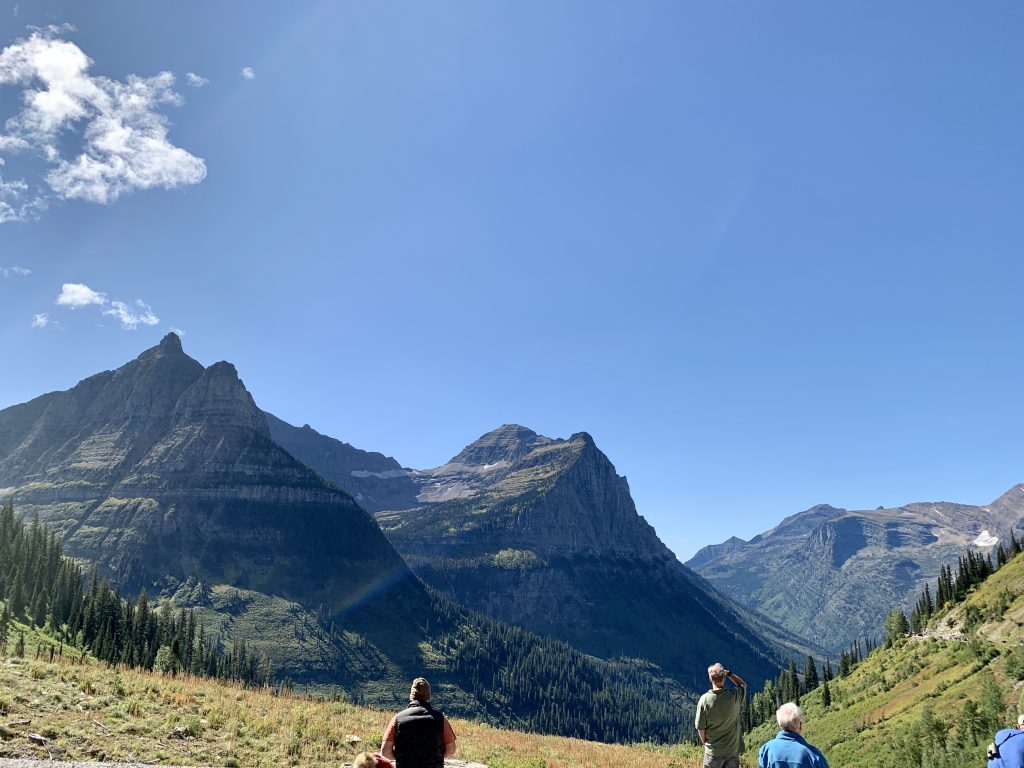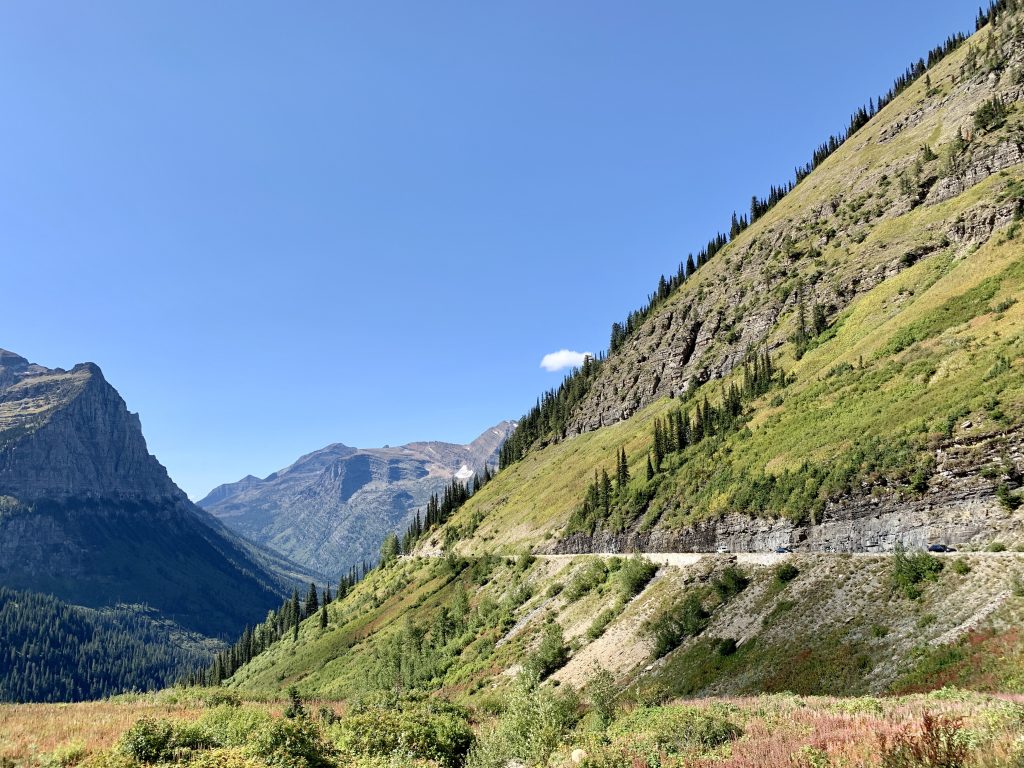 Red Bus Tours, Shuttle and Driving Options along Going to the Sun Road 
Round trip Red Bus Tours along Going to the Sun Road offers daily service. The interpretive tour highlights the history of Going to the Sun Road and Blackfoot Native culture. Travelers staying at Glacier Park Lodge, Apgar Village Lodge, West Glacier Village, Motel Lake McDonald, and St. Mary Village pick up a Red Bus Tour directly on site.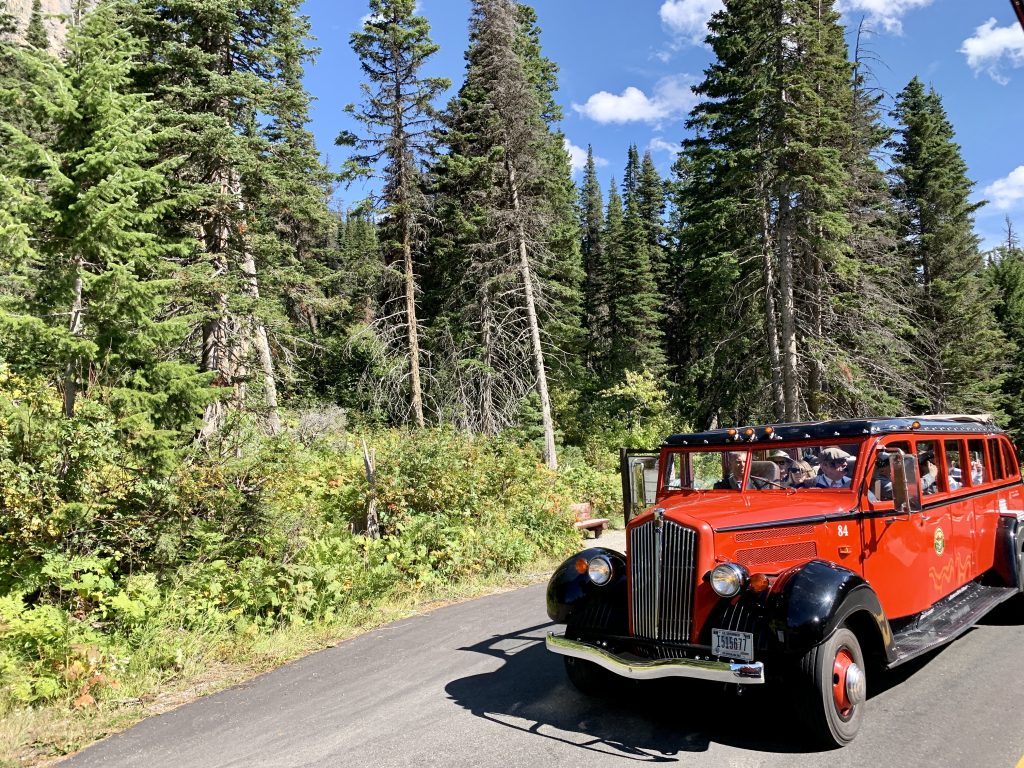 Adventurous travelers looking to drive themselves should know that there are no gas stations along Going to the Sun Road or within the national park. Going to the Sun Road is open seasonally from June to early fall as driving is dangerous in winter (we were there on the last day of the season). Check with the Glacier National Park website for weather updates.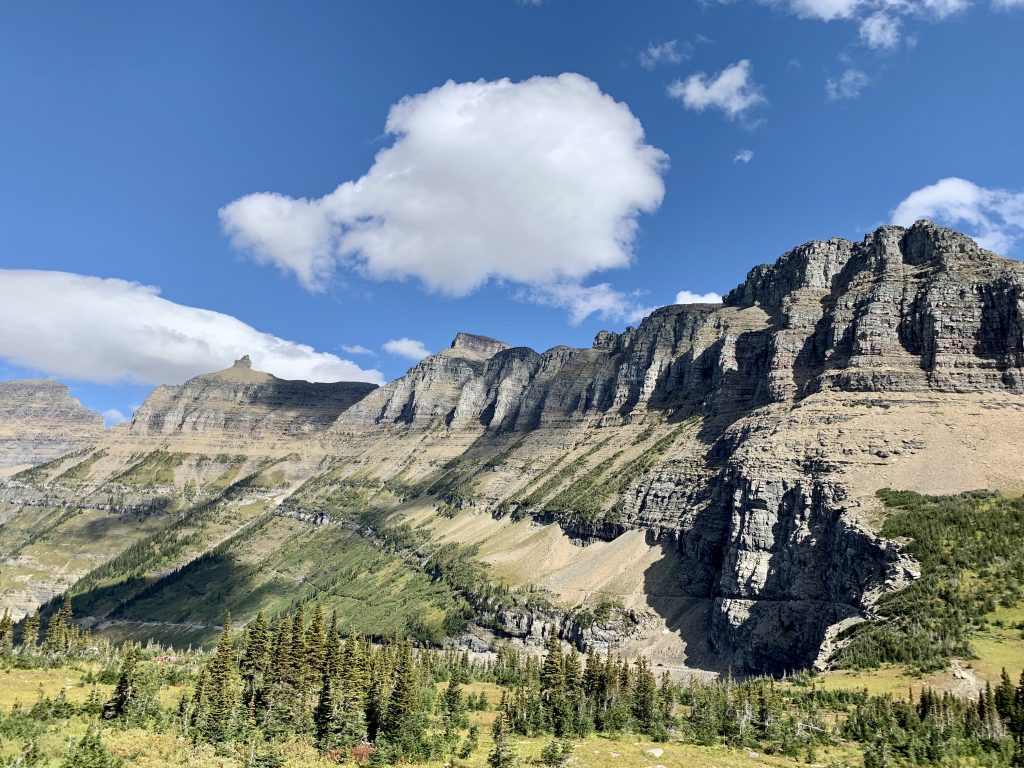 A Red Bus Tour along Going to the Sun Road is a relaxing way to take in the beauty of the Rocky Mountains. Whether your interest lies in hiking, biking or just observing from a distance while someone else drives, a Red Bus Tour through Glacier National Park won't soon be forgotten. It is a tour you really need to experience for yourself–I'm struggling to get across how much I loved this day and how much information I was given. If you only do one tour in Montana, make it this one. You will feel special–trust me.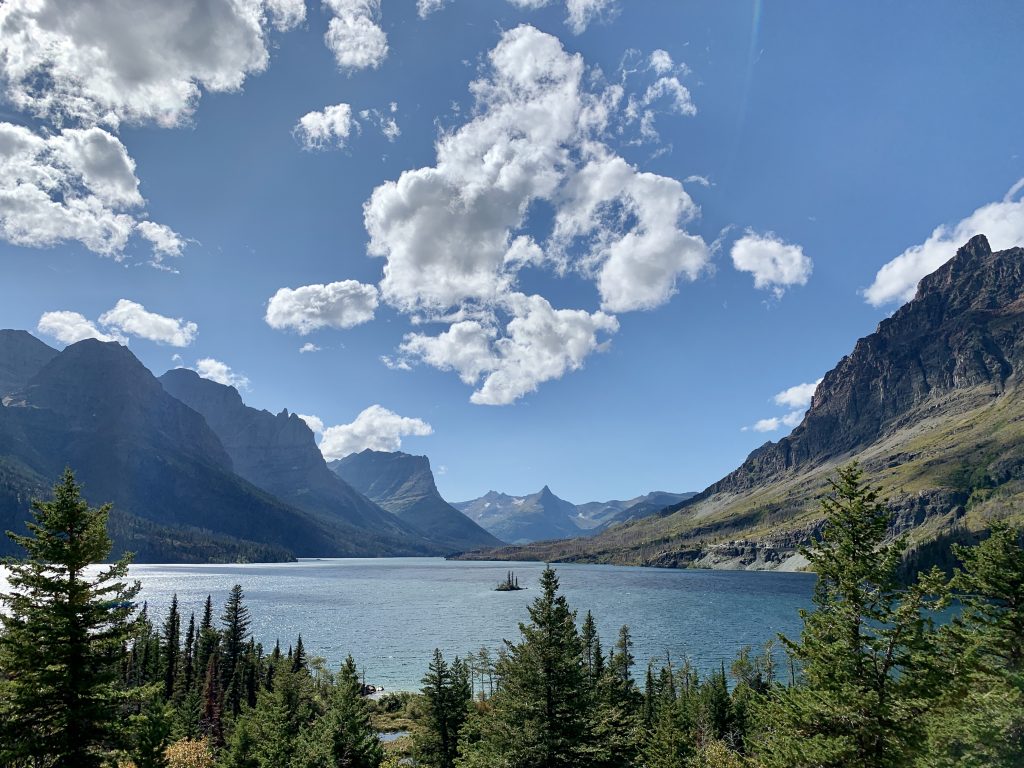 If you want to learn more about the history of the Red Bus and Going-to-the-Sun Road, check out these books. These are affiliate links.
Want more amazing things to do in Montana?? Try hiking with llamas! It's another unforgettable day.