We're crazy about fall foliage and are planning out our road trips over the next few years. People tend to be protective over their favorite places to see the colors, but the States has so many great places on offer and they all have their charms. Family road trips, especially in the fall, are one of my absolute favorite things to do. I've collected a few of the best American fall road trips for families.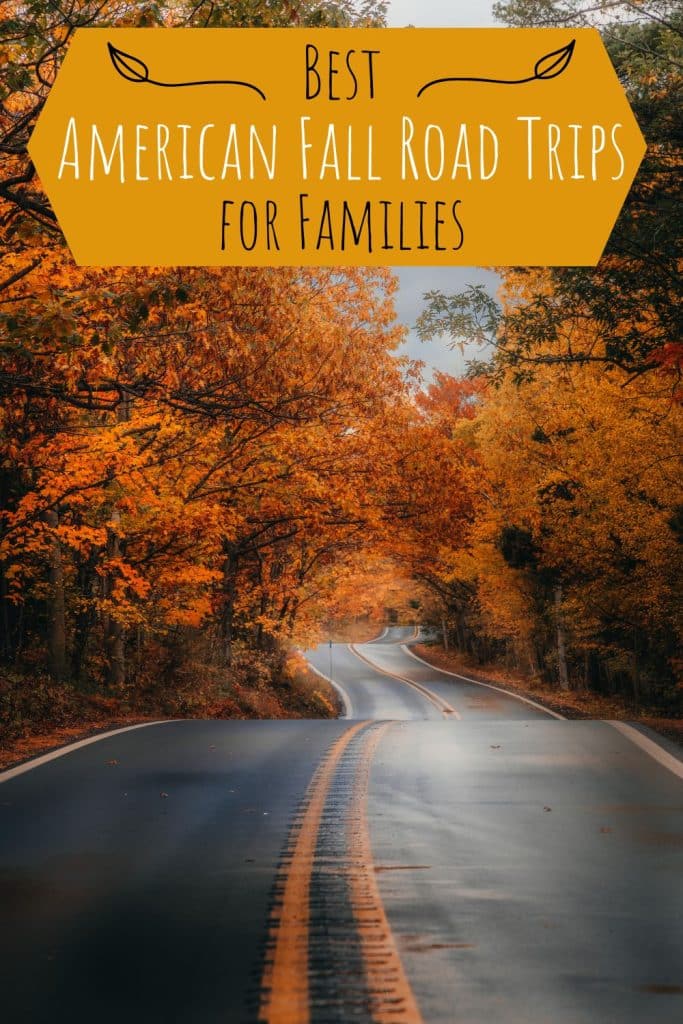 Photo by Hans Isaacson on Unsplash
Blue Ridge Mountains, Georgia
I grew up with the Blue Ridge Mountains and they're my sentimental favorite. My mountains are in the Asheville area, but I thought we'd go a bit further afield. The Blue Ridge Mountains in Georgia offer beautiful fall foliage without the cold temperatures that you might find on the northeastern coast. In addition to the winding mountain roads and beautiful fall colors, you will also find some amazing towns to stop in. Begin your trip on the Russell Brasstown Scenic Byway in North Georgia which will take you along the Blue Ridge Mountains and the Chattahoochee River. The best place for viewing the amazing fall colors is at the highest natural point in Georgia, Brasstown Bald.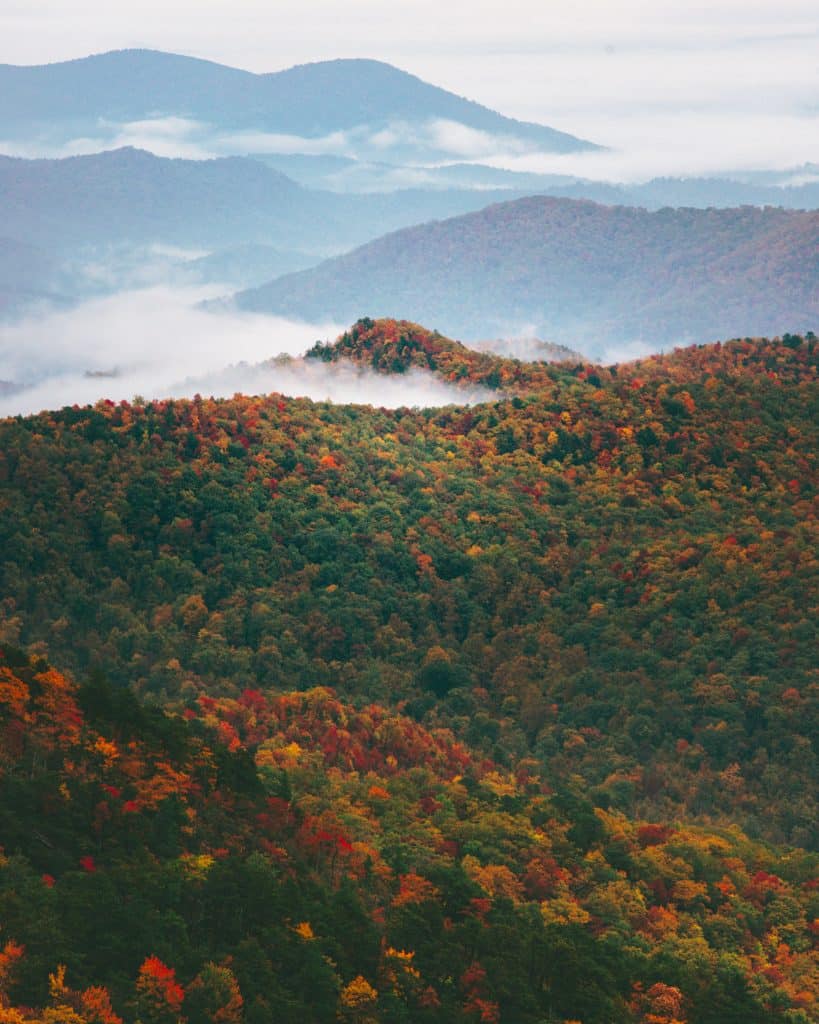 Photo by Alex Diaz on Unsplash
There are plenty of family-friendly stops that you can make along the way including Helen, a small town designed like a Bavarian village that also happens to be home to Babyland General, the birthplace of the CabbagePatch Kids. Clayton is another quaint old mountain town with antique shops, restaurants, and galleries to explore in addition to the natural beauty of the Chattahoochee-Oconee National Park.
Lake Superior Circle Tour, Michigan, Wisconsin, Minnesota, Ontario
If you are looking for a longer road trip for your fall family vacation then the Lake Superior Circle Tour might be the choice for you. You will get to see beautiful fall foliage in three states and two countries! The full tour is 1,300 miles of unabashed scenery and family-friendly attractions.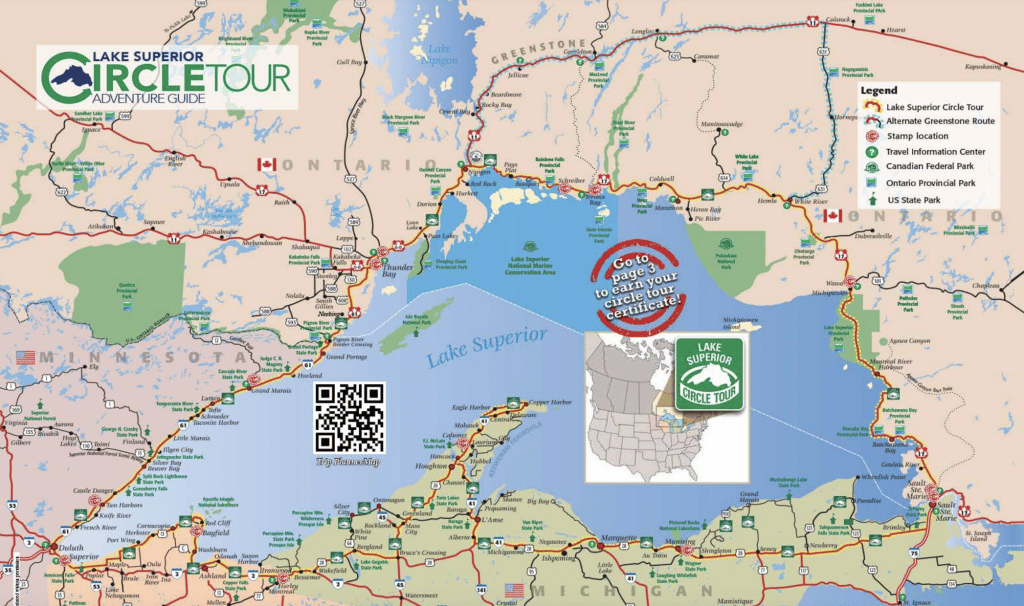 Photo from LakeSuperiorCircleTour.info
This particular road trip destination even has an app and a planner to make it easy for you to find lodging, directions, accommodations, and attractions. Some of the most popular kid-friendly attractions include the Panorama Amethyst mine in Ontario, The Lake Superior Zoo in Minnesota, The Great Lakes Aquarium in Minnesota, and The Great Lakes Shipwreck Museum in Michigan You may not have enough time to complete the full tour but no matter where you start or end your Circle Tour adventure you will see lots of wildlife and leaves that are absolutely bursting with fall color.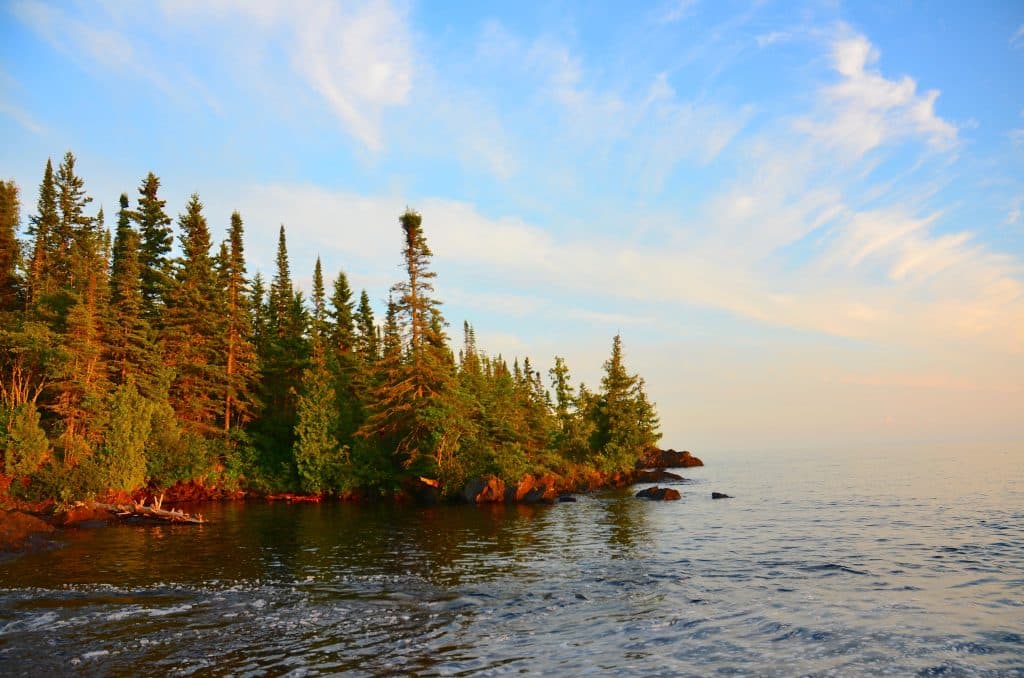 Photo by Austin Park on Unsplash
Going-to-the-Sun-Road Montana
Montana might not be the first place you think of when you think of taking a road trip to see the beautiful fall foliage, but it should be. Going-to-the-sun-road is a fifty-mile-long stretch of road in Glacier National Park, Montana, and a personal favorite of mine. The drive would take you approximately two hours if you didn't make any stops, but you will definitely want to make some stops along the way. If you don't want to drive yourself, you can always take a Red Bus Tour.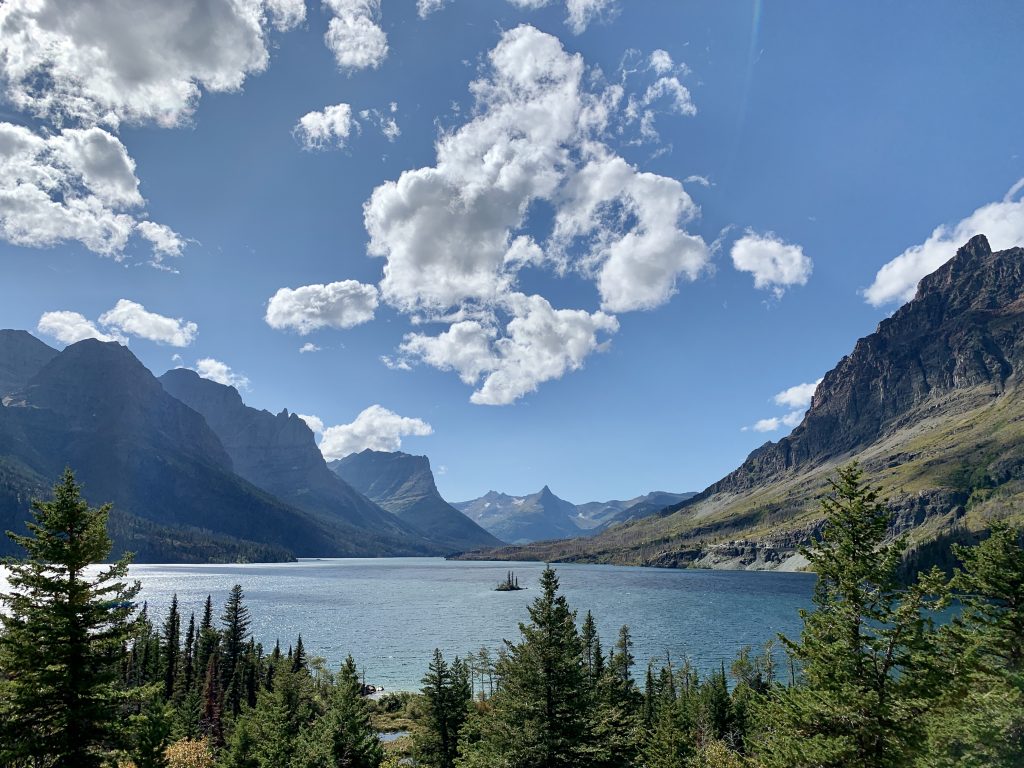 There is a lot of wildlife in this area so be on the lookout for bears, goats, and bighorn sheep. The highest point is Logan Pass at 6,646 feet and you will want to have your camera out for wildlife pictures. This fall road trip is best taken before the end of September before the weather turns wintry (and the road closes for the season). Make sure to fill up with gas and carry some snacks because there are no convenience stores or gas stations along this road.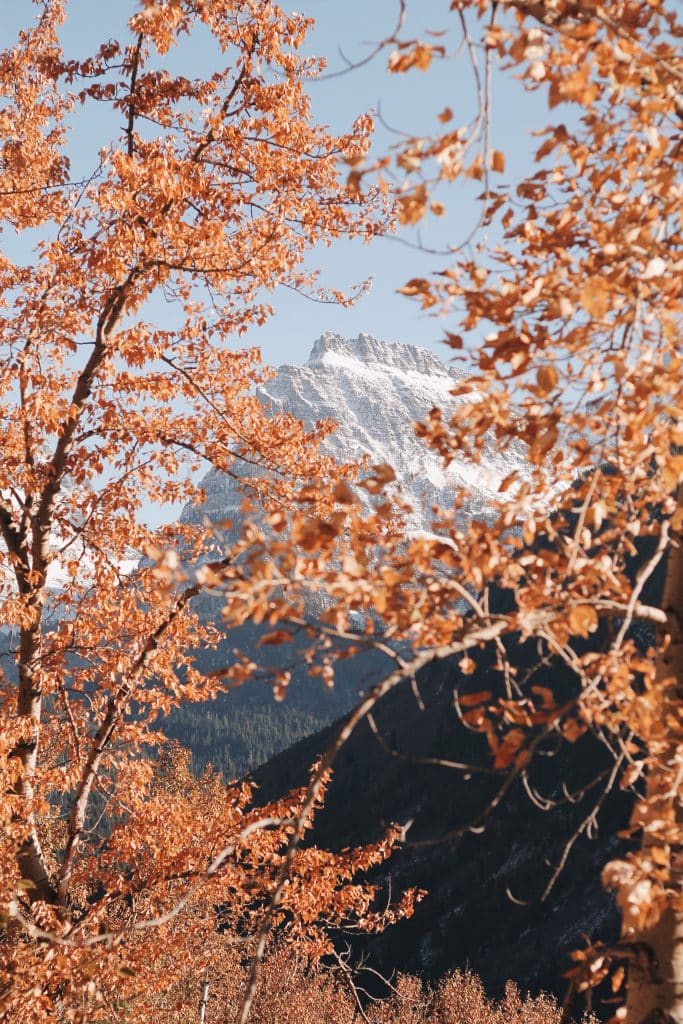 Photo by Sydney Angove on Unsplash
Mountain Cloves Scenic Byway, New York
The Mountain Cloves Scenic Byway is a 41-mile route that will take you through the Northern High Peaks of the Catskill mountains, and it is just a couple of hours north of New York City. You would never know it with all of the breathtaking natural scenery though! Mountains, waterfalls, historic landmarks, and must-stop in towns are what you will find on this fall road trip.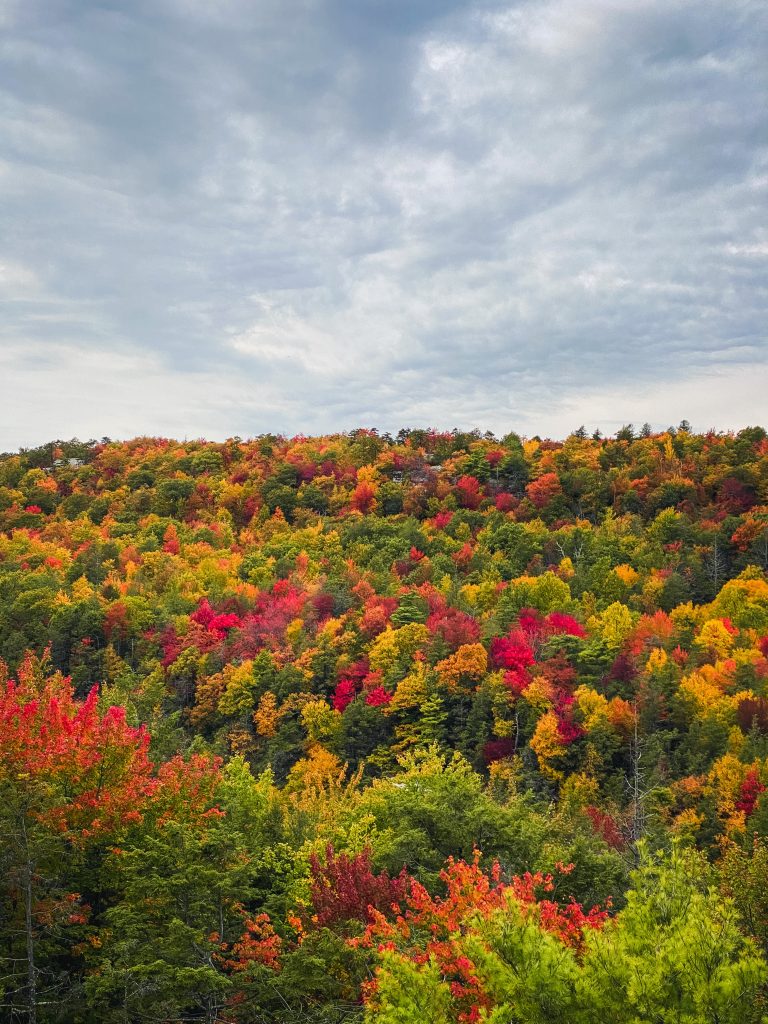 Photo by Olga Subach on Unsplash
For this area, the peak fall color usually happens in early to mid-October. Diamond Notch Falls, the Hunter Mountain Fire Tower, All Souls Church, and Stony Clove Notch are just a few of the places you will want to stop and explore on your journey.
Historic Columbia River Highway, Oregon
The Historic Columbia River Highway is the United States first designated scenic highway and it spans just a little over 70 miles along the Columbia River Gorge. Both sides of the road are packed full of deciduous trees giving visitors in the Fall a breathtaking display of brightly colored leaves. The leaves here are at their peak during late September.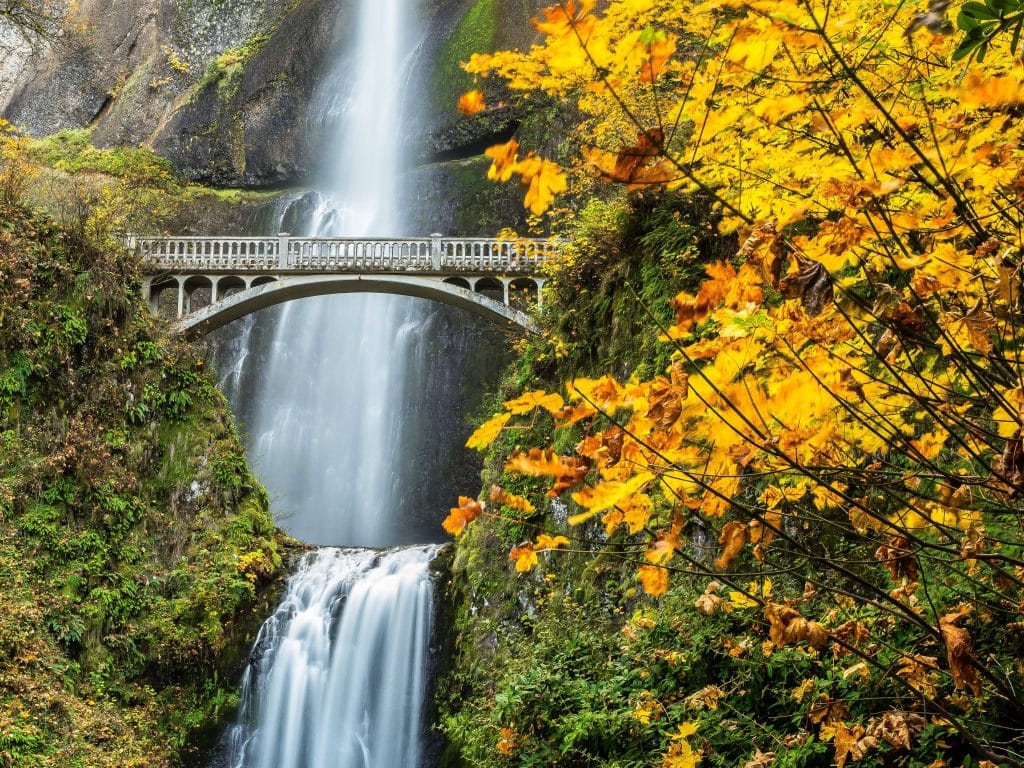 The fields of wildflowers, rolling hills, hiking trails, and waterfalls in this area are not to be missed. Speaking of waterfalls, while you are here you need to see the Multnomah Falls, a 620-foot waterfall. However, to see Multnomah Fall you will need a reservation for a timed use permit for your vehicle. You can get a reservation from the recreation.gov website for your visit here.
Oak Creek Canyon, Arizona
Arizona may not be the place you think of for a road trip to celebrate the arrival of fall and all of its gorgeous colors but if you know where to look it is! Oak Creek Canyon in Arizona is not only home to red rocks, but fall leaves as well if you visit from the middle of October to the middle of November. The beautiful colors against the red rock background just make the scenery even more stunning.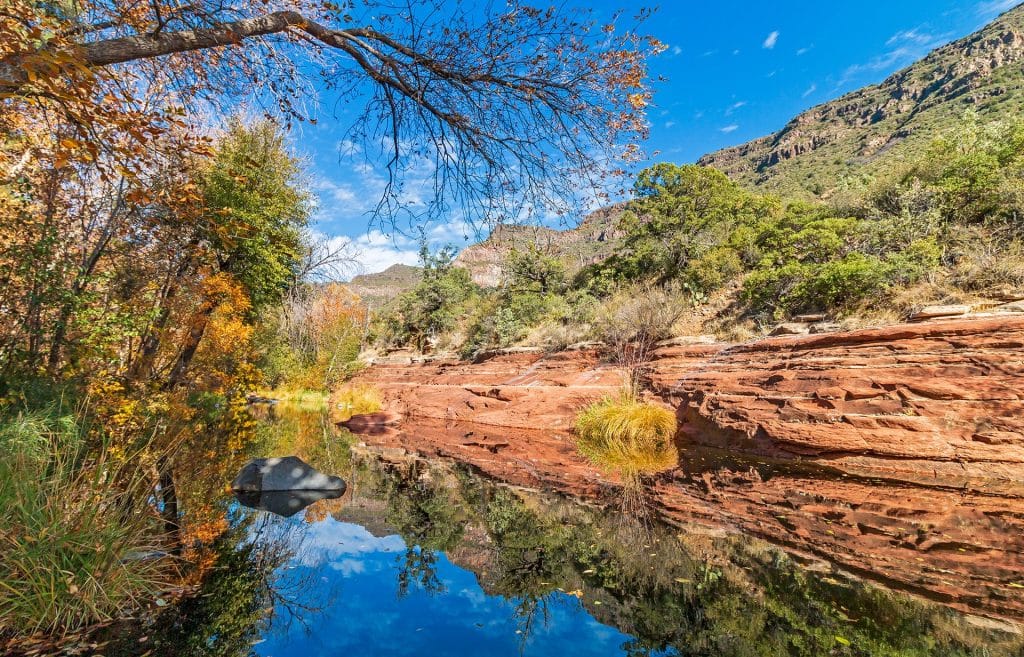 Photo Courtesy of Ray Redstone
To see the fall foliage of Oak Creek Canyon you will want to travel down highway 89A which goes from Flagstaff to Sedona. The drive is only about 30 miles one way but there is a lot of scenic beauty to take in along the way. Additional drives in the area that you and the family might enjoy include the Red Rock Loop and the drive from Dry Creek Road to Boynton Road. Cathedral Rock, Slide Rock State Park, and Red Rock State Park are some other points of interest you might want to check out while you are in the area.
Fall family road trips are always a lot of fun because the weather has typically started to cool down and the roads and attractions tend to be a little less crowded. Being able to see the beautiful fall foliage in all of its glory is a reminder of how amazing nature is and I'm always so content to absorb the season. These are just a few of the best American fall road trips–this country has so many to offer and I can't wait to experience them all.