Libraries are often overlooked in travel itineraries but are always a favorite place of mine to explore. Books are a connector between cultures and the care given to them is something shared. My love of books is as old as I am and getting to see their international homes is something special. If you're a bibliophile and thrive on seeing gorgeous architecture, you should make visiting libraries a part of your travels. There are beautiful libraries to visit around the world, be it inside modern buildings, castles that have stood the test of time, crazy architectural designs, and just about everything in between.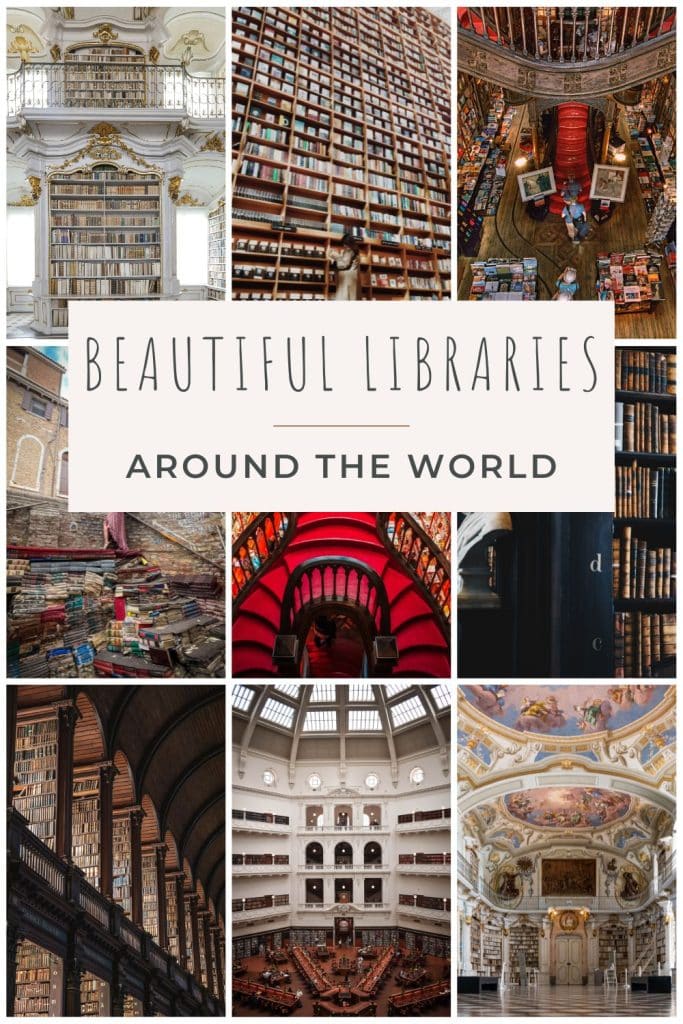 From reading rooms located inside medieval palaces to libraries that look as though they should belong in fantasy, here are some of the most beautiful libraries in the world you've got to check out. Keep in mind that library rules are in place and some areas will be off limits.
The Most Beautiful Libraries in the World
State Library Victoria, Melbourne, Australia
Built during the 17th century, the State Library Victoria was not only the oldest library in Australia, but also one of the first ones to open its doors to the general public in the world, giving thousands of people access to free literature and education.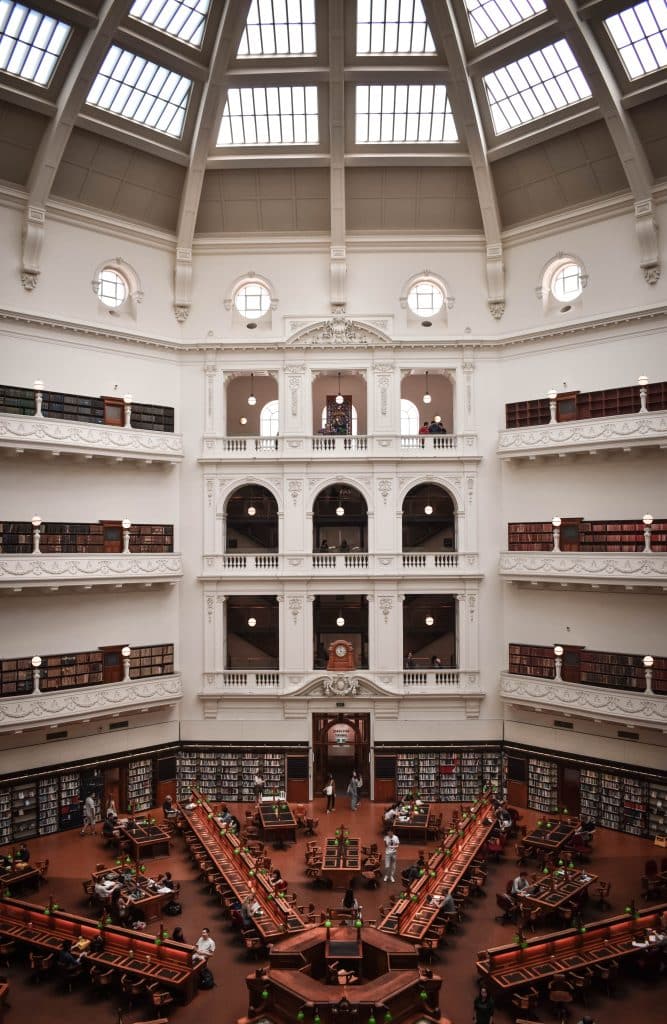 Photo by Finn Whelen on Unsplash
This library is so humongous that it covers an entire block, which means you could spend entire days inside it browsing through books and admiring its architecture. If you're short on time, though, we recommend focusing on the La Trobe Reading Room, a gorgeous octagonal-shaped space that was designed to hold a million books and several hundred readers!
The library of Admont Abbey, Austria
Located inside the world-famous Admon Abbey in Austria, this library sits right next to the Enns River and just happens to be the world's largest remaining monastery library in the world.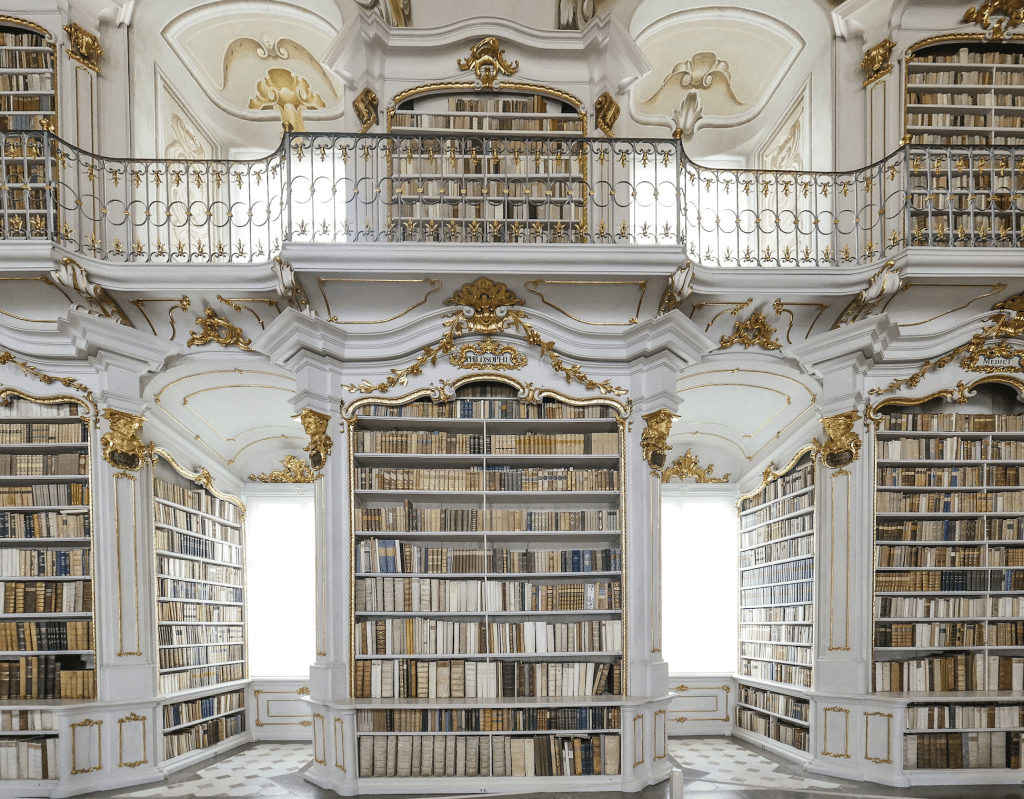 Photo by Andreas ***** on Unsplash
This library is also considered one of the quintessential examples of late European Baroque. The entire place is absolutely gorgeous, but what usually catches visitors' eyes the most are the seven ceiling frescoes that depict the different phases of human understanding: thought, speech, science, arts, and Divine Revelation.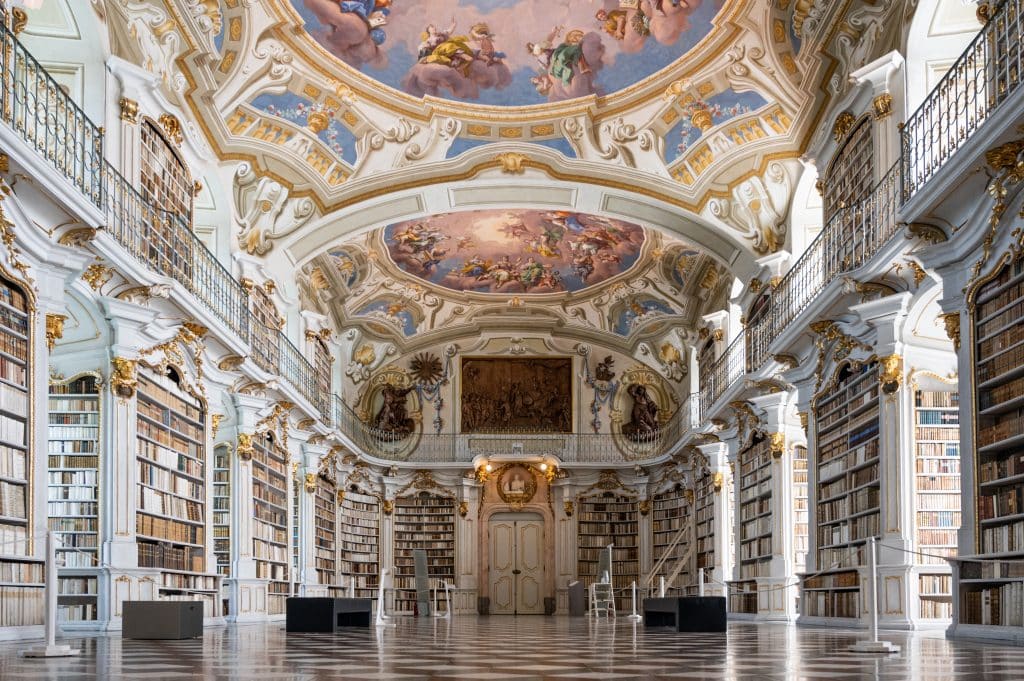 Photo by Carrie Borden on Unsplash
This library homes over 70,000 titles collected throughout the ages, including over a thousand manuscripts that date back centuries (the oldest is from the 8th century AD!).
Trinity College Library, Dublin, Ireland
Located inside Trinity College in Dublin, this library is one of the most architecturally important buildings in entire Ireland.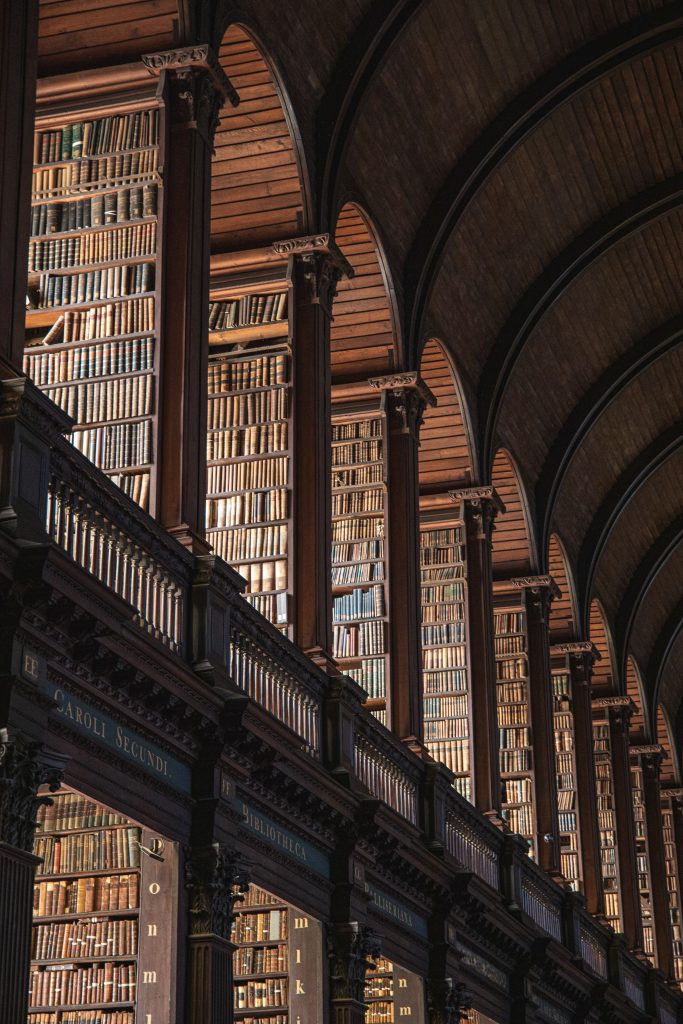 Photo by Zach Plank on Unsplash
Here, you'll feel as close as you can get to being inside the Hogwarts library, as it features a 65-meter long chamber (the Long Room) where you'll find over 200,000 books as well as exquisite busts of note-worthy writers and philosophers.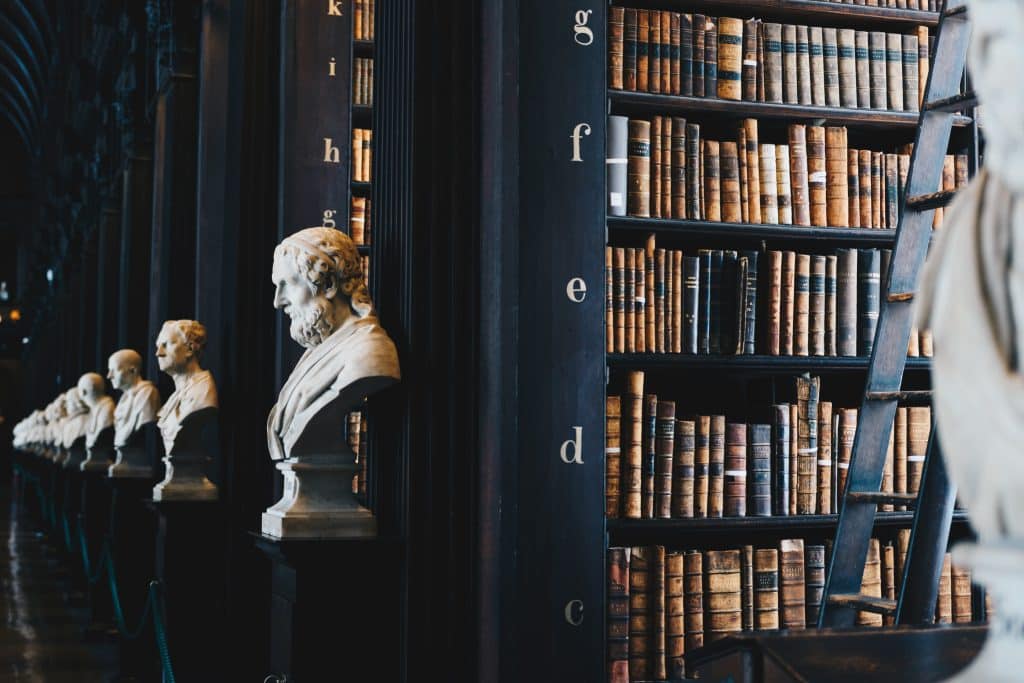 Photo by Giammarco Boscaro on Unsplash
Even if you're not a student, you can still visit the library, making it a must-see for every traveler to Ireland. During your visit, you will first walk through the college's Book of Kells exhibition before reaching the Treasury, where you'll get to see original manuscripts of the Book of Kells. Afterward, you'll get to visit the Long Room, where you could easily spend hours browsing through the titles on offer and admiring the room's architectural details.
Livraria Lello, Porto, Portugal
Built during the 18th century, Livraria Lello in Porto is an icon of the city. Here, you'll find some of the most important literary works by Portuguese writers, but you may have quite a hard time finding a title you want to read because you'll keep getting distracted by the beauty of the building.
Photo by Peter Justinger on Unsplash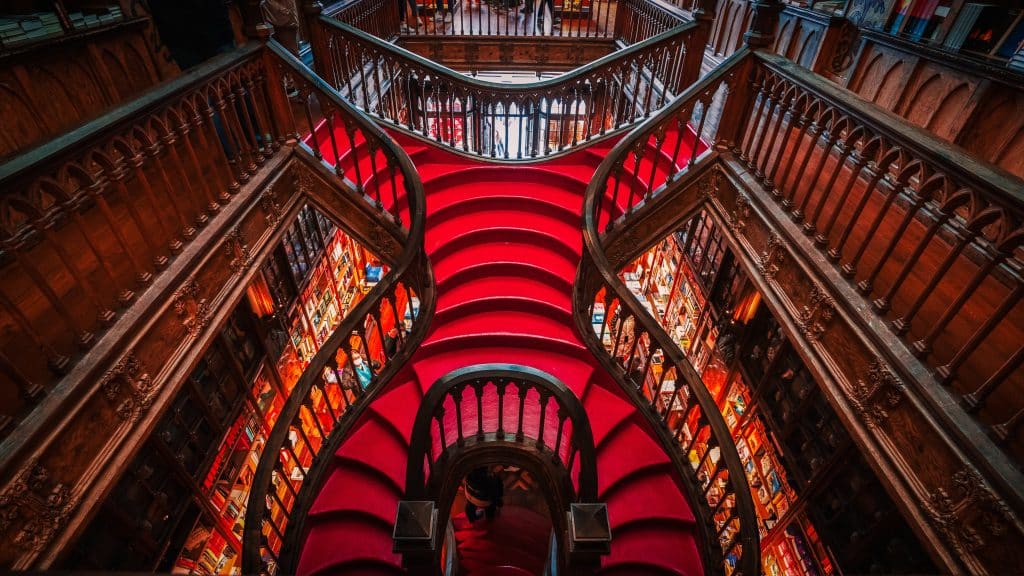 Photo by Dmitri Zotov on Unsplash
The most iconic features of Livraria Lello are its enormous crimson staircase and its majestic colored glass ceiling. The exterior of the building features Neo-Gothic and Art Noveau elements, while its interior showcases plenty of Art Deco goodness.
Libreria Acqua Alta, Venice, Italy
In Italian, Libreria Acqua Alta means "the book store of high water". Its peculiar name comes from the fact that, when Venice's canals rise several inches off the floor, the library tends to get flooded. Yes, this is a book store and not a library, but it's book-related and worth visiting.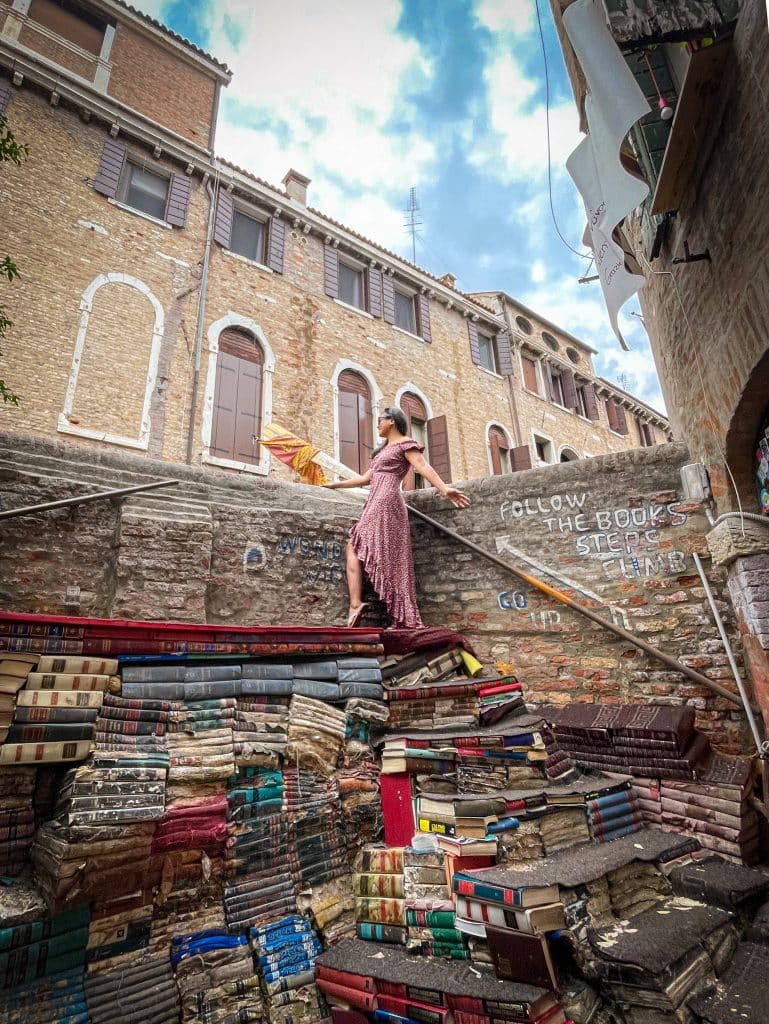 Photo by Alexandra Tran on Unsplash
The owners of the bookshop decided to get creative to solve the water problem. Instead of moving somewhere drier, they opted to store books inside spaces like bathtubs, boats, and even a real gondola. Creativity didn't stop there – they also came up with the idea of creating a staircase made up entirely of books!
Château de Chantilly, Chantilly, France
The Château de Chantilly was once the home of the Duke of Aumale, who was extremely devoted to literature and the arts and spent his entire life collecting fascinating artifacts and literary works.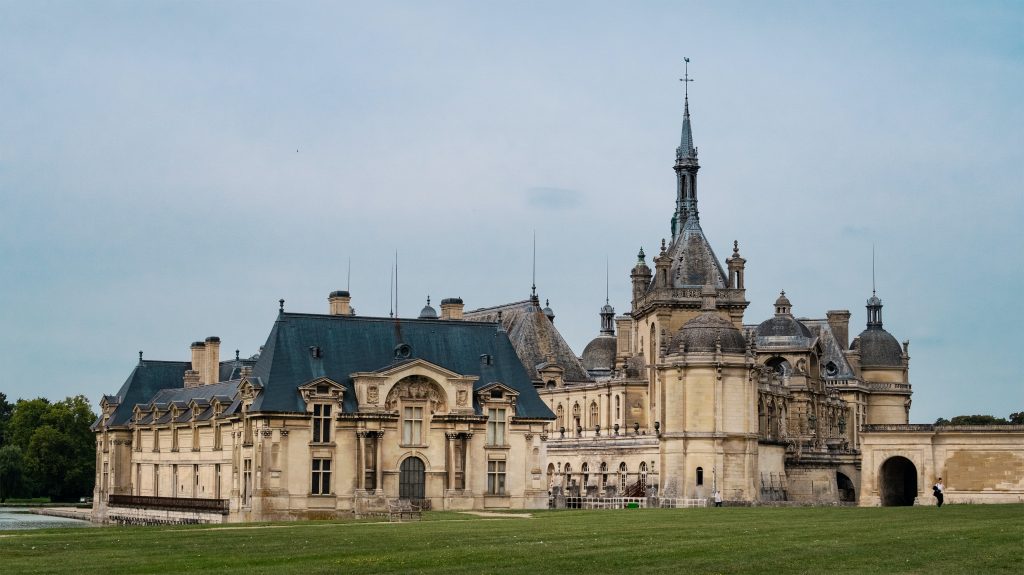 Photo by Svetlana Gumerova on Unsplash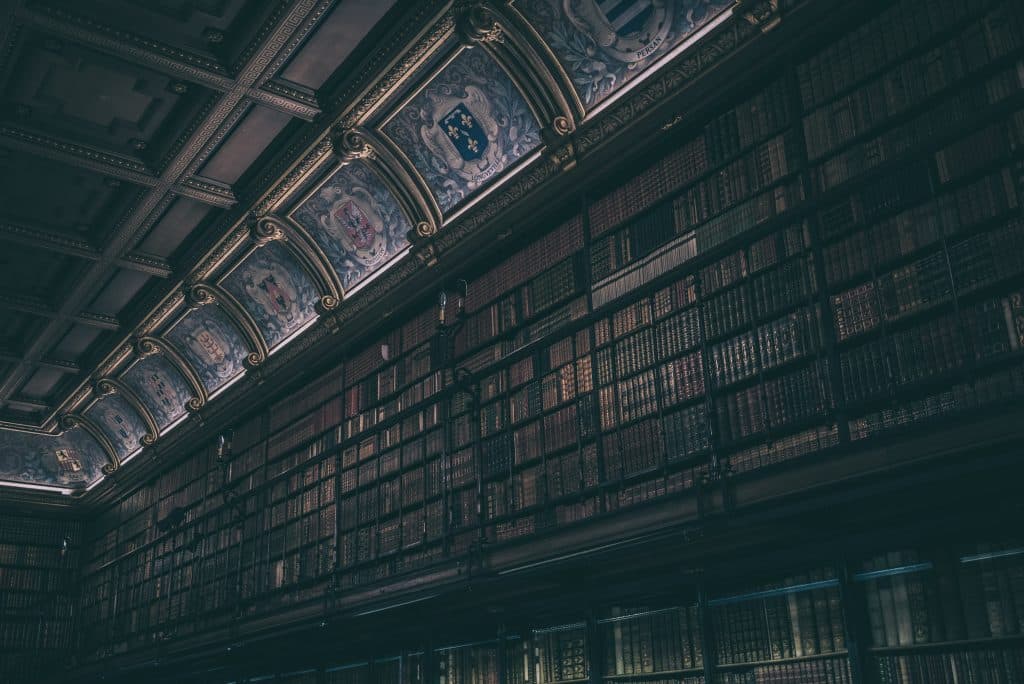 Photo by Jez Timms on Unsplash
This striking library is located inside one of the most beautiful castles in France, and if you love books, you'll pretty much find your heaven here. With almost 20,000 texts and over a thousand manuscripts, the library's castle boasts one of the most unique collections of titles, some of which are considered extremely rare and others that date all the way back to the Middle Ages!
Klementinum, Prague, Czechia
There's practically no ugly place in Prague, but if you want to visit the most beautiful space in the city, you're guaranteed to find it at the Klementinum. This gorgeous building sits in the historical heart of Prague right next to the alluring Charles Bridge, making it a pretty easy stop to make if you're visiting the city.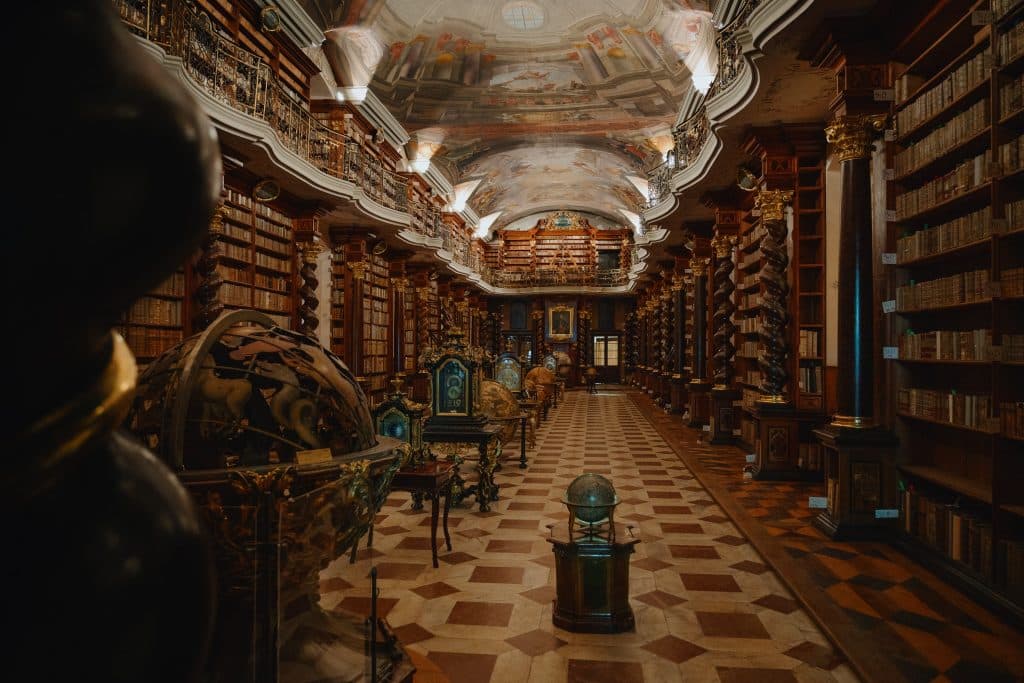 Photo by Cedric Letsch on Unsplash
The Klementinum is considered one of the largest buildings in Europe. It was built during the 14th century and slowly reconstructed over two centuries, which means you'll find a variety of architectural styles all over the complex.
The only way to see the library at the Klementinum is on a guided tour. Aside from getting to spend time checking out the library's main hall, you'll also get to see other parts of the buildings, including its famous astronomical tower.
Austrian National Library, Vienna, Austria
This library doesn't only hold one of the largest collections of books in the world, but it's also the biggest Baroque library in Europe and an absolute treat for those who want to feel as though they took a step back in time.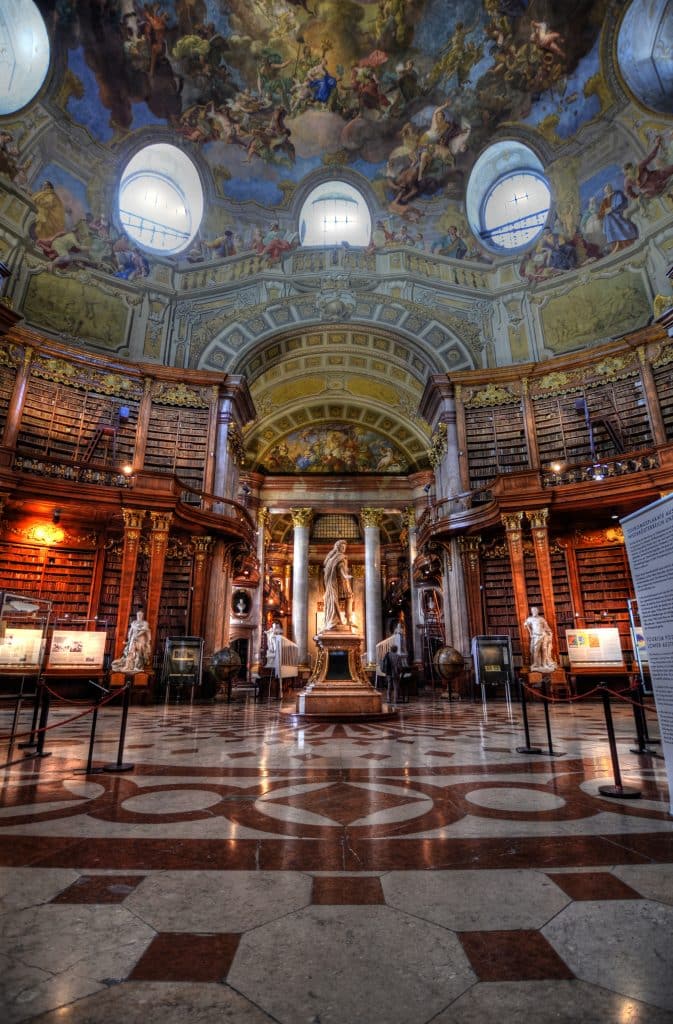 By Richard Hopkins – Flickr: Österreichische Nationalbibliothek, CC BY 2.0
During your visit to the Austrian National Library, you'll get to browse through over 12 million titles and artifacts, some of which are considered extremely rare. A few ones worth mentioning include Martin Luther's writing from the Reformation era as well as two outstanding Venetian baroque globes that depict the sky and the earth.
The library was originally built during the early 18th century as a private wing for Emperor Karl VI, but today visitors can freely come in and take a look. The main highlight of the library is its state hall, which is crowned by a dome decorated with beautiful frescoes and carries over 200,000 titles!
Starfield Library, Seoul, Korea
Starfield Library isn't as old as all the other libraries mentioned in this post, but its unique architecture makes it deserving of a spot on the list.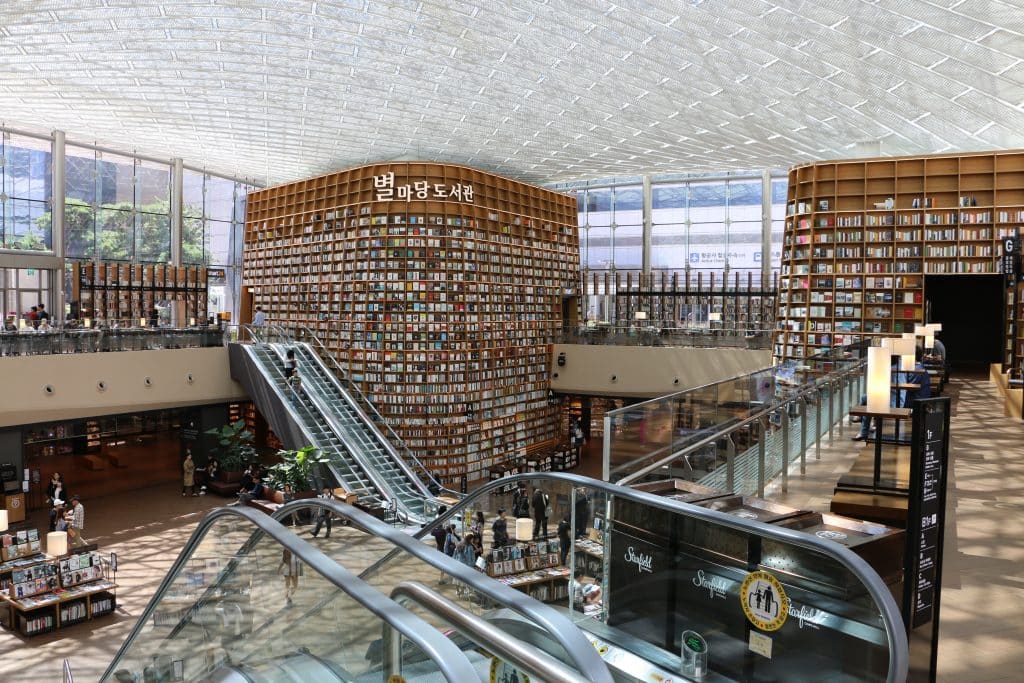 Photo by Josip Ivankovic on Unsplash
Set inside the COEXX Mall inside the iconic Gangnam Area of Seoul, Starfield Library is a two-story space featuring a gigantic 13-meter-tall bookshelf. Its modern design has made it a favorite spot in the city of photographers, literature buffs, and just simply looking to find a peaceful moment away from the hustle of Seoul.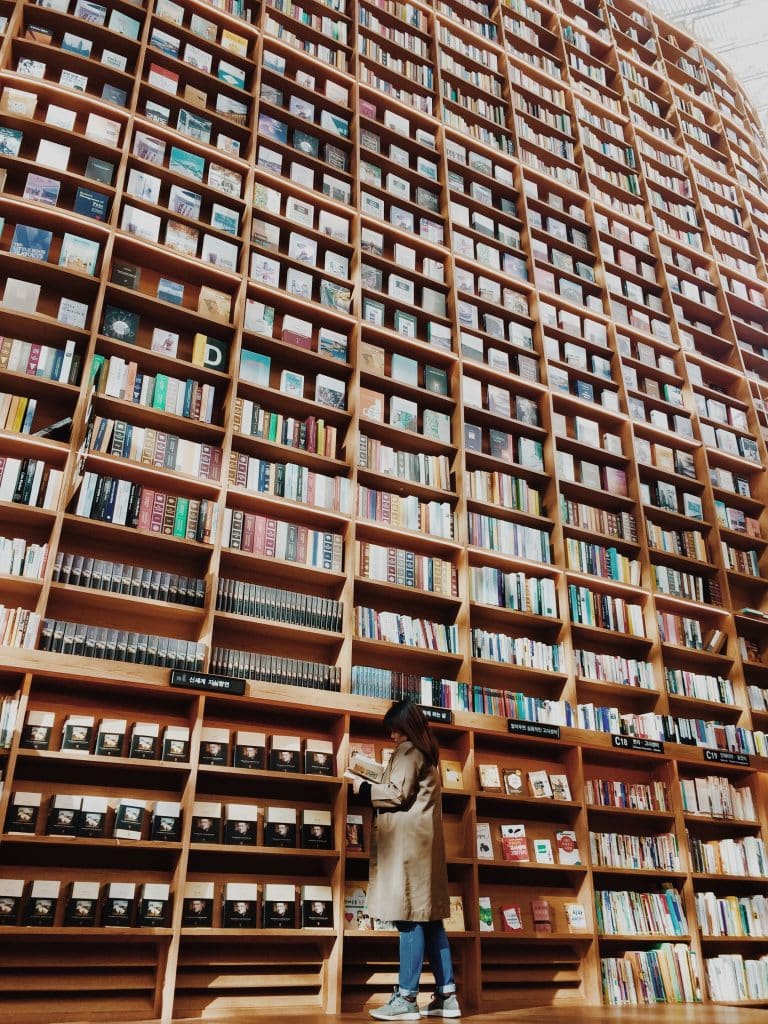 Have you ever visited any of these beautiful libraries? If you know of any other beautiful book stores or libraries around the world, please feel free to recommend them in the comment section below!
Have your stack of books ready to read? Make this felt heart page corner bookmark.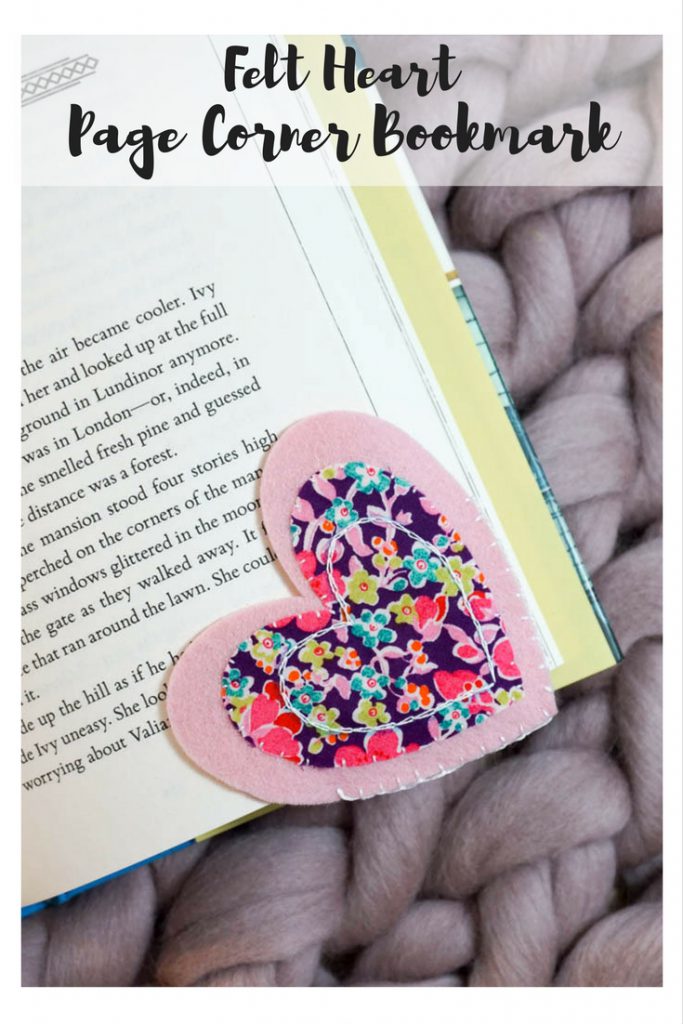 Or this striped peekaboo bookmark!