I was incredibly honored to be chosen for an amazing FAM when I attended TBEX in September 2019. My FAM (familiarization tour often used for people who work in the travel industry) took us all over Glacier Country, Montana, and I fell in love so hard that I came home and promptly started looking for houses. We enjoyed so many spectacular views, had huckleberry everything, and stayed in cozy rooms all over the region. One of my favorite activities, though, was hiking with llamas. It may not be an activity that is at the forefront of your mind on a trip to Montana but it was so worth it and I still daydream about our trek. Swan Mountain Llama Trekking is a one-of-a-kind hiking experience in the Flathead National Forest in Western Montana and makes for an absolutely enjoyable day.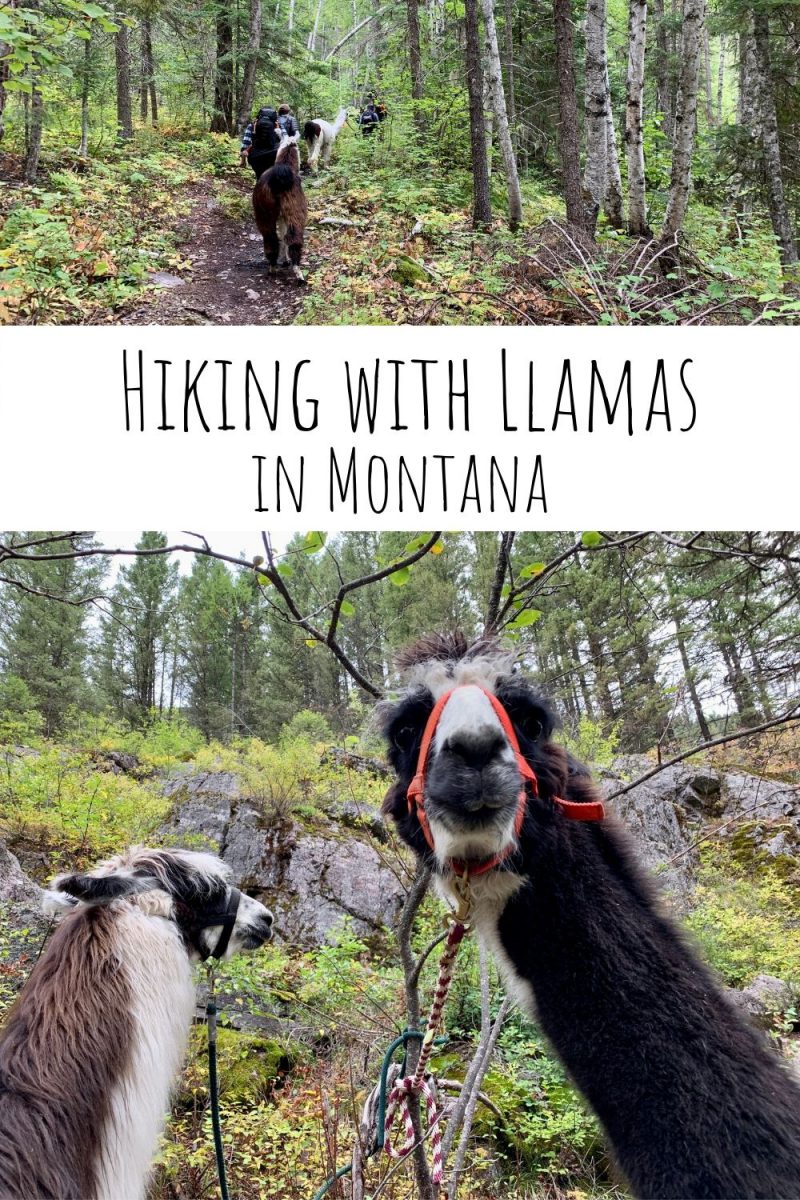 What is Llama Trekking
Llama trekking is simply hiking along a trail accompanied by a pack of llamas. This hike took us to Bond Falls in the Flathead National Forest. The llamas carry your lunch, snacks, and equipment in for you as you enjoy the sights, sounds, and smells of the gorgeous backcountry. Flathead National Forest encompasses over 2 million acres and includes 2,249 miles of trails. Hiking with llamas is a unique way to explore 4.6 miles of it.
Llama Trekking Options at Swan Mountain 
Swan Mountain offers several llama trekking experience options. Each will ensure you have just as much time as you're comfortable with. The mid-point to this roundtrip 4.6-mile hike along Upper Bond Trail is, of course, Bond Falls. The uphill trek to the waterfall reaches an elevation of just over 700 feet. You'll enjoy a snack or meal at the waterfall while the llamas enjoy their own snack and rest by the water.  
Half-Day Llama Trekk with Lunch Included
Hikers interested in a half-day experience can sign up for the Half-Day Llama Trekking experience. The roundtrip 4.6-mile hike begins after a short drive to the trailhead in the Flathead National Forest. This 3.5-hour trip includes a waterfall hike. Upon arrival at the waterfall, hikers will be treated to a prepared picnic lunch and a rest. This is what we did and it was great. The hike was easy enough for beginners and the lunch was just the right thing. My llama was Jingles and we became best friends and he promised he would never forget me when we parted ways.
Spend the Whole Day Hiking with Llamas 
For guests wishing for a full-day experience, the All-day Llama Trek hike takes guests along winding paths and over Bond Creek in the Flathead National Forest. Hikers are encouraged to pick berries along the trail and enjoy the creek waters. Enjoy your picnic lunch while taking in the breathtaking views of the waterfall.  
Evening 3-Hour Llama Hiking Date Night Idea  
The evening dinnertime llama trek is an ideal date night option for adventurous hikers. This late afternoon hike begins at Swan Mountain Llama Trekking at 4:30. Guests have the choice of hiking before dinner or after, either at 4:30 p.m. or 7 p.m. Cheese, wine and chocolate are served by the creek after hiking out on the Upper Bond Trail.  
Overnight Llama Hiking Trips 
If you're seeking a more immersive llama trek experience, consider one of three overnight trips. Multi-day llama treks include all meals and fishing and/or berry harvesting along the trail. Meals are prepared by guides on-site and great care goes into the offerings that are backcountry Montana inspired.  
Tips for Hiking with Llamas in Montana
Knowing how to plan for your Montana llama trek can be challenging. Because mountain weather can change in the blink of an eye and mornings are typically cooler, dressing in layers is always going to be your best bet. As our FAM leader told us repeatedly, layers, layers, layers. It's helpful also to bring a day-pack with you. While the llamas will be doing most of the heavy lifting during your trek, you'll want personal items close by. Comfortable hiking boots or sneakers work best as the trails are rocky and often strewn with roots or wet leaves. It is also important to note that you'll be out in nature for a good part of the day. Indoor plumbing doesn't grow in nature, so hikers will have to opt for a more rustic approach to using the restroom. It is 100% pack it in pack it out, so be prepared.
No Llama Drama on this Hiking with Llamas Adventure 
Visitors to Swan Mountain will be impressed with knowledgeable guides that facilitate the llama trekking adventures. Safety and care for the llamas are always a top priority. Great Northern Llama Company is the breeder of all of the llamas at Swan Mountain Llama Trekking. 
Why Use Llamas on a Hike 
Llamas help hikers by assisting in easing the weight carried while on the trail. Hikers can climb to higher, steeper elevations without having the extra weight of their equipment to carry. Llama trekking allows you to fully immerse yourself in the hiking experience and gives you extra mobility to explore and interact with your surroundings. The llamas happily do their job while you experience a one-of-a-kind backcountry adventure. Plus, and I can't stress this enough, they are great listeners. I tend to hike in silence but there was something about Jingles that had me chatting to him the entire time.
llamas packs include a saddle, blanket, and halter. Their lead rope allows you to maneuver them and keep them on task if need be. The panniers on either side of the saddle hold your gear, lunch and any other equipment you'll need for your trek.  
How Much Weight Can a Llama Carry
While llamas can carry just over 25% of their own body weight (llamas weigh between 350-430 lbs) it's not recommended to load them up to that capacity. Ideally, a 400-pound llama should only be expected to carry 80 pounds worth of gear or up to 20% of its body weight. However, you don't need to worry about weight because the guides pack the panniers.
Hiking through the Montana backcountry with a llama is a unique experience that makes for great memories and stories to be told for years to come. Llama trekking with Swan Mountain is a great way to spend an afternoon, early evening or overnight. With several options to choose from, you're sure to find one that works for your adventure level. I remain incredibly grateful to have experienced hiking with llamas. I reminisce about what a cool day it was on a regular basis. My thanks go out to Glacier Country Tourism (especially Lucy and Debbie), Swan Mountain Llama Trekking, TBEX, and Jingles (even if he didn't want any part of selfies).
If you're planning on a family outing with the llamas, here are a few things to remember when hiking with kids.