We *love* caprese in this house. You show us a fresh tomato and we're already grabbing the mozzarella. A classic caprese is always tasty, but sometimes we like to change it up by adding one or two additional ingredients. Adding zucchini noodles to a classic caprese is easy and turns the dish into a proper main meal. These caprese zoodles were an instant family favourite!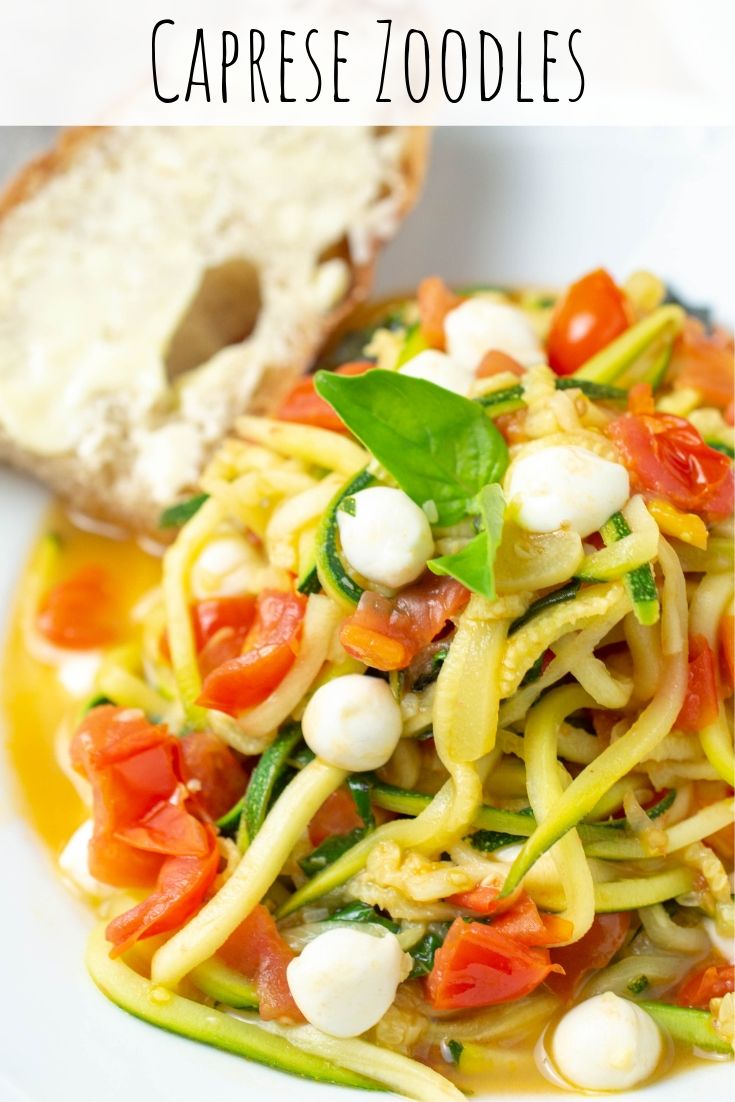 Ingredients:
2 medium zucchini

2 tablespoons olive oil

4 garlic cloves

1 pint grape tomatoes

8 large fresh basil leaves

¾ of 8oz container of fresh pearl mozzarella
(If you're on Weight Watchers and want to lower the points, add less mozzarella and use non-stick spray instead of oil.)
Serving Size: 1 Cup
Servings: about 4
Directions:
Wash and dry zucchini, tomatoes, and basil.
Cut ends off of zucchini.
Using a mandoline slicer with julienne blade, carefully push zucchini long ways to slice into long strips. A spiralizer works as well. If you don't have either, you can cut the zucchini with a knife–it will just take a while.
Cut tomatoes in half lengthwise, then in thirds.
Chiffonade basil leaves. (Place basil leaves on top of each other and roll up and slice into ribbons.)
Slice garlic.
In a large pan, heat oil over medium heat.
Add garlic and cook for about 30-45 seconds, stirring, until it starts to brown.
Immediately add tomatoes and cook for 1 minute.
Add zucchini and cook for 1 minute.
Add basil and cook for another minute.
Turn off heat and allow to cool down for 2-3 minutes. (If you add the mozzarella right away, it will melt.)
Add mozzarella and stir to combine.
Serve immediately.
This is such an easy meal to put together on a weeknight. The caprese zoodles make such a fresh, tasty dish. This meal will quickly become a family favourite for you, too!