In the fall and winter months, I love a festive cocktail — I'm a huge fan of creamy drinks like a gingerbread white Russian and s'mores martinis, but I also love a fruity drink like a caramel apple cider hot toddy. This sparkling cranberry prosecco is a fun drink that I love to make and serve any time of year, but especially in the later months. 
This bubbly cocktail is bursting with cranberry flavor. It brings together cranberry juice (and fresh cranberries as garnish) with a splash of orange liqueur, a little bit of mint, and a sweet sugar rim garnish — it's a fun twist on a classic poinsettia cocktail.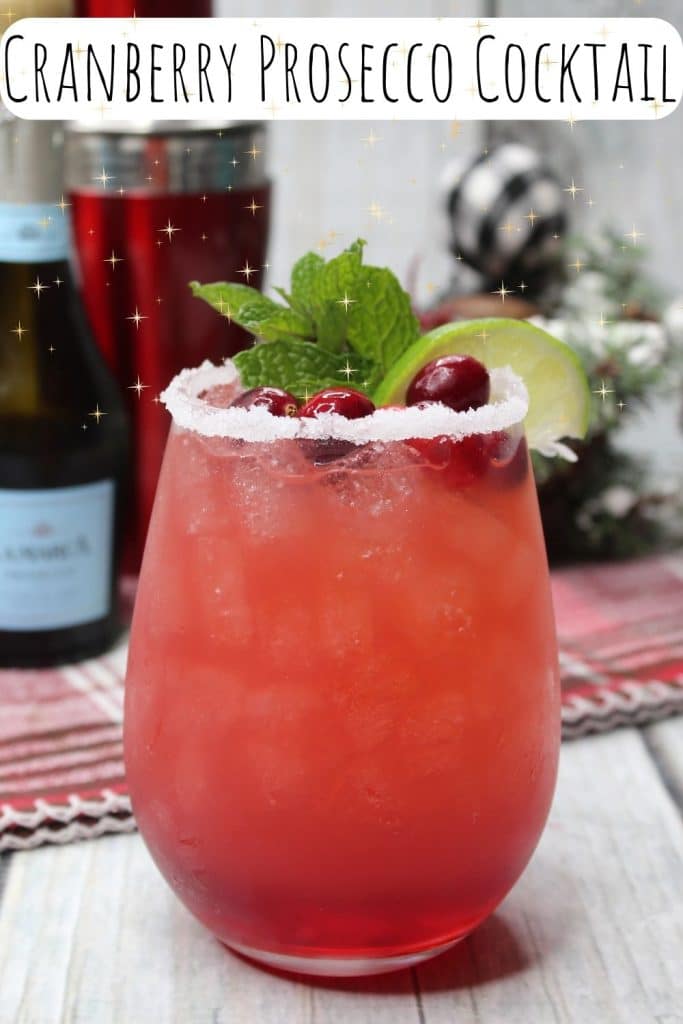 Prosecco is an Italian sparkling wine and it can be dry or sweet. For this recipe, I prefer to use a dry version since there are other sweet flavors that shine through. However, you can choose your own favorite prosecco that suits your palate (and your preferred price point). And if you don't prefer prosecco, you can always swap it out for another sparkling wine — Spanish cava works well, too.
 While I'm more than happy to serve a sparkling cranberry prosecco cocktail at any celebration or home-based happy hour, it's perfect for a special occasion, too. Its red hue makes it perfect for holiday parties, Christmas morning, or a holiday brunch. But it's also a great way to put a fruity twist on your toast at midnight on New Year's Eve.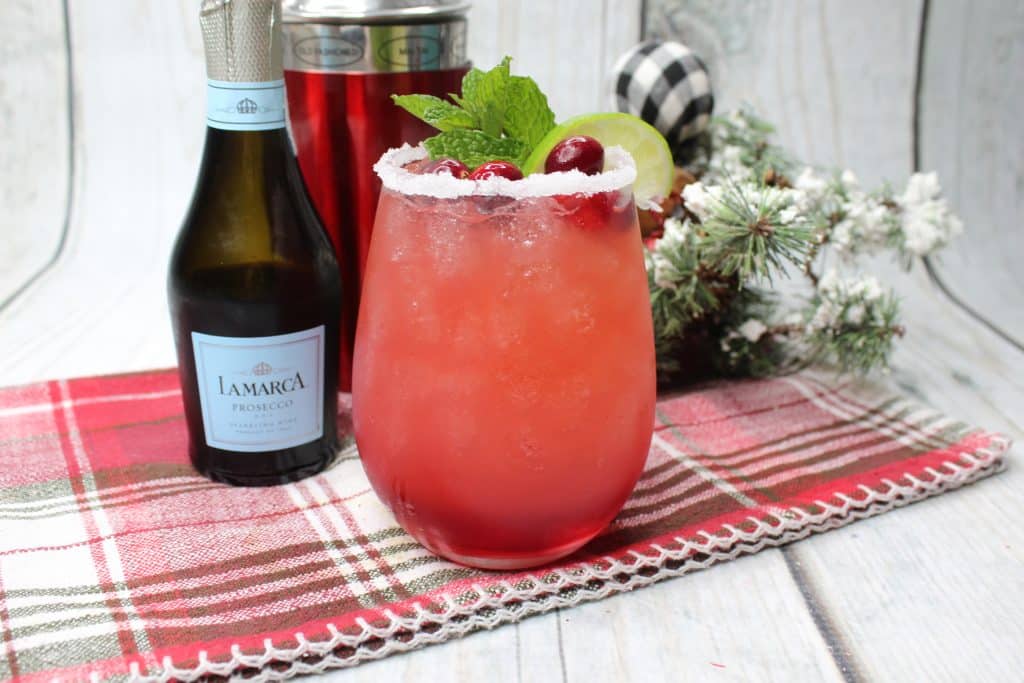 Ingredients:
5 oz Cold Prosecco 

2 oz Grand Marnier 

2 oz Cold Sweetened Cranberry Juice or Juice Blend 

White Sanding Sugar to Rim Glass 

Lime Wedges 

Fresh Sprig of Mint 

Fresh Whole Cranberries 

Ice 

¼ cup Corn Syrup 

1 oz Fresh Lime Juice
Servings: 2
Total time: Less than 5 minutes
Instructions:
The first step is to rim the glass before you pour the drink into it. Prepare the garnish for the rim of the glass by pouring corn syrup onto a small plate and white sanding sugar onto a separate plate. 

Turn the wine glass or (cocktail glass) upside down and place the rim first into the corn syrup. Be sure to lift the glass up straight so that the corn syrup doesn't drip before being placed into the sugar, and shake it to remove any excess. Repeat with the second glass.

Then, dip the corn syrup-lined rim into the sanding sugar and allow it to sit briefly so that the sugar can adhere and the corn syrup can dry slightly. 

After turning the glass right side up, add ice. 

Then, add ice to a cocktail shaker before adding the prosecco, Grand Marnier, and juice. 

Shake the ingredients together before straining into the ice-filled glass. 

Add mint, cranberries, and a lime wedge for garnish.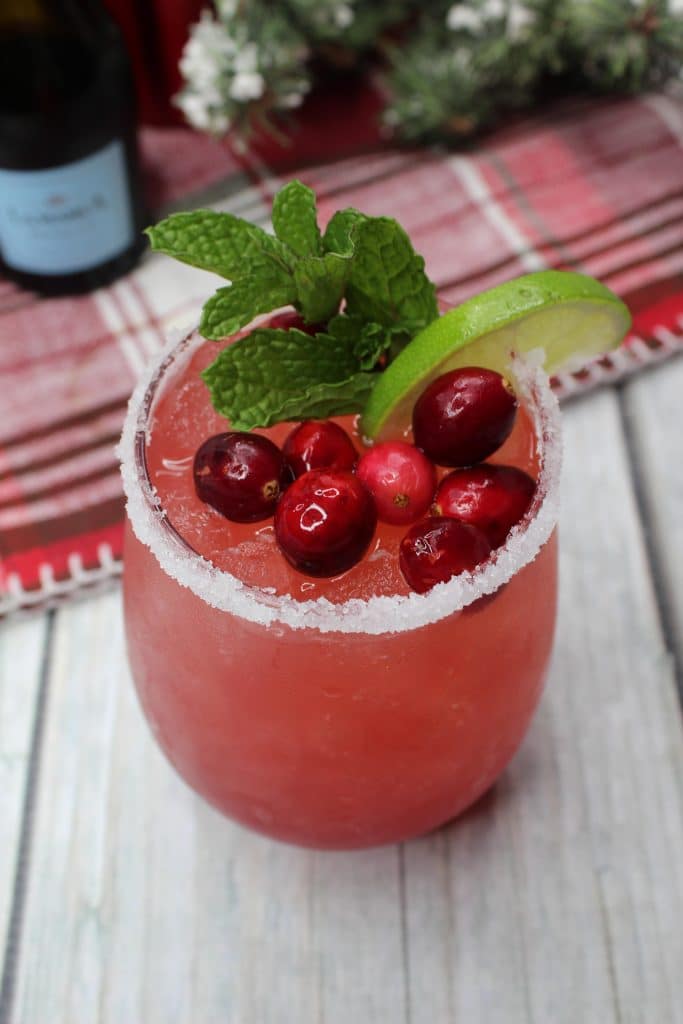 Variations:
Large Format – You can adjust this cocktail to make a big batch. Serve your cranberry prosecco punch in a large punch bowl and garnish with frozen cranberries that will help to keep it cold. If you have leftovers, store them in an airtight container like a mason jar. 

Fruit Juices – Swap out the cranberry for some citrus — use orange juice for a twist on a traditional mimosa and garnish with orange slices and orange peel or try grapefruit juice instead. Or, try using apple cider for fun cocktails with fall flair.

Sweetness – For a sweeter cocktail, add a dash of simple syrup. For a less sweet cocktail, use unsweetened cranberry juice (or cranberry juice cocktail).

Garnish – Try different garnishes like rosemary sprigs or a sprinkling of pomegranate seeds in the bottom of the glass for color.

Non-Alcoholic – For teetotalers or kiddos, try using ginger ale instead of prosecco.

Orange Liqueur – Try swapping triple sec for Grand Marnier for a slightly less sweet cocktail.

Alternative Technique – If you're concerned about those prosecco bubbles getting too riled up in the shaker, try shaking the other ingredients together and adding prosecco on top. 

​Rosemary – To add some rosemary flavor to this sweet cocktail, place a fresh rosemary sprig in the cocktail shaker when mixing the drink. And if you like herbal flavors in your drinks, check out these

cocktails that incorporate all kinds of herbs

.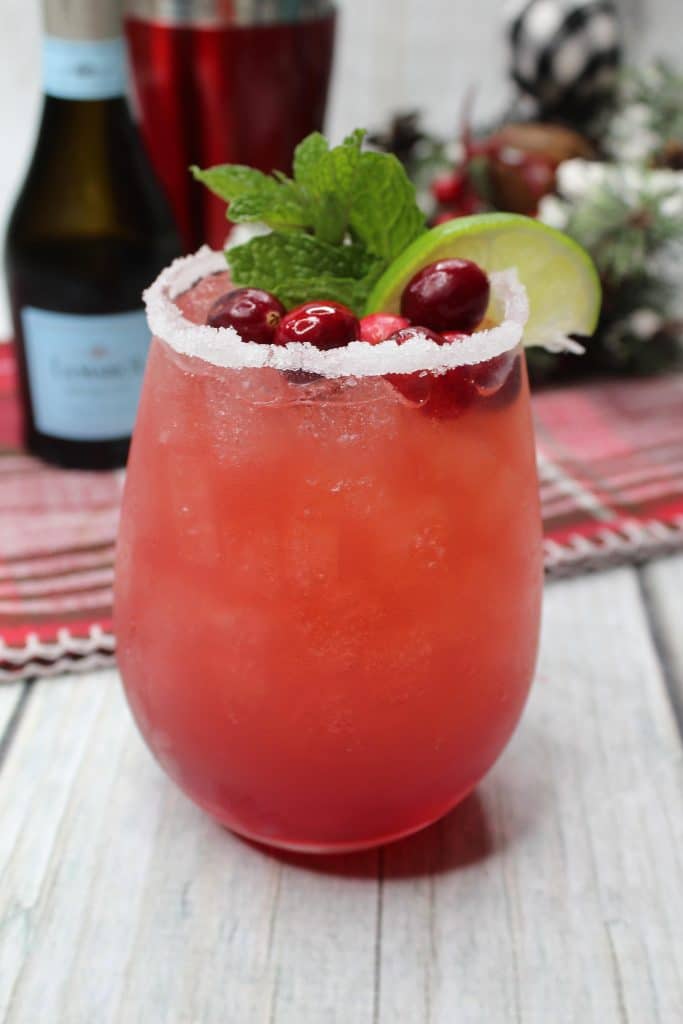 If you're as big a fan of cranberry as I am, you might also enjoy this year-round cranberry spritzer cocktail!