I've been trying to use up my supply stash instead of buying new things–it's hard for me! Having been away so long and coming back to amazing crafting materials is a hard thing to not go crazy with, but I'm trying. I was recently trying to organize my yarn stash and realized that I had quite a few single skeins of different cream yarns. They were different weights, brands, not identical coloring, and grouping them together immediately reminded me of egg nog. Since we always have to name our projects, I'm calling this my eggnog jingle bell pom pom wreath.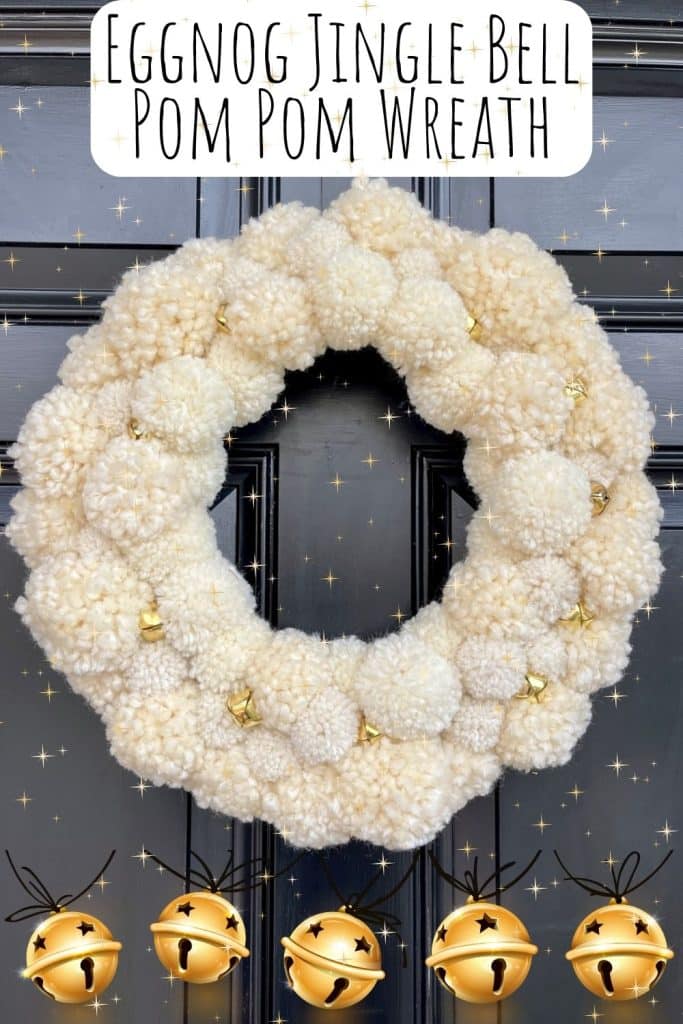 I didn't buy anything new for this wreath–it was made with supplies I already have, However, here is a basic supply list for you!
This post contains affiliate links.
Supplies:
variety of cream yarns (a necessary yarn for me is Lion Brand's Wool Ease in Starlight–it has the gold running through it and makes super fast and fluffy pom poms. It's what I used for the outside edge of the wreath.)
wreath form (use the size that fits the amount of yarn you have or the size wreath you want)
gold jingle bells (similar)
cream string or thread
pom pom makers (my favorite are these Clover pom pom makers)
scissors
glass of eggnog or amaretto eggnog cocktail
a Christmas movie of your choice (I watched some GBBO holiday specials)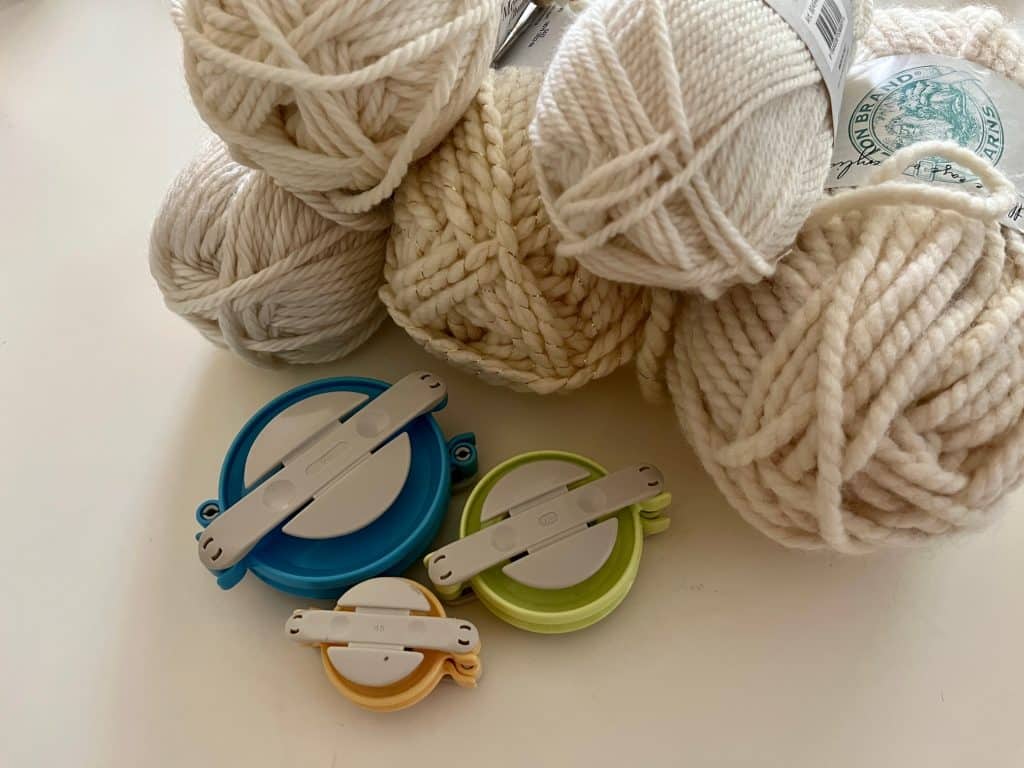 Instructions:
Again, I kind of winged this and you can always customize it to look how you'd like.
Making pom poms is easy, but can be a bit tedious. This is where the glass of eggnog and a Christmas movie comes into play. I used the biggest size maker for the gold flecked poms and a mixture for the rest. Leave the tails but clean up the rest of each pom. Continue making them until you have a big fluffy pile or have used up all of your yarn.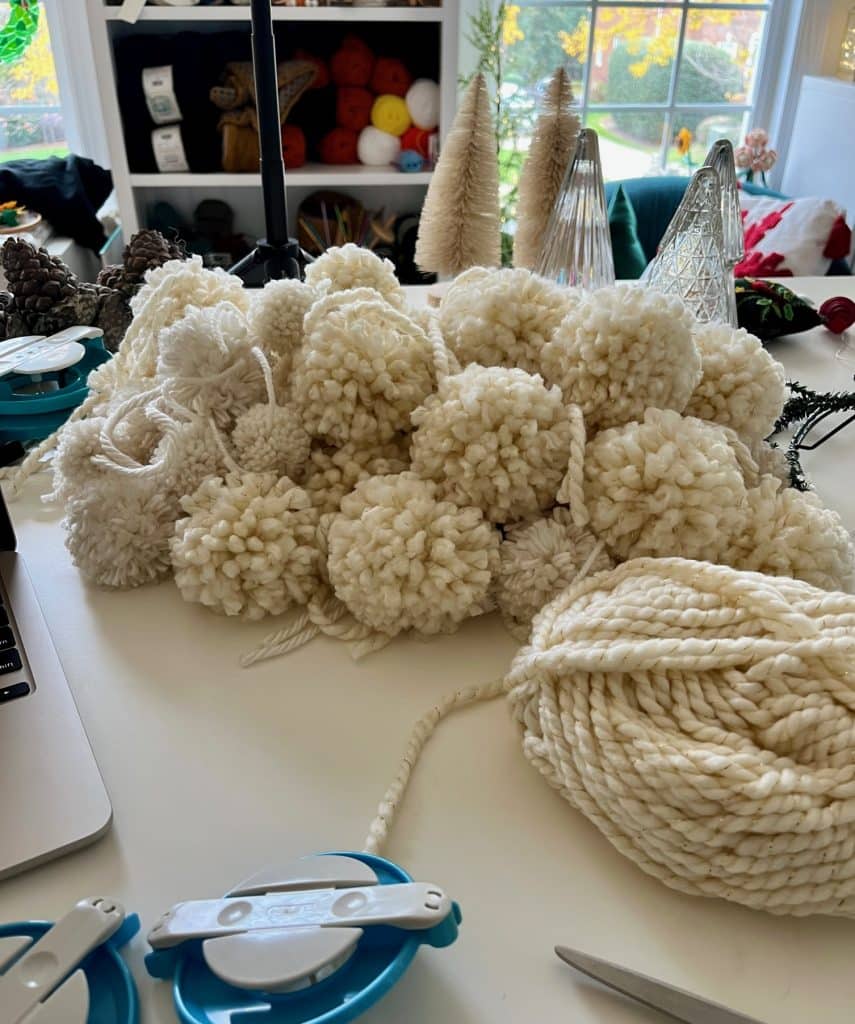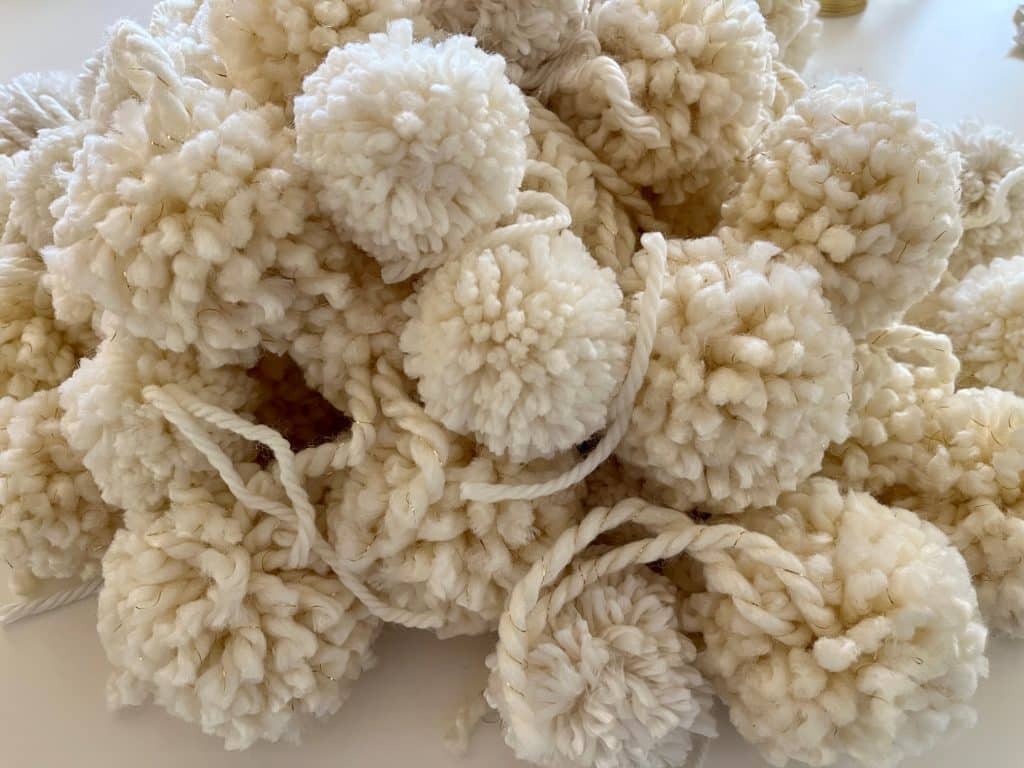 I started with tying a gold flecked pom pom at each junction point along the outside edge of the wreath. I did it this way so that they were secure and I could just squeeze the pom poms in between as I added them. Continue your way around the wreath until the outside is full.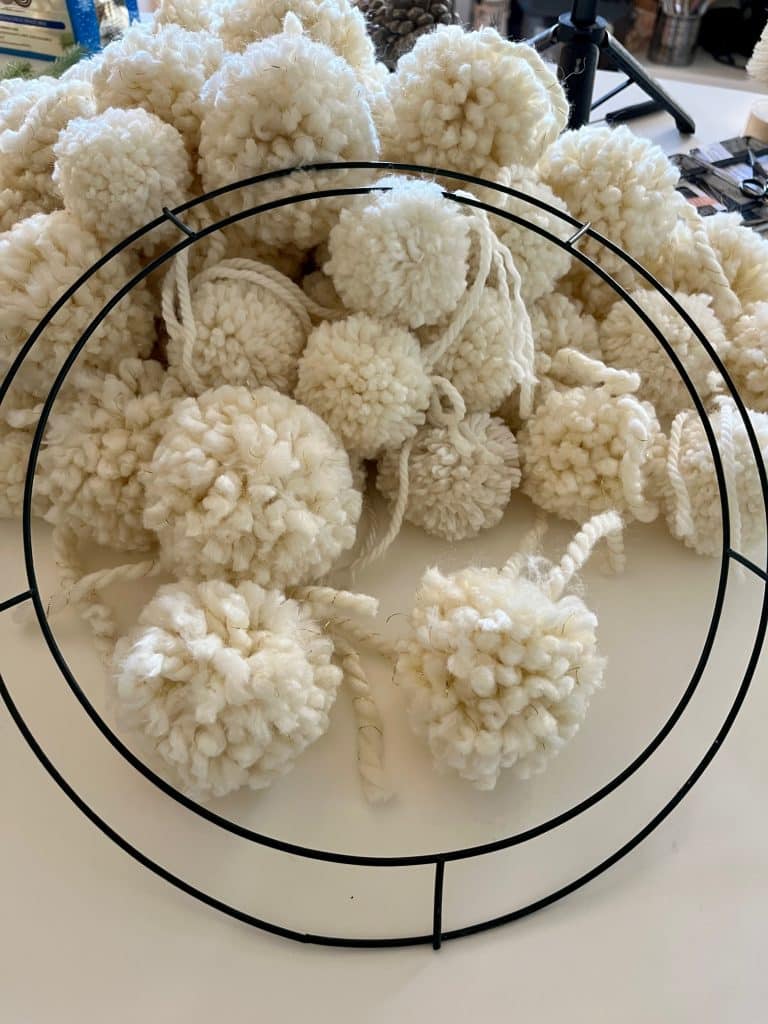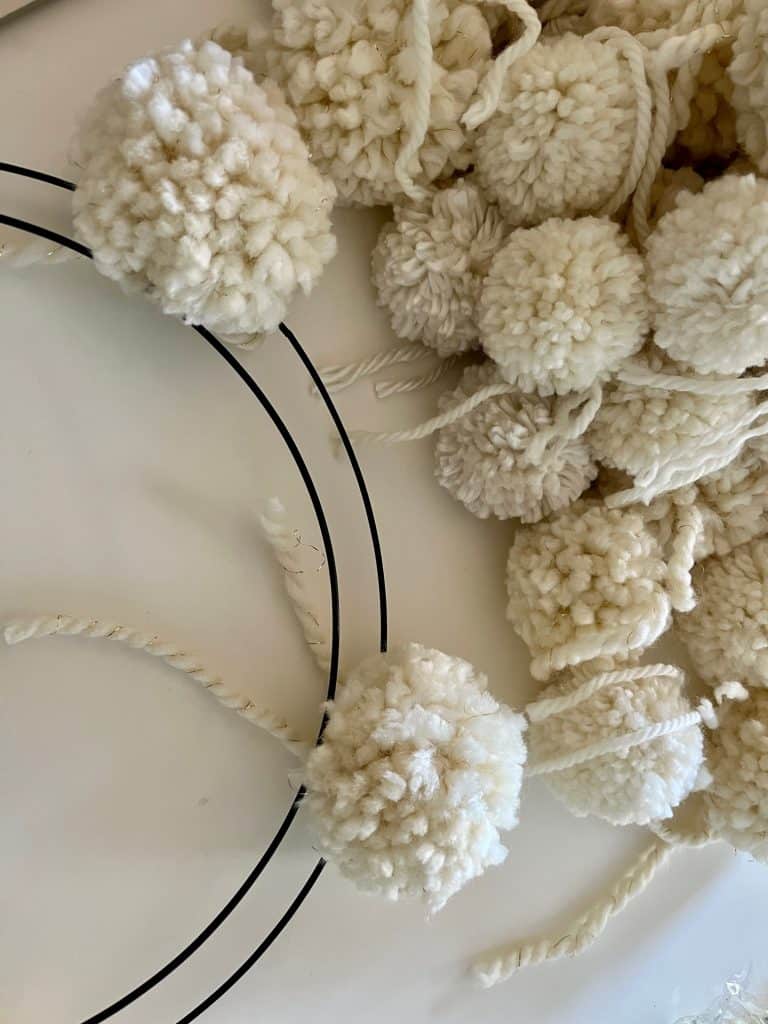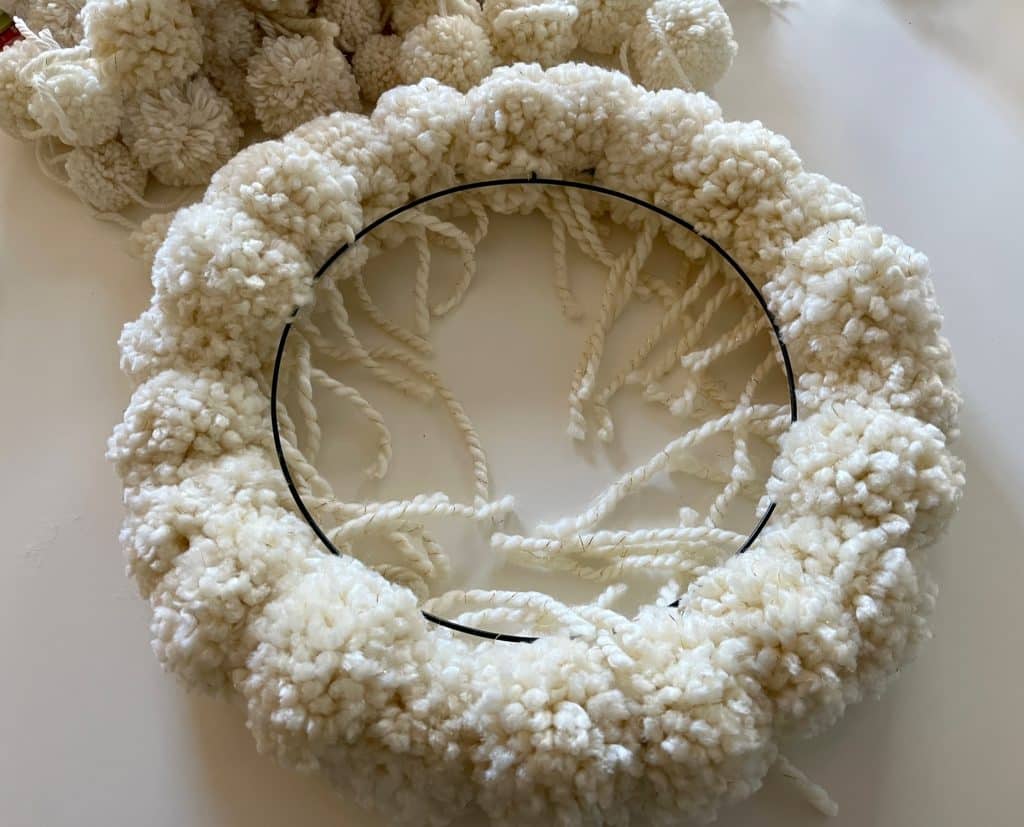 Using a smaller sized pom pom, work your way around the inner ring of the wreath.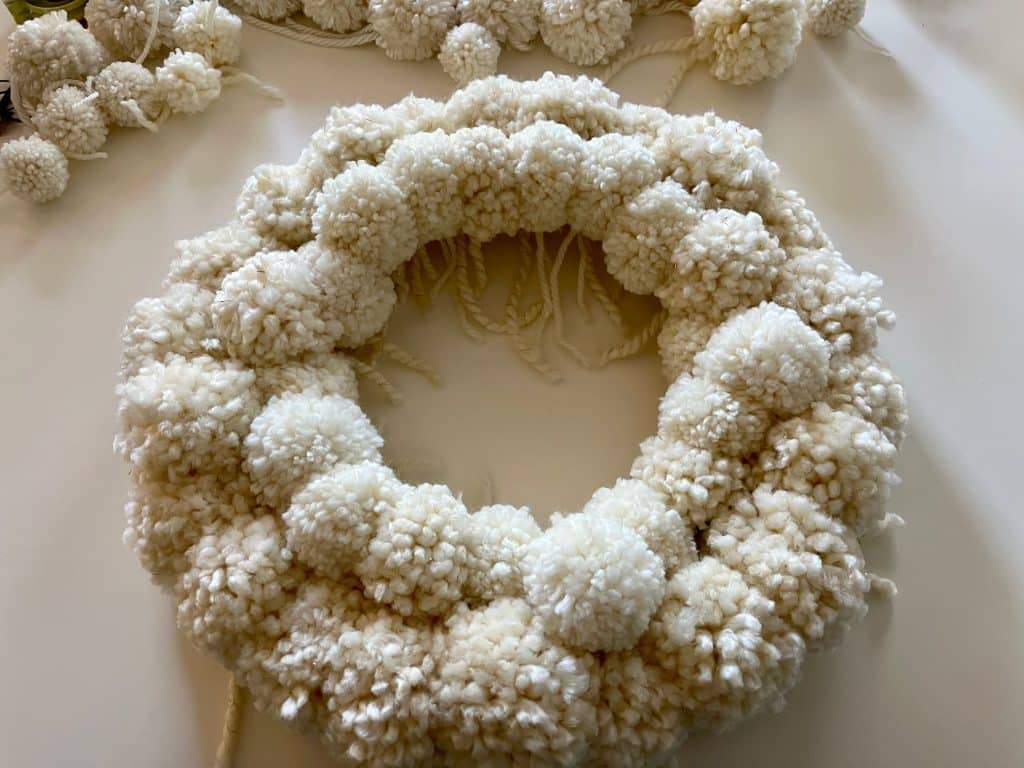 Fill in any gaps with the smallest size pom poms.
Once you're happy with the fullness of your wreath, get out your jingle bells and string. Pull up the string from underneath wherever you want a bell, attach the bell, tie it off, and tuck the tails back through the wreath to the back.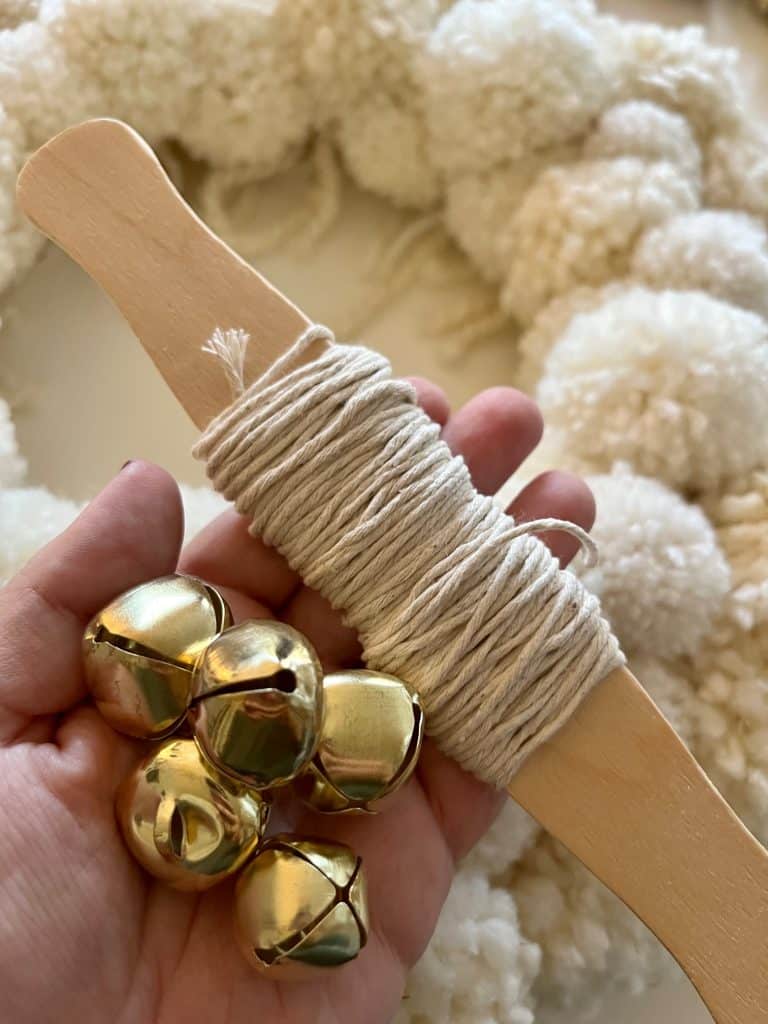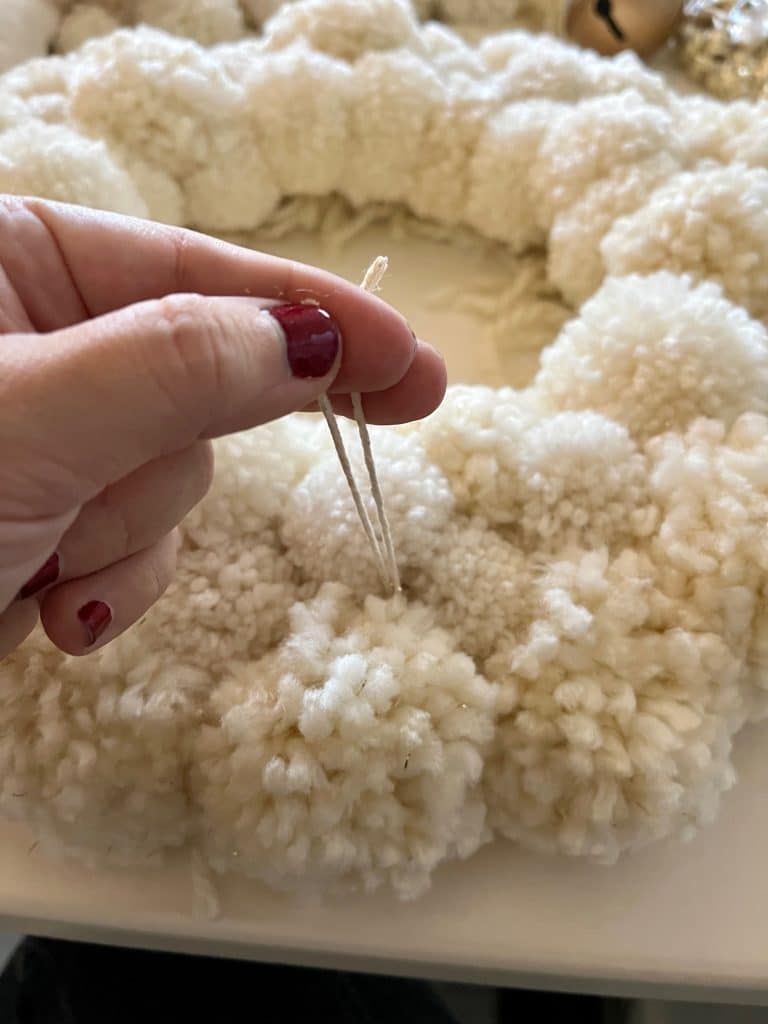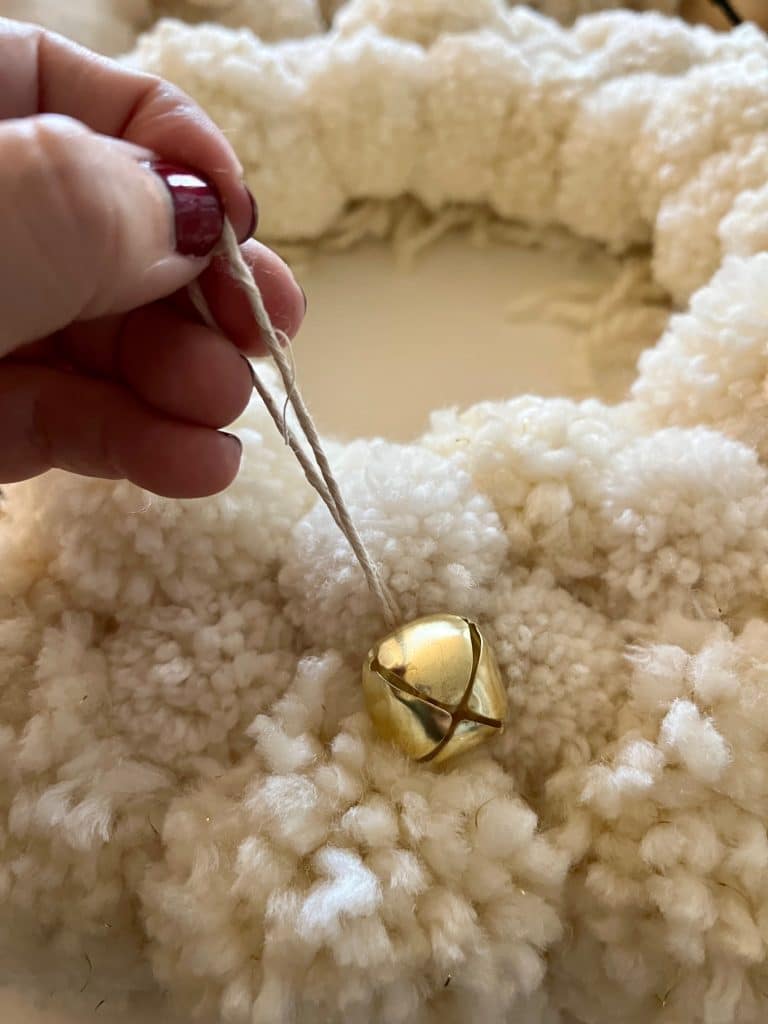 Once you are happy with the placement of everything, do a final fluff and adjustment. Tie everything off tightly in the back (if you haven't already) and trim off an excess ends.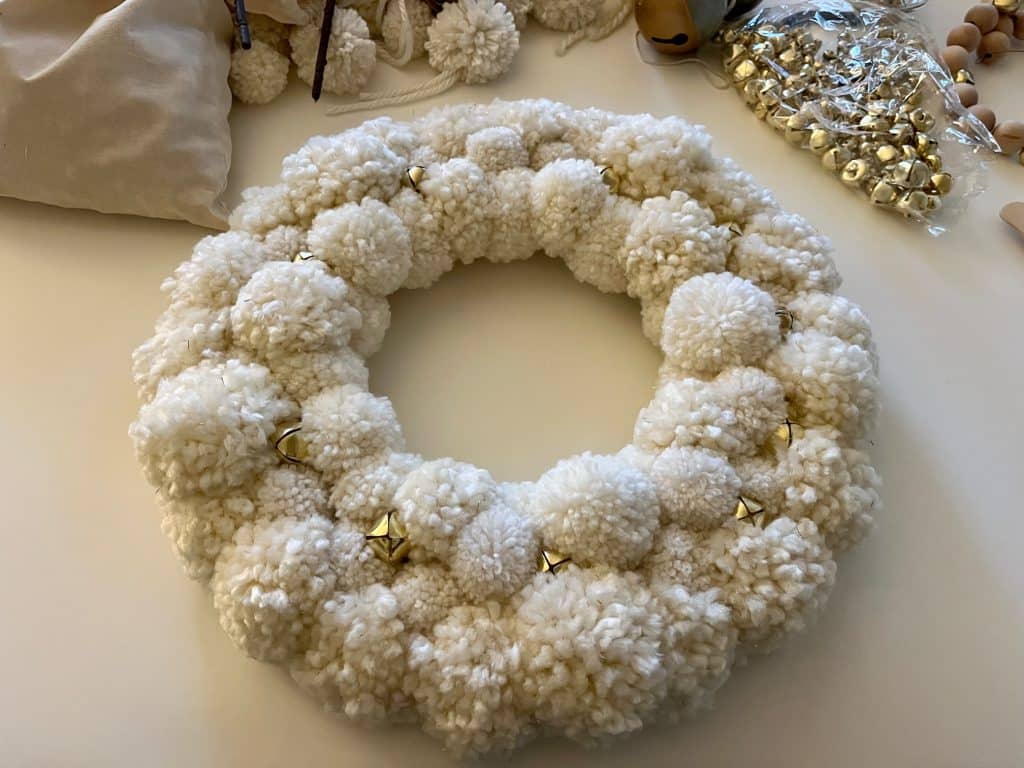 This eggnog jingle bell pom pom wreath is gorgeous in its creamy sparkly simplicity. I love the pops of gold from the speckled yarn and bells and the pom pom fluffiness makes me happy.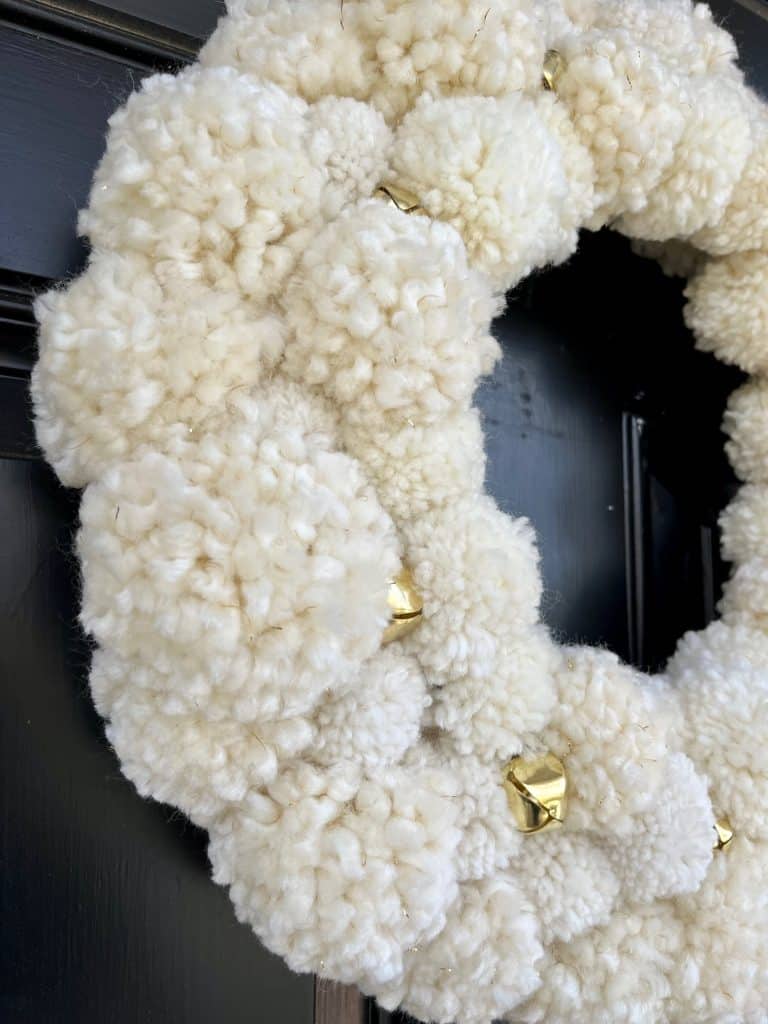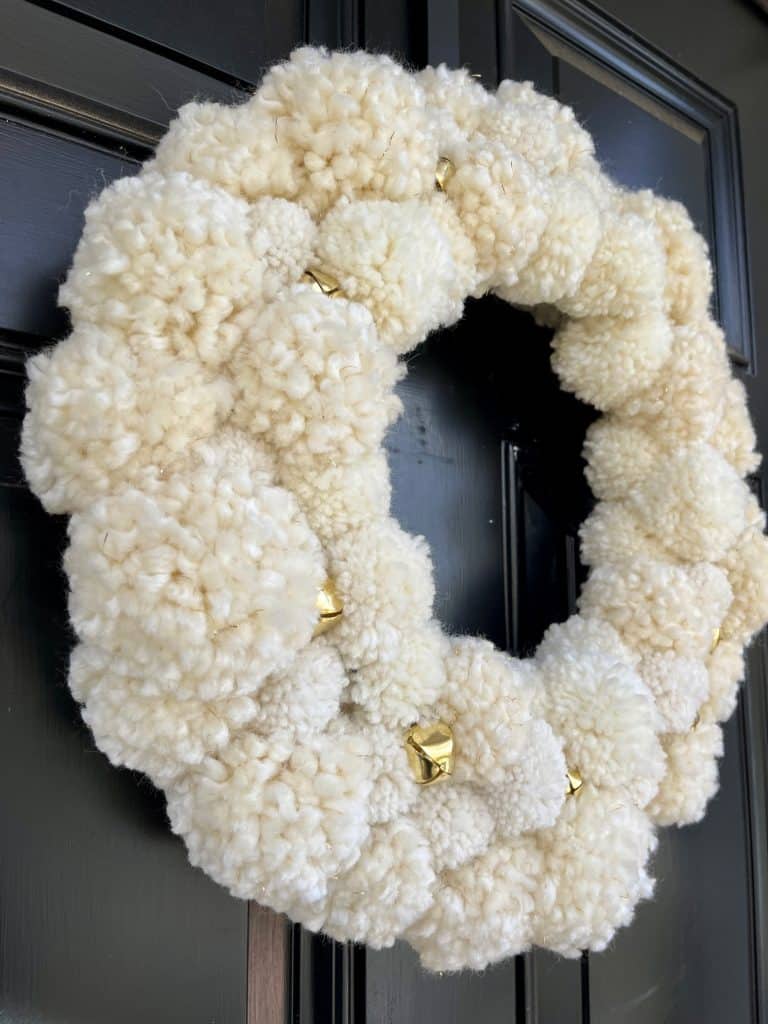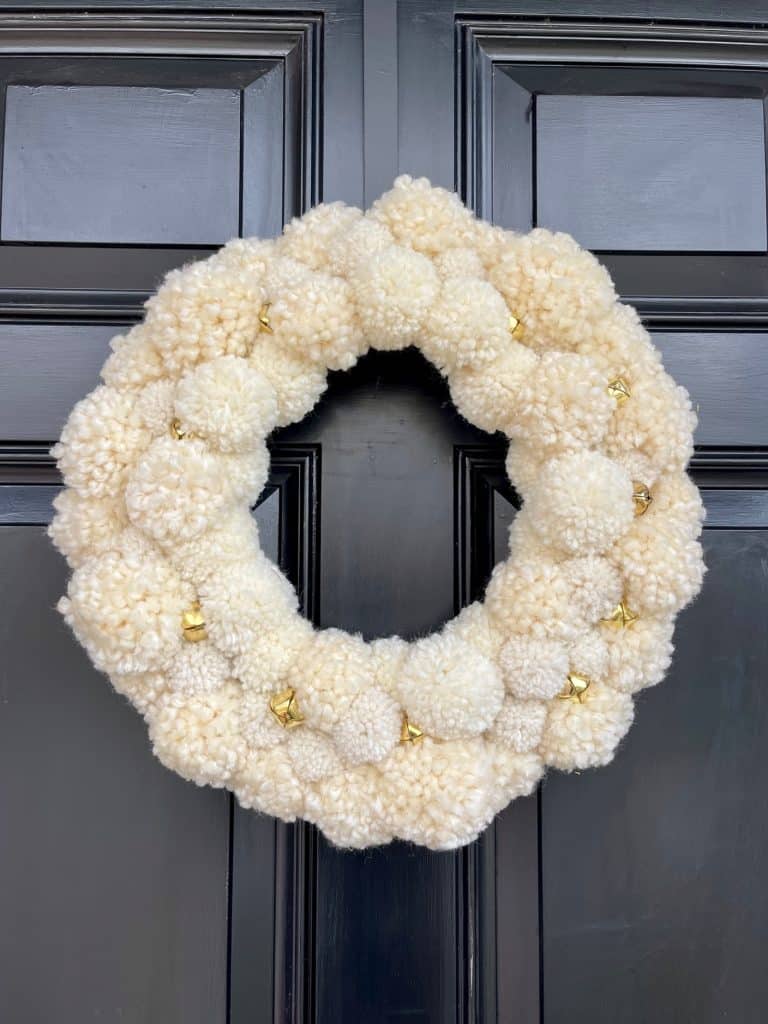 In the mood for more wreath making? Try this easy red ribbon farmhouse Christmas wreath!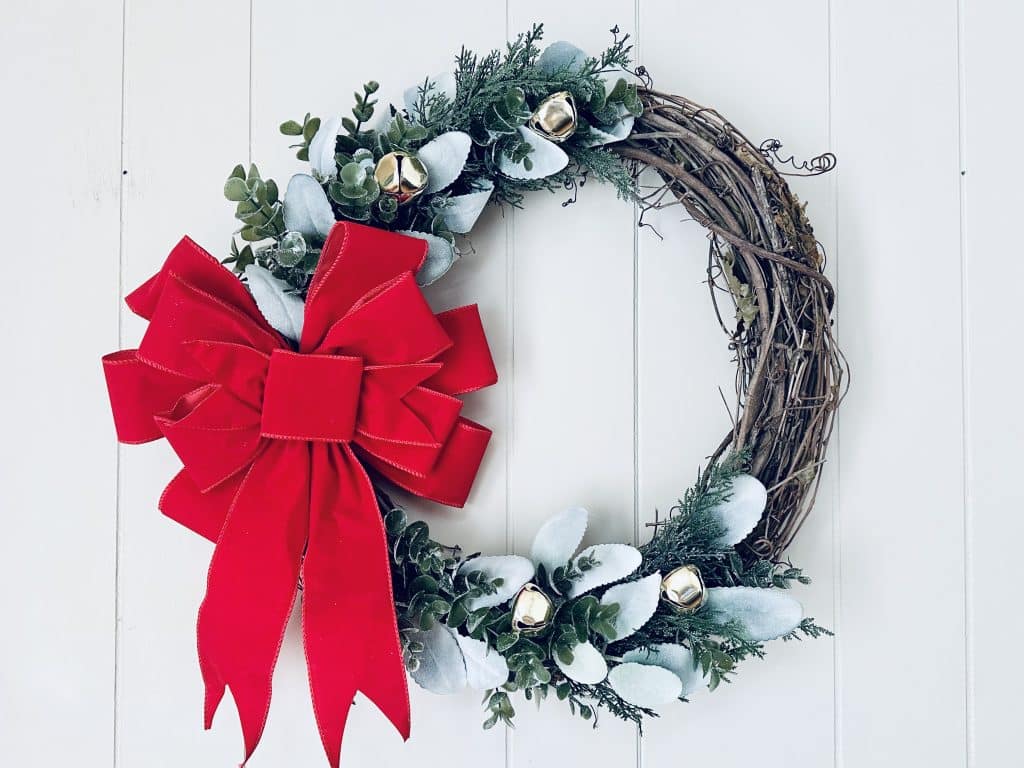 Or this twinkling winter Christmas wreath.