Do you have a room that just isn't cooperating with you? You can't quite figure out what you want to do with it, but you know it has great potential? That's my living room.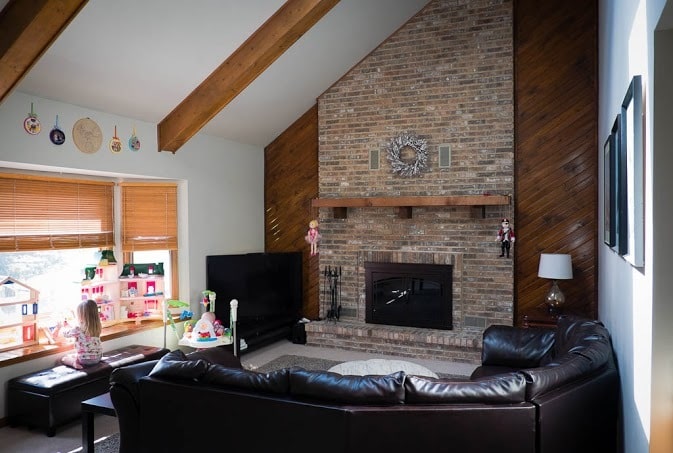 Our living room is the main gathering place in our house. I love that it has a big fireplace. The bay window is a perfect play area for the girls.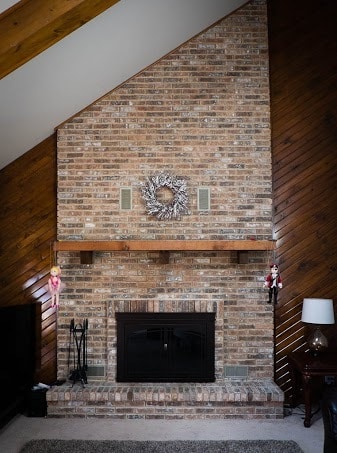 I'm not totally in love with the brick, but it's fine. I'm not a fan of the wood paneling on the sides, but I'm not sure what I want to do. Paint it? Rip it out? I love the big mantel, but I'm not a fan of the rustic-style look of it. Do I paint it or replace it? Of course, deciding to paint anything then comes with the follow-up question of what color to choose. We're also slightly limited with how we can decorate the mantel because we can't cover up the vents when we have a fire going. We finally replaced the fireplace doors to a simple oiled bronze set that we're very happy with, so at least we have progress there.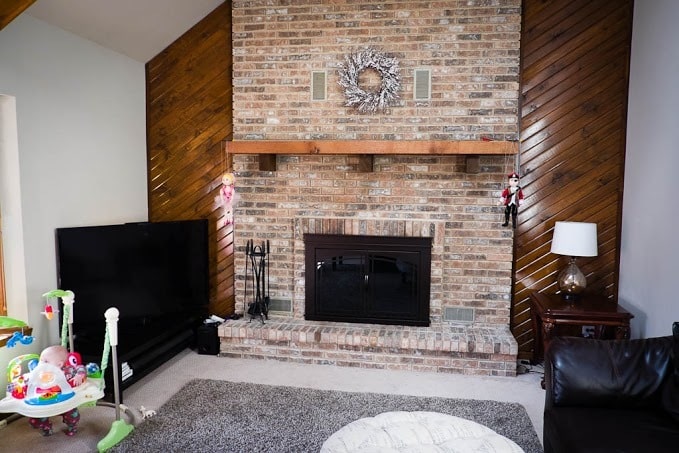 This is another room with terrible carpeting. We decided early on to get a rug to not only make it cozier, but to cover up as much of the carpet as we could. This is a case of us not quite agreeing. If it was just me, I would have gone for a bright (probably teal) rug with some sort of design. That idea was met with a resounding no. The rug we have is comfortable, is holding up well, and will work with any paint and accent colors we choose in the future.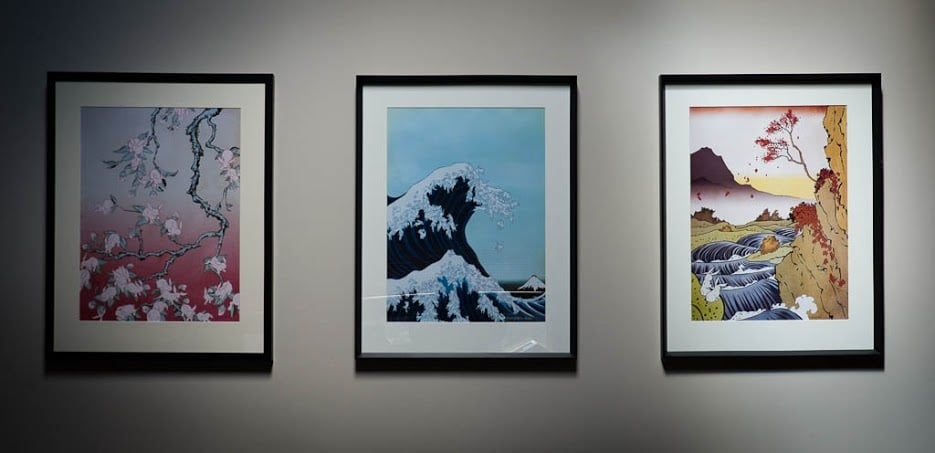 We're starting to add in touches of color. We bought these Kozyndan prints when we lived in New Zealand. We originally had them hanging over our bed and loved them there, but I'm so happy we made the decision to move them to the living room. They have to color I want and the quirky, fun style I love. There is a fourth print in this series that will be the perfect addition to the room once we get it.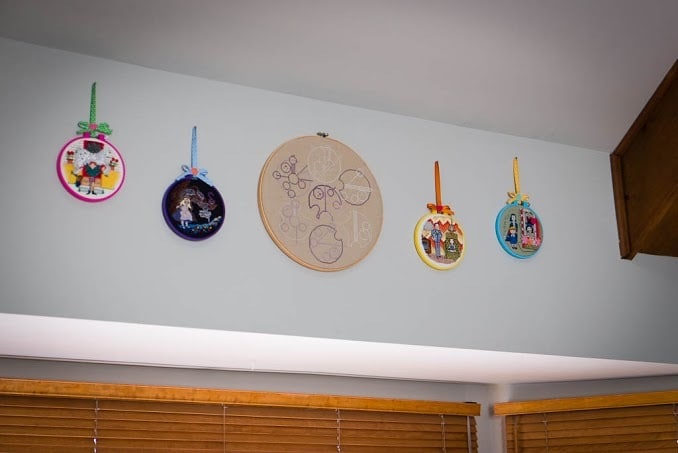 I received the most fantastic hoops from my friend Melissa. There's a hoop for each girl and a Gallifreyan family tree for the whole family. I originally thought that I would have the girls' hoops above their beds, but I really wanted to be able to see them regularly and show them off. I thought the space above the window was perfect. They (again) bring in the color I'm after and are an awesome reminder of a good friend.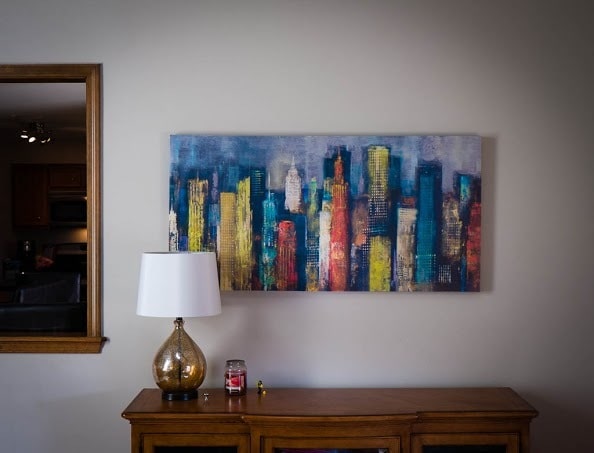 The back wall of the living room (that's the kitchen behind it) has some odd space because of how we have the furniture arranged. We put an entertainment unit from HomeGoods there and use it for storage and put the city skyline artwork from World Market above it. At Christmas, I decorated the top of the unit and it was a nice space to have.
The living room is slowly getting more personality, and more importantly, *our* personality. I'm not happy with the seating and plan on changing it as soon as I can. It's what we need to live with for now, though. I need more on the walls. The living room can be quite dark and I can't quite get the lighting right. And, of course, there's the wet bar that isn't pictured here, but if you follow me on Instagram, you know my angst.
If you could get your hands on my living room, what is the first thing you would do? I need some fresh eyes and ideas. I'd love any advice you'd care to throw at me!