When I was a teenager, I had a thing for house design magazines (I was a weird teenager). I still do, but they're much harder to find. I used to daydream about my perfect house. It would have an awesome kitchen, a sunroom, breakfast area, lots of bedrooms, a sitting area in the master… you get the idea. It would be huge and solid have a room for everything. My family would live in it forever. While a lot of rooms on my wish list came and went, the one room that never left was a library.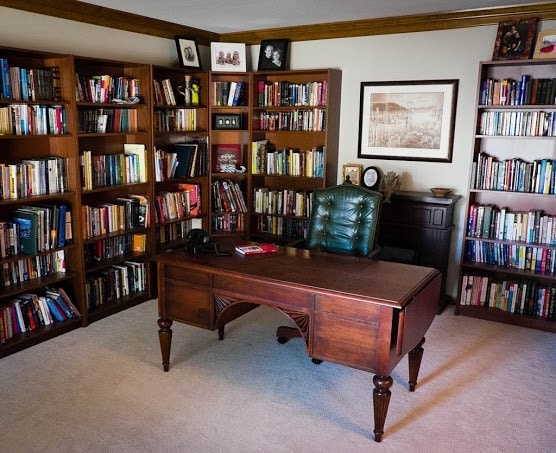 Books have always been my best friend. As a kid, I stashed them under my pillows and mattress and read way past my bedtime. I read on trips. I read on vacation. I read when I needed comfort, when I was completely happy, and every emotion in between. I got a degree in English Literature with no intention to teach, but because I got to read. By the time Scott and I were combining our belongings into one place, books were the bulk of my worldly possessions.
Our house is my dream house, minus just a couple of rooms. We'll be working on it for a long time to come, but it's the kind of work that makes you happy because you love it so much. I fell in love with it from the moment I first saw the listing.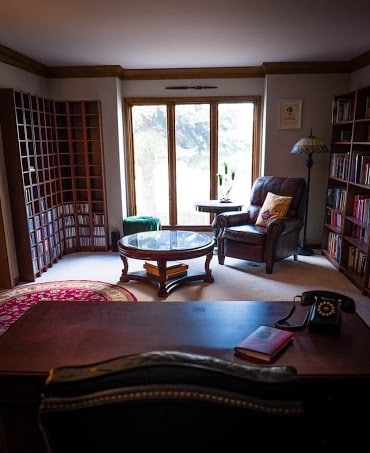 We have a room that was called a formal living room in the listing. We aren't formal people at all, and I couldn't imagine the need for a formal room, unless people dropped by with their calling cards and starched collars. What we discovered in a brainstorming session was that it would be the ideal library. With my love of British murder mysteries, the room was quickly dubbed the accusing parlor. We lined it with the Billy from IKEA in medium brown, and the library came into existence.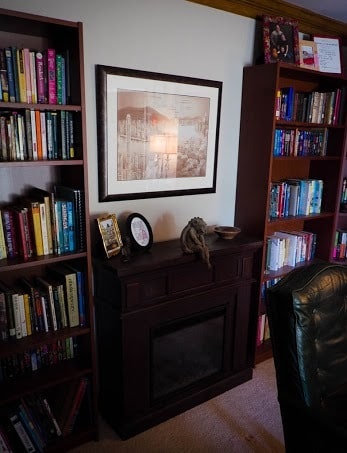 This room is also a good example of how we combined our styles and belongings into a cohesive room. Every bit of the room has "his, mine, and ours" all over it.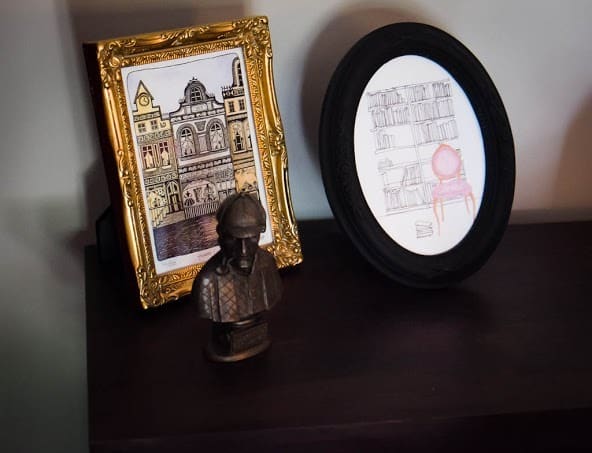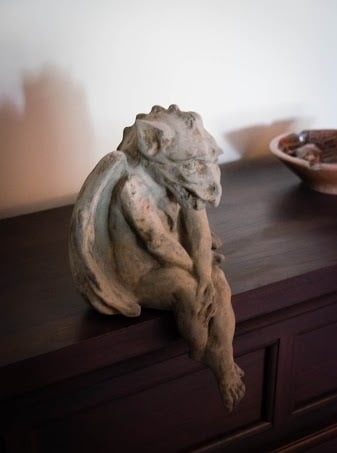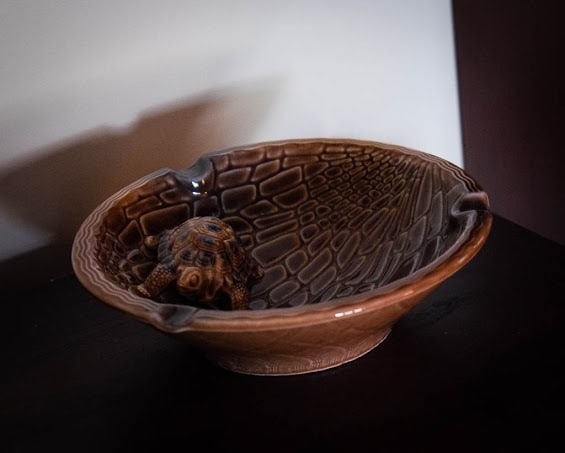 Every accusing parlor needs a fireplace. We found a super cheap electric fireplace (similar) floor model at Home Depot. It had a few scratches, but nothing a small bit of paint didn't fix right up. It does double duty because our bookcases cover up most of the vents, so it's the main source of heat in the room. We have a Hong Kong skyline painting hanging above it. A Sherlock Holmes bust, two prints I picked up years ago, and Lucy the gargoyle come from my stash. An ashtray that belonged to Scott's grandfather completes it.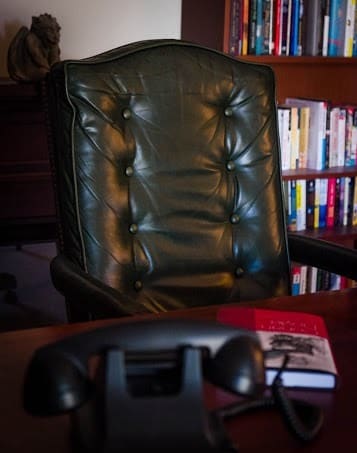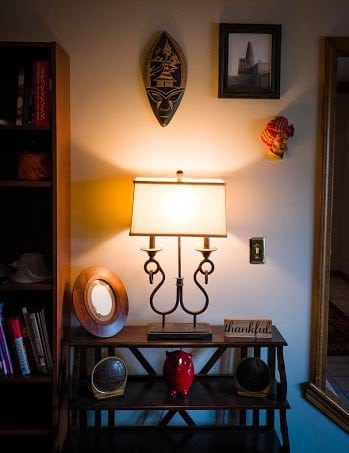 Souvenirs from Scott's childhood travels, a Bossons Abdul head belonging to his grandfather, vintage world map bookends, thankful block by Bubblewrapp'd, an owl from my collection, and a frame we bought in New Zealand with the intention of putting a wedding photo in (one of these days!) make up one section.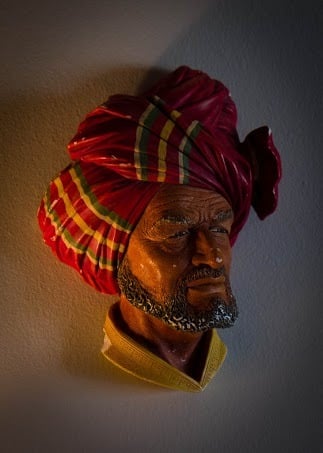 The idea is to fill the top of the bookcases with family pictures and incorporate my love of knick knacks into the shelves themselves.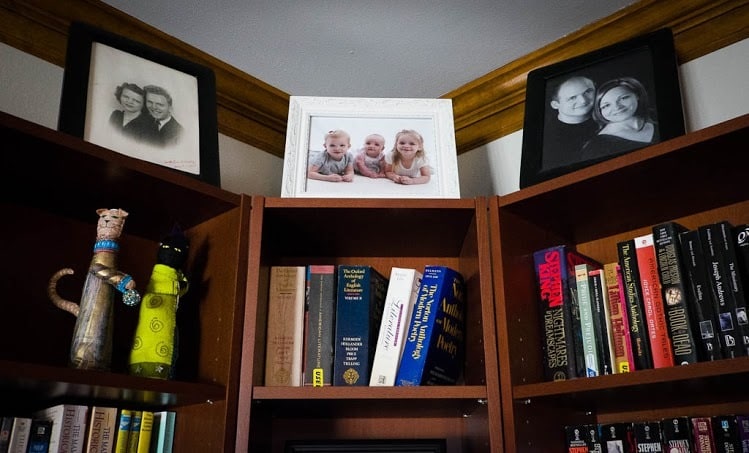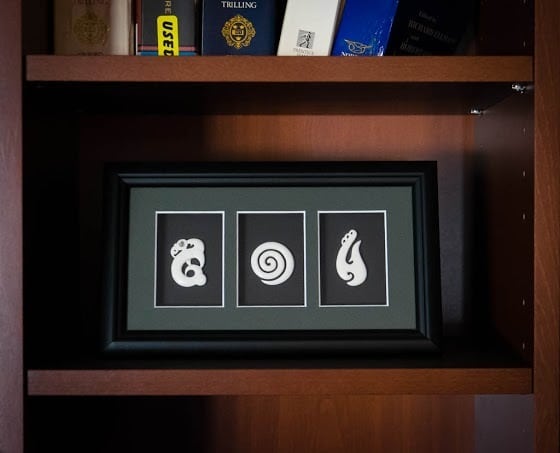 We currently have one chair. It's on the ridiculous side for such a large room. Our wish list includes more seating and new carpeting. The carpet in the entire house needs replacing, but it's simply not in the budget right now. We have an old rug strategically placed to cover the worst of the staining in the accusing parlor. We'd love a leather sofa to make a proper sitting area for more than one person.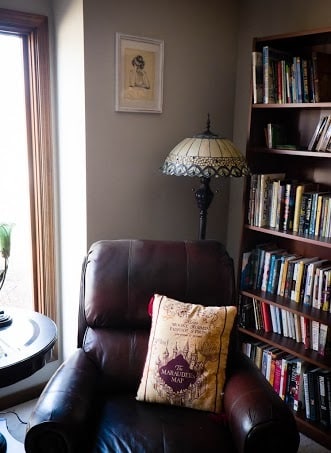 I really need to start organizing our books and shelves. Initially, I was so desperate to just get unpacked that I just emptied boxes onto the shelves. There's no rhyme nor reason right now, and the librarian in me gets a bit of the jitters. We still have a lot of books and cds making appearances in boxes (will the unpacking never end?!).
I love this room. I love how it's come together and I love the plans we have for it. I love how we've managed to combine our styles and things that are important to us, while also making room for the future. As with everything right now, the accusing parlor is a work in progress, but it's one that we really enjoy.