You would be hard pressed to find anyone in New Zealand who doesn't know who Sir Edmund Hillary is–he's on the $5 bill! I will admit that I didn't know who he was until I got interested in Mt Everest during my late 20s–Hillary, along with his sherpa Tenzing Norgay, became the first confirmed climbers to reach the summit in 1953. That alone would have made him an icon in New Zealand, but he went on to be the first person to reach both poles and summit Everest. He was well known for his philanthropy as well and received a state funeral when he died. Hillary knew adventure and goodness and one of my favourite quotes ever comes from him. I stitched up this Sir Edmund Hillary Quote Embroidery Hoop as a visible reminder of the power of adventure.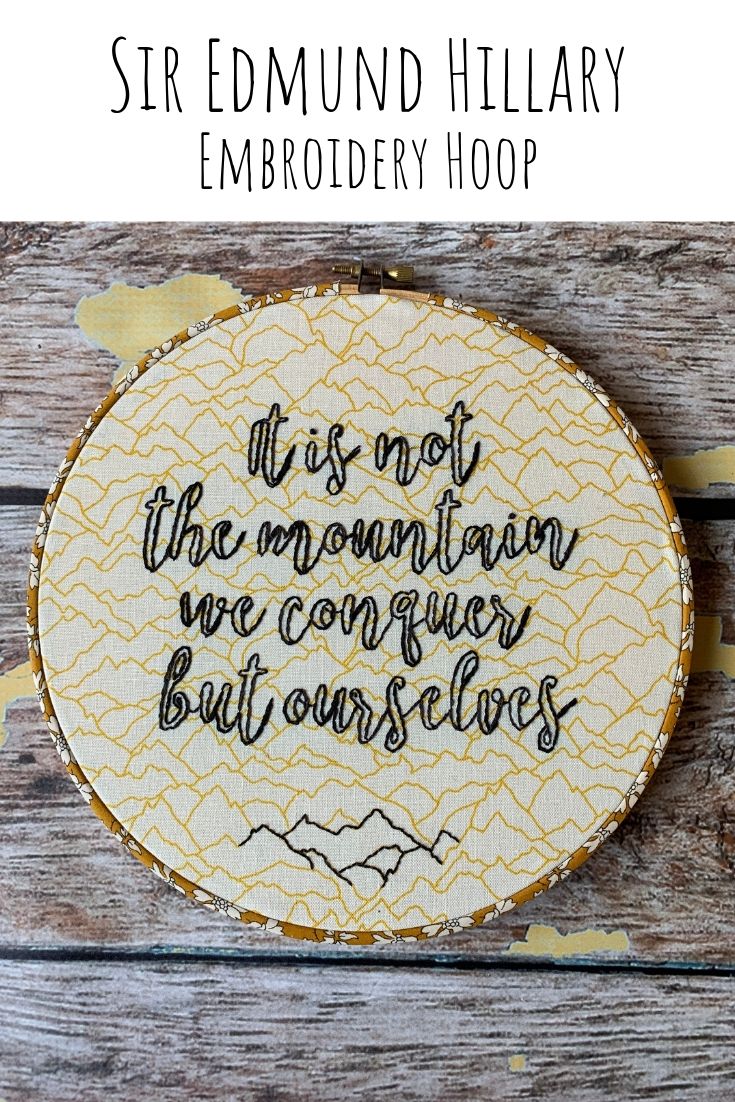 This post contains affiliate links.
Supplies:
You have two options for the SVG–you can upload it to your cutting machine and have the machine do all the work or you can print it out and trace onto your fabric. Of course, you don't have to use it to stitch–you can cut it out in vinyl, too.
Just follow the lines as you stitch. I doubled up my stitching in places.
Run the fabric under cold water to rinse the washable pen off when you're finished stitching. Let it dry flat on a towel overnight.
Iron the fabric bottom side up when it's dry and then put it in the final hoop. I used a hoop that I finished in bias tape (find the full tutorial here!). To add a bit more depth to those lovely mountains, I stitched over a bit of the range at the bottom once the hoop was all put together. Finish off the back in your favourite way–I like attaching felt.
If you want to learn more about Sir Edmund Hillary, check out these books: