I have always loved the great outdoors. I'm more of a hiker than a camper, though. Day hikes where I can enjoy the outdoors and then return to a comfy bed that night are my favorite. We've been working on short hikes as a family and are slowly building our way to longer ones. If you are looking for a fun way to spend a little more time outside with your family, hiking can be a great activity! Before you go, here are ten things to remember when hiking with kids. Trust me–these are lifesavers!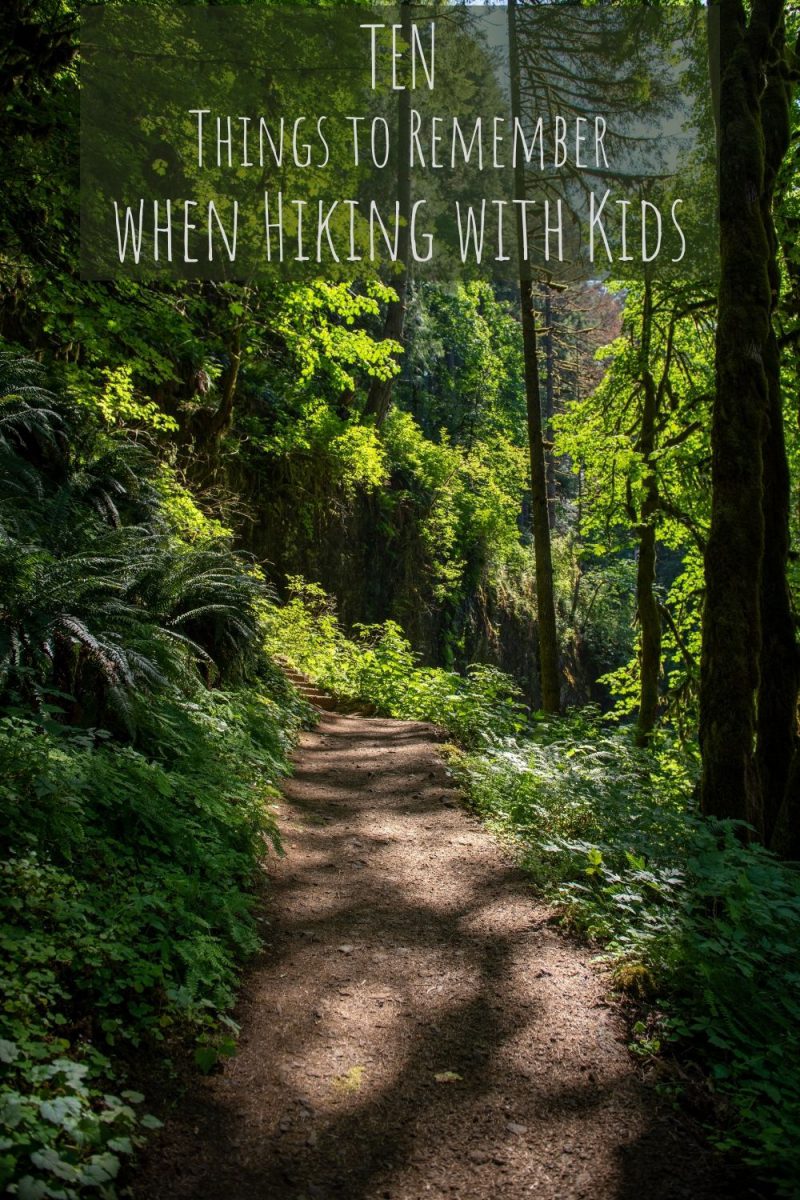 This post contains affiliate links.
Make sure to pack plenty of snacks
Your kids are going to burn a lot of energy during a hike. Make sure you pack plenty of snacks to keep their energy up and to keep them from getting hangry. And I say kids, but this is straight up for adults, too. Hiking on an empty stomach will lead to bad things that you don't want to experience. We let the kids have their own snacks in their own packs (similar to these) so that we don't have to carry as much ourselves and they get used to wearing a pack. We've found that our kids enjoy being in charge of their own stuff.
Bring medicine in case you end up taking longer than you thought
Hiking usually takes longer than we expect. If your child takes any medication at night, make sure to bring it with you (our daughter's inhaler always goes with us). If you end up out later than initially planned, you'll be prepared. Make sure also to bring things like EpiPens if someone has one and headache medicine, too (I keep a little travel pack of Tylenol or similar in my hiking pack).
Kids take a lot longer to hike than adults
It's easy to forget that kids will make hikes a lot longer. Make sure you take this into account before setting out on a long hike. We are a slow poke family at the best of times, but some of our hikes have taken forever longer because of looking at every single mushroom along the path.
Plan a few hiking games to keep kids entertained
Hiking games are a great way to keep your kids entertained during a long hike. Come up with a few fun games you can play together and keep the conversation going. We often print out sheets of things to see and have the kids mark them off. This is a simplistic version.
Don't forget to apply sunscreen, even if it's cloudy
Sunscreen is a must! It's easy to get burned even if you think you won't. New Zealand is a notoriously easy place to get sunburned and sunscreen is mandatory for kids in school, let alone for full on outdoor activities.
Make sure you drink plenty of water
It's easy to get dehydrated on a hike. Dehydration will make hiking miserable, especially for kids! Make sure you drink and bring plenty of water. This could probably be listed with the snacks, but water is important enough on its own. Make sure the water bottles don't leak.
Bring a plastic bag or garbage bag for wet clothes
If there is a lake to swim in or a chance that you will end up with wet clothes, bring a plastic bag to store them in! This will be a huge lifesaver. I use bags similar to these on Amazon to keep wet and dry clothing separate. We've gone on hikes where just brushing against leaves got us wet, so it's always a good idea to have something on hand.
Make sure your kids wear comfortable shoes
Hiking is strenuous on your feet! Make sure that you bring comfortable shoes for your kids so they don't complain that their feet hurt two minutes into your hike. There are lists after lists of great hiking shoes for men and women out there, but we often forget to make sure that our kids are ok with their shoes, too. For the easier hikes that we tend to do right now, broken in sneakers do the trick.
Plan on stopping to let your kids explore the area
Your kids will want to stop to explore. Make sure that you don't forget to plan for this, or you could end up not being able to finish your hike! Don't get grouchy about it, either. The whole point of taking your kids hiking is to make it fun to be outdoors. Let them explore and point things out to you–just try not to let them bring home too many rocks!
Think about the type of hike before you start
There are many different kinds of trails. Some require a bit of climbing, steep inclines, and other factors. Make sure you think about which hiking trail will be the best for your family. Remember to include the hike both up and down to avoid surprise long trails.
Hiking with kids can be a fun and exciting family activity to do together. However, if you aren't careful, this could turn into a pain! Make sure you remember these ten things when you go hiking with your kids.
Ready to hike? Check out these five family friendly hikes in New Zealand!