It's candy corn season!! If you've been here for a while you know how much I unashamedly love candy corn everything. This year I'm adding this super fun candy corn bundt cake to the list of candy corn things I can't live without. It looks spectacular and is the perfect addition to any fall gathering. The best part is you don't need to be an uber baker to pull it off!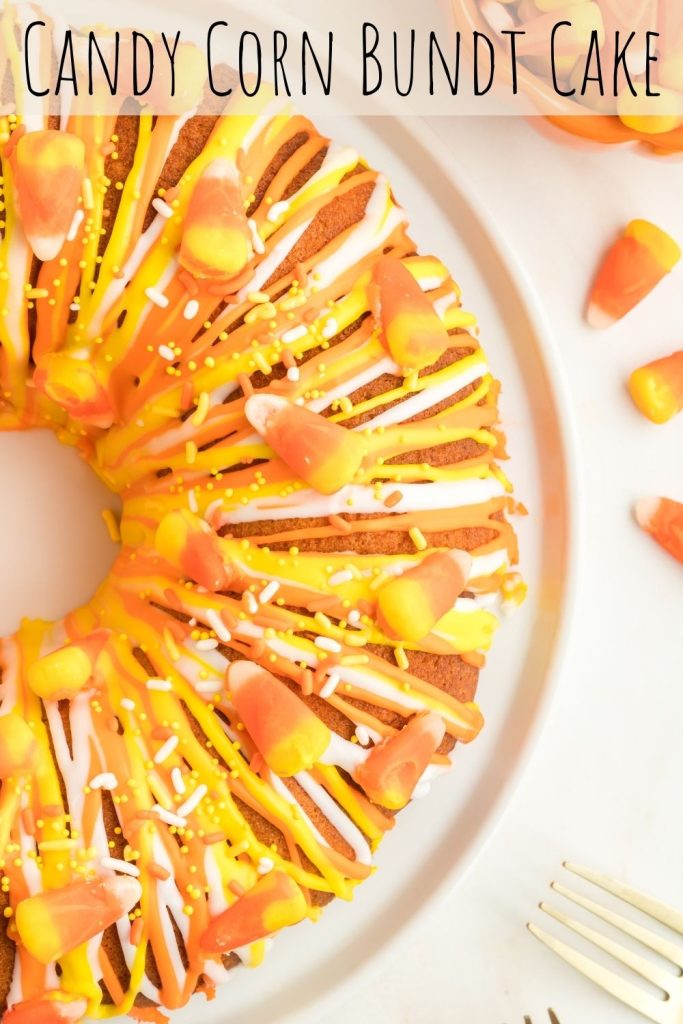 Ingredients:
Cake
1 15.25oz box of white cake mix
½ cup unsalted butter, melted
4 large egg whites
1 cup whole milk
¼ cup sour cream
½ teaspoon orange gel food color
½ teaspoon yellow gel food color
Glaze
2 ½ cups powdered sugar
4-5 tablespoons whole milk
½ teaspoon vanilla extract
2-3 drops orange food color
2-3 drops yellow food color
White, orange and yellow sprinkles to decorate
Candy corn to decorate
Yield: 12 slices
Prep time: 15 minutes
Bake time: 35 minutes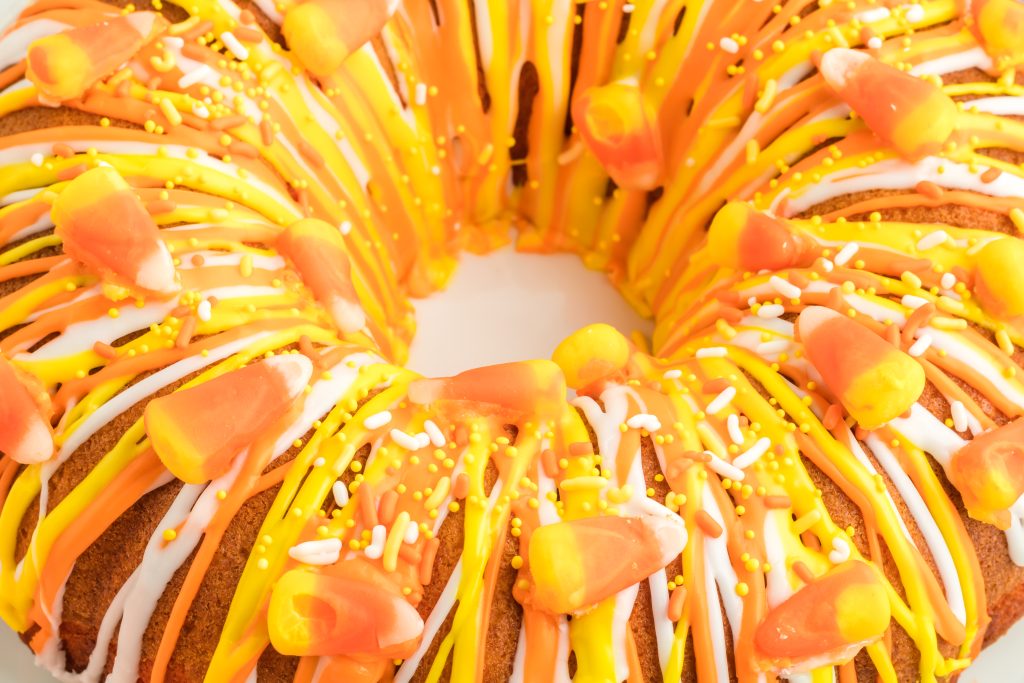 Directions:
Preheat the oven to 350°F. Grease and flour a bundt pan and set aside.
Combine cake mix, melted butter, egg whites, milk and sour cream in a large bowl. Beat batter with a stand mixer or hand mixer for 2 minutes.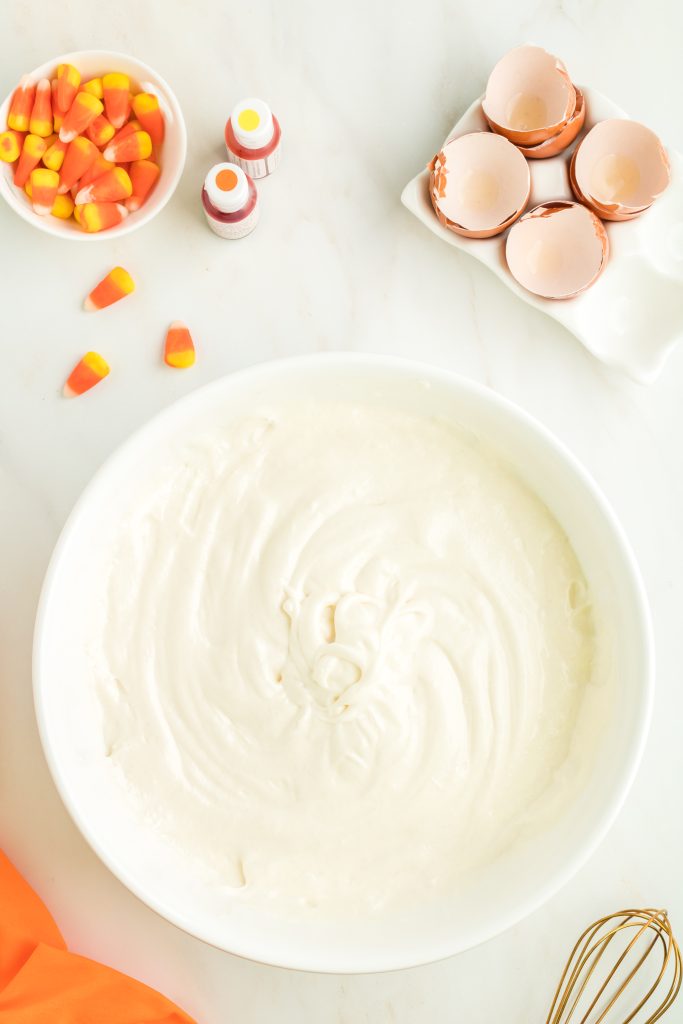 Split the batter evenly between three bowls. Add orange food color to one bowl and mix until well combined. Repeat with the yellow color in another bowl of batter. Leave the third bowl with white batter.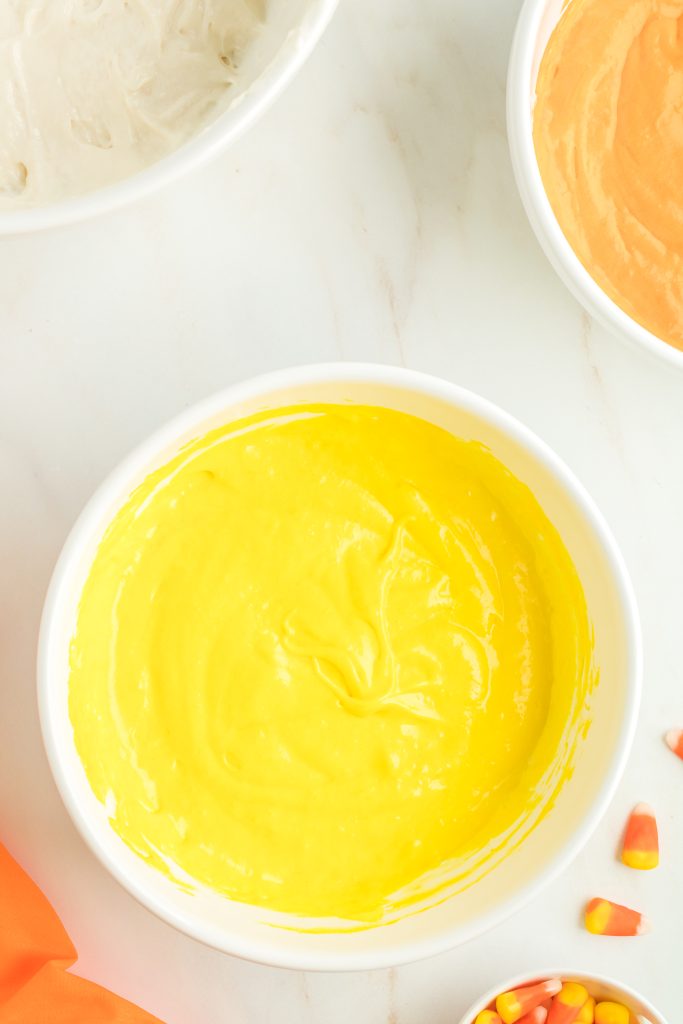 Add the white batter in an even layer to the bottom of the bundt pan. Top with the orange cake batter, ensuring the batter is evenly distributed. Finally add the yellow cake batter as the top layer. Bake for 35-40 minutes or until a toothpick inserted into the center comes out clean. Allow the cake to cool in the pan for 10 minutes before transferring to a wire rack to finish cooling.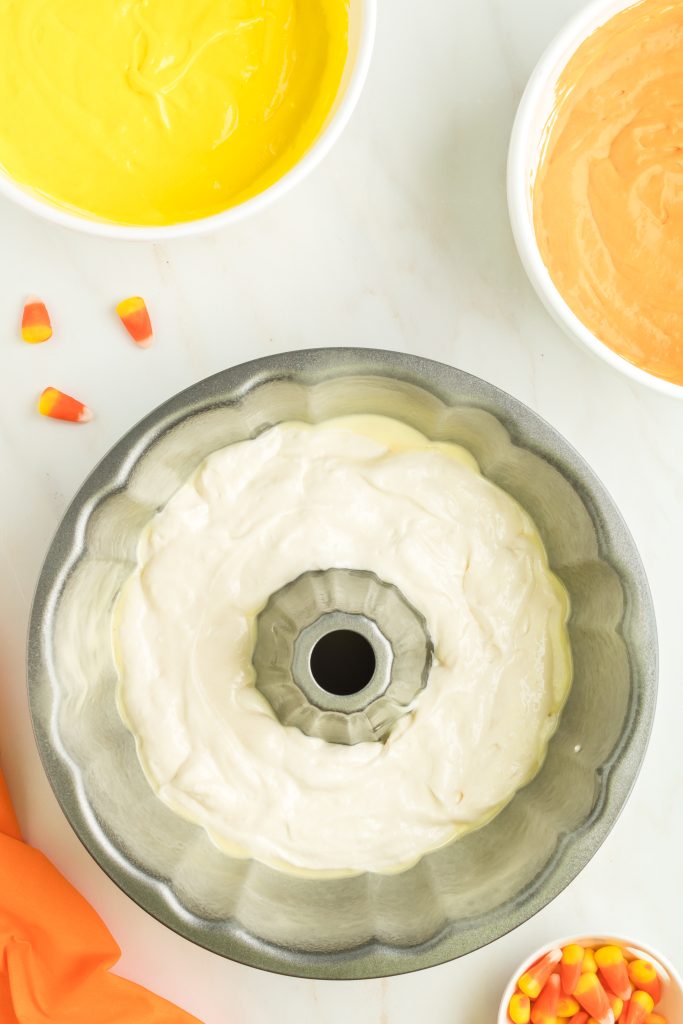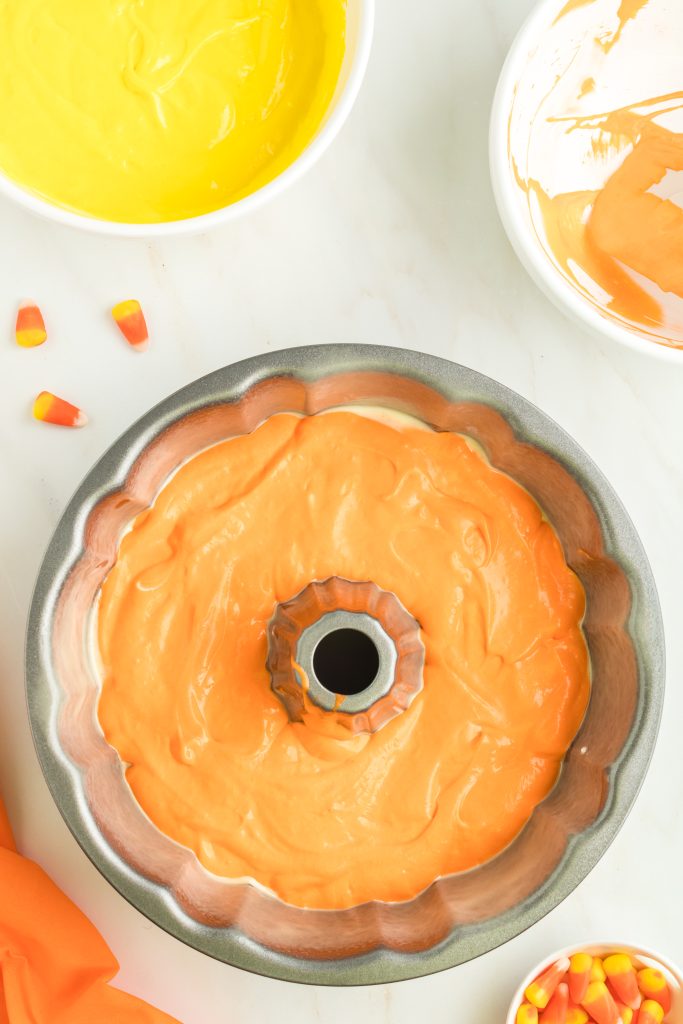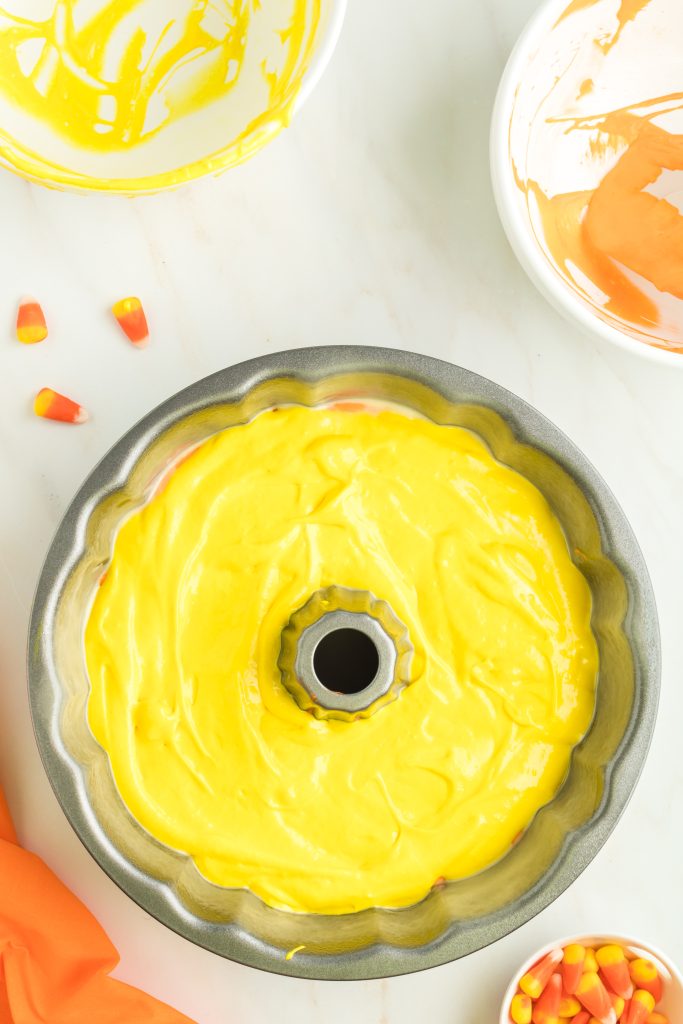 To make the vanilla glaze add powdered sugar, vanilla and 4 tablespoons of milk to a medium bowl. Whisk to combine. The glaze should ribbon from the whisk, but be thick enough that it holds its shape for a few seconds before disappearing back into the glaze. If glaze is too thick, add additional milk 1 teaspoon at a time until desired consistency is reached. If glaze is too thin add additional powdered sugar.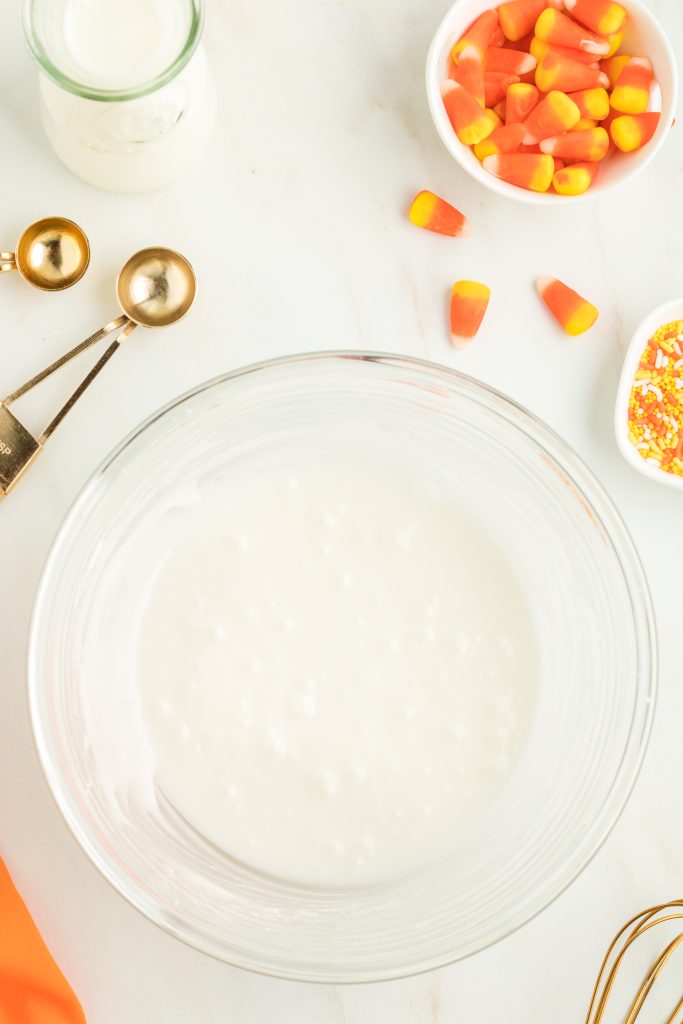 Split glaze evenly between three bowls. Add a couple of drops of orange food color to one of the bowls and mix to combine. Repeat with the yellow food color in another bowl of glaze. Leave the third bowl of glaze white. Drizzle the three colored glazes over the completely cooled cake. Top with sprinkles and candy corn while the glaze is still wet. Set cake aside to allow glaze to harden (about 30 minutes).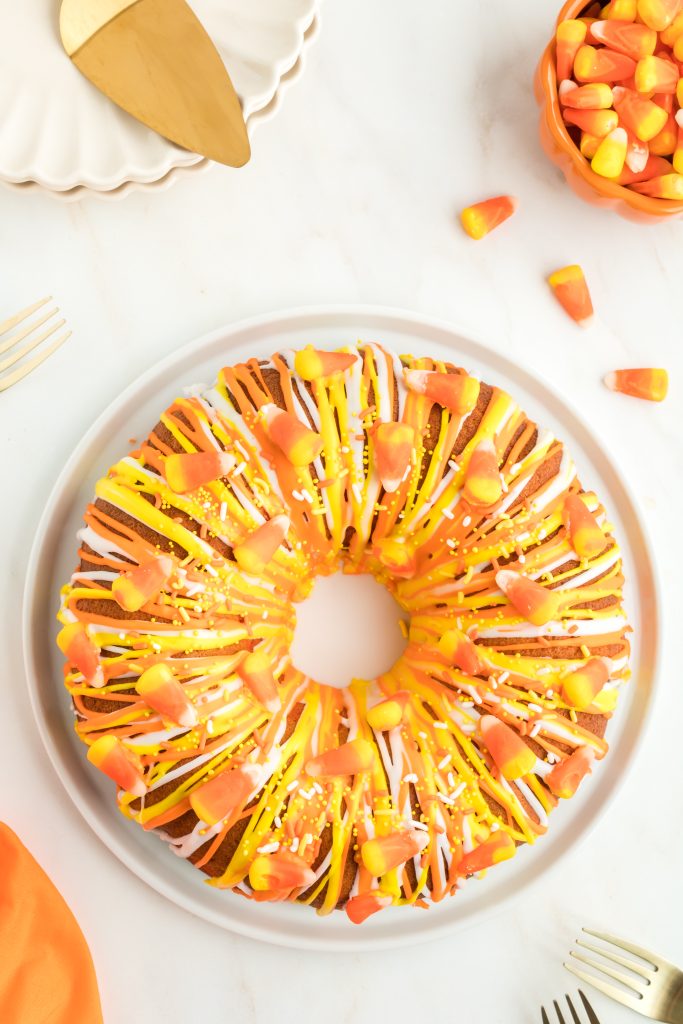 Notes
The butter can be substituted for vegetable or canola oil.
If using liquid food color rather than gel, double the quantities.
The vanilla extract in the glaze can be replaced with 1 teaspoon of clear vanilla extract to create a more intense vanilla flavor. Adding more than ½ teaspoon of regular vanilla extract to the glaze will impact the white color.
Add the glaze to a piping bag or ziplock bag with corner cut off to create more control when adding the glaze to the cake.
Leftover cake can be stored in an airtight container at room temperature for up to three days.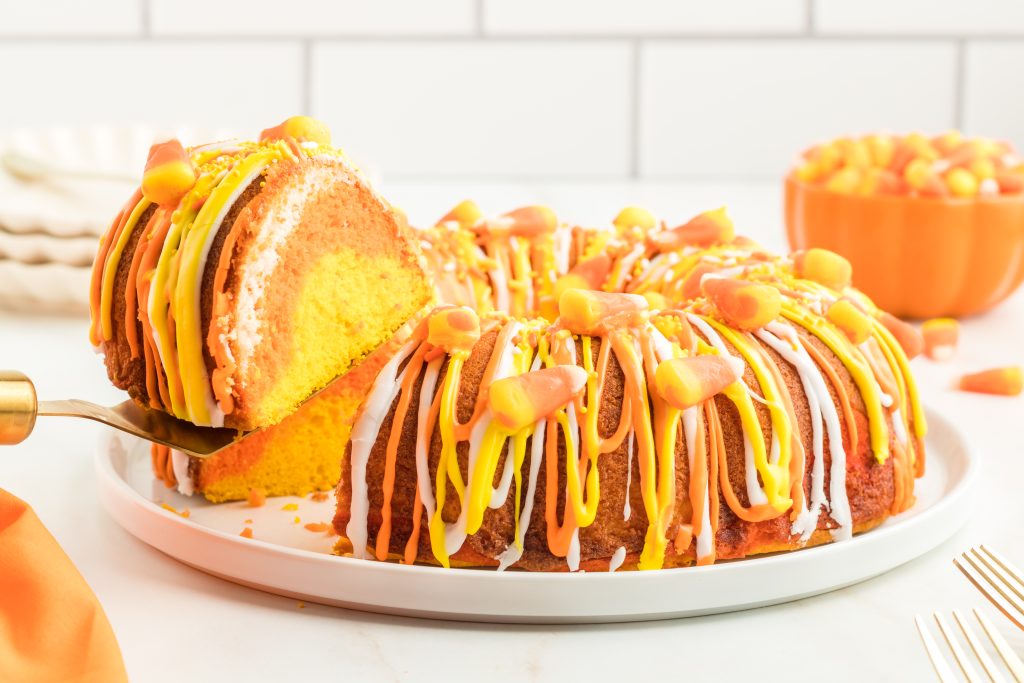 I'm so in love with how this candy corn bundt cake turned out. It's so pretty and is the perfect candy corn addition to your fall.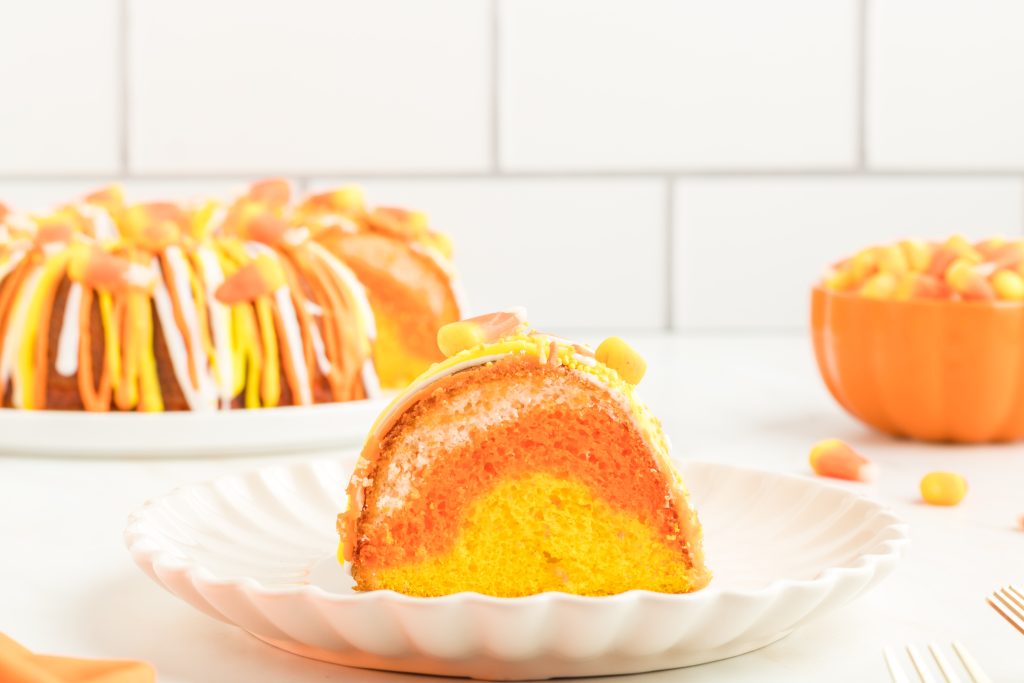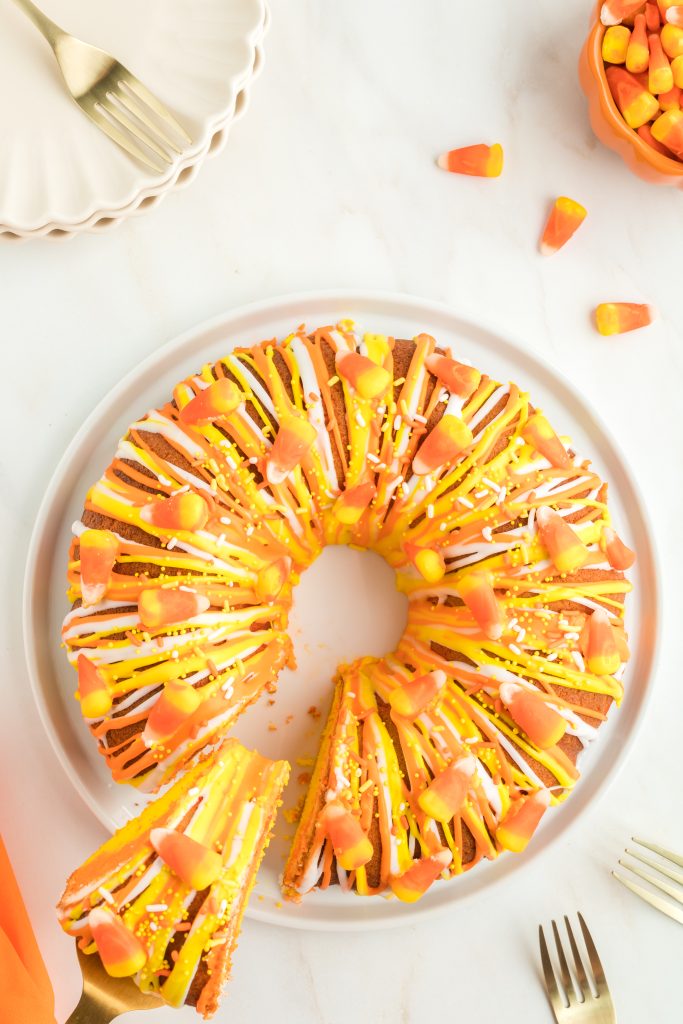 Want more candy corn everything? Make this fun candy corn pom pom wreath!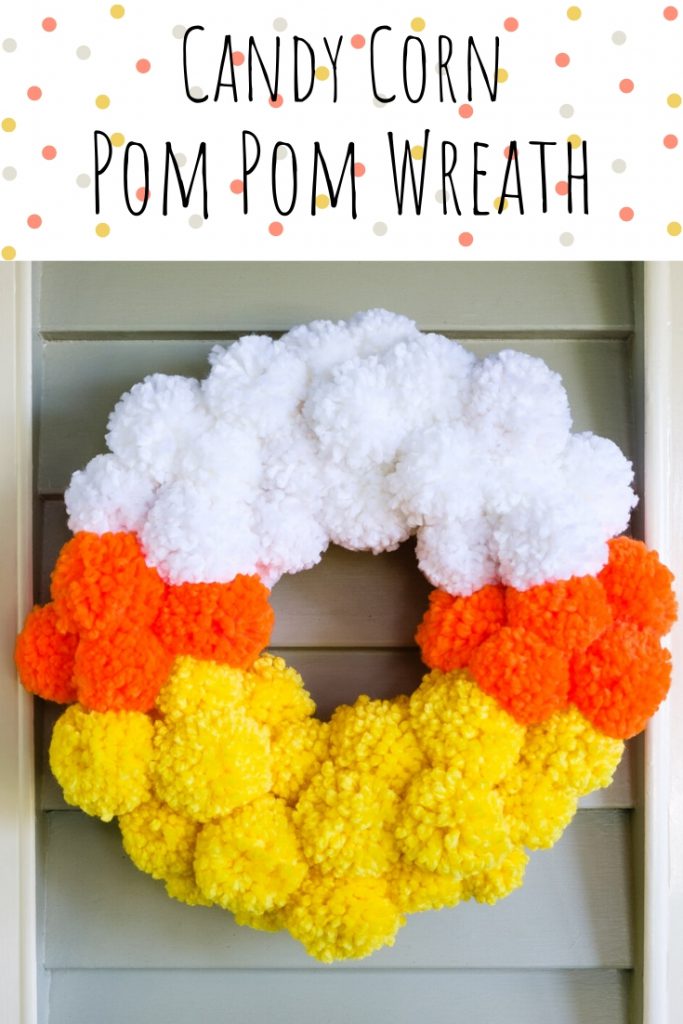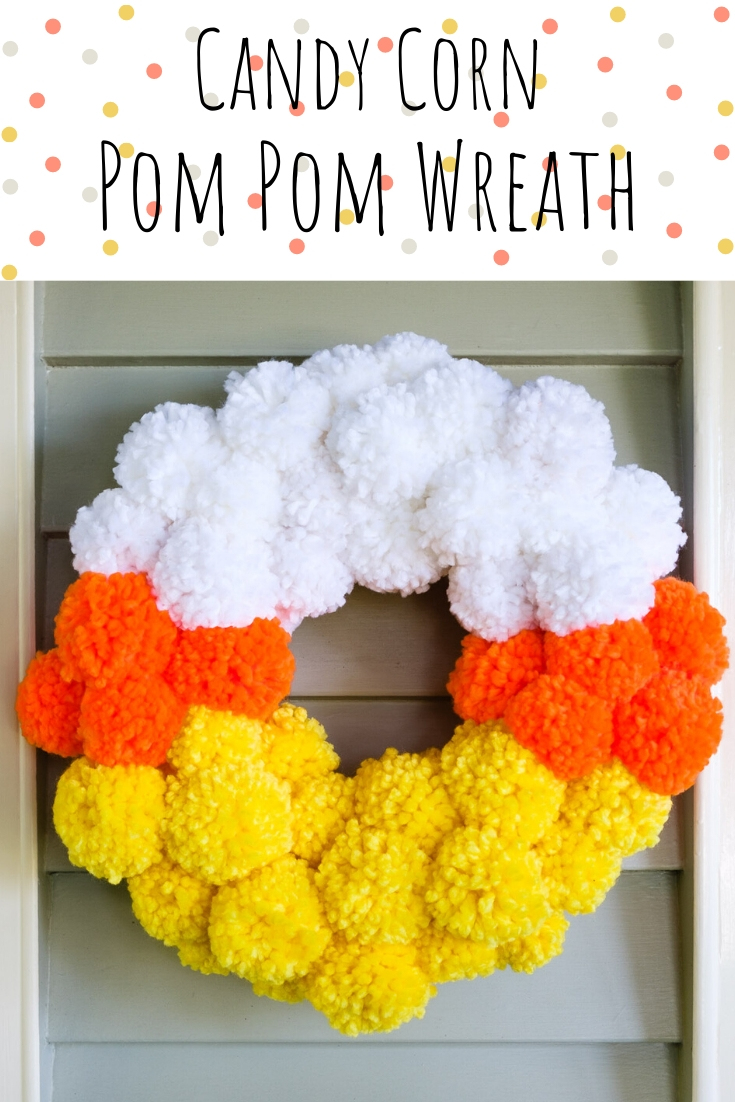 Want to wear your declaration of candy corn love to the world? This team candy corn shirt is for you!