Having Halloween in spring is such a weird thing to me. It's hard to feel properly spooky with pink flowers coming up everywhere. I decided, though, that candy corn was the perfect theme for a spring Halloween. It's bright, fun, and so very more-ish. No need to comment if you feel any other way! I made a super fun candy corn pom pom wreath as a cheerful Halloween decoration–we may not be able to get the actual candy here, but I can decorate based on it!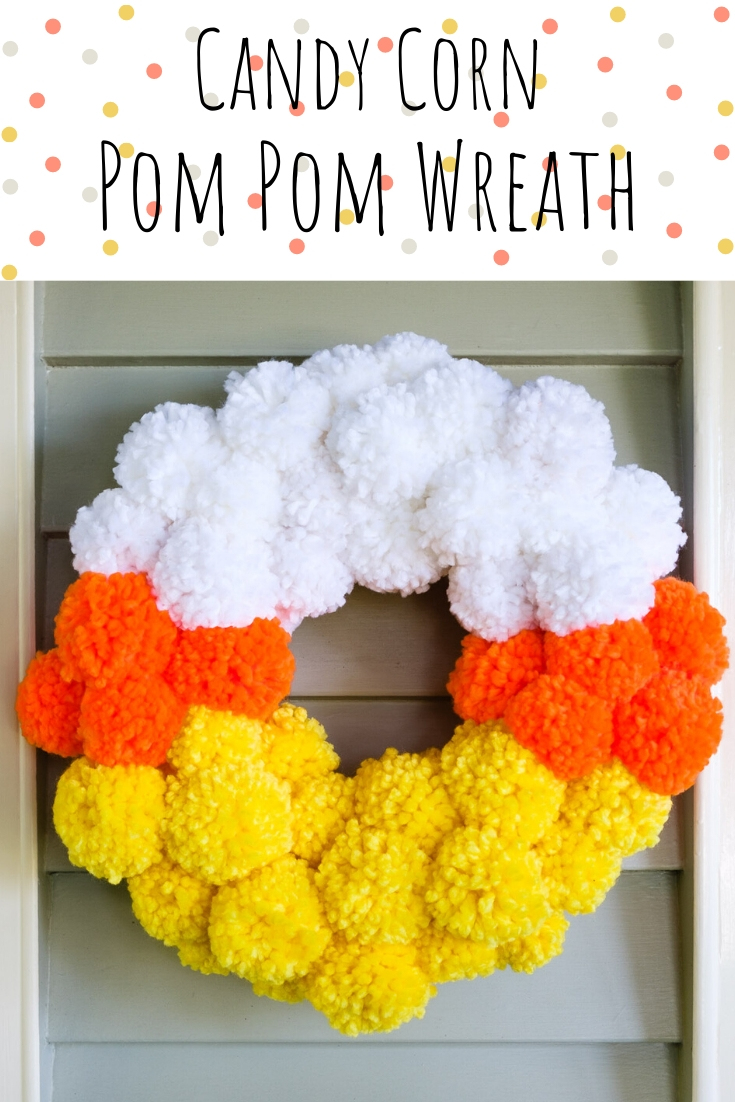 This post contains affiliate links.
Supplies:
Clover pom pom makers in green and blue
straight pins
scissors
a good movie
Please note, other than the Clover pom pom makers, everything on the supplies list is similar but not exactly what I used. Also, my wreath form was already wrapped in yarn from a different project. It adds a bit of bulk to the wreath to have it wrapped, but it isn't necessary. For an alternative way to make the wreath, use a wire wreath form, leave your pom pom tails, and tie them to the wreath.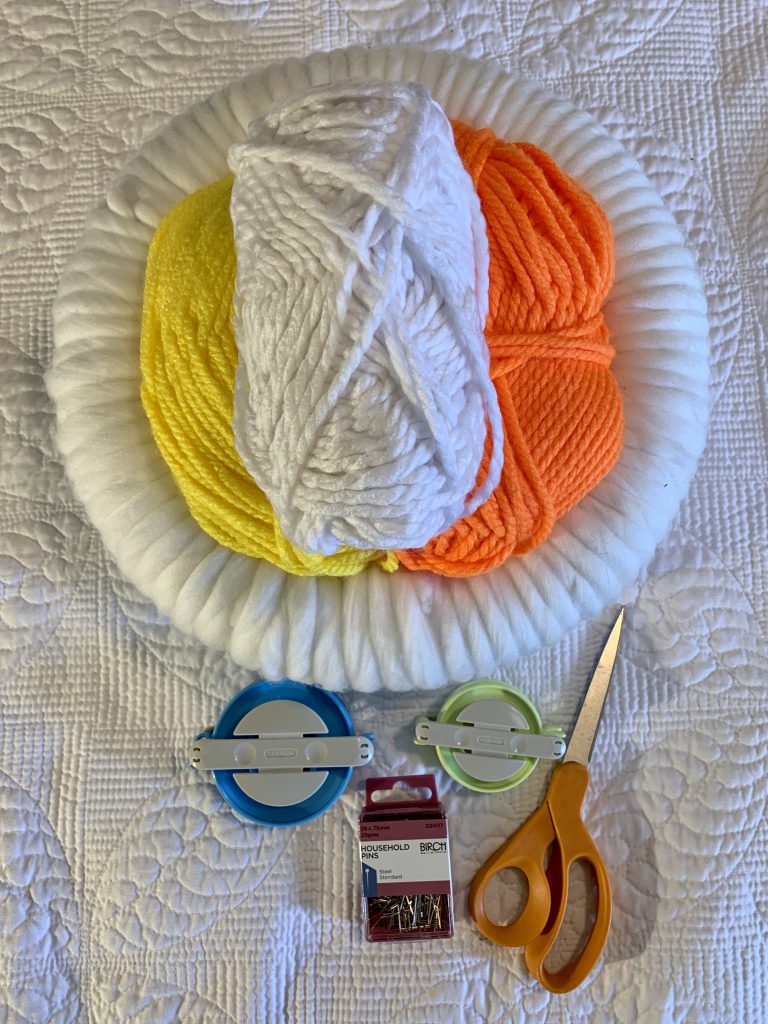 Instructions:
Find a comfortable spot and start making pom poms. Make an assortment with the two different pom pom makers. Pom pom making relaxes me–I get in a groove and zone in and out.
My pom pom making spot is my bed. I put something on tv, settle in, and get wild and crazy with pom poms. (That is my best friend, Truffles the Highland Cow, keeping me company.)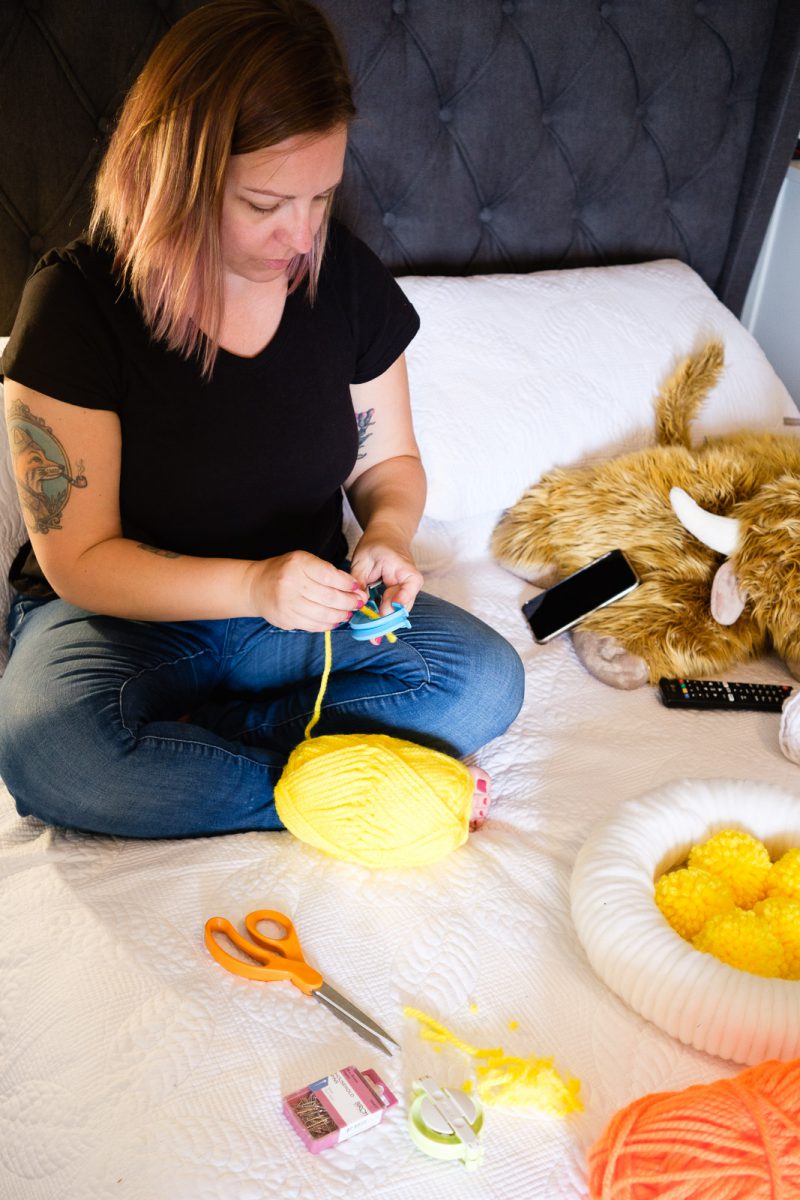 When you have a good pile of assorted pom poms, it's time to start putting the wreath together!
Take a straight pin and stick it through the pom pom. It doesn't need to go through the middle–it just needs to catch some yarn.
Push the pinned pom pom into the wreath. Easy as! Starting on the bottom, layer your yellows. Follow that with a small stripe of orange on either side and white on the top. Make sure that you scatter the sizes so that the wreath is nicely fluffy. If you're not comfortable with the straight pins or can't find any long enough, you can use a glue gun to attach the pom poms.
My Candy Corn Pom Pom Wreath took a viewing of Coraline (a favourite!!) to finish. It's fluffy and fun and a great homage to my favourite candy.
Want more fun candy corn decor? Try these great candy corn yarn wrapped luminarias!