I will never apologize for loving candy corn. I look forward to candy corn season every year and keep a stash in the house. It didn't occur to me to check and see if I could get candy corn in New Zealand until the season should have started–you can't. If I had realized this sooner, we probably wouldn't be here. Well, we all know that's an exaggeration, but this is still a big deal! I'm getting a bit of my candy corn fix by making as many candy corn crafts as I possibly can, like this fun candy corn scissors pouch. Just don't try to eat the felt!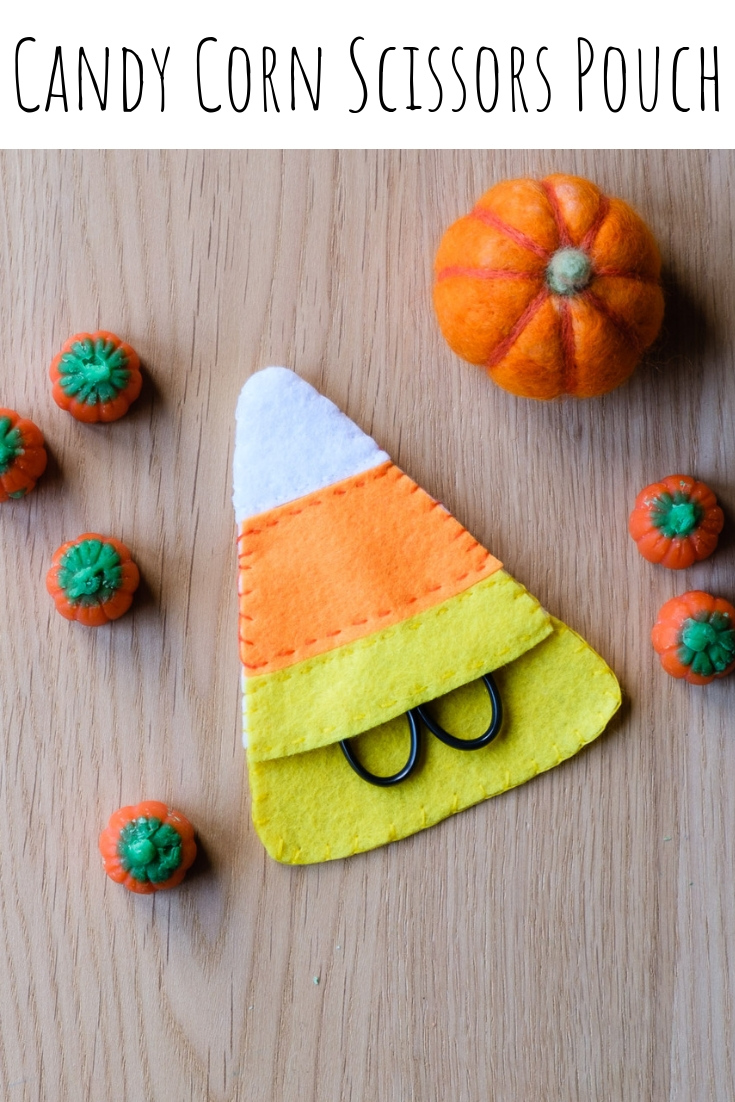 This post contains affiliate links.
Supplies:
yellow, orange, and white felt (this is a multi pack so you can make more felt goodies!)
yellow, orange, and white embroidery floss (I used DMC 307, 721, and B5200)
embroidery needle
I labelled the pieces on mine to make it easier for you to know which piece goes with which colour. I started with a crazy numbered system but realized it was far easier to just write down the colours. That's what a lack of candy corn will do to you! I used a washable pen to outline the pieces and then cut them out.
Take the big white piece and layer the smaller ones on top.
Stitch across each piece in the appropriate colour. Don't do the sides–that will be next!
When the stripes are stitched on, place that piece onto the large yellow piece. Again stitching in the appropriate colour, use a blanket stitch to attach the two pieces together and make the pocket.
I may not have candy corn in New Zealand, but I'm pretty happy with my new candy corn scissors pouch. It's a pop of bright autumn fun with my stitching!
Want another easy candy corn craft? Try this candy corn luminaria!