Madeline went through a phase where everything in her life revolved around Harry Potter. There weren't any shortages of Harry Potter sites and shops to visit when we lived in Scotland and we did our best to visit as many as possible. For her last birthday in Edinburgh, we got her tickets to see Harry Potter and the Cursed Child in London. The two of us took the train down to London for the weekend to see the show, but what she didn't know is that I had also gotten the two of us tickets to go on the studio tour (you *need* to book ahead on the website). I had the best time surprising her and would go again in an instant. The Harry Potter Studios Tour in London is a day-trip that both Harry Potter fans and Muggles alike will appreciate.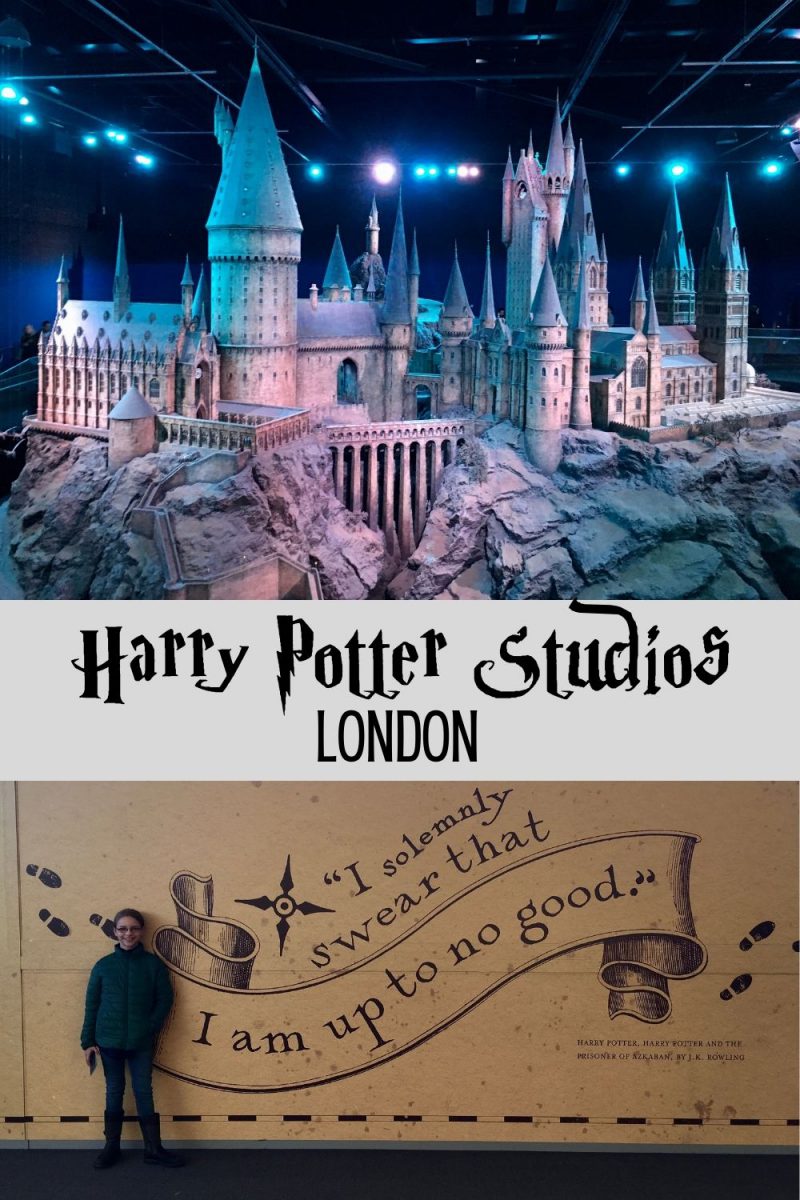 Located just north of London, the Warner Brothers Harry Potter Studios offers fans a chance to see where the movies were made. It includes set details and special effects demonstrations and explanations. The Harry Potter Studios Tour also has seasonal events–we went during Halloween-time, so the Dark Arts overlay was up. The tour showcases everything that went into creating this popular universe. 
What To Expect on the Warner Bros Studio Tour – The Making Of Harry Potter.  
Visitors are welcomed to the experience by a video featuring Daniel Radcliff, Emma Watson and Rupert Grint. While this is a Harry Potter experience, it is important to note that the Harry Potter Studio Tour is not a theme park. 
Visitors are immersed in the making of the Harry Potter universe. They see how the movies came together through exhibits and interactive experiences. They get to see, first-hand, how some of the 'magic' is made. Throughout the tour, guests enjoy simulations and re-creations of these magical experiences. With movie sets and costumes displayed, visitors have a chance to imagine what went on behind the scenes. The animatronics and detailed sets immerse visitors in the story as they see how it unfolds from page to screen. 
You will need to enter the tour at your designated time, but once inside you can take as long as you want. It isn't a guided tour–you walk and wander on your own. There are staff members everywhere, though. This style of tour meant that we could spend more time on the exhibits that caught our eyes (everything!) without feeling rushed.
Interactive Experiences 
Wizards visiting Harry Potter Studio London will get to see how green screen technology works as they pose for photos. The studio lets guests take photos depicting themselves playing Quidditch and flying over Hogwarts School of Witchcraft and Wizardry. There are several photo opportunities throughout including the Knight Bus as well as Hagrid's motorbike, so be sure to come with phones and cameras charged and ready to go! Some experiences have an additional cost inside the tour, but we did them all and had fun. No regrets!
Harry Potter Studios Interactive Activity Passport
Pick up an Activity Passport when you first arrive at the Harry Potter Studios Tour. Staff members throughout the tour will also have some on hand if you happen to miss it. Kids will enjoy the interactive Golden Snitch hunt and collecting souvenir stamps.
The passport stamps include locations like Gringotts Bank and Diagon Alley. They make a fun addition to the experience for younger children. Often collecting stamps and scavenger hunt activities are just the thing needed to keep them engaged and excited while the rest of the group takes in the experience. Madeline (11 at the time) did the first few but tired of them–I thought they were really cool and took over for her. They're the embossed kind of stamp and can take some effort to get the relief to show and sometimes the stamp stand itself was a bit hard to find, but it was still a fun thing to collect.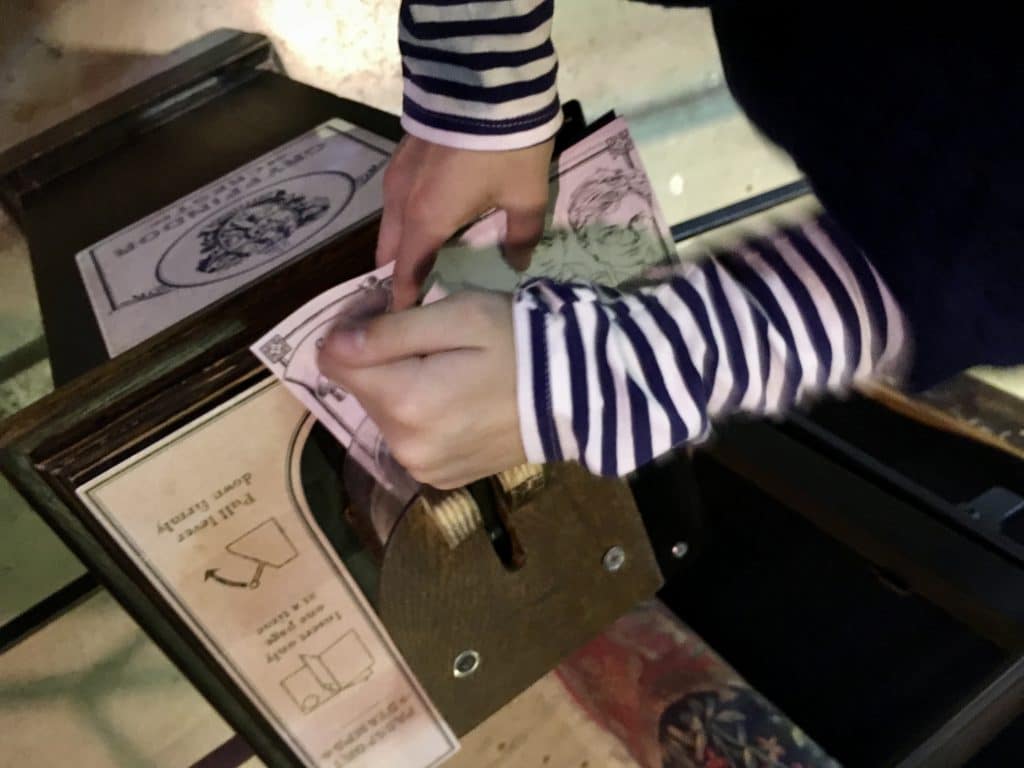 Digital Studio Tour Guides
For visitors seeking a more interactive experience or those working with, 'He who shall not be named,' the Digital Guides offer bits of trivia throughout the Studio Tour. While not free, these guides are available in several languages which can be helpful for non-English speakers. We didn't use one and didn't feel like we missed out, but I have heard enough great things about them that we will probably try the digital guide next time we visit.
Immerse Yourself in Harry Potter's World at the Studio Tour in London
The Great Hall
Visitors will feel just like Harry, Ron, and Hermione when they first stepped into The Great Hall for the Sorting Ceremony. This set features the dining tables, The House Point Counter, an owl podium and several other details depicted in the movie. This is the first set you encounter on the tour and the only one that you are somewhat limited by time-wise. Because we had said it was Madeline's birthday, she got to open the doors to enter and is, of course, the one thing I don't have pictures or video of. The Great Hall was also decorated for Halloween when we visited as part of the Dark Arts overlay.
Hogwarts School Experience 
Here you'll feel as though you stepped right into Hogwarts School of Witchcraft and Wizardry. The moving staircases and paintings are among the first things you'll see. The Potions classroom, Mirror of Erised, Dumbledore's Office, Gryffindor tower and countless other sites from the movies (Hagrid's Hut!!) are everywhere you turn. In addition to the sets and people, you'll see animals like Hedwig, costumes, and movie props.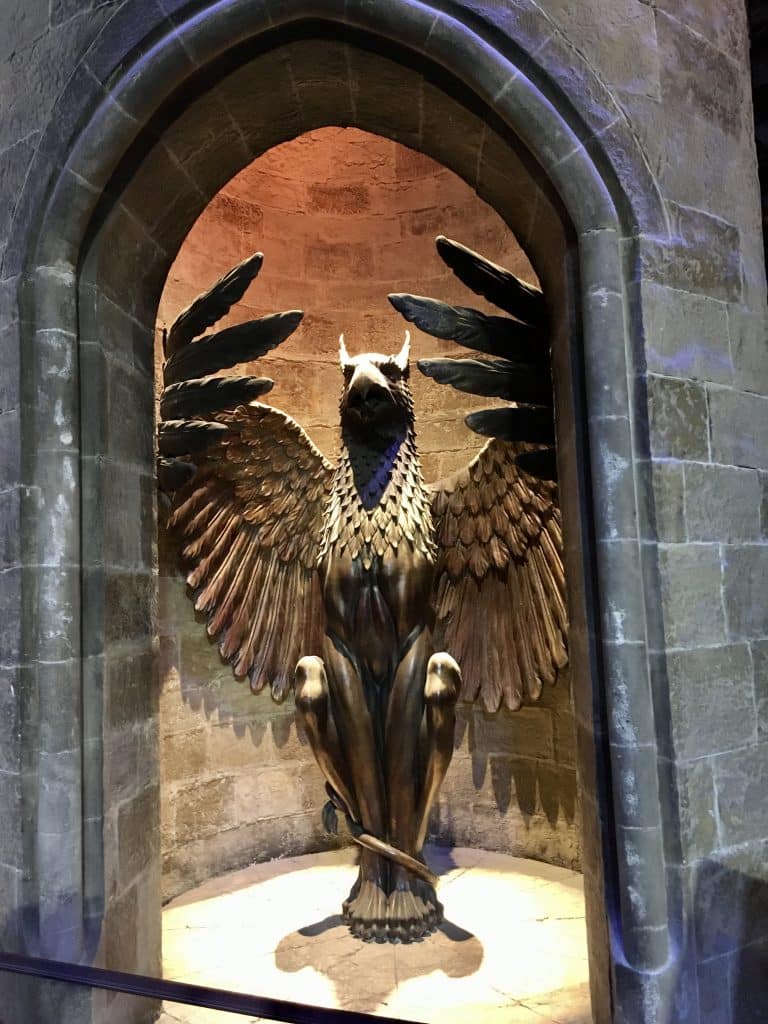 What Else Can You See at Harry Potter Studios London
In short, you can see anything and everything associated with the movies. One of the really cool things to me was just how many sets were inside the main sound stage and how close they were to each other. At one point we were looking at the Gryffindor dormitory that was right next to the statue that goes to Dumbledore's office and then turned to see the Weasley's kitchen. All of the sets were exactly as they were in the movies and at times was almost overwhelming.
Walk through the Forbidden Forest, complete with Aragog, and then move on to the hustle and bustle of Platform 9¾ where you can sit in a compartment of the Hogwarts Express. Try some butterbeer at the Backlot Cafe and then check out the Dursley's home at 4 Privet Drive. The attention to detail at Harry Potter Studio Tours London is top-notch. At Number 4 Privet Drive you'll even see Hogwarts letter envelopes all over the living room. 
Later in the tour, see the puppets and animatronics, costumes, masks, and technical wizardry that brought the movies to life. The tour ends with the massive miniature set of Hogwarts that I'm still in awe of three years later.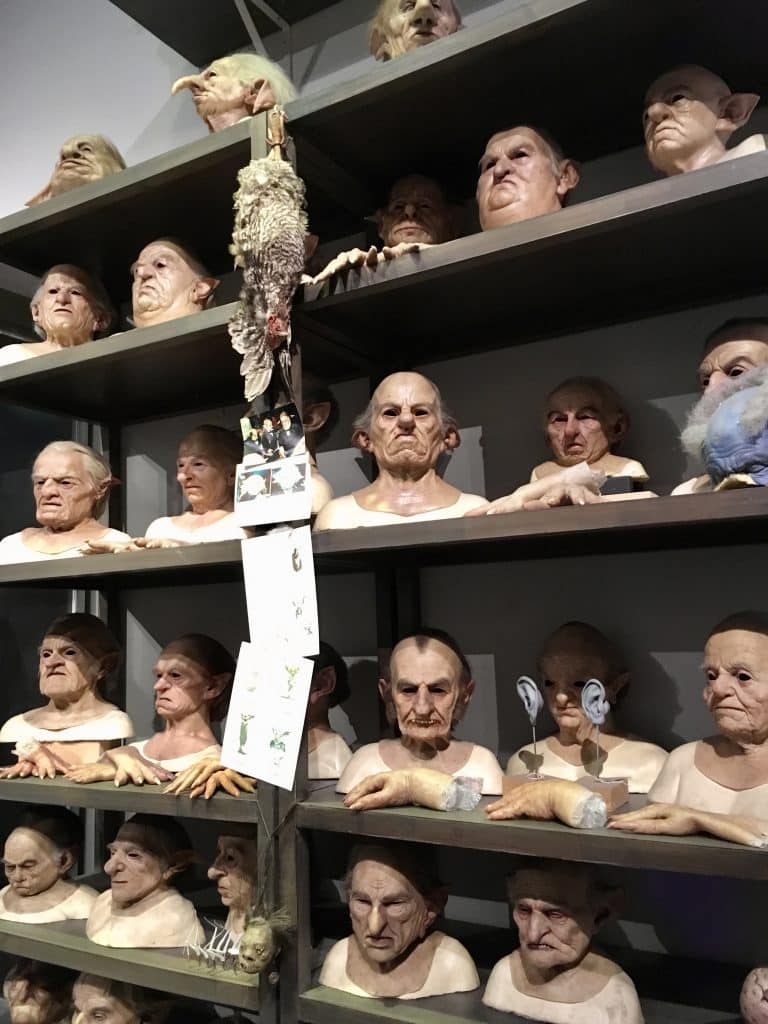 Even the gift shop is full of actual set pieces–see the original Ollivander's among many other pieces. The gift shop is massive and a lot of fun to explore–it was hard not to buy them out!
Where is the Harry Potter Studio Tour London
Ironically, The Harry Potter Studio Tour London is in fact, not in London. It is accessible by shuttle bus from the Watford train station. Visitors can also take the 30-minute drive to The Harry Potter Studio Tour from central London (but let's face it–no one is going to do that).  We took the train from London Euston to Watford and then caught the bus to the studio. 
How Much Time to Allot 
Staff members at Harry Potter Studio Tour London suggest allocating at least 3 hours for the tour. Avid Harry Potter fans will find enough to see and do to last an entire day. Visitors are encouraged to stay as long as they want–we stayed until close to closing time.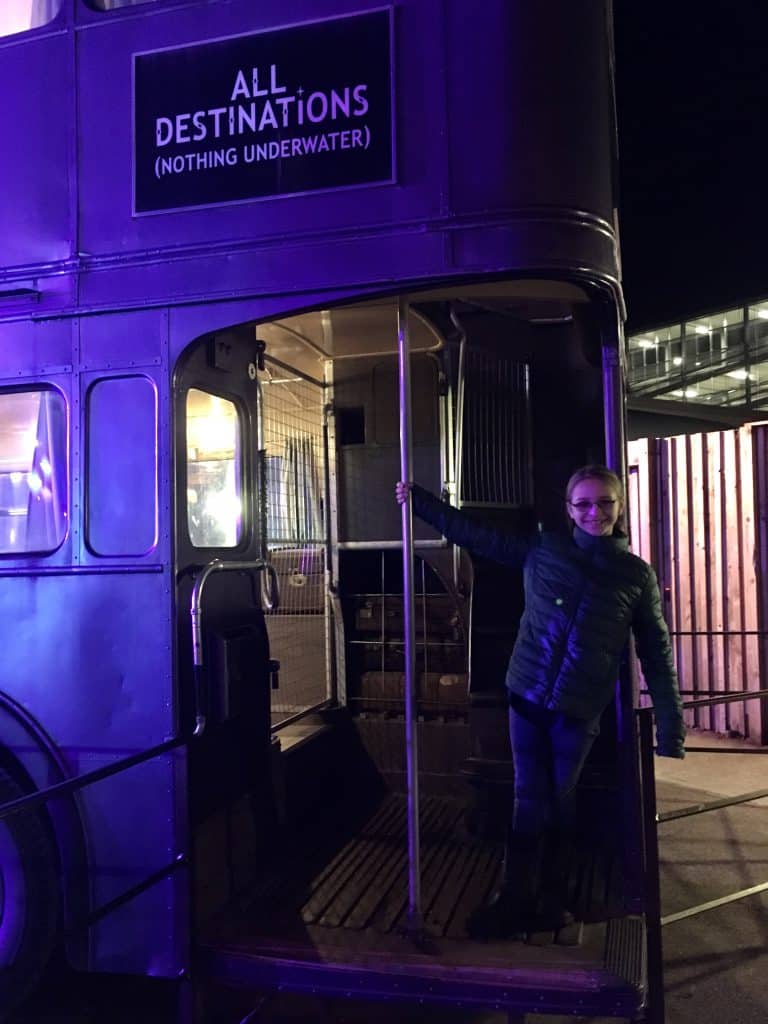 As mentioned, keep those cameras and phones charged as there is ample time to photograph everything you wish. The only exception to this is the film at the beginning of the tour and the green screen simulations. You also can't take food or drink into the tour (there is a cafe and a Starbucks outside of where the tour starts) but there are opportunities within the tour to grab a snack.
Whether you're a serious Potterhead or you can catch just a few references, you can't go wrong with a visit to Harry Potter Studios Tour London. The only criticism, though not a major one, is that there's no sign of Moaning Myrtle in the washrooms. Even if you're not a Harry Potter fan, taking this tour should inspire you to at least watch the first movie. It won't be long before you're buying your Hogwarts House merchandise for everyday wear and binge-watching the movies every holiday. Madeline and I still reminisce on a regular basis and fully have plans to go back.
Want more Harry Potter experiences? You can't beat riding the Hogwarts Express!