If there's one thing you need to know when visiting the Kennedy Space Center Visitor Complex, it's that  – much like an official space launch – preparation and planning are essential. Consider it similar to a visit to other nearby Florida attractions. You wouldn't (or shouldn't) visit Walt Disney World or Universal Studios without a basic plan in place; the same holds true for the Kennedy Space Center (which is a day you should include for either theme park trip!). There's so much to see, do, and experience and you don't want to miss out. Here we share a few tips for visiting KSC, to ensure you have the best and most rewarding visit possible.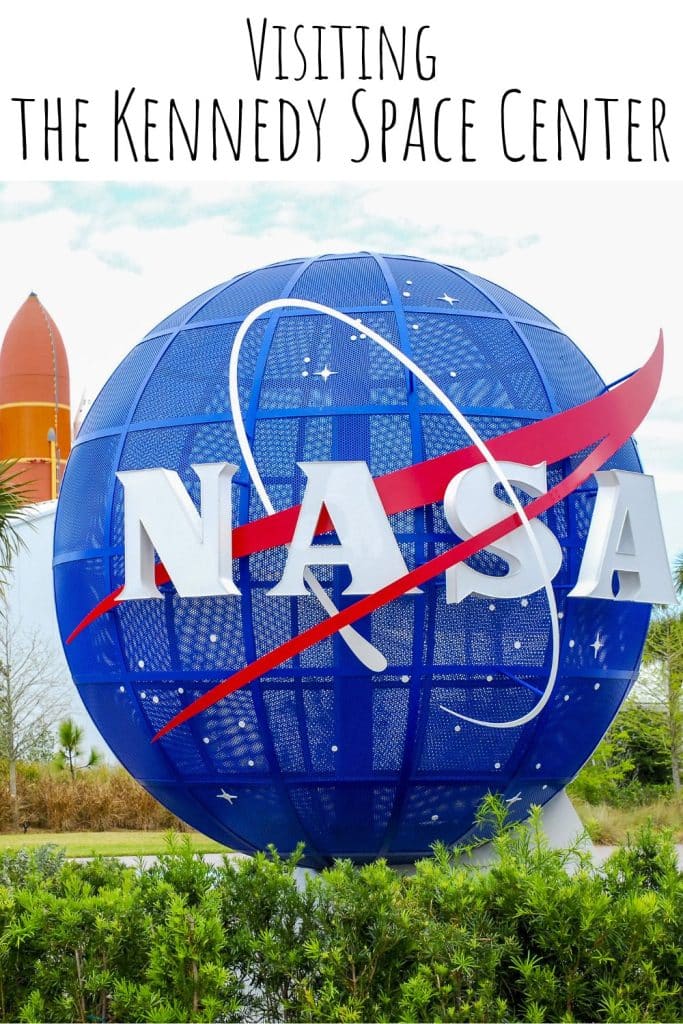 I have always been a space junkie. I couldn't tell you how or when it started–I can't remember not obsessing over NASA and astronauts and space exploration. I watched every launch I could growing up, and that carried over to my adult life. Work knew that I would be late on launch days. I was one of the American kids who watched the Challenger tragedy live in my classroom. What I wanted more than anything was to get to go to space camp (which was massively expensive so it never happened). I did astronomy as my science at university. For all of my love of all things space, though, it took me until I was 44 to hit one of my most wished-for travel places–visiting the Kennedy Space Center. There was supposed to be a launch while I was there but it was postponed, so that's something I still need to do.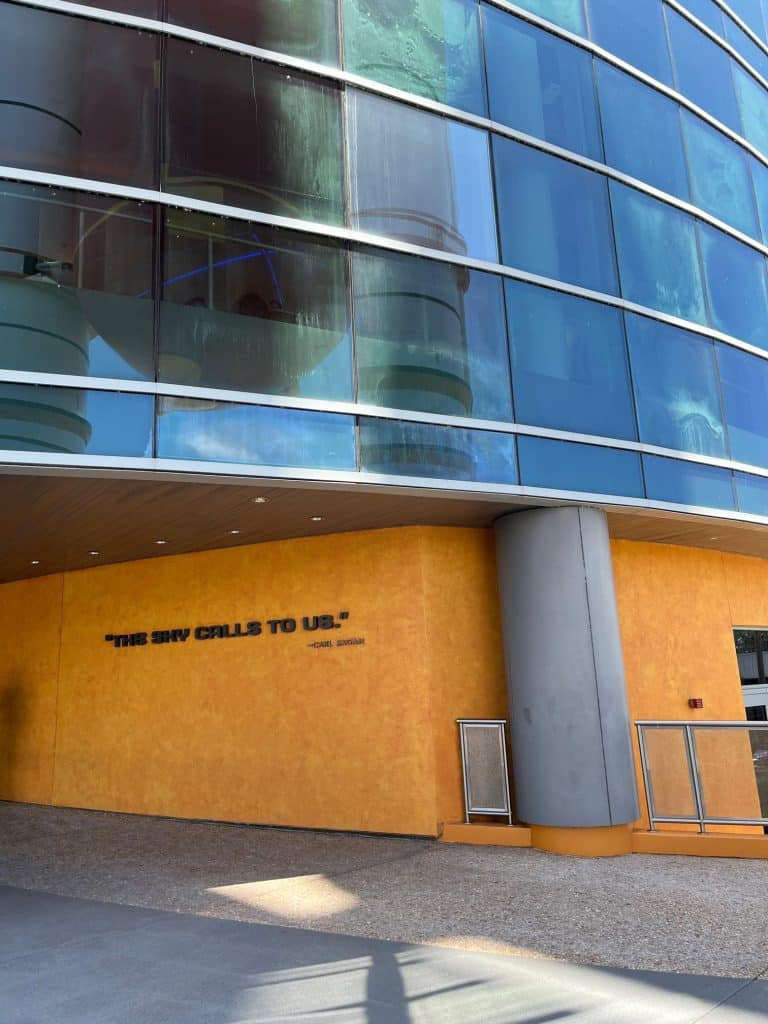 If you know me at all, you know that I get super emotional and teary easily. There are a lot of movies and audio recordings throughout the Kennedy Space Center (varying from full theater to needing to sit on the floor or stand). They're very well done I found myself fighting tears at various points during all of them (it's a me thing and I own it). Whether you're familiar with the history and events depicted or not, I dare you not to feel something while there. And wow, I'd love to experience the unveiling of Atlantis for the first time again.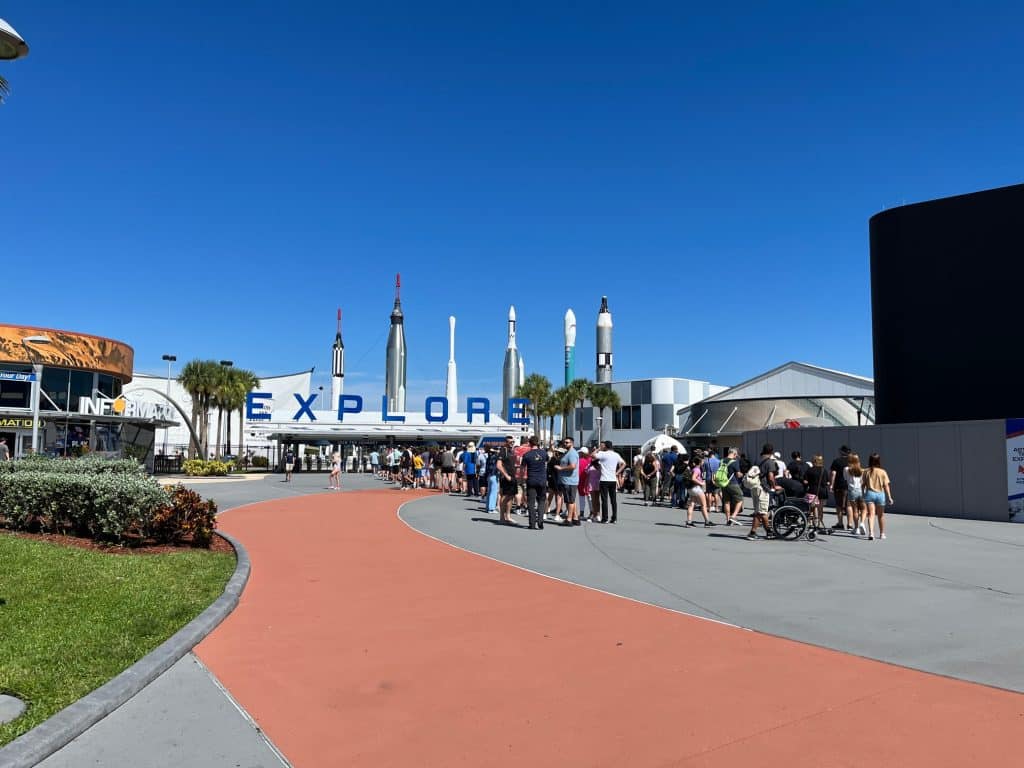 Planning on Visiting the Kennedy Space Center? When to go:
Of course, Florida attractions are wildly popular and can be crowded during certain times of the year. If you prefer fewer crowds, visiting during the week is probably best; arrive early to ensure you have ample time to explore all of the sites and exhibits. Ideally, the months of early spring or mid-autumn are best in terms of weather and crowds. In fact, it is highly recommended that you allocate at least two days; one may not be enough if you intend to see everything, especially if you plan on including the Kennedy Space Center Bus Tour in your itinerary (and you need to!). I did it in one day and missed some exhibits I would have liked to see but there was a massive storm rolling in that I wanted to beat back to Orlando. I'll just go back!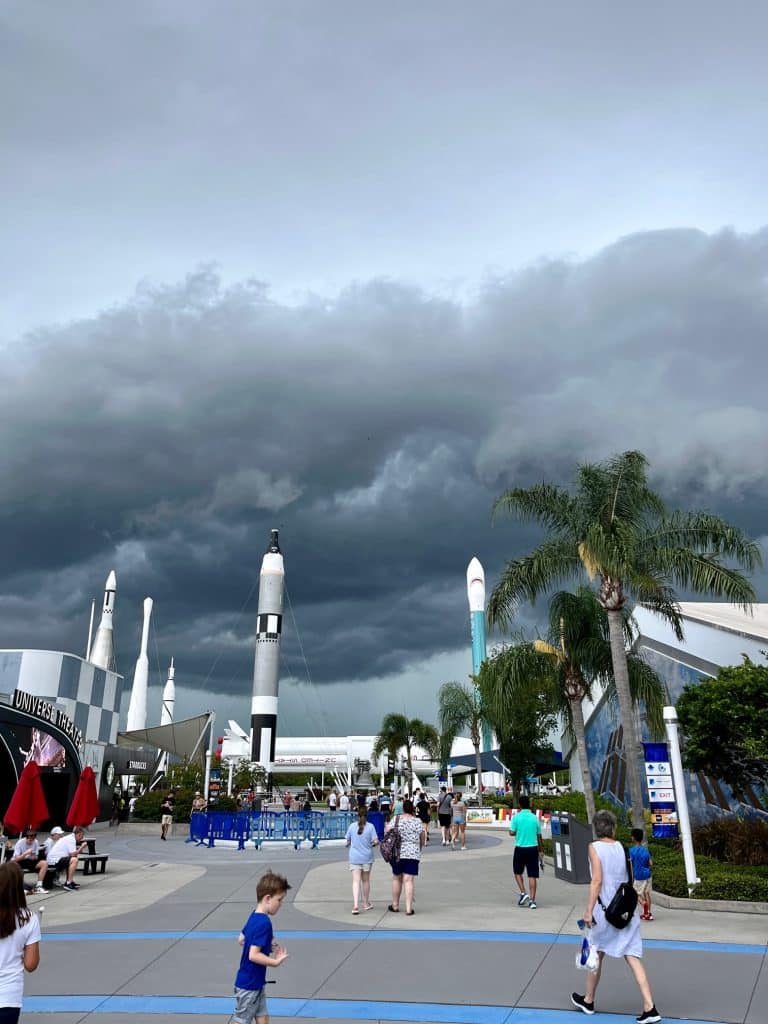 It is important to note that the Kennedy Space Center is closed on both Thanksgiving Day and Christmas. Apart from those days, the Visitor Complex is open from 9 a.m. to 5 p.m. year-round. If you're visiting nearby theme parks, Kennedy Space Center Visitor Complex is about an hour away; 52.1 miles to be exact. Purchase tickets in advance so you can just arrive and enter the visitor complex. If you need to pack a cooler, you can do so, provided it is a soft-sided cooler and you leave the glass bottles and containers at home. Kennedy Space Center Visitor is located on Merrit Island, close to Cocoa Beach, Ponce Inlet, and St. Augustine; each is worthy of their own individual visits if you have the time.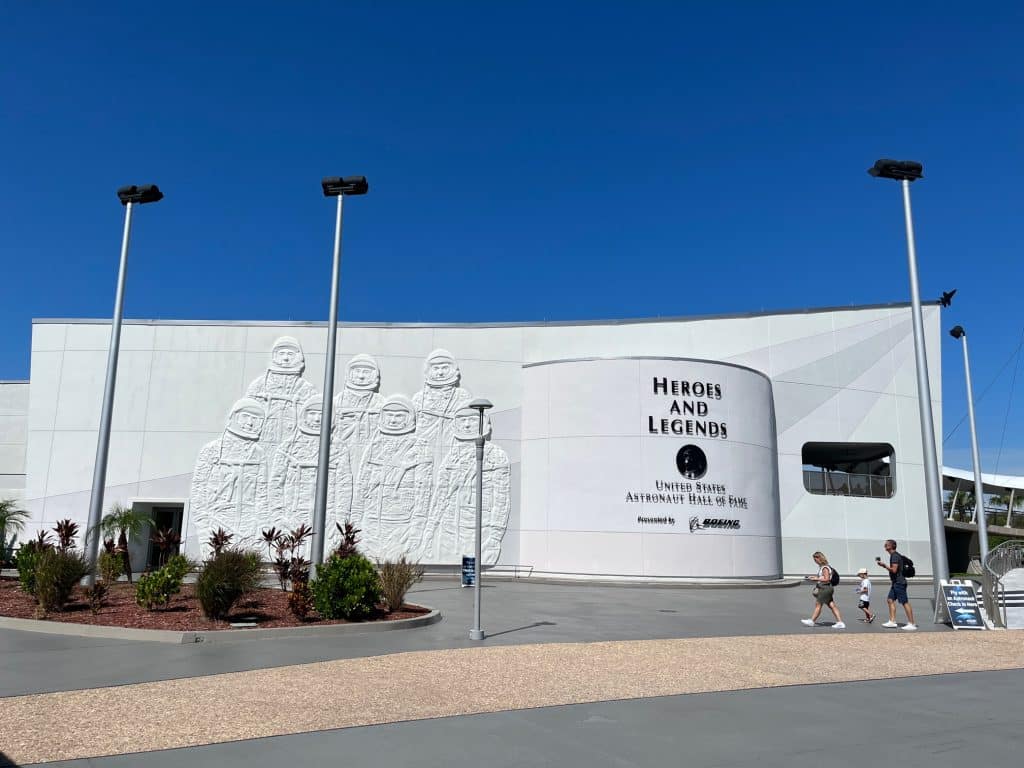 Kennedy Space Center Bus Tour
One mistake many first-time visitors make is underestimating how much time the KSC Bus Tour takes. It's a very thorough tour and well worth the trip, but if you don't want to be rushing around to try to fit everything in, you might want to purchase multi-day tickets. Along the bus tour, you'll get right up close to the infamous Launch Complex 39A and be able to take close-up photos of the Vehicle Assembly Building (VAB).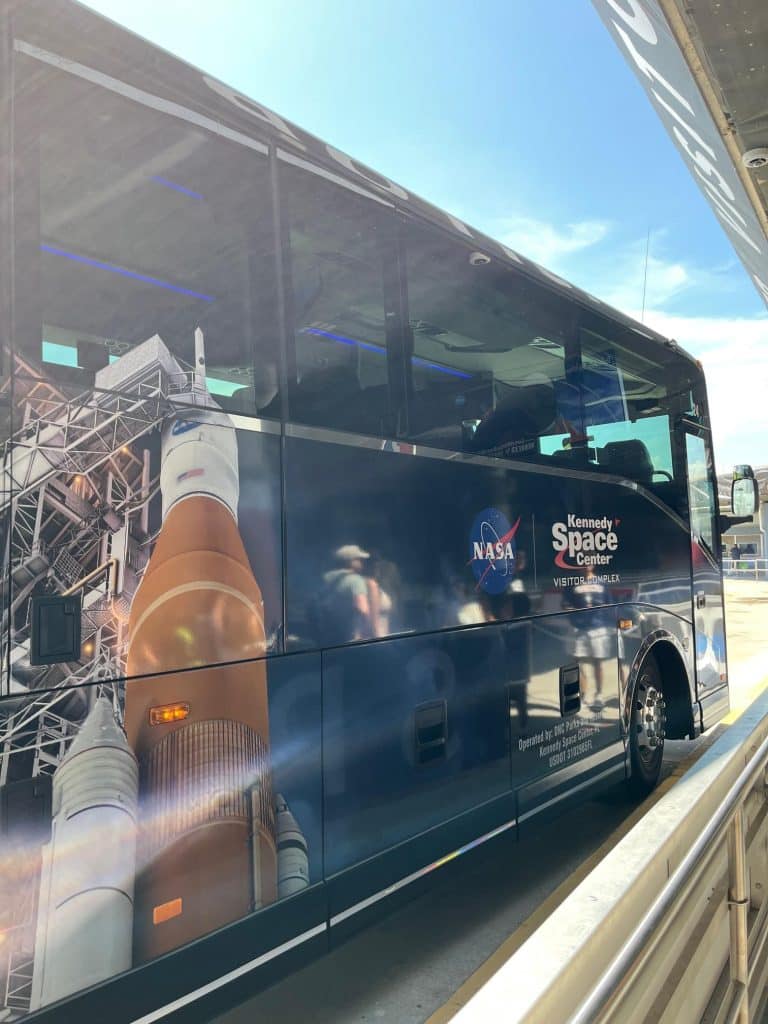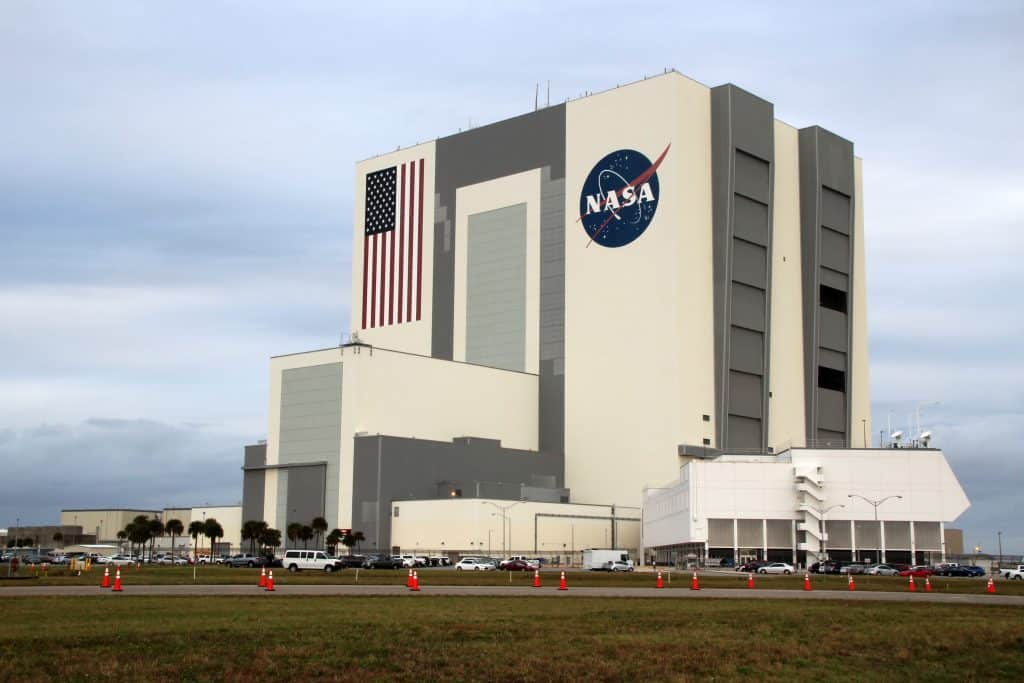 You'll also get a simulated front-row seat in the Firing Room Theater where you will be able to experience the 1968 launch of the first NASA mission orbit to the Moon on the Saturn V Rocket. In the Apollo/Saturn V Center, you'll walk right beneath an actual Saturn V rocket. It's enormous; measuring 363 feet long (111 meters) and is just one of the three remaining Saturn V Rockets in the US.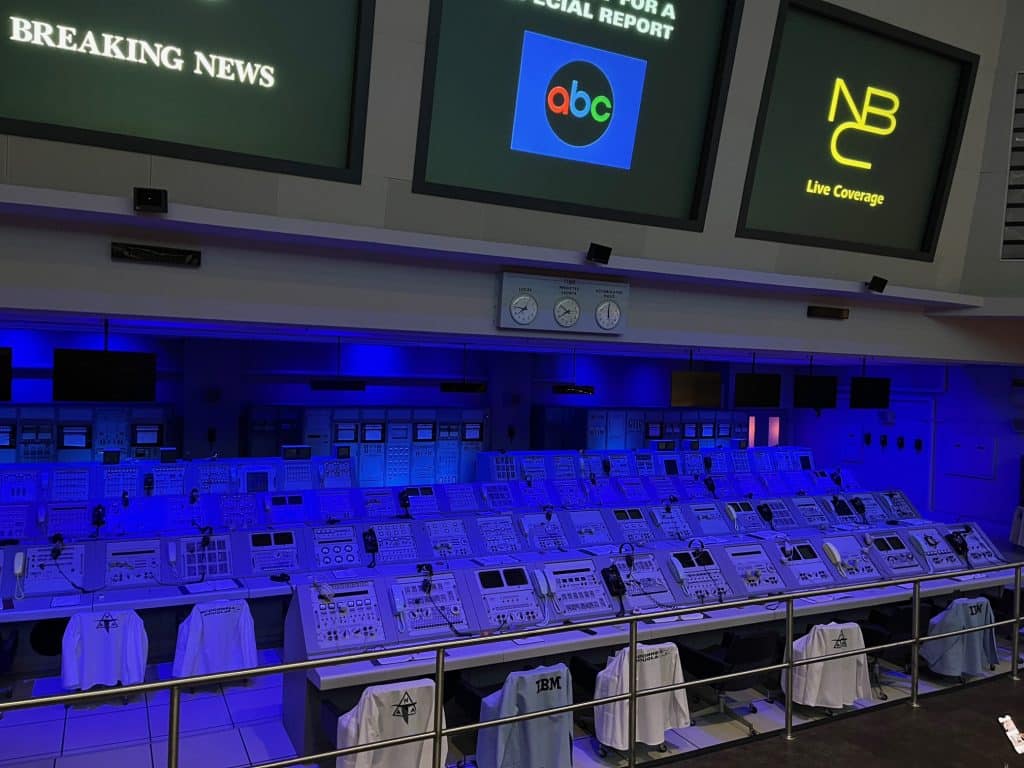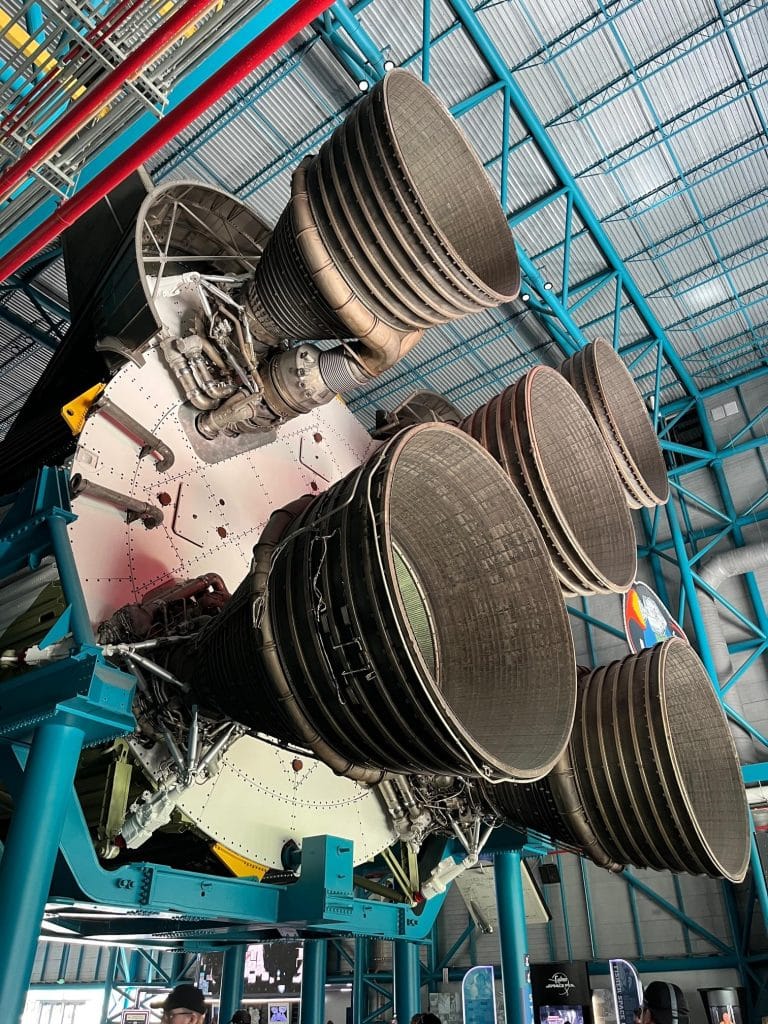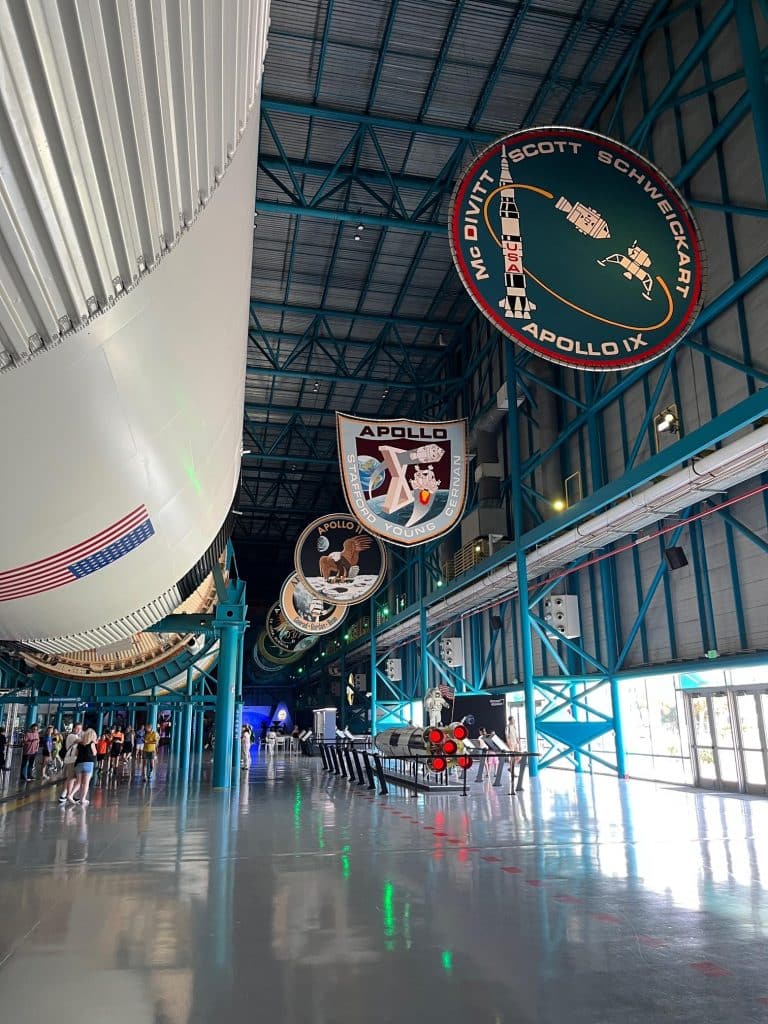 Interactive Simulators and Experiences When Visiting the Kennedy Space Center
The Atlantis Shuttle Launch Experience
The Kennedy Space Center Atlantis Shuttle Launch Experience is located inside the Space Shuttle Atlantis area and consists of an eight-minute virtual ascent into space. This experience is ideal for those over 44″ tall and lasts about thirty minutes once aboard the attraction.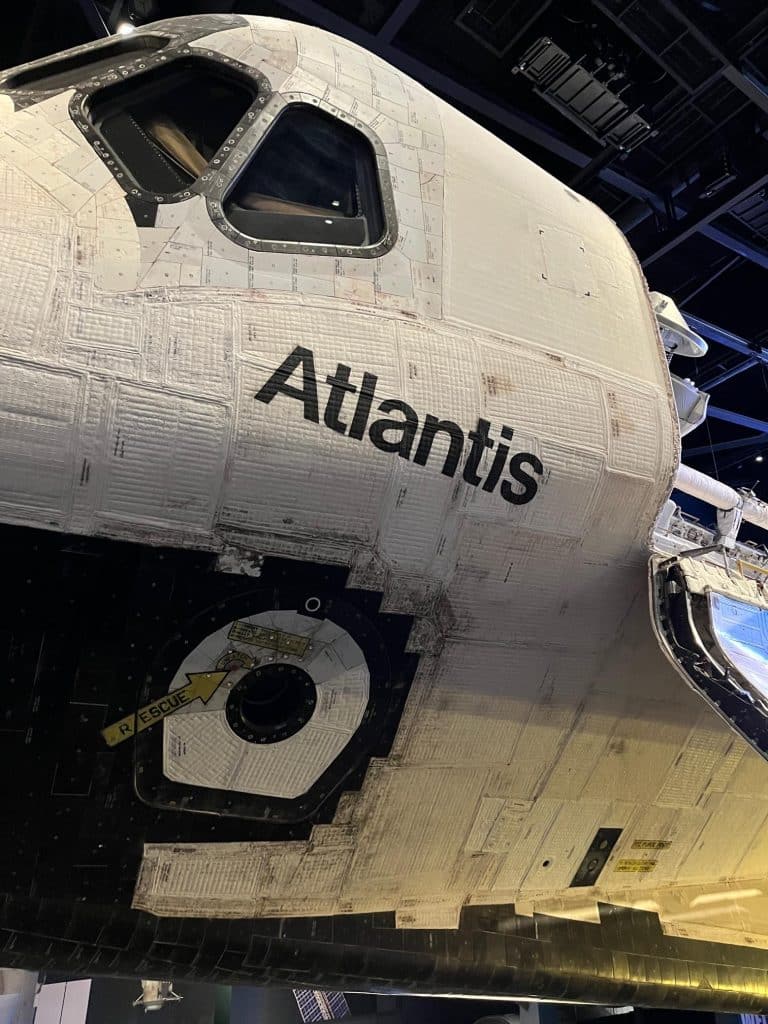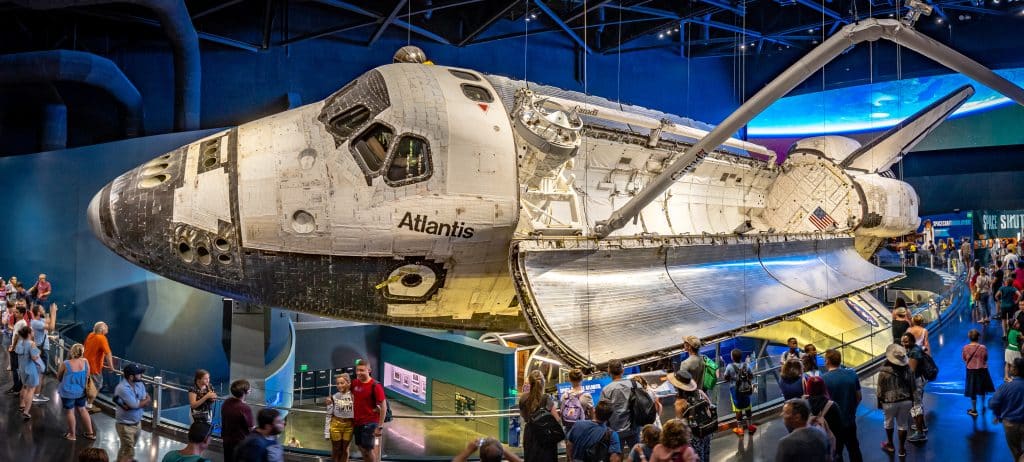 The Astronaut Training Simulator
The Astronaut Training Simulator, or ATX is a four-hour immersive experience. Visitors can add this fun encounter to their day when visiting the Kennedy Space Center. Geared toward those age 10 and up, ATX brings you up close and personal with what it might be like to live and work on The Red Planet.
You'll solve real-world problems, learn NASA protocol, and generally be immersed in the full astronaut experience without stepping foot off the planet. ATX must be reserved in advance, so be sure to plan accordingly if this sounds like a perfect fit for your family.
Planet Play
This isn't your typical kids' play area. Planet Play is a multi-level immersive experience for visitors aged 2-12. Gaming and educational opportunities abound, as your young explorer will get to visit planets and complete interactive tasks. What makes this a win for everyone, is that while the kids play, their grown-ups can watch from afar while relaxing in the adjacent lounge while enjoying coffee, wine, or beer. The play area and lounge also require an additional purchase, so book in advance to secure your spot.
Astronaut Encounter
The Astronaut Encounter at Kennedy Space Center is your chance to learn from NASA veterans. You and your family will have a front-row seat to an exciting presentation by a NASA astronaut, where they will share their background, experiences, and stories. These encounters are considered not-to-be-missed events, so don't forget to check the KSC calendar to see who is scheduled to appear during your visit.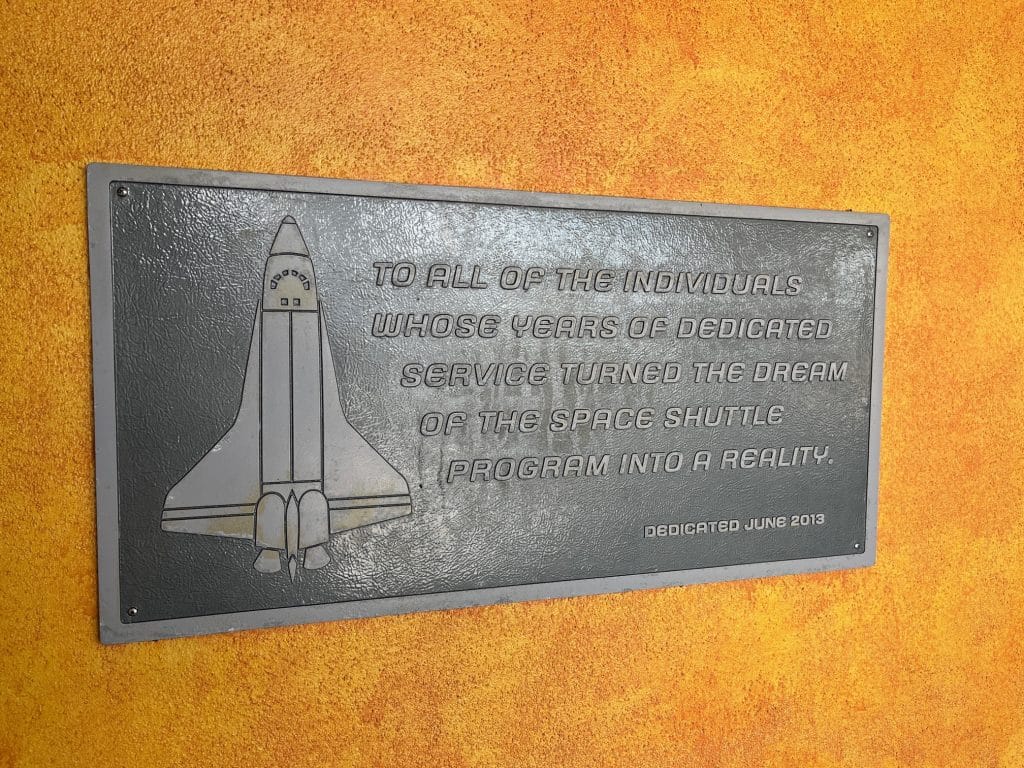 All Systems Are Go!
Included in your Kennedy Space Center admission is the brand-new offering, All Systems Are Go!; an immersive and educational experience featuring your favorite Peanuts characters. Snoopy and Woodstock take center stage in this family-friendly presentation of puppetry, lights, and music!
One great way to get a good sense of the sheer size and volume of the rockets, is by visiting the Rocket Garden. The complex offers tours, but you can easily explore on your own on your way to the Heroes & Legends Building where you can see and experience the U.S. Astronaut Hall of Fame.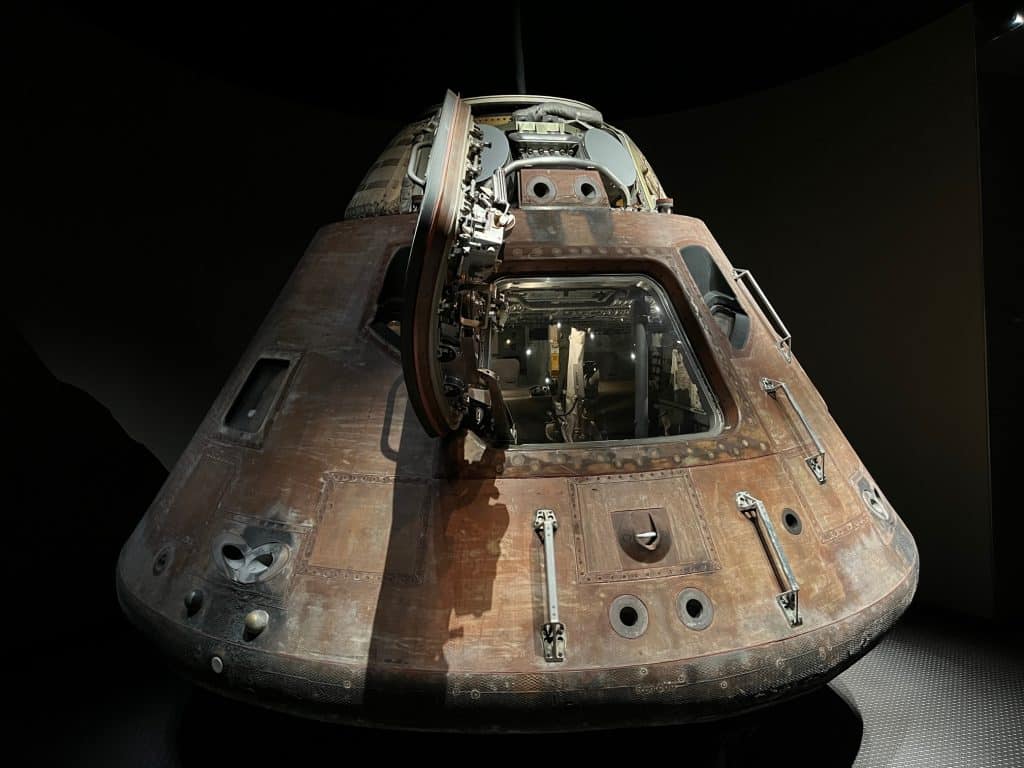 Additional Things to Know When Visiting Kennedy Space Center
If you're not big into immersive experiences or would rather keep your feet on the ground as a spectator, fear not! There are plenty of scheduled movies and presentations to experience. Simply check the daily schedule for IMAX movie listings; the shows usually last less than an hour and are a great way to break up the day and get out from the intense Florida sunshine and into cool air conditioning for a while. Before your visit, be sure to download the Kennedy Space Center app to help you plan your next adventure. If you're particularly lucky, you may be able to coordinate your visit with one of the launches!