Travel should be fun–I'm all about coming up with crazy reasons to discover new places. I have a lot of fun getting carried away with geeky ideas and building an itinerary around them. This alien inspired travel bucket list is one of those things–it's fun to get caught up in this fun theme and exploring places that embrace the alien lifestyle. From museums to festivals, places known for alien activity or great stargazing, this printable will inspire you to go alien hinting. The truth is out there, my friends, so take a fun road trip and find it.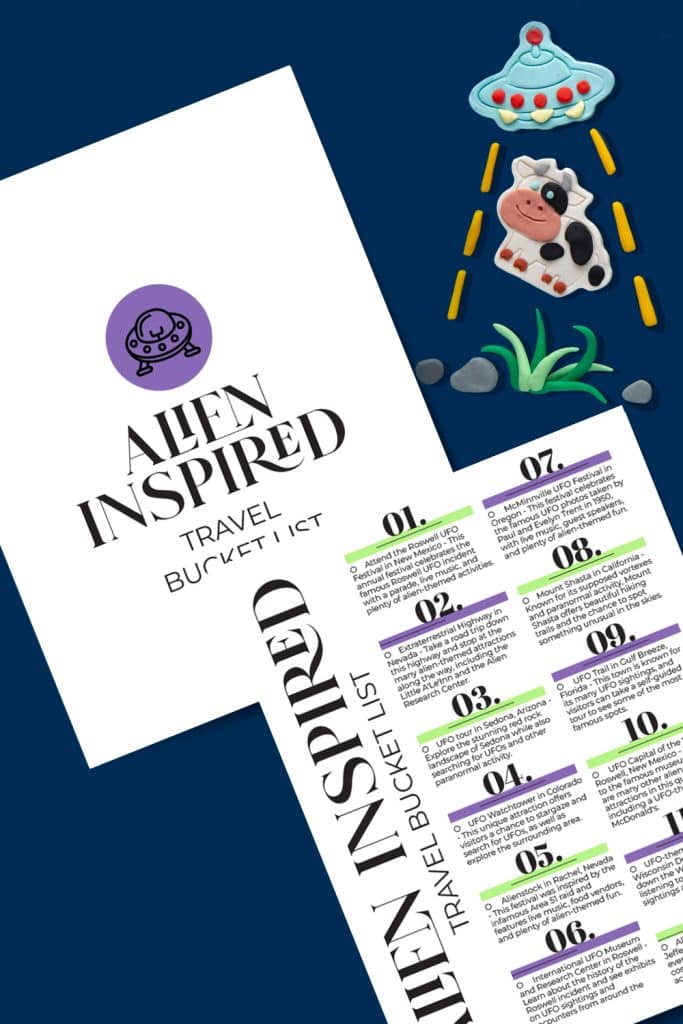 Most Americans will know Roswell, New Mexico's reputation for aliens, Area 51 for secretive military UFOs, and the Extraterrestrial Highway for over the top alien themed everything. Having grown up with a bit of an alien obsession, travelling to these places has always been a desire of mine. It's fun to not take travel too seriously sometimes and making a pilgrimage in search of alien encounters is an absolute blast. I watched The X-Files from the beginning and absolutely fell in love with the idea of non-comedic aliens among us. I like the funny ones, too, but I do love a good conspiracy theory and you can let yourself get caught up in them with this bucket list.
Download and print out your alien inspired travel bucket list printable here.
Embrace your inner alien with these fun finds! These are affiliate links.
Read all about these alien areas!
Heading out for an alien encounter can easily be a part of a greater road trip. Finding geeky ways to travel is one of my favorite things and there's nothing better than combining road trips with unusual destinations. After all, if you're not enjoying your travel, what's the point?! Keep exploring and having fun!