I don't know that there's an author whom I associate with childhood more than Dr. Seuss. I loved his books as a kid and it's a lot of fun to watch my own girls discover them now. I was thrilled when January's round of Craft Lightning was announced as the Seuss Edition. As a reminder, Craft Lightning crafts take 15 minutes or less to create, excluding drying time. I fully admit that I took advantage of the drying time clause, but I couldn't pass up making my Dyed Cottonball Truffula Trees inspired by my favorite Dr. Seuss book, The Lorax.
To make my truffula trees, you will need:
I didn't follow the dye instructions exactly for this. I poured a bit of the dye into my container, added a bit of hot water, and stuffed my cottonballs in. I didn't measure (I know, bad me), but I'd say it was roughly half and half water and dye. I had enough in there for the cottonballs to soak up the dye without floating in liquid, if that makes sense.
I had the cotton balls in there for just a couple of minutes and then ran them under cold water. They didn't need to be in long at all to absorb the color. I then squeezed the excess water out of them. I hurried the drying process along by using a hair dryer. This is clearly the longest part of my craft, but like I said, it's technically drying time, so I'm going to roll with it!
Once the cottonballs were dry, I poofed them up a bit. I put my striped straws in a glass container with some scatter, and simply stuck my poofy pink cottonballs on top. This part totally makes up for the drying time. 😉
My girls were with me when I was finishing up my trees and knew exactly what they were, although they did ask if the tops were edible. They each want a set of Truffula Trees for their desks now.
I love these fun Dyed Cottonball Truffula Trees. They're such a great decoration inspired by my favorite Dr. Seuss book!
I am the Lorax. I speak for the trees.
 ~Dr. Seuss, The Lorax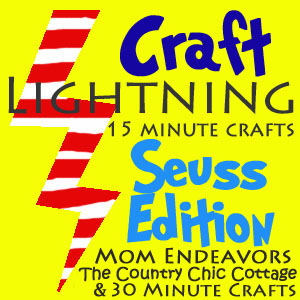 **This post contains affiliate links.**