We've been struggling with our living room, as you know. I've talked about it here before, and recently asked for help on Hometalk. I was give so much good advice that I started playing around with ideas. We want a cozy, comfortable, and happy room. We spend so much time in this room and it's just not what I want it to be right now.
This is basically what it looks like now (with a few changes–the mantel is decorated for fall and the dollhouses aren't in the window anymore).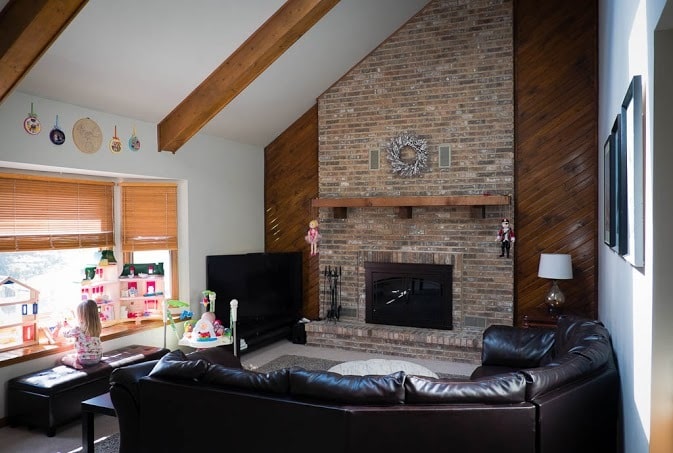 I want to take out the couch and replace it with individual seating. I know it's hard to see, but the tv is actually sitting on a low stand, and I'd like to put it on a higher piece. I want to bring in more color. The side panels are a big issue, and we're leaning toward removing them and painting both sides the same color as the rest of the walls. The vents are ugly, but we use our fireplace and they're necessary.
After playing around online for a bit, I came up with a few ideas of what might work for our living room.
Living Room Wish List by albion 
World Market green home decor
worldmarket.com
World Market tv media stand
worldmarket.com
Margot Trellis BT05 Grey Rug | Contemporary Rugs
rugsusa.com
Steel Yellow Droplet Set of 2 Modern Accent Lamps – #EU3T205 – Euro…
eurostylelighting.com
Teal Throw Pillow Cover Teal Blue Cushion by DimensionsHomeDecor
etsy.com
Premier Prints Freehand Storm Twill Fabric – $10.98 |…
onlinefabricstore.net
Sloan Upholstered Chair – Solids | West Elm
westelm.com
12×20 mustard yellow dandelion decorative throw by themodernpillow
etsy.com
Laurel – Official La-Z-Boy Website
la-z-boy.com
So, what do you think? Am I headed in the right direction?