I am completely unashamed about declaring my huge love of Disney. I grew up loving Disney movies and shows (I was going to be on The Mickey Mouse Club–who cares if it was just in my dreams!). Scott and I have been to every Disney park minus Japan. We took the girls to Disney World two years ago and are taking them to Disneyland in December. I love getting caught up in the magic. If you ever come over to my house, you will see Disney decor all over the place. When Rachel announced her Month of Disney, I signed up without thinking twice. Those iconic mouse ears make me smile every time I see a pair, so I decided to try my hand at some Mickey Mouse String Art!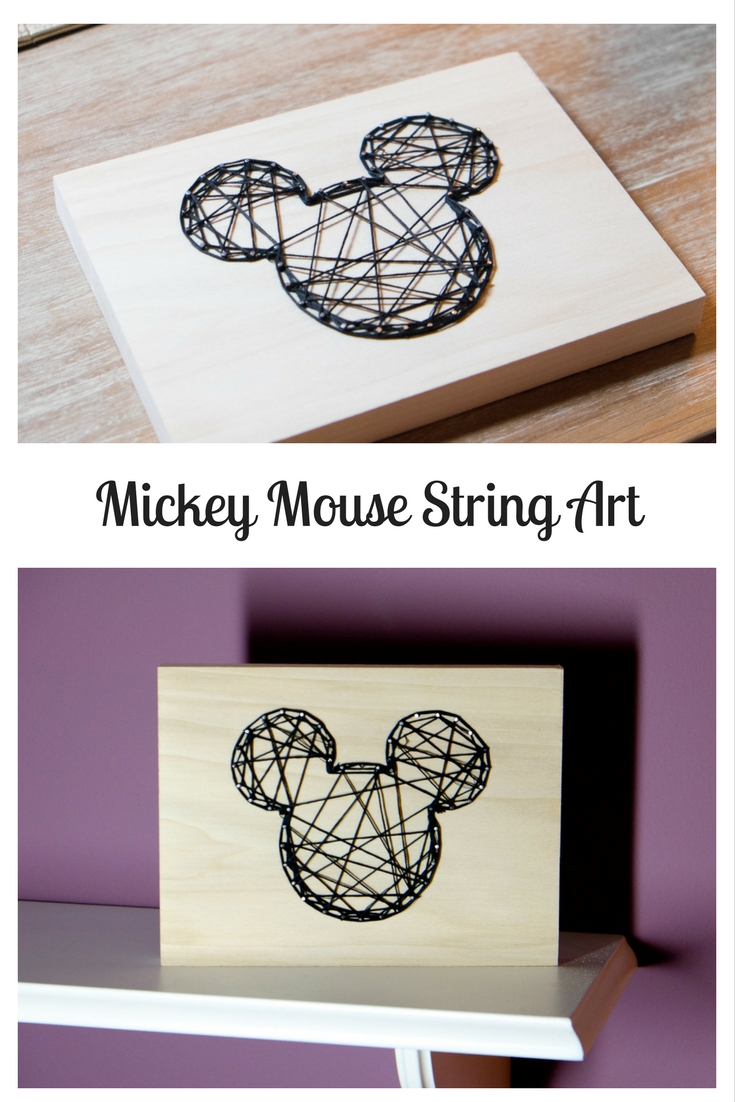 Chances are that you already have everything you need to make this. You'll need a piece of wood, some nails, a hammer, and some thread. We're even providing you with the mouse ears template!
Print out the mouse ears template PDF. Just click on the image to save it.
Once you've printed out the template, place it on your piece of wood. This is going to show you where to put the nails. Super easy, right?!
Using a bigger nail, lightly hammer it over each marking on the paper. You don't need to hammer it the whole way in–just hammer enough to make a mark in the wood so that you can see where to place the nails once the paper is removed. (I did, however, nail two in the whole way at the start for stability reasons.) When you've gone the whole way around the mouse ears, remove the paper. Hammer the nails into the wood where the notches are, leaving enough sticking out to be able to wrap the thread around.
Take your thread and tie a knot around your starting nail. Wrap the thread around each nail until you've gone around the entire shape.
To finish off your Mickey Mouse String Art, wrap the thread around nails in a random order so that the middle gets as full as you'd like. When you're finished, tie the thread off and cut it.
I LOVE how my Mickey Mouse String Art turned out. We chat almost daily about our upcoming trip to Disneyland and the girls love seeing reminders around the house. This is being proudly displayed where all of us can see it and smile.
I am just one of a month full of bloggers bringing you Disney fun. Please make sure you check everyone out! The project links at the bottom of this post will update each day.