Madeline is the most Harry Potter crazy of all my kids and she's going full on with a Harry Potter themed bedroom. She has the Sorting Hat Weaving I made a few years back, a Hogwarts painting I did at a painting studio in Illinois, her Hufflepuff banner, and all sorts of bits and pieces. She's turning the nook with her desk into her Harry Potter space and I'm way more than happy to help her along. I made this crazy easy Harry Potter Deathly Hallows Mirror DIY as a fun addition to her collection.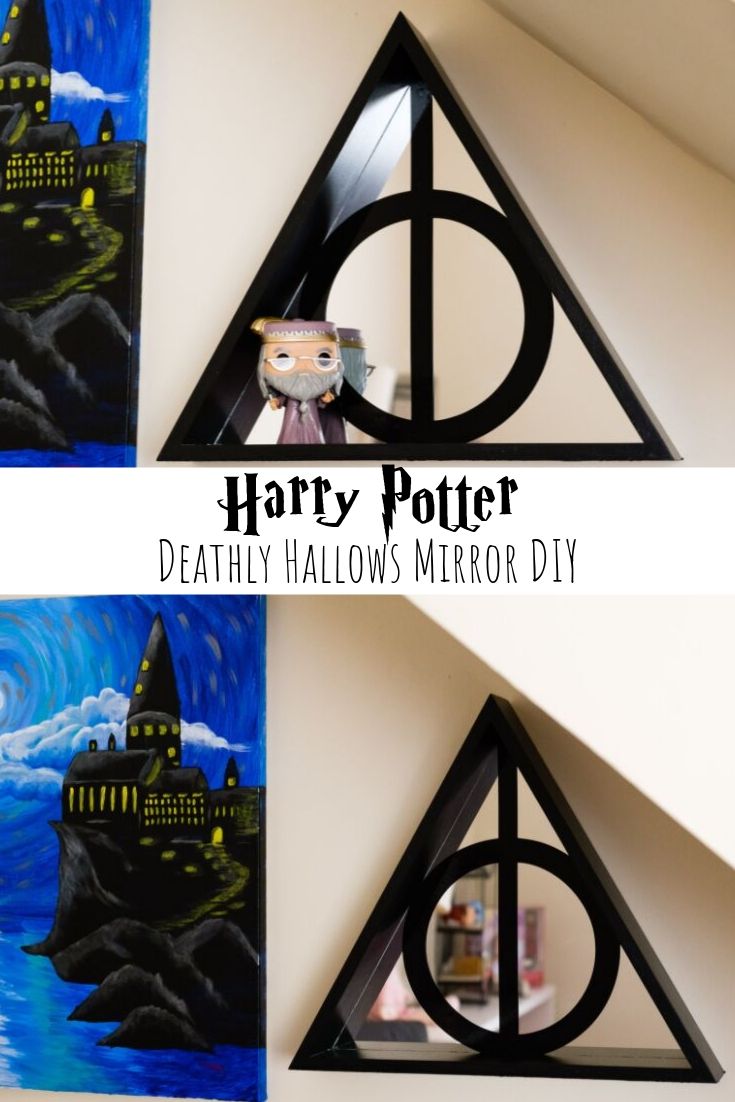 This post contains affiliate links.
Supplies:
I lucked out with my mirror. It was on clearance as part of a three pack at my local Spotlight for $8 and I grabbed them not having actual plans at the time. The mirror I linked doesn't have the frame, but I listed two different designs in the supply list–one without the triangle if you have a mirror with a frame, and one with the triangle if you use a mirror like the one I linked. I used the larger of the three mirrors in my set–it wasn't black, so I simply painted it.
The most important part of this project is to measure where the circle will touch the triangle. Adjust the design accordingly.
Cut out the design. I used window cling, but you can obviously use regular vinyl if you prefer.
Most of the time spent on this Harry Potter Deathly Hallows Mirror DIY was simply waiting for the paint to dry. It will take you less time if your mirror already has a black frame. The full Deathly Hallows symbol on a frameless mirror will only be cutting time. Either way, it's a fun DIY for any Harry Potter fan!