While New Zealand has been part of my life for fifteen years now, I'm still learning new things about it every day. Life is very different for us in New Zealand this time around, mostly because we have kids and school to contend with now. It's nice to have guests posts like this one to tell us where the most magnificent beaches in New Zealand are. Maureen of
So Many Places! So Little Time!
is sharing great info for tourists and locals alike.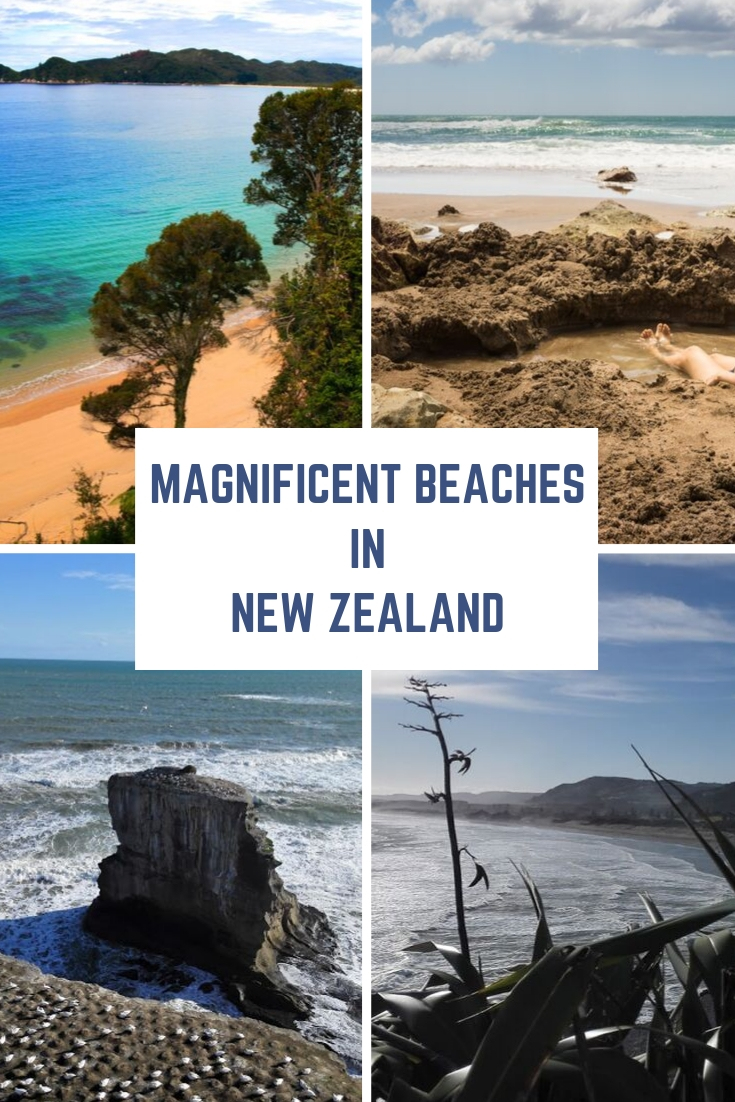 New Zealand has over 15,000 kilometers (9,300 miles) of coastline. We have undoubtedly some of the best and most magnificent beaches in the world and a wide range of types of beaches, from the golden sand family-safe swimming beaches through to rugged black sand surf beaches. We have beaches with amazing rock formations, a beach bought by the New Zealand public to save it from private developers and even a hot water beach.The biggest problem is selecting which are the best or most popular beaches. Ask one hundred New Zealanders what their favorite beach is and you'll get one hundred different answers. So listed below are just a few of our very favorite beaches in New Zealand.
HOT WATER BEACH, Coromandel Peninsula
Where else in the world can you wander onto a beach, dig a hole in the sand, and relax in your own private spa pool? Hot Water Beach is on the Coromandel Peninsula, about two and a half hours drive from Auckland. You need to time your arrival very carefully and bring a spade or hire one from the local store. For two hours either side of low tide near the rocks at the southern end of the beach, you can dig a hole in the sand and hot mineral water will seep up through the sand to form a pool of hot water for you to recline in. The beach is a stunning surf beach but has strong currents and rips, so please be careful if you venture into the surf, even if only up to your knees.
The Coromandel Peninsula has many stunning beaches. About ten minutes drive from Hot Water Beach is Cathedral Cove. Access is only by foot (about an hours easy walk) or boat or kayak. The famous rock arch has to be one of the most photographed scenic spots in New Zealand. The beach is sandy and lined with pohutukawa trees to provide shade in the summer sun. A perfect place for a swim and a picnic.
There are many many amazing beaches on the Coromandel Peninsula including New Chums Beach, Pauanui, Hahei, Whitianga, Whangamata, and the Thames Coast beaches. If you have time, base yourself at one of the beach towns and spend a few days or weeks here.
MURIWAI BEACH, West Coast, Auckland
We take all our overseas visitors to Muriwai Beach. The hour drive from Auckland once we leave the motorway takes us through rolling green farmland, orchards and a couple of vineyards and the final winding drive down to the actual beach takes us through a good section of native bush. The beach itself is a very windswept, rugged, black iron sand, surf beach that stretches for 50 kilometers along the Tasman Sea Coast. There's a beach loop walking track which is a great hike to blow away those cobwebs or jetlag!
The main attraction though is up on the southern headland and accessed by clearly marked short walking tracks. From August until March from the specially built viewing platforms you will be able to see and smell the approximately 1200 pairs of majestic gannet seabirds and in December and January, you will also see their chicks. It's a great sight!
Another well known black sand beach in the Auckland area is Piha Beach. There is no public transport to either of these beaches so you will need to either hire a car or take a tour.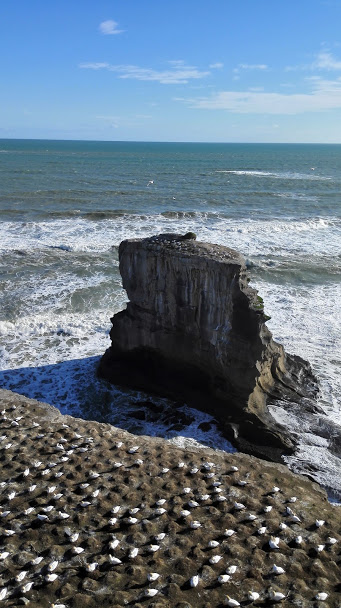 MEDLANDS BEACH, Great Barrier Island, Auckland
Why is Medlands Beach so special? Squeaky white sand! Pristine clear water! Great surf all year round! No people! If there are a dozen or so people on the entire Medlands Beach, the locals consider it crowded.
Medlands Beach is on the eastern coast of the unspoiled Great Barrier Island, the sixth largest island in New Zealand at 285 square kilometers and has a population of only 852 people. The island is about a four and a half to five-hour ferry ride from Auckland or a 40-minute flight. Great Barrier Island is off the grid which means it has no reticulated power, so no street lights, no traffic lights, no ATMs, and no neon signs. but it does have 'Dark Sky Sanctuary' status so the night skies are crystal clear and magnificent- as are the beaches! The fishing is great and there are excellent tramps and hikes.
There is no public transport on the island roads which tend to be narrow and hilly and wind through magnificent scenery, but there are local taxis and shuttle buses. If you are feeling stressed or need a city break this is definitely the place to escape to and unwind.
ONETANGI BEACH, Waiheke Island
The 2 km long north-facing Onetangi beach is the longest beach on Waiheke Island. It has an abundance of white sand and pohutukawa trees for shade and is the ideal family beach. Swimming is safe and there are a couple of great family cafes and picnic spots on the beachfront.
Waiheke Island is a 40-minute ferry ride from Auckland City and in recent years has become the number one tourist destination for visitors to Auckland. Aside from the great beaches, there are the world famous vineyards with their cafes with stunning views and excellent food. There is a wide range of adventure activities from ziplining, mountain biking, surfing, and tramping. The main township is Oneroa with its eclectic mix of shops, galleries, and cafes.
NINETY MILE BEACH, Northland
Ninety Mile Beach is not actually 90 miles! It is 55 miles long (88 Kms) though and this makes it a very long beach indeed. It stretches from near Cape Reinga in the north to Kaitaia. It is officially a highway, so one of the big attractions is to drive along this very long remote piece of sand. However, it is only accessible at low tide, preferably when it is not raining and to 4WD vehicles and licensed tour buses only. It is a great ride!
AWAROA BEACH
This beautiful secluded beach is in the Abel Tasman National Park in the South Island and was purchased in a crowdfunding effort by New Zealanders for New Zealanders. Many New Zealanders contributed $2,300,000 because they did not want to see this very beautiful beach fall into the hands of private ownership.
There is no road access so you will either need to take a water taxi from Kaiteriteri or Marahau or do a three or four-day hike through the Abel Tasman track and when you get there, you will see why the New Zealanders decided it had to be bought!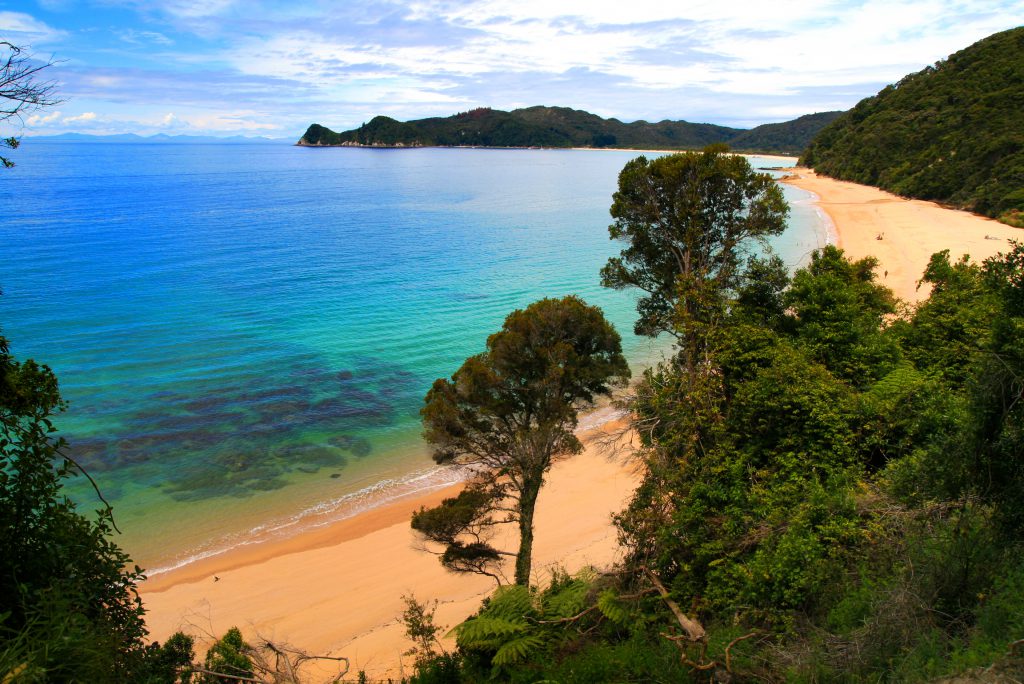 So these are just a few of New Zealand's magnificent beaches that we at So Many Places! So Little Time! recommend for you to add to your list of places to see when you are next in New Zealand. Check out our blog to find out more about The Dark Sky Sanctuary on Great Barrier Island or if you are considering a cruise around New Zealand.